EnduroGP round 1 notebook – proper enduro, crashes and maidens
Conditions were tough, crashes rocked the results and there were maiden wins aplenty at the opening round of the 2021 EnduroGP World Championship in Portugal. Enduro21 digests the two days racing in Marco de Canaveses.
A pre-event promise by race director Bianchi Prata that this opening GP of 2021 would be a hard one, "enduro should be tough," he said. "We feel enduro has to be tough – not impossible, but tough….demanding both physically and technically." Prata added.
It was tough. Long days, testing transfers, technical Extreme and Enduro tests, overnight rain changing riding conditions of day two – it all meant mental and physical fitness was put to the test across all classes from the EnduroGP elite to the Open World Cup and national races.
There is only five days until the second GP of 2021 in Italy and we guarantee plenty of riders will be taking it easy and "regrouping" this week!
What can we take away from the opening GP of 2021?
Aside from that very welcome "proper enduro" feel to the event, the standout element between the top riders was how close it was.
One thing is clear, the 2021 season is not a two-horse race as it has been in recent years between Steve Holcombe and Brad Freeman. We now have four at least and possibly six riders capable of winning GPs and the closeness of Freeman, Holcombe, Josep Garcia and day two overall winner Wil Ruprecht was awesome to watch.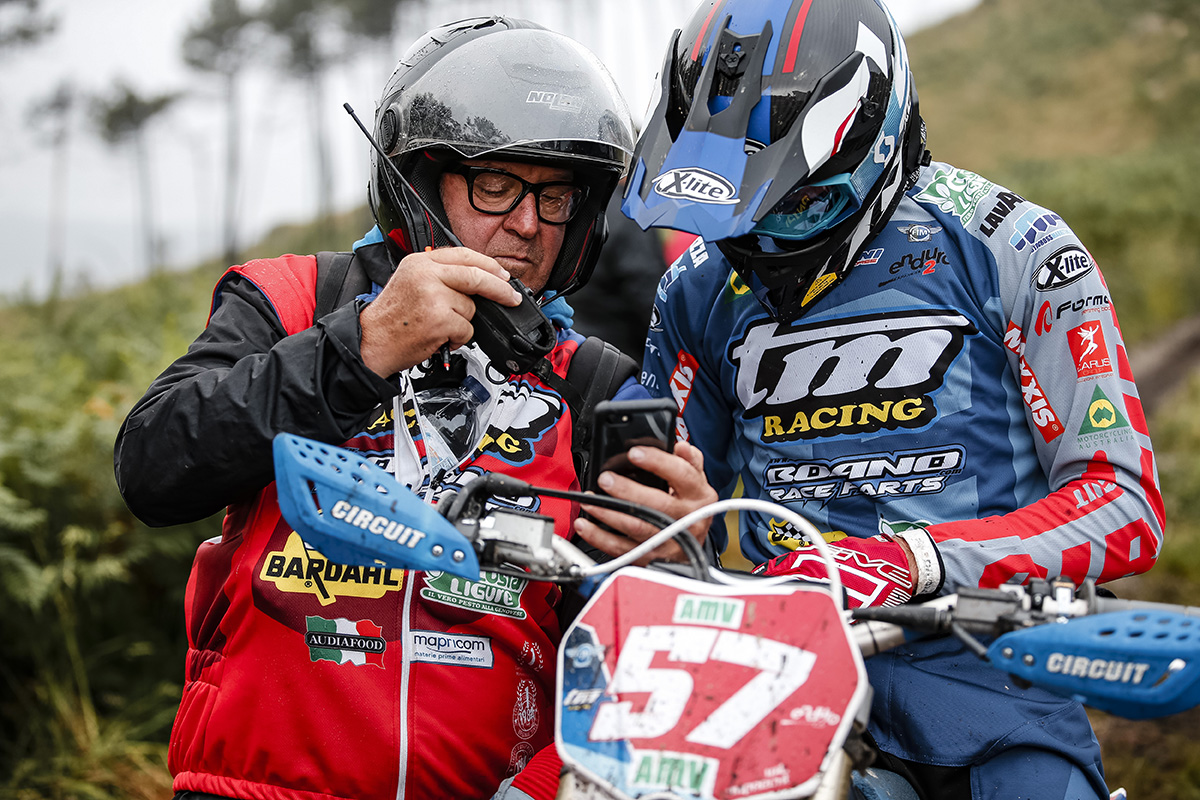 Behind them is a longer list of riders (Verona, Betriu, Guareneri, MacDonald, McCanney, Bernadini, Magain – we could go on…) who were close but didn't quite get the cigar and here was the difference.
It doesn't take much to win GPs. You have to be fast and not crash. Simple, eh? Well maybe not simple but both days in Portugal proved the point that remaining mistake-free in every test is as important as being fast.
In the end that separated the day winners: Brad freeman on day one and Wil Ruprecht taking his maiden victory on day two.
A weekend of crashes
This is a world championship and every rider came out swinging. But in some cases there was a little too much swinging off the handlebars! Crashes were common in the tests (even on the transfers) and it was remarkable we did not see more injuries. Day two was harder due to the wetter conditions but the crashes spread across both days were often monumental.
Among them was Josep Garcia who got up and walked away from this one…somehow.
The list of riders already suffering bad starts to their season and retiring during the weekend (either through existing injuries or because they created new ones) included Alex Salvini, Thomas Oldrati, Matteo Cavallo, Dan Mundell, Hugo Blanjoue and Kirian Mirabet to name half a dozen.
Crashes were also a feature in the overall results and uncharacteristically that included Steve Holcombe. A first test crash on day one cost Steve a heap of time he wasn't able to get back, another in the final Enduro test of the weekend prevented him challenging for the top step on day two.
Garcia (see above) can also point to a list of get-offs which made the difference for his overall results. And that was just the top of the timing sheets.
A weekend of firsts and fast Fantics
Wil Ruprecht grabbed the headlines with his first-ever Enduro Grand Prix day win on Sunday but behind him on the timing sheets there were no shortage of 'firsts' worth clocking.
On day one the Youth win went to Harry Edmondson on the JET Racing Fantic. Harry is the third Edmondson to take a GP win in the 125 class following his brother Jack and father Paul, both of whom went on to claim world titles – no pressure Harry!
It was entirely possible the new 250 Fantic would also visit the top step of the podium for the first time this weekend but, and this is no disrespect, you might have expected it to have been a different rider onboard.
When Loic Larrieu injured himself just last week and ruled himself out of the 2021 season, Davide Guarneri inherited the official Fantic senior class entry onboard the XEF 250 and promptly returned the favour big time.
Davide placed 2-1 in E1 and 7-6 (scratch) across the weekend bagging the E1 class win and heads towards the second GP in his home country of Italy this weekend as the points leader. We shouldn't be surprised, Guarneri has been making the 125 two-stroke Fantic for the E50 Racing team in the 2021 Italian Enduro series but this weekend proved the Fantic is a weapon in the right hands.
Badia challenging Daniels and Sanz
Laia Sanz came back to EnduroGP Women's class and promptly won day one, her first win in five years. It was a repeat of the warning shot she fired across her rivals' bows on her return to TrialGP the previous weekend where she also won the opening day.
On day two though it was a different Spanish fast female on top of the podium. Mireia Badia took her maiden GP win and made sure this class is not a two-horse race either.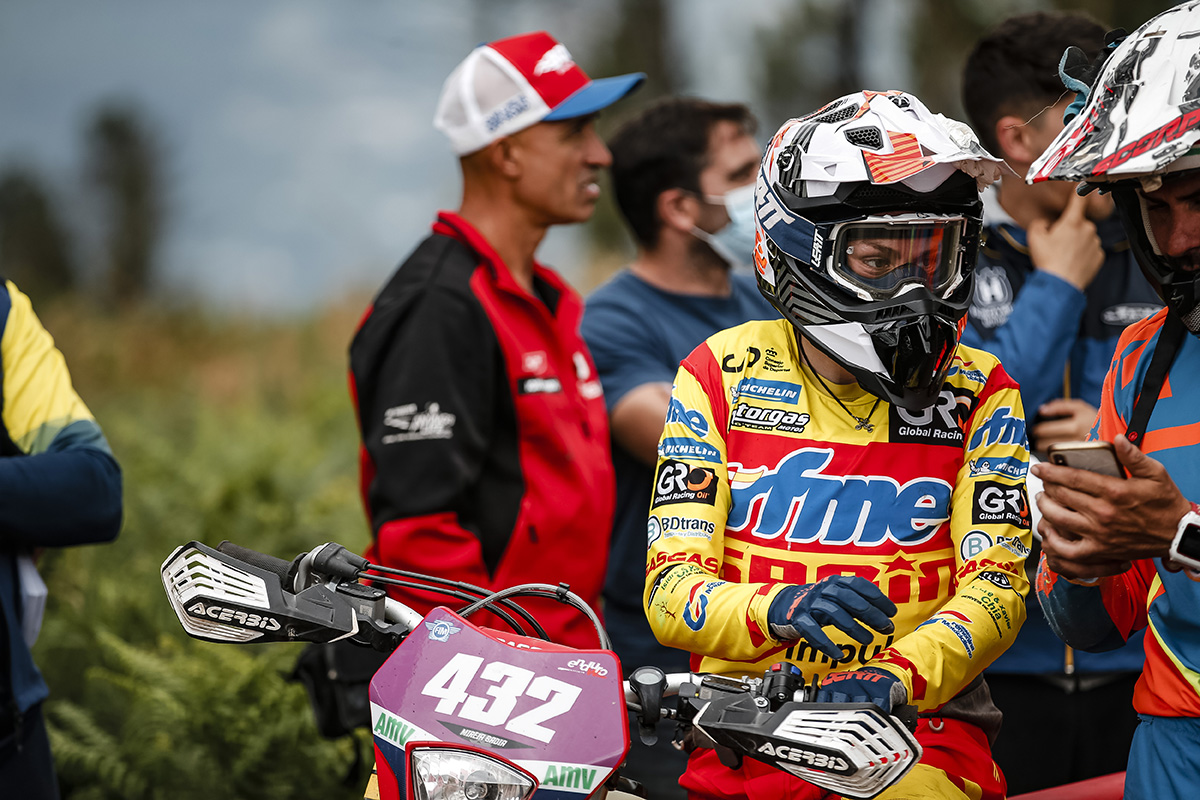 It was a tough weekend for all riders and reigning Women's World Cup Champion Jane Daniels was not letting Badia run away with it. But Mireia's fitness played a role as she stayed strong to take a two second winning margin over Daniels with Sanz admitting "it wasn't easy" in the challenging conditions.
Welcome back Laia and welcome back EnduroGP. May weekends like this continue all 2021 season!
Full results from day one in Portugal: EnduroGP results: Day 1 in Portugal belongs to Brad Freeman
Full results from day two in Portugal: EnduroGP results: Wil Ruprecht takes maiden GP win on Day 2 in Portugal
Photo Credit: Enduro21 | Andrea Bellusci + Nicki Martinez