Mikael Persson back on a Husqvarna FE 250 for 2023 EnduroGP season
EnduroGP E3 class runner-up Mikael Persson has signed to stick with a factory supported Husqvarna with the KTM Pro Racing Sport Team in the 2023 EnduroGP World Championship season.
Since Enduro21 heard that Husqvarna would likely not field a factory rider in EnduroGP this coming season (it was nice while it lasted in 2022!), the question mark has hung over where their rider Persson would end up.
The Swedish rider, who finished runner-up in the E3 world championship and collected the overall E3 class victory at the 2022 ISDE onboard the out of favour 300 two-stroke for the Austrian manufacturer, had told us he was hopeful of a deal to remain in EnduroGPs.
Alex Belometti team boss stepped in with a deal inside the KTM Pro Racing Sport Team squad which will be supported by the Farioli team (the squad behind the Persson last year as well as Josep Garcia and Andrea Verona) and with help from Husqvarna Scandinavia.
The good news for Persson is he will switch from the TE 300 two-stroke to the FE 250 four-stroke and the E1 class, a bike model he's had success on most notably the 2021 ISDE in Italy where he finished third scratch overall.
"I am very happy to have stayed with Husqvarna Motorcycles in 2023," says Persson. "We are optimistic we will be able to reap rewards in 2023. I will be the first to commit myself even harder, starting with winter preparation and then facing the first two rounds of the Assoluti d'Italia and the first Grand Prix in Italy in Sanremo-Arma di Taggia in March.
"The goal is to get better results and have that consistency and conviction that was lacking a bit last season. I want to thank Fabio Farioli for his support and the trust of Alex Belometti's KTM Pro Racing Sport Team. I can't wait to pay them back with results. I'm sure 2023 will be a big year for us."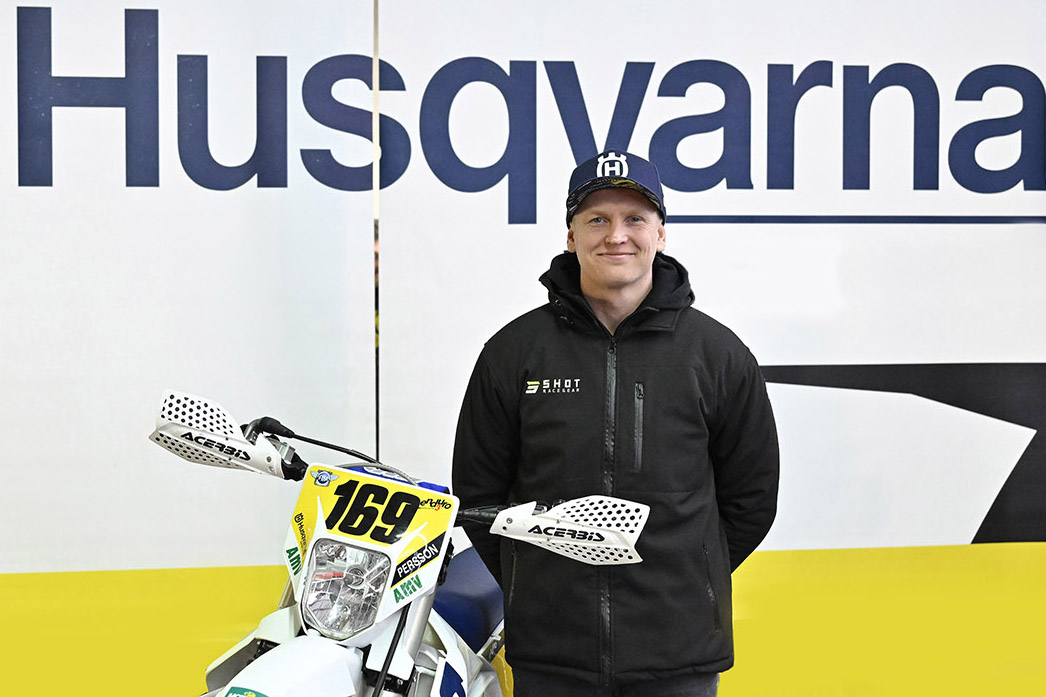 KTM Pro Racing Sport say Persson will live near the team from Bergamo and train with the group of four riders, helping "contribute to their growth and search for the best set-up development."
Persson will race the 2023 EnduroGP World Championship and the Italian domestic 'Assoluti d'Italia' series.
"Persson will compete with Husqvarna Motorcycles FE 250 4T and has the potential to be one of the fastest riders in the E1 class of the EnduroGP World Championship as he already demonstrated." Says Belometti. "Our job will be to support and assist him to provide continuity in his racing.
"I thank Farioli srl and KTM Scandinavia for making this agreement a reality which will allow our team to take a step forward."
The line-up of the KTM Pro Racing Sport Team is therefore something of a junior squad with Persson as a seasoned addition on the Husky: Manuel Verzeroli (Youth-125 EXC), Carlo Minot (E1-250 EXC), Max Ahlin (Junior-350 EXC -F.), Kevin Burud (E2- 450 EXC-F).