Say What? 2023 EnduroGP of Slovakia riders digest their weekend
EnduroGP of Slovakia rider reaction and comment after one of the most decisive rounds in the 2023 World Championship season.
We begin this round-up of the fifth EnduroGP of the season with the stark reality of the passing of Jaroslav Diro. The local rider sadly lost his life while taking part in the Super Test on Friday. This was terrible incident not just for the EnduroGP paddock, riders, teams and organisers including the local club, but the whole off-road community. Our thoughts are of course with his family and friends.
The races kicked off on Saturday morning in naturally sombre mood and Jaroslav was alos remembered on the Sunday night podium ceremony.
From the early tests we could see the riders who would be protagonists – although there were some new faces on the podiums this weekend which was refreshing. Here's what the headline acts had to say about their weekend…
Holcombe leads the way
The new World Championship points leader after a 1-2 weekend result was Steve Holcombe. On a roll from the previous GP and a win in the Italian Enduro Championship, the Beta Factory Racing rider has been a long time climbing back to the top step. Injuries, bikes, illness all stacked up but the seven-times world champ clearly has still got it.
The net result from Gelnica is a gold plate on the front of his bike for the next few months before we arrive at the final two rounds in Portugal at the end of September and early October.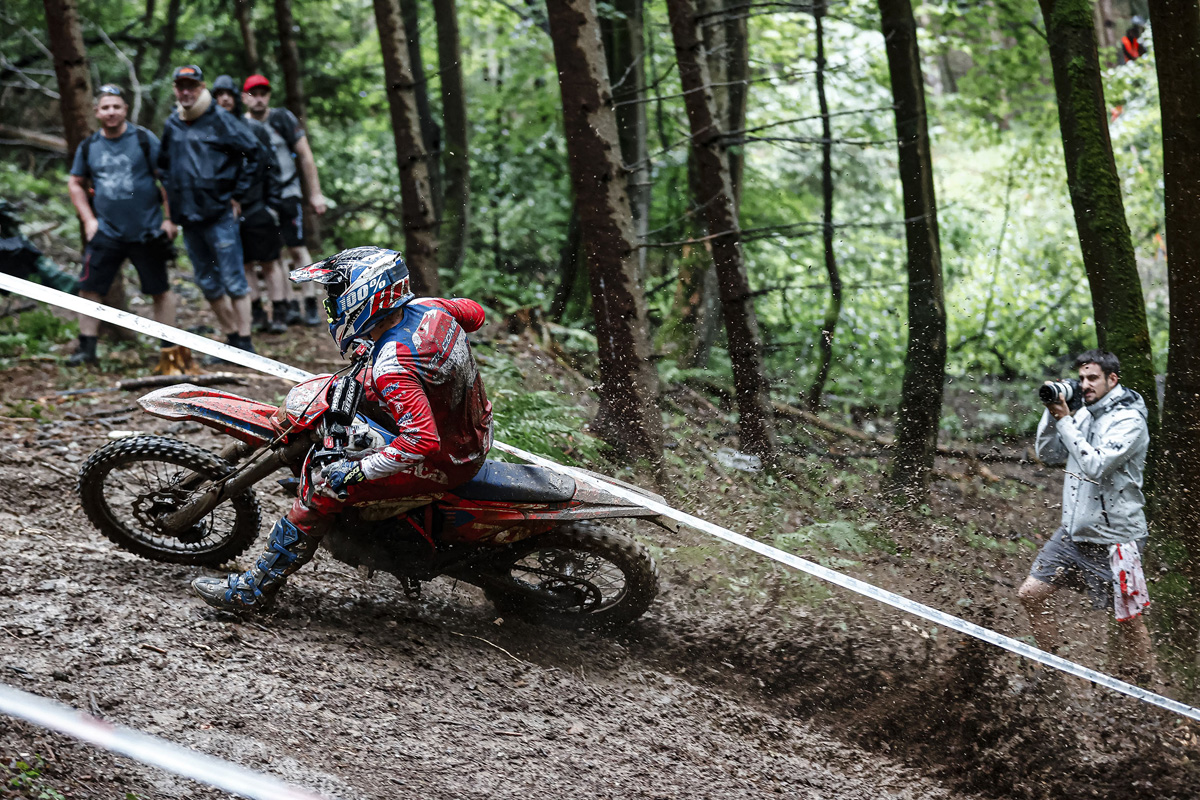 "Trying to put those events [Jaroslav] to one side on Saturday morning wasn't easy, but I knew I had to get out there and give my best. I've been feeling good on the bike and knew the traditional enduro conditions in Slovakia would suit me. I enjoyed the back-to-back enduro tests and I was able to make time there.
"To win day one was awesome, and I felt like I could do it again on Sunday. Heavy rain made it tricky, but I was riding well and holding the lead. Unfortunately, I had a technical issue and lost 30 seconds on the third enduro test. I rode as hard as I could after that, but just missed the win by two seconds. But I've come away from here with the leader's plate in EnduroGP and Enduro2, which is amazing."
Verona finally gets a win
Taking a mirror images scorecard for the weekend, this fifth round was the first time we've seen the best of reigning EnduroGP World Champion, Andrea Verona on the 350 GASGAS. The Italian has taken a while to gel with the 350 and E2 class after so many years in E1 on a 250. But a series of tests in the last month (plus Erzberg!) seems to have done the trick.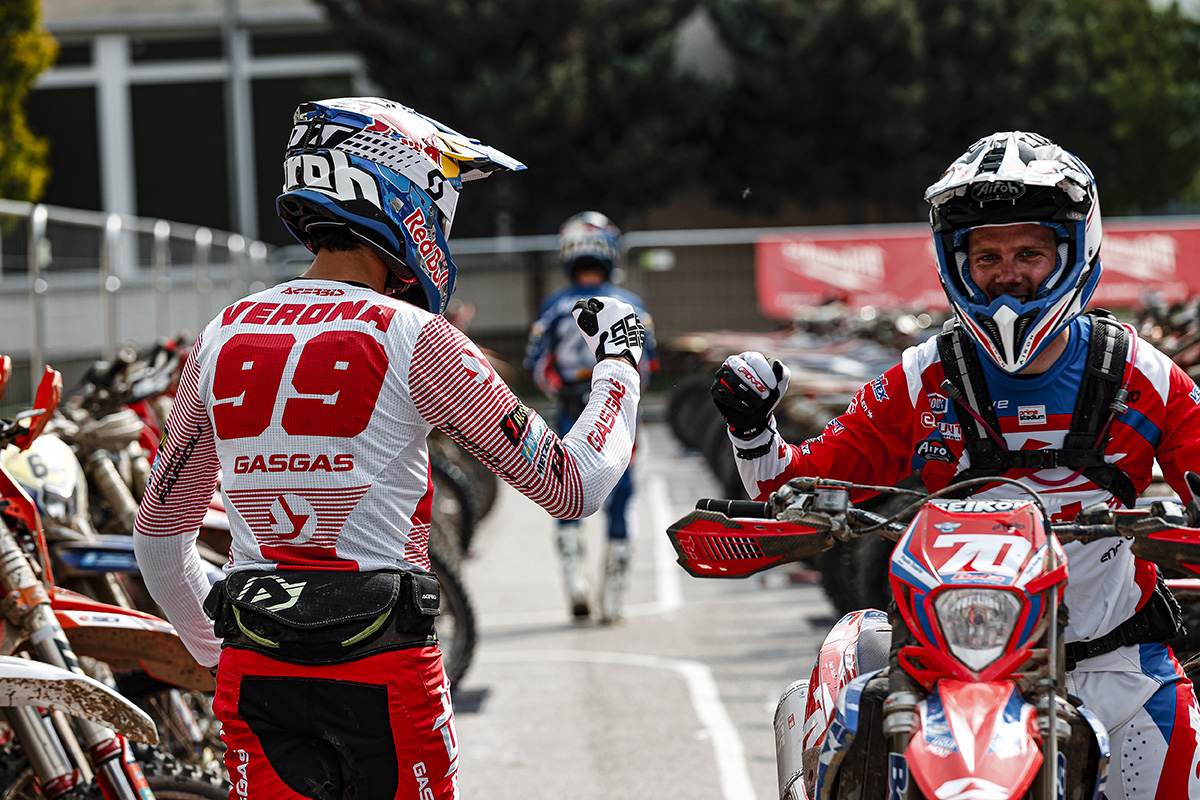 "I feel like it's been a good turning point in the season. After some tough races, we worked so hard to be ready for this one and it's paid off. I felt more comfortable on the bike and could push hard. Day one was a hard battle with Steve, but I lost some ground to him on the final lap.
"On day two I kept pushing despite the rain making things a bit crazy. I was strong on the cross test and gave my best there. In the end it was enough to win. Finally, in what's been a difficult weekend for our sport, I want to send my condolences to the family and friends of Jaroslav Diro who passed away on Friday evening."
Sherco upgrades and testing brings rewards for Ruprecht and Macdonald
New bikes after just one week of testing seems a little out of sorts mid-season but the reality is it brought rewards for Sherco and the CH racing team as Wil Ruprecht and Hamish Macdonald secured third place scratch and E2 results for the weekend. Fifth on Saturday followed by P3 is the best result in the senior class ever for Hamish Macdonald.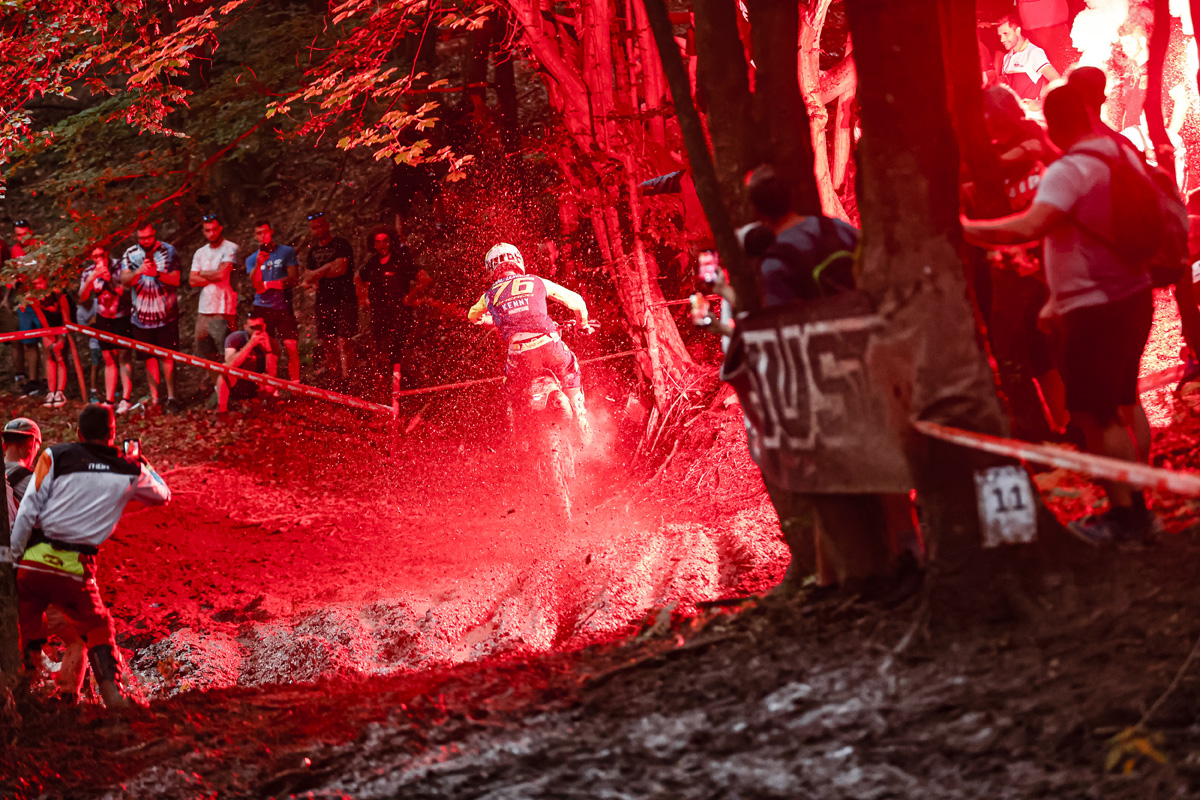 "I'm really happy with my riding today. We came here with a new bike, new settings and everything was completely new. We had a big week testing last week and struggled a little bit yesterday to find the rhythm but got there today. Obviously the clouds opened after the first lap and it pissed it down with rain so it was a difficult day but I'm really happy to score my first overall podium and the GP class."
"To put it on the top step the podium is just amazing"
Sixth place on Saturday and second in E1, followed by fifth scratch and first in E1. The Fast Eddy Racing team running with just a tent and a van (more or less) stood on the top step.
It's been a while coming for McCanney who has won GPs, a Junior world title and an ISDE. But since returning from his time riding Rally with Yamaha, Jamie has had to work hard in this competitive paddock esepcailly against stiff factory team opposition.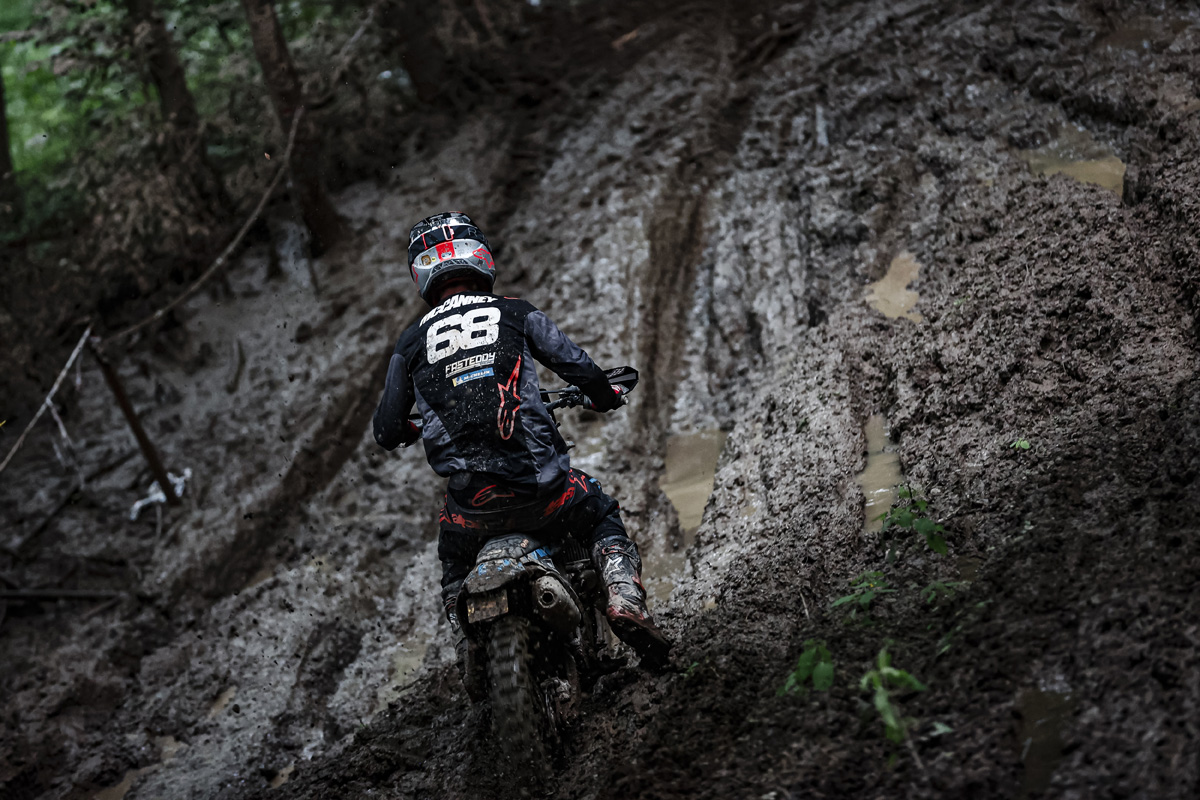 "Yesterday was really difficult and the team were already over the moon with yesterday's result and I woke up this morning thinking if I can survive a podium I'll be really happy. So to back that up on the second day…I've not to do that since I returned from rally to be honest. Every single Sunday has been a struggle for me.
"I just can't thank Paul and the Fast Eddy Racing team for believing in me and sending this out in the van. We're just trying our best and it's nice to be fighting with the with the factory riders and to put it on the top step the podium is just amazing."
Shout out also to the Beta Oxmoto rider Theo Espinasse. Sadly, Enduro21 didn't get a quick word with the Frenchman but a 4-7 scorecard in a super-competitive weekend was also great to see from another non-factory team and rider.
While the cat's away…Persson enjoys the rain
Scandinavian riders are used to a bit of bad weather and they can certainly nail a rut with all that winter snow riding. Putting all that experience to the top of the E3 class this weekend was Team Pro Racing Sport's Mikael Persson.
The Swedish rider took the 300 TPI Husqvarna to a double E3 win plus a 7-4 scorecard scratch for his best result of the season.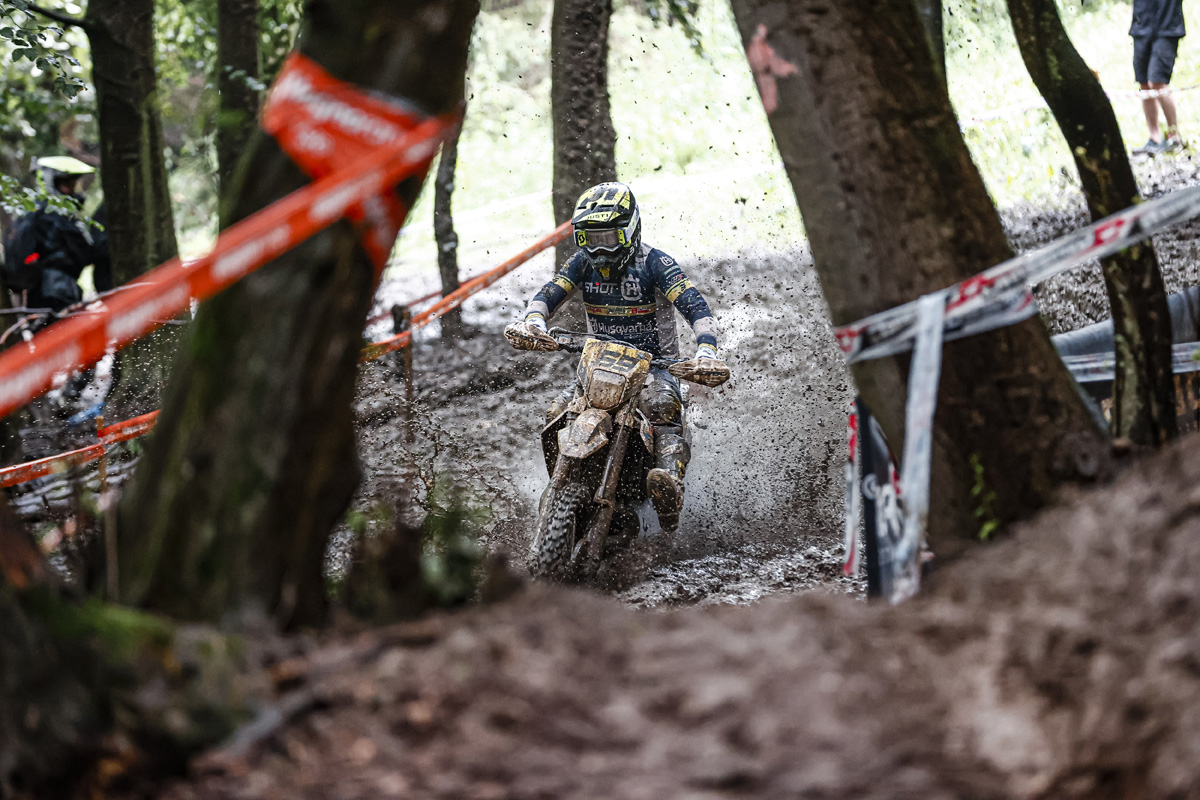 "Yeah definitely happy, day two was a bit better than yesterday riding wise and I enjoyed when the rain came to be honest. It sort of gave new energy because it was really a tough and physical race and it felt like when the rain came riding good was more of a factor than just pushing and giving everything that you have. So I think that worked to my advantage. "I'm really happy that I took full advantage of the opportunity presented with Brad being out so a good weekend overall and my best ever result in EnduroGP."
Josep Garcia made of tough stuff
After sustaining a smashed collarbone and dislocated elbow at the previous GP in Sweden, a month of rehab from surgery was enough it turns out for Josep Garcia to be challenging for the class win and top 10.
The Slovakian GP was like usual and a through test of mind and body one with 200+ kilometre days, seven hours, three of the four tests per lap over eight minutes, plus biblical weather for a spell on Sunday.
"The Slovakia GP has undoubtedly been the toughest of my entire life due to the injuries last month. It was also a very sad day for all of us [on Friday].
"Saturday was the day to assess how I felt and see how much pain and physical strain I could handle while riding. We had a good day, improving with each lap, and managed to secure the third position in E1 class and eighth place in the scratch.
"On Sunday morning I was very tired and my shoulder, elbow, and back were hurting a lot. However, as I started to warm up, I was able to push hard in the first two laps, but in the final one, my strength gave out, and I fell four times in the last test. Nevertheless, I was able to improve my result and finish second in E1 and sixth overall."
Fantic riders supreme in Junior class
Contuing his run of rich form in the Junior category, Albin Norrbin took a doube victory across the two days in Gelnica. It could be the Scandinavians felt at home in the mud and ruts but it wasn't all like that.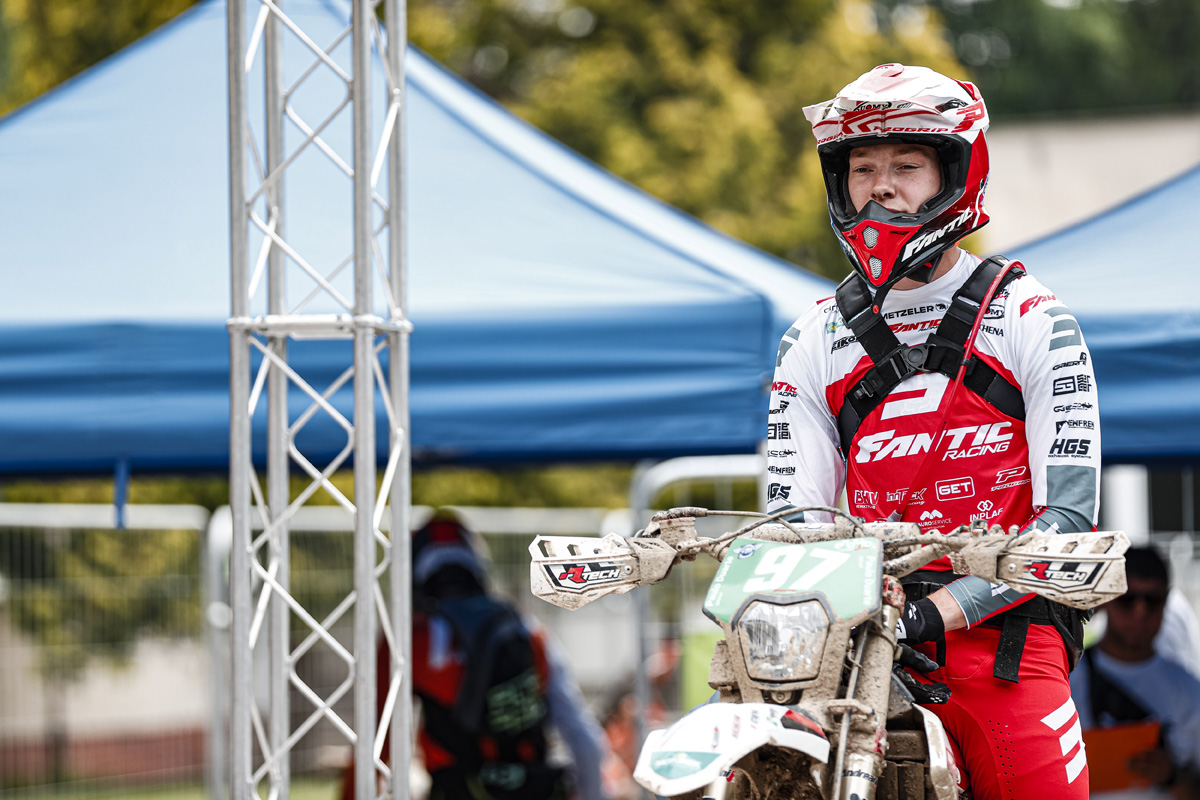 Norrbin is finally making the big 300 two-stroke Fantic work and finished both days in Slovakia ahead of points leader Jed Etchells. Add to that times which were good enough for a 7-6 scratch scorecard across the two days respectively (Juniors are not included in the overall EGP categorisation) and you see the speed of these Juniors.
"It was a good weekend to get the victory especially with all the rain on the on the second lap. I managed to show some good speed although, as everyone else, I got really tired on the last lap. But I'm really happy to have this feeling on the bike at the moment and take the double victory here."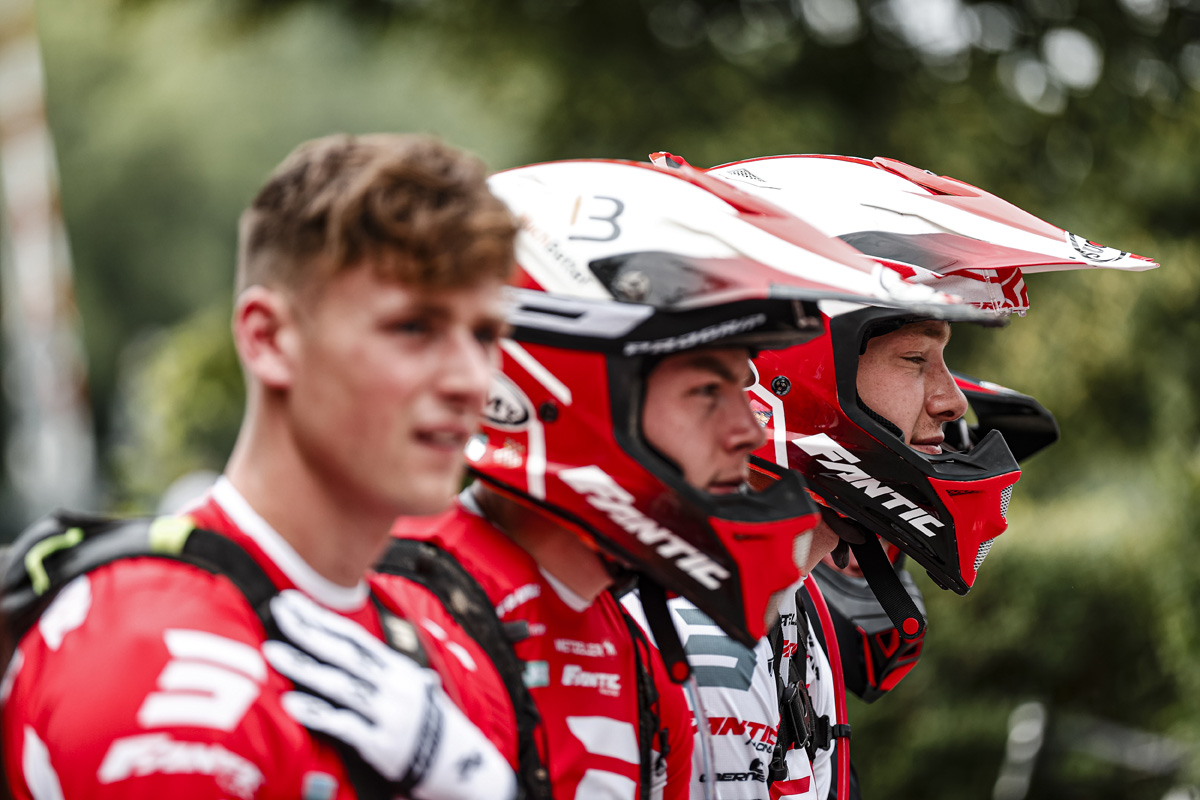 Overall day two saw just 23 finishers in EnduroGP class with each of the senior classes having less than 10 riders complete the two days. It was a tough one!
Photo Credit: Future7Media | Andrea Belluschi