EnduroGP Results: Verona wins a muddy Slovakian day 2 – Holcombe new points leader
2023 EnduroGP World Championship results from a torrential rainy day two in Slovakia where Andrea Verona wins his first GP of the season for GASGAS – second by 2.4 seconds gives Steve Holcombe the series points lead.
2023 EnduroGP of Slovakia Day 2 in a nutshell:
A dose of overnight rain made for a slightly cautious start to the second day in Gelnica. Under cover there was plenty of slime and the ruts only got deeper but when the heavens opened in the afternoon it made for biblical conditions in this fifth world championship round of 2023.
Day two was another war of attrition with less than 10 riders finishing the respective senior classes (E1, E2 and E3).
The day unfolded with a similar story to day one: Steve Holcombe had the measure of the tougher, longer tests to establish a gap out front. But a 10 second lead became a 20 second deficit in the first enduro test of lap two when the Beta decided it needed a rest for a while…
Verona inherited the lead and from that point it was his to control despite some horrendous rain making everyone's life hard. Holcombe's times gave him a sniff of a chance and the gap dramatically reduced before Verona kept everyone on the edge of their seats taking the last test later than most of his rivals.
10 seconds slower than Holcombe proved enough to get the job done for the reigning champion who claims his first overall and E2 class win of the season.
"I made some mistakes today but the conditions were really, really tough and everyone made mistakes." Andrea explained. "I'm really happy with my riding this weekend and to get the overall win today. It was a good one for the team because the last few GPs have been difficult for us so this one is thanks to them, they put in a lot of work."
Steve Holcombe was more than happy with his riding this weekend, not least because he takes over the world championship leader's gold plate: "I knew coming here it was a chance to take some points. On the back of the win in Sweden and the Italian Championship the feeling was really good with the bike and the tests were long, my kind of going really. I tried to keep it consistent all weekend and Andrea was riding really good too. We knew there was a chance of rain but I didn't expect that much! We made some mistakes and I had technical problem in one which lost me a lot of time but sometimes it's like that. After a day like that I'm happy to take second and the gold plate to Portugal."
The fight to be best Sherco rider again spilled over into the overall podium with Hamish Macdonald taking that honour today. The Kiwi has been threatening all season and with Freeman and Garcia out the reckoning this weekend, he stole the chance for his first EnduroGP podium: "I'm really happy with my riding this weekend. We came here with a new bike, new settings, new everything. I struggled a bit yesterday to find the rhythm and it was a difficult day with the rain but I'm obviously happy to score my first overall podium in the GP class."
Just like day one it was refreshing to see some different names up the top of the sheets and on this second day that included Mikael Persson, Antoine Magain, Jamie McCanney and Samuele Bernadini – who finished best placed Honda rider.
The battle for the E3 class victory saw Persson taking advantage of his Scandinavian snow riding experience to rail some of the ruts and claim the win and fourth overall, his best result of the season.
Remarkably it wasn't until the final lap that injured Josep Garcia relinquished the E1 class win. The pain of a plated shoulder proved too much after the two long days and the KTM rider had to "settle" for second in E1 and P6 overall.
Jamie McCanney was more than happy to capitalise, coming on strong in the rain and mud to take his first world championship win since 2018 and Fast Eddy Racing's first ever win.
For the third GP day in a row (actually fourth if you disregard a time penalty on day one in Sweden) Albin Norrbin was the class act in the Juniors. The Fantic 300 two-stroke-mounted Swede had already gained a half minute advantage by the end of lap one
Behind Albin things were much closer with a three-way fight between Jed Etchells, Max Ahlin and Jeremy Sydow for the podium places. Etchells put in a shift on the final lap to pull clear and close the huge gap to first, it wasn't enough Norrbin wins for the third day on the bounce, Etchells maintains his points lead with second for a Fantic one-two and Max Ahlin claimed that final scratch Junior podium place.
Thibault Giraudon put in a repeat performance to start his day one in Gelnica, heading the Youth class standings but his French rival Leo Joyon. A strong second half of the day in the worst of it gave Joyon the win ahead of a French top four of Giraudon and the Clauzier brothers Clement and Maxime with series leader Kevin Cristino suffering in the slop for his worst results of the season in P5.
Open class honours went to Enzo Marchal by a comfortable near two minutes margin ahead of Jiri Hadek third scratch – the pair taking Open 4T and Open 2T class honours respectively.
The day concluded with the podiums from both days which were preceded by a minute silence in memory of Jaroslav Diro followed by the Slovakian national anthem.
2023 EnduroGP of Slovakia day 2 scratch results: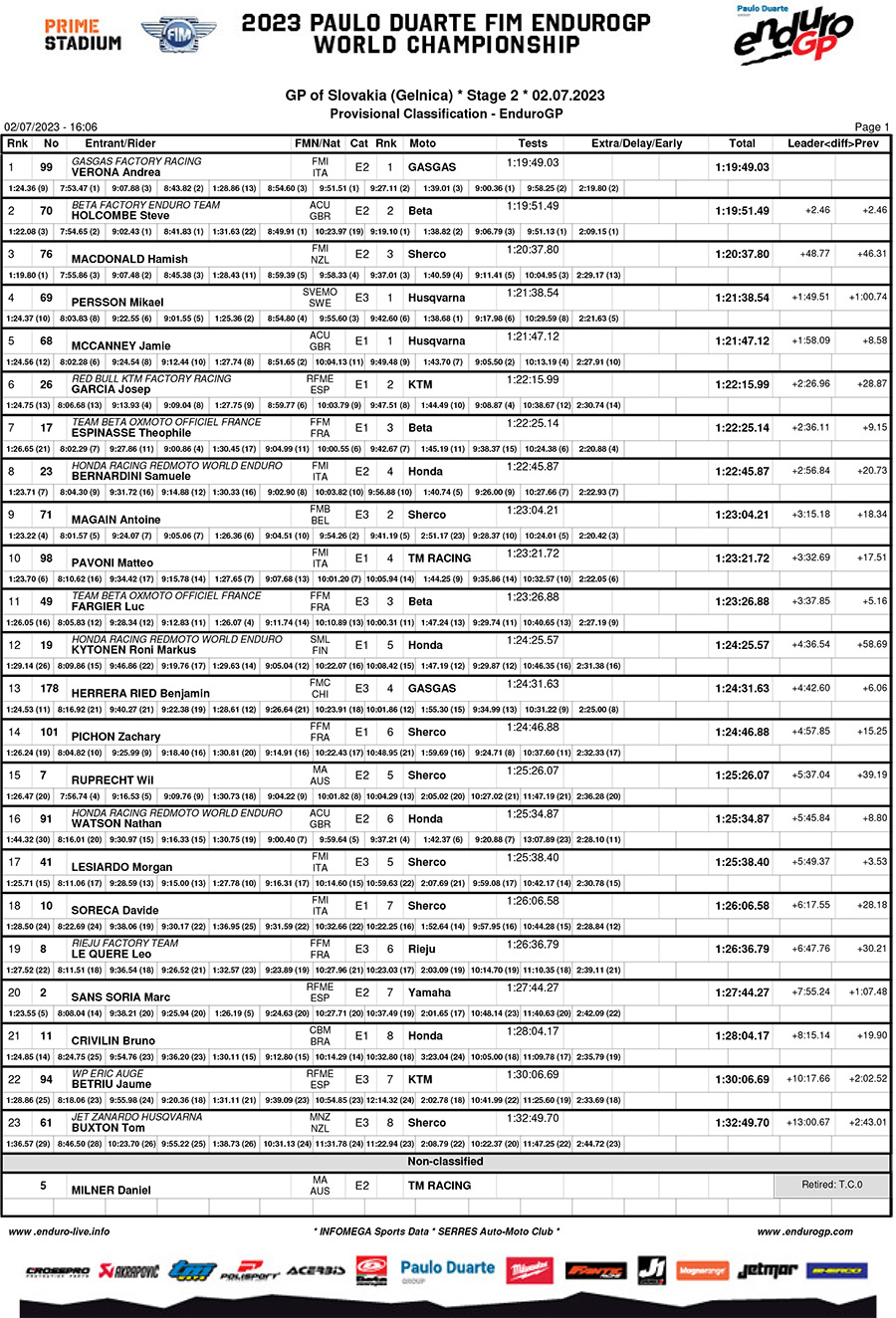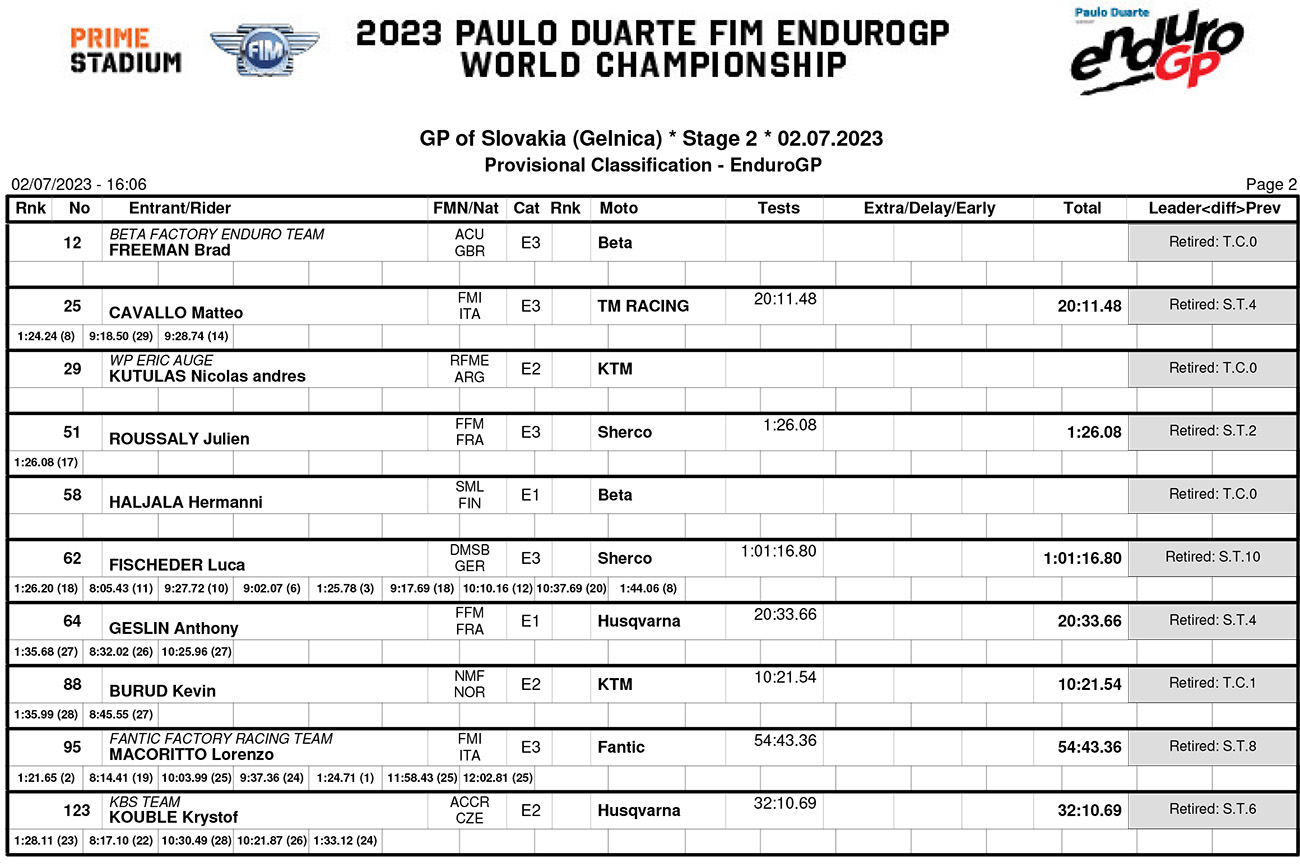 E1 class results: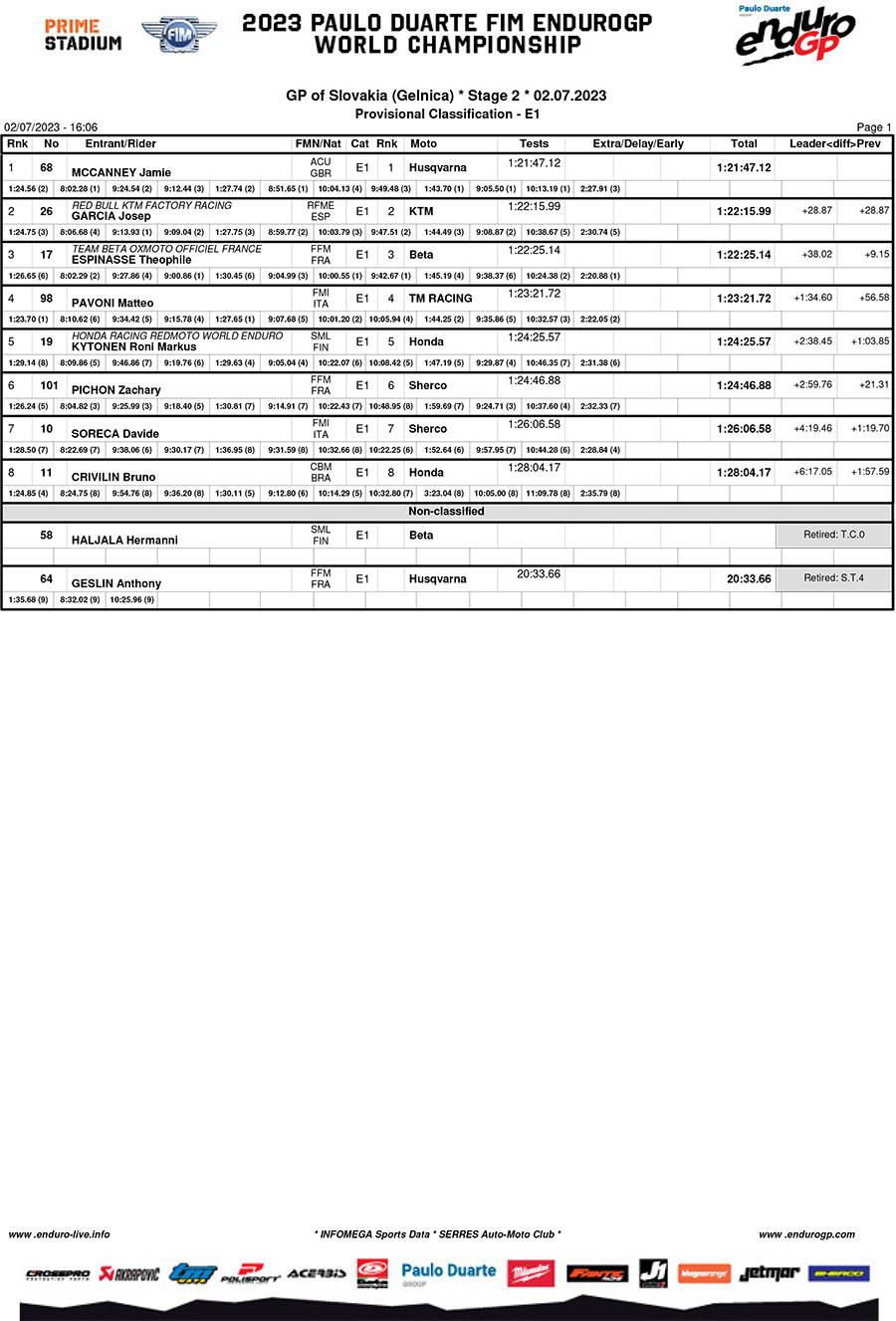 E2 class results: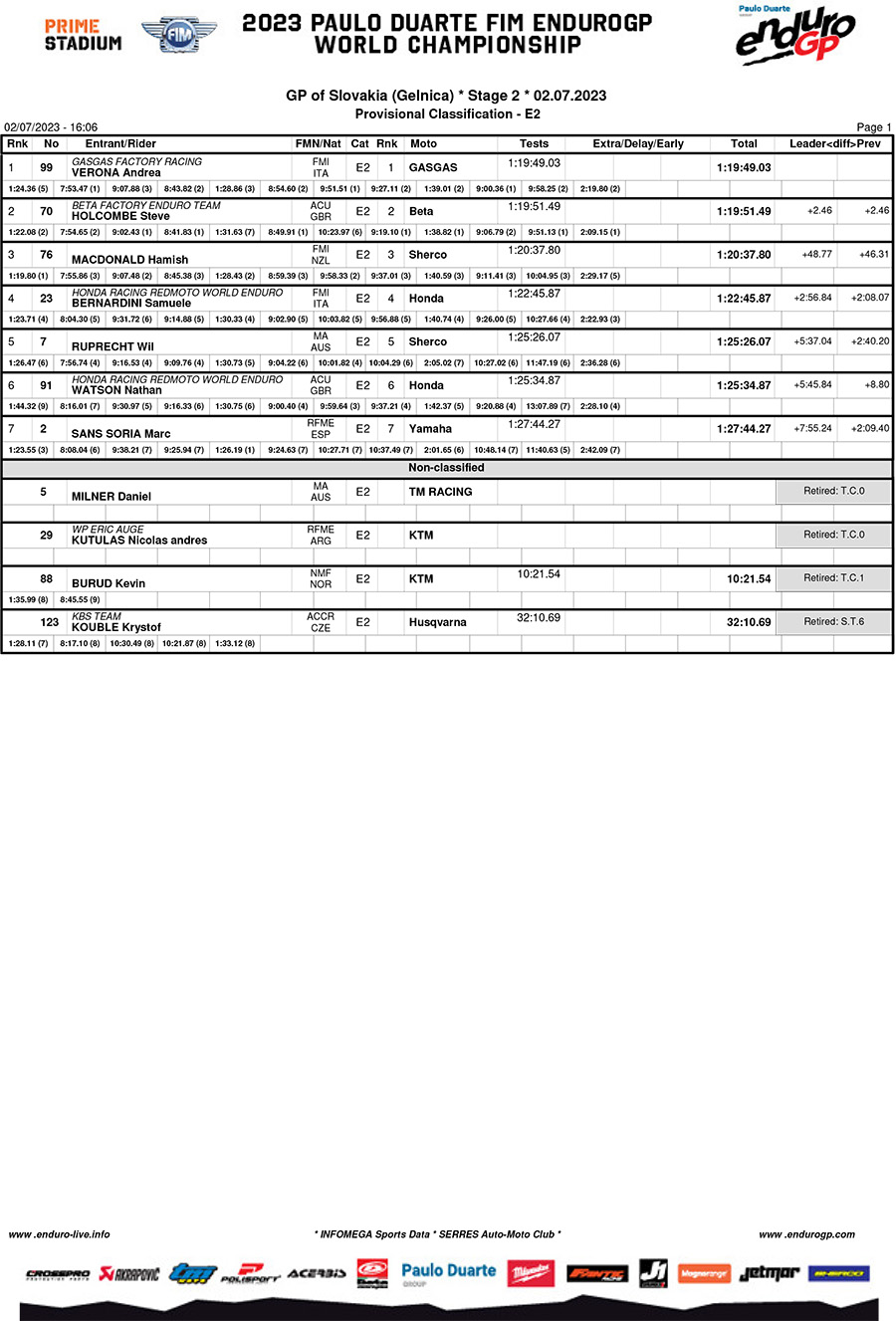 E3 class results: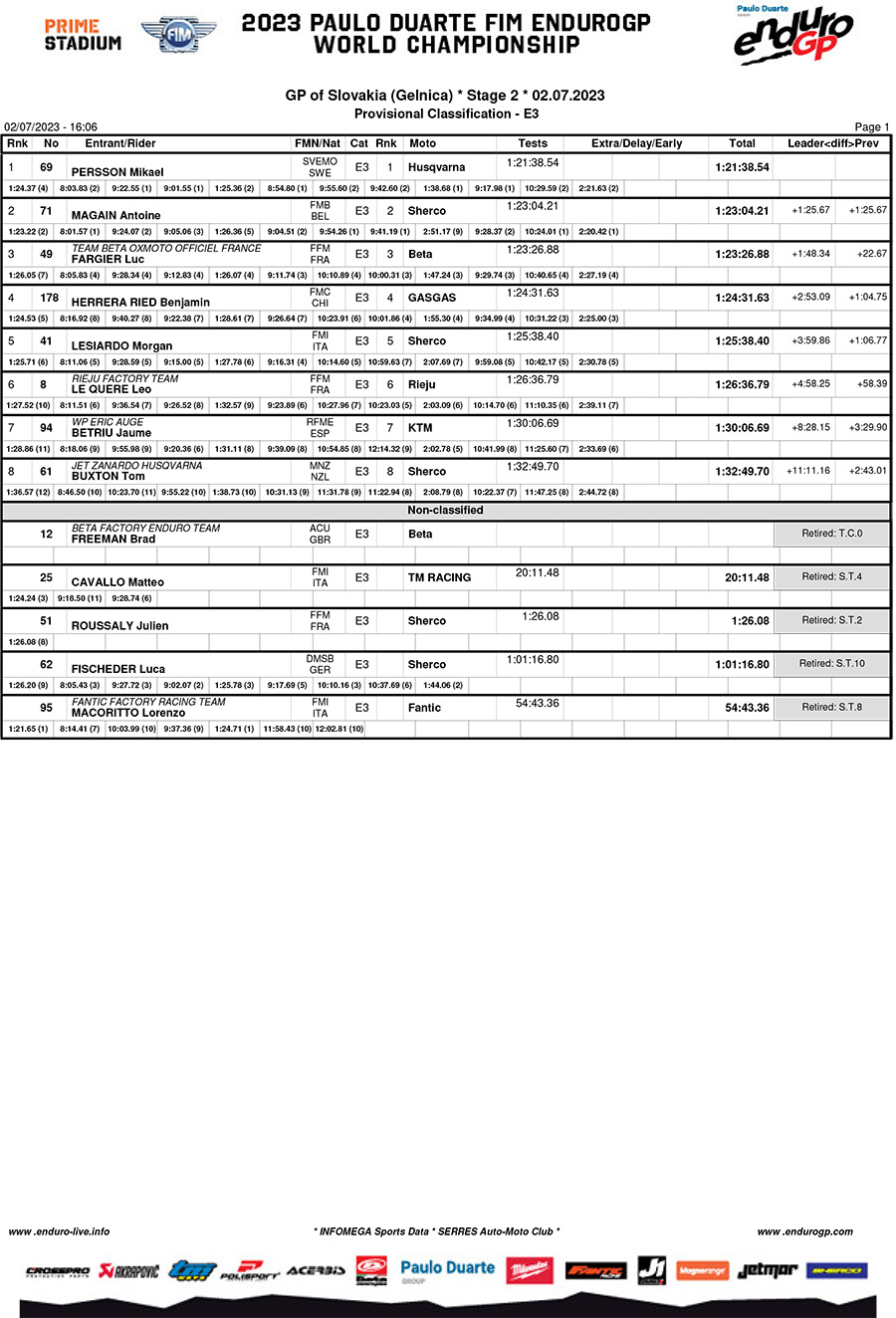 Junior results: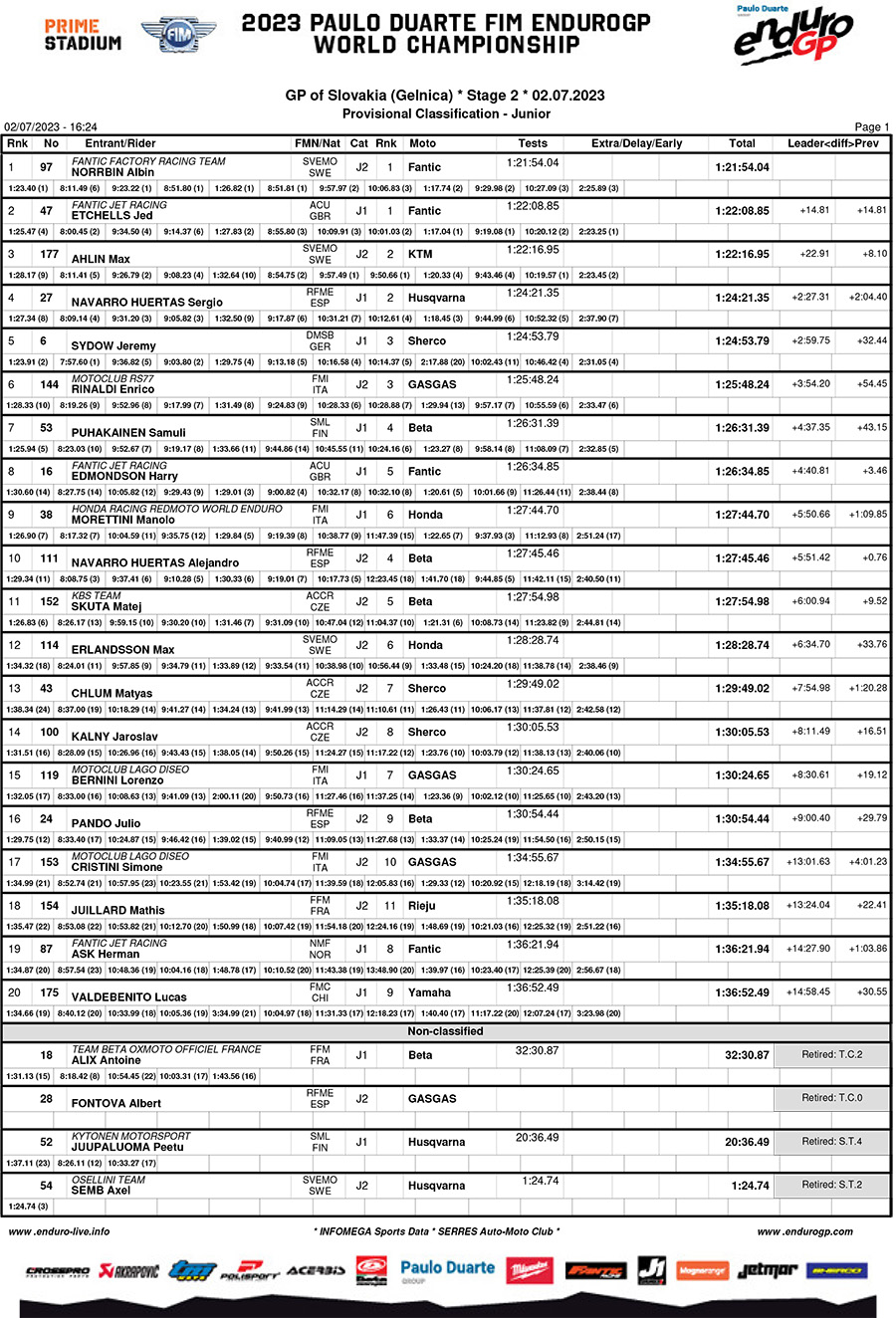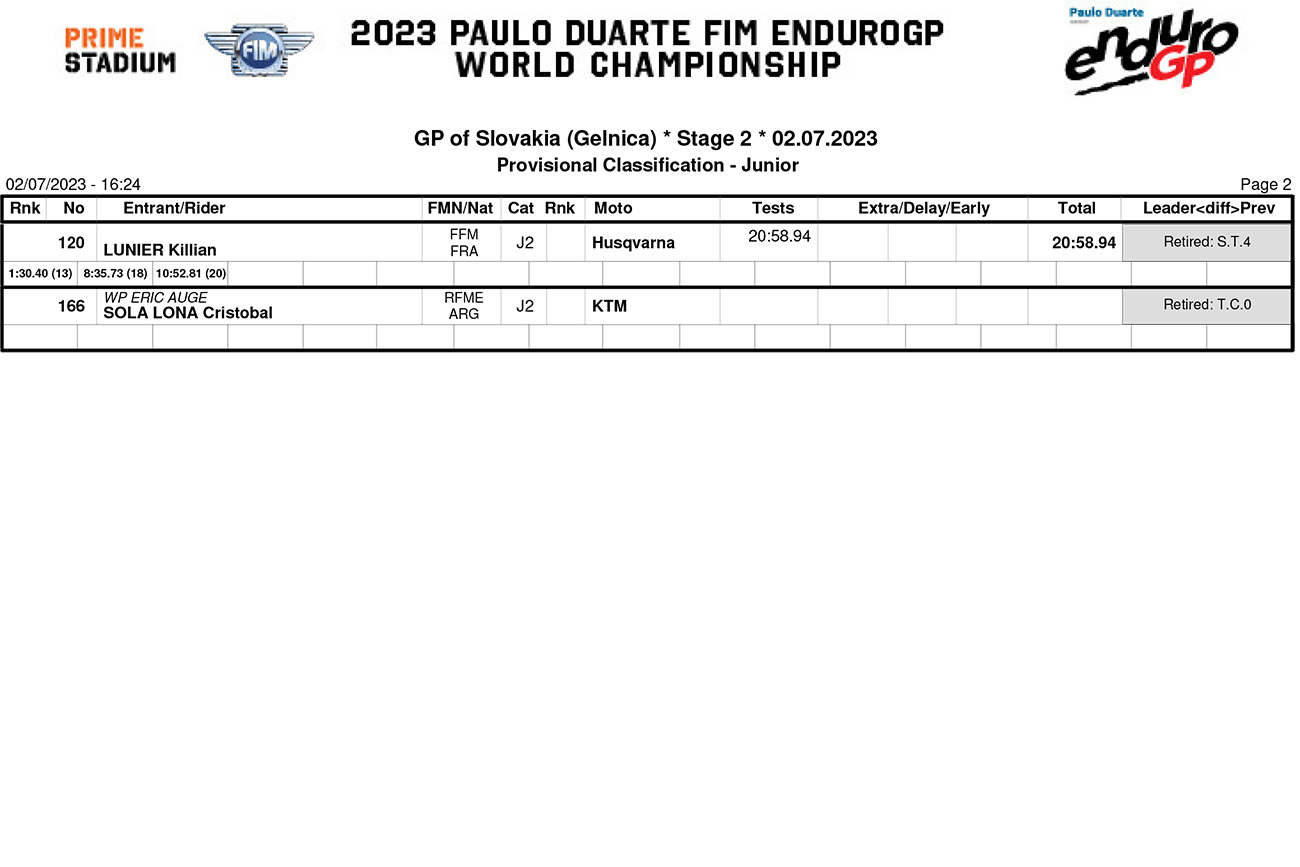 Youth results: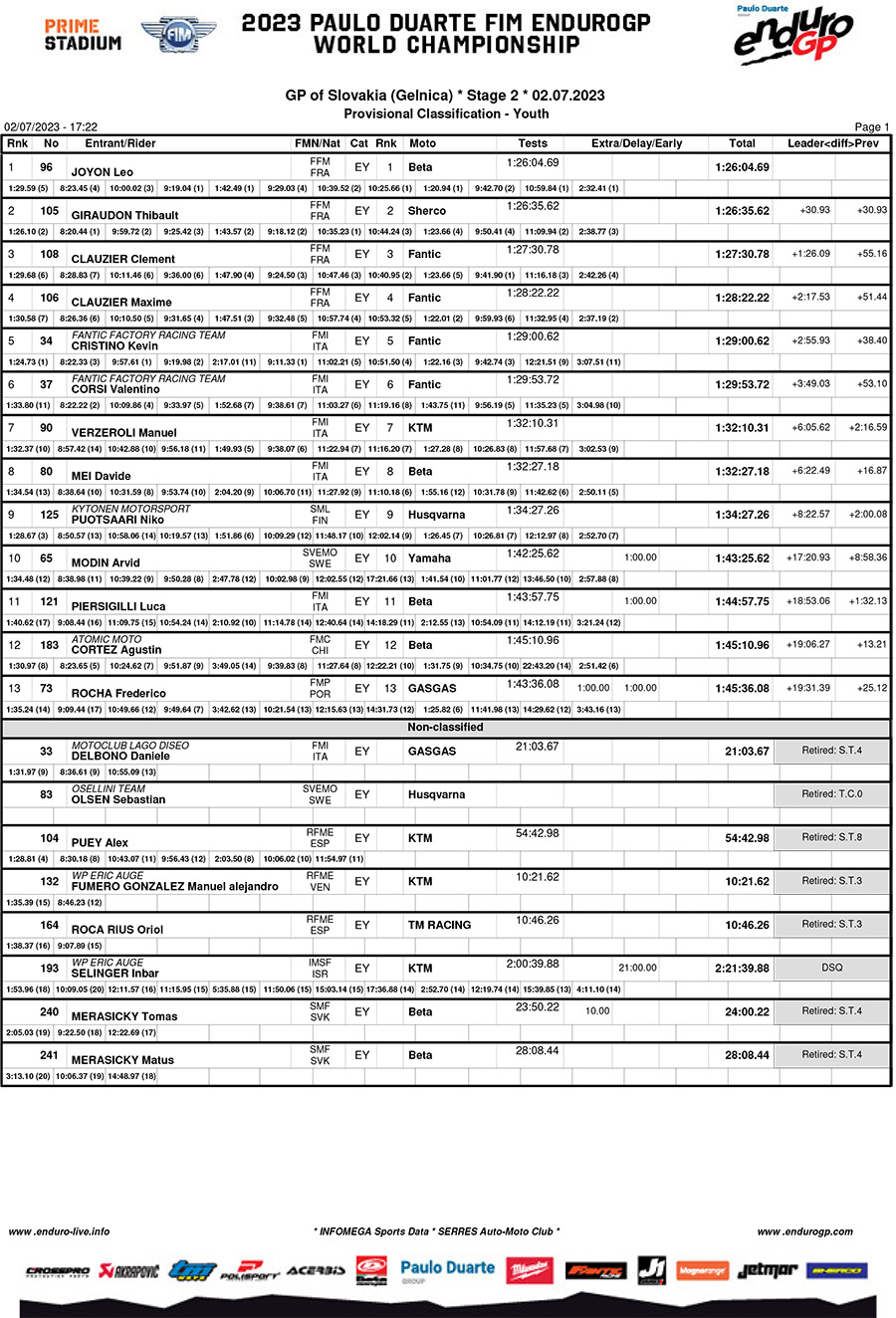 Open scratch results: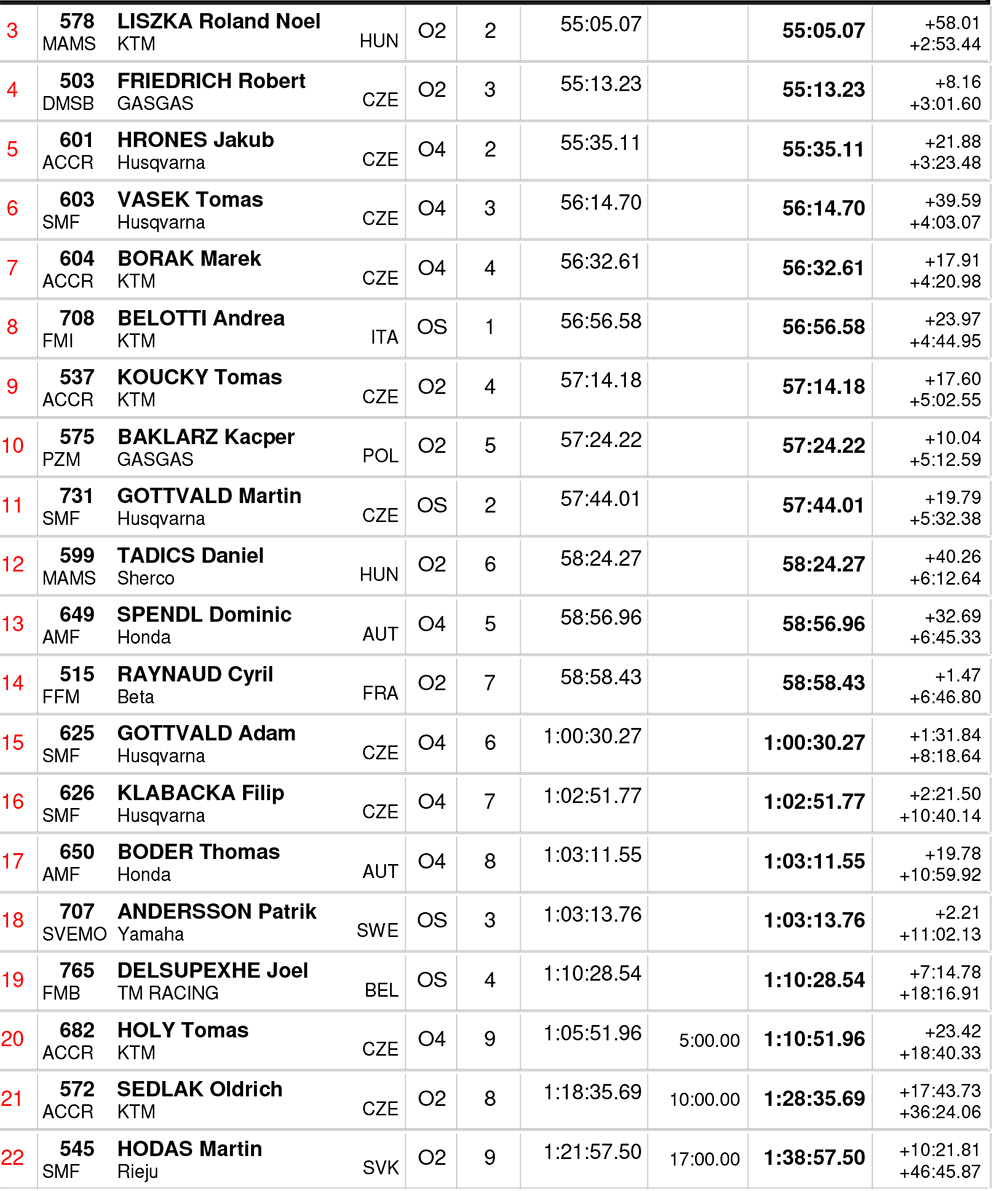 Photo Credit: Future7Media | Andrea Belluschi