EnduroGP Results: Steve Holcombe in charge of tough day 1 in Slovakia
2023 EnduroGP World Championship results from Gelnica in Slovakia where Steve Holcombe reigned supreme in the long and tough traditional tests to take victory ahead of Andrea Verona and Wil Ruprecht.
2023 EnduroGP of Slovakia Day 1 in a nutshell:
Day one at the 2023 Slovakian GP naturally began in sombre mood following last night's tragedy. The paddock as a whole was united in respecting the sad loss of Jaroslav Diro in the Super Test.
When the racing got under way at 9am a fascinating contest emerged with Andrea Verona starting strongest ahead of a tight tussle of riders close on the time sheets. It was fascinating because finally some fresh names emerged in the mix including Will Ruprecht, Theo Espinasse and Jamie McCanney up the sharp end.
It was a tough day on the pegs too with three of the four tests each lap clocking over eight minutes for the fastest riders. It was a hard physical and mechanical test which brought no shortage of retirements.
As we headed deeper into the day though a two-horse battle between Verona and Steve Holcombe took hold with the Beta rider making significant gains in the two tough and long enduro tests. Though Verona made time back in the technical extreme test often as not, the meaty enduro tests were Holcombe's making in taking his second GP day win of this season on the bounce: "It was a tough, long day with three of the four tests each lap over eight minutes. I was really happy to find my rhythm a bit later on in the day after a great fight with Andrea."
For Verona it was an improvement over recent results: "Happy to be back on the overall podium after some difficult GPs. It was a good fight with Steve all day long and I enjoyed a lot being back in the mix and let's go full gas for the win tomorrow."
Third place and with some relief was Australian Wil Ruprecht who was mindful of the loss of Jaroslav Diro: "First of all we lost one of us last night so I dedicate my ride today to him. But for myself it was a good day but a typical Slovakia GP with long, hard tests. Let's see how we go tomorrow and try to back it up."
Frenchman Theo Espinasse has been on superb form in these last few GPs and takes a the E1 class outright win once again with fourth scratch ahead of Hamish Macdonald who pipped Jamie McCanney into P6 overall but puts the Fast Eddy Racing team P2 in E1.
Mikael Persson was P7 and with that takes the E3 class win, as he said taking advantage of Freeman being out ahead of Antoine Magain and Matteo Cavallo completing the top 10 scratch.
The names missing from the top of the sheets were Brad Freeman and on the whole Josep Garcia. Enduro shows no mercy and the former points leader Freeman didn't look himself and didn't last long before crashes in the first lap forced him to withdraw for the good off his health.
It was a tough test for Garcia's plated shoulder too with the long enduro tests proving hardest for the KTM rider who gained points battling painfully to P8 scratch and remarkably an E1 class podium.
The Junior class contest began an equally close one with points leader Jed Etchells trading blows with Albin Norrbin and Axel Semb also in the contest. But like Holcombe in EGP class, Norrbin was able to make decent time gains in the enduro tests and by the third and final lap had stretched a healthy 44 seconds gap ahead of Etchells in second place and Jeremy Sydow third.
The French triclore colours were all over the Youth 125 class today with a clean sweep of the top three places. For the first time this year Kevin Cristino got beat with rivals Thibault Giraudon and Leo Joyon claiming P1 and P2 ahead of Max Clauzier third. This was Thibault's first win of the season for his Sherco Academy team. Points leader Cristino was 2:42 down in fifth place after a very tough day.
Comfortably the Open class victory on day one went to Enzo Marchal. The Frenchman was three minutes to the good of Roland Liska and Jiri Hadek third scratch.
2023 EnduroGP of Slovakia day 1 scratch results: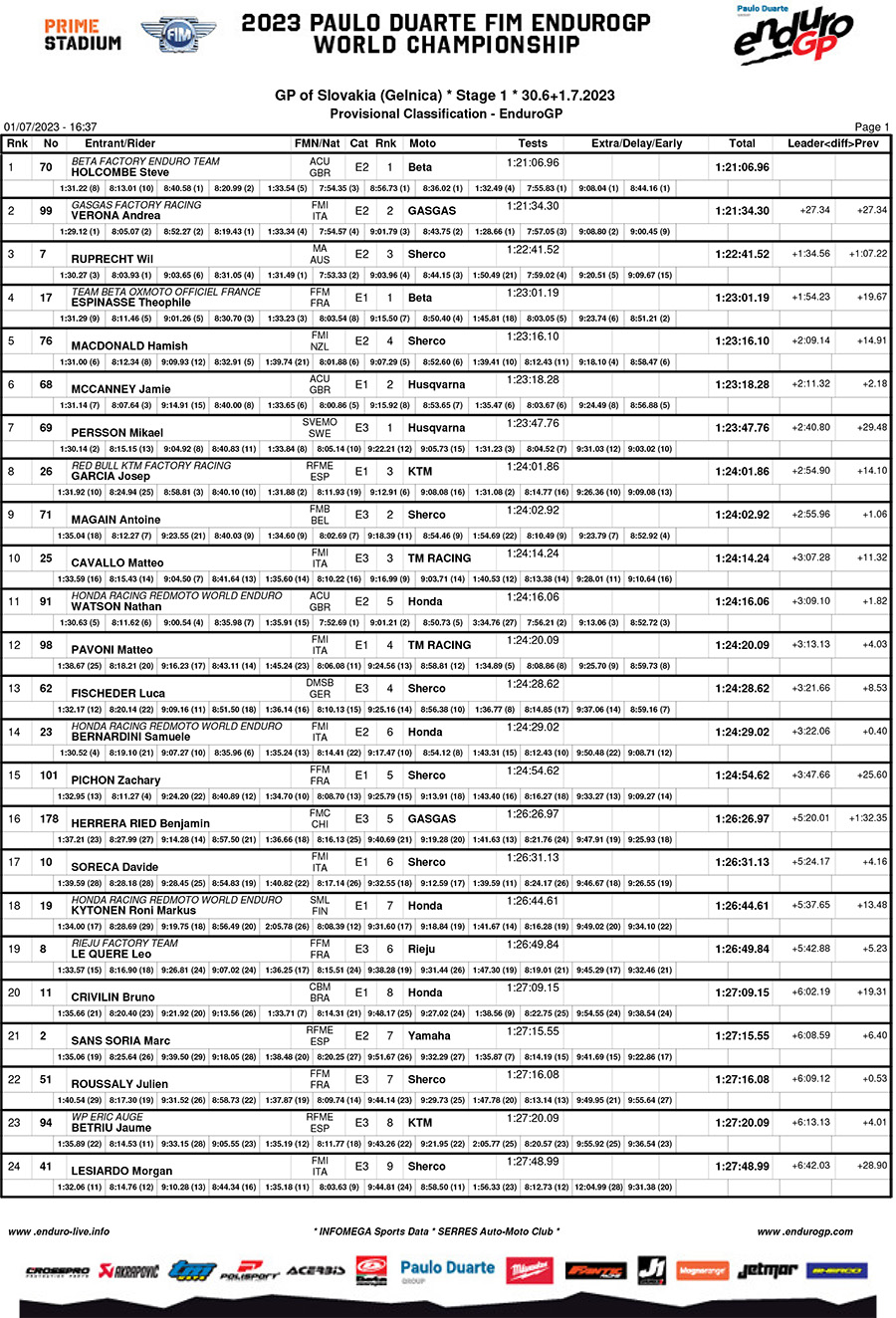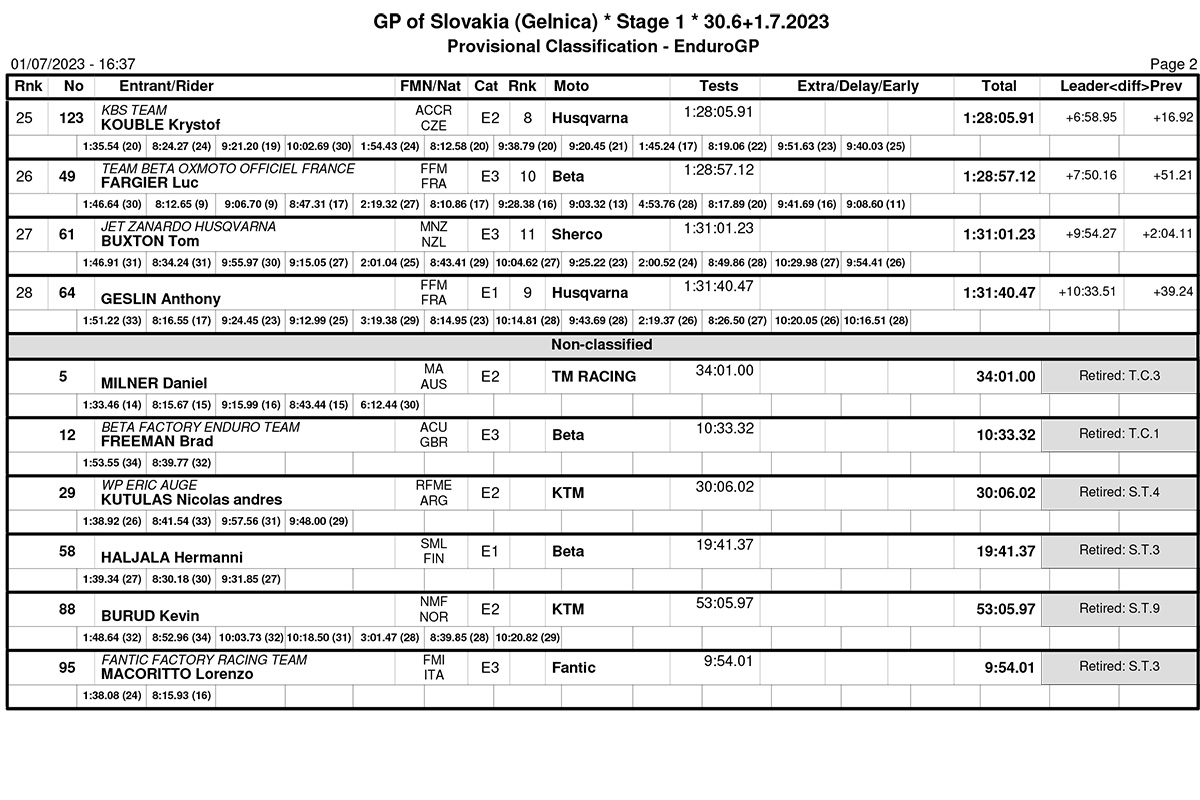 E1 class results: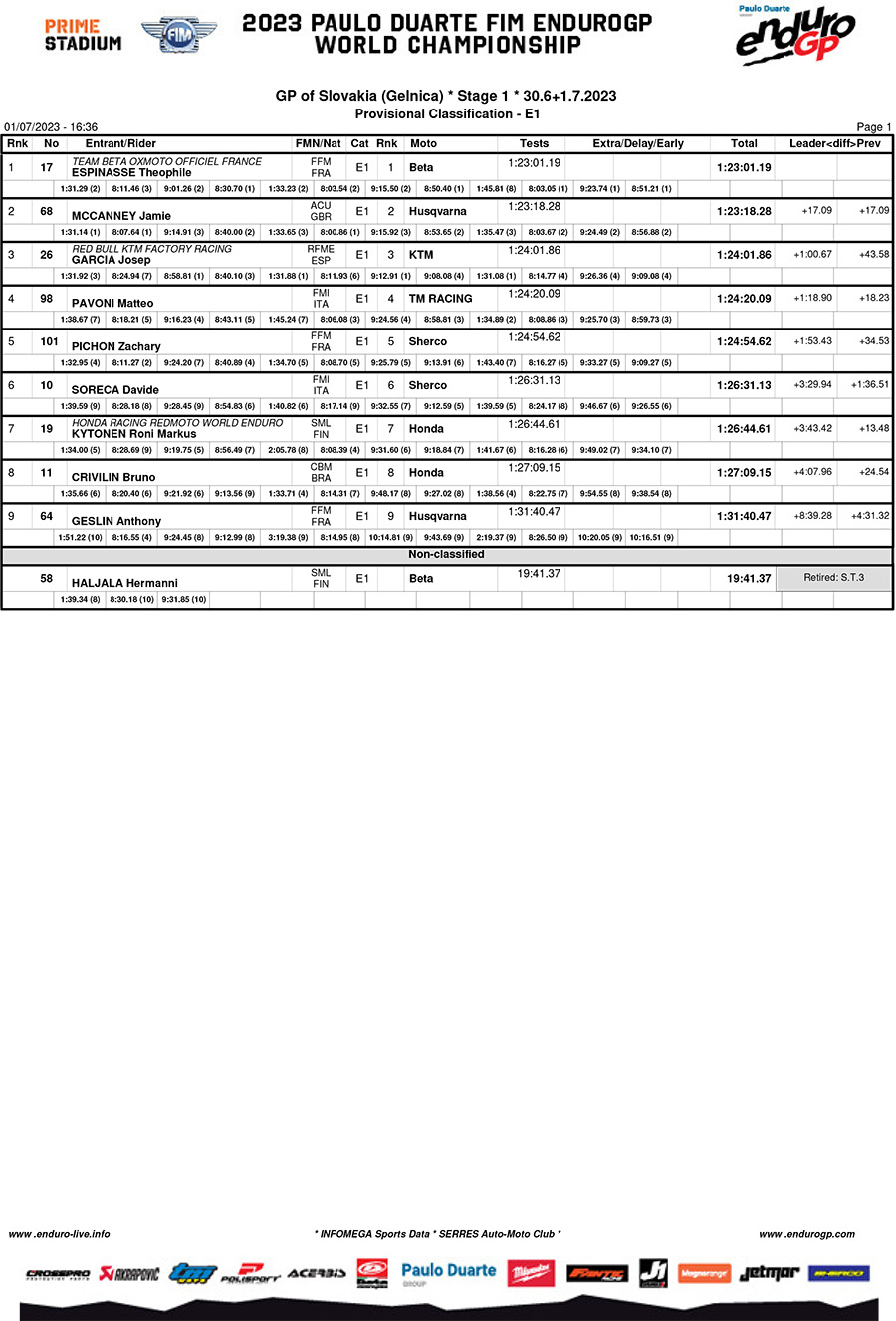 E2 class results: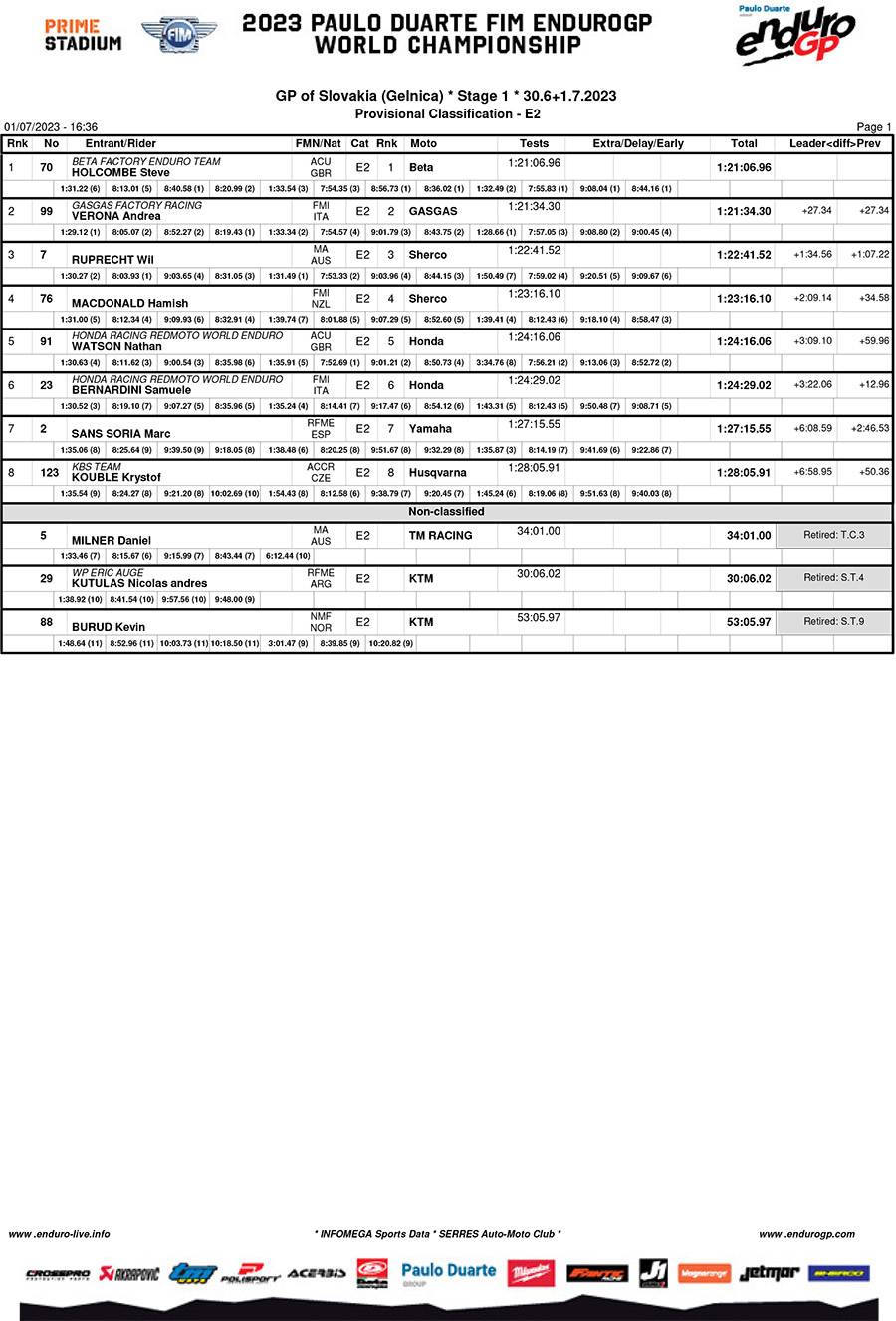 E3 class results: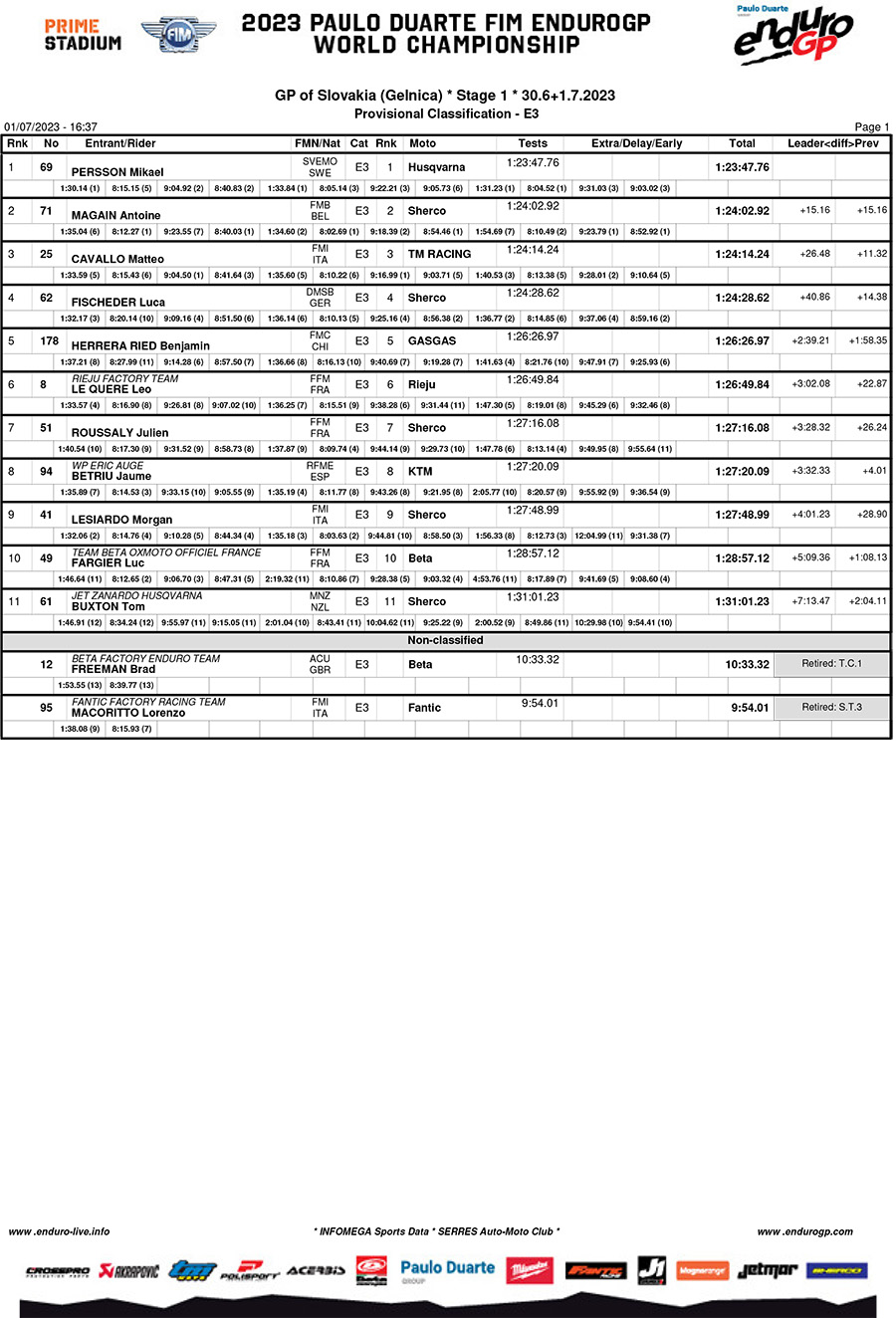 Junior scratch results:
Youth results: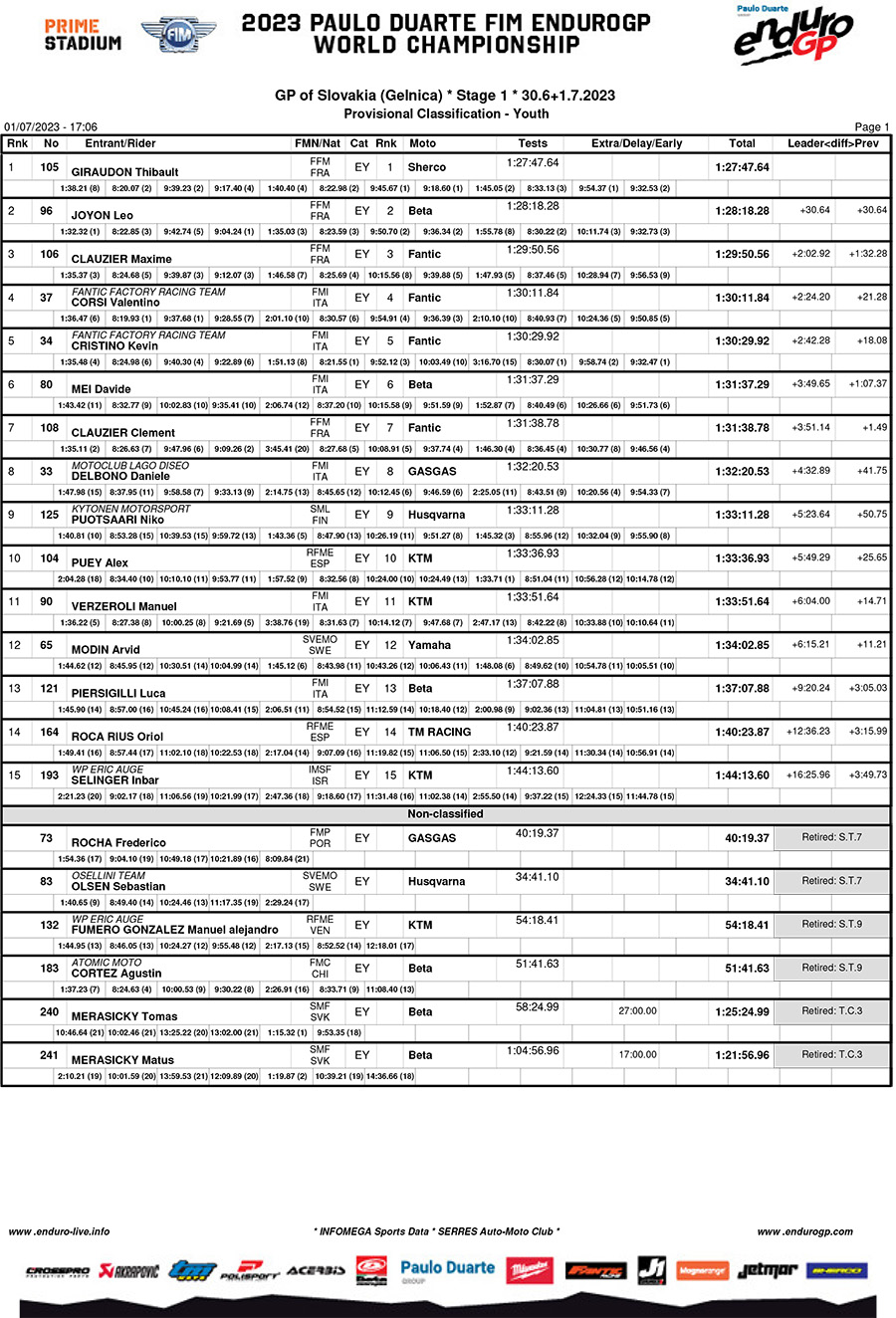 Open class scratch results: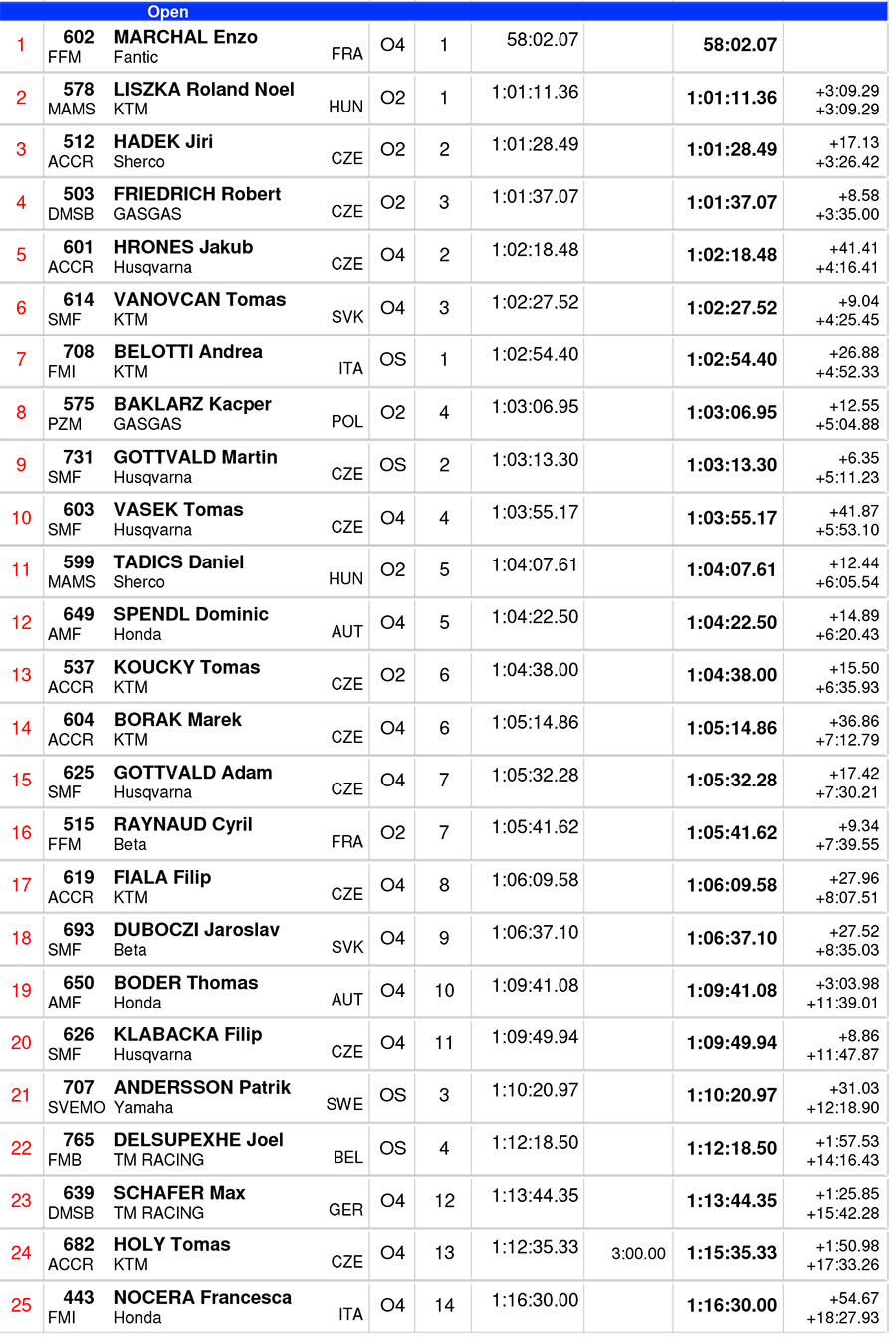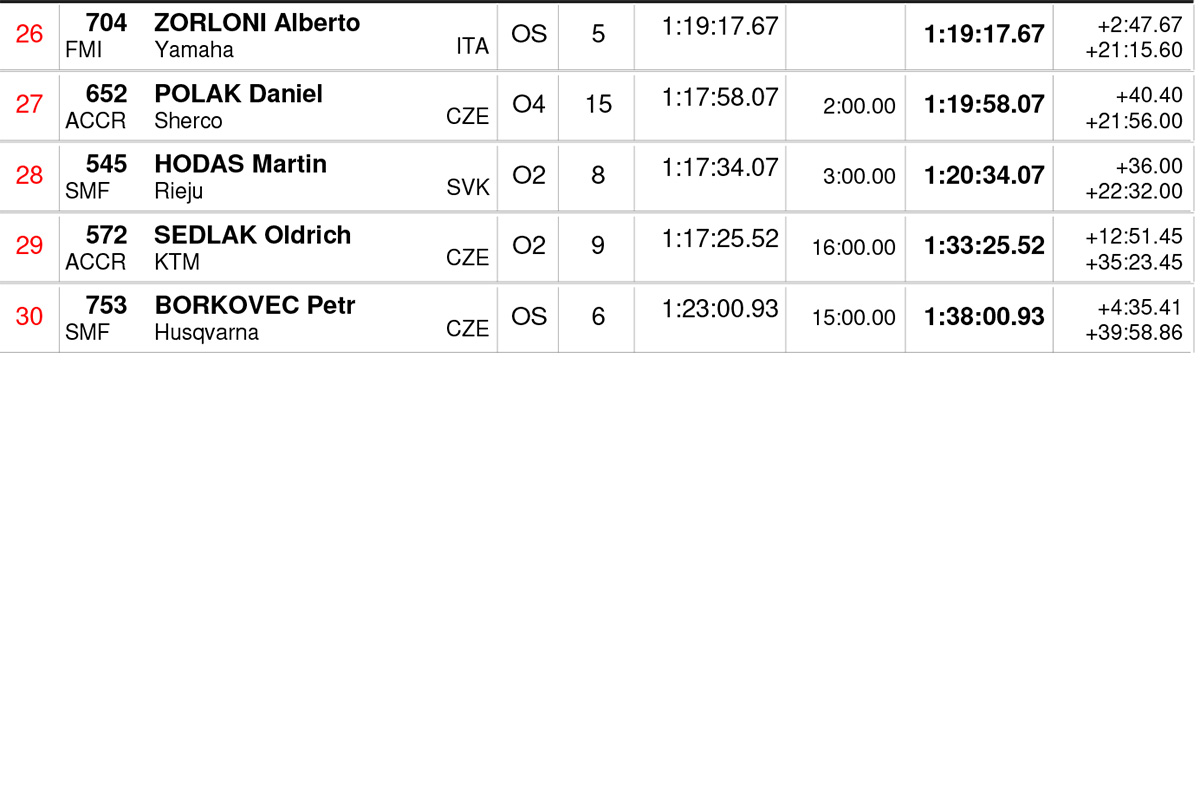 Photo Credit: Future7Media | Andrea Belluschi