2020 Red Bull Romaniacs: Going back to its roots – qualification races ready to go
The 2020 Red Bull Romaniacs is set for a return to its roots when it officially begins tomorrow, October 27, with the time trial qualification races. When Hard Enduro Rallye race days begin early on Wednesday, competitors will face the "fight with the wild Romania terrain" alone with no outside assistance allowed this year. Who's your money on?
Romaniacs organiser Martin Freinademetz, track director Teo Isac and his team have been hard at work preparing the 2020 Romaniacs course for longer than usual given the dates shift from July to October due to Coronavirus. Is this event going to be tougher than ever? Their answer: "sure it is!"
No help allowed
Making the event even tougher this year, or fairer depending on your viewpoint, is the fact no help will be allowed in the difficult sections of the tracks. Spectators and in particular the crew of some teams helping their riders has been a feature of recent years.
The 2020 event was always going to make that rule change to prevent the outside assistance but now, with Covid-19 regulations affecting us all, the need to go it alone has been amplified.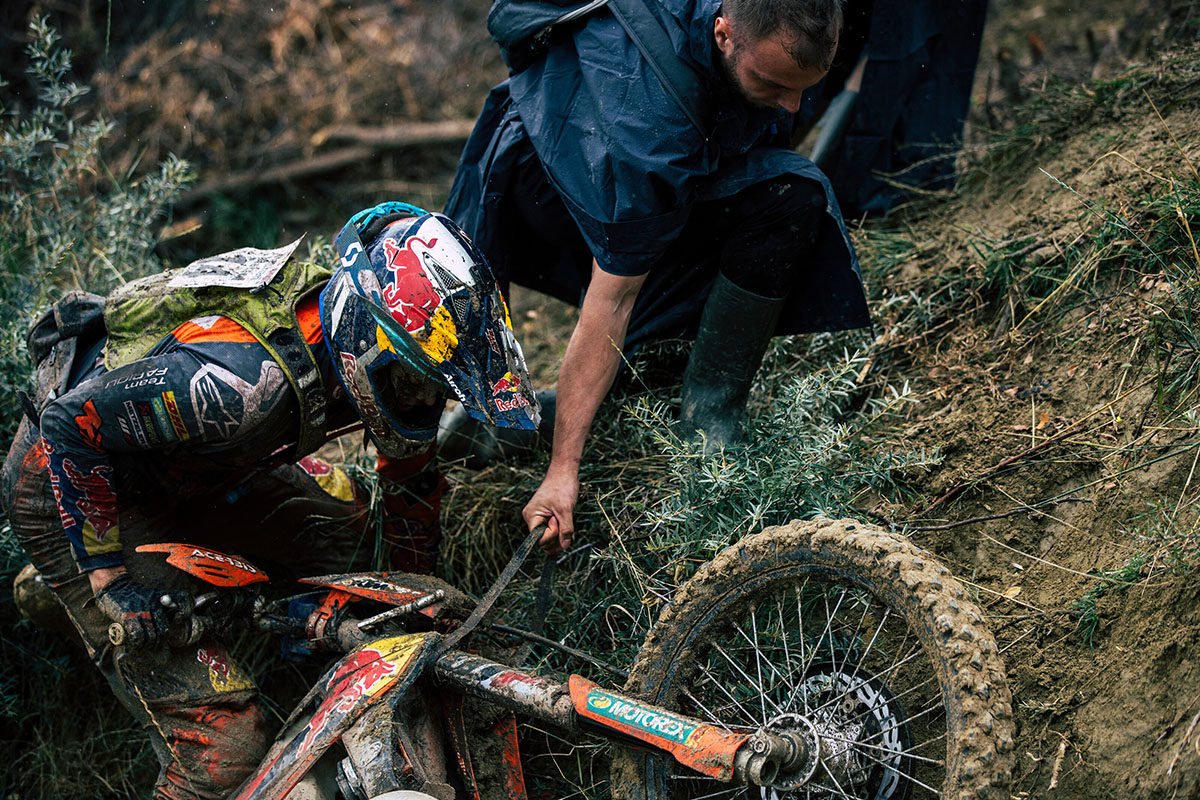 The Romaniacs crew say they will have official track managers at the most difficult points of the route whose role will be to "advise and encourage" competitors by pointing out the best lines so the competitors can make solo attempts to conquer "the worst of worst goat trails, the tracks that just look totally impossible, and the terrain that only the wild animals would visit."
Tuesday is time trial day
The 2020 Red Bull Romaniacs begins this year without the traditional street prologue but time trials instead. Courses for each class – Gold, silver, Bronze, Iron and Atomic – will vary according to ability with the aim to set a time to establish start order for the main four days of racing.
Check track manager Mike Skinner's POV onboard edit of the time trial tracks:
Who's got this?
Is the Red Bull Romaniacs grandmaster and six-time winner Graham Jarvis set for victory number seven this year? Given the form he has shown throughout 2020 and the "no help" nature of this year's event you'd be daft to bet against him.
There are just a few riders who will have something to say about that though including 2019 winner Manuel Lettenbichler, 2018 winner Wade Young and his Sherco teammate Mario Roman Not to mention 2019 runner-up Alfredo Gomez, 2018 SuperEnduro World Champion Billy Bolt and a certain Taddy Blazusiak making his debut for GASGAS.
Enduro21 will of course bring you all the results, news and the best photography daily.
More information: www.redbullromaniacs.com
Photo Credit: Future7Media + Atilla Szabo | RedBull