2021 Roof of Africa: Wade Young takes his sixth overall win
Final results from the 2021 Motul Roof of Africa where Wade Young conquered the wet and windy conditions to claim his sixth win – Travis Teasdale and Matthew Green rounded the podium.
Due to the horrible conditions on the previous day, the organisers changed the format for the final day of the 2021 Roof. The 53rd edition has been labeled one of the most challenging by most of the riders and an easier third day one the pegs was welcomed.
With a healthy 30 minute advantage, Wade Young started the final race day with one hand on the trophy. A navigational issue forced Wade to turn around and re-run a section of the course that he missed but the Sherco rider manage to recover enough time to take home his sixth Roof of Africa win in total and fourth in a row.
"I'm really happy to win my 6th Roof, it was a proper test with the changing weather conditions and a wet Roof is always going to test the mind and body, I'm just relieved it's over and now it's time to celebrate a long year!" said Young.
Travis Teasdale has been on fire at this year's Roof. The TT Racing team rider posted the fastest time on day one's time trial and backed that up with another first place on day three. But it wasn't enough to take the win on the corrected time although it was a very solid result for Travis.
Last step of the podium went to an excited Matthew Green who has just quietly sat in third from start to finish. "It was a really long weekend," said Matthew, "the guys did a great job again this year and I'm very happy to be on the podium."
The Silver class was won by Sage Mcgregor with Jason Stay in second, over six minutes behind. Despite saving the best for the final day and setting the fastest time, Whitney Oosthuisen had to settle for third overall. Only nine riders out of 89 starters made it to the finish line…
Rory Gower took the win in Bronze class after leading the race from start to finish. Pieter Holl and Jukka Hold finished second and third respectively. Iron class was won by Tiaan Rabe followed by Manuel Ferreira and Kowie Lombard.
2021 Roof of Africa final results Gold class: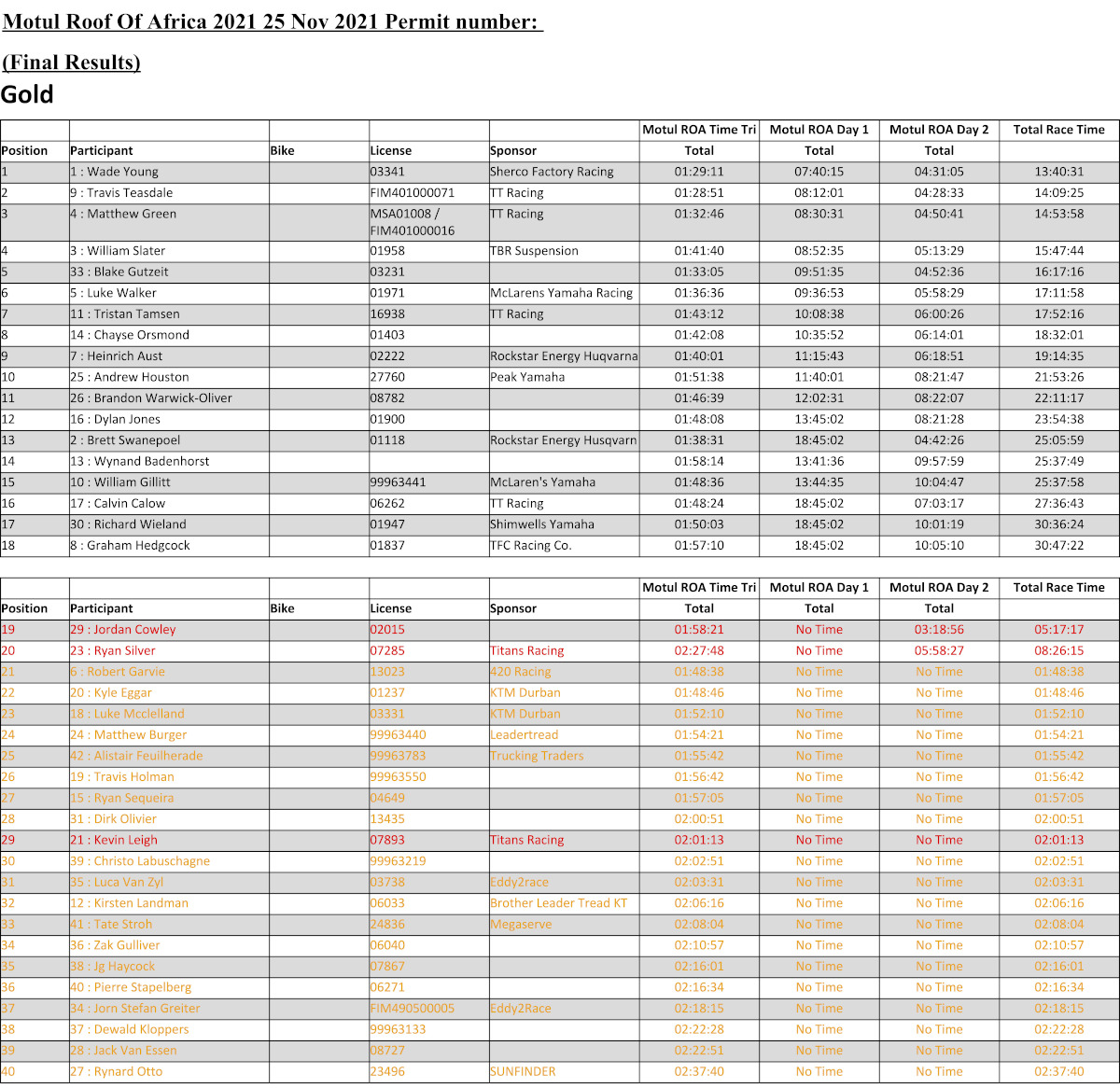 Full results: www.roofofafrica.co.ls
Photo Credit: Kevin Sanders + ZCMC