2022 Roof of Africa: Wade and Walkner take wins on rain affected day one
Results from day one of the 2022 Roof of Africa Hard Enduro where Wade Young kicks off winning the Round the Houses street race while Michael Walkner sets the pace in the first real test, the Mountain Battle.
The first day of the 2022 Roof of Africa was bookended by summer downpours for over 400 competitors and the fans who lined the streets in Maseru, fans who included the newly elected Prime Minister of Lesotho and supporter of the race, Sam Matekane.
The 2022 race sees the return of the popular Round the Houses opening race and with the sun soon drying the asphalt, riders from all four classes (Gold, Silver, Bronze and Iron) were hammering enduro tyres on the streets of Maseru.
The road-racing component of the Roof was tight in the Gold Class with reigning champion Wade Young pipping 2022 South Africa Enduro Champion Brett Swanepoel to the flag.
Michael Walkner wins the Mountain Battle
Much as Round the Houses is an iconic component of the Roof, the "Mother of Hard Enduro" is of course all about the race in the Maloti Mountains. Starting from Bushman's Pass, the combination of challenging terrain and "four seasons in one day" weather is all part of its reputation.
This year's Roof was the first time Gold and Silver class riders took on the new "Ntoa ea Thaba" or "Mountain Battle". But early afternoon hail and thunderstorms dictated a slight change of format meaning the organisers used the top 20 Gold class practice times and instead sending riders out for a single hot lap.
The day one results, like the weather, caught a few people off guard in the Gold class with Micheal Walkner notching up the win by just two seconds from Mani Lettenbichler – both making their Roof debuts. Last year's runner-up, and the highest-placed southern African rider so far, Travis Teasdale rounded out the podium.
Day one, Mountain Battle, Gold class results: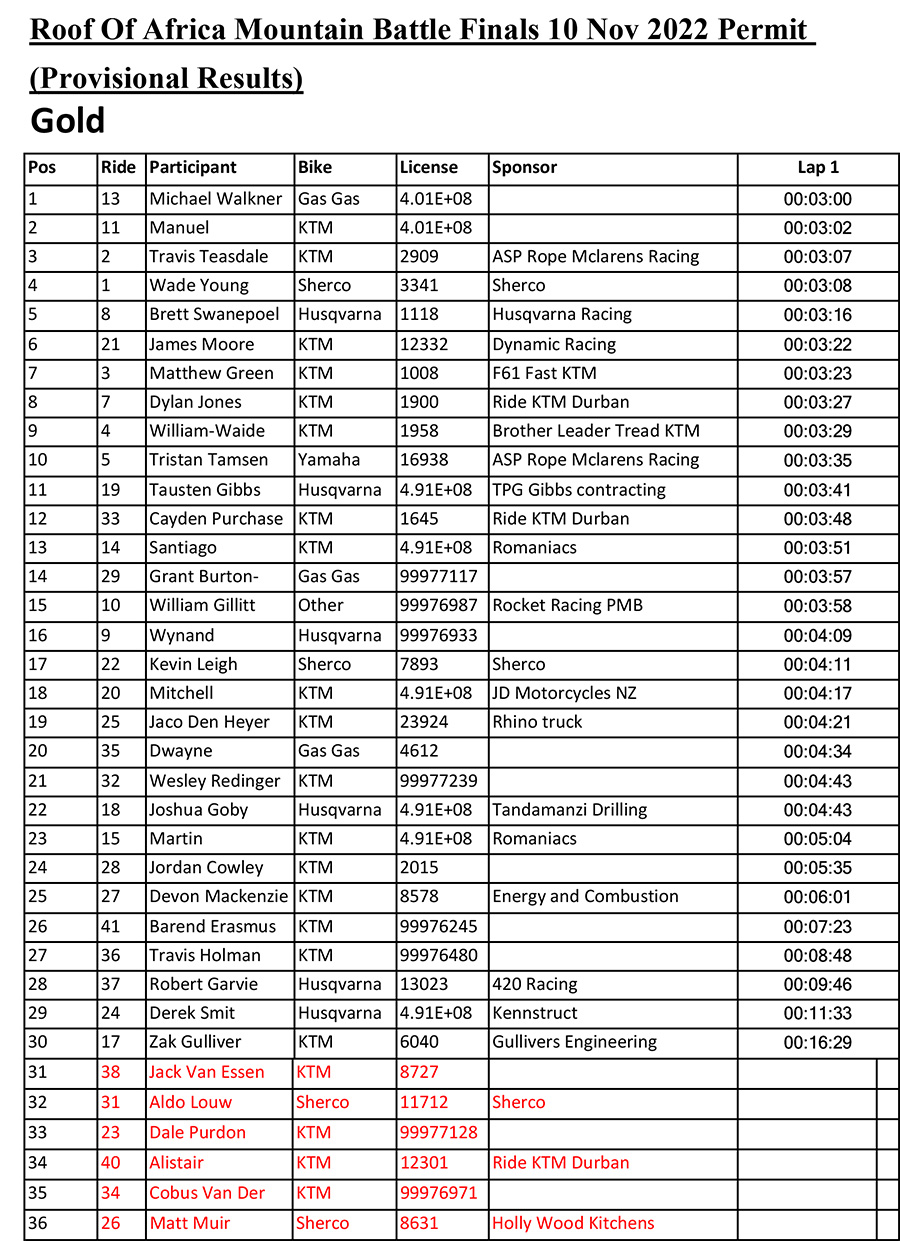 Day one's rain especially impacted the Silver class, with practice times from qualifying having to be used to determine their podium. Daniel Schröder currently sits in first place, followed by Austin Stuart and then Luke Walker.
In the Bronze class, Brian Burrows built up an almost five-minute lead over Tate Ströh with Stiaan Potgieter in third.
The Iron class day one podium was a clean sweep for KTM riders, with off-road veteran Tom Classen followed by Jack Brotherton and then Pieter Kritzinger.
More information including live timing: www.roofofafrica.co.ls
Photo Credit: ZCMC