2022 US Hard Enduro Series: Trystan Hart wins 2022 Grinding Stone season opener 
A thumb injury and a long winter didn't stop FMF KTM's Trystan Hart topping the results with a comfortable round one win in the 2022 AMA US Hard Enduro Series at the Grinding Stone Hard Enduro.
The opening round of the 2022 season on the infamous sandstone desert rocks not far from Lake Powell in Arizona was as demanding as ever. Heading up and down the deserts 'mesas', the course totalled around 14 miles and a five-hour time limit.
200 riders in eight classes lined up at the start and it was Trystan Hart who grabbed the holeshot. Cooper Abbott in fact took the early lead on the opening lap but it wasn't long before Hart was out front and following a game plan to "get a good gap" and open the course without riders on his tail – a luxury made easier with Cody Webb and Colton Haaker not racing this round.
Hart was impressive out front and extended his lead with every lap to record a 40 minutes advantage by the final flag.
"I underestimated it a bit," explained Trystan at the finish, "I thought the track was going to be easier but after one lap, all the dust got on the rocks and it got really hard! There were some downhills that I was basically pushing my bike down, so they did a good job with the course.
"It was really good, I got a good gap on the first lap and that's kind of what I planned on doing, so I wouldn't be navigating and they could just follow me, and then it kind of just extended from there and I got the win."
Check the video highlights in our seperate story: 2022 US Hard Enduro Series: Grinding Stone round 1 video highlights
Leblond and Abbott duke it out for the podium
Delullo Racing Team's Ryder Leblond and Factory One Sherco's Cooper Abbott traded second and third throughout the race and were the focus for the podium places.
Hart may have had an impressive 40 minutes on Leblond and almost an hour over Abbott, but they were the only three riders to make five time checks of the tough course. In the end it was Leblond who claimed second from Abbott by 16 minutes.
"Man that was brutal." says Cooper Abbott of the Grinding Stone. "I am from Arizona, but these conditions are so different. Deep sand, icy sandstone climbs and descents, it was gnarly."
"Early in the race, I was battling with Ryder (Leblond) and Will (Riordan) for second through fouth spots. I think Will had an issue that put him back a bit. Ryder and I continued to swap spots until ultimately we all settled in for what would be the final order.
"The race was brutal but I knew my training and fitness would help. I am so stoked with my podium finish in my first race with FactoryONE Sherco."
Knighter the comeback kid
Fourth place and the first of three riders making four lap time checks in the five hours was David Knight having a blast on the grippy Arizona rocks – although getting punted off at turn one and starting from dead last in the Pro class didn't help.
The off-road legend was among the entry list for this opening round and admitted before the race the scale of the rock climbs, which take some adjusting to, was putting him a little out of his comfort zone.
These rocks are different to the Isle of Man…
The list of non-starters was pretty good for this opening round also including Cody Webb with a broken wrist sustained at the final SuperEnduro round, Colton Haaker (DNS due to illness) and Cory Graffunder.
Brandon Petrie took fifth ahead of David Garza who both put in solid rides to beat some established riders in Hard Enduro.
USHE round one, Grinding Stone Hard Enduro Pro class results:
Forsley streets ahead in class
Louise Forsley put on a clinic in the Women's pro class. Not only did she finish P1 in Women Pro, she finished 33rd overall and was the only female to complete two full laps ahead of Morgan Tanke and Bailey Lerwill on the podium. 17-year-old Hallie Marks, finished P5 onboard an Inside Enduro Sherco SE 250 Factory in her first race in the pro class.
"I was really happy with my riding today. It was one of those days where I just felt so comfortable out there," Said Louise. "Johnny from the Ride Shop had my suspension absolutely dialled. It gave me so much more confidence in sections where I might have normally questioned.
"I just wanted to ride my own race and focus on riding smart. I think I executed that and it turned out good. My goal going in was to complete two full laps, and I did that as well. The course this year was awesome with multiple line choices."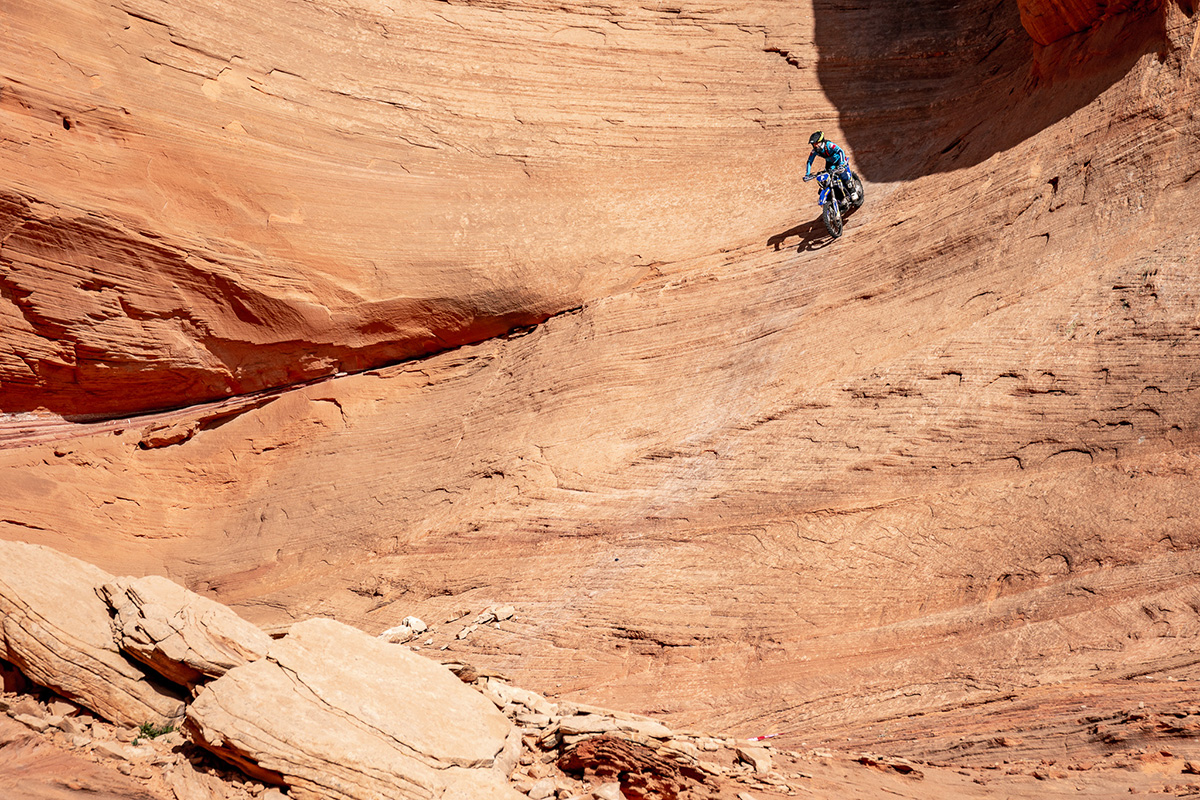 USHE now moves on to the Bentonite Brawl in Billings, Montana on May 1.
More information: www.ushardenduro.com
Photo Credit: Defy Focus Photography + Andrew Nguyen | WinPic Photography