Four from four wins for Kelley at Tiger Run GNCC
FMF KTM rider Ben Kelley keeps the ball rolling with fourth straight win of the 2022 Grand National Cross Country season at the Tiger Run GNCC at Big Buck Farm in South Carolina.
The 2022 GNCC season skipped back to Big Buck farm, host for rounds one and four and scene of carnage back in February when a list of Pro riders bit the dust and wound their ways into hospital.
The rider topping that opening round and remains on top of his game is FMF KTM's Ben Kelley who recorded his fourth win of the season ahead of super-consistent Jordan Ashburn and Trevor Bollinger making a welcome return to the GNCC Racing podium.
Ashburn grabbed the XC1 Pro holeshot aboard his Magna1 Motorsports Husqvarna but, as they emerged from the woods on the first lap, Kelley was already in the lead by 12 seconds.
It was another race case of Kelley maintaining relentless pace out front across the seven laps and, thoguh Ashburn ran him closer, teh reigning champ went onto record a winning margin of half a minute.
"It's a long season and everyone is going fast out there." Said Ben at the finish. "I'm just going to keep working hard, having fun and taking it one race at a time. I'm just trying to enjoy it, every win is awesome, and I'm trying not to just breeze over them like I have in the past and really savor them."
Ashburn might not quite have had the pace to match Kelley but in taking second overall he remains equally consistent. This was Jordan's third appearance on the podium in four rounds, and he currently sits second in the points standings, 38 points behind Ben.
Tiger Run, GNCC round 4, Pro class results: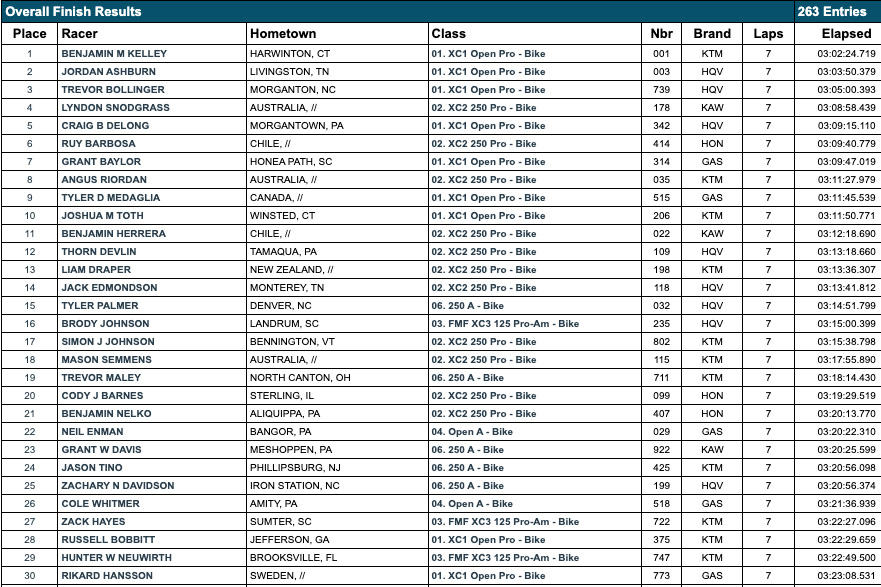 Bollinger's back
It's been a long time coming but Rockstar Husqvarna's Trevor Bollinger finally landed back on the podium after being plagued with a knee injury since 2020 and not standing on the podium since the 2019 season. After crossing the line in sixth place on lap one, he progressed to round out the podium with a third overall ahead of XC2 winner Lyndon Snodgrass in the race, and his Husky teammate Craig DeLong in XC1 class.
"This podium feels good," exclaimed Trevor, "it's been a long road to get here from where I was. I've done a lot better than third but I think this tops it all after everything I've been through. Missing a year of racing, you don't realize how much you lose. I'm just thankful to be back where I was. Thanks to everyone who had my back."
2022 GNCC championship points after round four: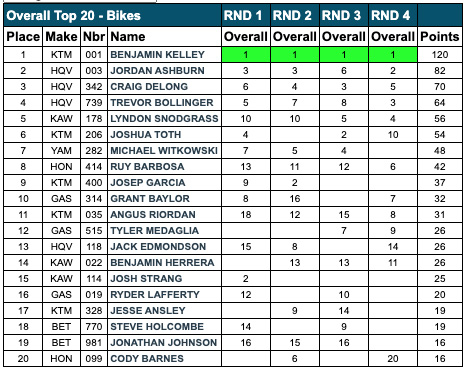 Snodgrass takes the XC2 win
Magna1 Motorsports Husqvarna's Jack Edmondson earned the row two holeshot but championship leader Mike Witkowski lead the way as they emerged from the woods for the first time.
Babbitts Kawasaki's Lyndon Snodgrass has been pushing Witkowski all season and the Aussie took over the lead as they came through on lap three. It got worse for Witkowski on lap four when a South Carolina vine pulled him from the bike and that knocked the Am Pro Yamaha rider way down the order to eventually finish in P14.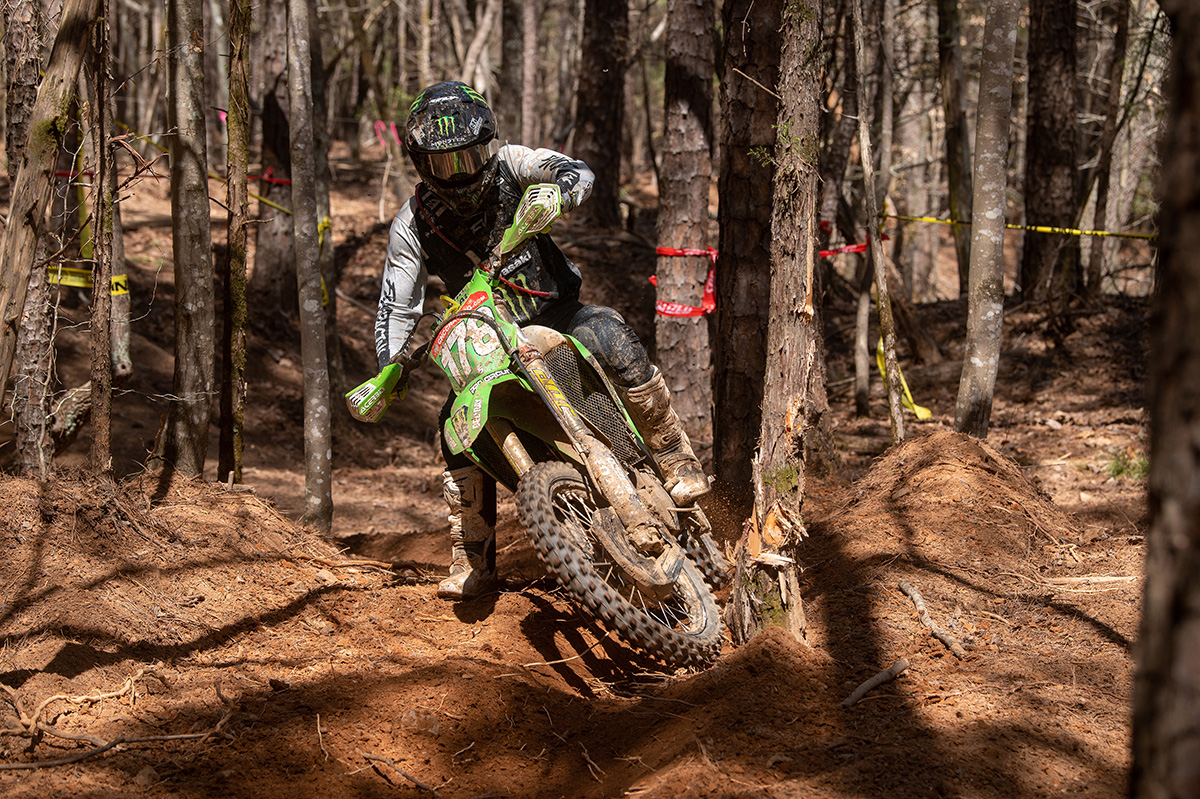 Snodgrass meanwhile continued to push and worked his way up to fourth overall on adjusted times to cross the finish line with a 42 second gap for his first class win if the season.
Phoenix Racing's Ruy Barbosa battled back-and-forth from second to third but the last three laps of the three-hour race saw the Chilean keep it consistent to run clear for his best GNCC result.
RPM KTM Racing's Angus Riordan also made his way from the back of the pack on the opening lap to land his first XC2 and GNCC podium ever.
All change in the AM race as Steede grabs the win
Trail Jesters KTM Racing's Korie Steede started the morning race grabbing the WXC holeshot but, like the other major classes, a new leader emerged from the woods on lap one. AmPro Yamaha's championship leader Rachael Archer was looking odds-on for another victory with the lead on the first two laps.
But a bent sprocket on that second circuit meant a lengthy pitstop for Archer who was only be able to make up to 10th place in the WXC class by the finish.
Steede meanwhile kept on the gas but then had FMF KTM's Brandy Richards for company and the pair traded places through the four lap race. As the white flag flew Steede battled back past Brandy to earn her first-ever WXC and overall win.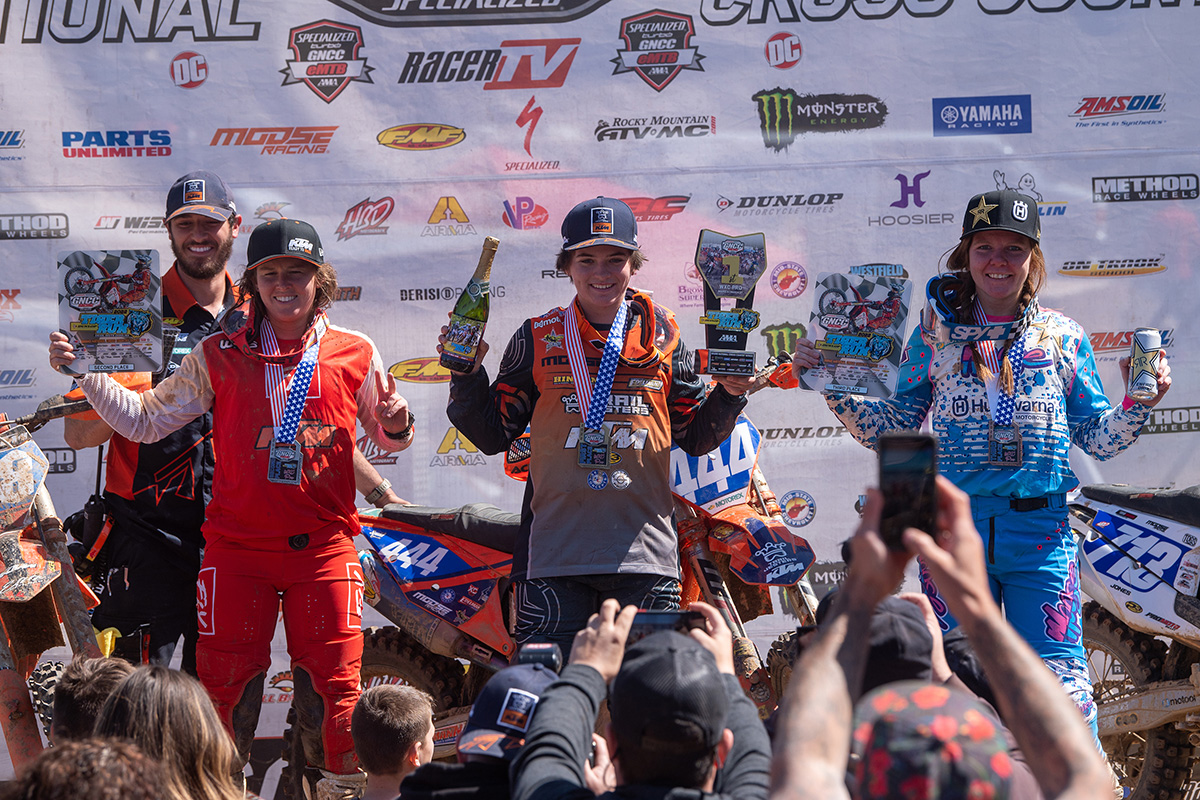 Richards finished five seconds back but earned her first GNCC WXC podium finish in second overall ahead of Rockstar Husqvarna's Tayla Jones rounding out the WXC class podium (and the top three overall in the AM race).
Jones may have been half a minute down at the chequered flag but now sits tied in first position with Steede for the WXC points lead with Archer third just one point behind them after her bad luck.
Tiger Run GNCC Am race results: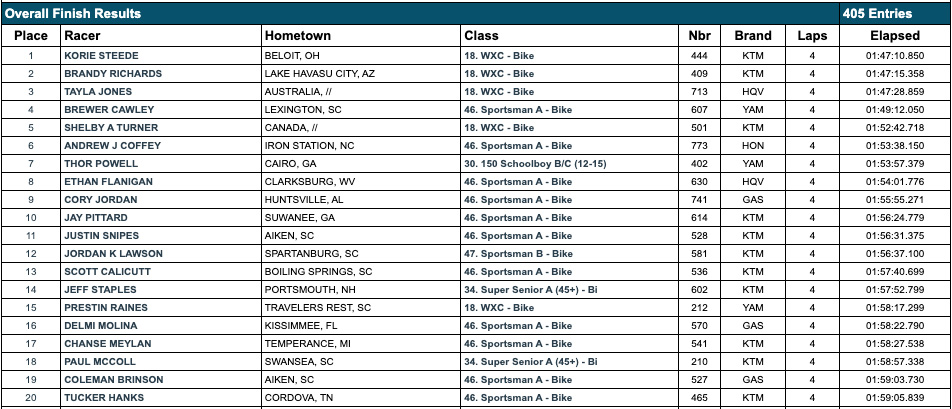 The 2022 GNCC season sticks in South Carolina for Camp Coker Bullet on Society Hill at Moree's Sportsman's Preserve on April 9-10.
Photo Credit: Ken Hill + Mack Faint