Jordan Ashburn crowned 2022 GNCC Champion
Ruthless riding for a last lap pass delivers Magna 1 Motorsports Husqvarna rider Jordan Ashburn the 2022 Burr Oak GNCC victory and his first Grand National Cross Country championship crown.
So often the nearly man of GNCC racing in recent seasons, Jordan Ashburn finally nailed the biggest prize in North American off-road sport, the GNCC crown. Proving the point that you've got to be in it to win it, Ashburn clocked consistant podiums while watching Ben Kelley, Steward Baylor, Josh Strang, Thad Duvall (the list could go on!) hit injury woes this season and seized the opportunity to grab that crown which often seemed out of reach.
In the end it was Craig Delong who had the nearest mathematical chance of taking the 2022 GNCC title away from Ashburn and at the Burr Oak, the Rockstar Husqvarna rider did his best by snatching the lead away from Ashburn late in the race.
With the long laps at the John Penton venue heading for a race well past the three hour mark, Ashburn could have been content with the haul of points for second place. Ashburn started the day with a 54 points margin over Delong and when Craig took over the race lead on lap four, when most others elected to stop for fuel, another good points score would have been fine.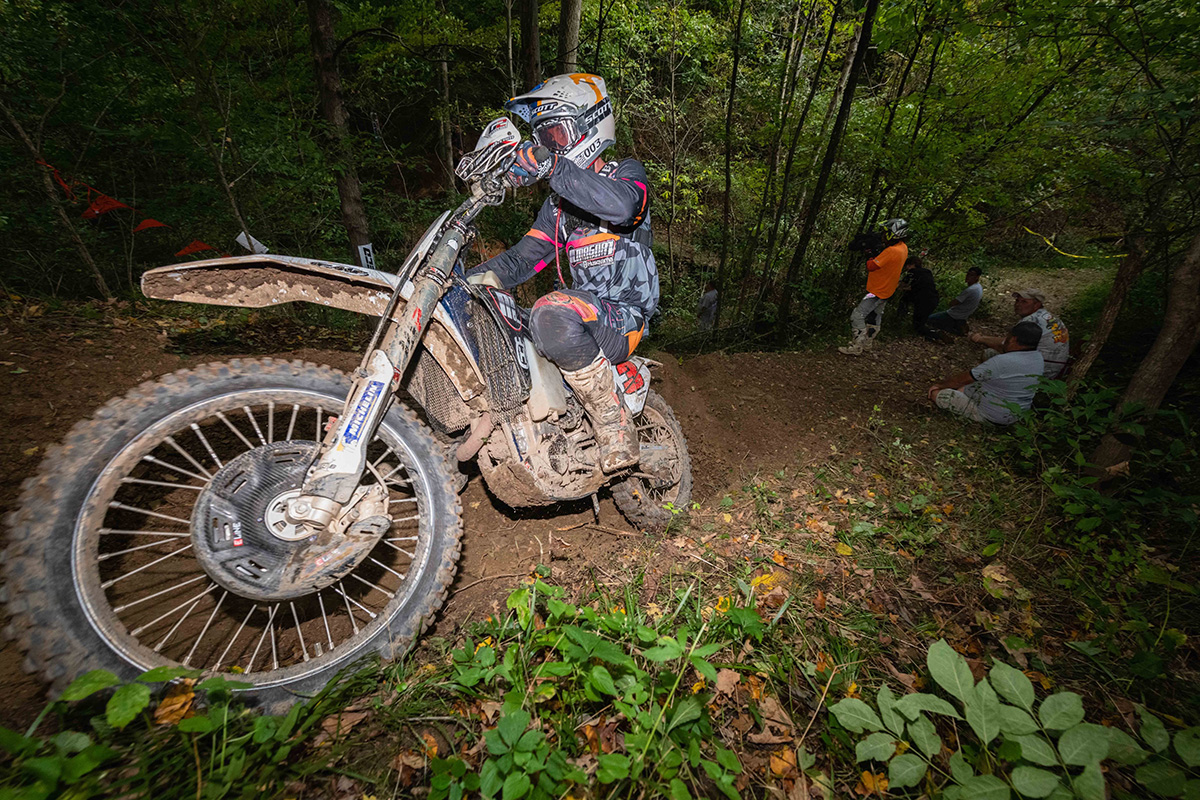 But Ashburn wasn't having it and the pair, along with Thad Duvall in third, set a blistering last hour to the flag. The laps times plummeted as Delong pushed hard to grow a gap but Ashburn was relentless and finally retook the race lead on lap five of five, and with that claim the coveted GNCC title.
"I'm pumped and happy to be up here," Ashburn said. "I was just trying to stay out front and put in good, consistent laps because everybody was so close and I feel like we did that pretty well today. I had to push so hard there at the end to get Craig back but man, it was a race! I tried to focus on having consistent rides all year, be on the box week in and week out and just stay healthy and I think it worked out this year - I'm pumped!"
Win-win situation
Winning breeds winners and after scoring his first-career GNCC overall win remarkably after all these years, Ashburn took over the points lead at round nine of the 2022 season. The Tennessee-native added eight podiums to his tally in claiming his second overall win at Burr Oak and this points to the other major reason for the season success. Ashburn has proven to be the most consistent rider in a year of attrition.
Delong secured his best results of the season in second with Duvall again showing he's back to form and fitness, taking third for the second time on the bounce and making it three Huskys on the podium.
2022 Burr Oak GNCC race results:

2022 GNCC series standings after round 11: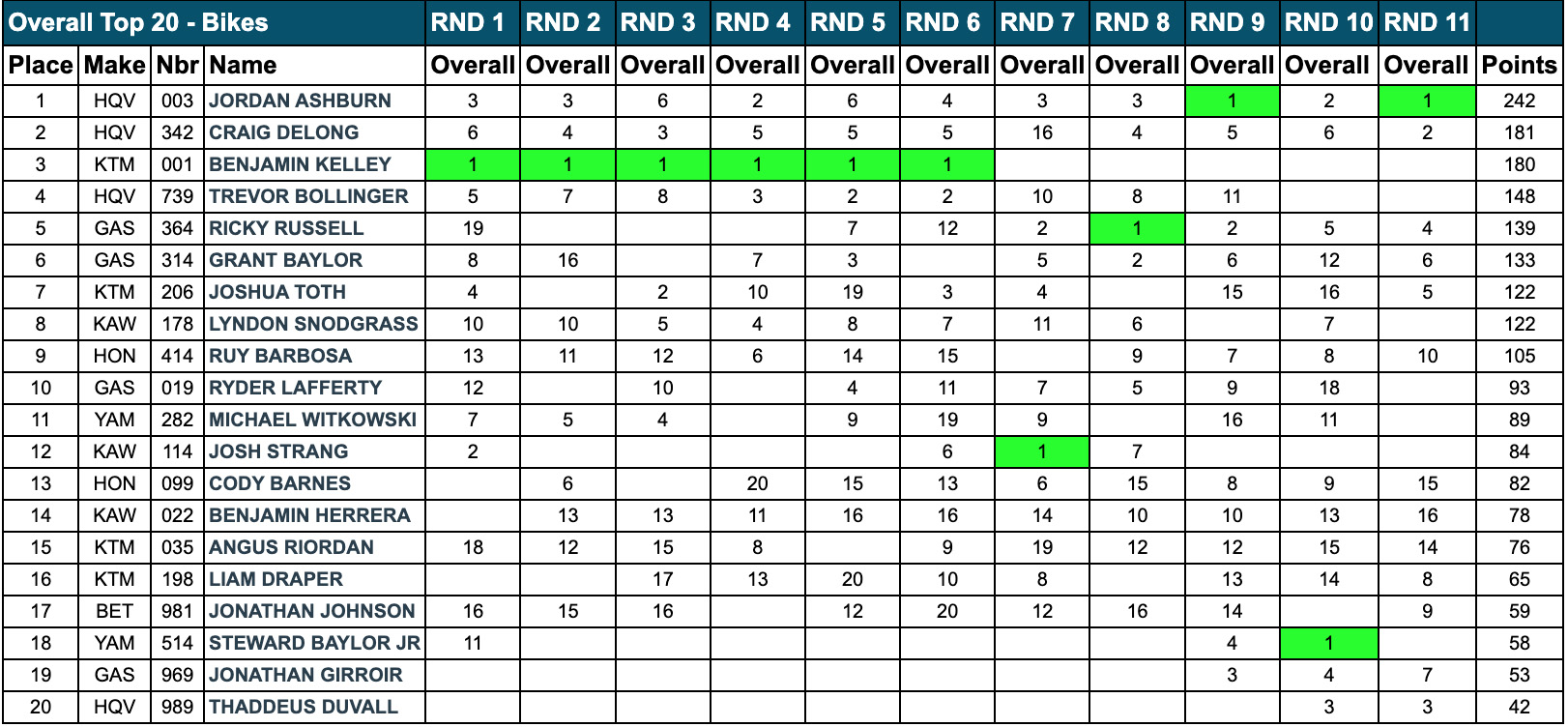 Steward goes out
Steward Baylor marked a big return to racing at GNCC round 10 with the win but had no such luck this time around. The Am Pro Yamaha rider was in the thick of it with Ashburn, Delong, Josh Toth, Duvall, Ricky Russell and brother Grant Baylor in the early laps and was hounding like he does with a lap to go. But the big man crashed and spanked himself, the front wheel of his Yamaha and the clutch perch forcing him to retire.
The XC2 race was won for the third time on the bounce this season, Johnny Girroir. The GASGAS rider crashed early but went on to battle with Mike Witkowski (before he too had problems with his Yamaha and had to retire). Johnny G went on to maintain his 100% record since returning from injury, taking the win and P7 overall and now has one more round racing the XC 250 before switching up to XC1 and a front row start at the Ironman GNCC final round of the season.
Liam Draper and Jonathan Johnson duked it out for the podium places with Draper eventually taking second and Johnson claiming his first XC2 250 podium of the season in third.
It wasn't such a good day for the XC2 class poiints leader Lyndon Snodgras who was anothe rrider forced to retire on lap four. Luckily for Snodgrass, the number two in teh standings Ryder Lafferty also went out on lap two meaning the Australian remains in charge with a healthy 37 point lead.
Archer grows XCW points lead
Three wins on the bounce for Rachel Archer not only showed better luck for the Am Pro Yamaha team this weekend but means she takes hold of the series points lead over Korie Steede with two rounds remaining.
Archer lead from the front and set the pace for the women. Title contender Korie Steede was beaten out of second place by Tayla Jones who bounced back from a DNF last time out and held a pace Steede was never quite able to better.
Jones is third with 236 to Steede's 255 and Archer's lead now stands at 263.
Burr Oak GNCC AM bike race results:

Round 12 of the 2022 GNCC season is the Buckwheat GNCC in Newburg, West Virginia – October 9, 2022.
Photo Credit: Ken Hill + Mack Faint