Mountaineer GNCC: Baylor and Delong tooth and nail in West Virginia mudder
Results from round 10 of the 2023 Grand National Cross Country Series (GNCC) where "intense and rough racing" at Summit Bechtel Reserve saw Steward Baylor clinch his second win of the season after a titanic scrap with Craig Delong in classic mudder conditions.
Can we call this a two-horse race yet? Just two rounds remaining, five points in it and two riders proving this weekend at the Mountaineer GNCC that they want it most. Steward Baylor and Craig Delong look like taking this one right to the wire.
Rockstar Energy Husqvarna Factory Racing's Craig DeLong ripped the All Balls Racing Holeshot off the start of the PM race at the Summit Bechtel Reserve, West Virginia. Rain made the conditions tough and a good start mattered if anyone wanted clear vision.
AmPro Yamaha's Ricky Russell took up the lead on that first lap and was setting the pace with a handful of XC1 riders seconds behind him for the first three laps. But the battle for the championship protagonists was brewing.
Rocky Mountain/Tely Energy/KTM Racing's Steward Baylor made his way through the pack from fourth on the opening lap to lead with Delong tailing him, just 1.7 seconds behind as they crossed the line to start the last lap.
But the lap scoring doesn't show anything like the truth as the pair took turns, swapping places in the mud as one line proved quicker, or one rut swallowed the other. The back and forth battle continued right to the last miles before Delong made a minor mistake and it was enough for Baylor to grow a few bike lengths and go on to take his first win since round one of the season.
"Man, I'm feeling good. I really, really thought I could break Craig, and that was my intent, but man….we just went back and forth," said Baylor. "I mean the passes for the lead; it was back and forth. Those last three laps, hell, the whole race you could throw a blanket over us. One mistake and it would have been over."
Baylor continued, "I tried to put a heater down, I was sending it with two to go, trying to put a gap on those guys. I looked back and I was like "Shoot, he's matching me." I gotta say, I expected it from Ben, but not Craig. Hats off to him. That kid has elevated this summer, and this whole sport right now, it's a good time to be a fan. It's going to come down to the wire."
The win gives Steward a five point points lead ahead of Delong as the series heads into its penultimate round of racing on October 8.
Delong angry with second
"That was a wild race, that's for sure. First lap we were feeling it out. Ricky got into the lead and took off. He was riding really well. Stew and I kind of figured it out and I knew it was going to be a battle to the end," said Delong. "
We got to the pit stop and it ended up being just Stew and I. Man, we went back and forth so many times. As much as it hurts and it [makes me angry] to get second, that was a fun battle. We were probably back and forth five or six times in the last lap. We'd get to a section, and he'd go all the way left and I'd go all the way right, and it would just come down to who had the best line."
Delong continued, "I thought I had a run on him on the last lap, about 10-mile marker I got alongside of him on a long straightaway, I kind of hesitated with my pass, but I should have just stuck on it. I stayed with him, but I took on a lot of roost and I finally had to ditch my goggles. Yeah, it was a great race, but the guy I had to beat, beat me. I just need to be better next time. I feel good. I knew Stu was going to come in prepared, but I am too. It's going to be a battle, these last two. I've got to get some points back. We'll be ready."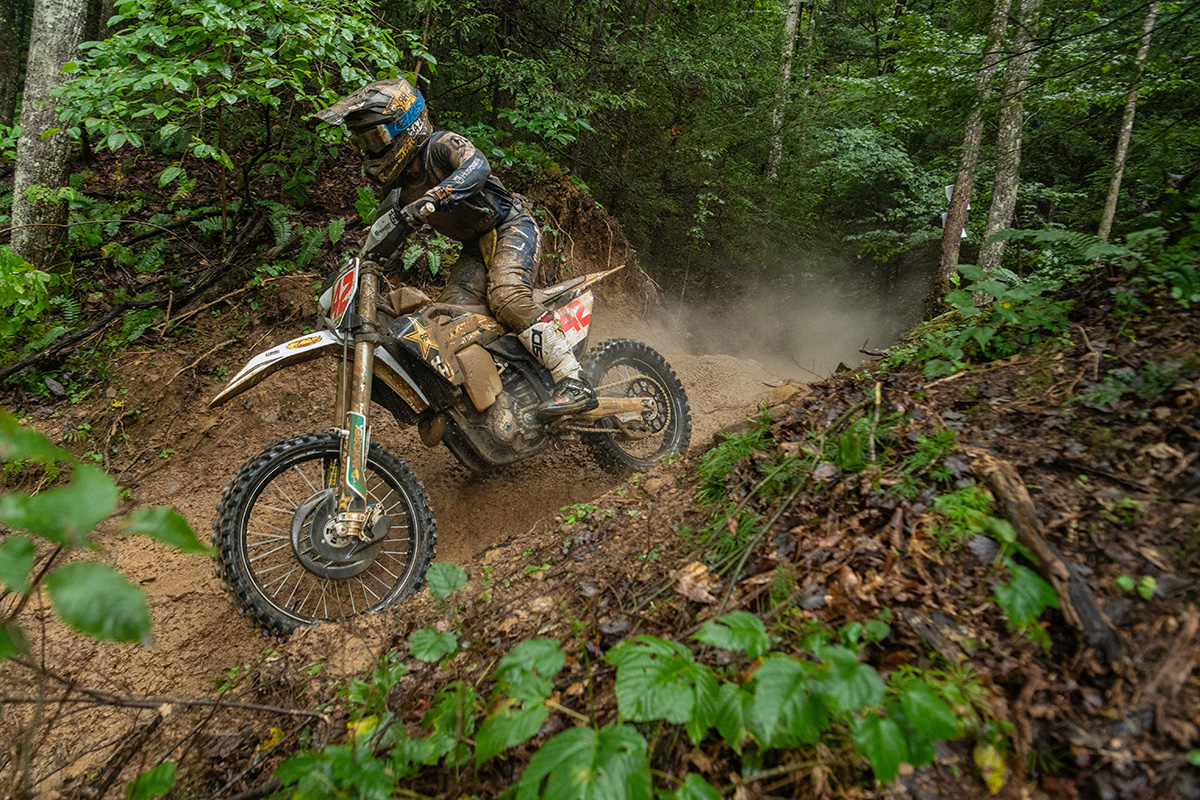 Early leader Ricky Russell held on to claim third place and the final spot on the podium ahead of third place in the championship, Ben Kelley. The former champion had to work hard to claim fourth after dropping back to eighth at one point and with Magna1 Motorsports/Husqvarna's Jordan Ashburn pushing hard in fifth.
Rockstar Energy Husqvarna Factory Racing's Trevor Bollinger continues to gain form after returning from an injury and earned sixth overall ahead of the Babbitts Online/Monster Energy/Kawasaki Team Green teammates Josh Strang and Grant Baylor seventh and eighth in XC1 just outside the top 10 overall.
GASGAS/FXR/Scott Goggle's Layne Michael would drop back to ninth in XC1 after running second on the opening lap of the race. Liqui Moly Factory Beta Racing's Evan Smith and Babbitts Online/Monster Energy/Kawasaki Team Green's Lyndon Snodgrass both made the move from XC2 to XC1 this weekend, but they unfortunately both retired early from the race as did FMF/KTM Factory Racing's Johnny Girroir after running inside the top five early in the race.
2023 Mountaineer GNCC PM race results: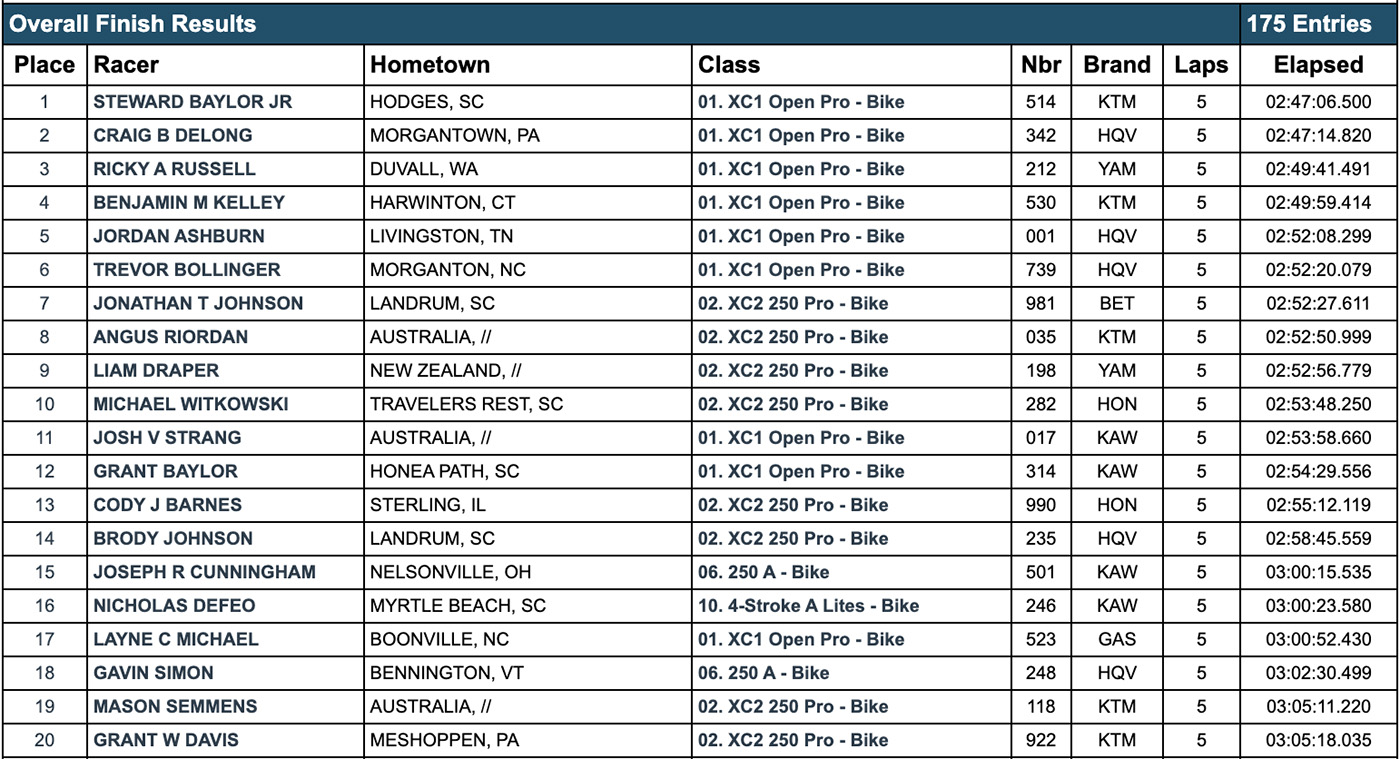 2023 GNCC championship standings after round 10: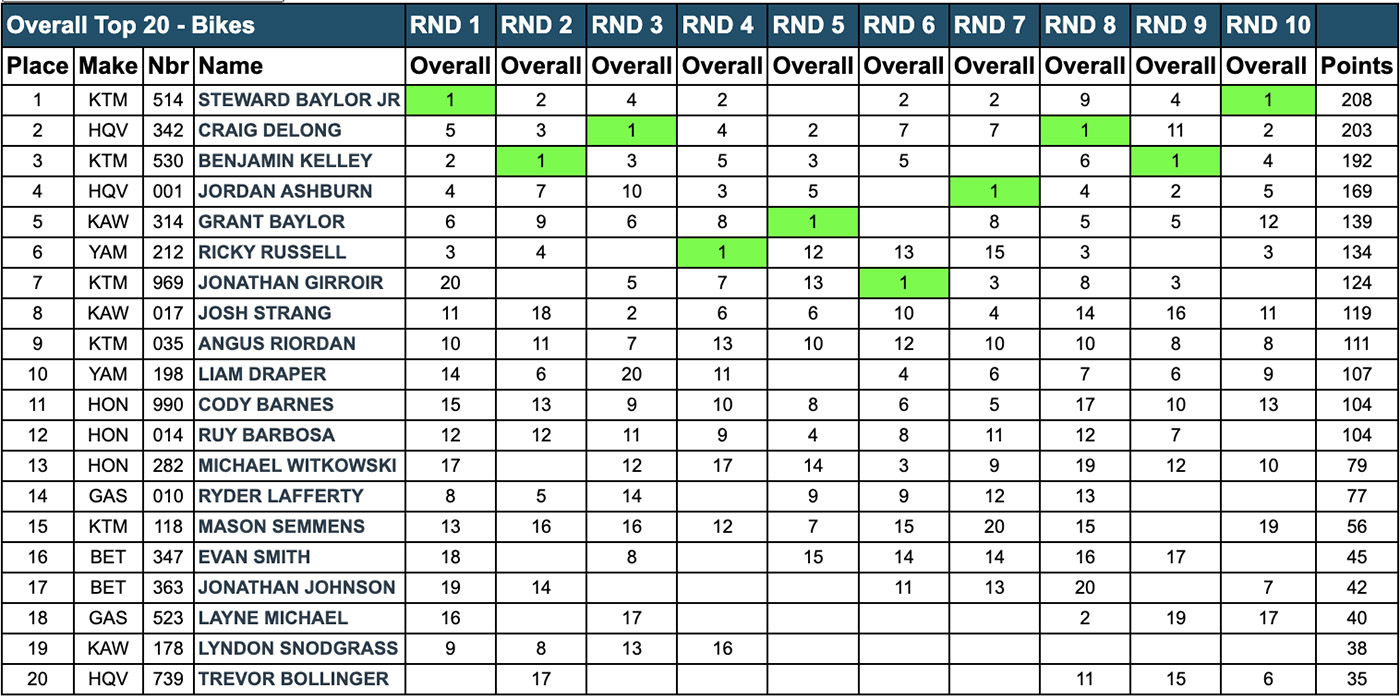 Johnson takes the XC2 win for Beta
The XC2 250 Pro class it was Liqui Moly Factory Beta Racing's Jonathan Johnson's day as he grabbed the $250 Steel City Men's Clinic Holeshot Award and held the lead from start to finish.
The muddy conditions did not deter Johnson from pushing throughout the race as he inched further and further ahead from the rest of his XC2 competition putting a two-stroke on the top step of a GNCC podium for the first time in ages.
RPM/FMF KTM Racing's Angus Riordan made his way up to second in the XC2 class, battling with AmPro Yamaha's Liam Draper for the last couple of laps. Riordan took it but Draper's third in the class maintains his points lead heading into round 11.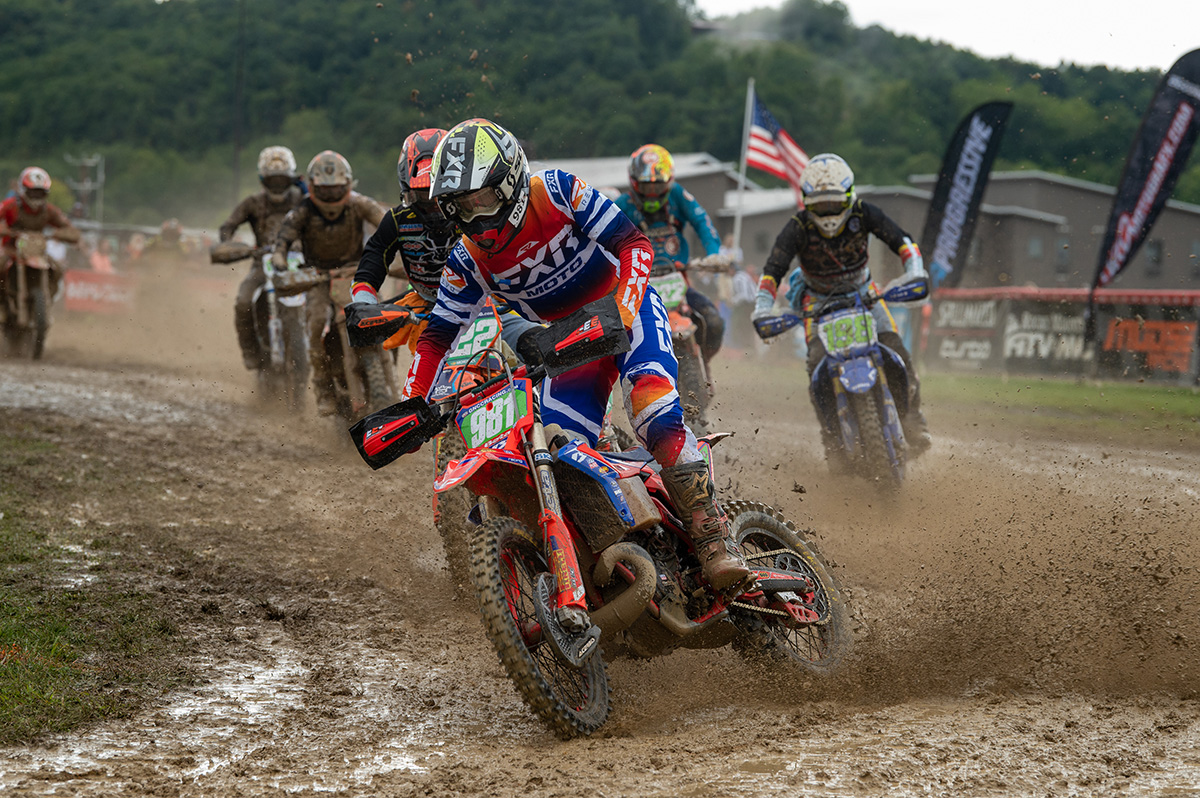 The FMF XC3 125 Pro-Am class saw FXR/X Brand Goggles/6D Helmet's Dakoda Devore get the class win ahead of Steel City Men's Clinic Sawyer Carratura and Yamaha's Drew Callaway rounded out the class podium.
Team Green Kawasaki's Joseph Cunningham earn the top Amateur honours with a creditable 15th overall and first in the 250 A class. Similarly Nicholas DeFeo's 16th and first in the 4-Stroke A Lites class is worth mention.
Archer crowned WXC Champion of 2023
Conditions for the morning race were no different and with the WXC class taking off first, Trail Jesters KTM Racing's Korie Steede earned the $100 Trail Jesters holeshot award. But as sure as eggs are eggs, the champion elect Rachael Archer made the move into the lead.
True to form the AmPro Yamaha rider led the WXC class for the duration of the race and with second overall in the morning mud, earned her second GNCC WXC National Championship.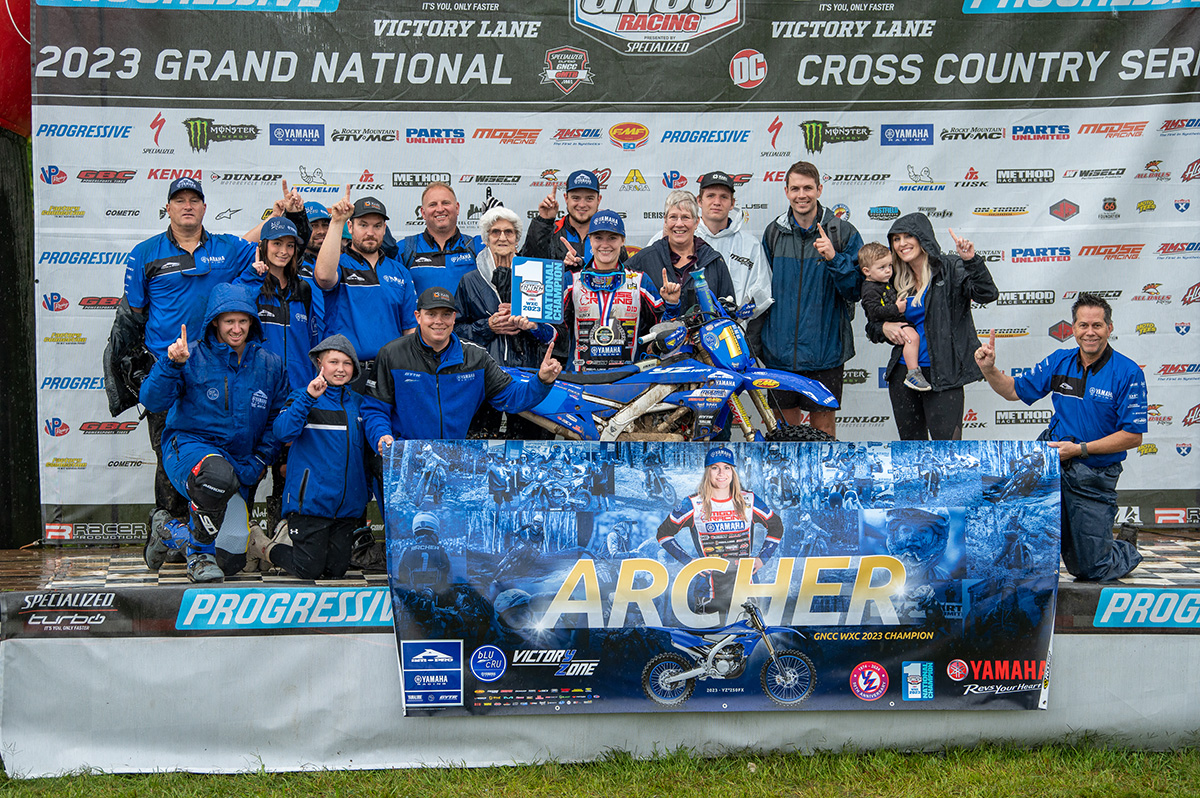 GASGAS/Over and Out/RG Factory Racing's Rachel Gutish again took the number three position after five laps of the morning race to finish second in WXC class ahead of Korie Steede rounding out the women's podium.
2023 Mountaineer GNCC AM race results: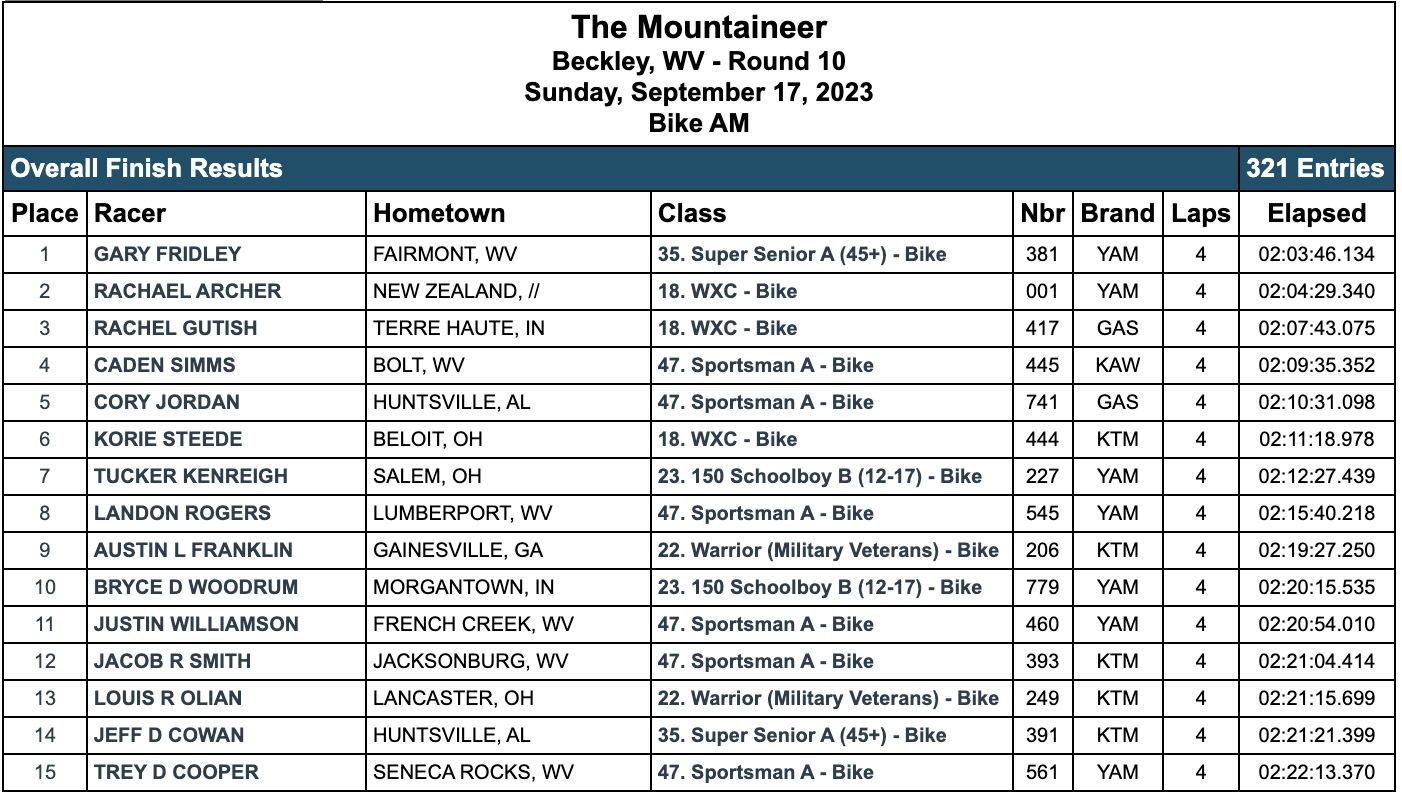 The penultimate round of racing will take place in Newburg, West Virginia in two weeks on October 7-8, with the Kanati Tires Buckwheat 100 GNCC.
More information: www.gnccracing.com
Photo Credit: Mack Faint + Ken Hill