2022 Red Bull Romaniacs results: Lettenbichler wins day 2, Jarvis is second and leads overall
Results from off-road day two at the 2022 Red Bull Romaniacs where Graham Jarvis maintains his overall lead, Mani Lettenbichler begins his fight back and Chris Birch rolls the big 500 KTM to the front of the Silver class.
2022 Red Bull Romaniacs Off-road day 2 in a nutshell:
And then came the rains…never trust a weather forecast, especially in the mountains. Day two of four at the 2022 Romaniacs saw the clouds blow in and as riders rose from their beds at four AM, they made their ways to the start in the dark, facing a maximum of 2400 metres of altitude, waterproofs were the order of the day (at least for those who didn't have the luxury of a van ride to the start).
It didn't last though, the dusty conditions were back by the time riders were on the mountain climbs and it was Mani Lettenbichler who kicked up the biggest storm. After his two hour time penalty (from the FIM, not the series promoters FYI) for outside assistance to fix his clutch yesterday, the Red Bull KTM rider hauled from 17th place to set fastest time on the day. Maybe it's not remarkable now the pressure is off and he is wound up by yesterday's outcome, that he went fastest in nearly all the time checks and clocked off 16 minutes faster than anyone. But it is remarkable that he is inside the top 10 already and ahead of Taddy Blazusiak on corrected time despite a two hour penalty.
For day one winner Graham Jarvis it was a case of keeping on keeping on today. He doesn't need to match Mani but just keep a look over his shoulder at Teo Kabakchiev and Mario Roman. The old dude pulled it out the bag again today though with some fast check times and if the gremlins haunted him from a year ago when day two saw him take a bad knee injury, then it didn't show. In the hardest sections he rivalled Lettenbichler for the fastest times and even snuck a quickest of all check late in the day to finish four minutes clear on the day of Kabakchiev – that's now a nine minute advantage on combined times.
The fight behind, and ultimately for the podium places, is an intriguing one with Teo Kabakchiev inching away and with Mario Roman, Trystan Hart and Michael Walker all vying for positions. Overall at the halfway point (see the scratch results below), Roman, Hart and Walkner are all within reach in a top six which has pulled well clear of Sonny Goggia who is bets of the rest in P7, 1hr:7m.7s adrift.
Chris Birch was the fastest Silver class rider today, bringing some of his old magic to the course which in fairness is basically a similar level to where the Gold class was when he was fighting for the Romaniacs win a decade or more ago…only now he's blasting a big 500 KTM up the hills! The day win gives Birchy the class lead by a minute. Adam Giles was second and closes in on Fabien Poirot's second placed position overall in class.
Dutchman Sander Looijen played a blinder in the Bronze class, taking the day win by a clear 35 minutes. Latvian Edgar Silins and Romanian Marius Popovici were second and third in this truly multinational race with Silins maintaining the class lead.
Yesterday's winner Matthias Walkner no longer has to worry about big bike rival Pol Tarres who crashed out, but had a tougher time leading from the front on the 450 Rally bike today and finished 44 minutes behind in sixth place.
Ovidiu Nistor, Richard Copsey and Arron Flynn are your Iron class top three on day two with Nistor maintaining a seven minute lead overall.
Chris Beecroft took a comfortable (10 minute) day win in the Atom class ahead of Evan Mathews and also leads his class comfortably.
2022 Romaniacs day 2 results, Gold class: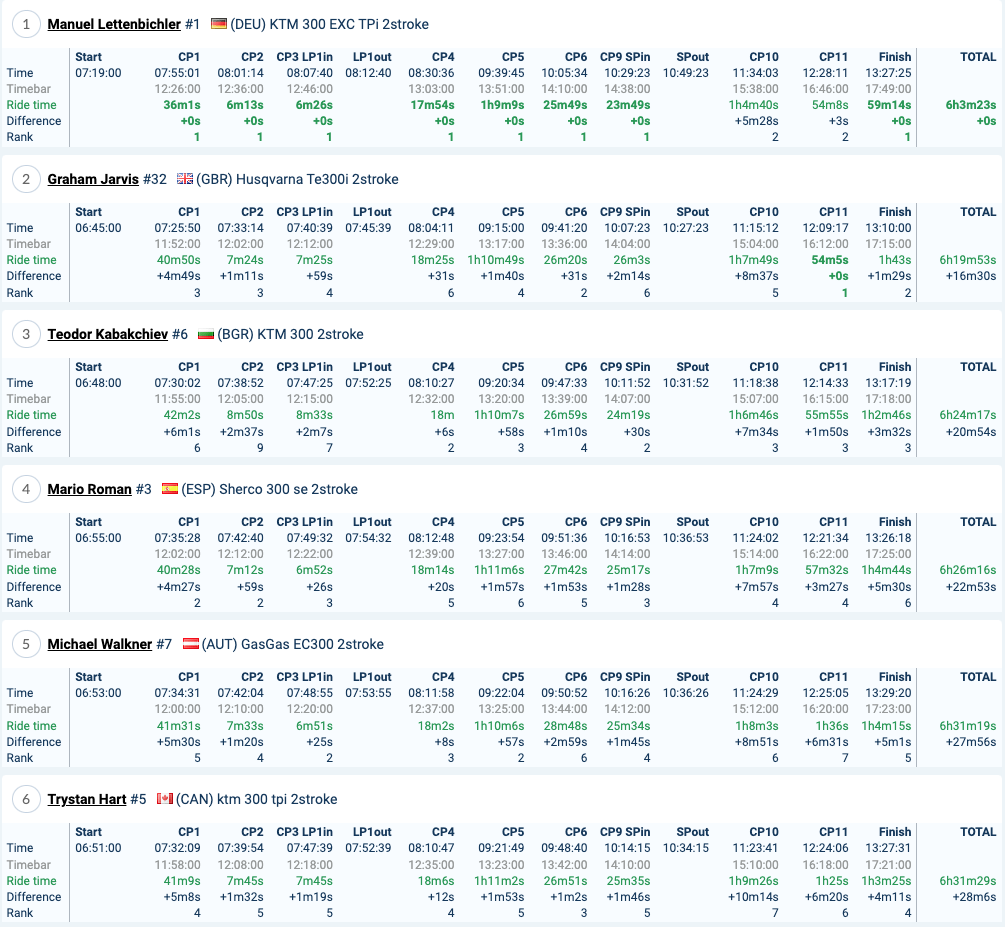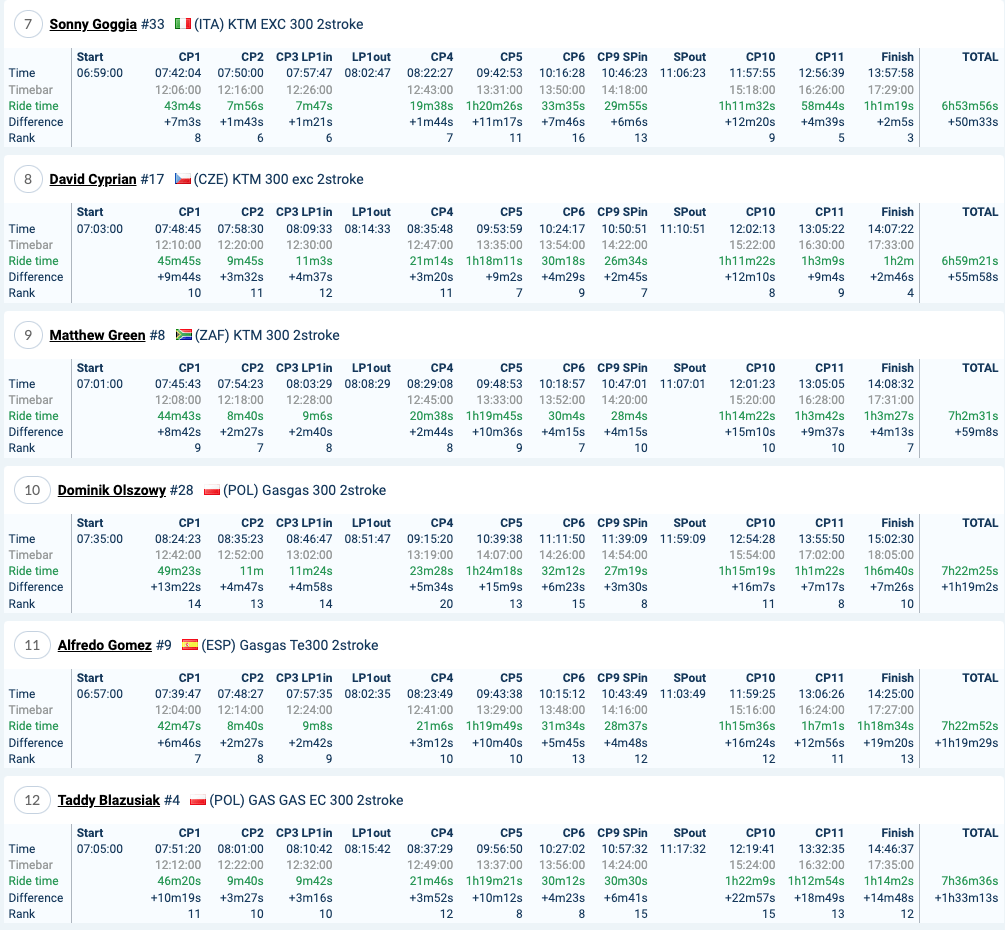 Scratch overall standings (top 10) after day two: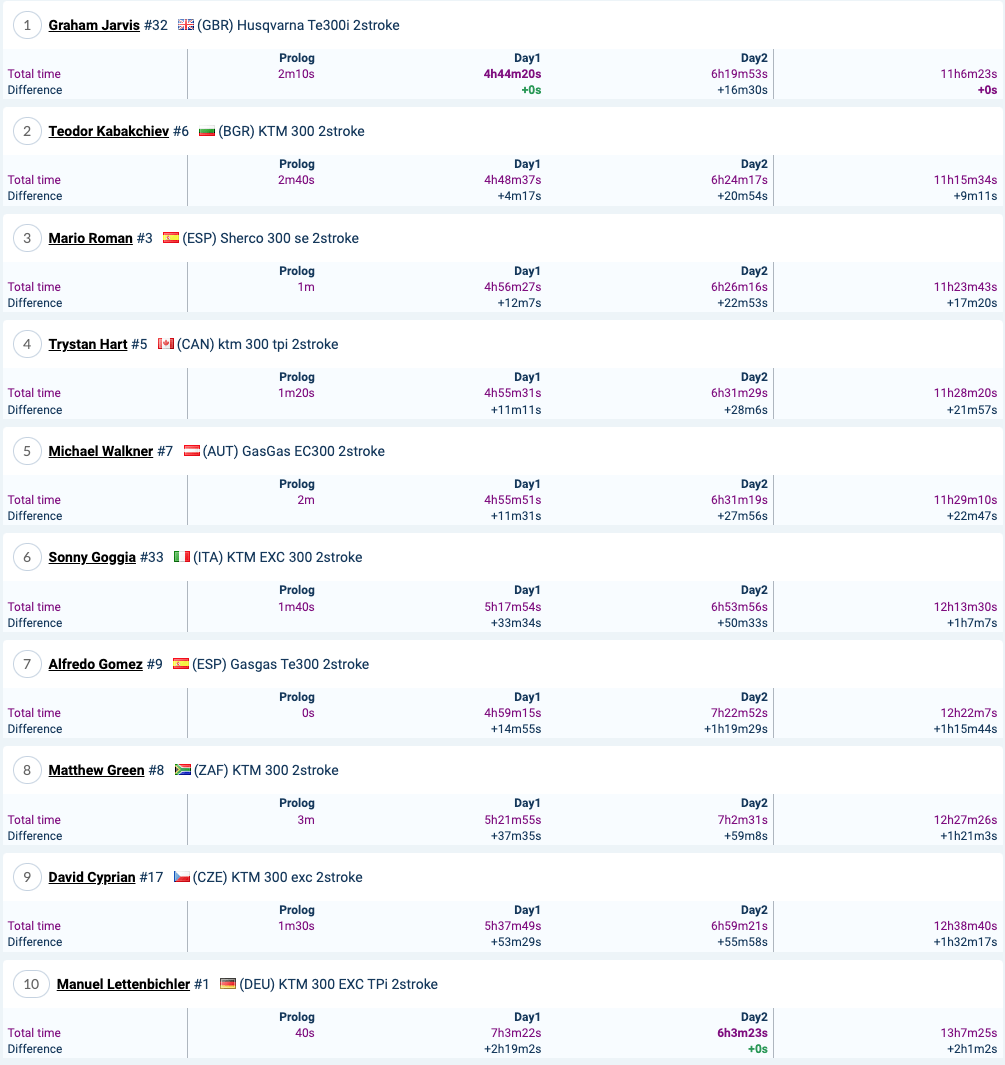 2022 Romaniacs day 2 results, Silver class: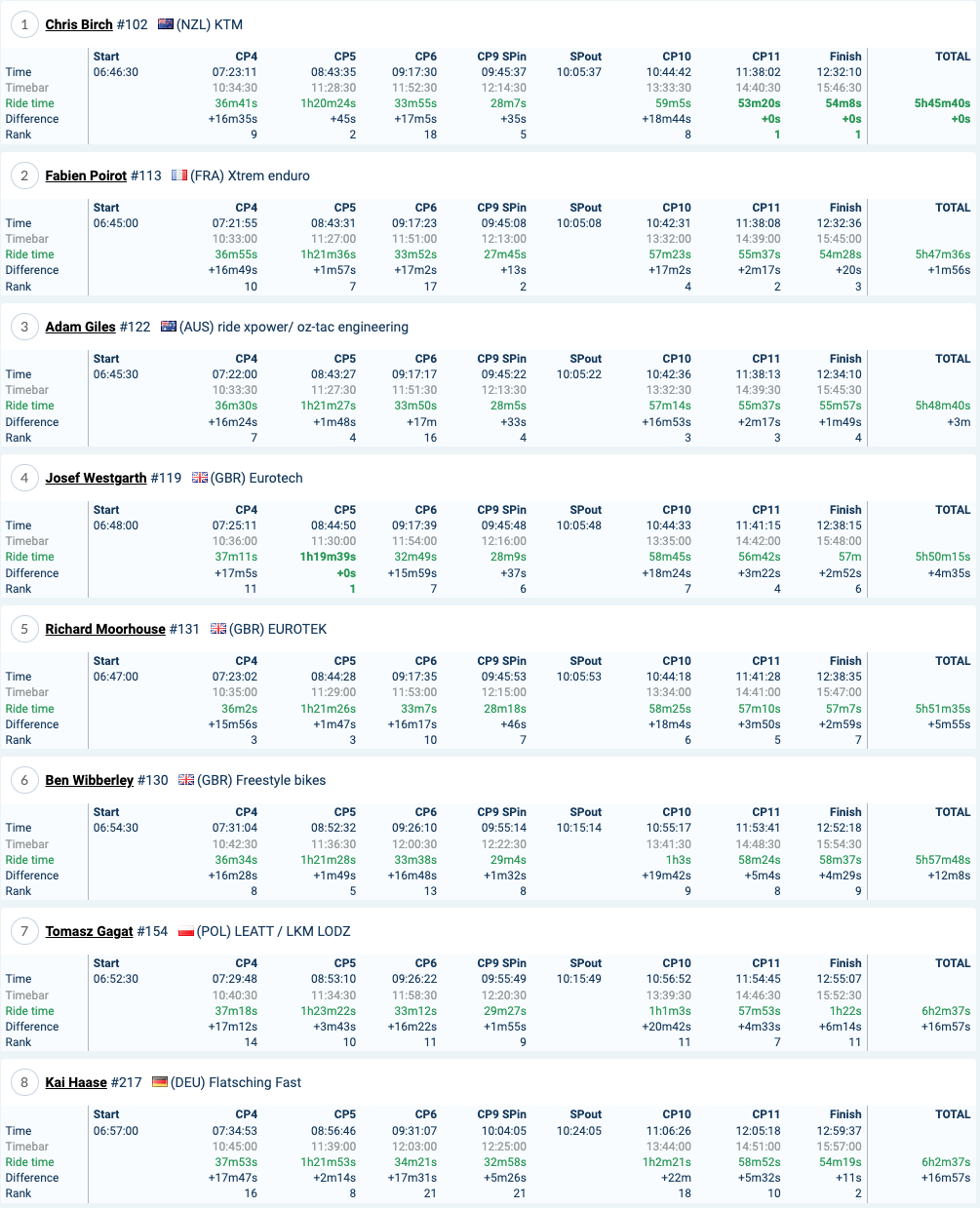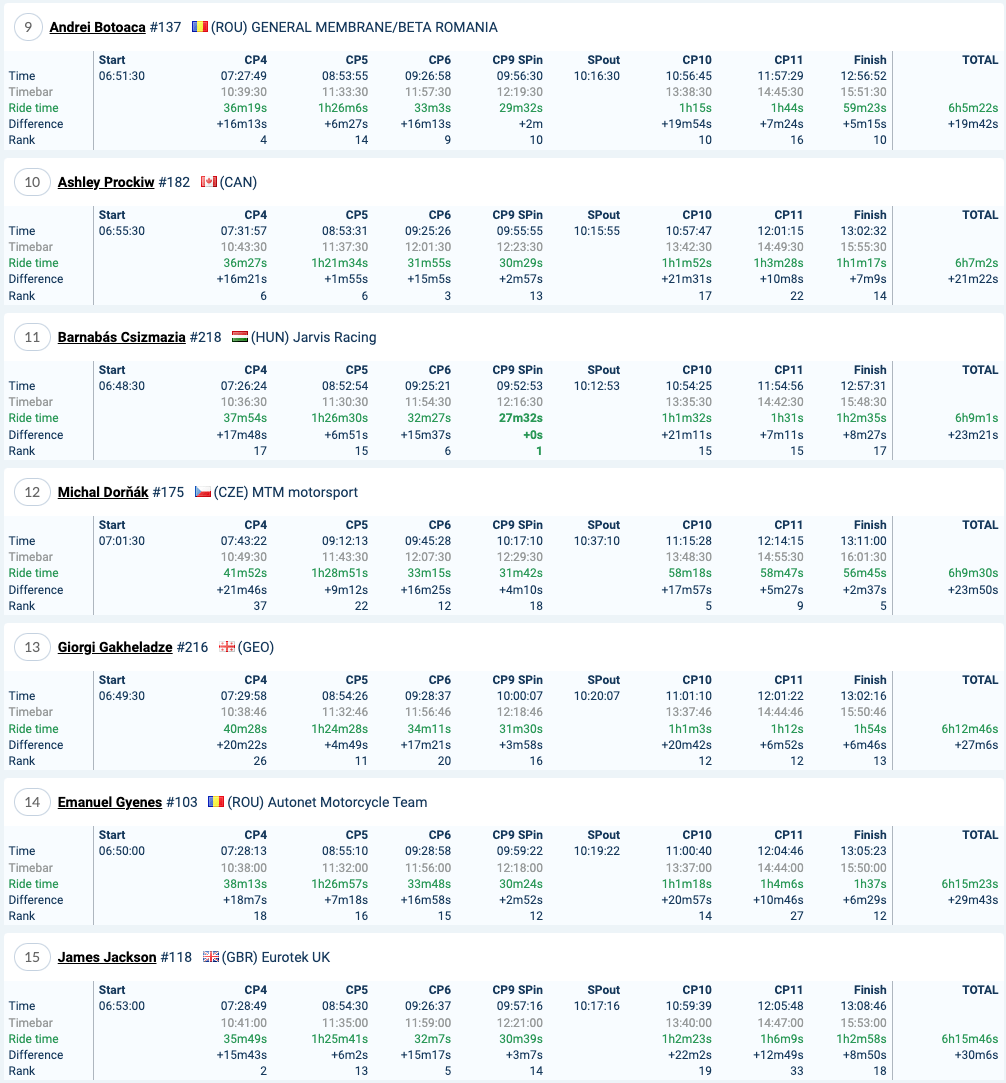 2022 Romaniacs day 2 results, Bronze class: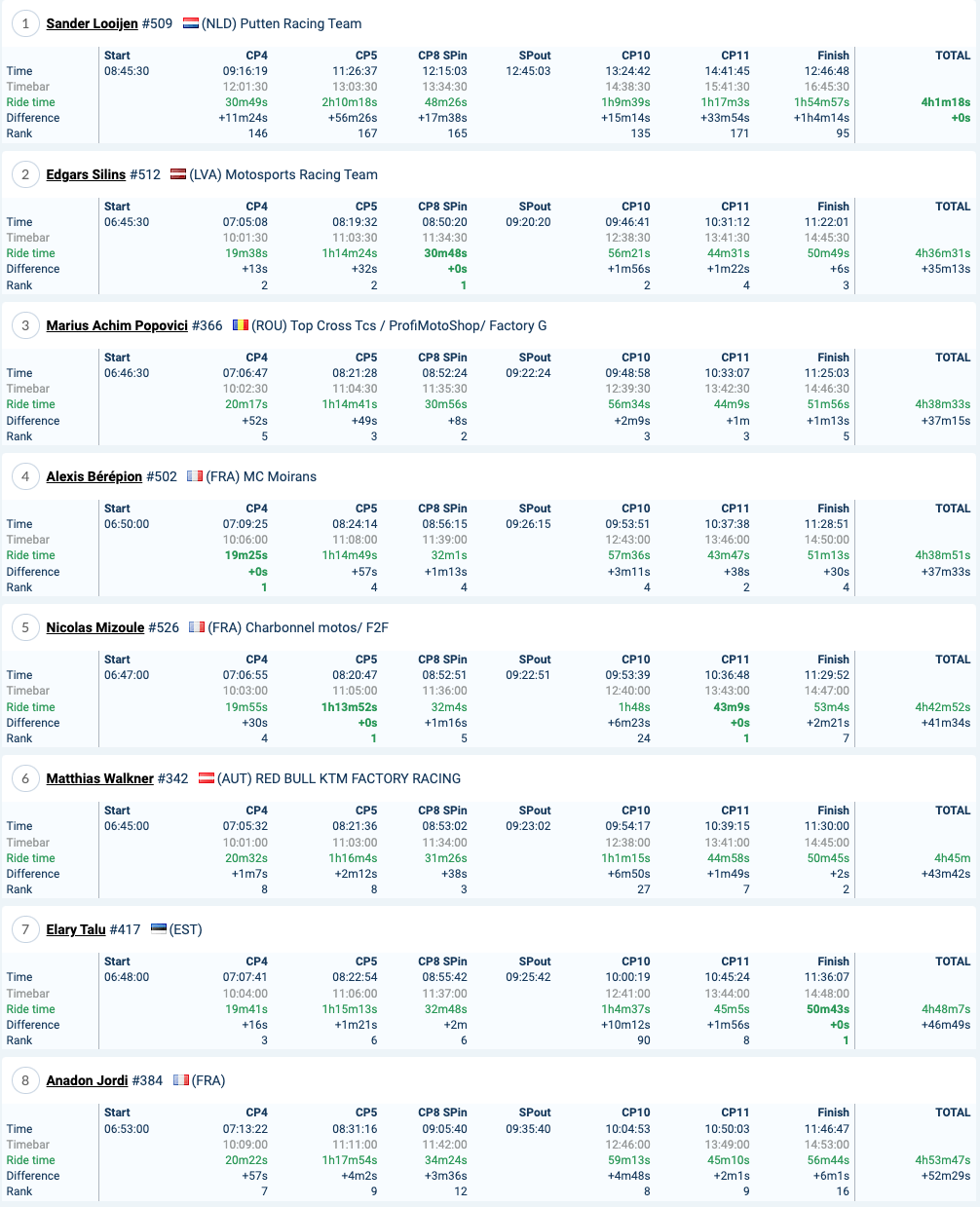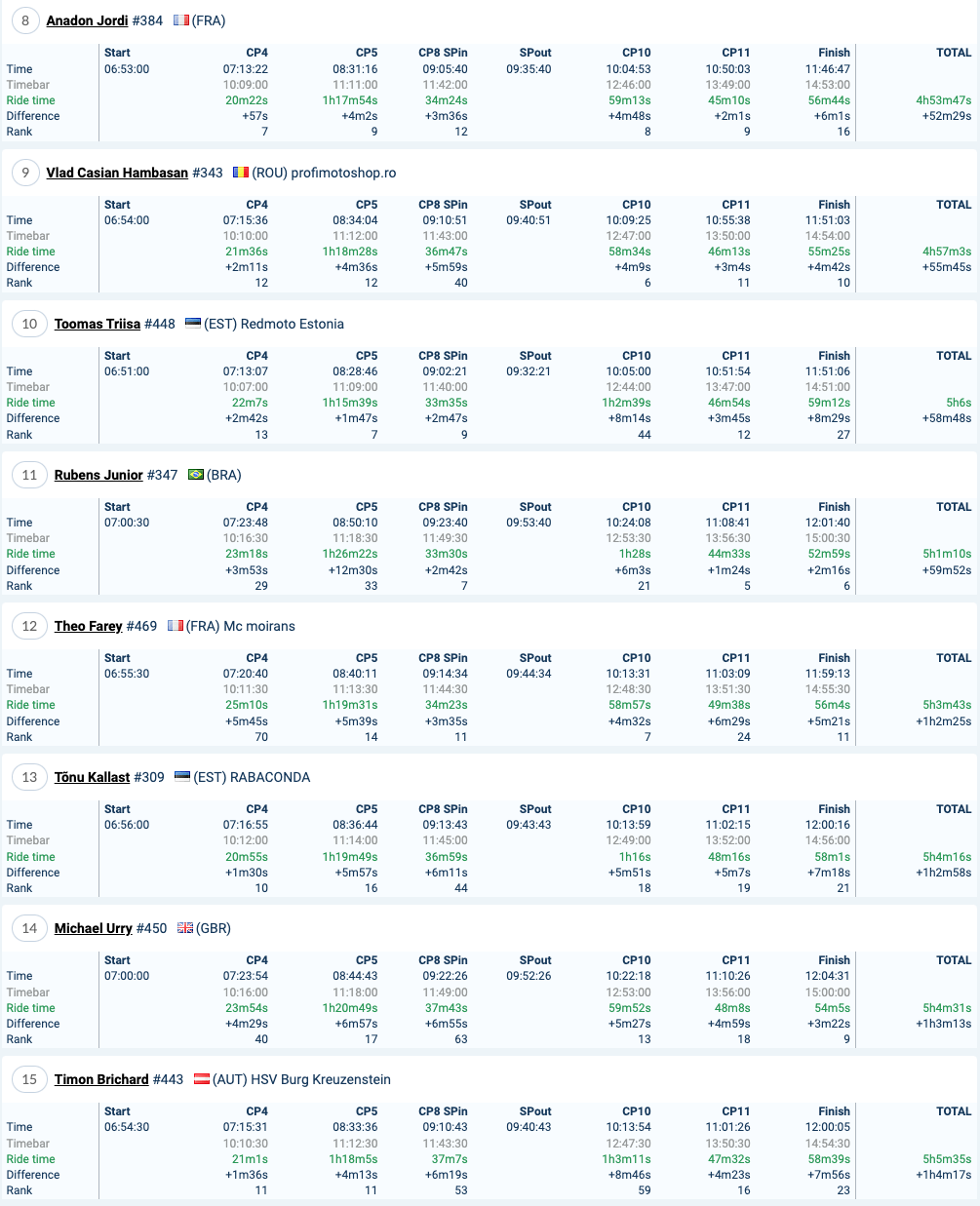 2022 Romaniacs day 2 results, Iron class: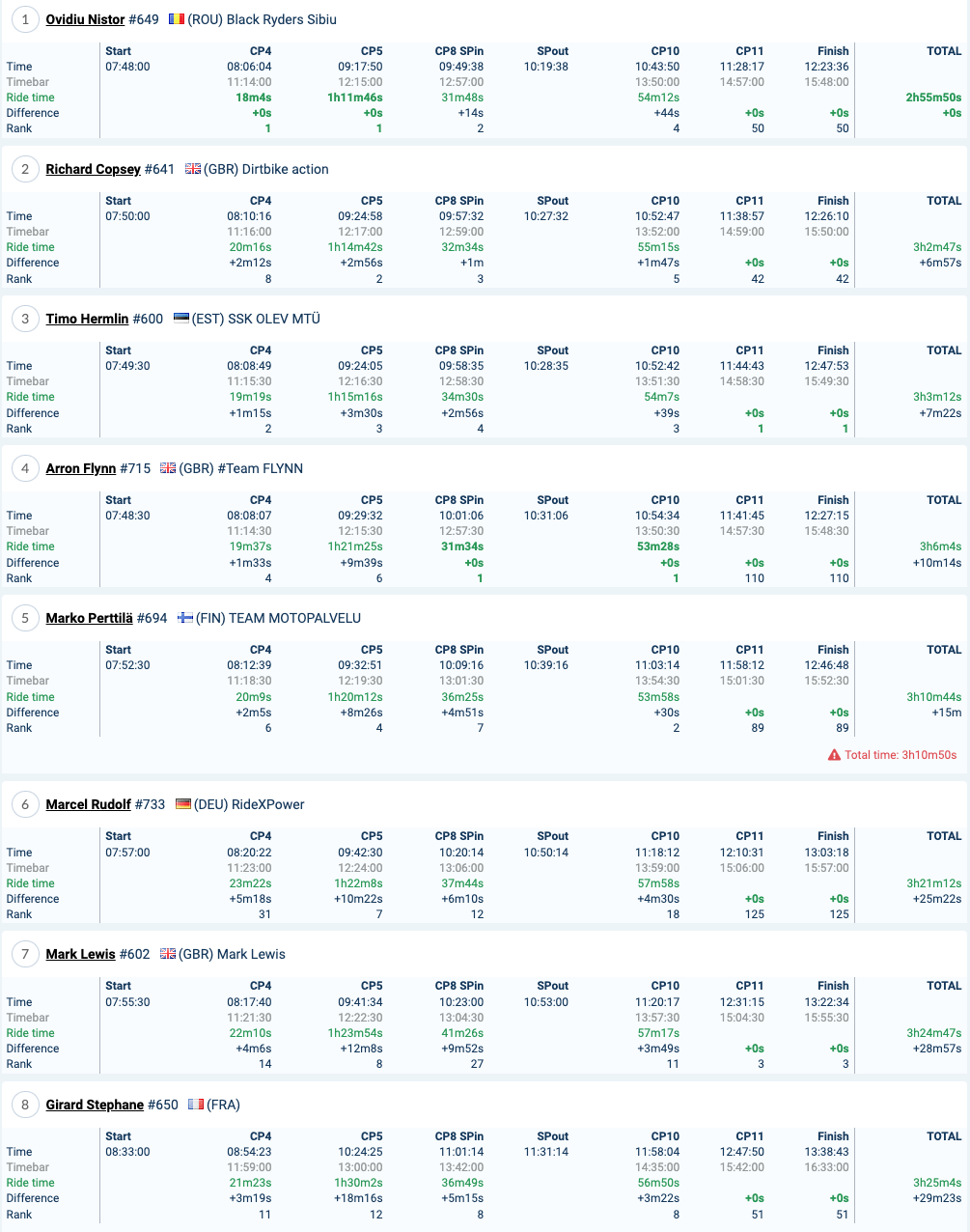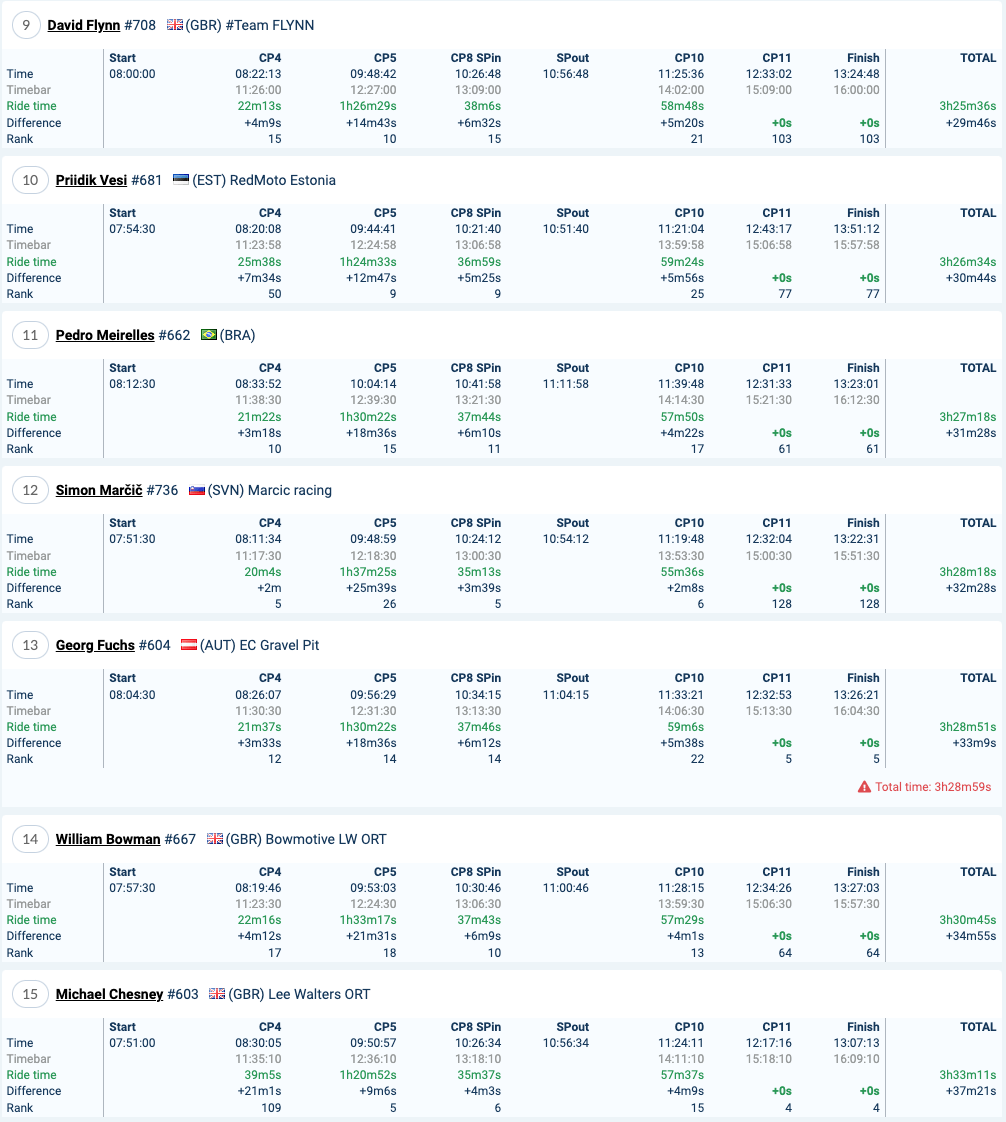 2022 Romaniacs day 2 results, Atom class: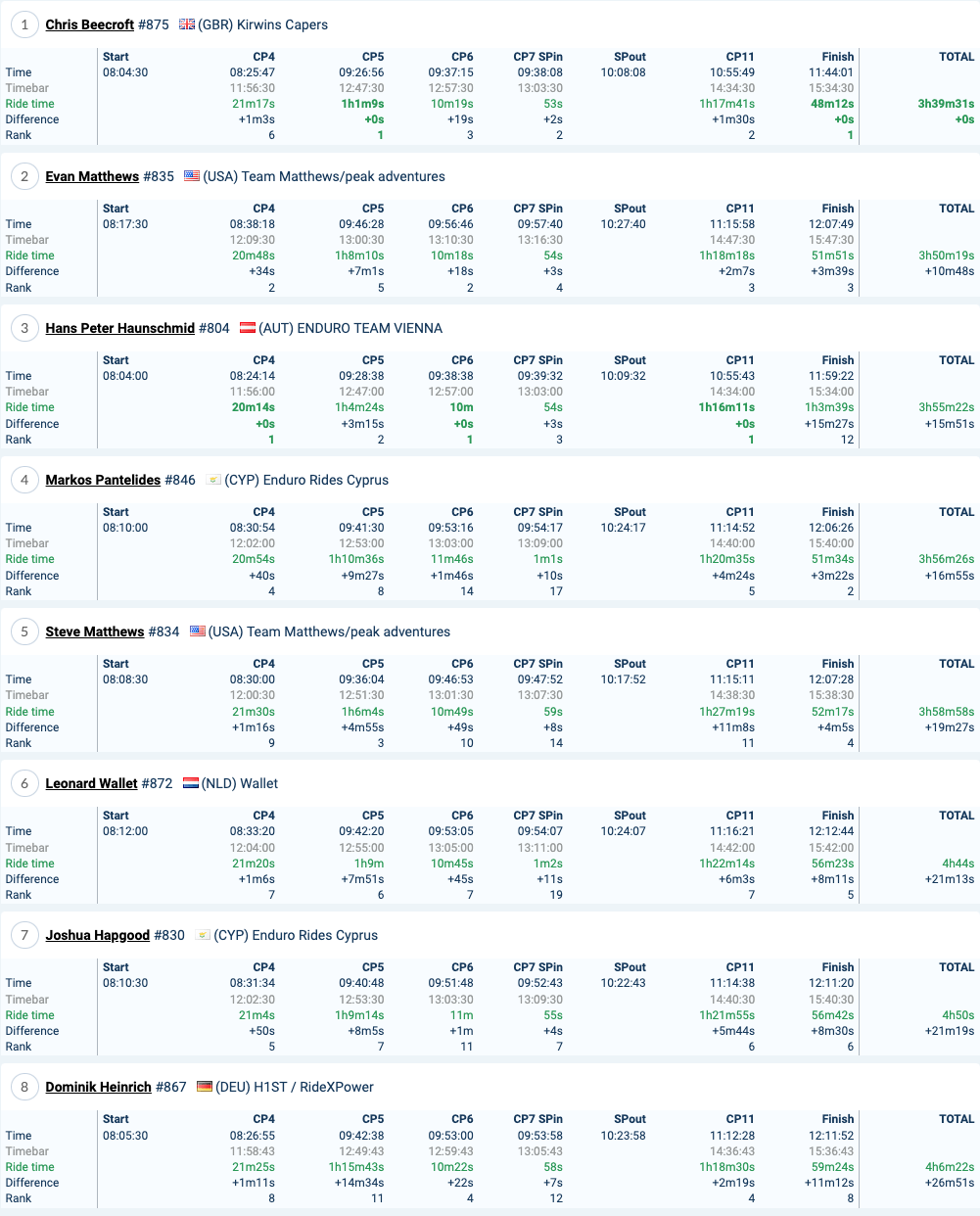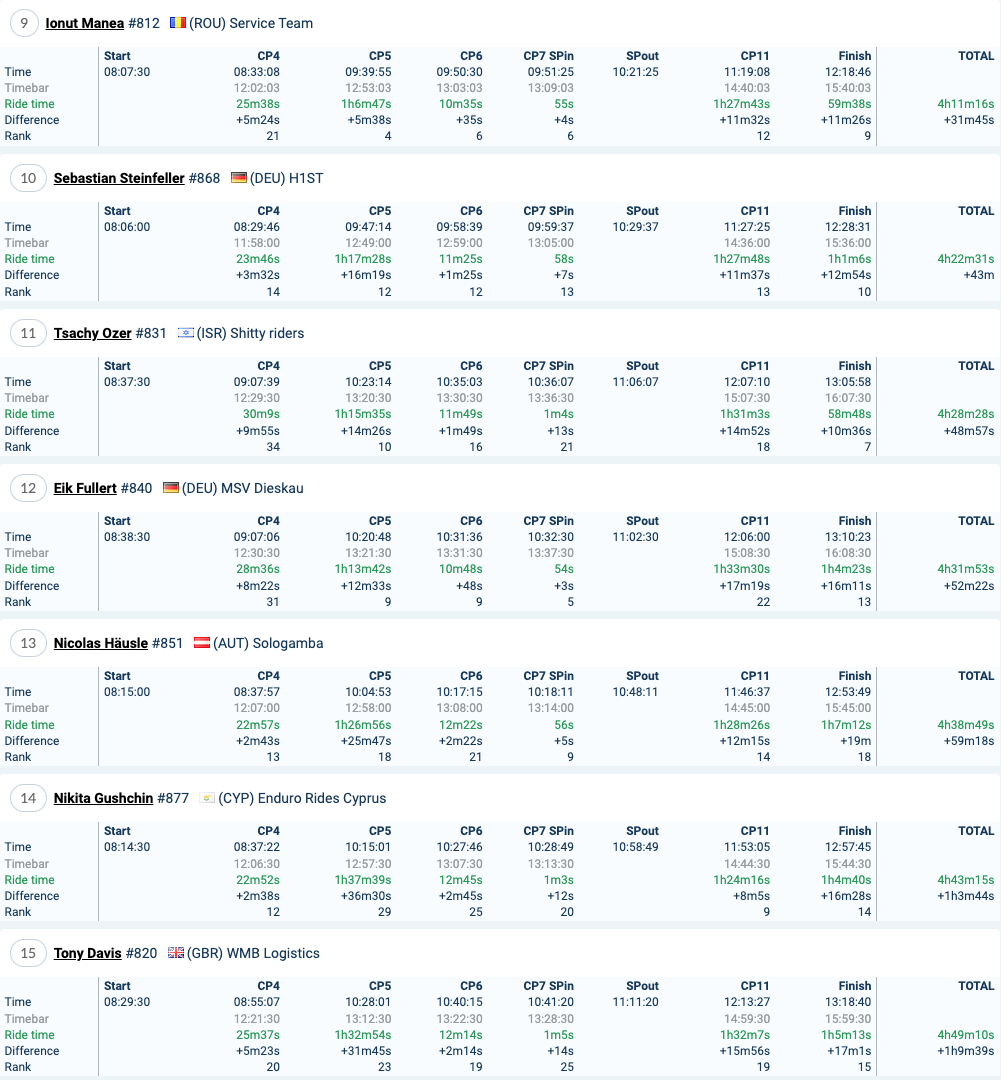 Photo Credit: Mihai Stetcu | Red Bull Content Pool + Future7Media | Andrea Belluschi