2022 Red Bull Romaniacs results: "Silent assassin" Graham Jarvis wins day one
Results from the 2022 Red Bull Romaniacs where Graham Jarvis lives up to the 'silent assassin' name on day one with a typical from behind ride for the win and provisional race lead – clutch problems hamper Lettenbichler.
2022 Red Bull Romaniacs Off-road day 1 in a nutshell:
There is nothing like the early start at Romaniacs. Too early, always, but the feeling at the line is like nowhere else. Gold class riders set off in three minute intervals this morning, with time gaps as targets just as much as the rider ahead on this year's uncharacteristically dry course.
The organisers threw in a weird one today, the Babysitter hill climb (watch it on playback from the live broadcast here), was tackled three times with riders hitting a checkpoint at the top and then returning to the bottom for another two attempts. That meant riders looped back into the thick of it for another go like F1 pit stops but hard enduro-style. It worked out better for some than others depending on who they got caught behind.
Through a whole heap of dry and difficult climbs on this first of four days in the mountains, Graham Jarvis clawed time back on his P11 start position, making inroads on those in front. Typically the biggest gains came on the hardest hills where he said he had "plenty of energy". Riding mindful last year's injury which came on day two, Graham was happy with the first day victory but also said he knows there's a long way to go.
Teo Kabakchiev claims he was surprised to finish second today "I felt like I made too many mistakes" he said but, like his former mentor Jarvis, the Bulgarian crucially lost less time in some of the hardest sections. It all adds up and he happily claimed second place, four minutes down overall on Graham.
Third, fourth and fifth places overall were tight between Trystan Hart, Michael Walkner and Mario Roman. All three spent the day plugging away, fast, efficient and consistent and mindful of the long game here. Mario opened the track in the latter stages and likely could have been quicker if he'd had someone to chase.
Prologue winner Alfredo Gomez opted to start P3 (the top two get the choice) behind Taddy Blazusiak and Mani Lettenbichler which meant clean tracks and kless dust. But the Spaniard dropped time overall and got swallowed up on the course by Roman and Jarvis to finish sixth on corrected time.
Lettenbichler meanwhile has given himself work to do tomorrow. He began the day out front and opening the track for everyone but the reigning Romaniacs champ fried his clutch during the first major hill (Babysitter - maybe he should have nursed it better...?) and lost a heap of time getting to the service point – around 30 minutes until he could get it changed. Mani made ground back after service but still ended the day 17 minutes behind in real time. The three-times Romaniacs winner was then later penalised an additional two hours for having "help" and is now 17th.
Time penalty for Mani Lettenbichler on Romaniacs day one?
Taddy is on his first race back from injury and naturally Romaniacs is going to be tough call for him. He finished P11 behind the top two Junior riders, Matthew Green (ninth) and David Cyprian (10th).
Fabien Poirot delivered the Silver class day win, taking a narrow victory in a very close battle in this class already. Aussie Adam Giles was second just 17 seconds off the winner and Chris Birch brought the big 500 KTM home 39 seconds back in third. On corrected time (with the prologue added), Giles is the class leader.
The Bronze class was remarkably won by a guy on a rally bike. Ok, it was a world champion and Dakar winner Matthias Walkner but still, isn't this sport meant to be best suited to lightweight two-strokes? In reality the easier course in Bronze class on day one suited him but Edgar Silins and the rest of the Bronze class riders must be hoping the tracks get steeper and tougher for the next three days.
Romanian Ovidiu Nistor finished the clear winner in the Iron class, four minutes clear of Arron Flynn while Hans Haunschmid took the honours in Atom class.
* time notes in red are for a time issue at service out check point.
2022 Romaniacs day 1 results, Gold class: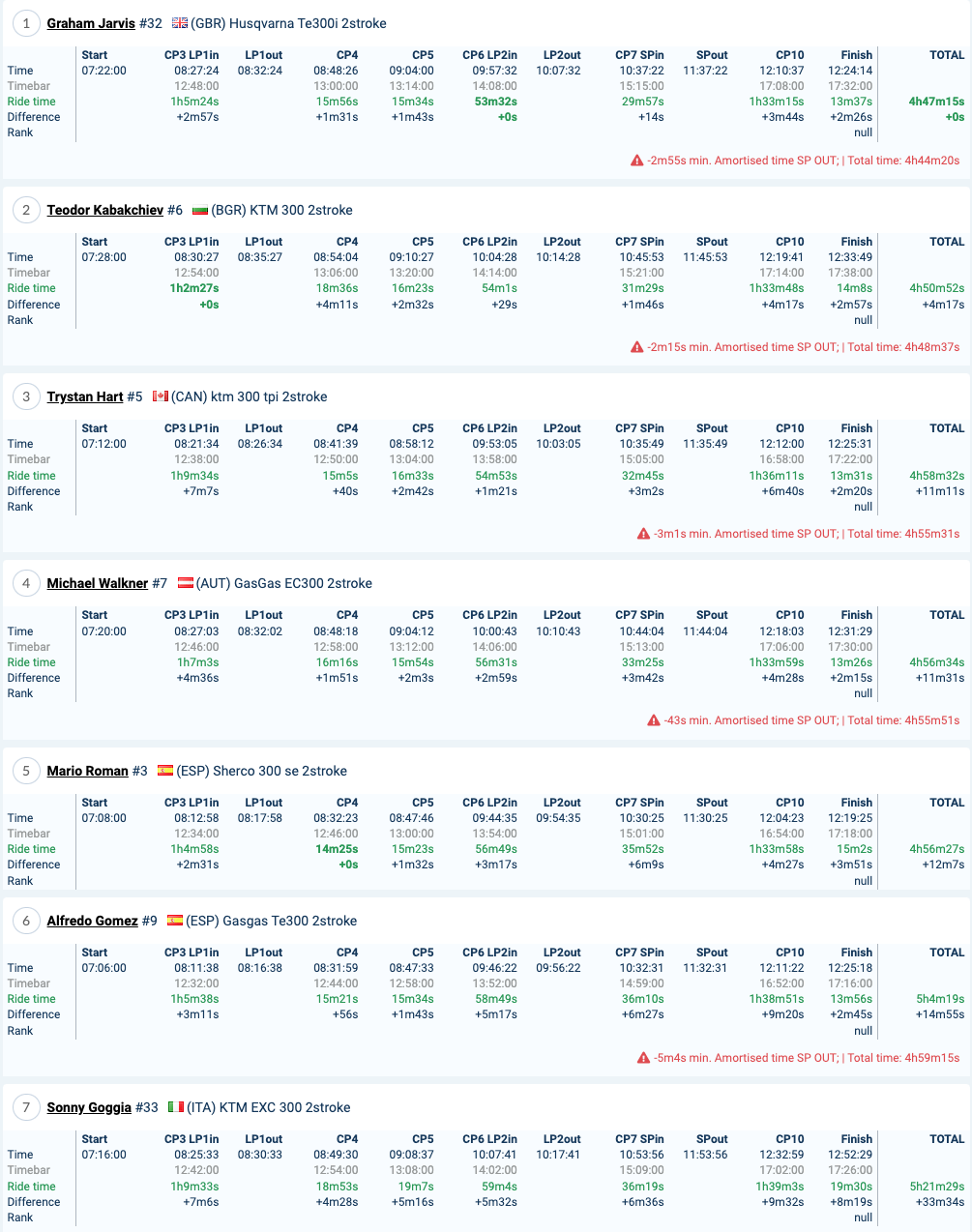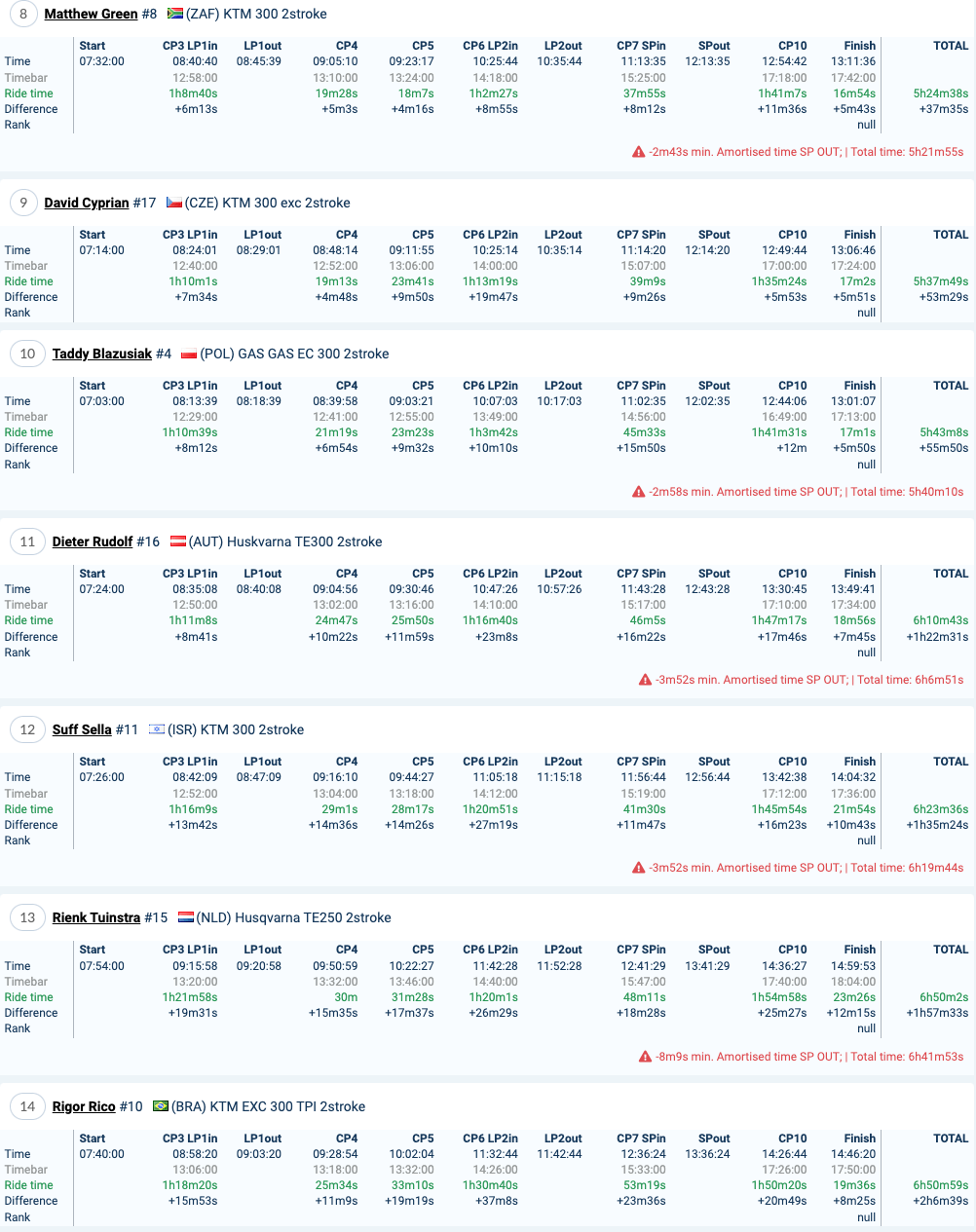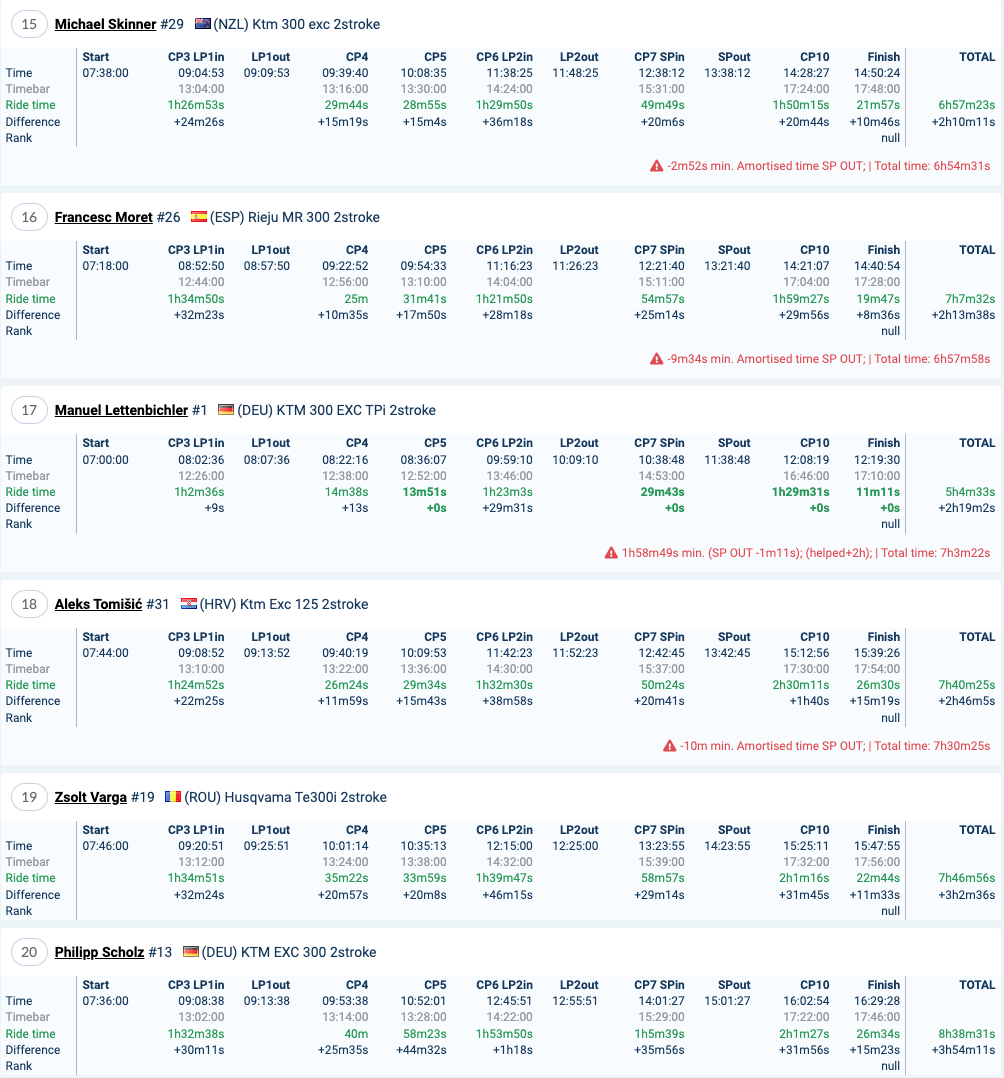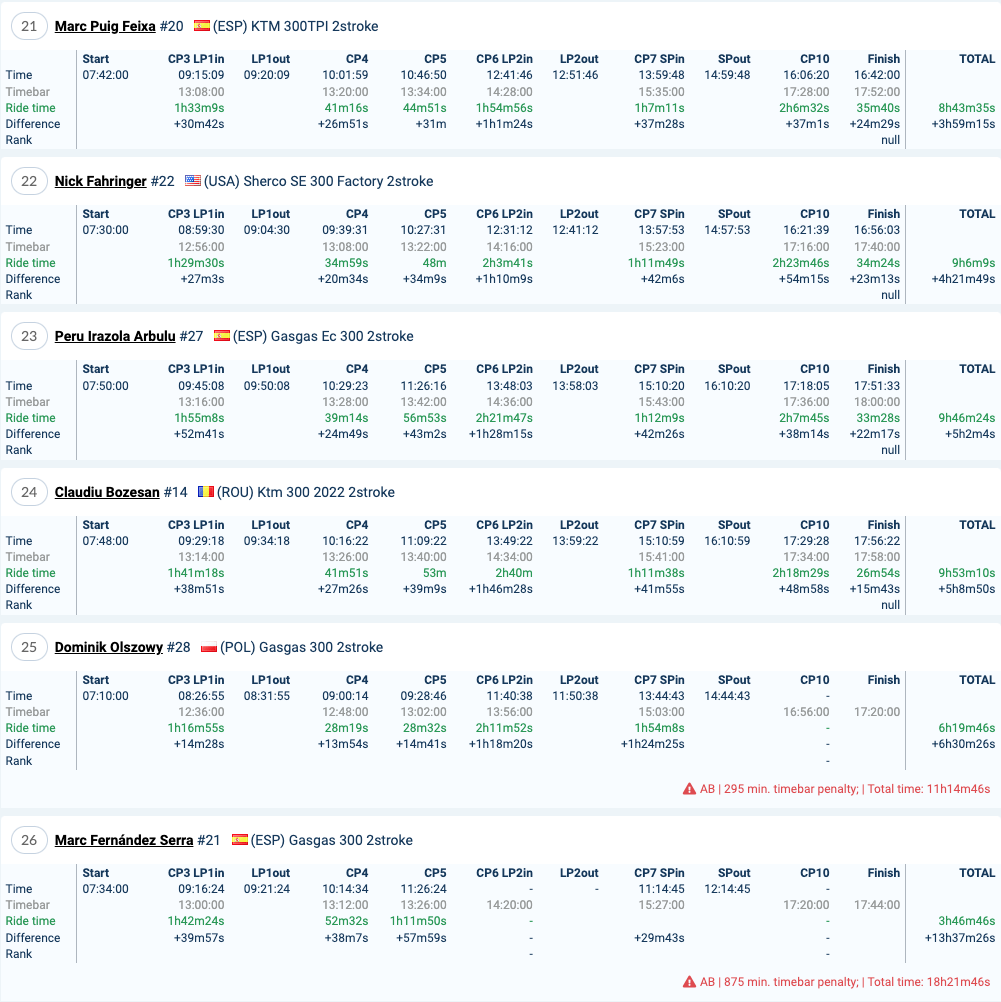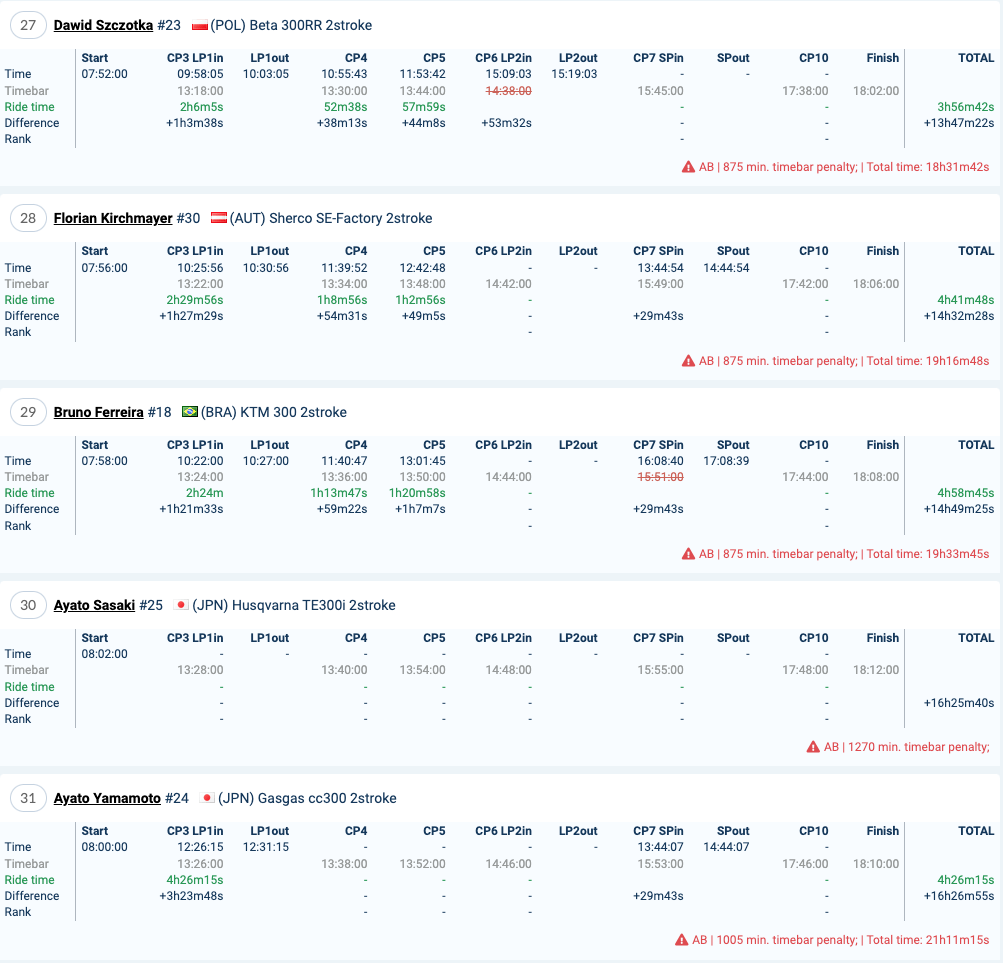 Overall scratch top 20 after day one: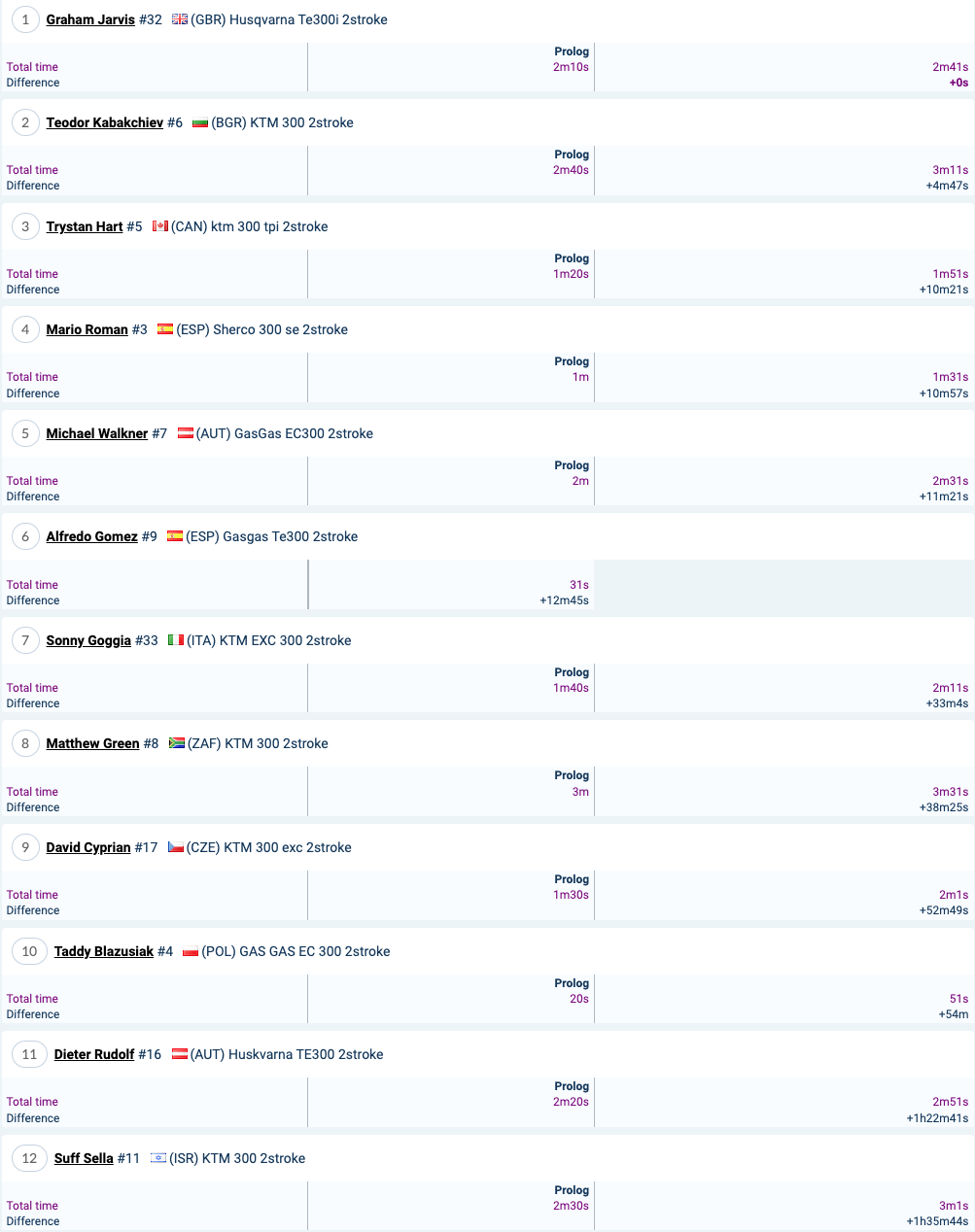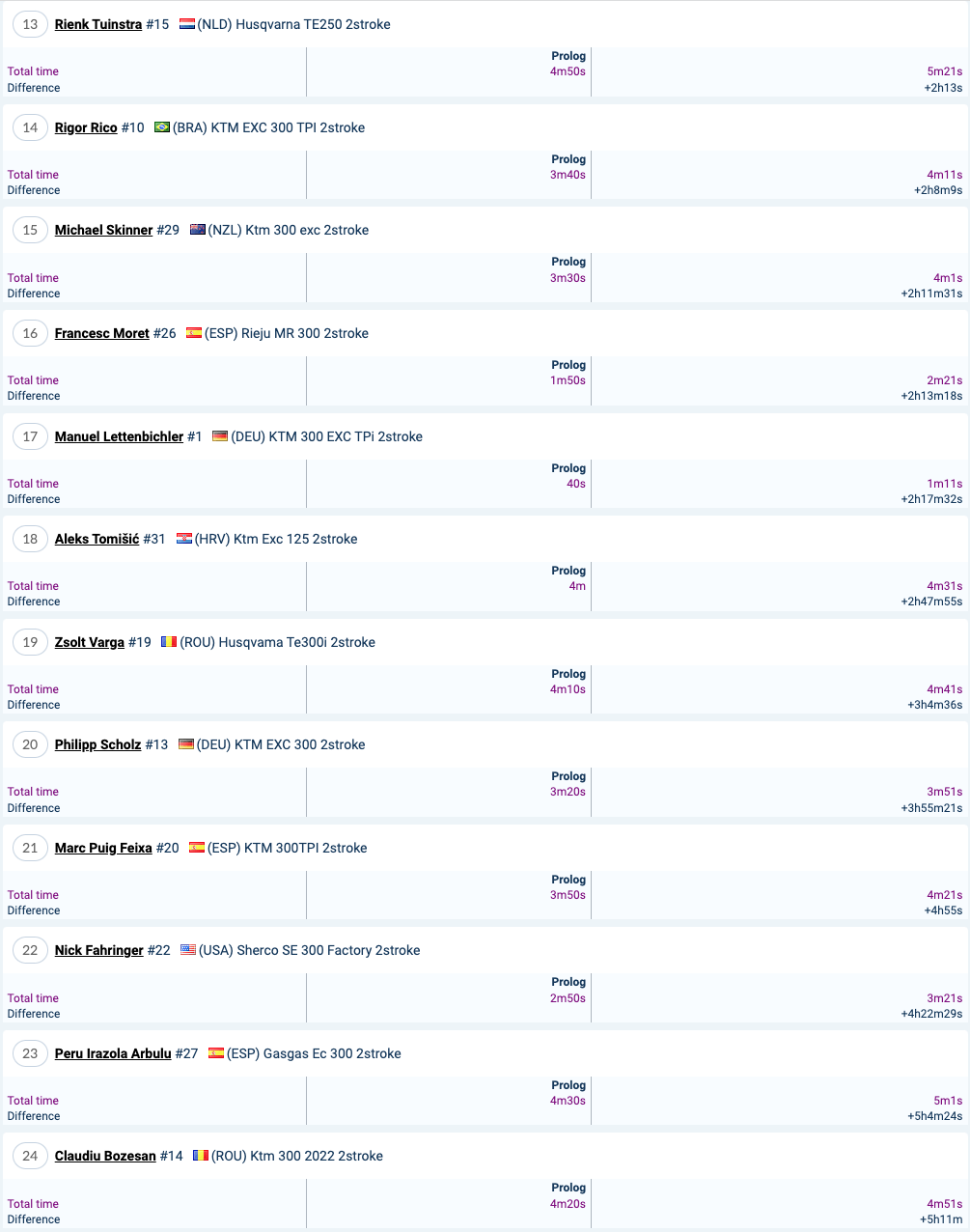 2022 Romaniacs day 1 results, Silver class: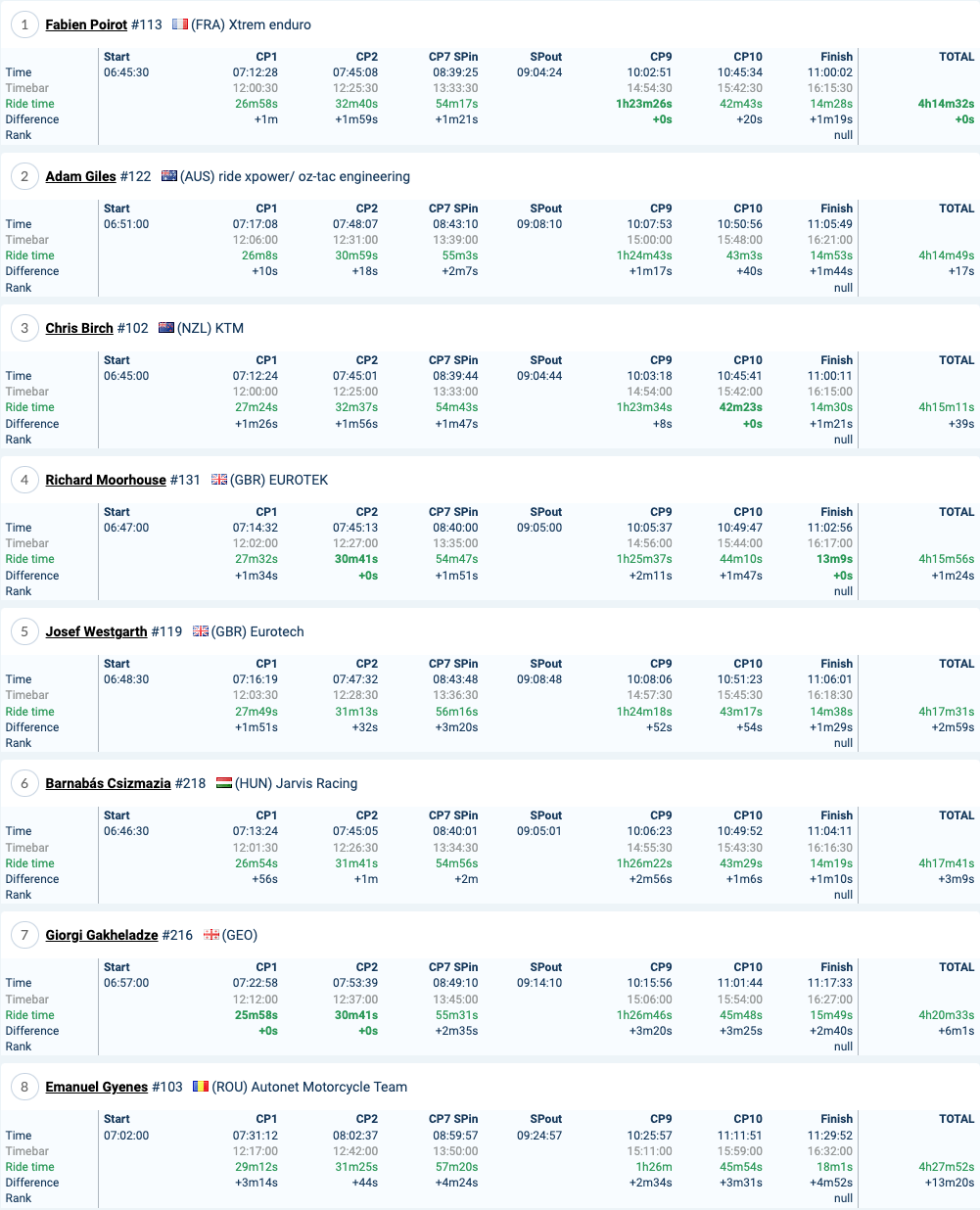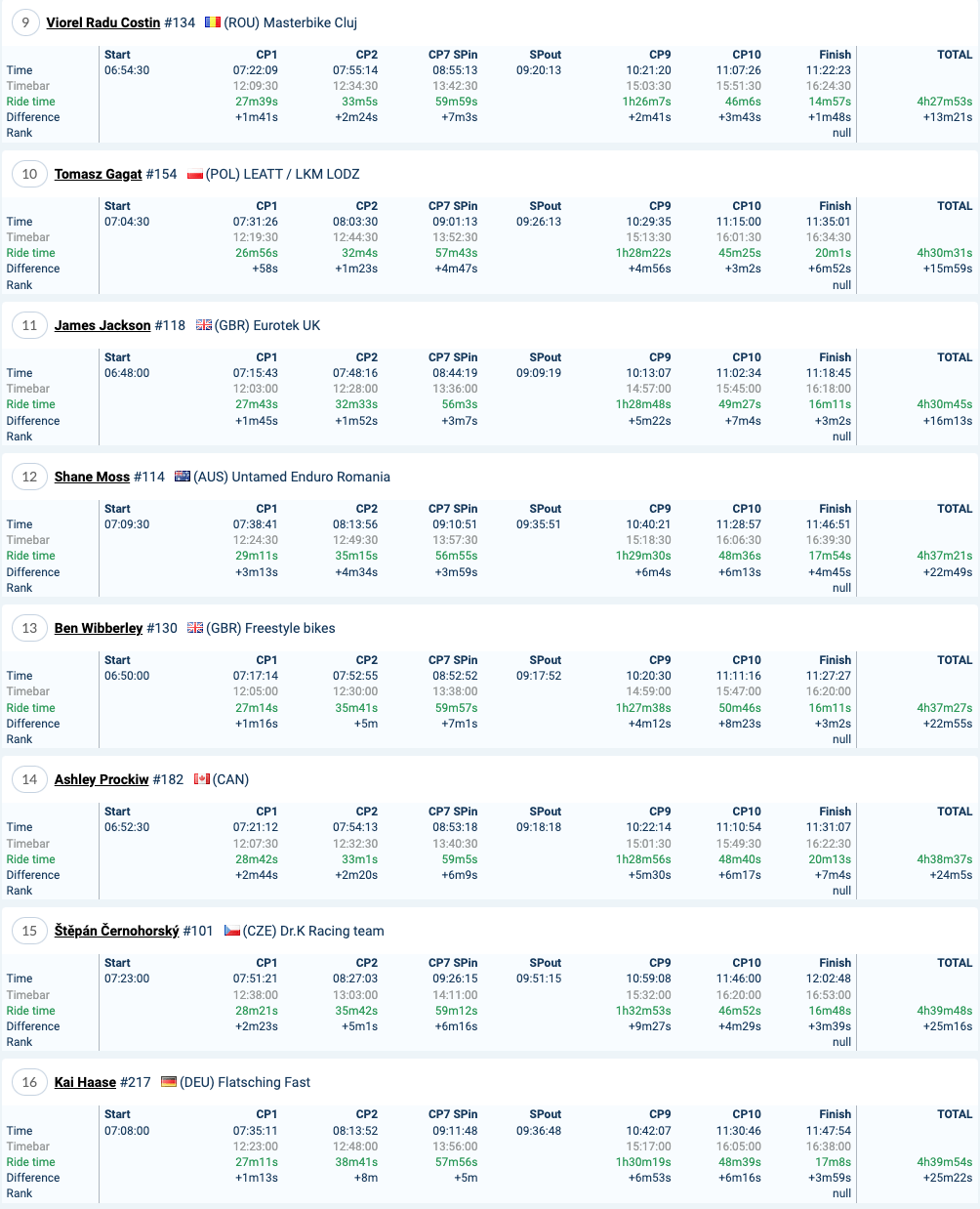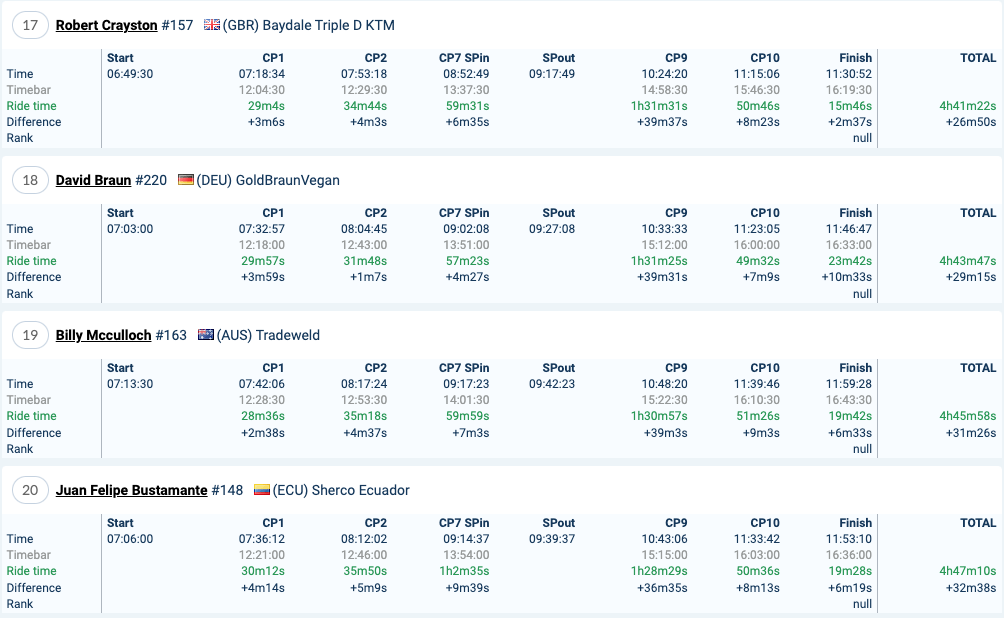 2022 Romaniacs day 1 results, Bronze class: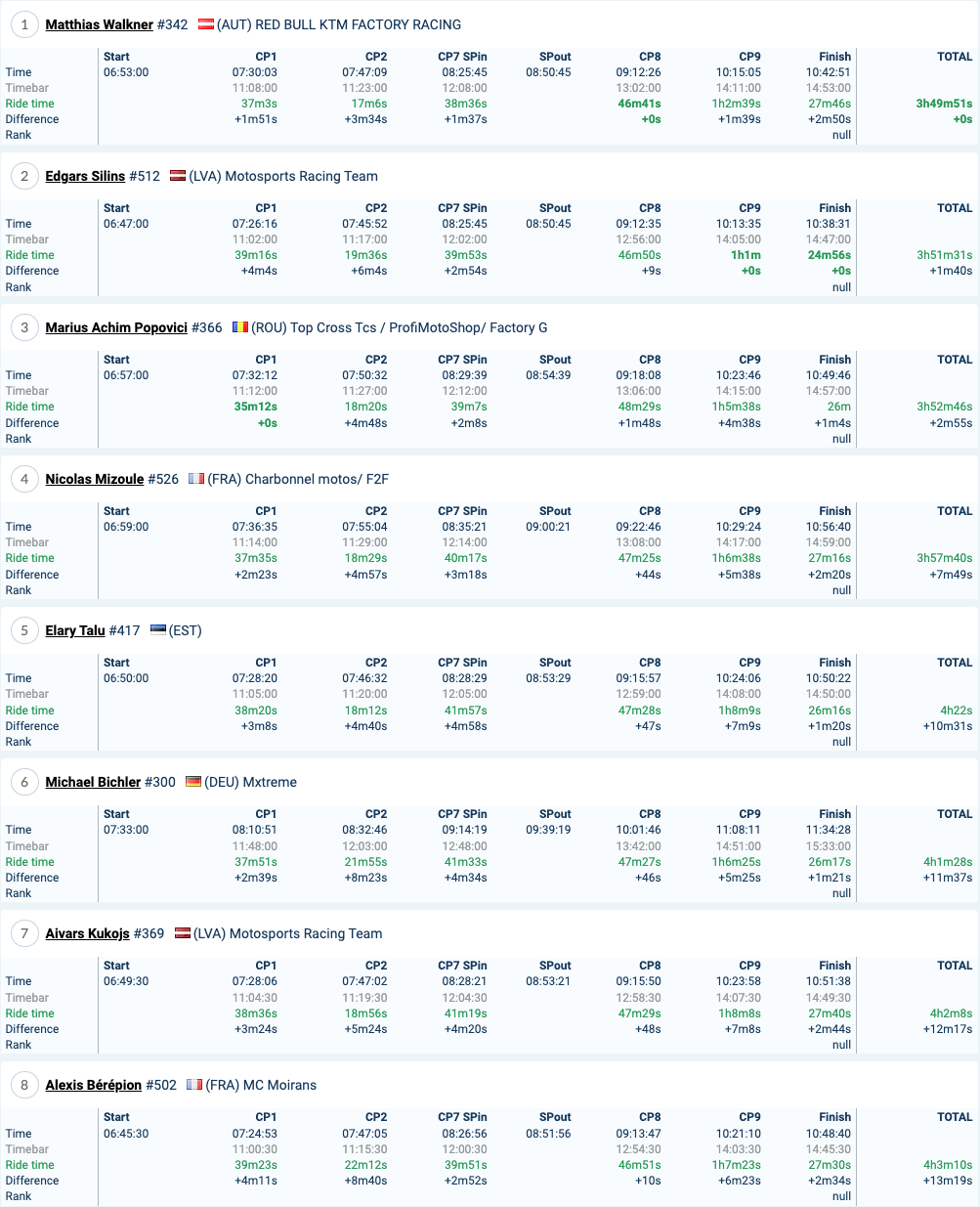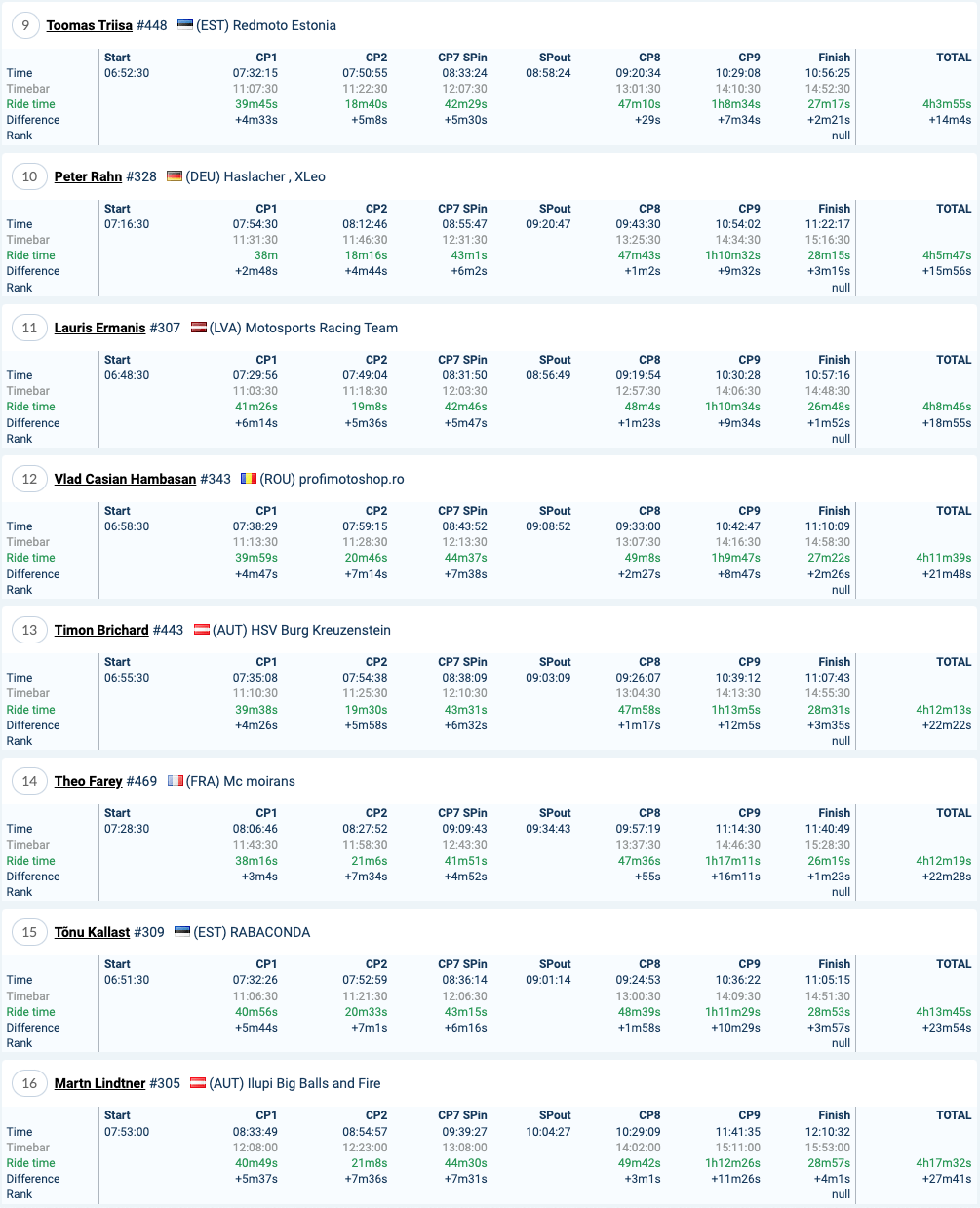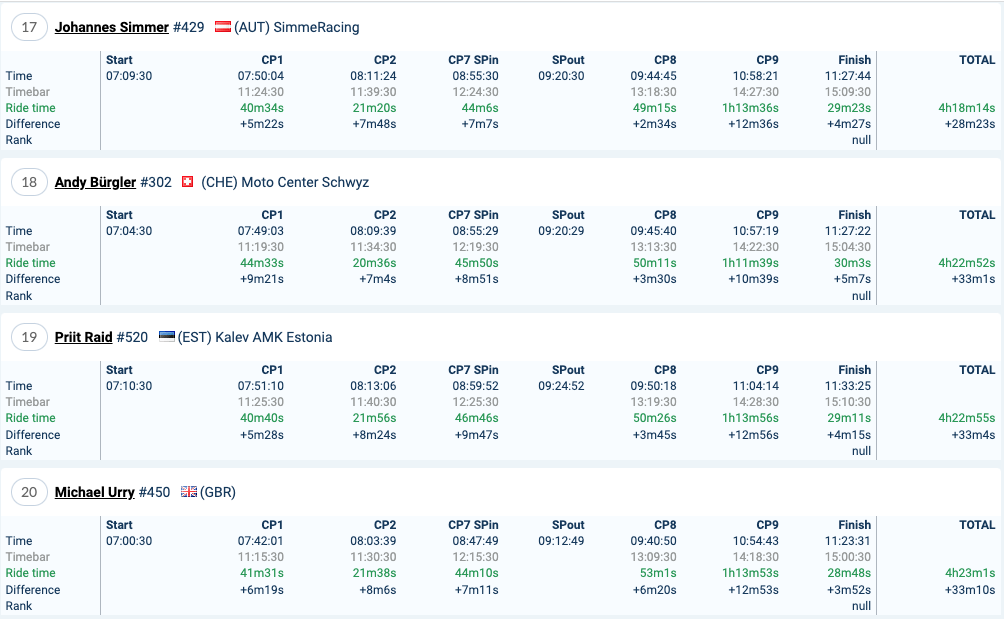 2022 Romaniacs day 1 results, Iron class: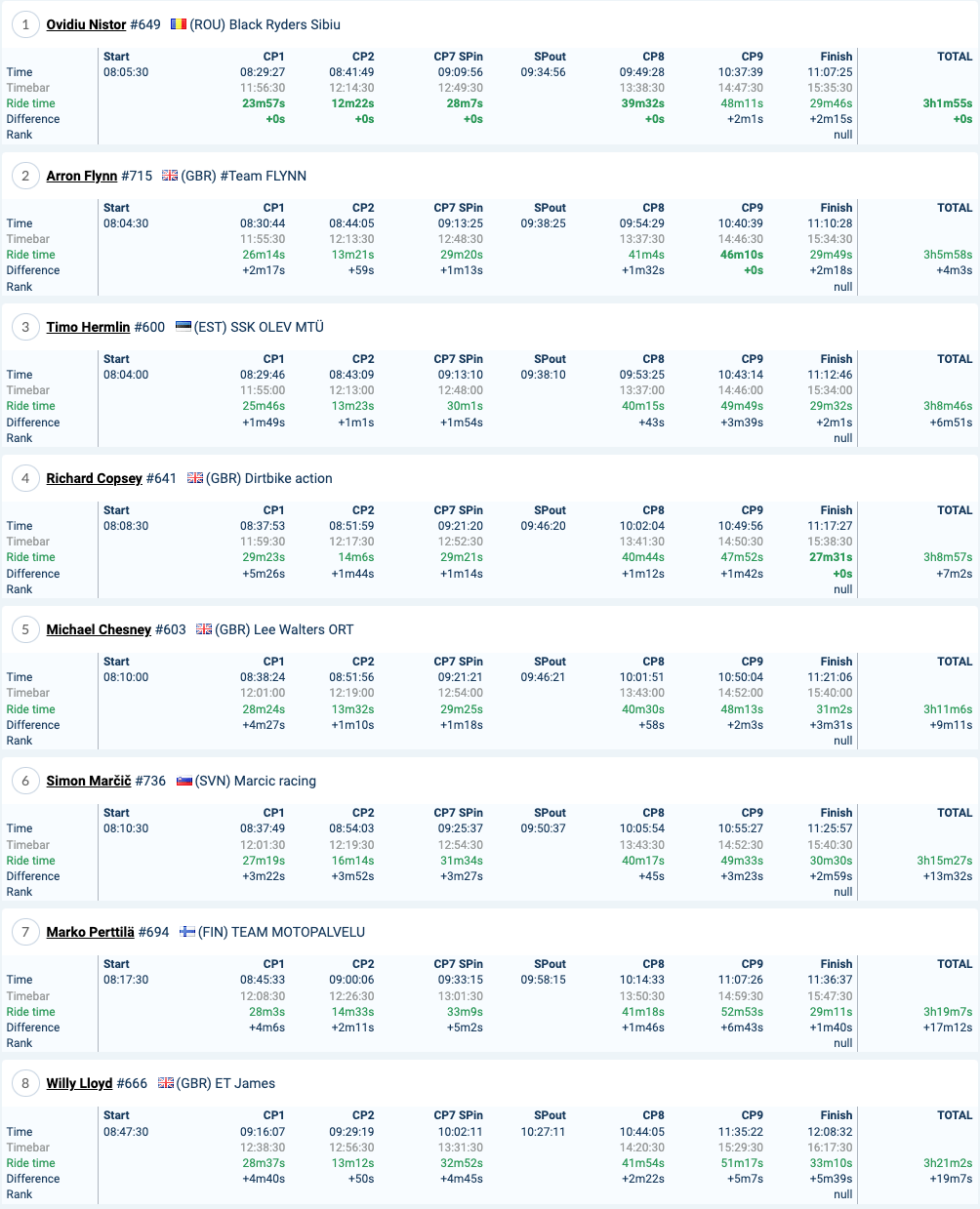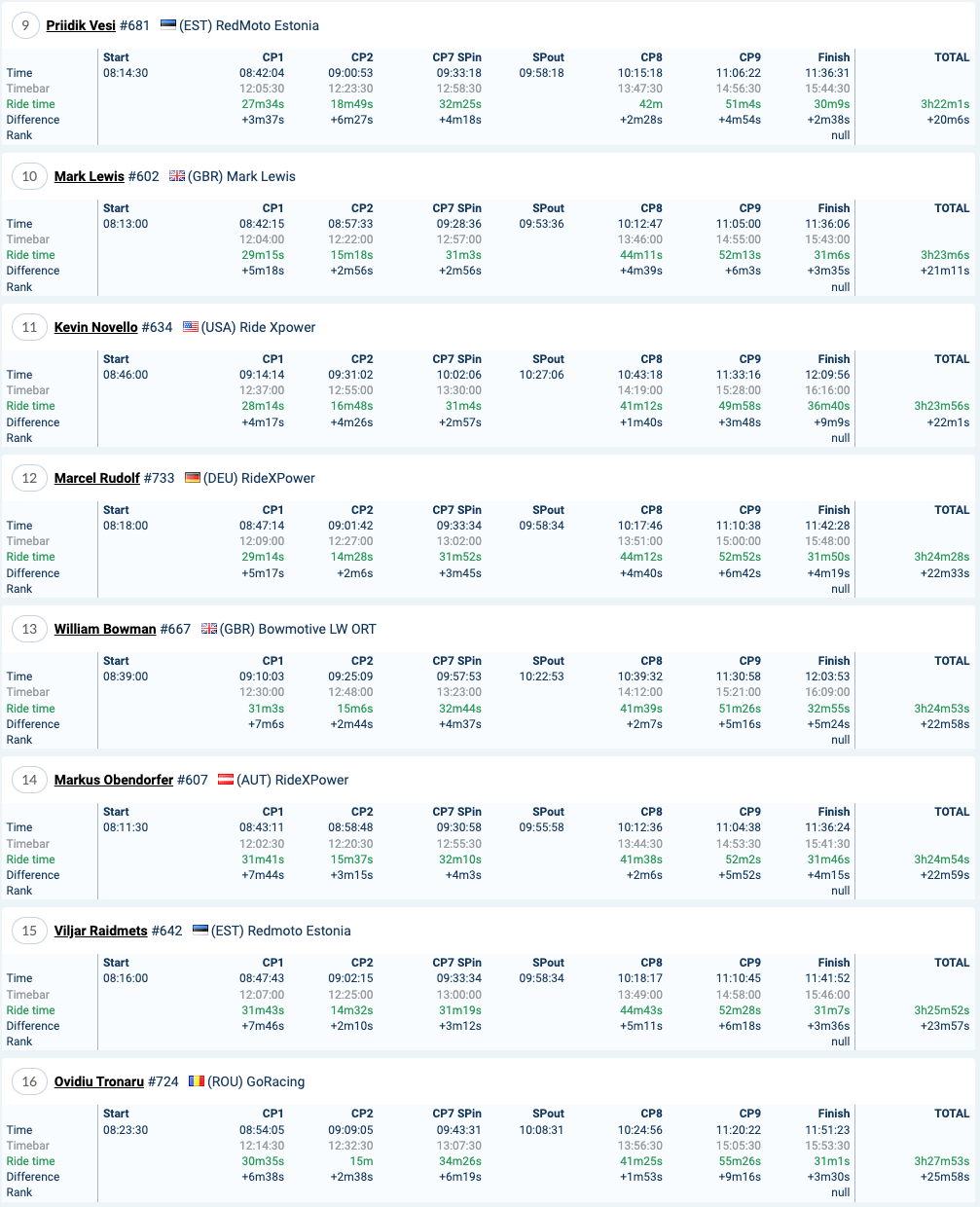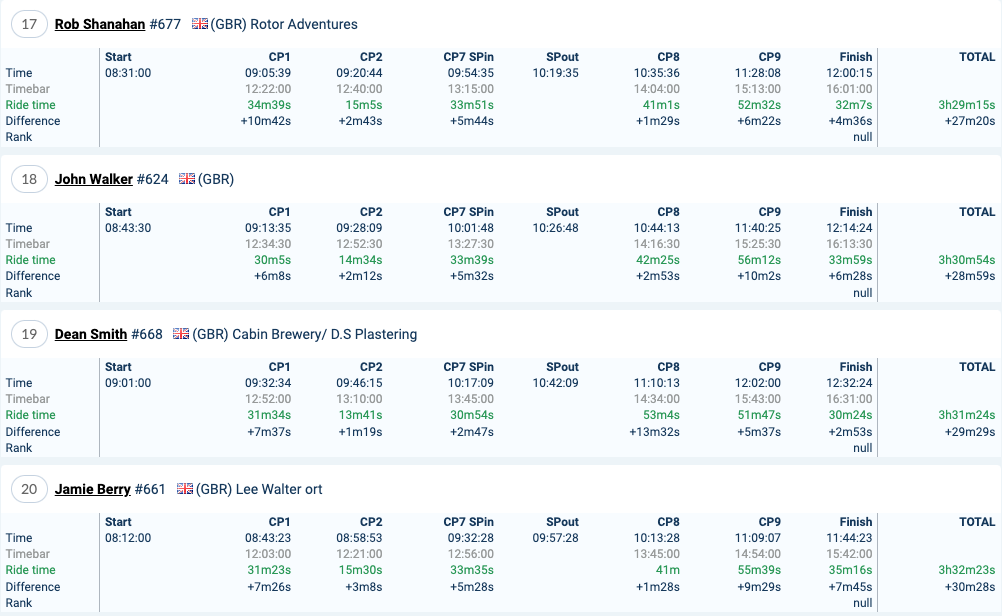 2022 Romaniacs day 1 results, Atom class: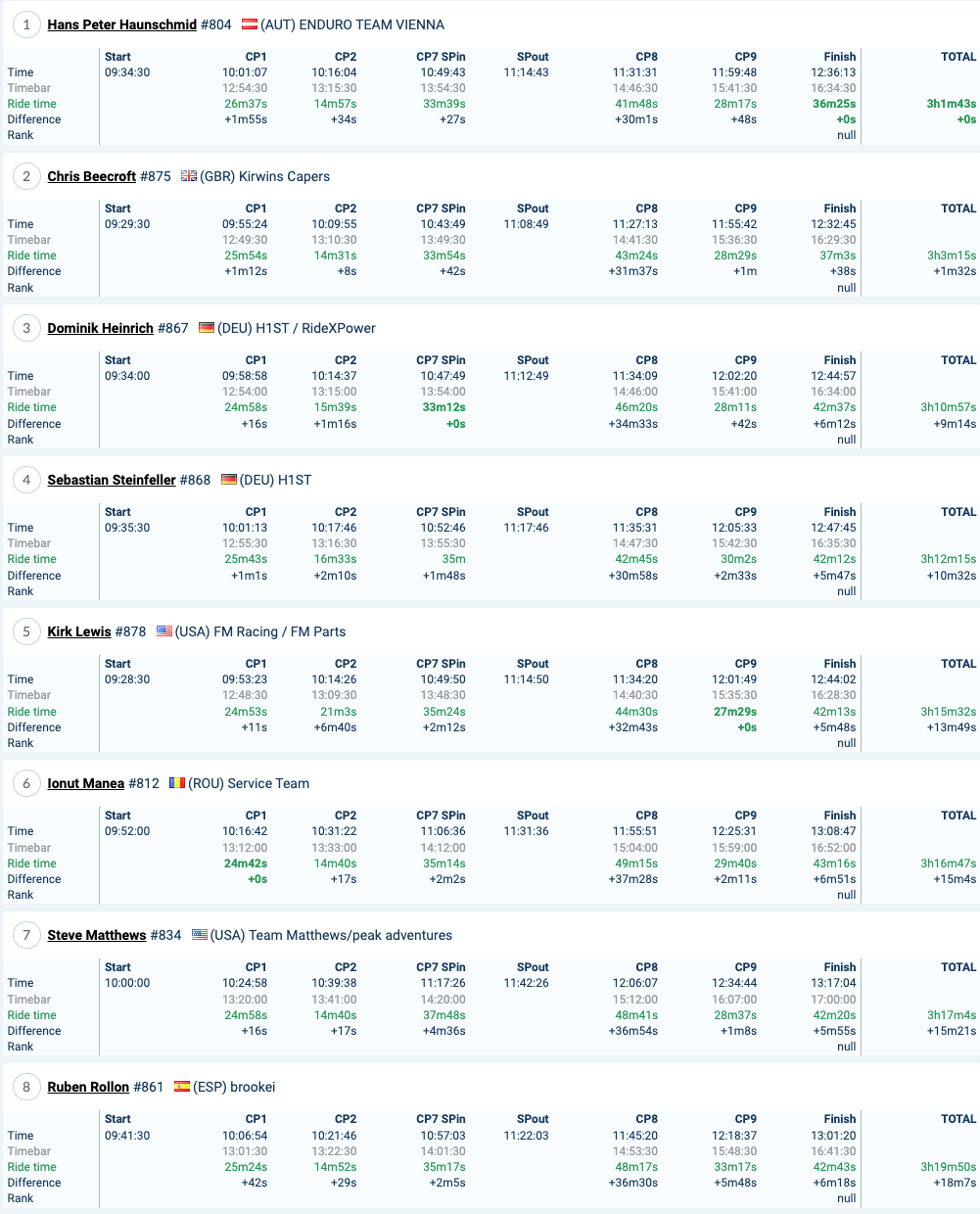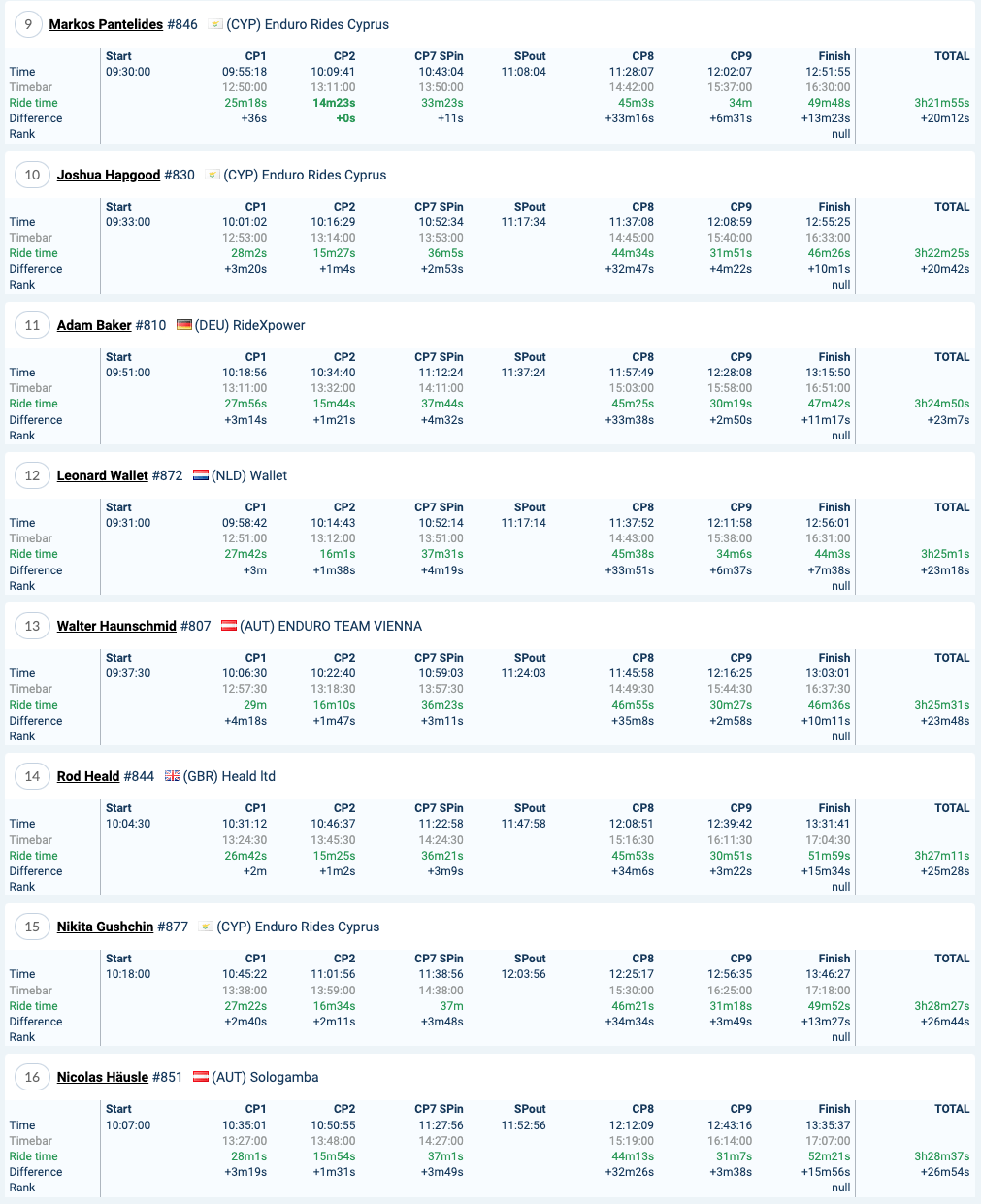 Full results for all classes here.
Photo Credit: Future7Media | Andrea Belluschi