Enduro21 notebook: Say what? Pro riders uncut from the final HEWC round
Unedited interviews from the Hixpania finishline and podium with the leading riders after the final day's racing of the 2022 Hard Enduro World Championship in Spain.
Mani Lettenbichler – 1st at Hixpania and 2022 Hard Enduro World Champion
Raw emotions after a long and dramatic season spilled out as Mani Lettenbichler finally claims the world crown in a season which saw him return from major injury to win every race day except Romaniacs day one and the Tennessee Knockout final.
After coming so close in 2021, the German underwent major knee surgery in the off season to arrive one round late to the '22 series but dominate the series from that point onwards.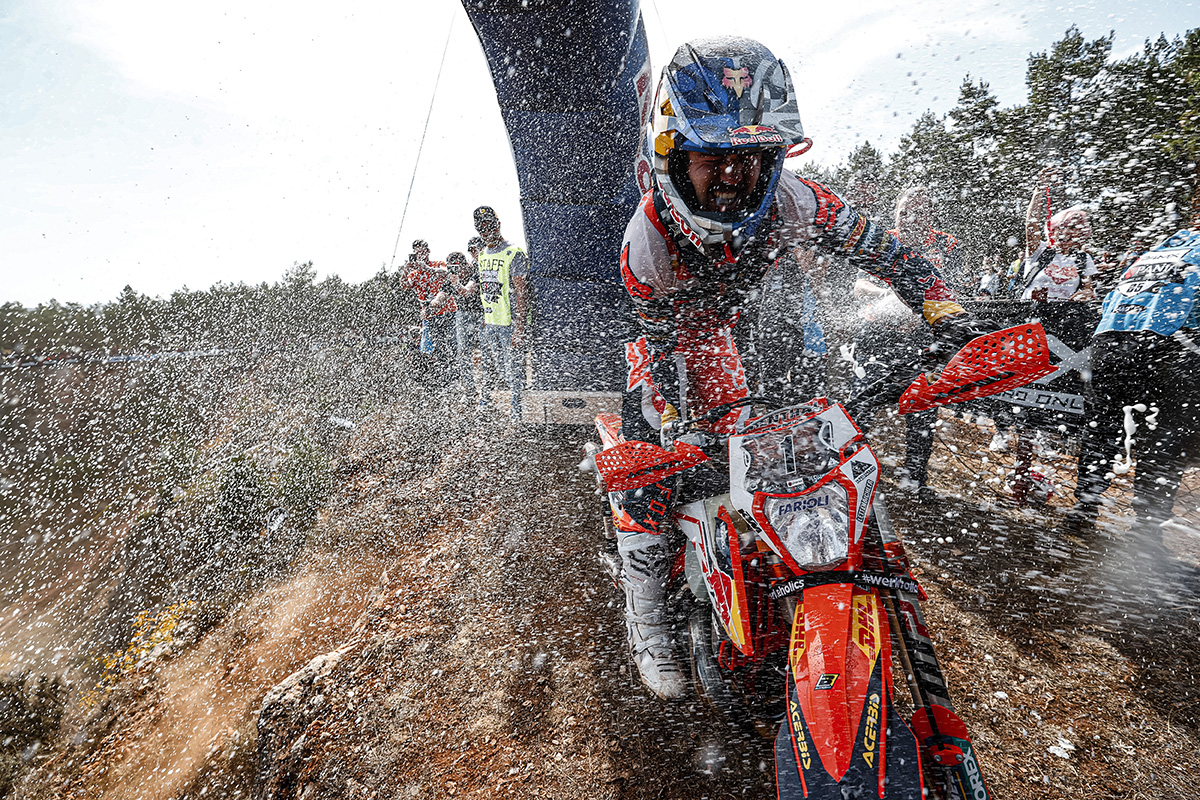 Mani Lettenbichler: "The pressure was on in the morning and I was pretty nervous. I think when they changed the track a little that took my mind off things because I had something else to think about.
"I had a good start and lead from the beginning, and I was able to pull a gap. After about an hour I was feeling pretty tired already and knew we had a long way to go still, so that was not an easy moment.
"I tried to keep a good pace all race and maintain the gap. I was so glad that I made the first hill in the final quarry because it was really tricky. I think I almost made the second one and then the last climb was definitely not easy but we got up. It was an intense weekend on the body.
"Everyone was riding unbelievable and I knew Mario was always two or three minutes behind me but two or three minutes in hard enduro is nothing so I knew I had to keep on it and I am stoked to come away with the win.
"The crowd was sick, they have been cheering loud for the Spanish guys of course but also for us so that was great. I really appreciate it. What is my summary of the season? 'Nailed it!'"
"I feel like a world champion." – Mario Roman, 2nd at Hixpania and 2nd overall in the 2022 HEWC
Mr Consistent won the opening round of the 2022 HEWC season and has been riding high in the points ever since. He's had to work hard at times, when prologue and qualification races haven't worked in his favour, meaning a start position well behind his championship rivals.
Starting the race just two points behind Lettenbichler it was all to play for but the Spaniard simply never got chance to win this one.
The other major talking point for Mario and his Sherco team remains the FIM's decision to take no further action on a protest lodged after Romaniacs. It is still a raw one...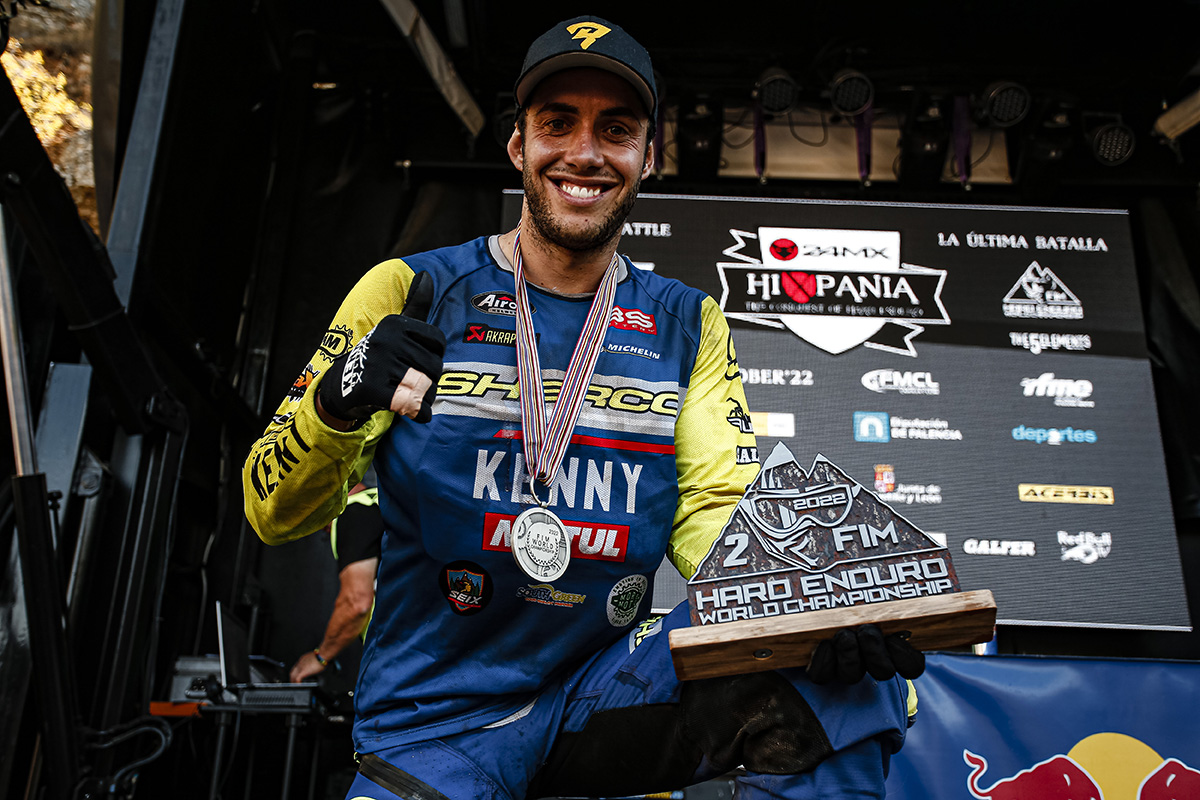 Mario Roman: "It was good to get a good start from P9 and quickly I was able to move past some guys. I think I passed something like five guys pretty quick and then struggled a bit to pass Alfredo and Trystan. Alfredo was helping me but for sure trystan's job was to be on my line.
"But anyway, I was able to pass him and once I was clear I think Mani and me had the fastest pace around the track today.
"Anyway, it was still not enough. My bike was still not running very well, I had to use a second starter button because the one on the bars was not working and unfortunately, I lost time doing that.
"I did my best and sometimes you have to be lucky with the lappers, sometimes it works for you, sometimes not. It is what it is but I would say in the future it would be good to battle with just the top guys in the world and not the amateurs as well in the final. But I gave it my all.
"I feel like a world champion. It is not fair what the FIM did with me this year and the rules. It is unbelievable what Mani did. Apart from the day when he had a problem in Romaniacs, he won almost every single day and for sure he also deserves to be world champion. But with that issue I should be a world champion.
"Thanks to Wade yesterday for his help on the course to fix my bike and also to the Sherco team, I so grateful to be in such a family."
Trystan Hart – 3rd place at Hixpania and 7th overall
For someone who wasn't really supposed to be in this series, Trystan Hart has certainly made his mark in 2022. The Canadian raced five of the eight rounds in the end and stood on the podium for four of them – winning at TKO of course.
Next season, the Red Bull KTM truck will have two full-time riders in it at every round as Trystan steps up from his "part time" status. But there's something he needs to find before that if he wants to match the European riders on the European soil.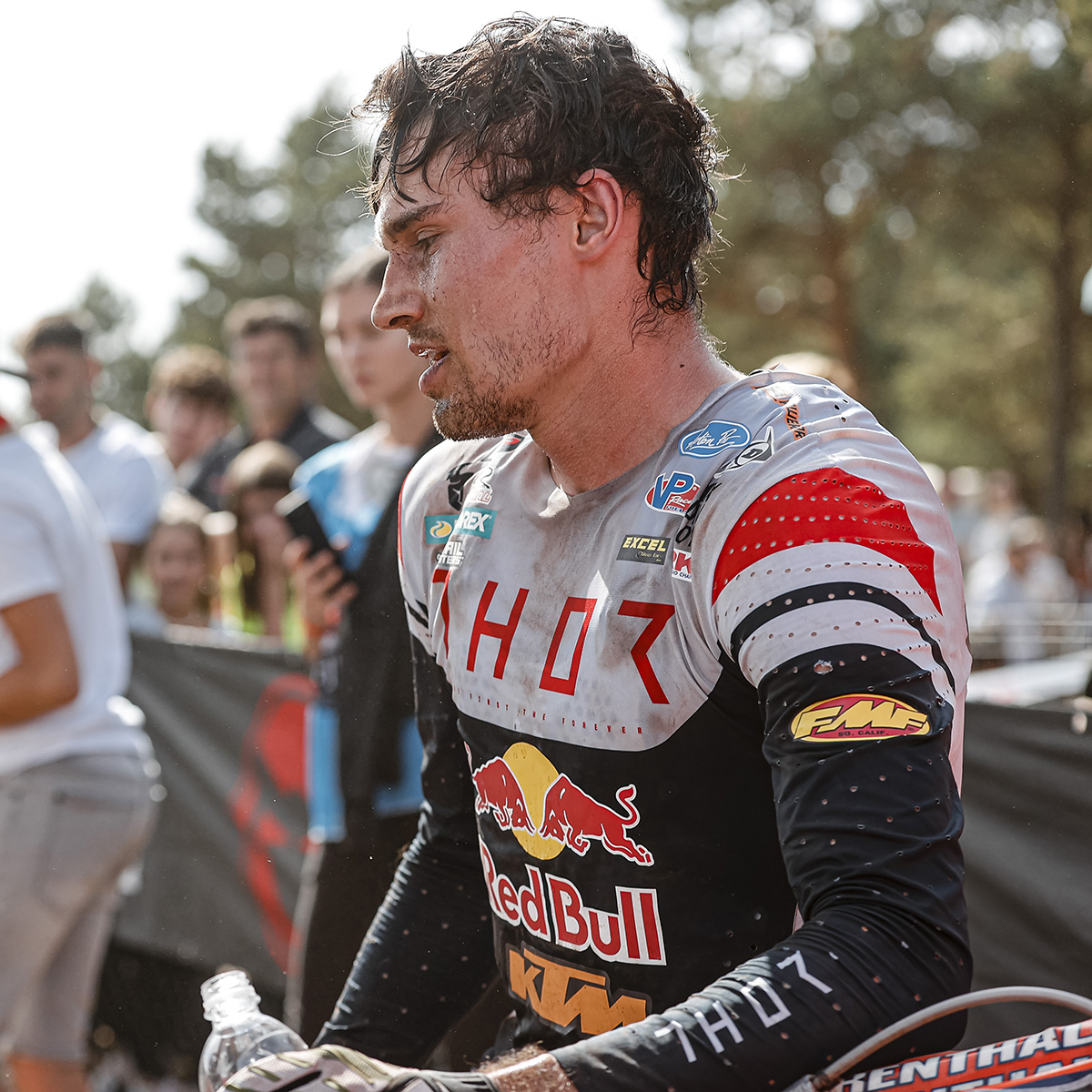 Trystan Hart: "I can't ride in Europe to save my life! I mean when we were in North America I was on a different mission but I can't seem to find that extra gear when we come to Europe. I'm not sure what I gotta do about that! When you get the feeling of knowing how good it can be, you don't want to go back to feeling like crap. I've just got to keep searching for that missing link.
"It was a long race for me. When you're off your game, you're spending a lot of energy where you wouldn't normally so that's super-frustrating because you can't compete with guys who are on their A-game. I was riding around making mistakes that shouldn't be happening. It is what it is, you live and learn."
"We'll be back for more next year, I love it." – Graham Jarvis, 4th place at Hixpania and 3rd overall for 2022
It seems like there's very little we need to add in here that we haven't said many times already about Graham Jarvis. The old boy even led the HEWC points standings this season despite harsh treatment once again by officials at the Erzbergrodeo.
In the end, by his own admission, the younger riders have fitness on their side at these races but Graham's win at Romaniacs proved he still has bags full of technique in his favour. That and some dogged performances are what brings him the third place overall position in the championship.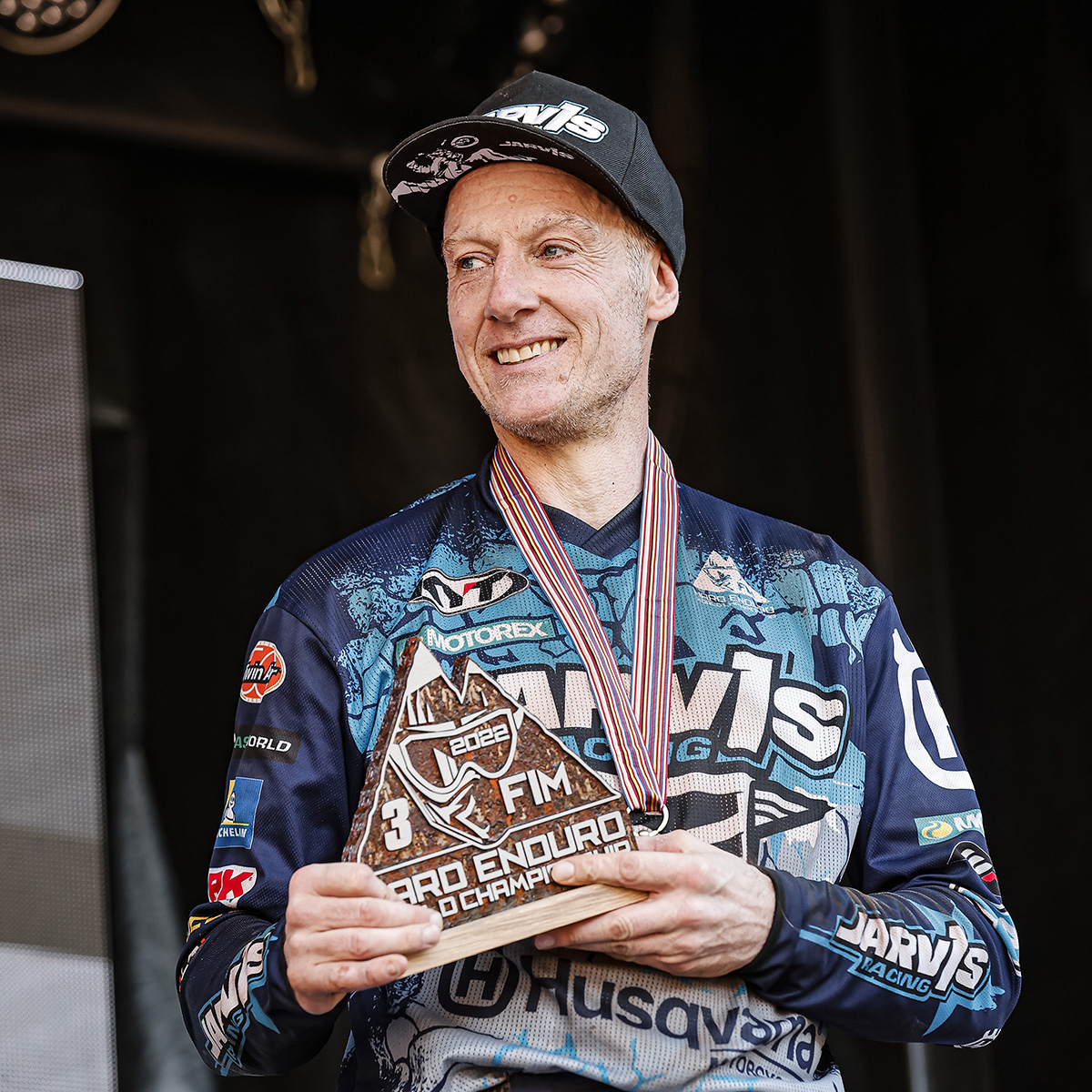 Graham Jarvis: "This was a good race for me to finish the season. It was a bit more fast and flowing than normal but incredibly physical for me still. But I'm really happy to get a top five and be one of the top riders getting right to the finish, it's not easy with the speed these guys run across a whole race.
"I think we can do better though and improve on a lot of things within the team but I'm really happy with third overall. It's incredible and I think to start the season with our own team, me still not completely fit with my knee and arrive here at the finish in third place overall is brilliant, my team deserve it. We'll be back for more next year, I love it."
Alfredo Gomez – 3rd at Hixpania and joint 4th overall (with Teodor Kabakchiev)
Another rider getting used to life outside the factory awning this season is Alfredo Gomez. The Spaniard joined Jarvis in exiting the Husqvarna Factory Racing team at the end of last season and both now run their own, privateer set-up, albeit with some factory support.
AG Racing is built by Alfredo around his own world championship assault, but the team also runs two young riders and he says getting used to managing his own programme and building their bike set-up has been hard work alongside racing.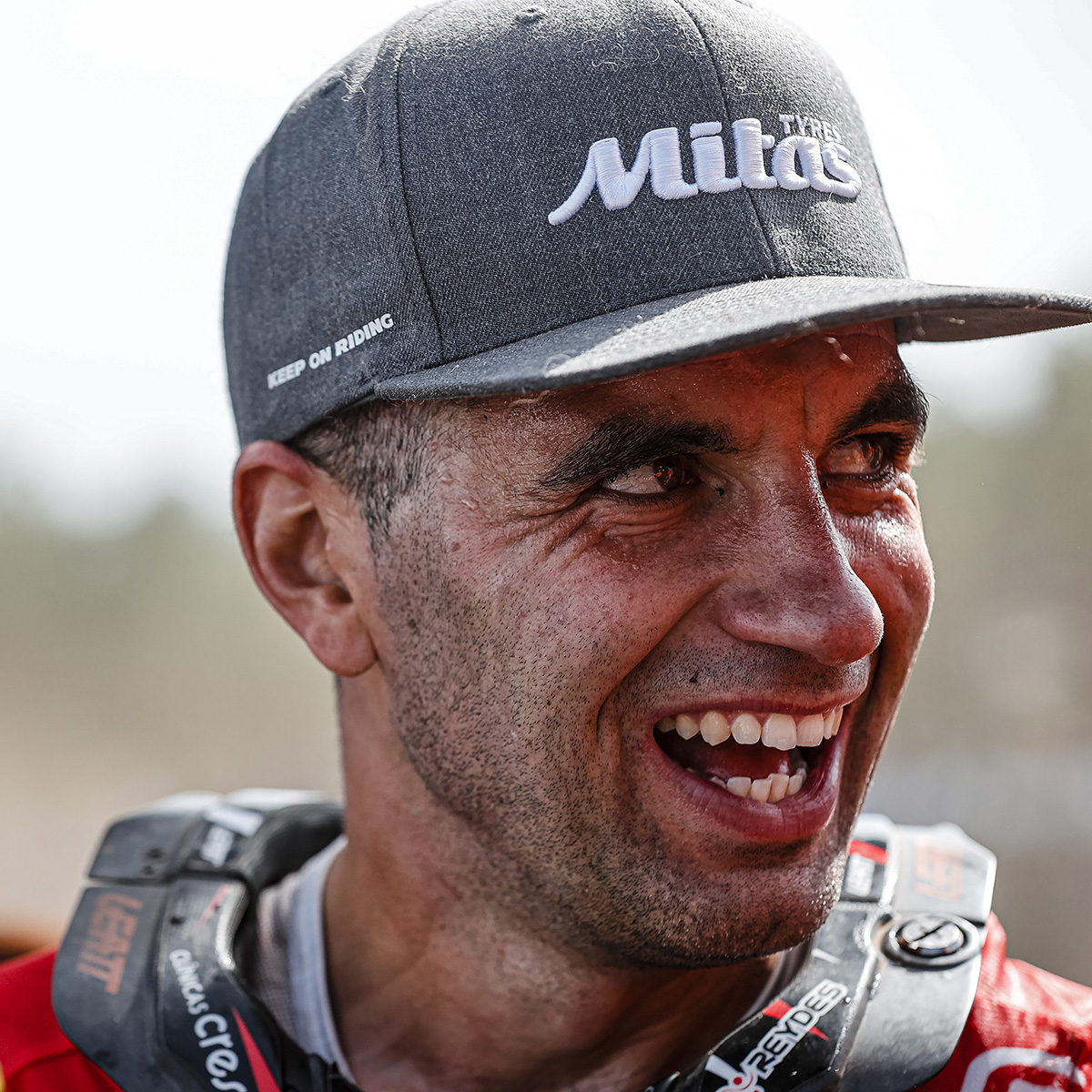 Alfredo Gomez: "Being on the podium is very good, especially in Spain for my team's home race. I ahd a good pace in the race but Mani and Mario were very strong. I had just three weeks on the bike after my injury in America so I knew it would be hard for me today but I tried to keep my own rhythm all race.
"Overall, it has been a good season, even though I missed Romaniacs and Canada I think fourth position is not so bad. I am very happy with that after missing two rounds.
"I know I can be at the front more in the results at each round but this year I have a new bike, new tyres to learn and a lot of changes with running my own team.
"It's not easy being your own team manager, racing the season and managing two younger riders. But I enjoyed training with them a lot and it helps me also.
"It was a lot of work in the off season and I hope we can find one more money from sponsors so that next season we can have one more person at the races and then I can focus more on the racing. I know what we need, so let's look forward to next season."
Matty Green – 2022 Junior World Cup champion
In its inaugural season the Junior World Cup has bubbled away underneath the headline acts and the main race winners like Mani and Mario. But often the Juniors have been on their own mission which has seen them troubling the top 10, sometimes even the top five.
Matty Green is that guy who took a top five at the Abestone round (beating Graham Jarvis), clocked one of the coveted Erzberg finisher's flags and went onto to win this newly created Junior World Cup title.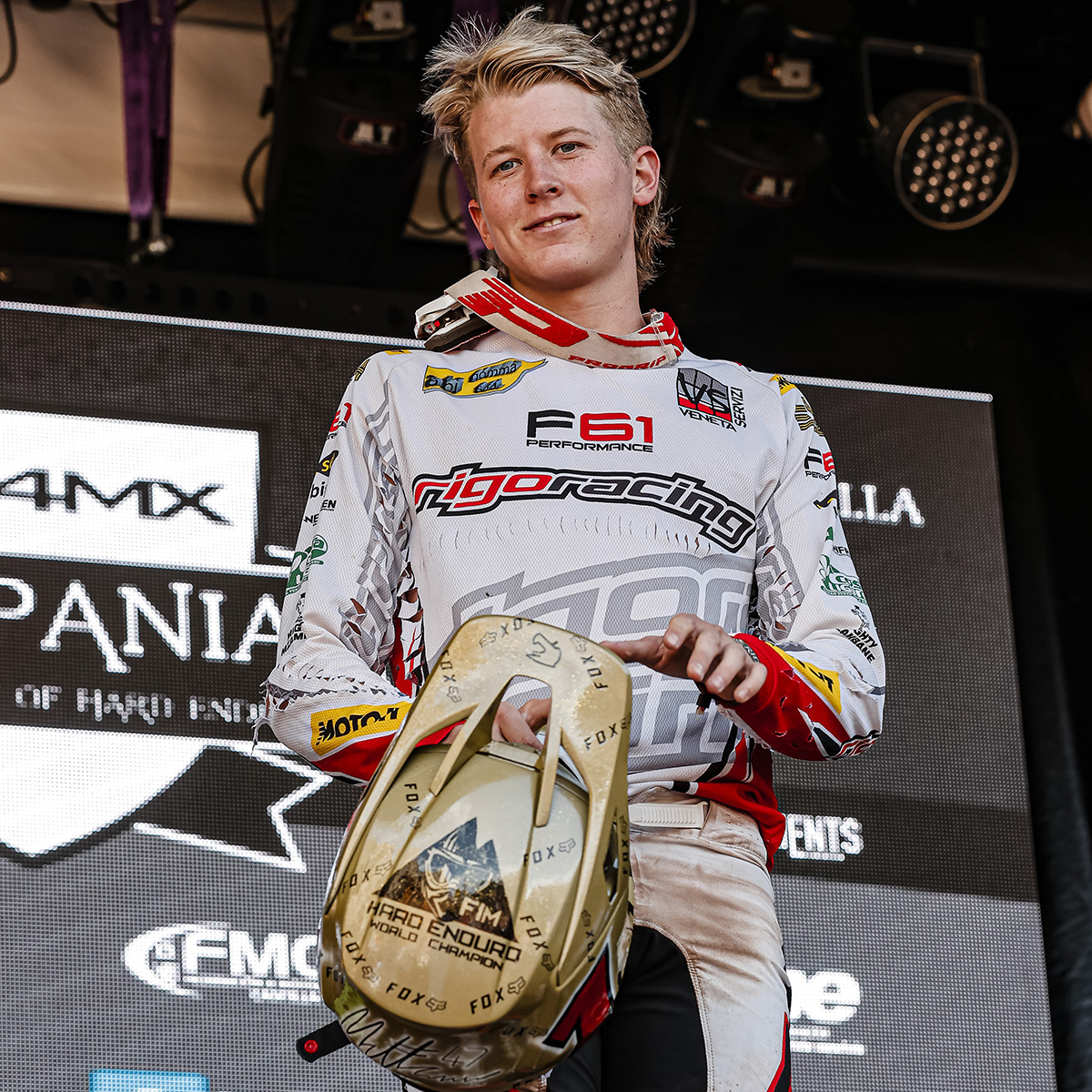 Matthew Green: "It feels amazing to be called a world champion, really, I'm so stoked by it. It has been a long season.
"I didn't have too much pressure today for the championship but I still tried to keep it smooth and make sure I get to the finishline in one piece. But we did it and I'm so happy for myself and for my team, it is a big goal of ours coming into this and we achieved it."
Photo Credit: Future7Media | Andrea Belluschi + Nicki Martinez