2021 ISDE: Day 3 results – Garcia edges Verona, Italy extend their lead
Results from day three of the 2021 International Six Days Enduro in Italy where Josep Garcia and Andrea Verona took the day win to the wire and Italy eased away from the World Trophy rivals.
ISDE day 3 in a nutshell:
Day three started with a new test at Stellara, another grass test which quickly turned dusty but in the early morning light flicking off the tapes it looked like a glorious plate of spaghetti.

Mikael Persson laid down the fastest time and carried that speed to take another third place scratch on the day once more.

The scratch result is developing into a classic fight between Josep Garcia and Andrea Verona. Both seem to be enjoying the fight and the Italian says he is determined to take a day win but Garcia just nabbed day three by 2.9 seconds.

Italy continue to boss the overall World Trophy results with Verona P2, Matteo Cavallo P4 and Davide Guarneri P5 on the day.

Italy have a 3:20.71 gap over Spain with USA 5:08.59 behind the leaders and looking over their shoulders at Sweden edging closer with another top three result for Mikael Persson and a solid day for Albin Elowson seventh.

Speaking of Swedish riders, Max Ahlin also had a storming day to finish P2 scratch in the Juniors behind Italian Matteo Pavoni – Ahlin took his best ISDE day scratch result ever with 10th overall.

In the Junior classification Italy extended their lead to 3:09 ahead of USA who in turn edged away from the French Juniors by two minutes. As with the senior team, the Sweden Juniors got closer to France for a podium place.

Need we say Brandy Richards won the Women's scratch again? She's 75th overall by the way and seemingly playing a different game. Team USA now have an 8:55 lead over Team GB's women who stretched almost a minute ahead of Spain after a collective good day for the British Women.
Day 3 results – World Trophy:

Day 3 results – Individual overall: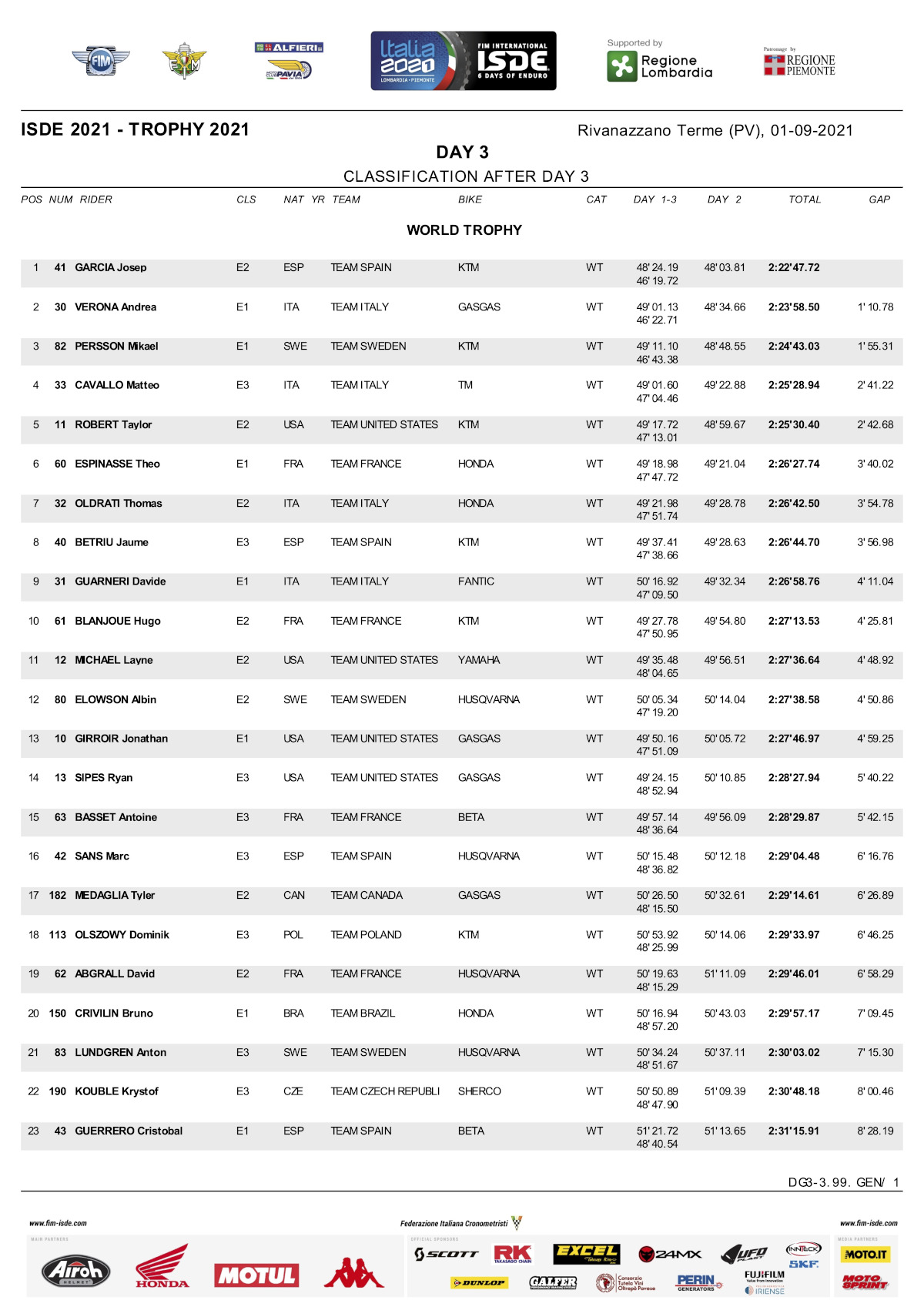 Day 3 results – Junior World Trophy: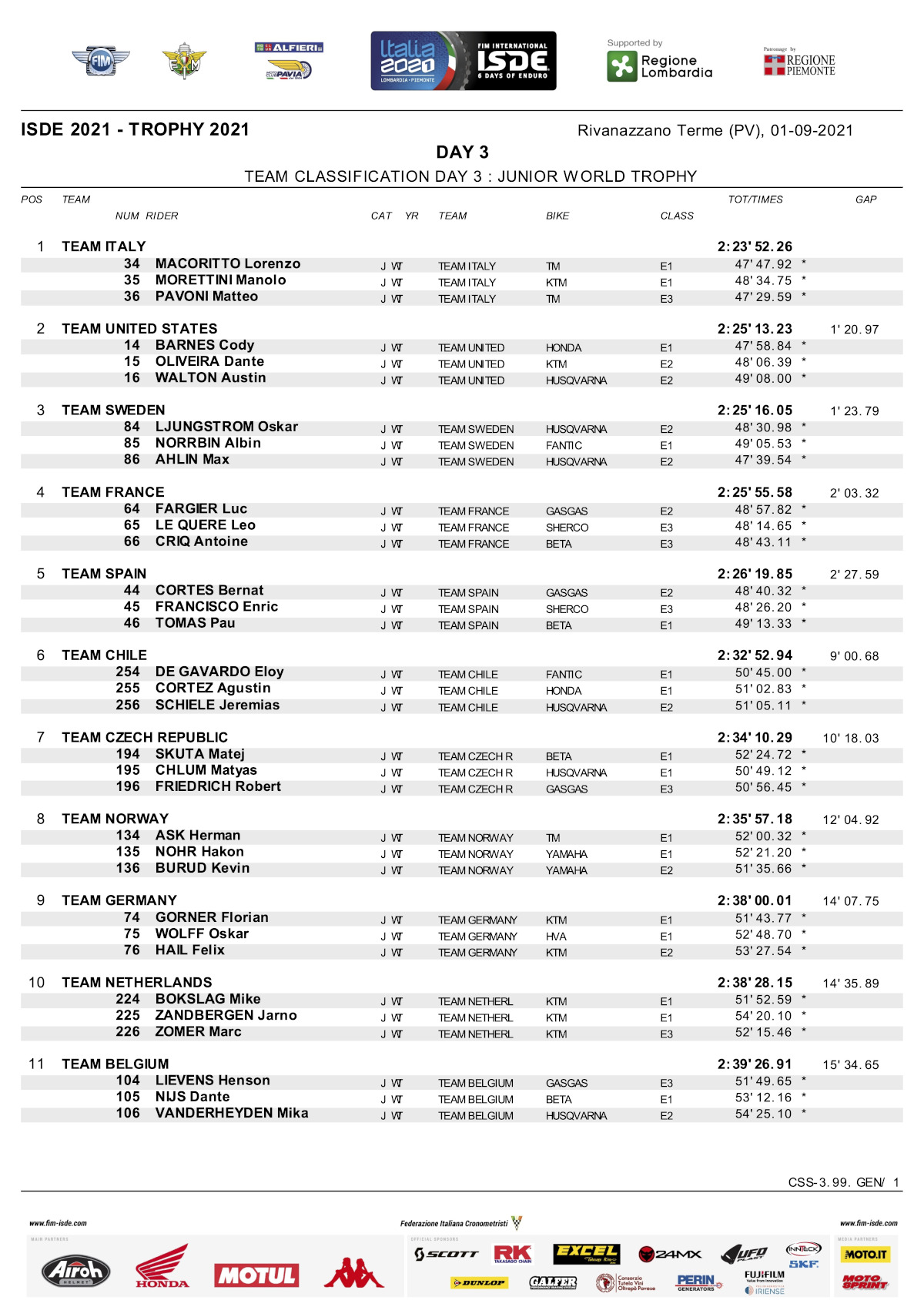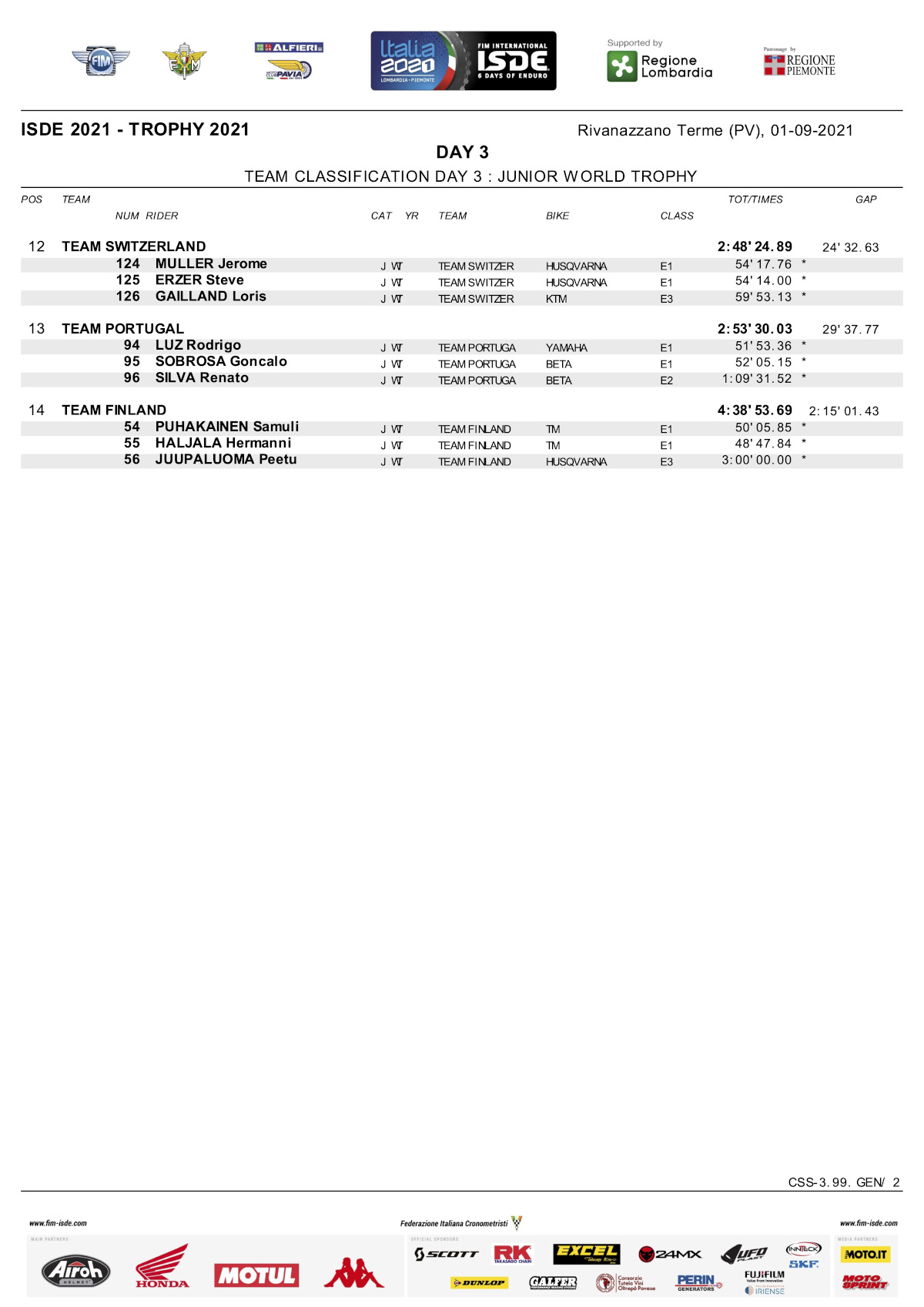 Day 3 results – Women's World Trophy: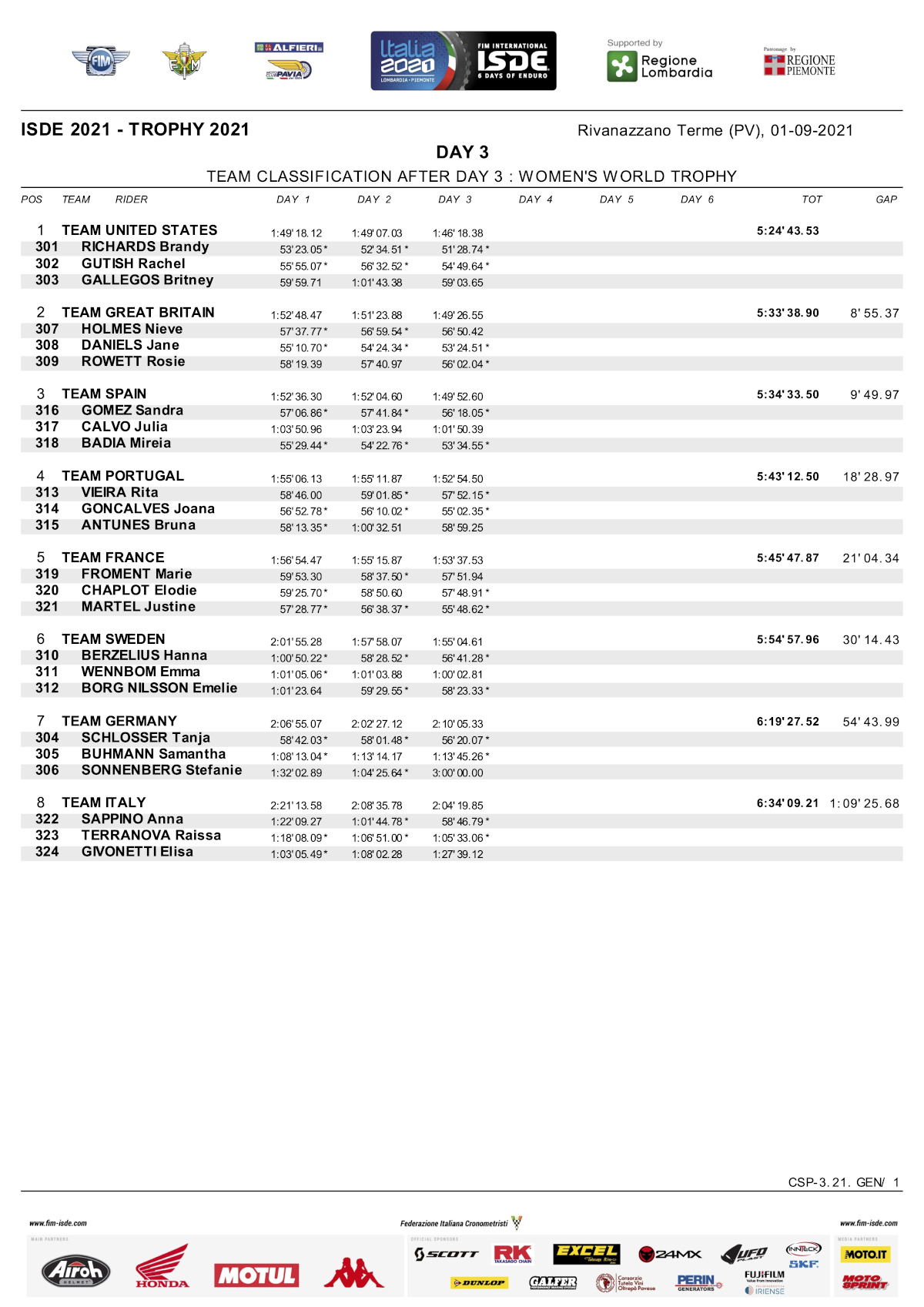 Day 3 results – Club: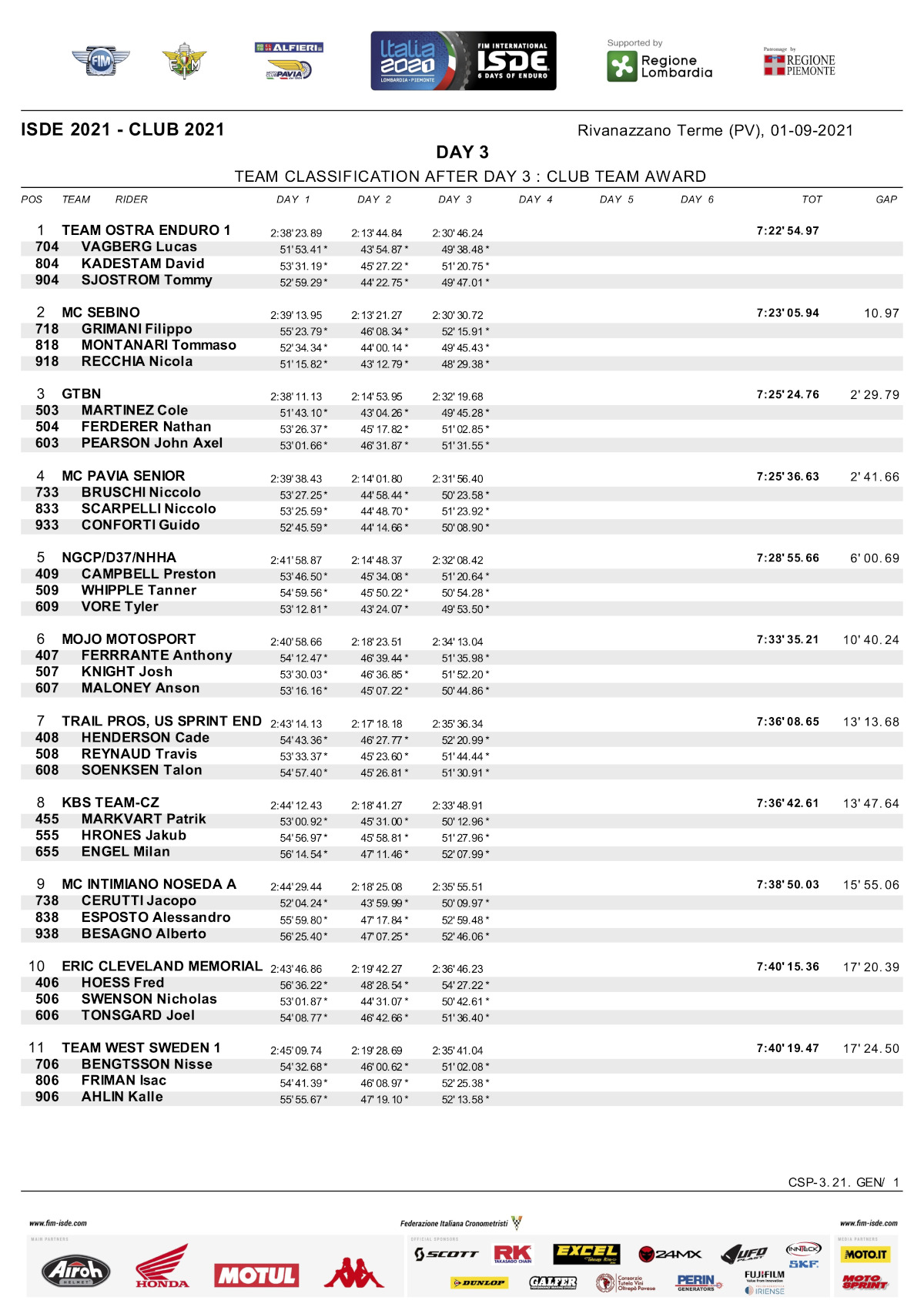 Photo Credit: Andrea Belluschi | Enduro21