2021 ISDE: Day 6 results – Italy crowned champions
Results from the final day of the 2021 International Six Days Enduro where the host nation Italy took victory in the World Trophy and Junior Trophy while USA took their second Women's World Trophy win in a row – Josep Garcia gets the individual victory.
Day six in a nutshell:
Day six of the 2021 ISDE saw the traditional motocross race take place in the Valle Scrivia track where club and Women's rider raced for a four-lap moto while Junior and World Trophy riders took on a seven-lap moto.
Ruts and no dust, it made a change, and remarkably for the ISDE still almost 600 riders starting the last day.
The story of the day is of course the Italian teams winning the World Trophy and Junior World Trophy – in front of a sizable crowd the atmosphere was great come podium time.
Spain finished second, 4:41'16 down on the Italians with the defending champions Americans third, 7:59'25 further back.
In Junior World Trophy, France took second behind Italy with an 8:31'21 gap with Sweden third, 9:53'45 behind.
The last day is split into category races for the club teams too. Individual honours were still up for grabs and they went to Davide Soreca in C1, Enrico Rinaldi in C2 and Suff Sella in C3.
In the feature races the Women Trophy class went first and Brandy Richards rounded out a perfect week with a comfortable first place in the race – a result that means she has won every single test this week...
It meant a comfortable Women's Trophy victory for the second year in succession for USA also with Great Britain going one step higher than in 2019 in second and Spain just behind in third.
Team Sweden's Mikael Persson got a good start in the E1 class race, took the lead early on and, despite hitting the ground mid-race, grabbed the win from a charging Jonathan Girroir in second and Italy's Trophy winners Davide Guarneri and Andrea Verona third and fourth.
The E2 race win went to Dante Oliveira who looked impressive on track ahead of Josep Garcia second and Tyler Medaglia, who's set to race the MX of Nations this year for Canada also, in third.
Josep García's second in the E2 race was more than enough to take the E2 class scratch and the outright individual win. "It's a dream come true. I'm really happy, I want to thank team Spain, KTM and everyone who helped me achieve this. I don't know what to say really, this is an amazing feeling."
The final race of the long day saw an E3 battle between Jaume Betriu and Ryan Sipes during the whole race. The Spaniard eventually took the win with Team Italy's Matteo Cavallo third and with that the E3 class scratch winner.
Day 6 results – World Trophy: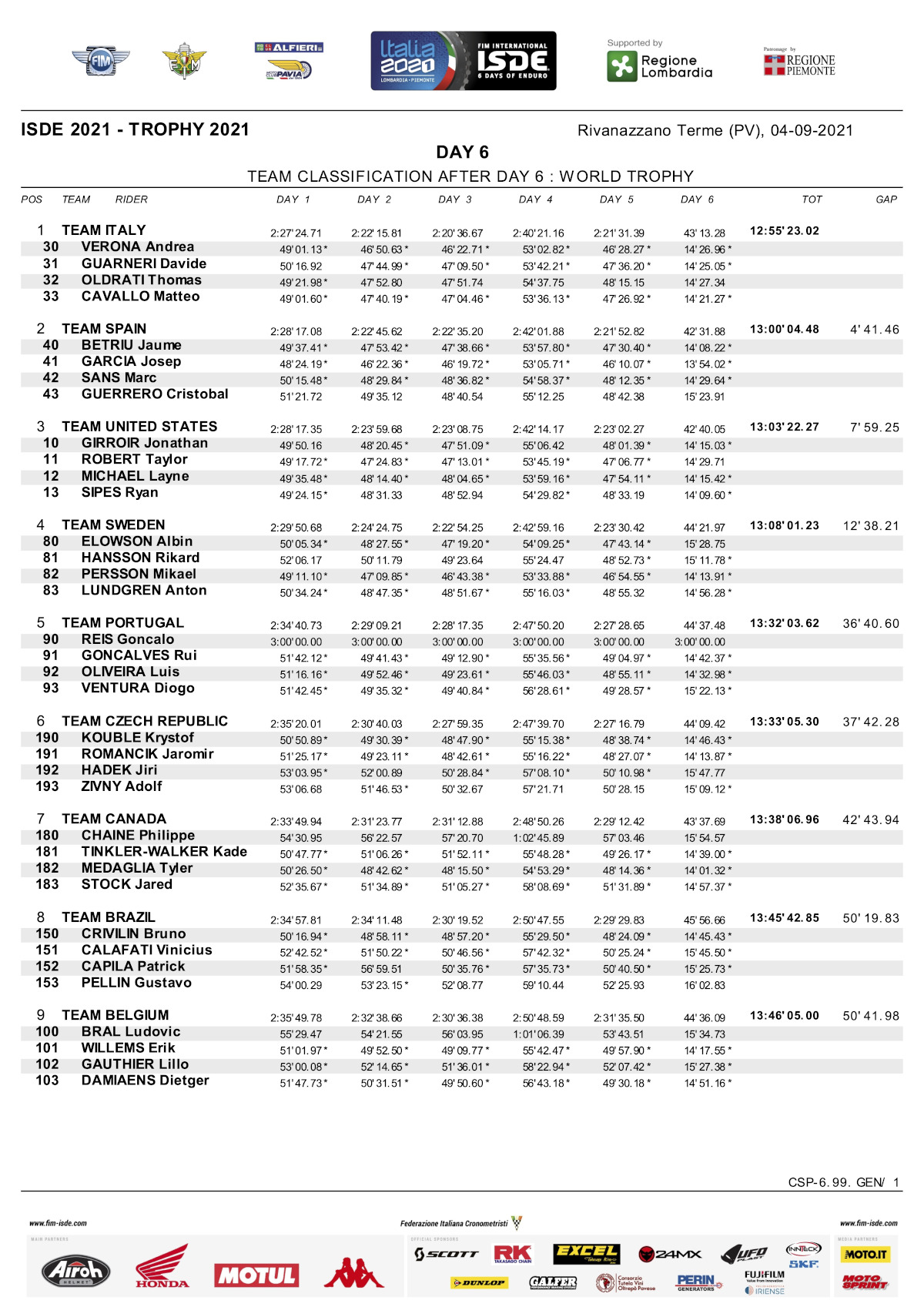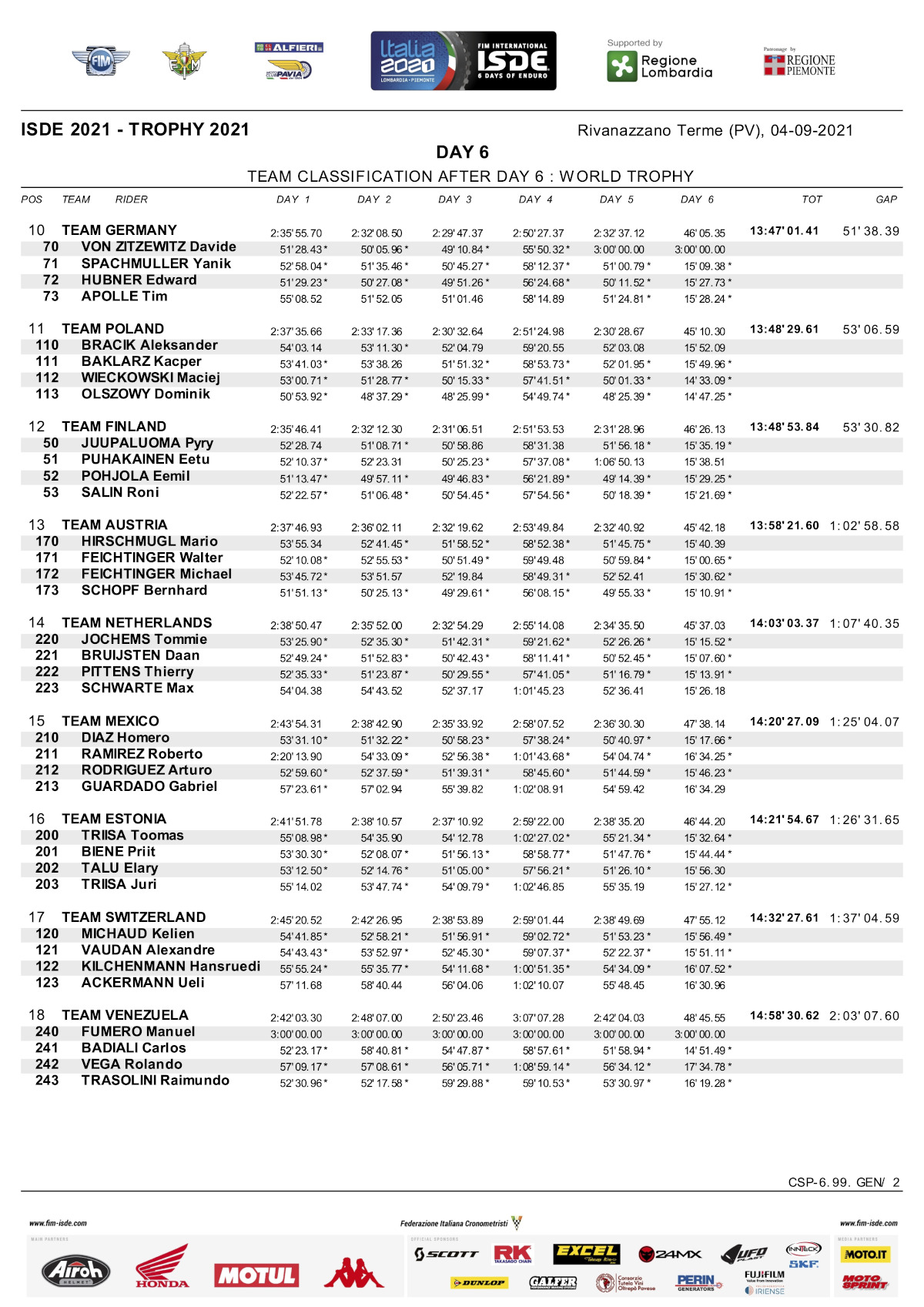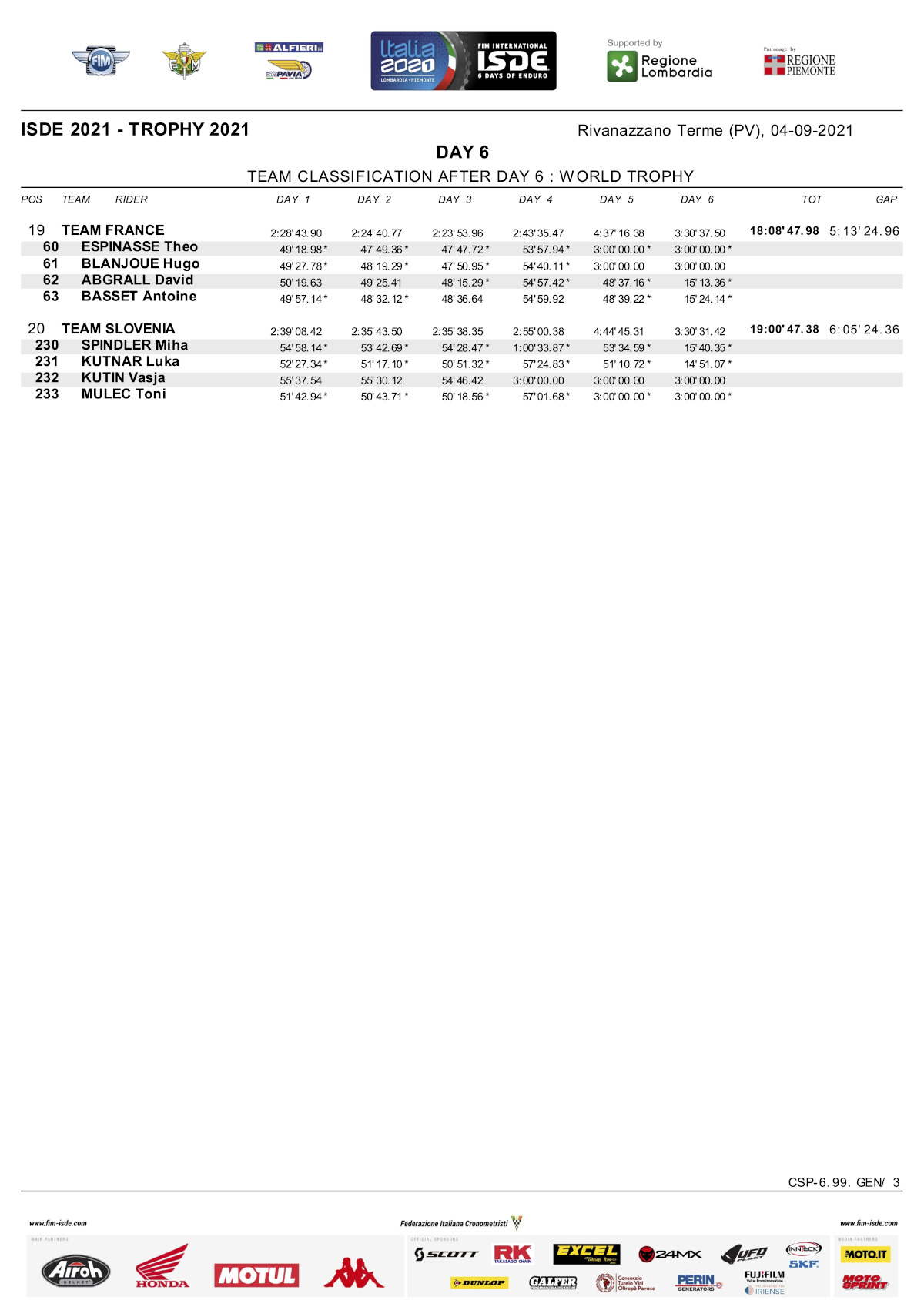 Day 6 results – Individual overall: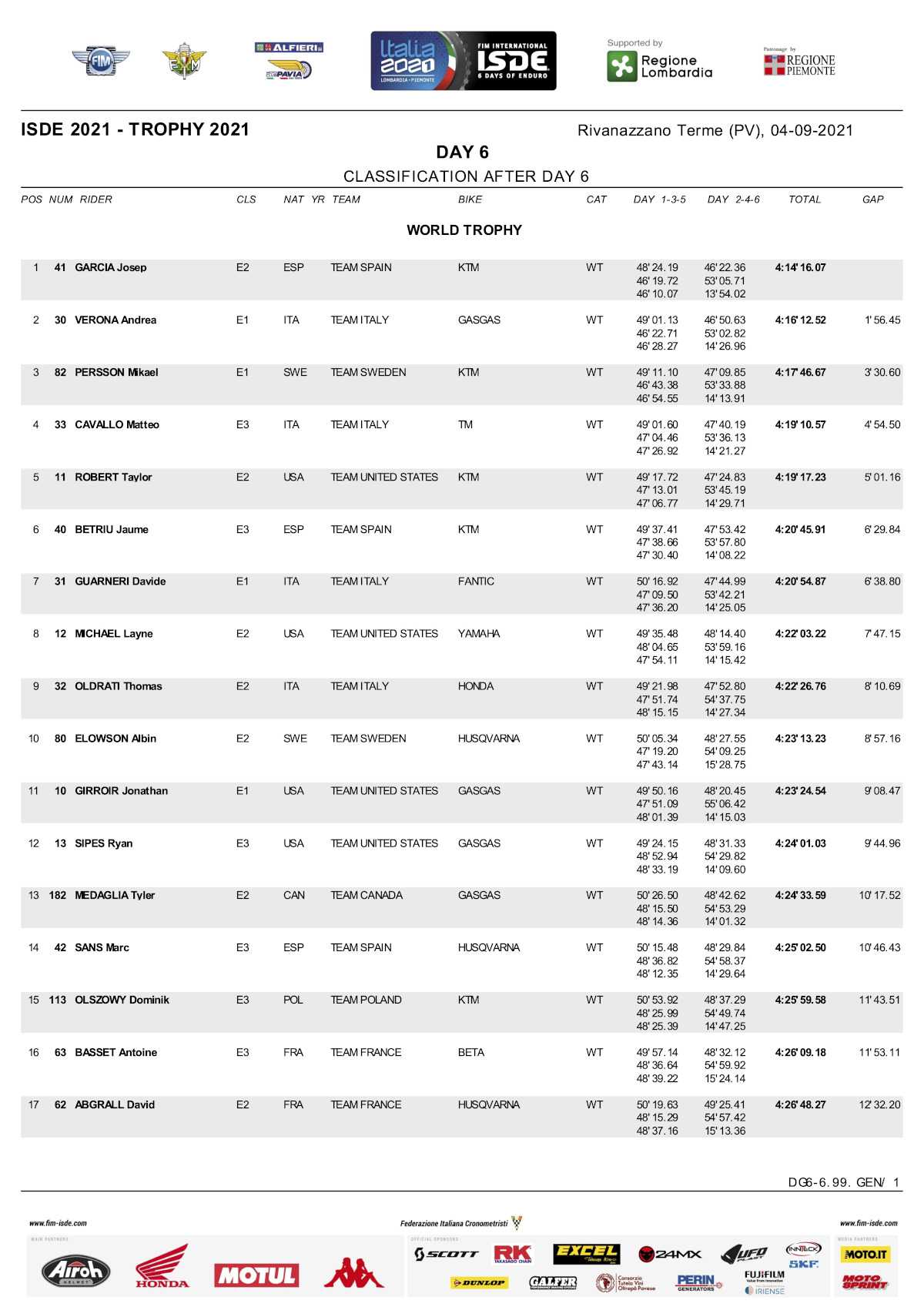 Day 6 results – Junior World Trophy: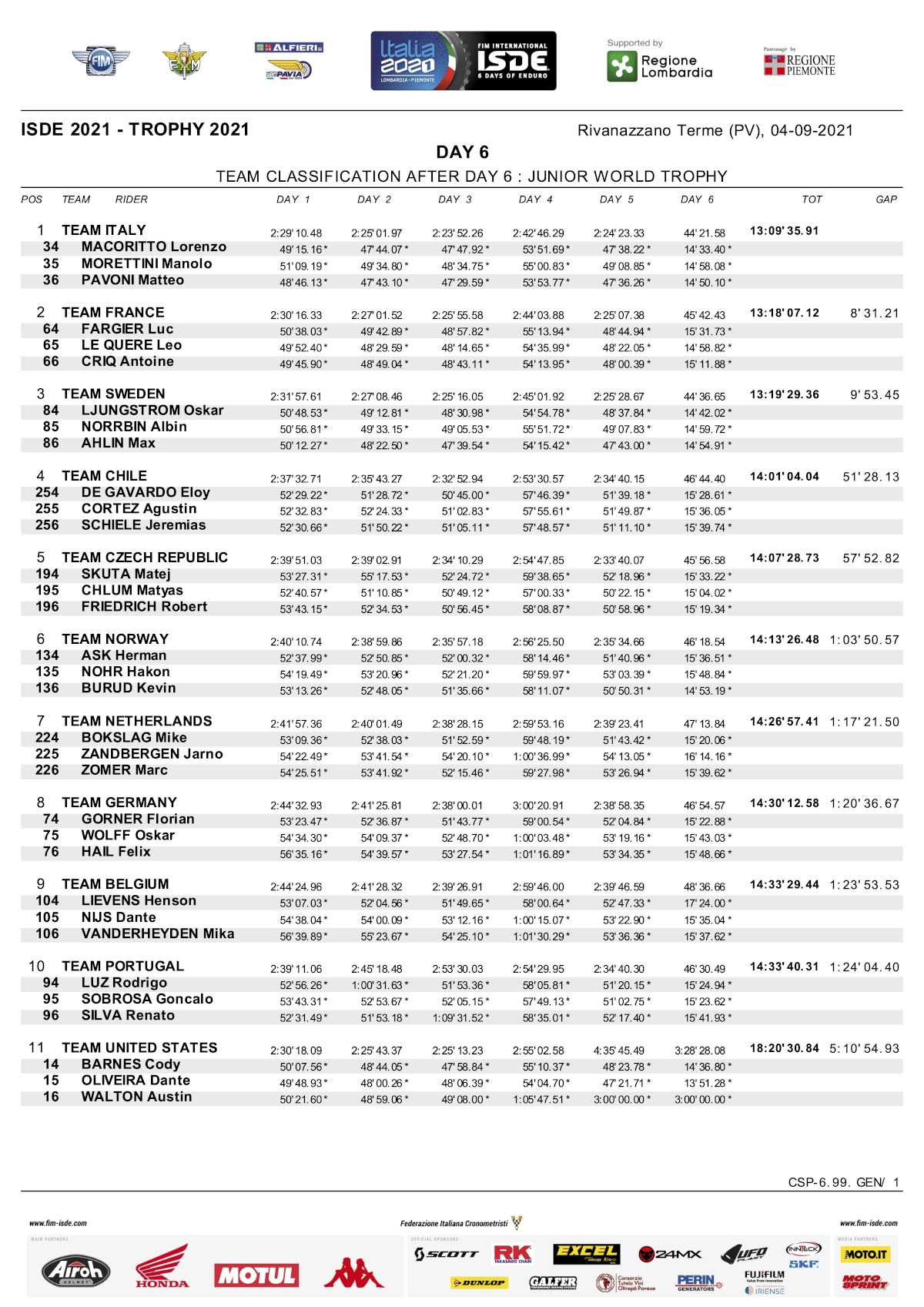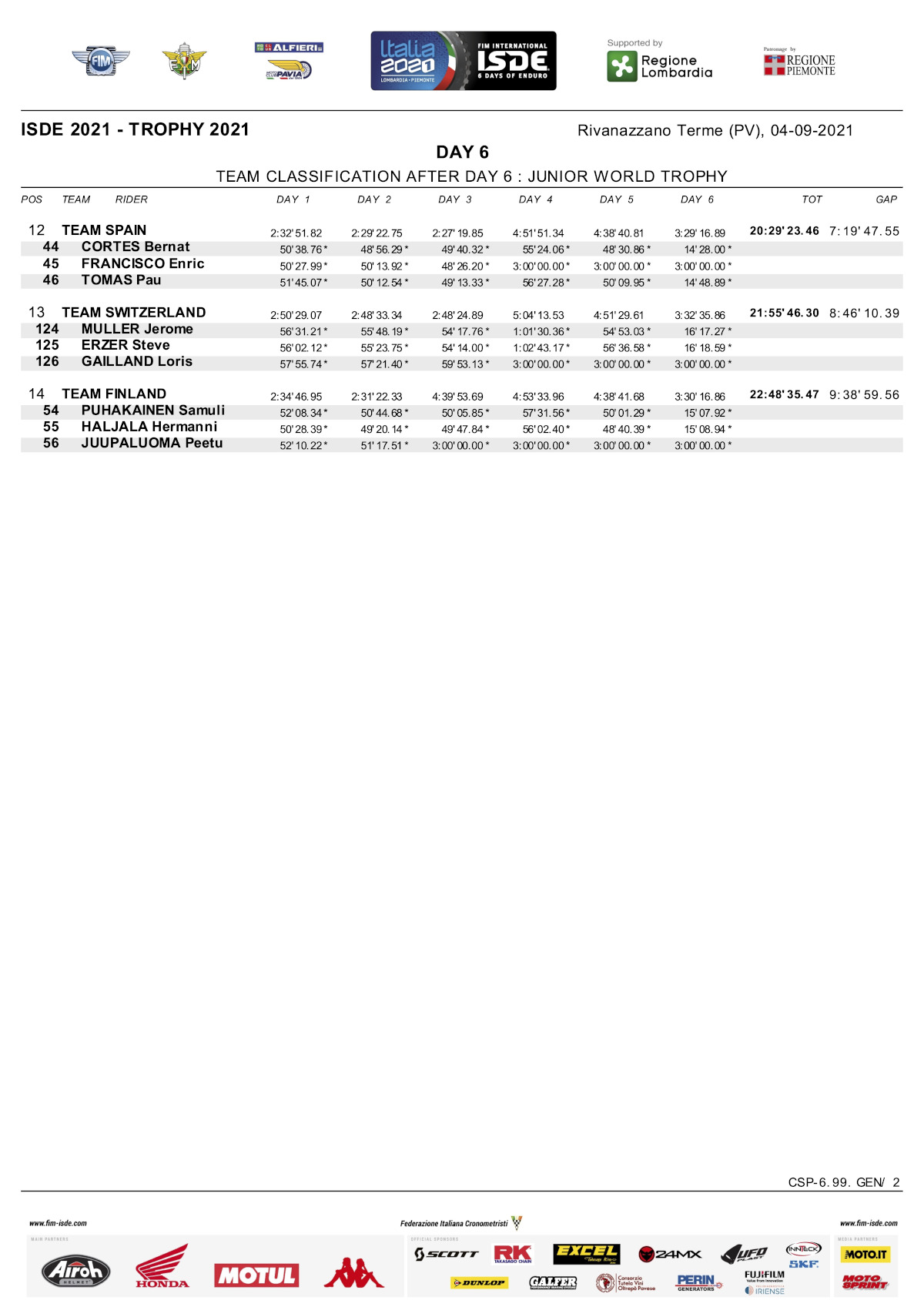 Day 6 results – Women's World Trophy: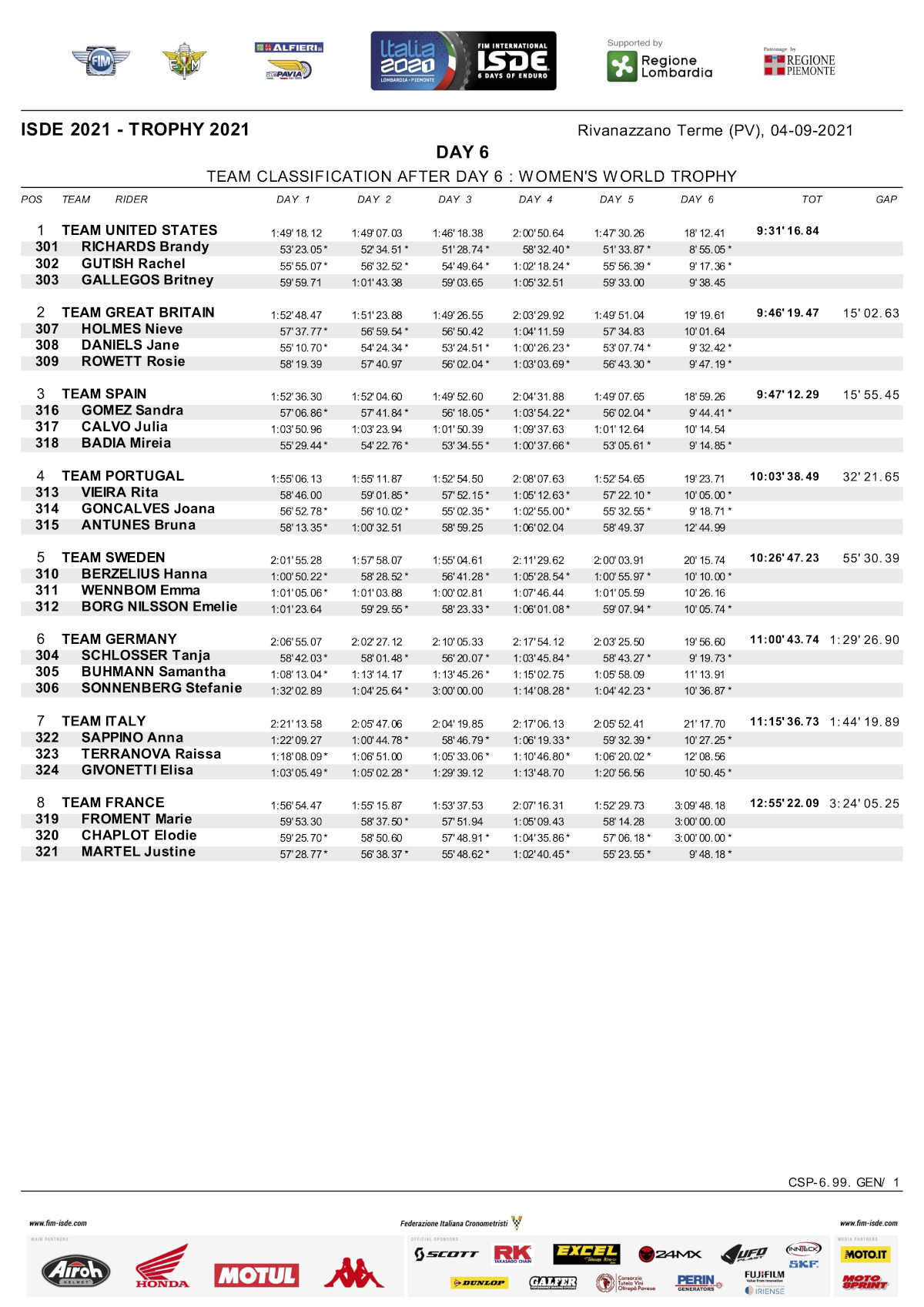 Day 6 results – Club: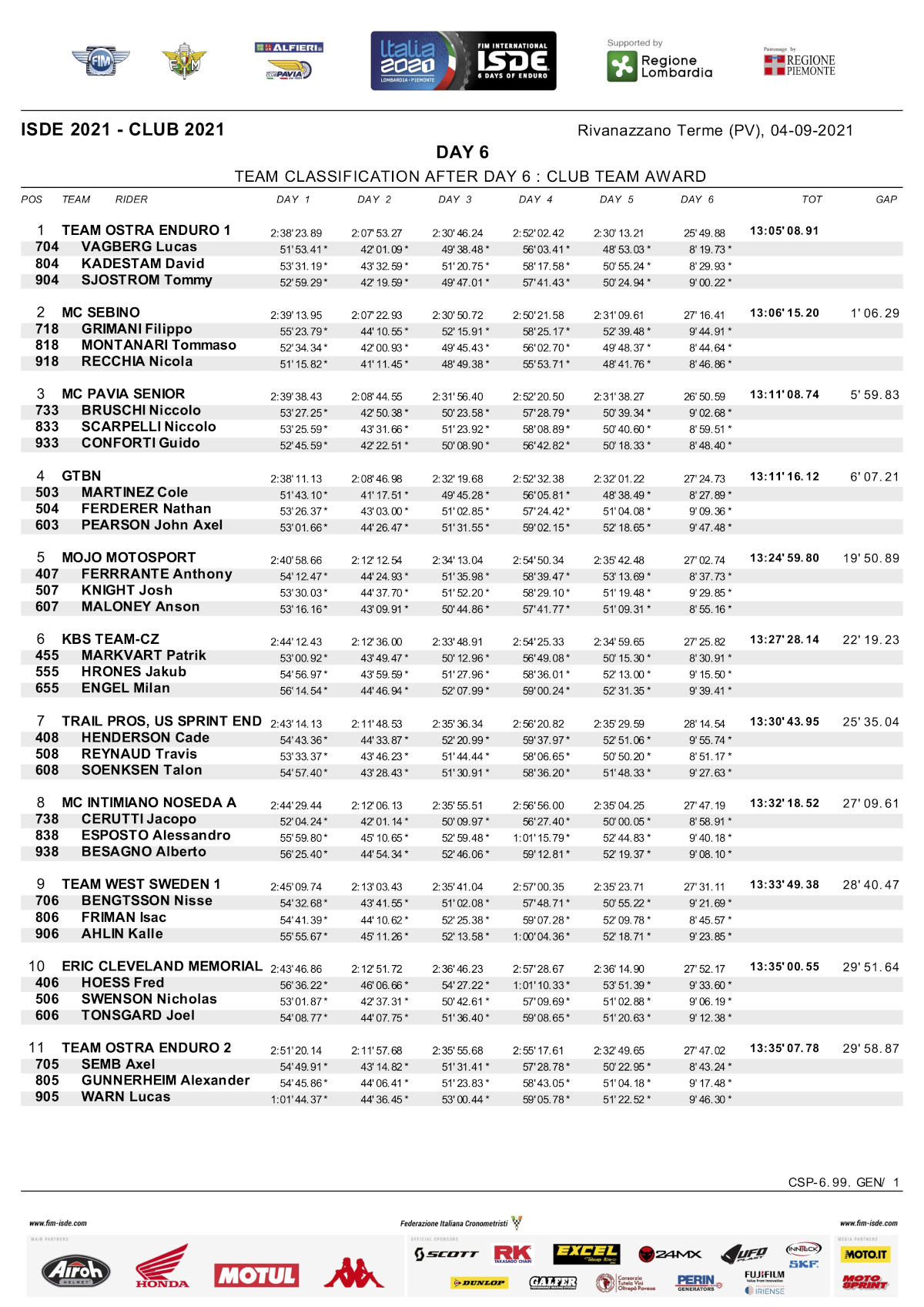 Photo Credit: Andrea Belluschi | Enduro21