2022 ISDE France results: Great Britain crowned kings and queens of world enduro
Results from the day six of the 2022 FIM International Six Days of Enduro in France where Great Britain's World Trophy men have claimed their first victory since 1953, GB Women take a first-ever win, Italy claim consecutive Junior crowns and Josep Garcia becomes the first rider in history to take back-to-back individual result.
2022 ISDE Day six in a nutshell:
Day six is all about the final Cross test. Just 13 minutes and nine laps laps of tight and twisting track right on the edge of the paddock stood between the leading teams and victory.
The long wait for the club riders all morning was nerve-wracking one according to Nathan Watson but after a hectic mx-style race start, the British Trophy riders settled into their places and did what they had to do, bring it home.
Their 4:45 winning margin delivers Britain their first World Trophy victory at the ISDE since 1953…
We've had a few close finishes this week and the final race produced another mind blowing one: after a week of racing, the eight riders in the Italian and Spanish World Trophy squads finished half a second apart.
"Too many crashes" in the final cross test for the Spanish Trophy guys meant they surprisingly let slip a 45 seconds lead today. Andrea Verona won another titanic battle with Josep Garcia for the final moto win and that helped the Italians to take one step higher on the podium, one step less than last year.
Josep Garcia nailed another individual scratch win and in doing so becomes the first rider in history to take consecutive overall wins at the ISDE.
Category wins went the way of Team Farioli and the KTM Group with Andrea Verona winning E1 for GASGAS, Josep Garcia E2 for KTM and Mikael Persson E3 class for Husqvarna.
USA rider Austin Walton nailed the Cross test win in the Junior races but the Italian boys brought all their bikes home safe to claim consecutive Junior World Trophies. The gap was kinda close but in the end 2:52 was more than enough ahead of Finland with Australia taking one of two bronze medals today.
Despite being mindful of the overall scratch result she was also aiming for in the Women's class, Jane Daniels' fifth on the day, along with Rosie Rowett in eighth and Nieve Holmes 11th (after coming from dead last following a first turn crash), secured their first-ever win for a British Women's Trophy team. In three years, this group of three girls has gone from third to second to first...
They finished 15 minutes ahead of home favourites France with the Australian women six minutes back in third.
The final day runs in reverse classification order beginning with the Club riders all morning which concluded with a cracking race between the top 30 scratch. Popular isn't the word for the Enduro Legends Team with the French fans and Antoine Meo duly delivered with a start to finish win in the Club feature race.
Two places behind him, Krystof Kouble claimed the individual club rider result and helped his Czech team to the overall Club Trophy along with Jaromir Romancik and Jakub Hrones.
The American XC Gear team of Craig Delong, Kai Aiello and Tyler Vore were second with Meo and his mates Christophe Nambotin and Pela Renet in third.
ISDE day 6 final results – World Trophy: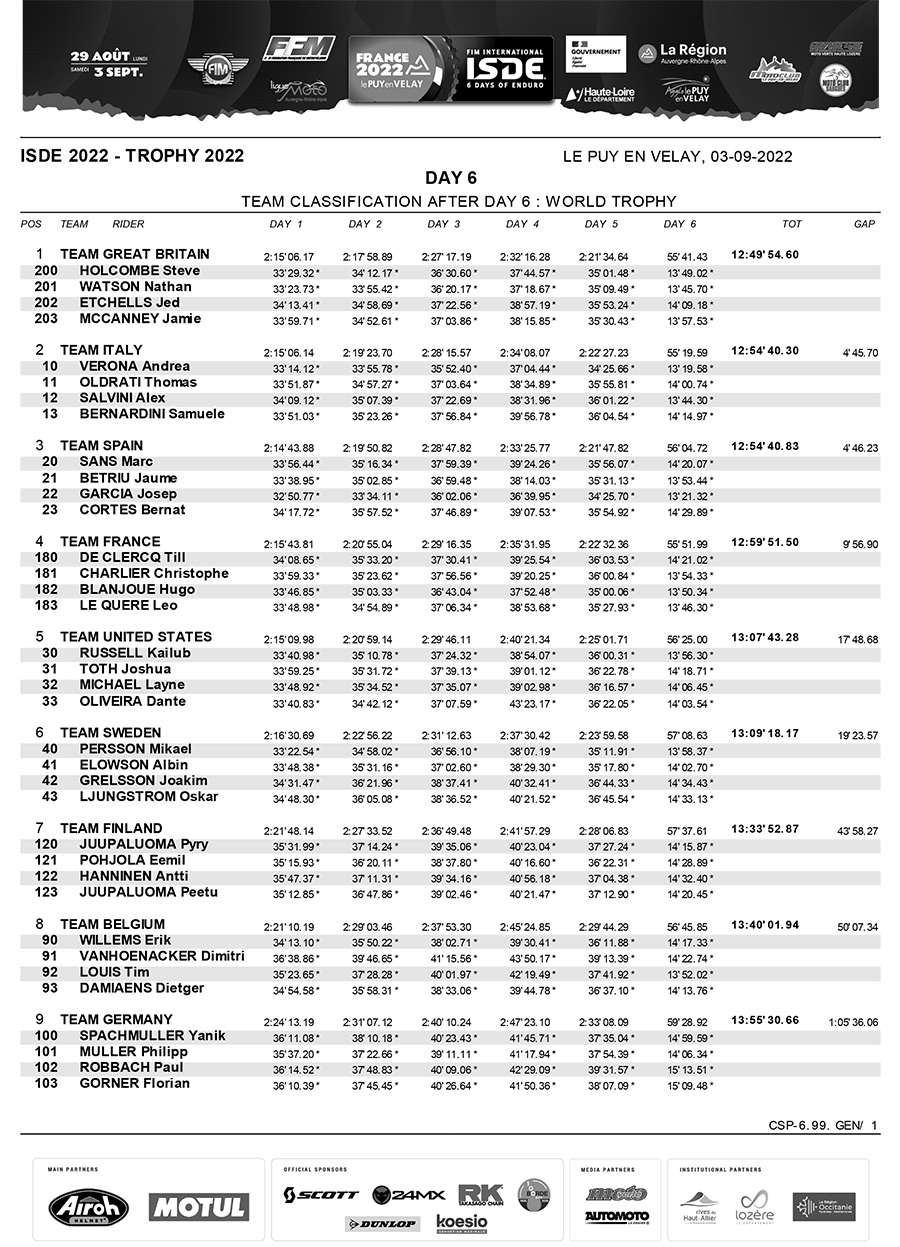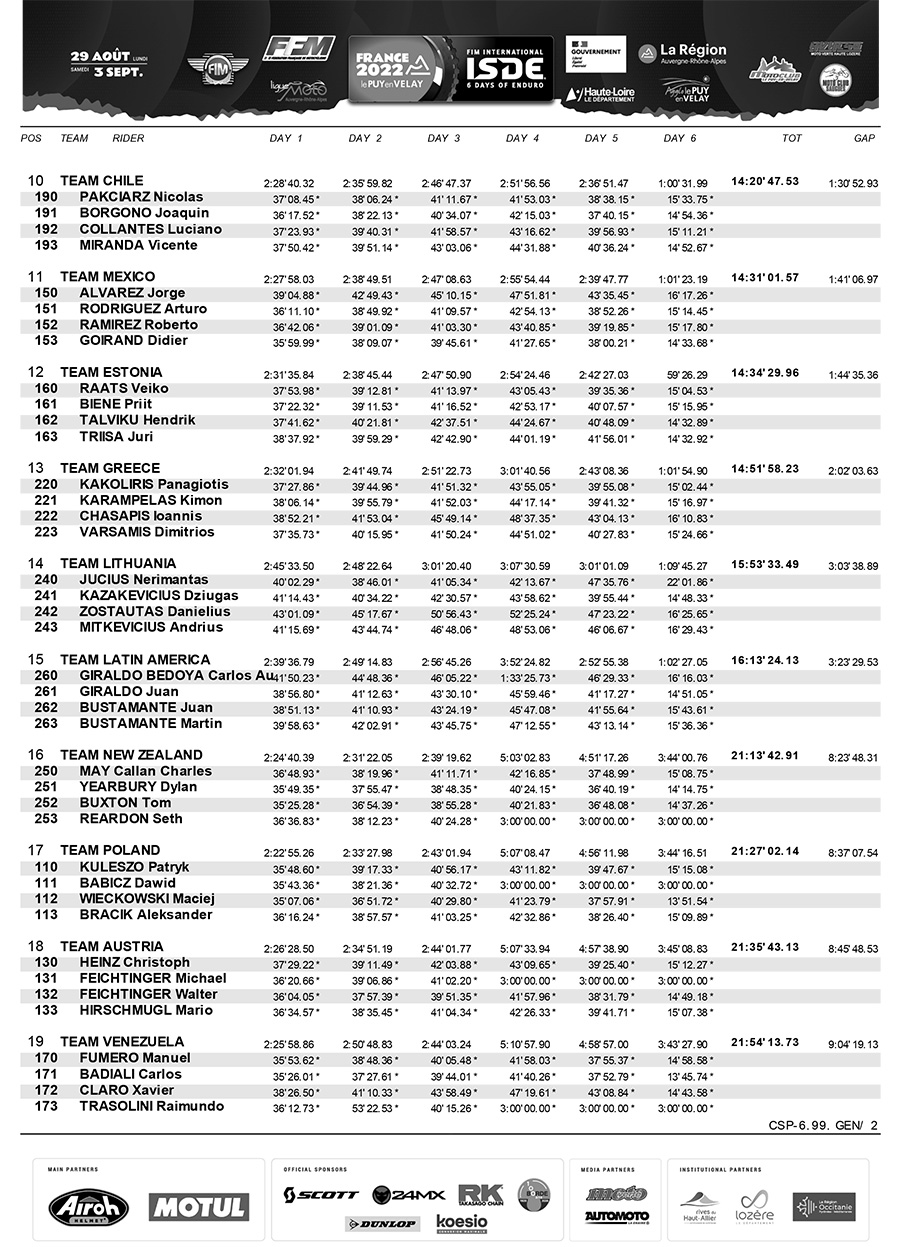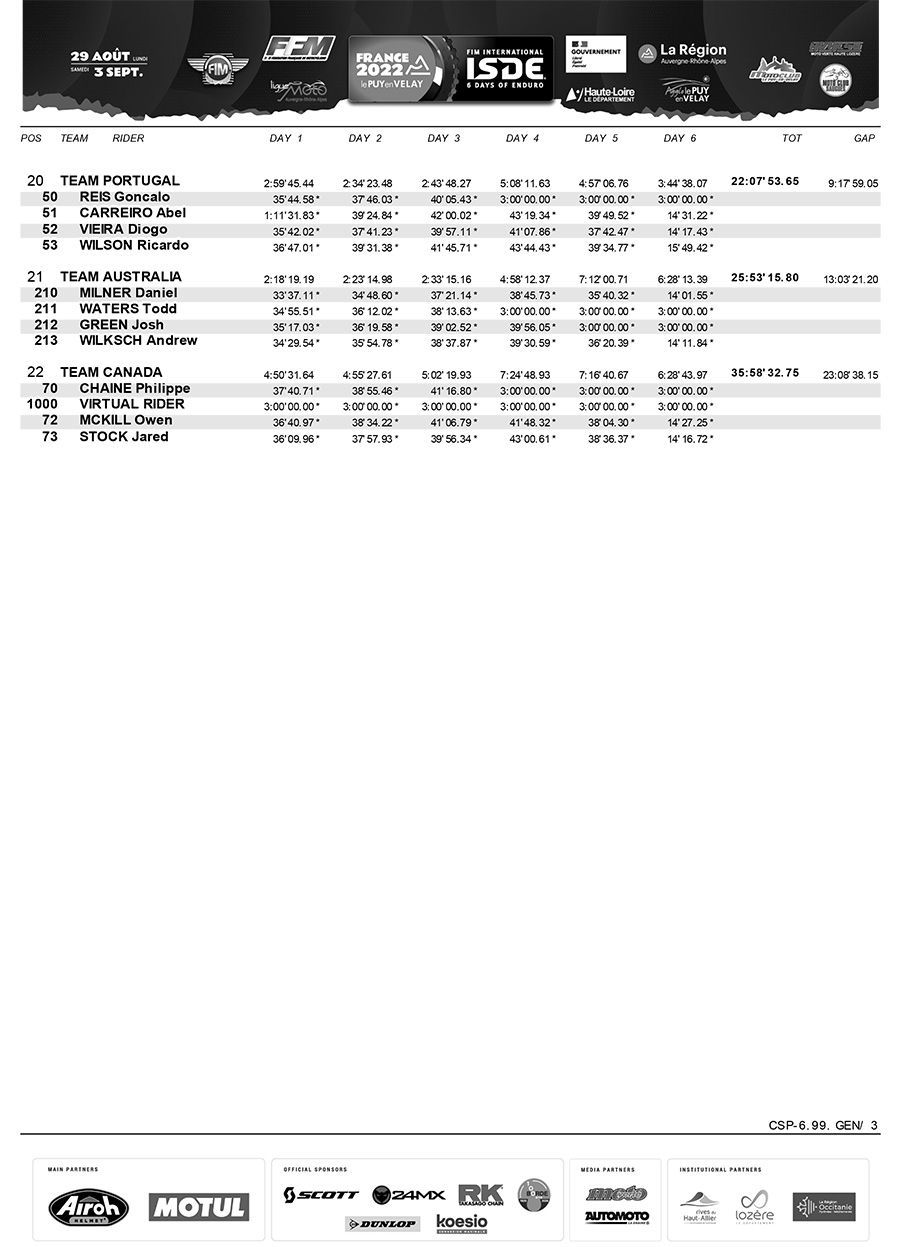 ISDE day 6 scratch final result (top 35):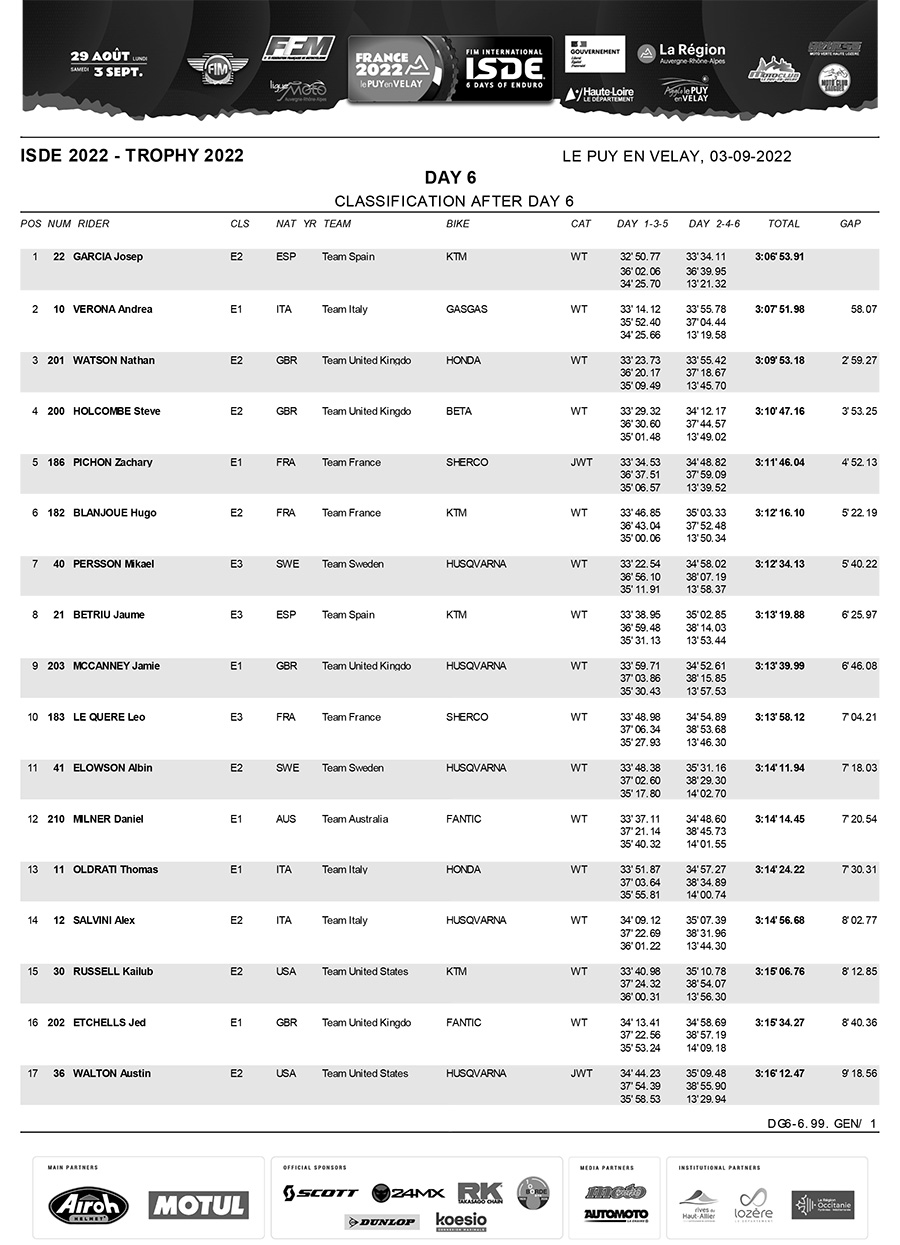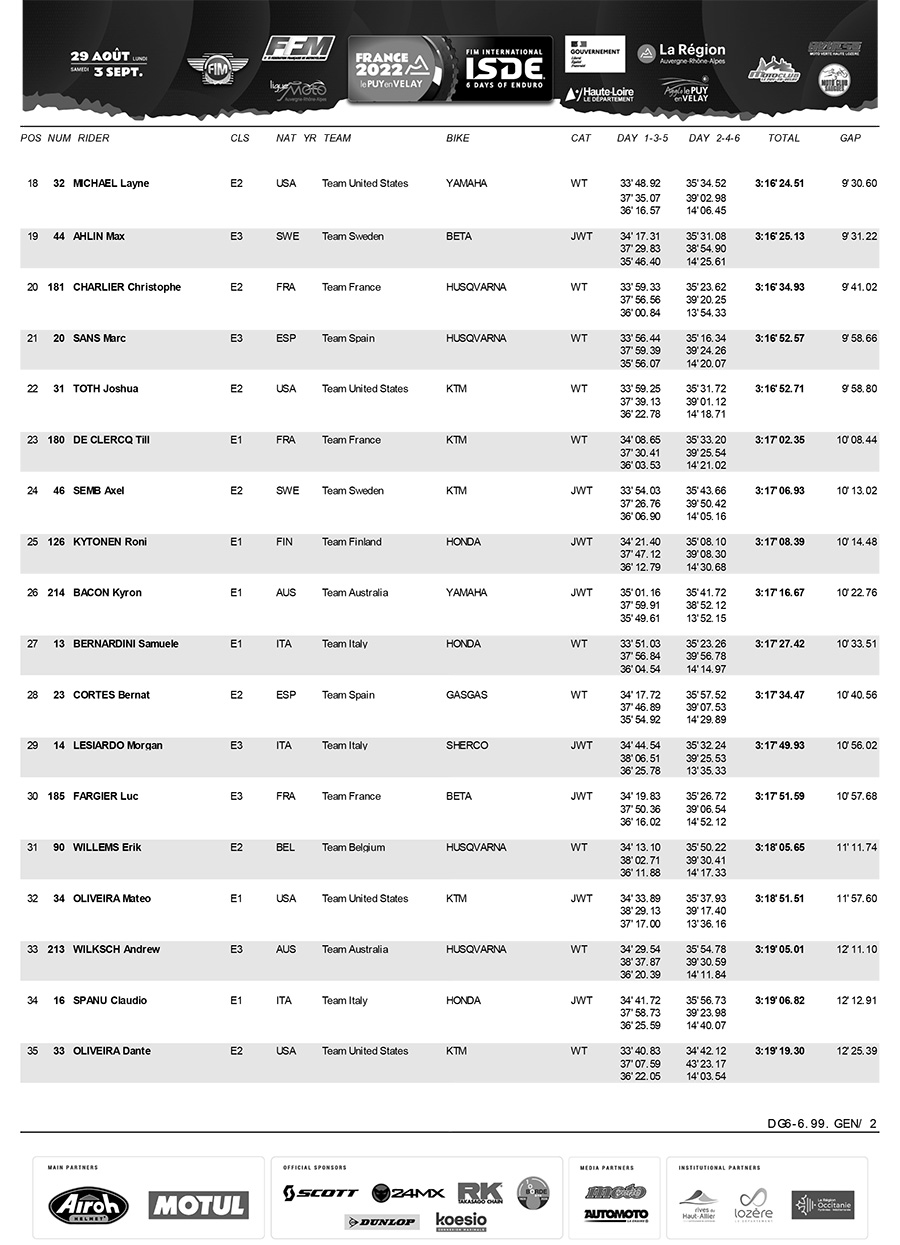 ISDE day 6 final results – Junior World Trophy: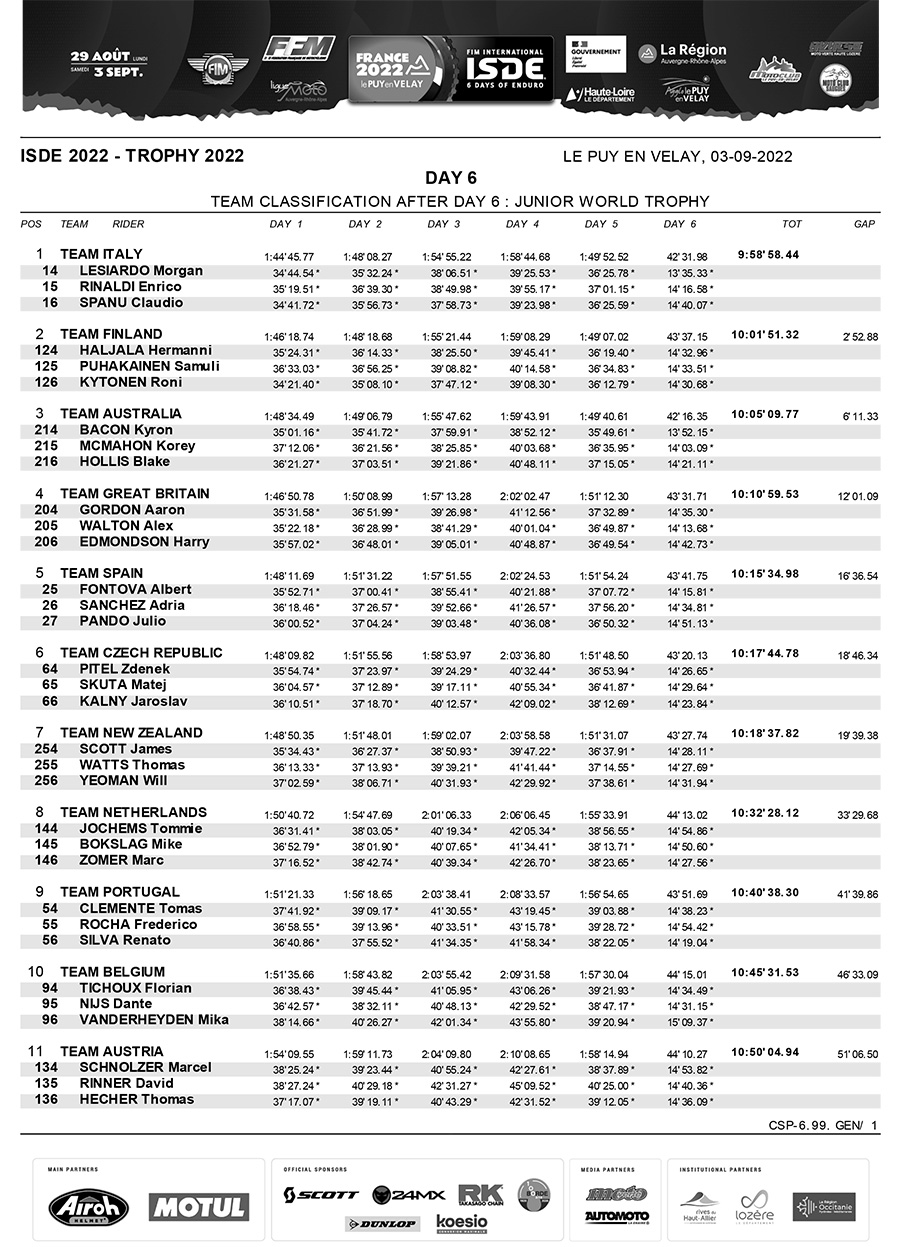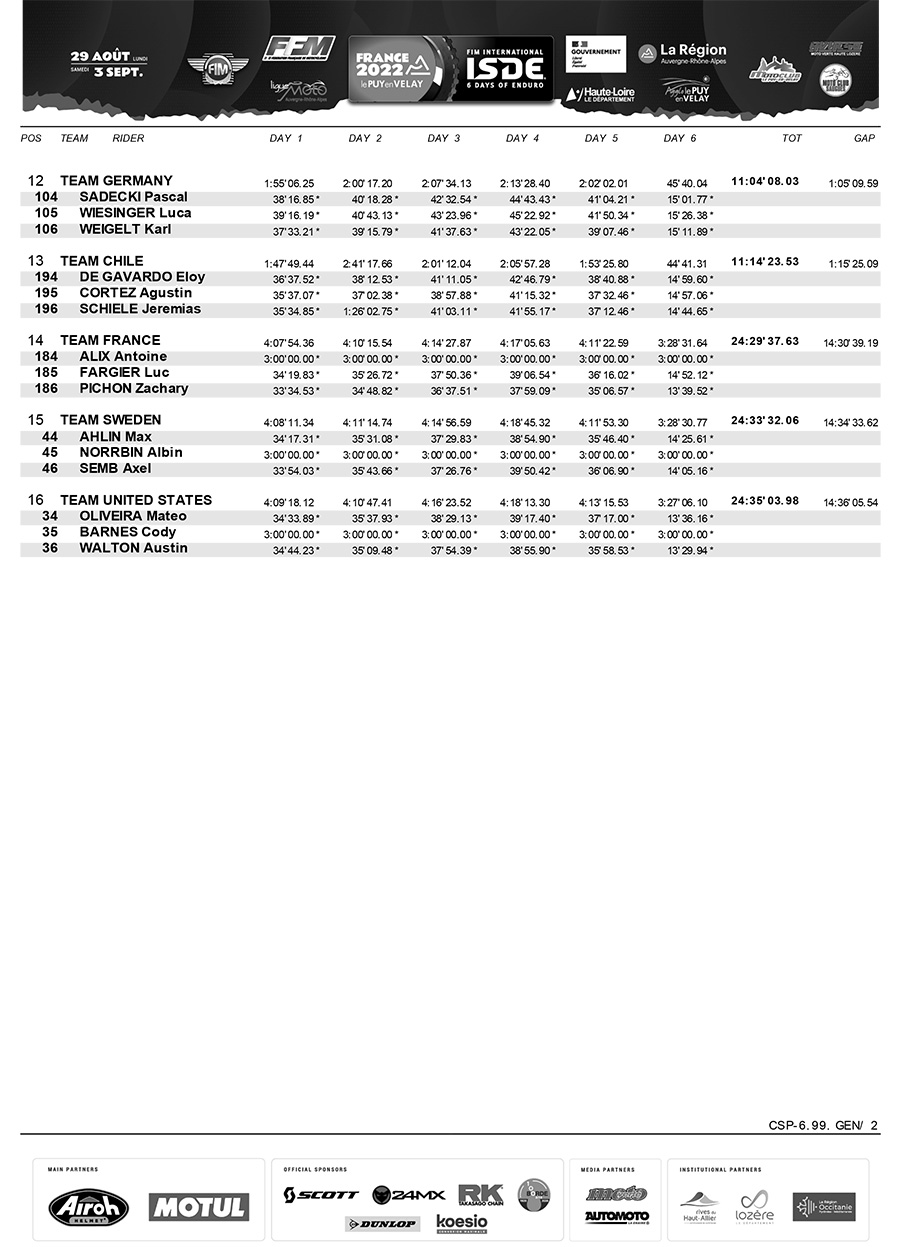 ISDE day 6 Junior scratch results (top 16):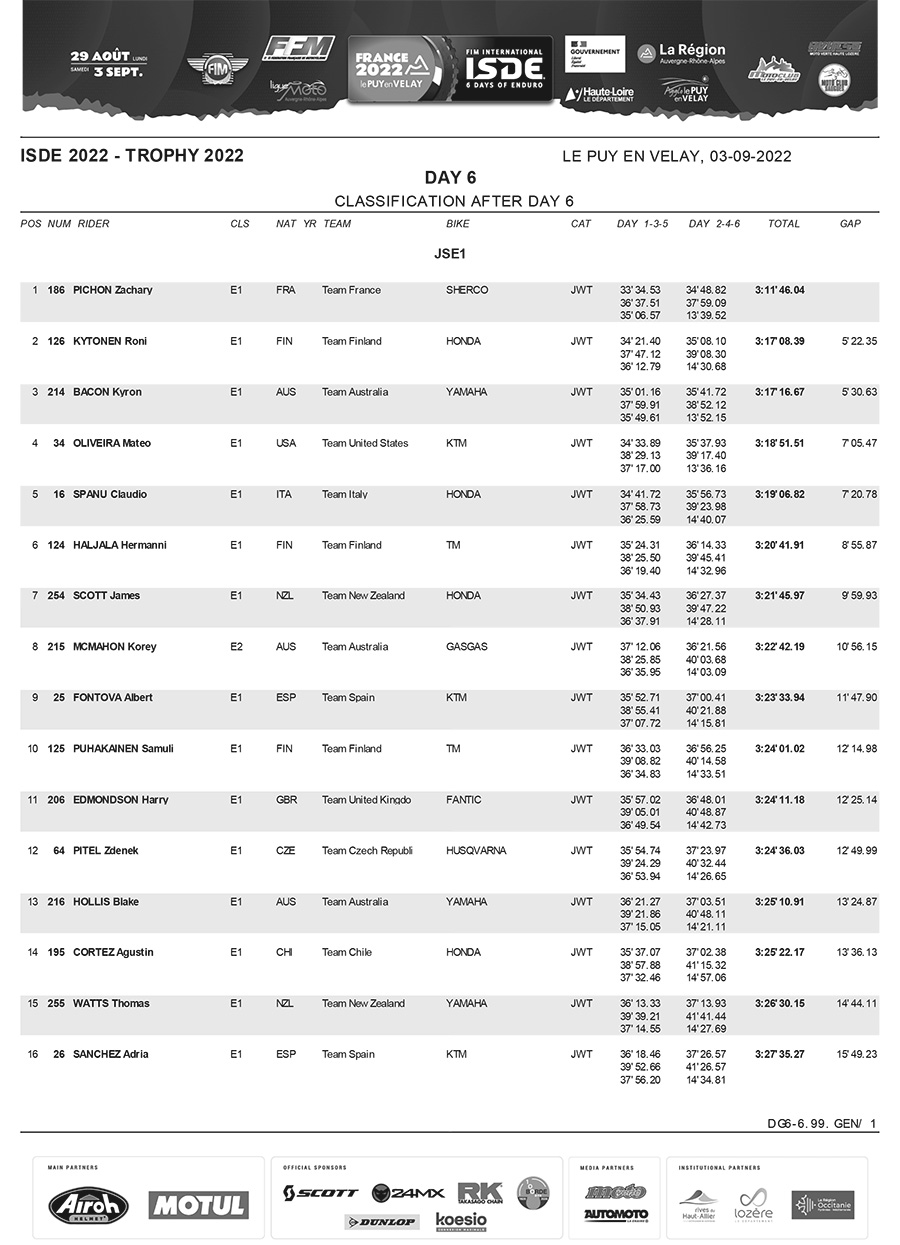 ISDE day 6 final results – Women's World Trophy: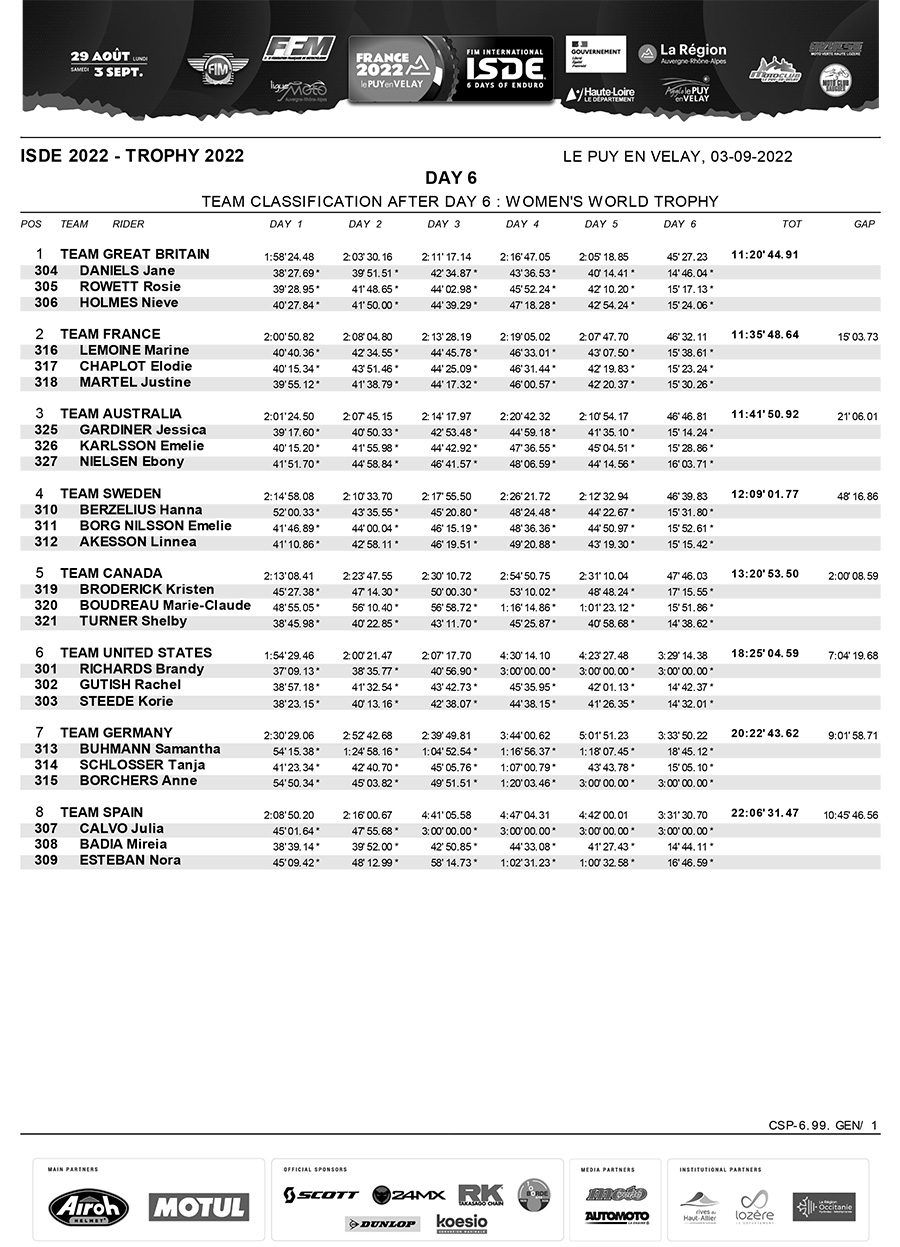 ISDE day 6 Women's scratch results: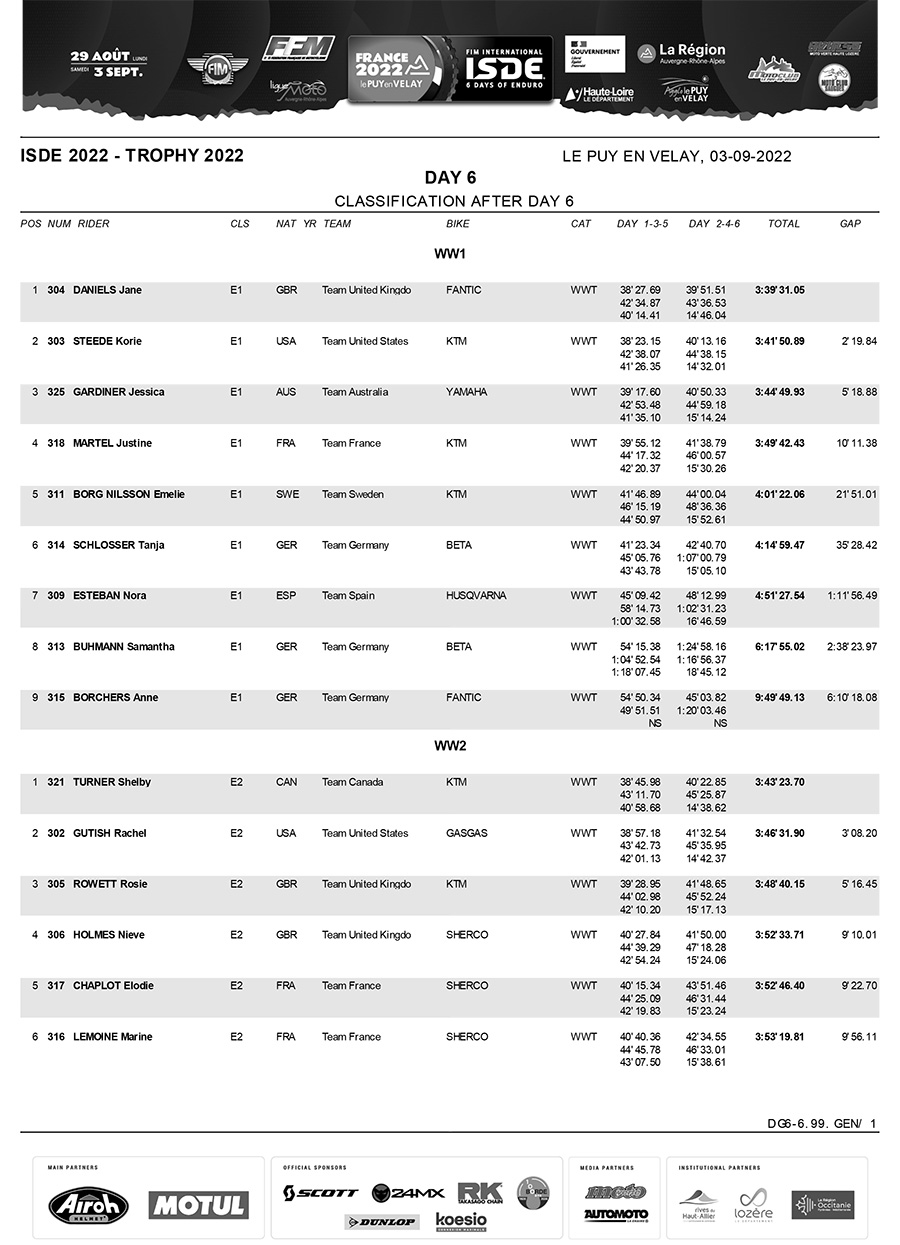 ISDE day 6 final results – Club Team Trophy (top 20):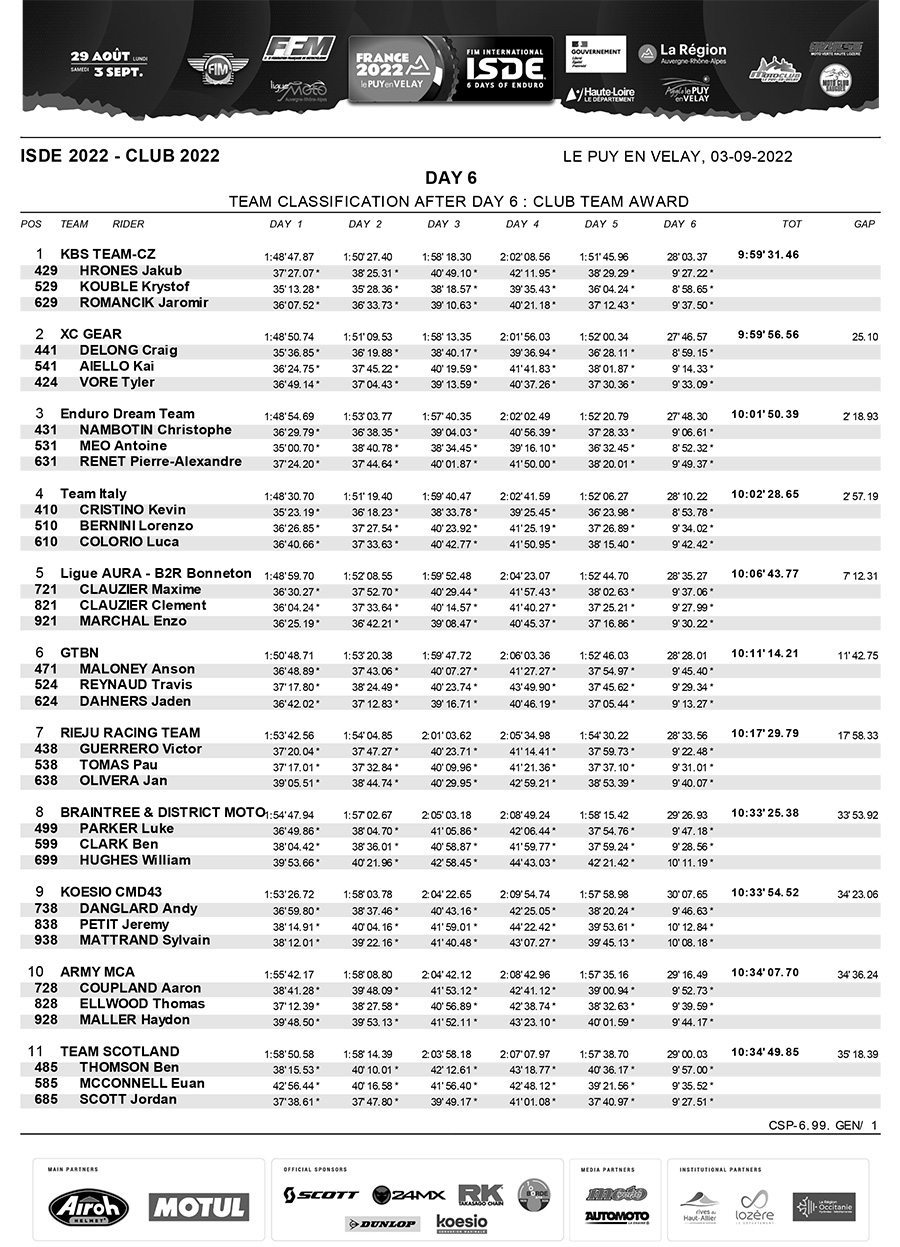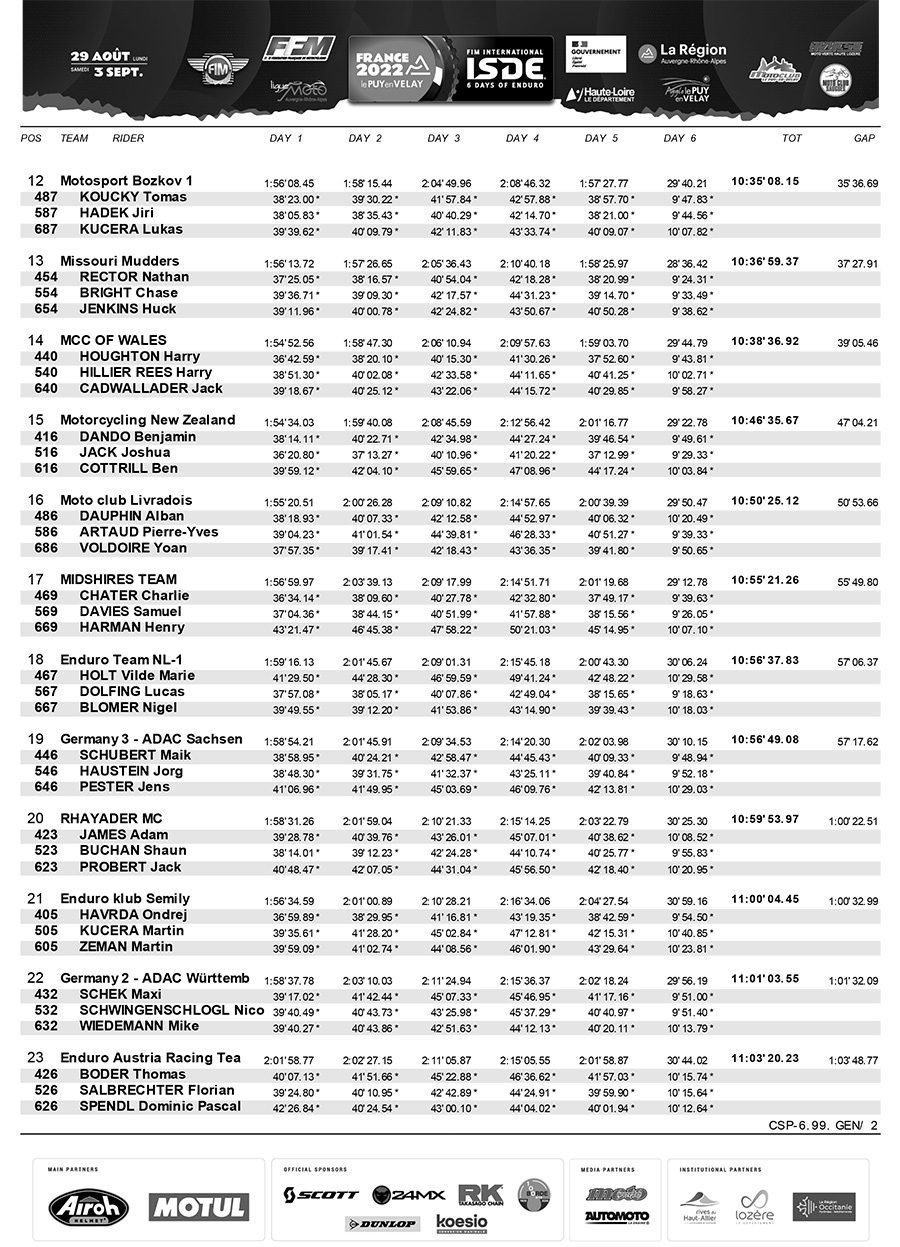 ISDE Day 6 Club scratch result (top 17):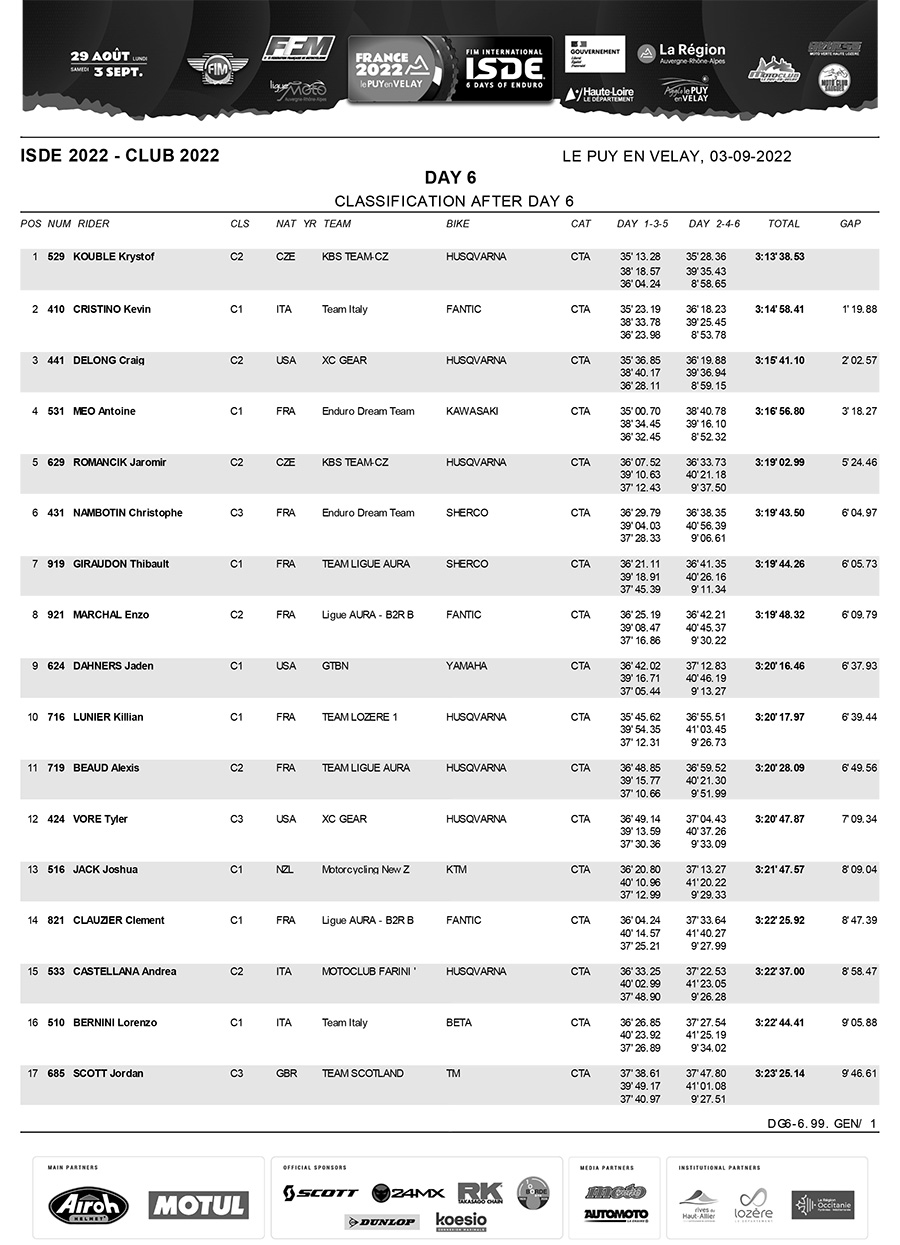 Photo Credit: Future7Media | Andrea Belluschi + Nicki Martinez