2023 ISDE Results: Day six drama for Swedish Juniors as USA claim the World Trophy
Results from day six of the 2023 International Six Days Enduro in San Juan, Argentina where USA have taken the ISDE World Trophy win in style ahead of France and Great Britain – Sweden's Juniors took a tough blow in the final test and USA's double-up with Women's win.
2023 ISDE day 6 in a nutshell:
One more day, that's all. It doesn't sound much, and it isn't, but that final hurdle to cross the finish line can be monumental.
Way more often than not everything goes according to the book but not so at the 97th ISDE for the Swedish Juniors when Albin Norrbin's Fantic decided to spoil the party.
Frantic efforts to get the Fantic fired up were pointless and a massive team effort to push, tow and scrape over the line saw the runaway Junior class leaders relegated. It was the stuff of legend but a devastating blow for team Sweden.
The day six motocross test sees the entry run in reverse order, with Club Trophy riders on track first ahead of the World Trophy.
With nearly 40 riders in the World Trophy race that concluded the Six Days show (not separated into E1, E2 and E3 classes this year due to numbers) one story of the racing was the dust. Garcia took the lead from the start of the final test of this week in San Juan but behind him some riders called the dust dangerous and though we saw a cracker of a race out front, mid-pack it was sketchy.
Dante Oliveira was looking determined and at home on a track which could easily have been in a WORCS race. Garcia's 250 EXC-F was left wanting and Dante dared to rail around the Spaniard on his 450 for the win. Along with Taylor Robert, these guys claimed an easy win for Red Bull KTM in the manufacturers award.
Oliveira's win by three seconds was all for bragging rights though as Garcia got the overall scratch victory (and E1 class) for the third time, over a minute ahead of Andrea Verona second (and E2 class) with Oliveira a full six minutes back in third after a week's racing.
Despite a crash, Taylor Robert came home to complete the USA team's all-conquering World Trophy week and his career in fact – what a way to go. This is the USA's third win and their most dominant with all four riders inside the top 10 overall.
They were 17:03 clear of France – Theo Espinasse, Loic Larrieu (E3 class winner FYI), Leo Le Quere and Julien Roussaly – who maintained their strong record in South America.
France pipped Great Britain by just a minute and a half in the end after a strong final test for the outgoing champions who must look at the riders left out (chiefly thanks to Beta not supporting Steve Holcombe and Brad Freeman taking part) and think on a potential better team result.
Now then, the Juniors. The MX race began with Sweden's Axel Semb running miles clear out front and everything looked in order for the copybook win before the massive drama for his teammate Albin Norrbin who's Fantic failed (we think due to a piston). Along with Max Ahlin, Semb gave up his race win to push Norrbin around most of the long lap which was not at all easy. After looking like they were heading for an easy win all week, a mechanical in the final test was a tough pill to swallow and, ironically, it was the team effort which potentially cost them the win. Had Semb and Ahlin continued to the finish at race speed, chances are they would have won – although Norrbin pushing his bike alone could have proved too much. Ifs and buts will change nothing and they ended up third but declined to take to the podium.
France didn't know where to look as their rivals pushed home on track, and the news was a while coming as times were checked. But with the scores in Thibault Giraudon, Antoine Alix and Leo Joyon inherited the Junior World Trophy with a margin of over five minutes.
USA were second which caps a successful '23 ISDE for the North Americans with Sweden suffering in third, 26 minutes down after Norrbin's Fantic fiasco haemorrhaged 35 minutes and everything they'd built up over the week in that one test.
In the slightly more relaxed Women's World Trophy race, Danielle McDonald ripped the holeshot ahead of the USA taliswoman Brandy Richards who was riding with a fractured collarbone. Regardless of the injury, Richards made the pass on McDonald midrace and went onto take the final test, the Women's class scratch victory and the Women's World Trophy along with Korie Steede and Rachel Gutish.
We said it already but the fact every other WWT lost at least one rider, leaving USA as the only team in the contest after day four, should not detract from their performance. The fact they fought through bad crashes, broken bikes and bones is part of the course at ISDE and shows their mettle.
True to form the XC Gear team of Josh Toth, Ryan Surratt and Austin Serpa collected the Club Trophy win, taking the fastest collective time on the day for the final day and capping off a perfect week. They finished 20 minutes clear of second placed GBTN with home crowd favourites Argentina team third.
Despite saying he started badly, Josh Toth romped home as individual scratch winner having taken 27 of the 31 tests on route.
2023 ISDE World Trophy classification after day 6: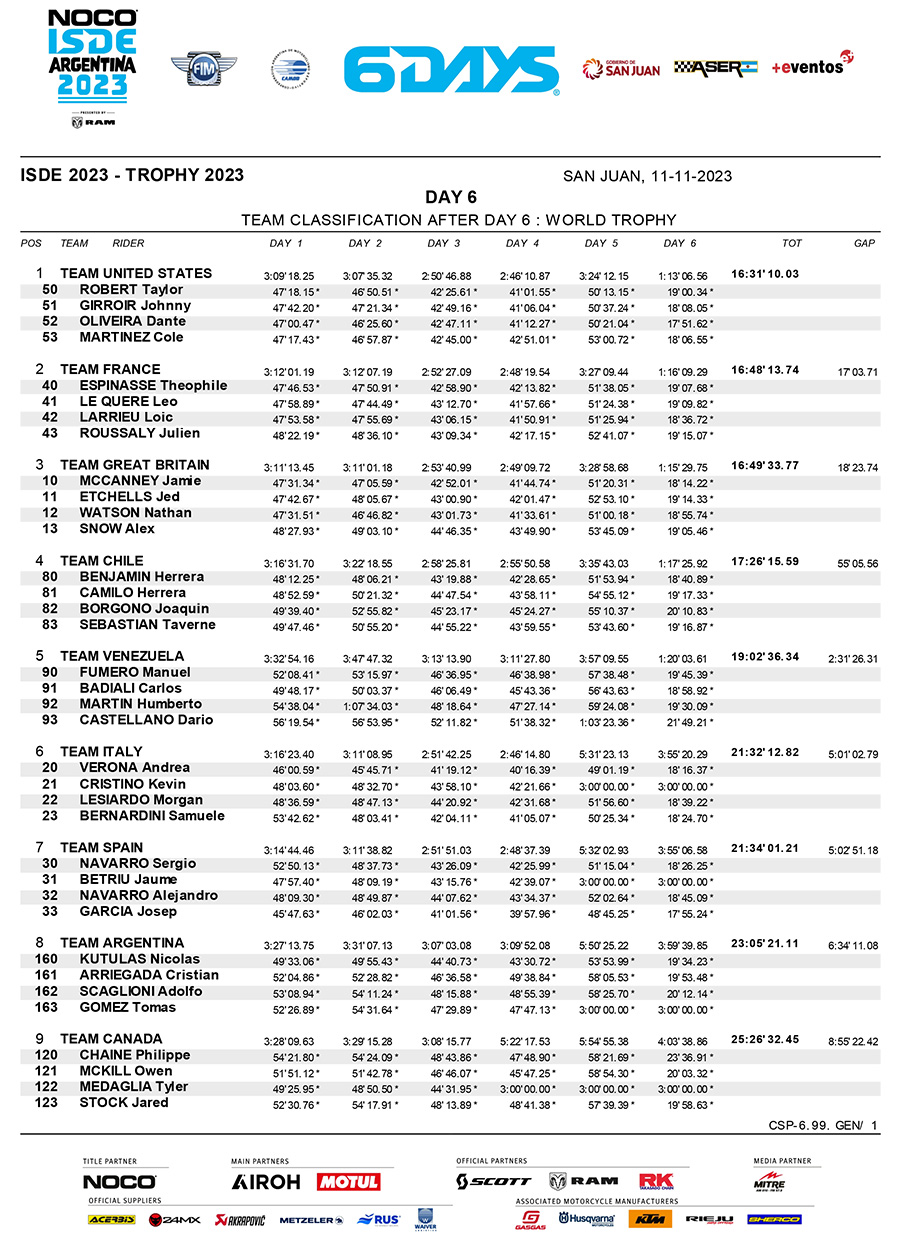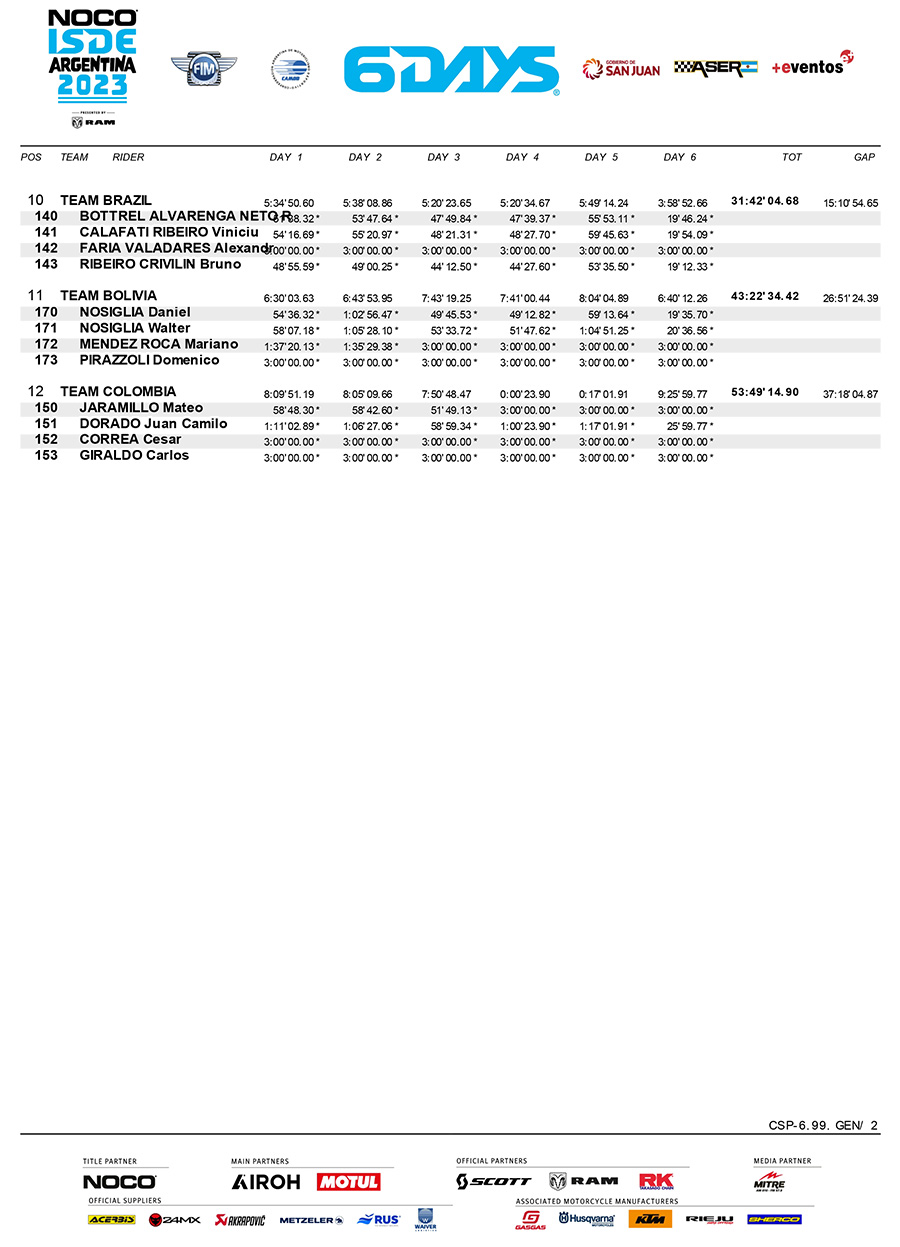 Junior World Trophy classification after day 6: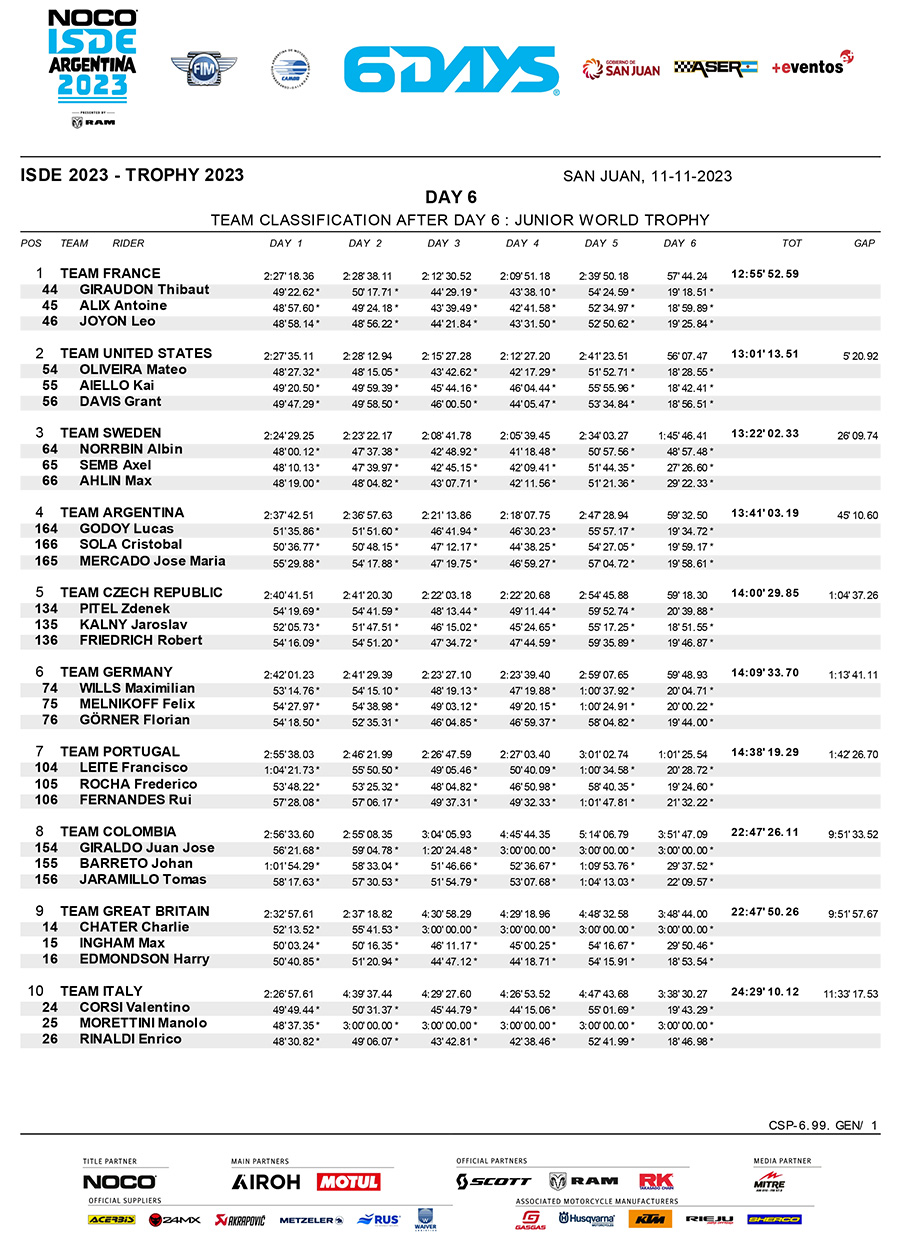 Women's World Trophy classification after day 6: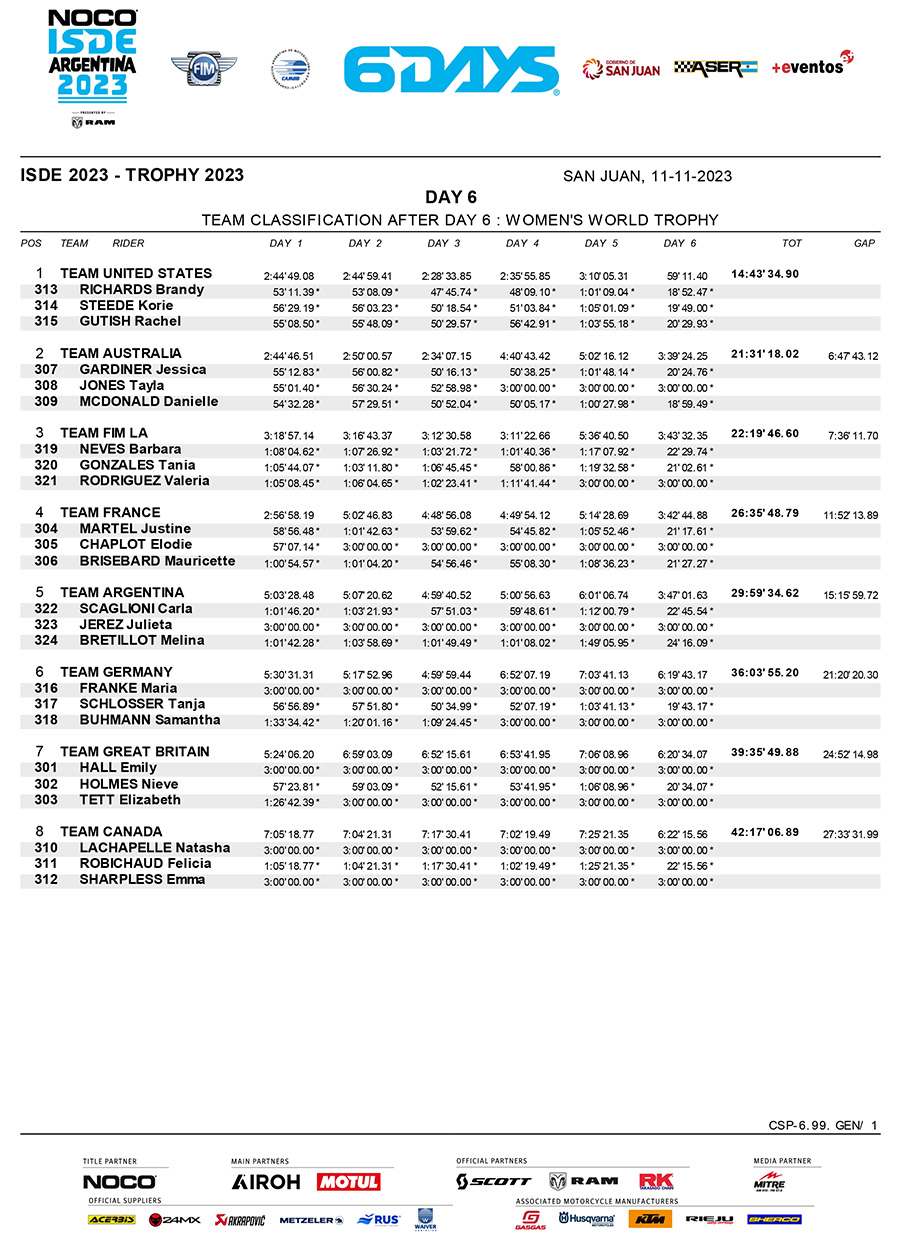 Scratch (individual Trophy category) day 6 results: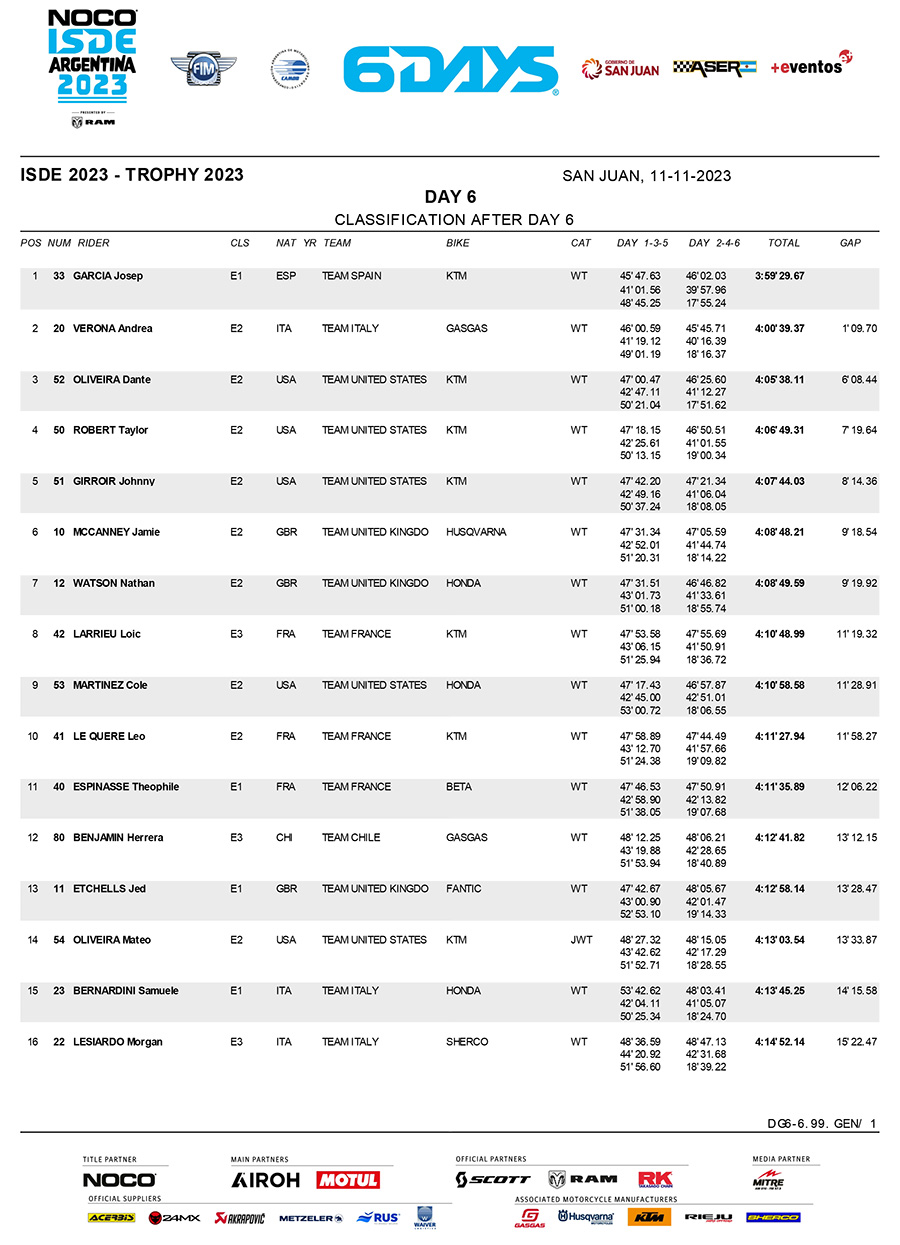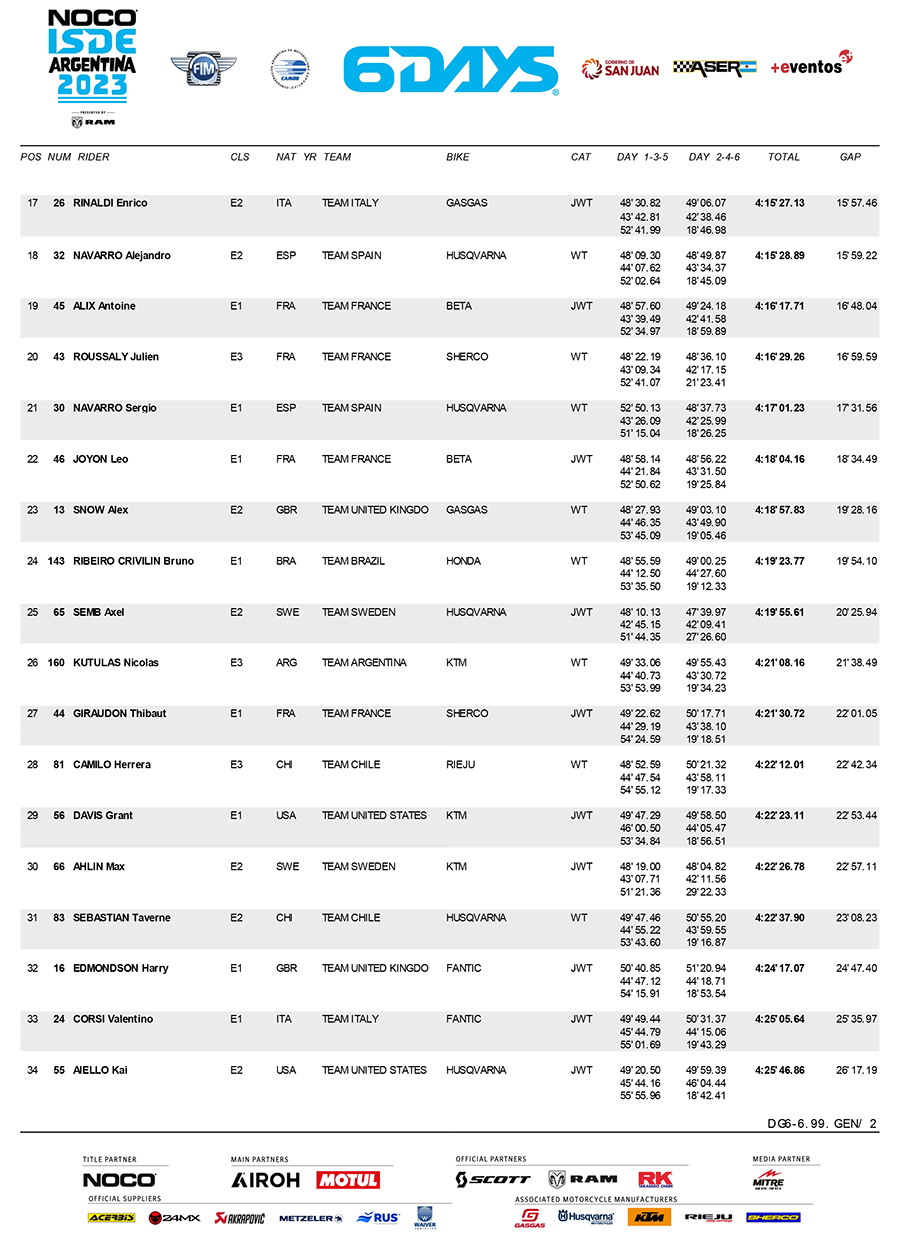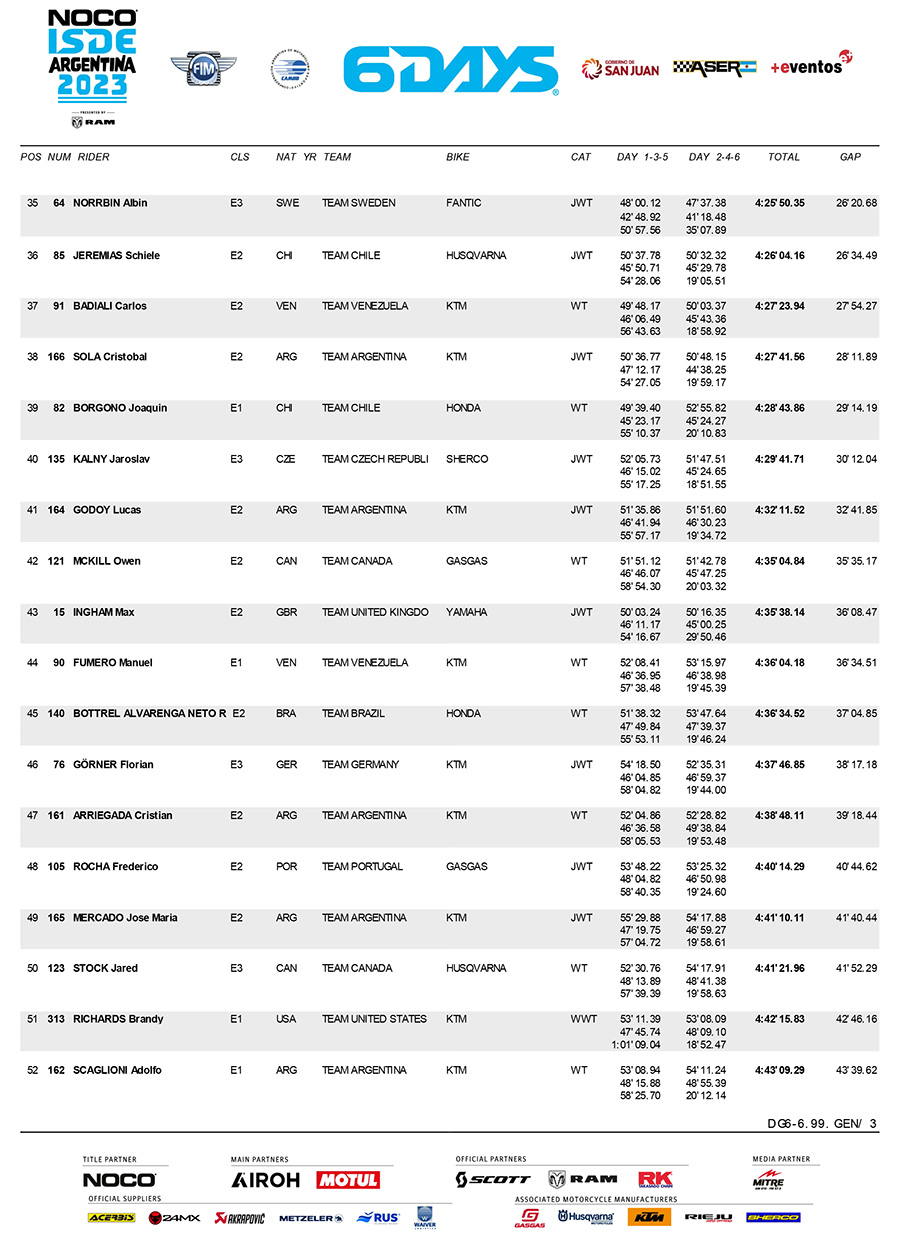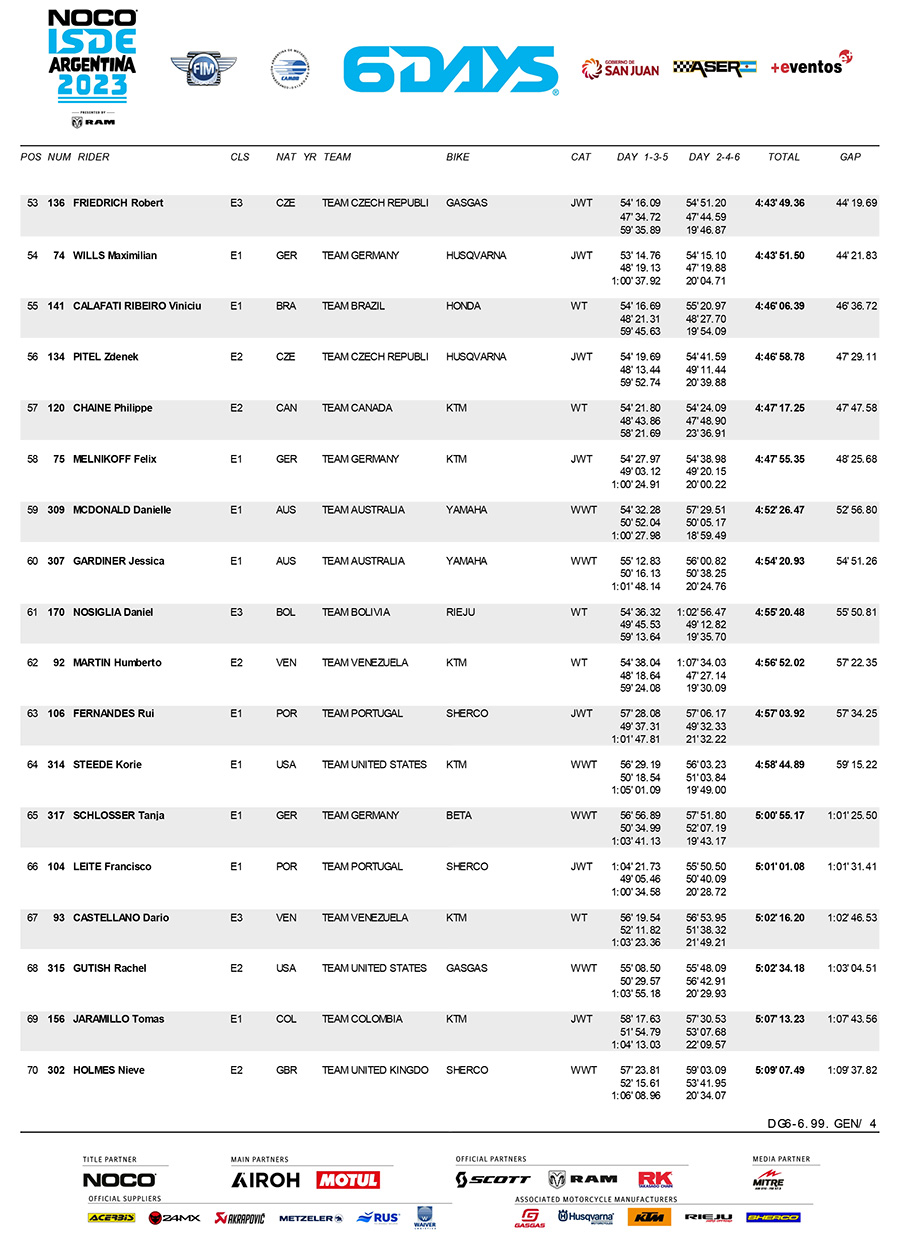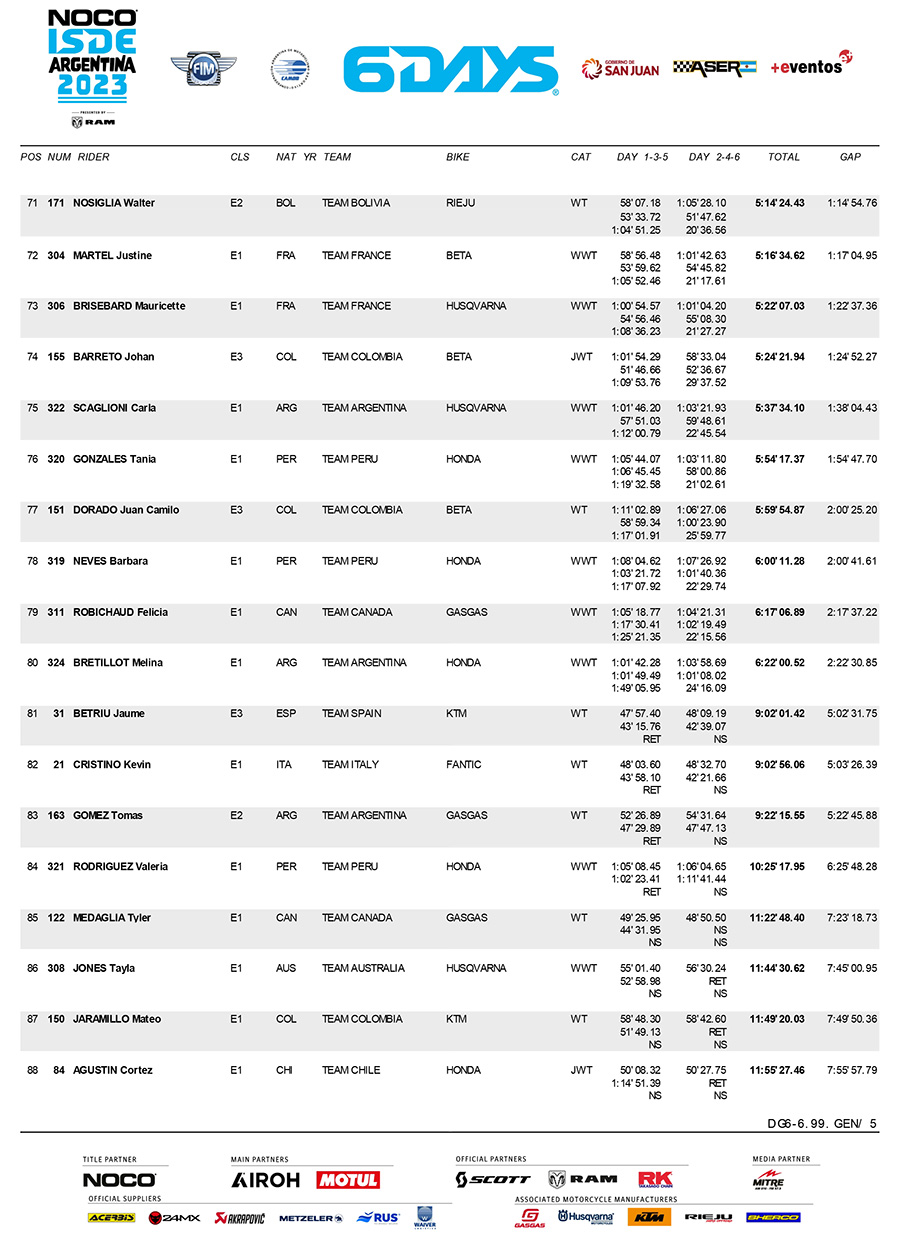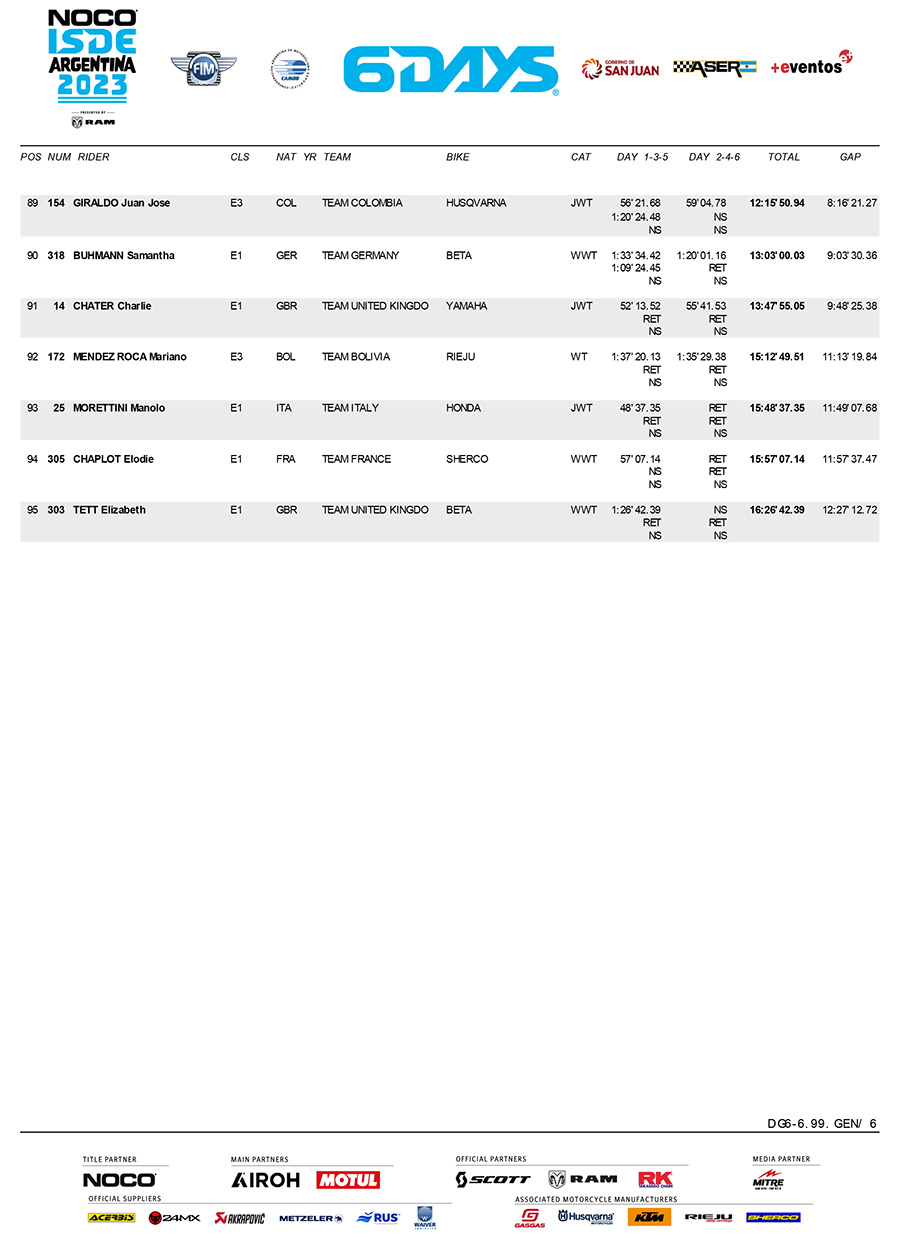 Club Team classification after day 6: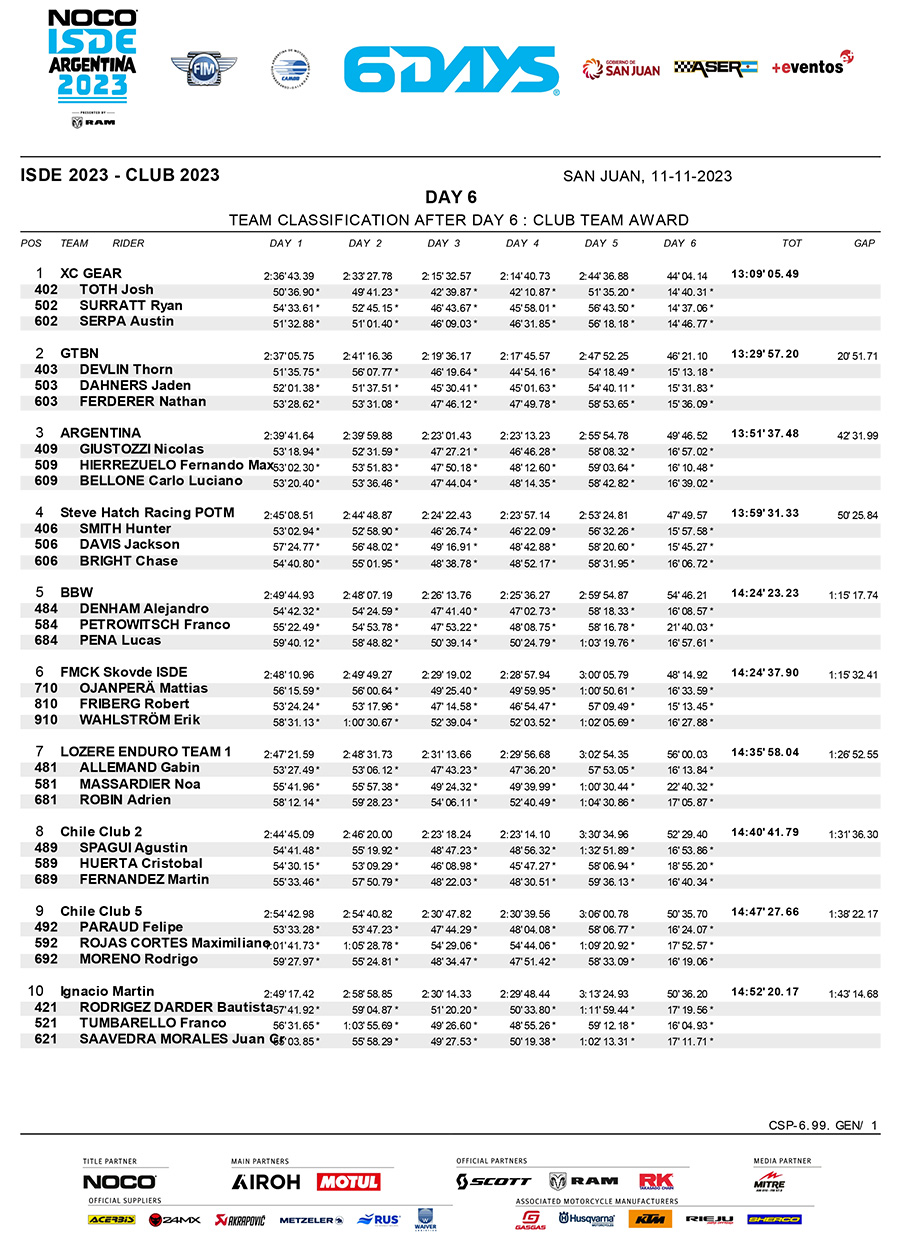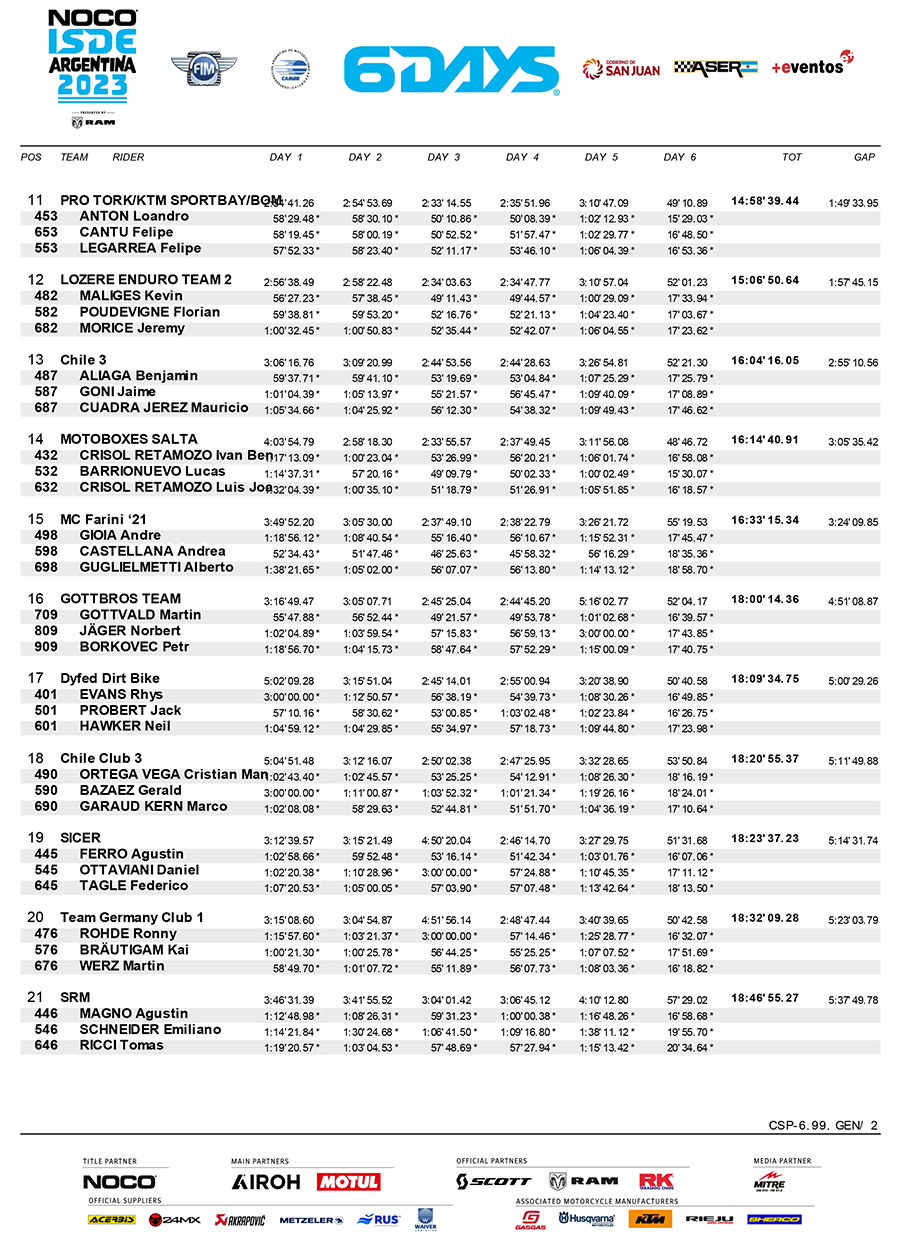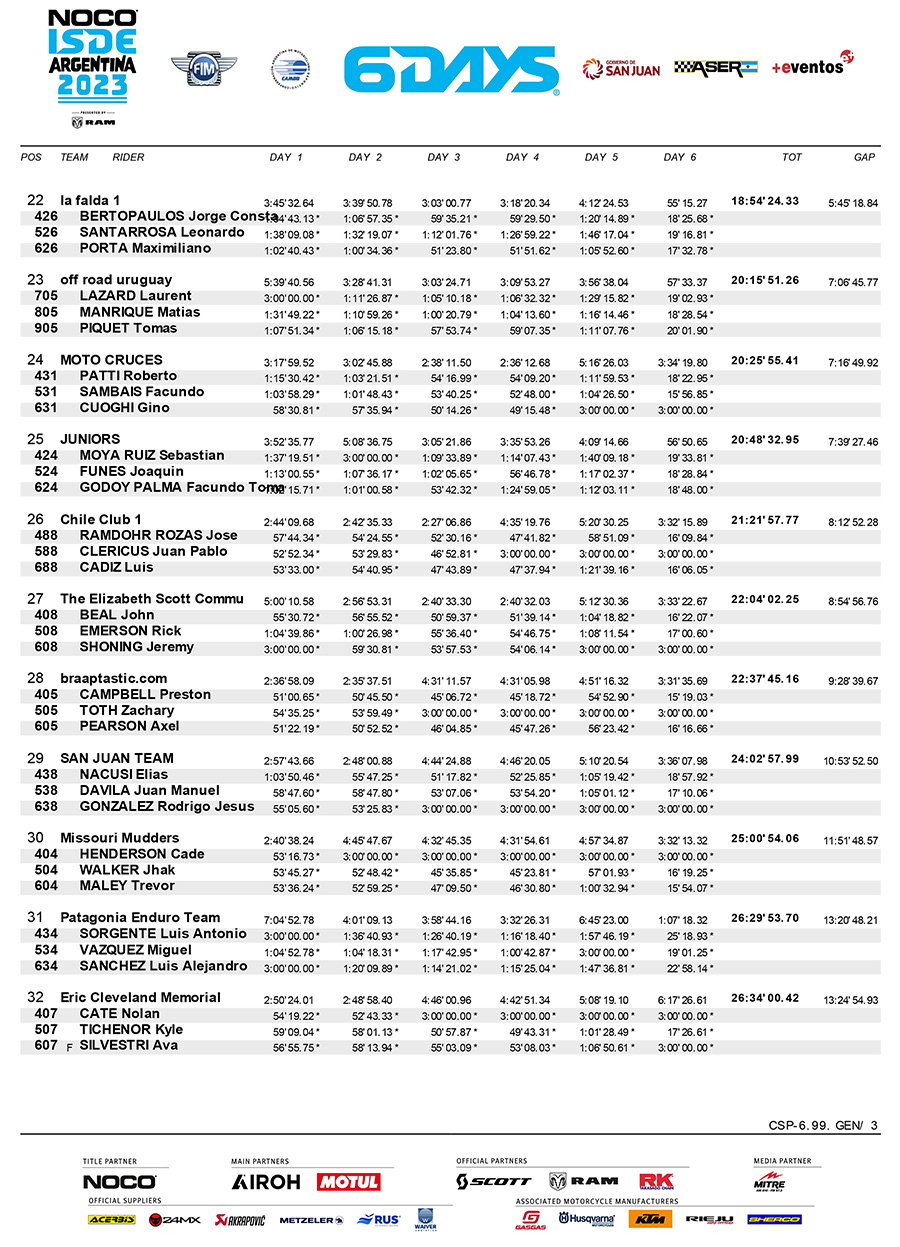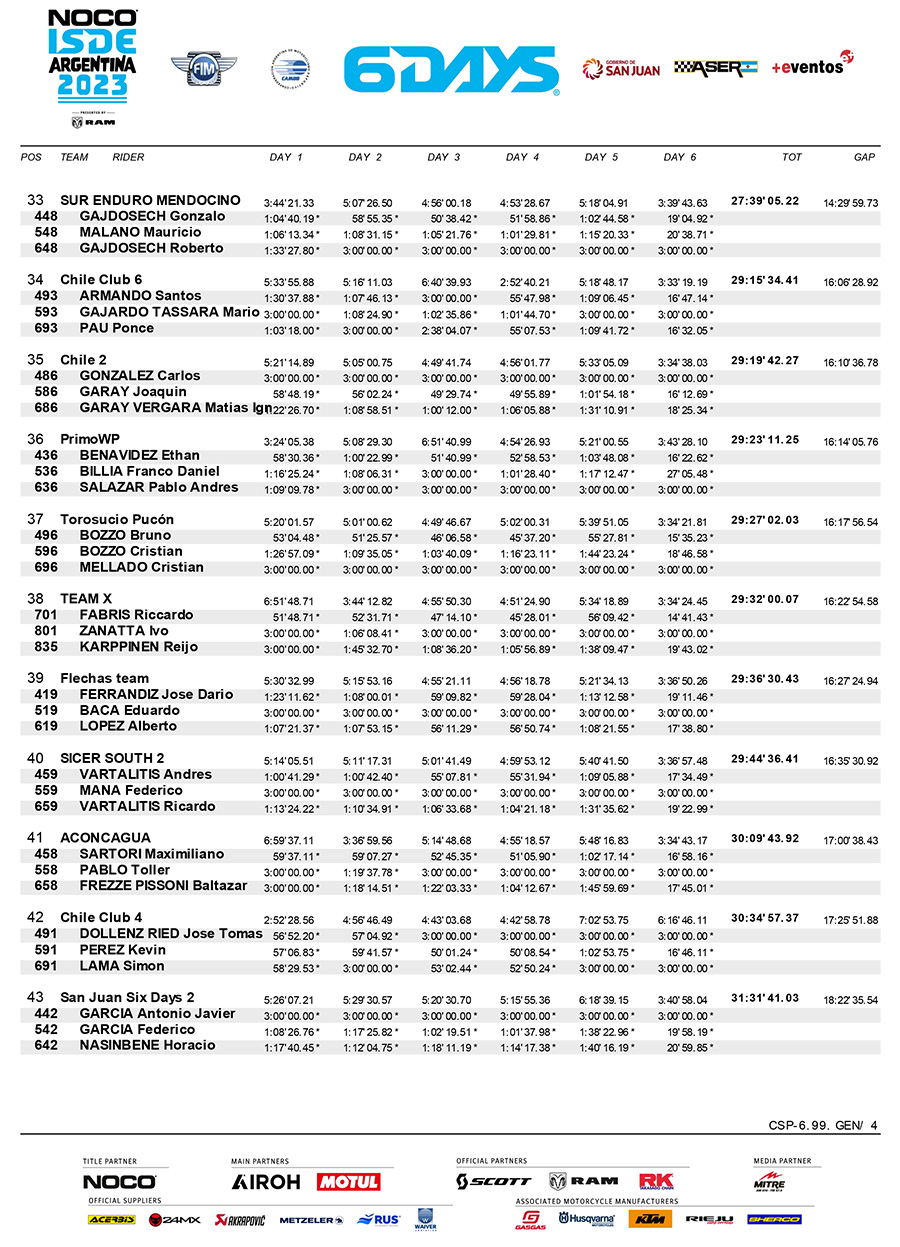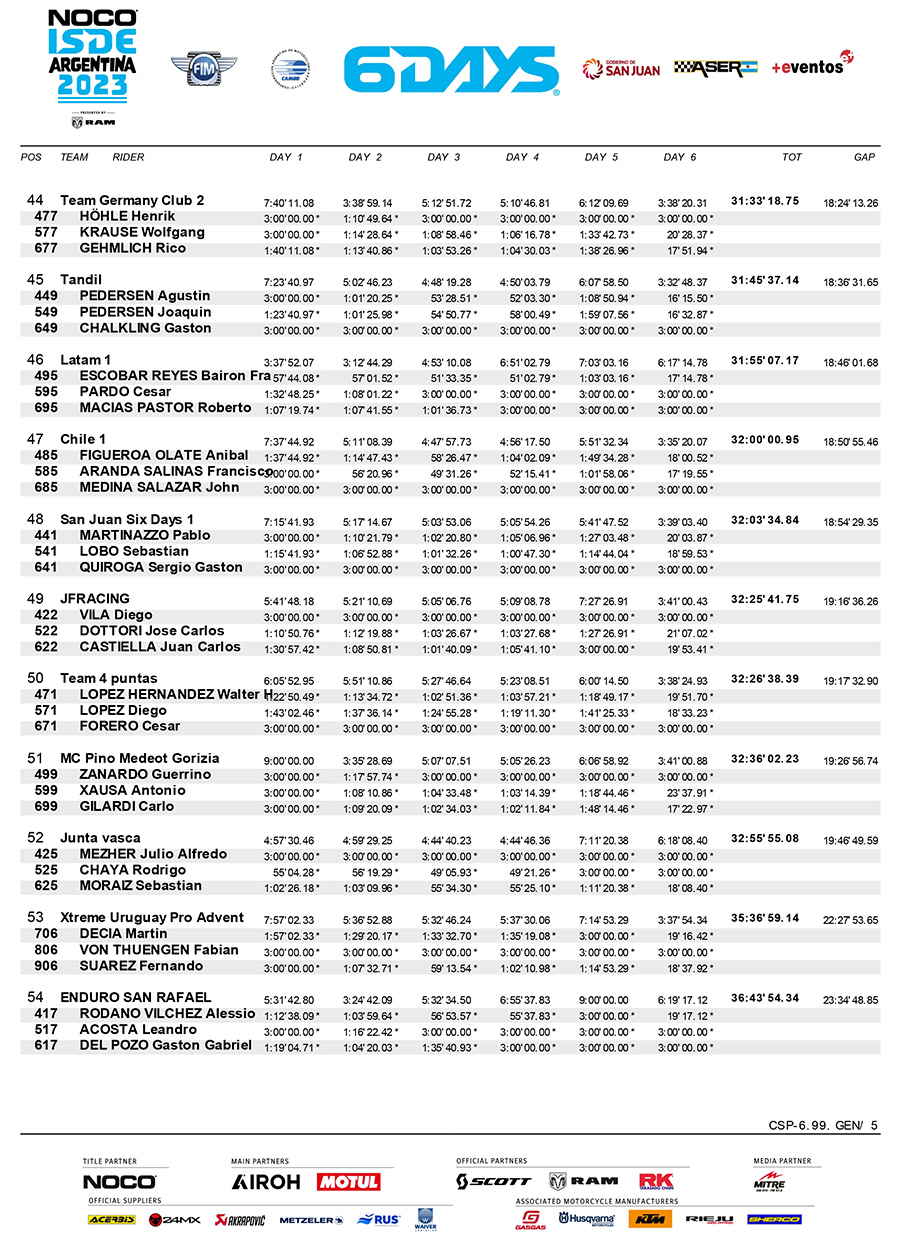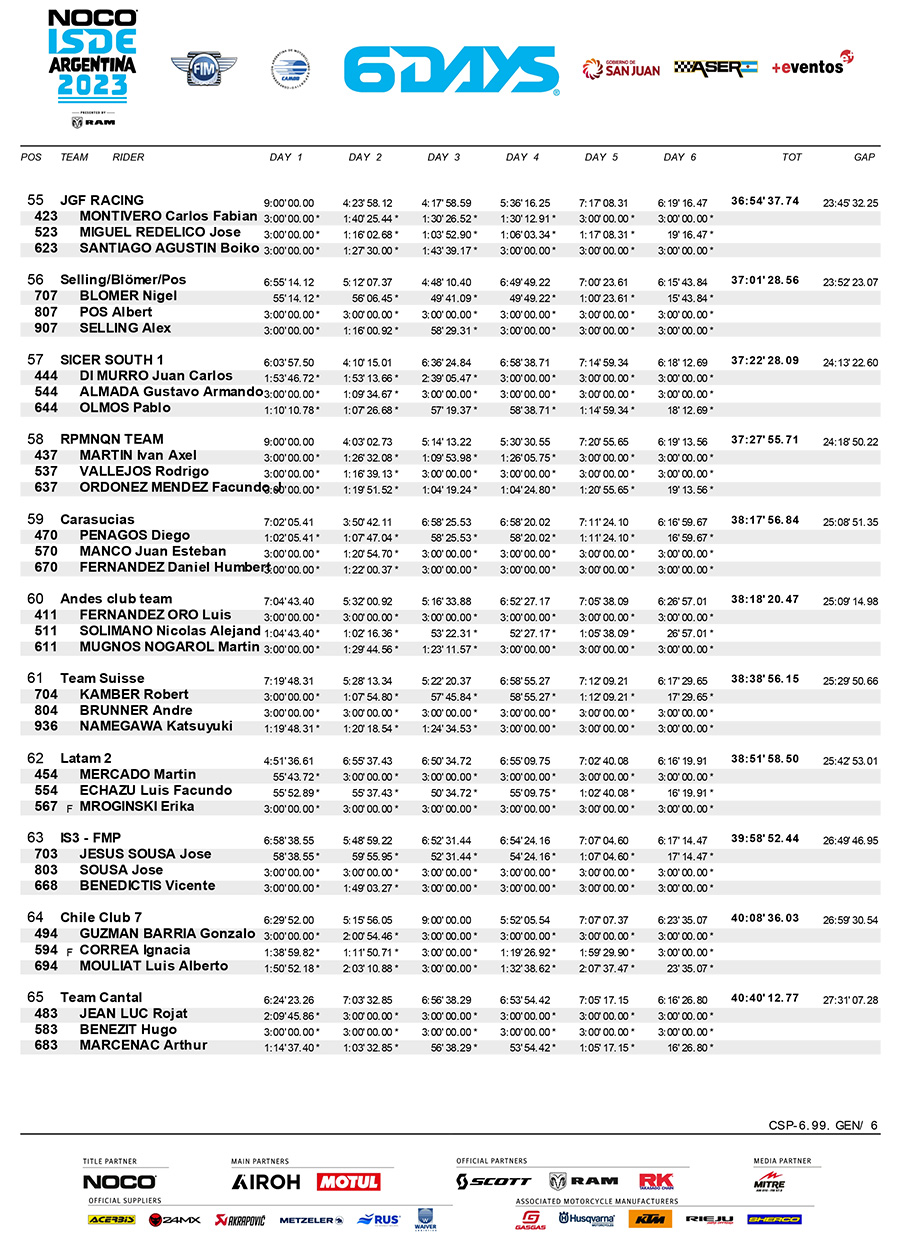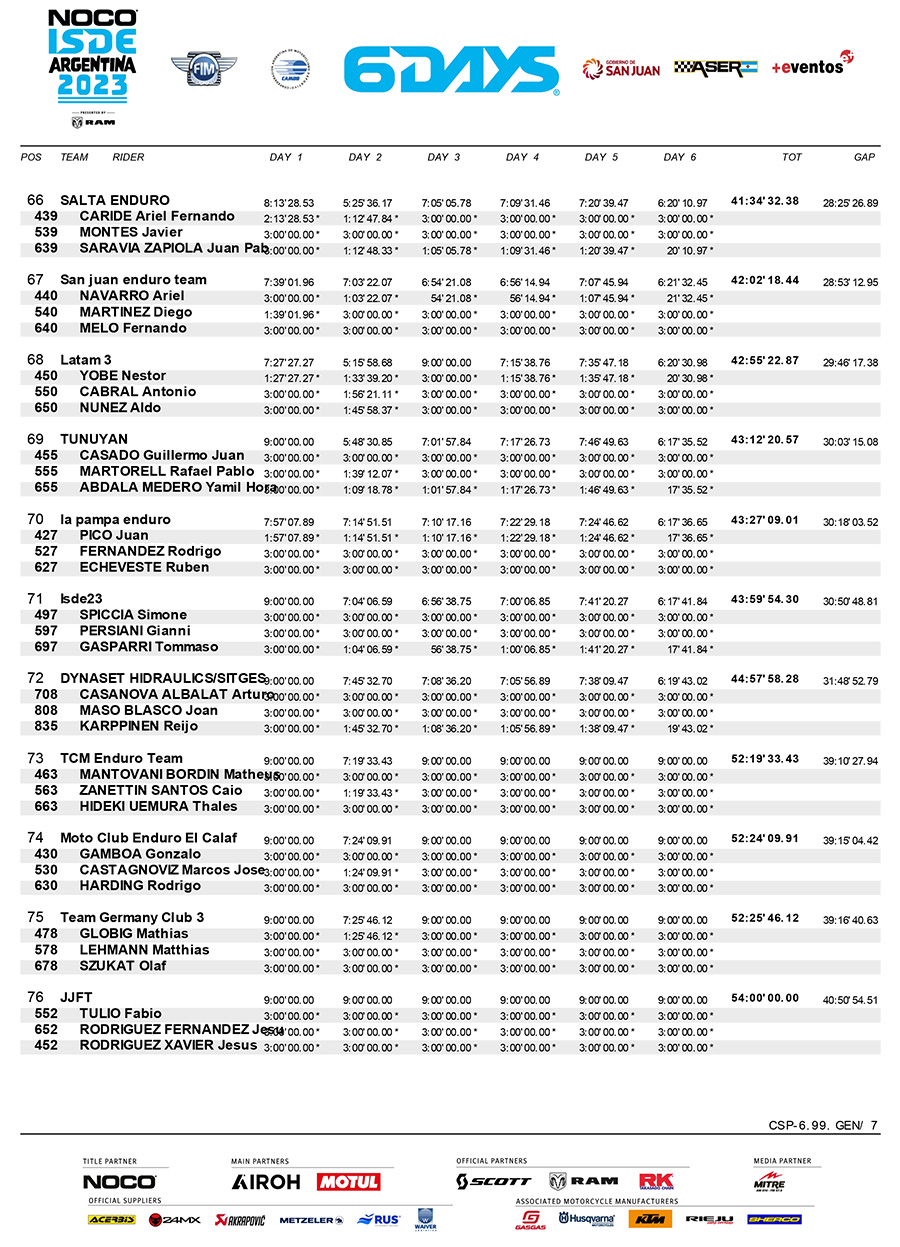 Photo Credit: Future7Media | Nicki Martinez