ISDE history: Six Days in Serres 2008 with Ivan Cervantes
A "Chaotic" finale to the 2008 International Six Days Enduro in Greece saw the final motocross test turn the individual and team results on their heads – all for the benefit of the now five-time World Champion and Spain's first and only ISDE overall scratch winner, Ivan Cervantes.
"I'll always have a great memories from Greece which has brought me good luck." Explained an emotional Cervantes at the finish in Serres as the unexpected reality dawned on him he'd won outright the 83rd edition of the ISDE.
'El Torito' as Cervantes is known to fans, made history as the first Spanish rider to win a world title – also in Greece, August 2005 – and followed it up by becoming the first Spanish rider to bag the scratch win at the Six Days, an accolade which remains his alone to this day.
Since retiring from EnduroGPs in 2016, Ivan has jumped into the manager's shoes for the Spanish Enduro team at ISDE and EnduroGP remains just as passionate and emotional about the event. Enduro21 caught up with Cervantes to learn more about that crazy final moto in Greece and why he's still aiming for that World Trophy.
Starting in the dust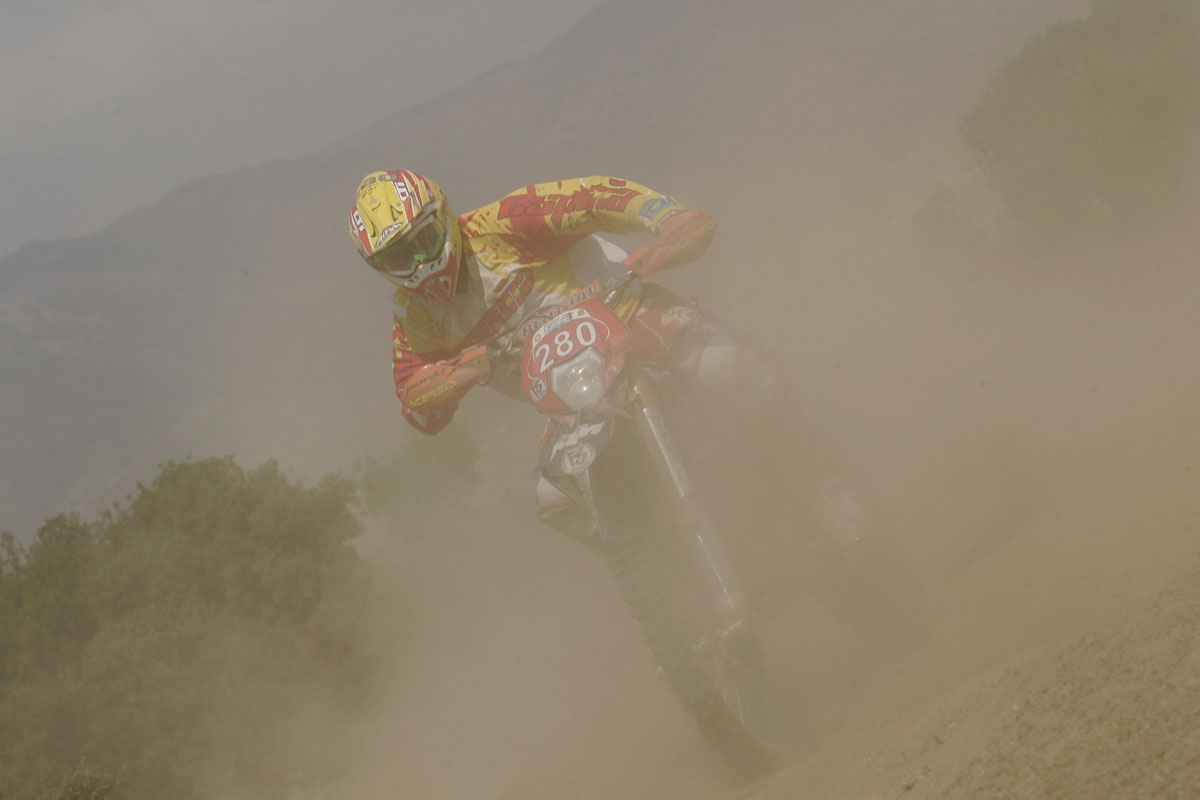 "The Spanish federation went big with the Junior Team the previous year and they won the 2007 ISDE in Chile but didn't send the World Trophy Team. A year later in Greece our team, Xacob Agra and myself were racing in E1, Cristobal Guerrero and Oriol Mena in E2, and Xavi Galindo and Gerard Farres in E3, started from the back in the dust clouds.
"The first day I took risks and pushed to try to be with the front guys from the second day on, because we started according to previous day's result. I remember I won the scratch and we had a tight battle with Ricky Dietrich but the results was a total surprise. He was one of the top USA guys together with Kurt Caselli. We were close in every test, sometimes just even hundreds of a second apart. It was a big battle."
"I realized that if I managed to keep Dietrich behind me I was going to win the scratch at ISDE. I get goose bumps even today when I recall it!" – Ivan Cervantes.
"Juha Salmimen was setting the pace in Serres, even if his teammates didn't back up him that year. From the third day on I made some ground on Dietrich but I have to admit I was really lucky to get the overall win. I arrived at the final motocross two minutes down on Juha which made overall victory nearly impossible. Anyway, as I have always said you have to be there to win it."
"In the E2 motocross race Lorenzo Santolino took a big hit and the red flag was waved. When it restarted Salmimen went down in the first turn and another bike run over his breaking his throttle cable. I was just about to enter the parc ferme when someone from the team told me: "Juha went down and his bike is K.O'd". That's when I realized if I managed to keep Dietrich behind me, I was going to win the scratch at ISDE. I get goose bumps even today when I recall it!"
It was all about the holeshot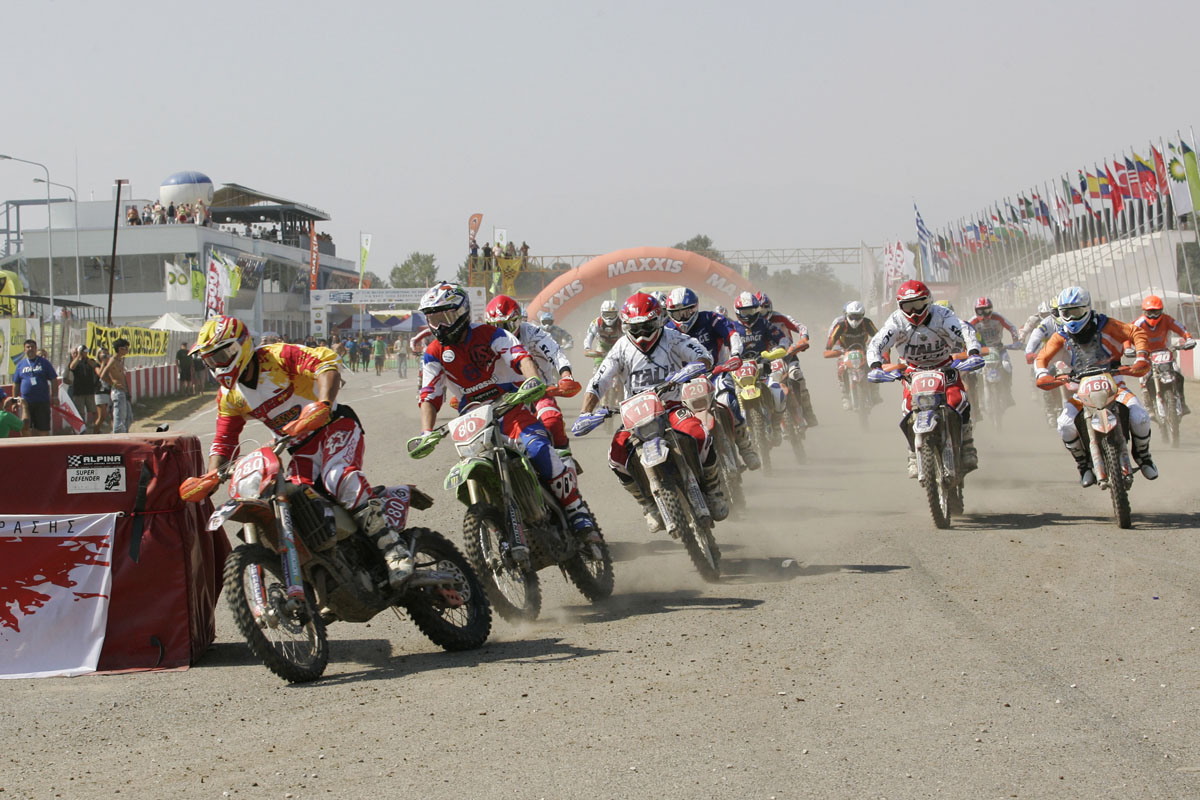 "It was tough because I felt a lot of pressure. Dietrich played his cards and was trying to get me nervous. He was staring at me all the time. The start was on tarmac too and there had been various crashes in previous races.
"I knew I had to be cautious, but not too much. It was a MotoGP style grid and Dietrich was racing the WORCS so I knew that the first corner was going to be crucial. I had to arrive there before him no matter what and avoid him passing me and opening a gap so he could take the 20 seconds I had on him.
"When the lights turned green both of us set off with our eyes on the prize. Halfway through the straight I noticed that Dietrich looking at me to see when I would back off the gas. I feinted it a bit and he backed off a bit, so I gave it the beans and took the position."
"The ISDE motocross races are only six laps so I went all-out in the first three. We had a similar rhythm and pace, and the third rider was miles away. With one lap left I made a four or five second gap on Dietrich and he gave up. I crossed the finish line and realised I had just won the ISDE scratch! It was unreal."
Rivals from across the globe
"Obviously Salminen was setting the pace but also at that time Merriman, Caselli, Tarkkala…Kearney, Belometti, Albergoni and of course Dietrich. They were all really fast riders. That year I remember that Mika Ahola and Johnny Aubert didn't attend the Six Days because they were in the hunt for the E1 and E2 world titles and their teams decided not to. That year I was battling with Ahola for the E1 world title also. But I will always remember the fight I had with Dietrich."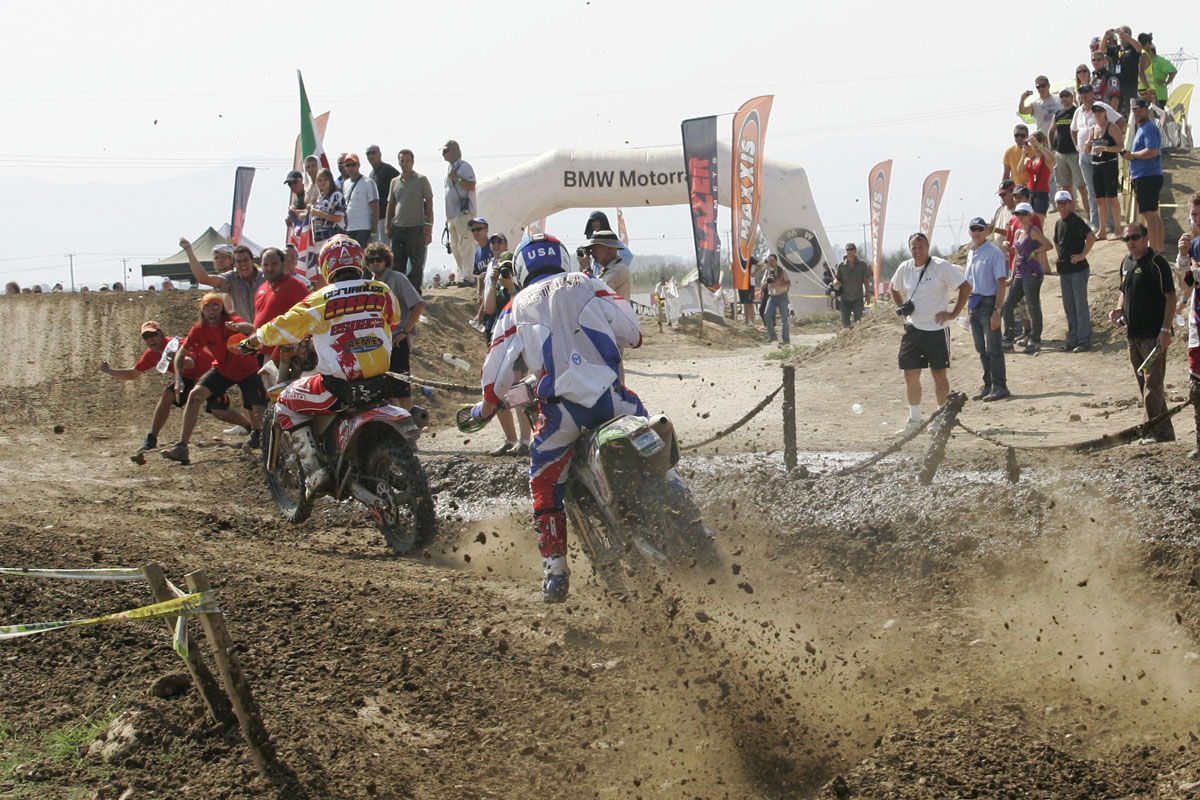 "Cristobal Guerrero was also riding great in the first days that year on the 450 but, unfortunately, on the third day he went down in the special test and broke his fibula and ending our hopes as a team."
"It was near the end of August and the heat was unreal. We were getting our hydropacks filled at every assistance but they would only last half an hour it was so hot and dusty in Greece. I think that even some special tests were cancelled due to dust. It was impossible to see anything sometimes."
The ISDE is the Olympics of Enduro
"Everyone is waiting for them during the season and no one wants to miss it. Obviously, when they take place in the middle of a championship like in 2008 there are teams that won't send their riders, like they did with Ahola and Aubert, if they're battling for the championship because it's a tough and long race.
"Many times, even more now as a team manager, the most difficult thing is to explain to the riders that they have to work as a team. It's the toughest thing because no one is used to it and, sometimes, there are riders that even if you leave it clear they want to show their talent."
"I have raced 12 or 13 ISDE and sometimes I had to remind myself also to race with your head, think about the team. Sometimes it's better to put some pressure on a couple of riders than going all out. Then you also have to coexist and maintain a good working environment with all the team. Having a good relationship and walking special test together to build the team spirit is very important."
Ones to remember
Obviously 2008 ISDE in Serres is a big emotion for me because I was the fastest rider but I also have a great memory from Finland in 2011 where team Spain finished second in the World Trophy – that year I was racing the GasGas 300. Also Brazil in 2003 has a special place because I won my class and finished fourth. Stefan Everts won overall.
"The fact I haven't won an ISDE as a team with Spain is something that will stay with me forever. We were always there but never made it. Now, as a team manager, it is still on the 'to do' list. We have a good team, but Australia and United States are really strong, their riders are always in the front of the pack. It's not enough to have two or three riders, everyone on the team has to be in the top 15 each day. If we want to win, we need that."
My first Six days? It rained for six days
"My first ISDE was in 2002 in Jablonec Nad Nisou, Czechoslovakia. Albert Guerrero was the team manager. We had great weather the previous week, with sun shining all the time but the first day, just after the start it began raining and didn't stop for the whole week. It was hell, the terrain was incredibly slick. I had to pull out of the race because I broke the rear sprocket, Duran also had to pull out. Nothing went to plan."
"In Navarra 2016, my last, I'm sure we would have made an incredible Six Days if I hadn't got injured. We were doing great and Josep Garcia was on fire in Juniors. We might not have been able to win but we would have made it to the podium for sure. I would have preferred to say bye to the ISDE with a podium at home."
From rider to team manager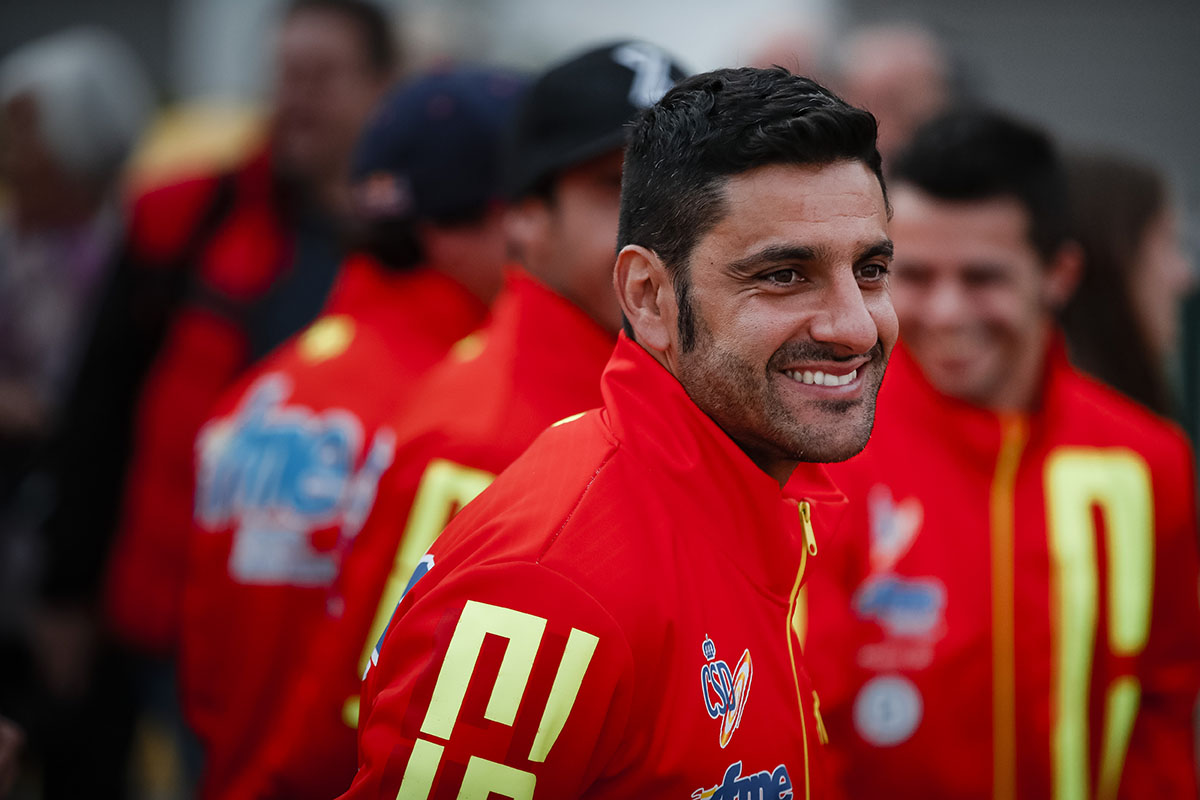 "Nerves are really intense as a manager. You're in charge of multiple things and you have to give it all. You have to stick to the budget and there's a lot of planning involved, apart from getting the team together and coming out with a strategy. We have clinched some Junior World Trophies as a team and now we're trying to get one step forward and get the World Trophy.
"Being the team manager is like being an orchestra director, a lot of people is under your command. Things always happen in racing and problems come from all directions. You need to know how to react quickly, coordinate people and take fast decisions.
"Every time I got called to race ISDE they put the responsibility on me to be the leading voice. I had to build the team spirit, walk tests, analyse the race and make a strategy. Make the best out of the team really. I always looked to motivate my teammates and show them what we need to do. That was my roll.
"Now, as a team manager, I have passed on that roll to the rider with the most experience, Cristobal Guerrero. He's the one who has to take the initiative and set up the work schedule so every rider knows what to do and they can work as a team."
We need your support
If you've enjoyed this article, if you've found it informative, interesting, entertaining even, please support us.
We want to continue doing what we do, to the best of our ability, serving the enduro and off-road community.
Please consider a donation, every little helps…
Thank you.
Photo Credit: Enduro21/Nicki Martinez