ISDE history: Team USA's maiden win – Taylor Robert
Continuing the Enduro21 series of special features celebrating the International Six Days Enduro we visit Spain in 2016 where Team USA, after many years trying, took the coveted World Trophy.
"The 2016 was huge for me and for the whole team." Explains the overall fastest rider in Navarre, Spain. Having won the Junior Trophy two years earlier, the big one had remained elusive for Team USA until Taylor Robert, Kailub Russell, Thad Duvall and a late comer Layne Michael finally etched their names on the famous silverware. In his own words, Taylor Robert explains that week, his rivals and the drama that nearly robbed them.
On the gas from day one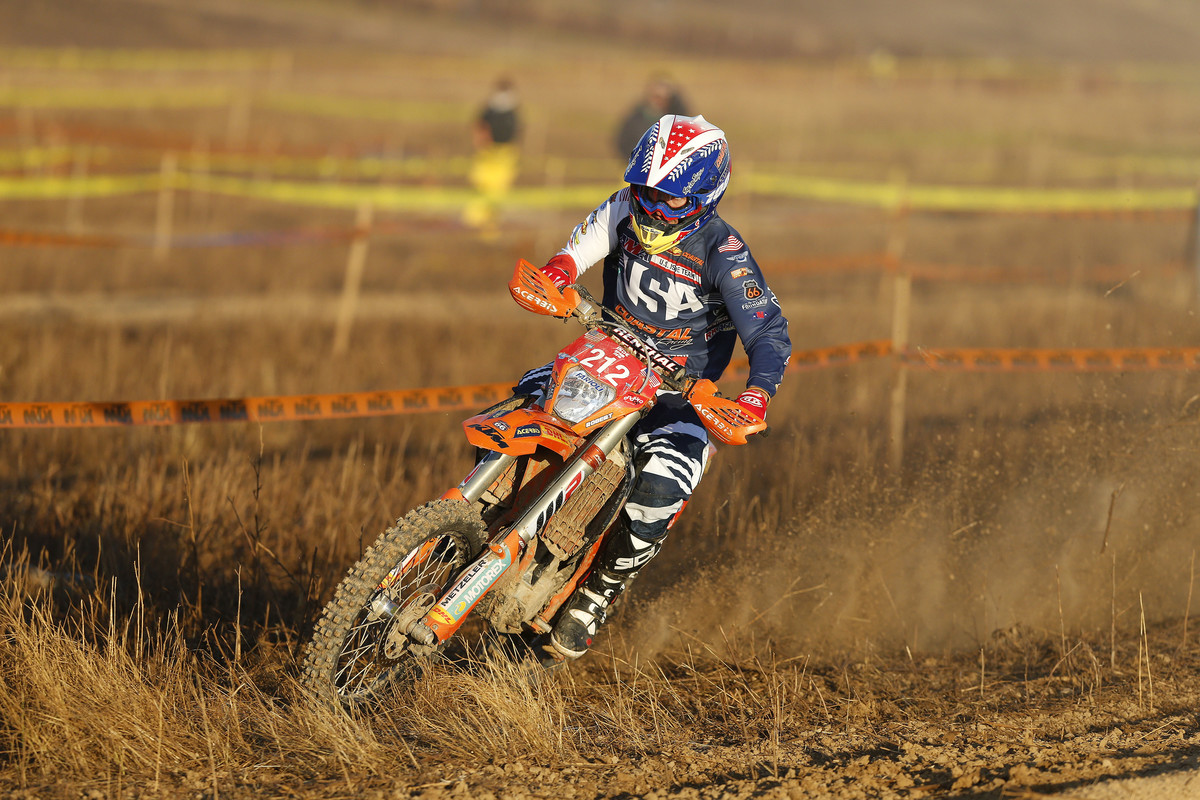 "On the first day of racing Kailub Russell and me went 1-2 in both the first tests and I remember Ivan Cervantes coming to me after the second test saying "Woaah, USA is on fire". It was pretty cool to hear that from someone like Ivan.
"Typically, we have had a hard time getting started at ISDE, usually we get better through the week and never had guys who could win tests from the first get-go. So those early tests felt really good and we stayed consistent through the week.
"We had a bit of drama with some rain turning everything into a challenge and on day three or four we were up in the mountains and there was a grass track there which I still think to this day it was the slipperiest grass track I have ever ridden. That ISDE had a bit of everything, some desert, mountains and dry and wet terrain."
So close to disaster
"We all got really worried on day four or five because Thad Duvall ran a test with no oil in his bike. He was running the 300 two-stroke and at one of the checkpoints they forgot to put his oil plug back in and he rode a whole check with no oil in his bike. That was the first year where all four riders counted so if we had lost him it would have been devastating."
"By the fifth day, especially if you're not winning, you're like, "what am I doing here? Why am I doing this?" – Taylor Robert.
"Ryan Sipes was supposed to be there in Spain but he broke his arm the day before we had to fly so his teammate at the time, Layne Michael, filled in. We were pretty stressed about it because Ryan is a very strong rider and he had won overall the year before in Slovakia so to lose one of our top guys it was hard to take, but it ended up working out.
"At the beginning of day five I had big crash in the special test inside the racetrack too. It got really rough because we were riding it twice a day. I broke the subframe and the plastics on my bike but we were able to zip tie everything back together and held it up somehow."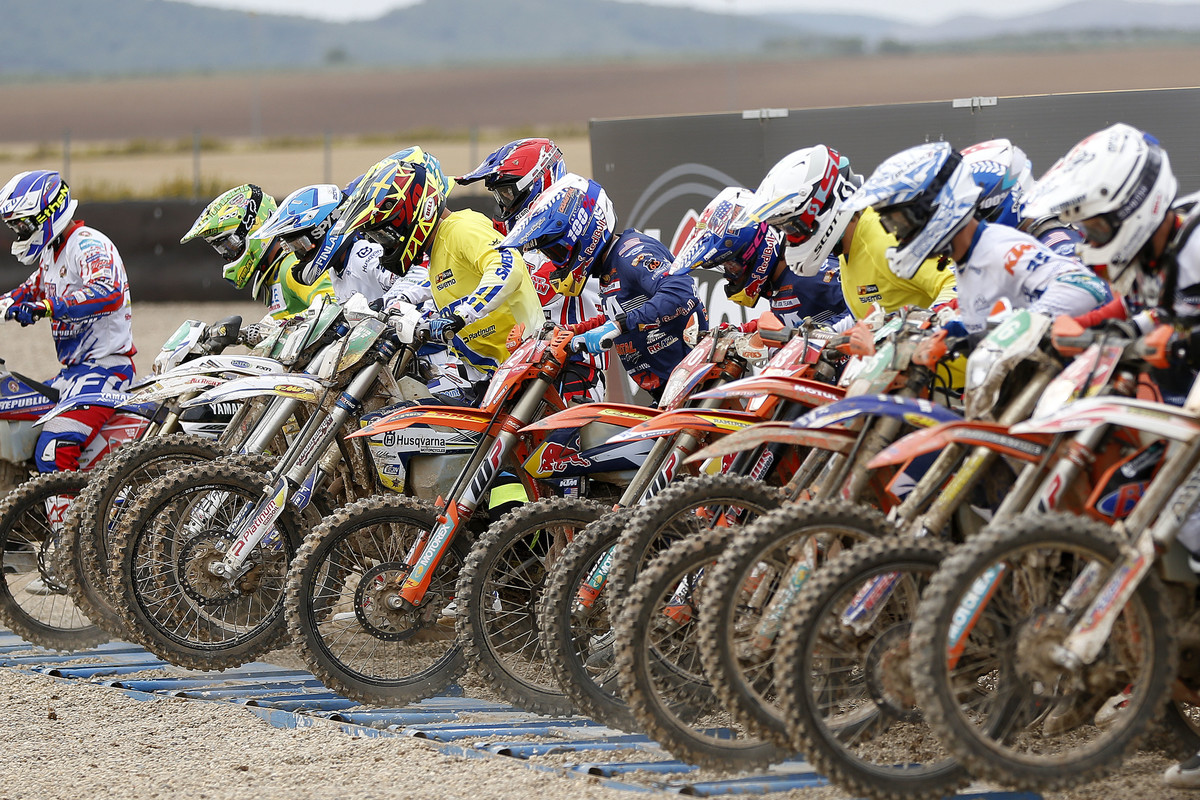 "Going into the final motocross race it was super nerve-racking. I was in a very stressful situation with Daniel Sanders only 12 seconds behind me. As a team we had a pretty good lead but I only had 12 seconds, which can go easily if you crash.
"In my head I was battling between wanting to win it for myself but not wanting to be selfish and throw it away for trying to win it for myself when we really had it in the bag as a team. The track wasn't doing any favours either. The start for the final moto was in gravel heading to asphalt into a right hand first turn, which is really sketchy because no one has the foot on the rear brake, so I was just hoping to get through the start clean. I did the first turn in second place, passed the guy in front and then ended up winning the final moto.
Consistency is the key
"I was definitely one of the most consistent riders that year. I think I only won one or two days but I was going back and forward with Giacomo Redondi, Daniel Sanders and Josep Garcia all week. We were kind of the top four guys during the days. I know Giacomo and Josep had issues at one point or another and they dropped back a bit so then it was just Sanders and myself by the end. It's crazy to think that in 2016 I got first, Sanders second and Garcia third and in 2019 it was Sanders, Garcia and I got third – the same guys in the podium but different order."
"I've been top three in the outright for the last four years in a row and I have won whatever class I was riding, so I always feel like I am right there. Every year it feels like there is one guy who just kills it, that was me in 2016 and it was Larrieu in 2017, Milner in 2018 and Sanders in 2019. It's kind of crazy how it works out, maybe it's because of the terrain suits whoever but you always have one that just stands out. I've been lucky enough to have been one of the most consistent riders in recent years."
Major rivalries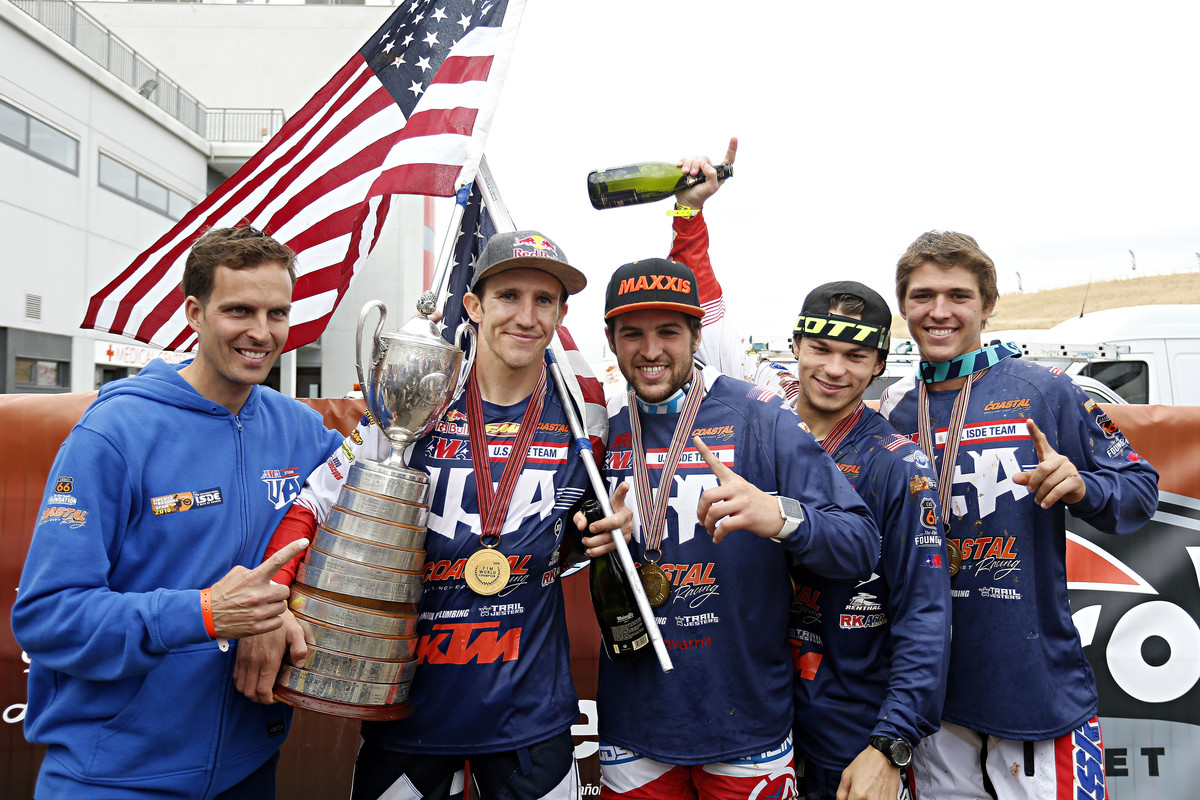 "When I first started competing at ISDE France had the really fast guys like Antoine Meo, Christophe Nambotin, Pela Renet and Johnny Aubert – those guys were hard to beat. They had the dream team for a while, but I feel like then a younger generation of riders, myself and Giacomo Redondi, Mathias Bellino, Loic Larrieu, Daniel Sanders, Daniel Milner came along. I remember my first ISDE in 2010, after the second or third days Giacomo and I were starting together which mean we were approximately the same speed but we were 25th overall or something like that and then you fast forward six years and we are both on the front row together. That was pretty cool. Now were racing WORCS together also."
"I think I have done nine Six Days' altogether – 2020 was supposed to be my 10th. My first year was 2010 and I didn't go in 2011 but I have done every year since. In 2010 I rode for the Junior Team and then I went into the Trophy Team in 2012 in Germany. I was still young enough for Juniors but fast enough to be on the Trophy Team."
"We had a great team that early year but it was mostly old guys and me: Russell Bobbitt, Mike Brown, Kurt Caselli, Robert Garrison, Charlie Mullins. It was a whole generation and I was kind of the young guy coming up. Thad Duvall was in the Junior Team that year and Kailub was in the Junior Team the next year, so since then it has been kind of the same new generation of guys since 2014."
Drama is all part of the game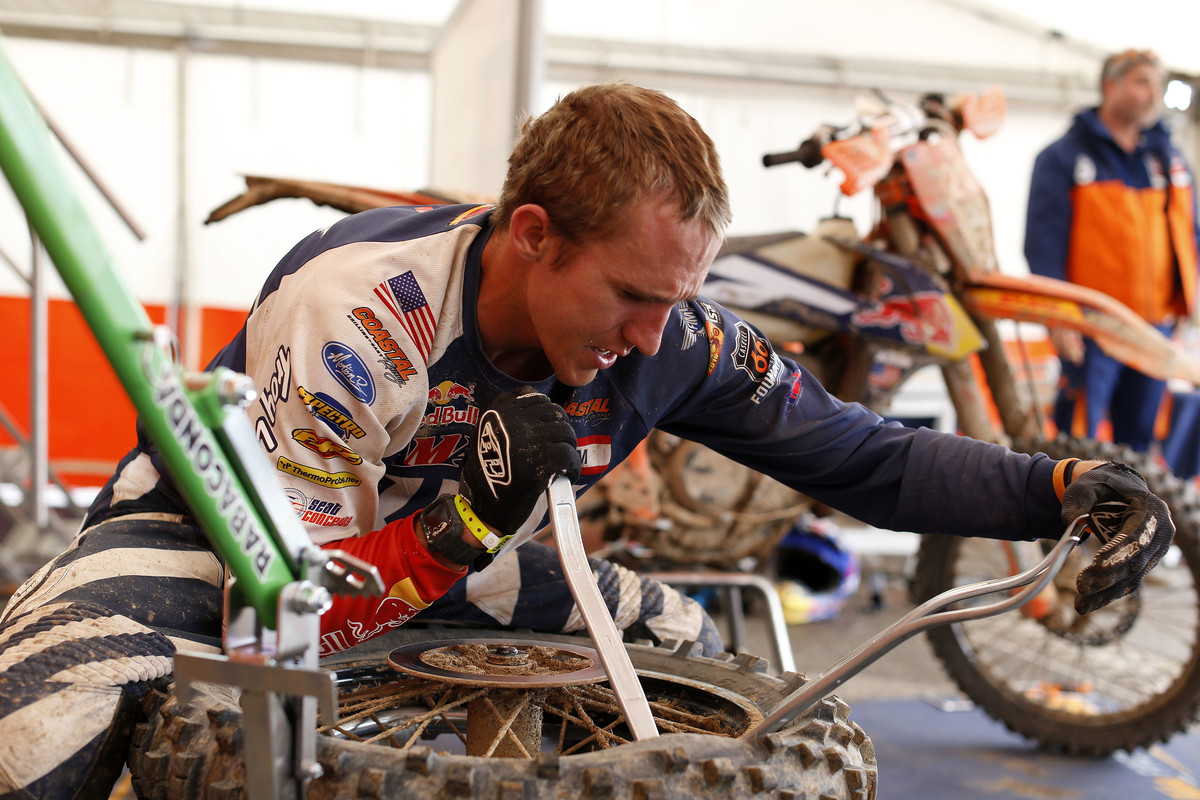 "The one, big mechanical bummer for me was 2014 in Argentina. I was riding really well down there and we had three top guys from three different countries at the top of the sheets: Pela Renet, Toby Price and myself all trading test wins. I think after the third day we all were just 20 seconds apart."
"I thought I had what it takes to win that year and at the end of the third day I sucked some silt through the air filter and my bike shut off. I heard it happen during the special test, it started knocking, sounding really bad and as soon as I finished the test and let off the throttle, the bike died."
"I told Antii (USA Team manager) my bike had died and I didn't know if we could get it started again. I was trying to work on it and clean the air filter and put it all together to get it started. I ended up pushing it down the pavement and I got it bump-started but it took me like 20 mins to do all that.
"I hauled ass and went as fast as I could to the next checkpoint but was still nine minutes late. I was so mad that I went into that last test of the day and just smoked everybody, I won that test by quite a bit. It was definitely a bummer because I felt I was right there but it's part of the game."
"Then the next year I got wrapped up in all the drama of some course marking issues. Myself, Knighter and some French guys all got sent the wrong where they flipped the course around between day three and four. We ended up going backwards from the day before but they didn't have the arrows all set correct and we ended up getting lost and missing one of the hidden checkpoints that year. Those are kind of my two major ISDE dramas."
Loving the ISDE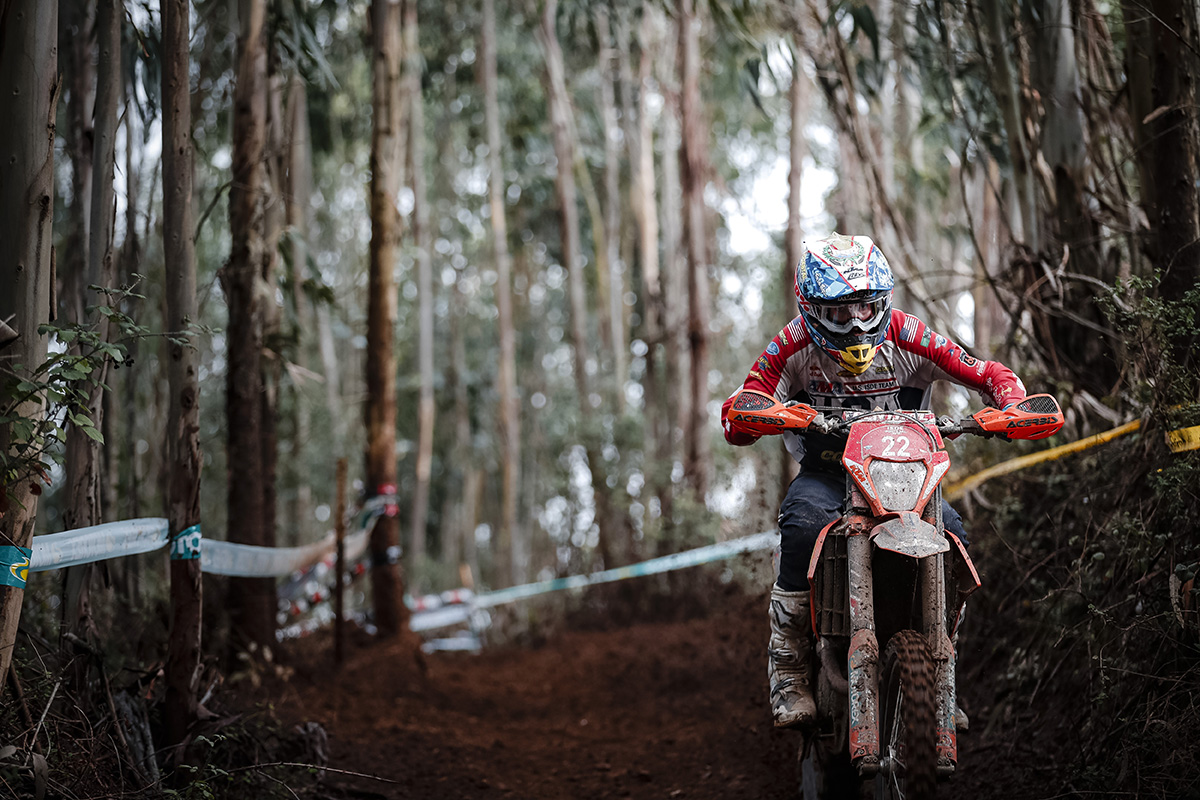 "I love the style of racing at the ISDE and I'm always looking forward to them and representing Team USA. I love the ISDE tests and the style of racing even though I'm probably better known as a desert racer.
"I prefer it when it's at the end of the season rather that what would have been this year (Italy 2020 was set for August 31-September 5). It's stressful because you go there and you're pushing as hard as you can, trying to win every test and you can have some big crashes. When it's after the season it's nice because you don't have to worry about coming back and racing the next weekend."
"ISDE can be tough but it's kind of how ISDE works. By the fifth day, especially if you're not winning, you're like, "What am I doing here? Why am I doing this? I'm not doing it again." And then you finish the race you get back home and everything settles in and you're like, "I think I can do it again next year". I'm definitely keen for another go and looking forward to defending our title in 2021 in Italy."
We need your support
If you've enjoyed this article, if you've found it informative, interesting, entertaining even, please support us.
We want to continue doing what we do, to the best of our ability, serving the enduro and off-road community.
Please consider a donation, every little helps…
Thank you.
Photo Credit: Future7Media