Italian Enduro Championship: Hamish Macdonald victorious at round 3
Results from round three of the 2022 Italian Enduro Championship "Assoluti" national series in Cavaglia where Hamish Macdonald continued his strong 2022 form with the overall win.
Hamish Macdonald has started this 2022 enduro season in impressive form on the CH Racing Sherco. Round three of the Italiano Enduro season saw the New Zealander take his second major race win ahead of reigning Assoluti (Absolute) champion, Wil Ruprecht and Nathan Watson rounding out the podium.
The town of Cavaglia hosted this third round with a 55 kilometre course including a seven-kilometre enduro test, an extreme test and a six kilometre cross test. Organising club MC Azeglio were roundly praised for the course and tests which were typical of Italian enduro.
EnduroGP season fast approaching
The Italian series always attracts the EnduroGP elite and especially at this time of year, as we head towards the May start date for the world championship, the entry list can be a rich one.
It was a tight top 11 of EGP elite riders with every one down to Daniel Milner in the results sheets within a second or so of each other. The exception to that rule was Hamish and his Sherco who set fastest enduro test times and takes away the 24MX leader plate with a total time just under six seconds faster than Ruprecht on the Boano TM.
Check the video highlights in our seperate story: Italian Enduro Rnd3 video highlights – EnduroGP riders getting on their A-game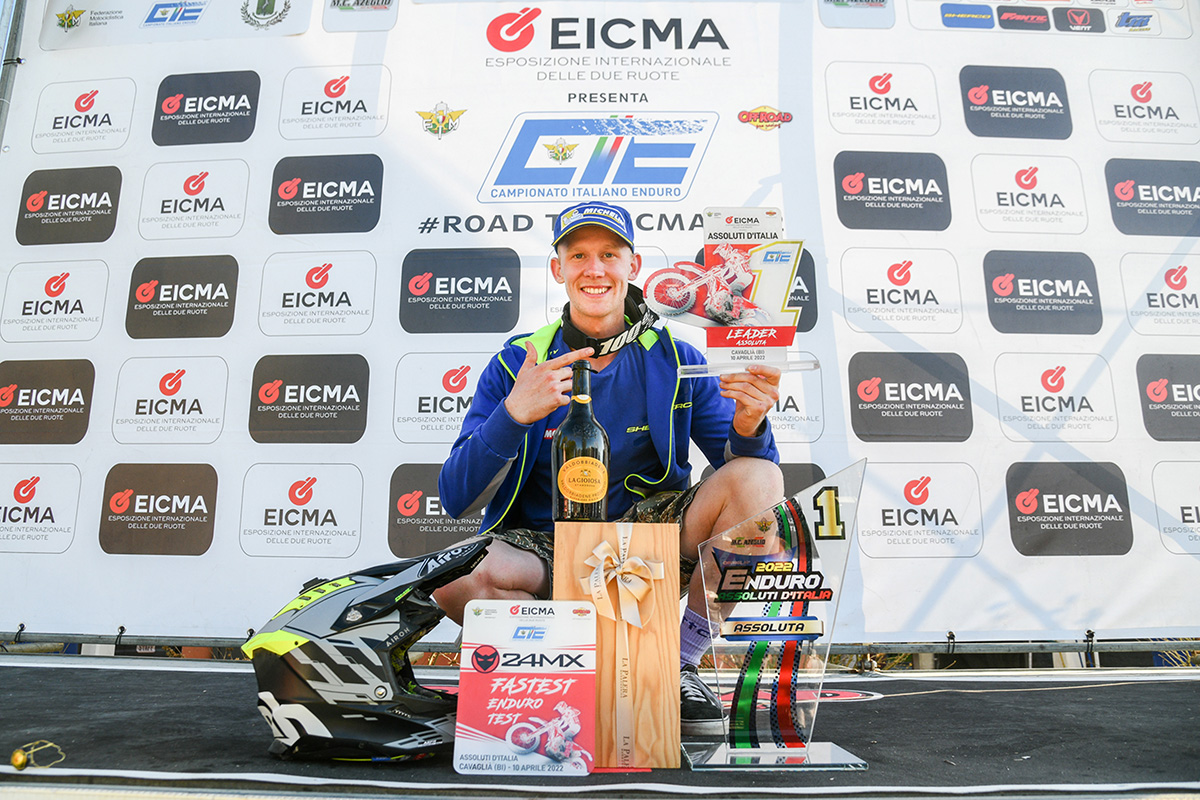 Beta boys back in town
Behind Watson on the RedMoto Honda in third, the Beta Factory Enduro team were back to full strength at this round with both Brad Freeman and Steve Holcombe making their first Italian Enduro appearances of the year.
Freeman is only six weeks out from a badly broken collarbone but clinched fourth overall and claimed the fastest overall combined time in the extreme tests. Not bad going for someone told by his team he "could ride as long as he didn't crash".
Steve Holcombe also made a competitive return to racing in Europe after his GNCC mini-break and though he admitted to being a little rusty back between the tapes, he placed fifth overall sandwiched fractions of a second between his Beta teammate and Andrea Verona in sixth. Verona was the first Italian in the scratch results.
Check down the list of names inside the top 20 for an international star line-up heading to EnduroGP round one in Spain on May 6-8.
Assoluti Italiano Enduro Rnd3 results: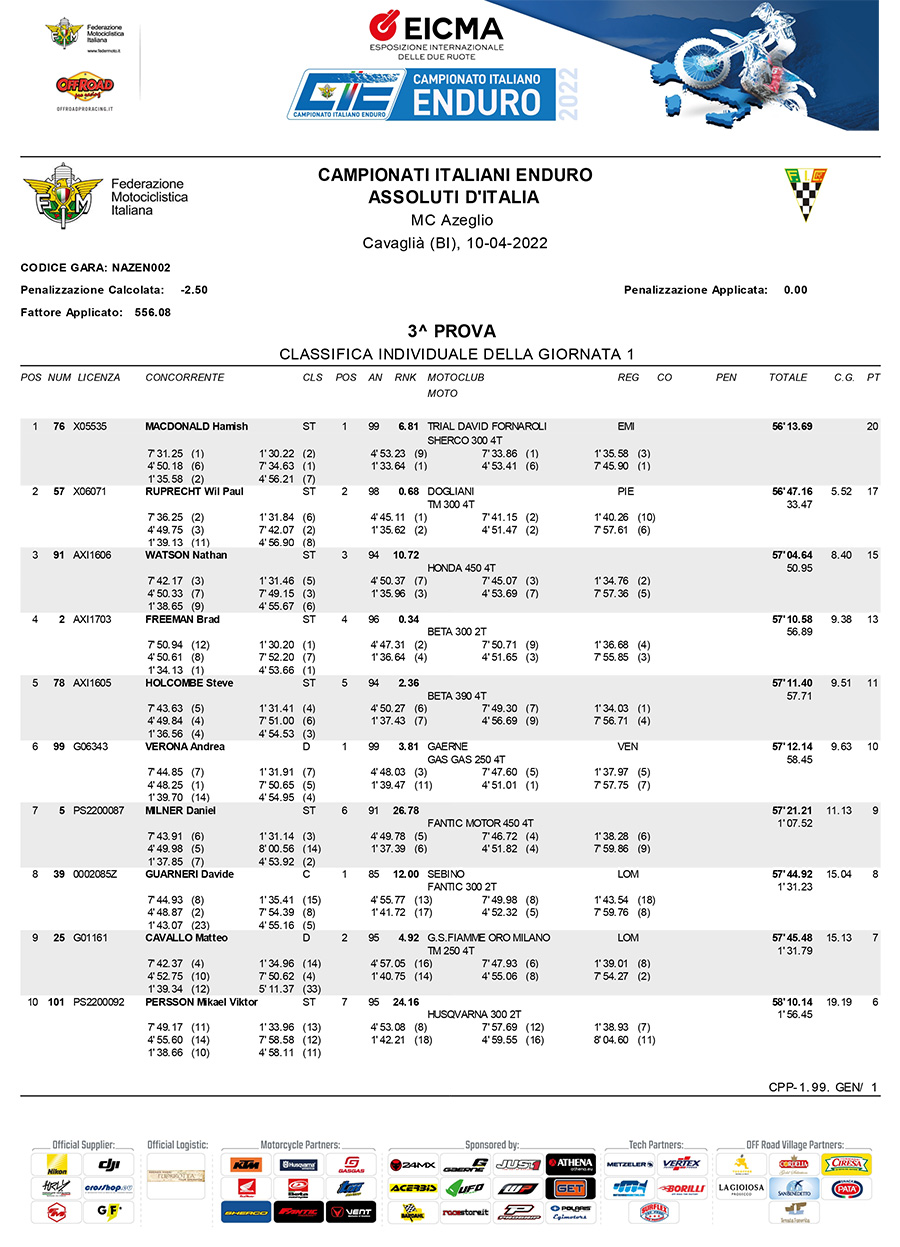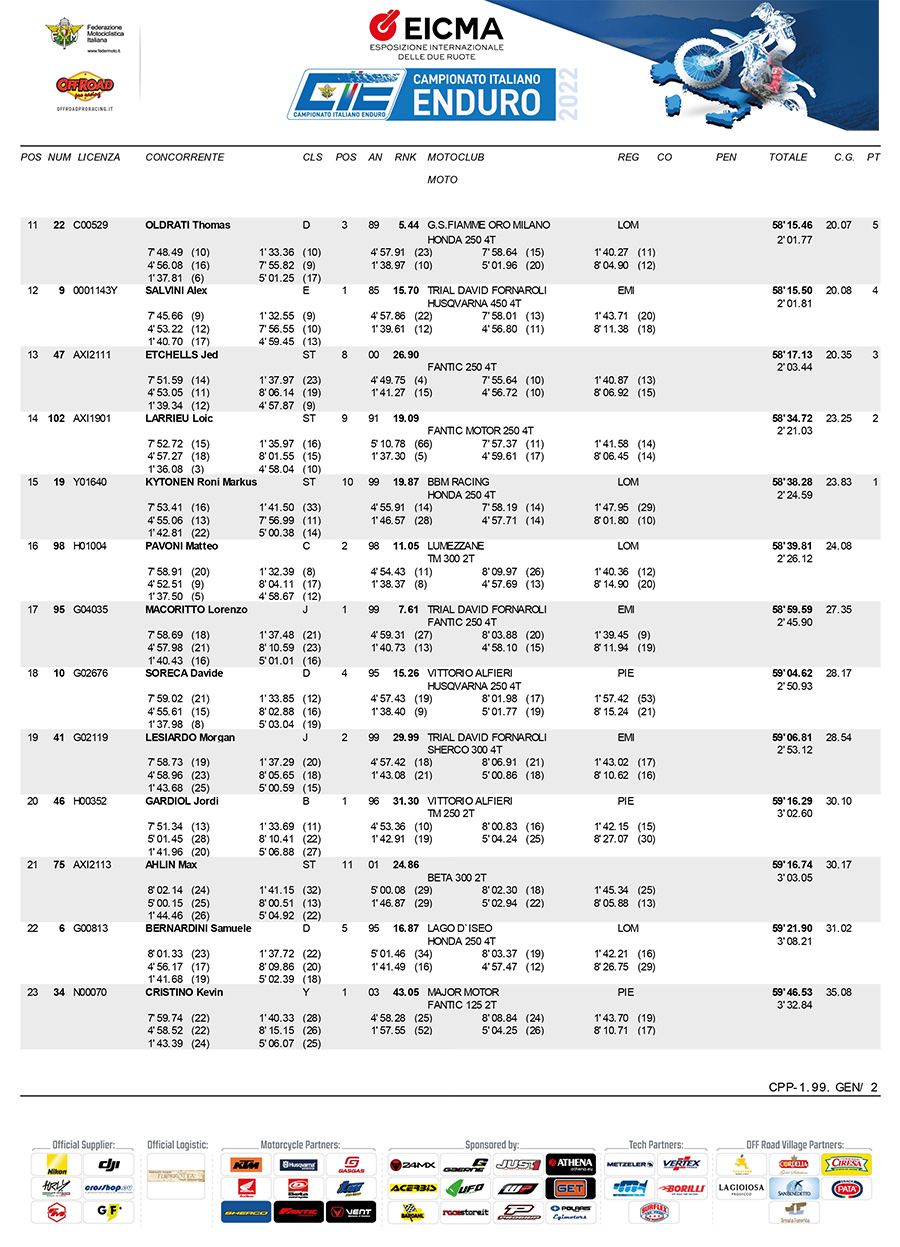 Italiano Enduro Rnd 3 class honours
GASGAS Factory Racing's Andrea Verona won the 250 four-stroke class ahead of Matteo Cavallo (TM Racing Boano) and Thomas Oldrati back on the baby Honda this season.
In the 450 class Alex Salvini took the JET Husqvarna to victory. Deny Philippaerts won the 125s on the Boano TM while the 250 two-stroke award went to Deny's teammate Jordy Gardiol.
Round three proved successful for the Fantic E50 Racing with Davide Guarneri winning the 300 two-stroke category, Lorenzo Macoritto the Juniors and Kevin Cristino taking the Youth class win.
The next Italian round is set for two weeks, April 23-24 in Colliano, just two weekends before the GP season start.
More and full results: enduro.federmoto.it
Photo Credit: Off Road Pro Racing + Beta + Sherco + Honda RedMoto + TM Boano