2022 Spanish Enduro Championship: Josep Garcia tops international podium at round 1
Josep Garcia dominated the results at round one of the 2022 Spanish Enduro Championship, heading an international cast with Hamish Macdonald and Zach Pichon also taking podiums in Puerto Lumbreras near Murcia.
Josep García dominated from the opening Supertest on Friday through two full days across the weekend, despite being only three weeks since surgery from breaking his wrist while racing GNCC.
Apart from one first Extreme Test, Garcia set the fastest time in the rest of the specials to take the scratch and E2 victory on day one by 15 seconds over Hamish Macdonald – on day two that winning margin doubled to 30 seconds.
The New Zealander has raced the first two Italian Enduro Championship rounds and brought strong form to challenge Garcia this weekend in Spain.
Jaume Betriu on the other hand admitted in rhythm for not having competed so far this season. Despite pushing Garcia in Friday's Supertest, the WP Eric Auge rider had to fight for the scratch results although victory in E3 came easier.
"A month ago I didn't even know if I would be here or not," said García. "The goal was to come here and score points, but when I go to the races I like to give it my all. I felt physically well since the Supertest and I have had a very good feeling with the bike all weekend. Yesterday I came out attacking, I opened a gap in the first lap and despite crashing three times in the end I won. Today we started with the same objective and despite some fatigue I was able to win again in scratch and E2."
Check out the top riders on the tools in service after day one...
Sherco boys swarm the podium
Second position on both days went to Sherco Factory Racing's Hamish Macdonald who was also the only rider to set any faster test times than García. One month before the Enduro World Championship begins, Macdonald is making it clear that he wants to be on the EnduroGP podium
"Yesterday was a difficult day for everyone I think," said Hamish. "Normally I adapt very well to the bike and make it go where I want it to go, but yesterday I couldn't do it and I couldn't pick good lines either. In the end I got a good result, although I don't even know how. Today I was more focused and things have turned out better. I'm happy with how the race went and beating Josep in some specials is always good."
Another of the guests stomping in the Spanish series at this round was Sherco new-boy Zachary Pichon, the son of former French motocross driver Michael. Fourth scratch and best Junior on day one, Zach took to the overall podium on day two, just four seconds behind his teammate Macdonald. The Frenchman took the Junior Open class comfortably ahead of Swedish rider Lucas Vagberg.
"It's been a good weekend for me." Said Pichon. "It's the first time I have raced in the Spanish championship and I really liked the specials, there was a bit of everything. Yesterday I managed to be fourth scratch and first Junior and today we were able to repeat category victory and get on the scratch podium, it's great!"
Jaume Betriu was unable to stop Sherco's army on day two and had to settle for fourth scratch and a double E3 win ahead of Marc Sans (fifth scratch) and his teammate, Enric Francisco sixth.
"It would have been nice to do pre-season races," admitted Betriu. "Yesterday it was difficult for me to have race pace and today was a slightly longer day, but it was practically a sprint enduro. I had a small crash on the second lap, but I felt good. Now all that remains is to pick up the pace to be able to have a good world championship and be fighting with García in the national championship for the scratch."
Brothers Sergio and Alejandro Navarro fought all weekend in the E1 category to finish first and second respectively. Third place went to another rider bagging some EnduroGP season training, Antoine Magain.
In Junior 125 class the WP Eric Augé team occupied the first two positions with Àlex Puey and Lluís Gonfaus ahead of Alfredo Pellicer.
Mireia Badia waved goodbye to the first round of the 2022 national season and her first outing on with the Rieju Racing team with a comfortable double victory in the Women's category ahead of Júlia Calvo and Nora Esteba.
Spanish Enduro Rnd1, day 1 scratch results: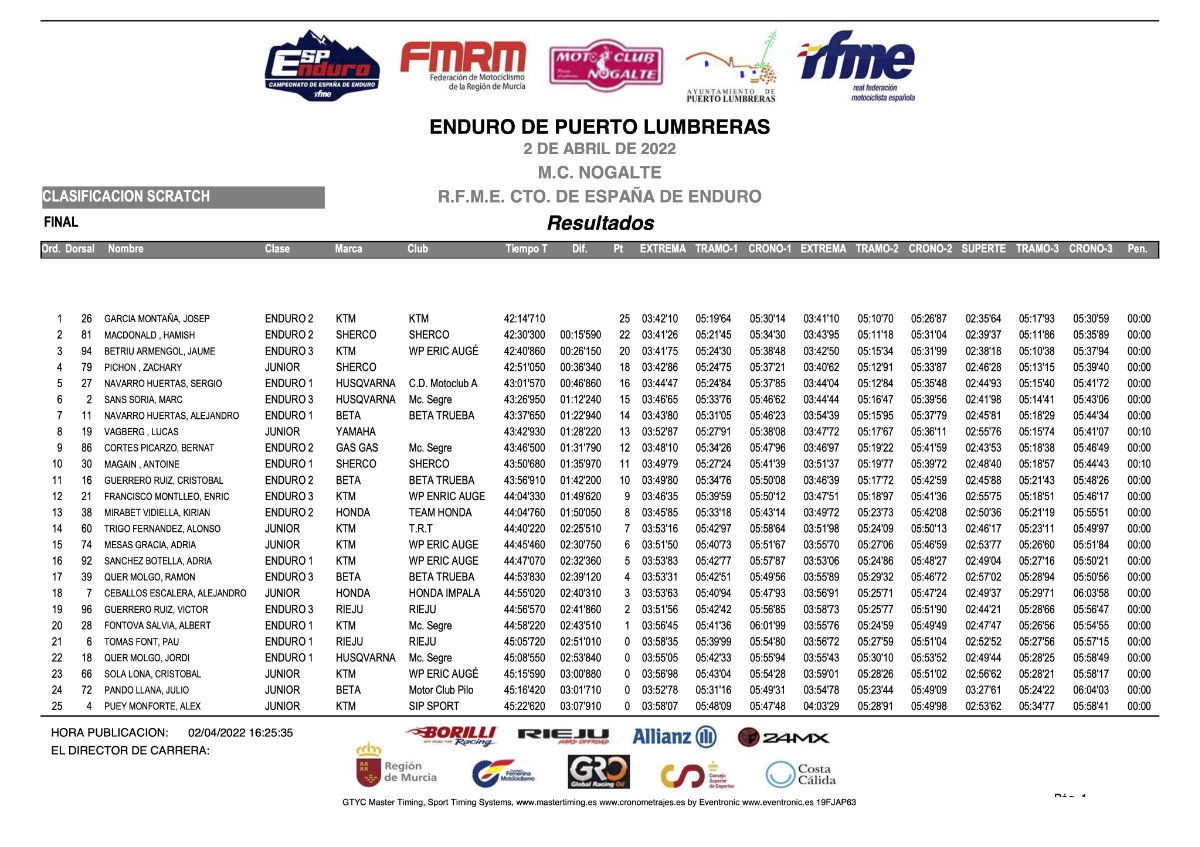 Spanish Enduro Rnd1, day 2 scratch results: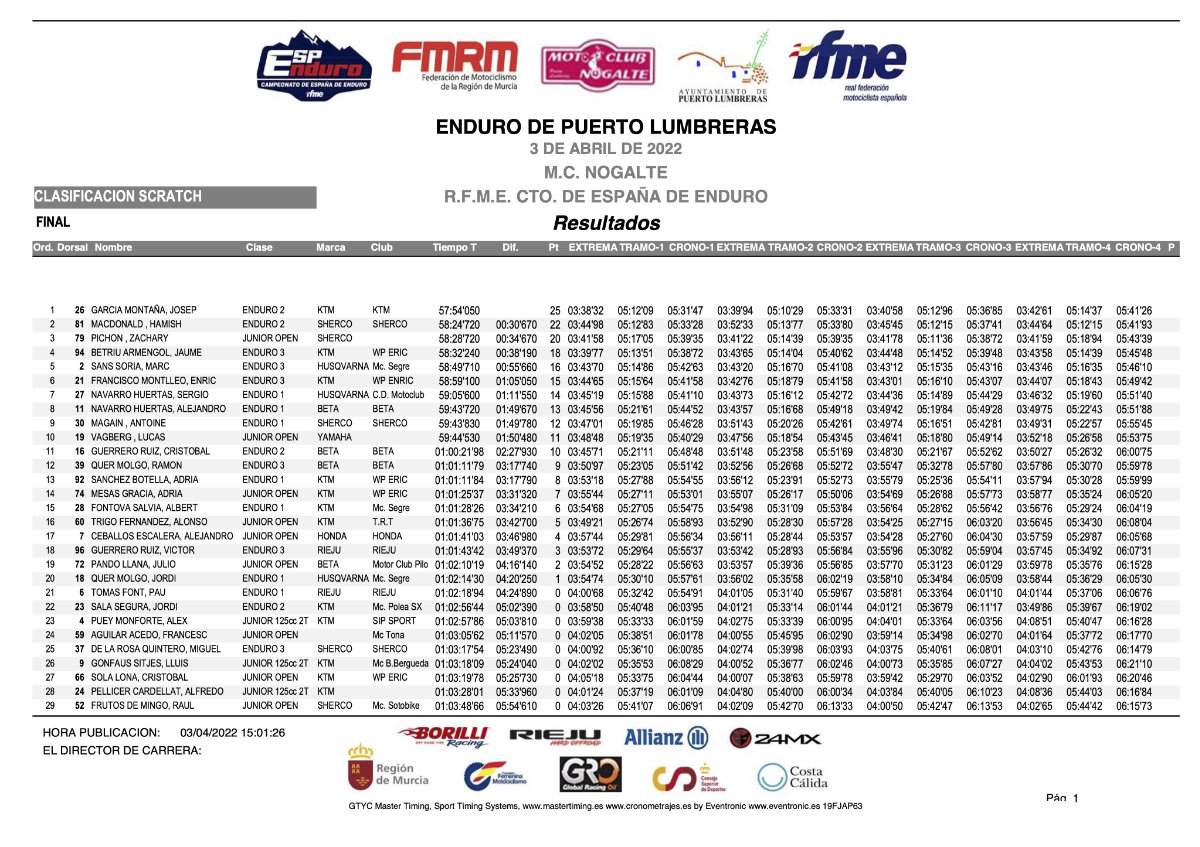 Photo: Future7Media | Nicki Martinez