2021 Japan Enduro Championship: Suzuki in charge of Rnd1 mudfest
Hiroshima hosted round one of the 2021 Japanese Enduro Championship (JEC) where Yamaha's Kenji Suzuki conquered some classic enduro mudfest conditions to take the win despite focusing on competing in the Erzbergrodeo this season.
The number of riders registered for the opening JEC round of the 2021 season exceeded the capacity at the off-road park on the outskirts of Hiroshima. The opening race has been affected by snow in previous years, but cold rain and heavy mud welcomed Japan's best riders this time around.
The special test of around six kilometres tackled once per lap, was in extreme mud conditions. The rain didn't stop as the event progressed and helped the whole event become incredibly challenging even on the seven-kilometre transfer which turned out to be closer to a hard enduro than a rest period.
Yamaha's official rider Kenji Suzuki, recorded the best time from the first lap. 2020 champion Tadashi Kugimura (Beta), who was supposed to be Kenji's main challenger, surprisingly struggled with the bad conditions and ended up retiring due to engine fail on lap four.
The main challenge fell instead to Tsubasa Iizuka on a Sherco who put up a good fight for the win by setting the best time in three of the eight tests. The Sherco rider temporarily reduced the gap to the top by two seconds, but lost time in the final test and had to settle for second place.
Kenji Suzuki says he was surprised with the win because his focus is more on hard enduro this season: "I wasn't aiming for a win at JEC this time because I'm focusing on hard enduro this year. But I felt in good shape since the morning tests and managed to take the win." Kenji plans to participate in the Erzbergrodeo, round two of the 2021 FIM Hard Enduro World Championship in June.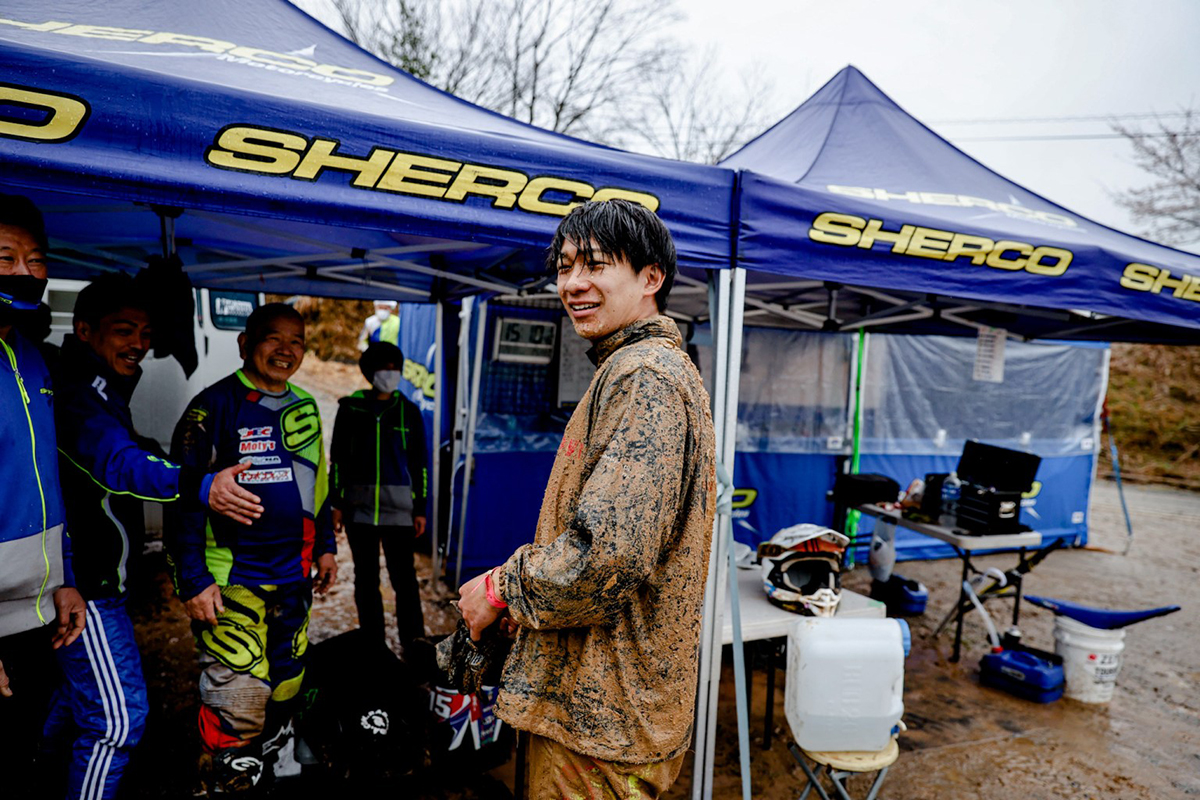 Second place went to Sherco Japan's Tsubasa Iizuka who was disappointed with his overall results after losing time in the final test. "I was attacking from the morning but I could not get the good rhythm on the bike. I was able to catch it in the end from the middle and the Sherco four-stroke is pretty good in heavy conditions like today..."
The final step on the podium went to Yoshikazu Hosaka, a good debut for the new GASGAS Japan team.

A-class results:
Kenji Suzuki, Yamaha YZ250F, 1:31:17.16
Tsubasa Iizuka, Sherco 300SEF-R FACTORY, 1:32:19.52
Yoshikazu Hosaka, GASGAS EC250, 1:33:40.91
Yukihito Ota, KTM 250EXC-F, 1:35:21.99
Ryousuke Enokida, Yamaha YZ250FX, 1:39:58.68
Yutaro Uchiyama, Yamaha YZ250FX, 1:39:58.70

B-class results:
Tomoya Suzaki, Kawasaki KX250SE, 1:23:33.22
Yohei Tominaga, Honda CRF250R, 1:30:57.64
Kunihiro Tsukihara, Yamaha YZ250FX, 1:37:43.94
Hiroyuki Tanaka, Sherco 300SE-R, 1:38:13.16
Kouhei Wada, Kawasaki KX250, 1:42:25.59
Koutaro Kusaki, Husqvarna TE250I, 1:44:55.48

Women's Class results:
Asuna Hosaka, Kawasaki KX100, 1:20:59.13
Ayako Wada, Kawasaki KX100, 1:24:07.48