Spanish Enduro: Betriu beats Garcia in Castellón
The Spanish Enduro Championship finally nailed its second event of the 2020 season at the Enduro de Cabanes in Castellón and the resurgent Jaume Betriu – fresh from recent EnduroGP success – landed himself the overall victory.
Jaume Betriu dominated the dry tests at the Enduro de Cabanes on his big 500 KTM ahead of the normally untouchable Josep García and continues to shine in a season where traditional enduro was not originally part of his grand plan. The Coll de Nargó rider, who was highest placed rookie in the 2020 Dakar Rally, also took the E3 category ahead of Marc Sans.
After three months off the bike due to a ligament injury in his wrist, Red Bull KTM's Garcia suffered from a lack of rhythm and fatigue he says in his second race of the season after lockdown. Even so, P2 overall and the E2 win ahead of Victor Guerrero was a strong result for García in terms of the championship with one round remaining.
Sergio completes orange podium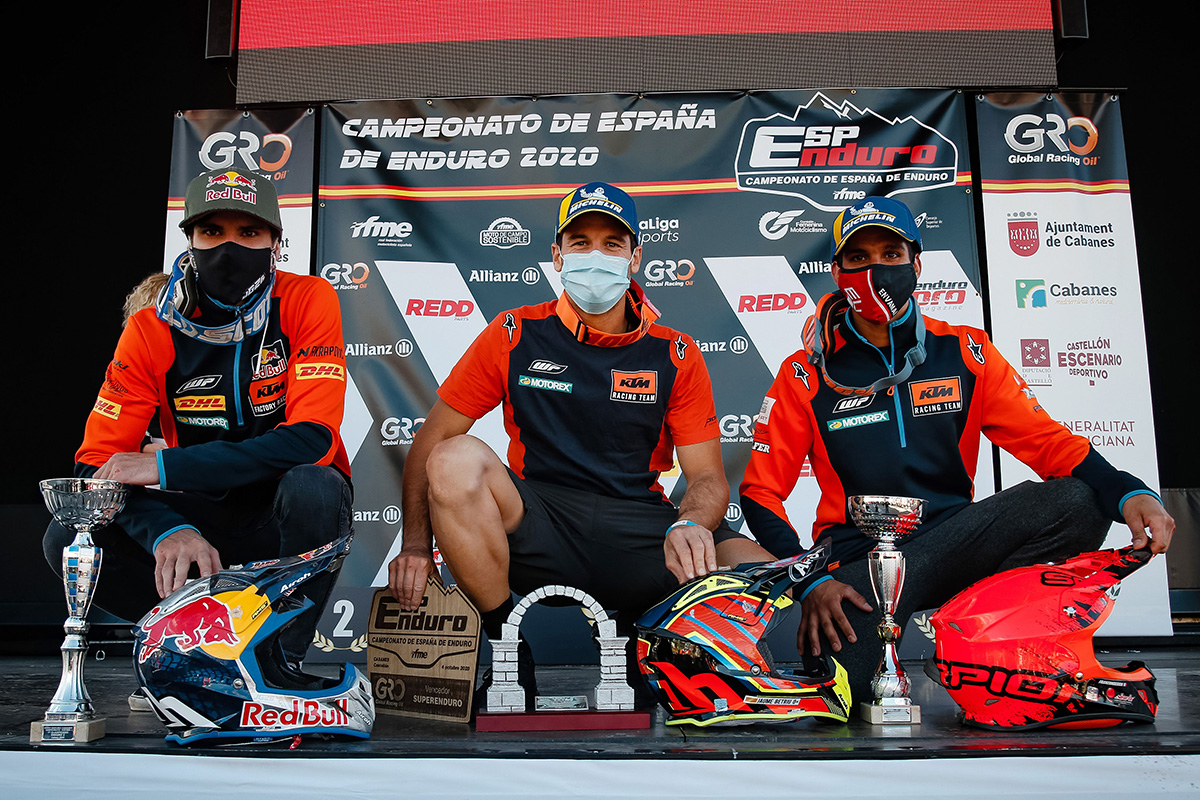 Sergio Navarro again dominated the E1 category in Castellón and also rose to take third place in the general classification behind Betriu and García, thus completing a 100% KTM podium in this second round of the championship.
The next round of the Spanish Enduro Championship will take place in the Asturian town of Infiesto, on the weekend of October 17 and 18.
Scratch classification:
1. J. Betriu (KTM), 1:02:55'76
2. J. García (KTM), +0:10'37
3. S. Navarro (KTM), +0:15'59
E1 class
1. Sergio Navarro (KTM)
2. Alejandro Navarro (Husqvarna)
3. Pau Tomás (Beta)
E2 class
1. Josep García (KTM)
2. Victor Guerrero (Husqvarna)
3. Miguel de la Rosa (KTM)
E3 class
1. Jaume Betriu (KTM)
2. Marc Sans (KTM)
3. Enric Francisco (Sherco)
2020 Spanish Enduro Championship points:
1. J. García (KTM), 72 points
2. J. Betriu (KTM), 69
3. M. Sans (KTM), 56
Photo Credit: Enduro21 | Nicki Martinez