Say what? Pro class riders explain their SuperEnduro night in Poland
How was your night? The leading Prestige (Pro) class riders explain how their race nights went at the opening 2022 SuperEnduro World Championship round in Poland…
P1 overall – Billy Bolt
Three points for the fastest Superpole time and three times 20 points for each moto win, Billy Bolt's season couldn't have started any better. He is the world champ of course, and his title defence has been a long time coming, but Bolt's performance on the opening night of the SuperEnduro season will come as a wake-up call for everyone else lining up for the rest of the season.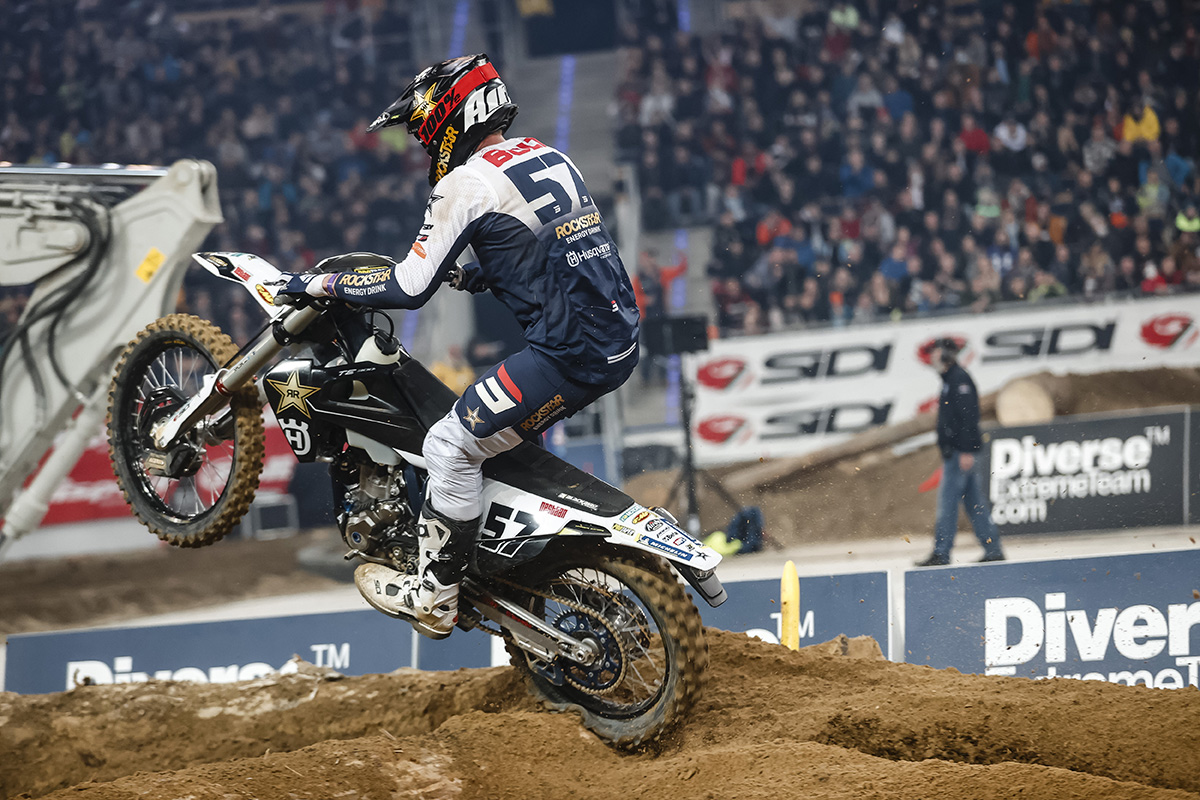 "That was a very good night." Said Billy at the podium. "I started off a little bit rusty to be honest. I haven't had quite enough bike time as I'd have liked in the last two weeks, and it definitely showed – my timing wasn't too good or where it needed to be in the first two races.
"But it was good enough to get the job done in those two and then I could put on a show in the final race – I was really, really happy with my bike and my riding in the last race and it's just a shame we've got to wait six weeks or so to go and do it again. But overall I'm happy to be back racing SuperEnduro and good vibes!"
How Bolt stole the second moto win away from Haaker…
P2 overall – Manuel Lettenbichler
Mani Lettenbichler made his full-factory KTM SuperEnduro debut in Poland, and it's fair to say he didn't look the most confident rider in the pits before the night's action got underway. But the German proved the most consistent 'best of the rest' pilot and ended the night standing next to his Hard Enduro World Championship rival on the indoor podium…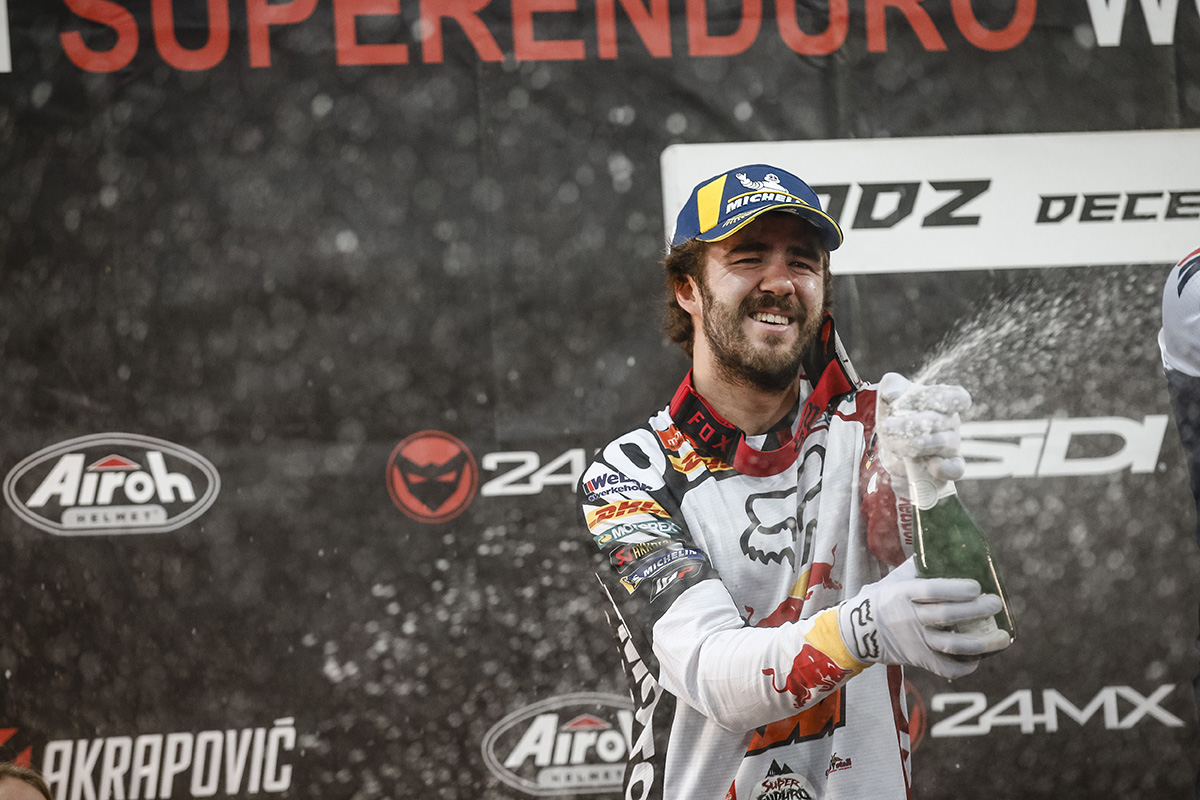 "It was tough man!" explained Mani, "I'm pretty happy that everything went good because I hurt my wrist a couple of weeks back and I wasn't sure I could ride. I need to give a big thanks to the physio guys who have helped me get here.
"The races were good, solid and I was actually surprised at my performance today. Finishing second in the first and third motos was awesome. Returning to racing indoors, I wasn't sure what to expect in terms of my performance but overall, I'm pretty happy."
P3 overall – Colton Haaker
As the only rider to (almost) take a moto win away from Bolt, Colton Haaker brought his 2021 EnduroCross winning form across the Atlantic but says he wasn't sure how it would stack up against the European riders. Answer: not so badly Colton!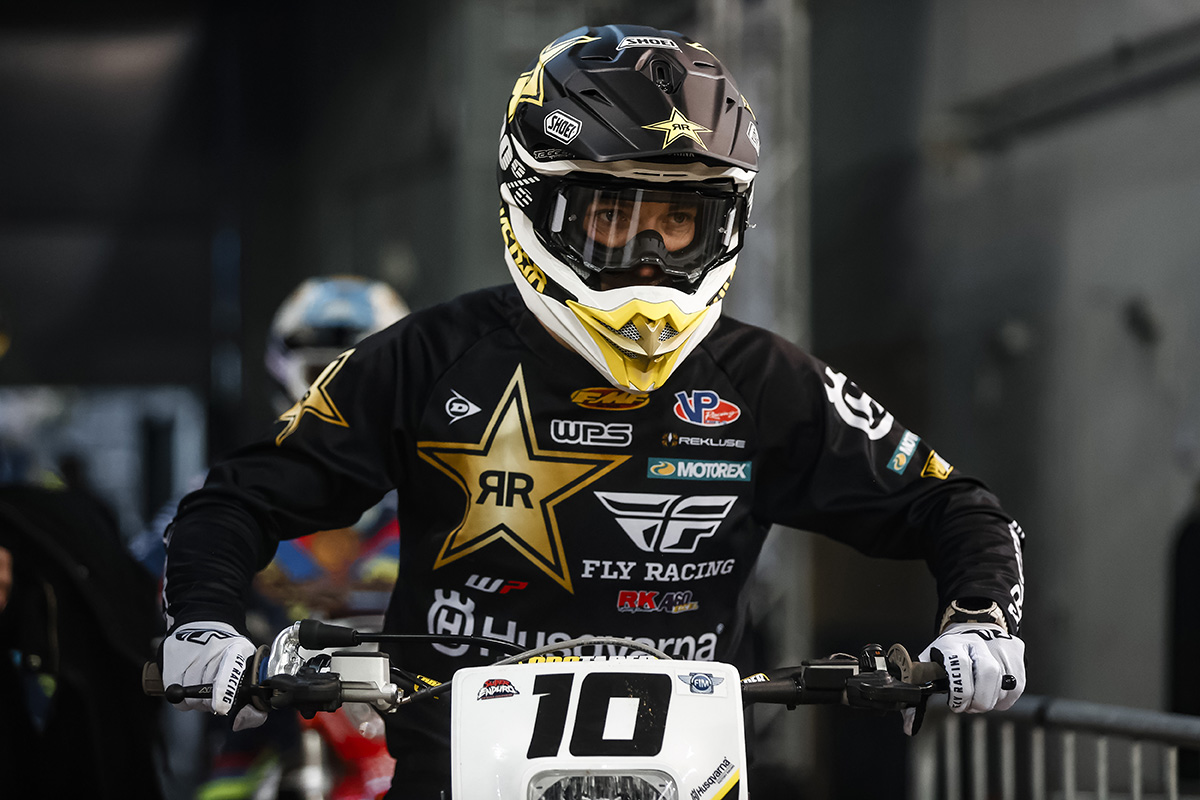 "You know, it was tough out there." Commented Colton. "It was a tough track and I'm happy but at the same time it is hard to go out there and get a fifth. But you can only do what you can and that's all I had tonight, I gave it everything I had.
"I made some mistakes and almost took the win in the second moto but didn't quite dial in the last couple of laps and hit my lines.
"I'm stoked for the other guys, you know, Billy and Mani the young guns…it's all good man. I look forward to Israel."
P4 overall – Jonny Walker
We said it in our results story last night, but Jonny Walker almost went unnoticed at the GP of Poland. But for Haaker's final pass in moto three, Jonny would have been on the overall podium.
Any question marks about whether the Beta two-stroke would be a match for the 4T bikes all around him were kind of answered by a 3-3-5 scorecard. Despite getting a handlebar in the groin after a Superpole crash, Jonny went on to prove two-stroke can stick it in there with fourth overall narrowly behind Haaker.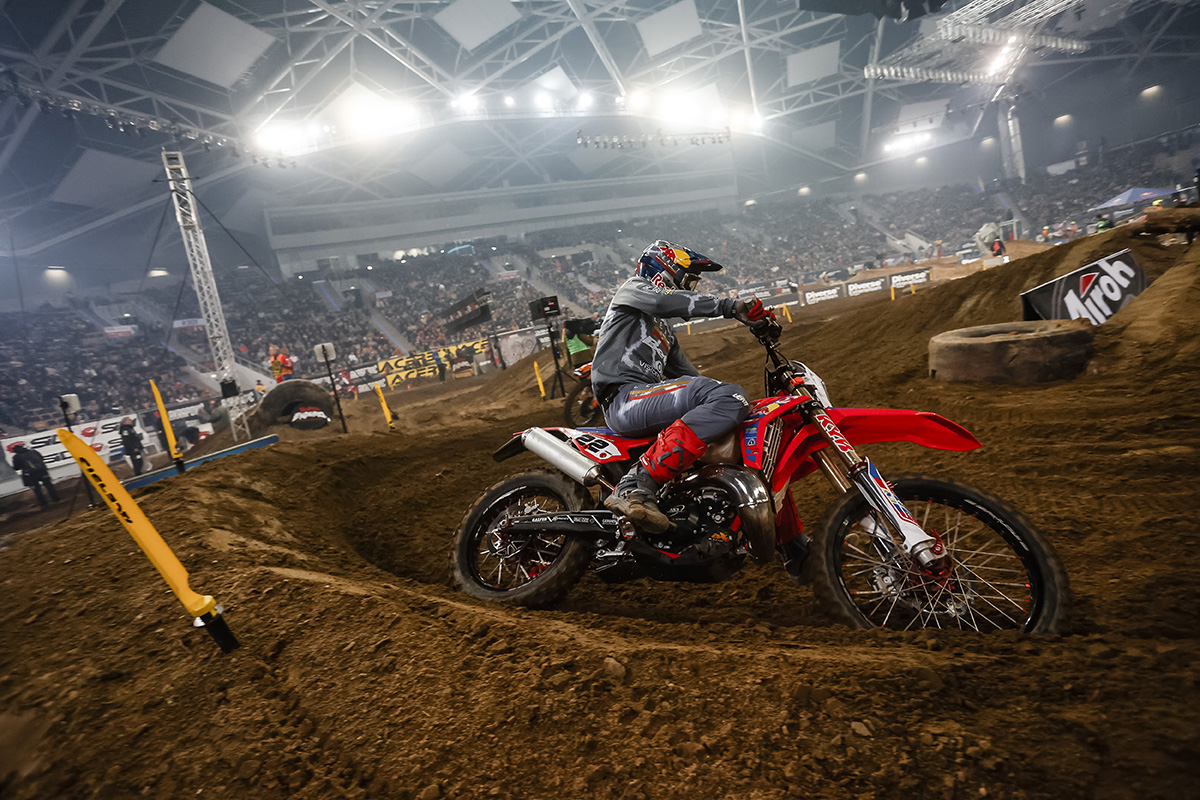 (Unfortunately Enduro21 did not catch a word with Jonny).
P5 overall – Taddy Blazusiak
Taddy Blazusiak has been the star of every Polish SuperEnduro round for more than a decade now. The crowd love him, his determination to give it everything and the way he always ramps it up a notch bouyed by the Polish cheers.
But a bad start here, a couple of mistakes there plus lady luck blowing against him meant the podium result just didn't come for Taddy, no matter how hard he tried...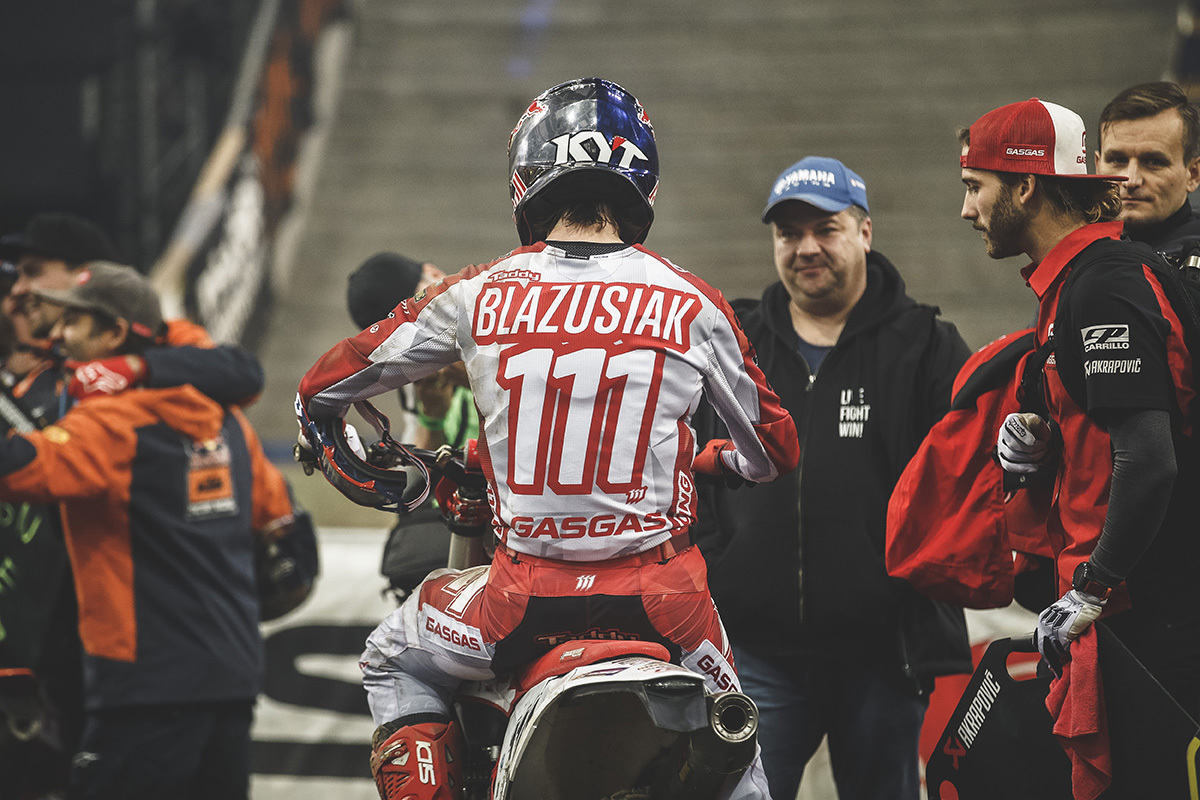 "The race didn't really go to plan, didn't really come to us, you know?" Taddy explains. "I felt really good – the speed was there, the bike was awesome, fitness was good, my shoulder was quite good – and then I just kept crashing.
"If it wasn't my mistake when I crashed it was someone else landing on me and it feels like the luck wasn't on our side.
"The speed was there to be top three; it wouldn't have been easy but it was there and I felt like I had race winning speed but it is what it is. Let's get back to work and we'll try again at the second round."
P9 overall – Cody Webb
Speaking of lady luck, Cody Webb will look back on the opening round of the 2022 SuperEnduro World Championship and put it down to "experience". In the bumping and barging contest off the startline, Cody got muscled out or lucked out in all three motos. In race two he got caught in turn two and inadvertently whiskied his bike off the track.
In the first and third motos he hit the deck at turn one, almost the same spot of dirt in fact, and when Pol Tarres unavoidably ran over his leg, Cody threw in the towel on a dire night in Poland…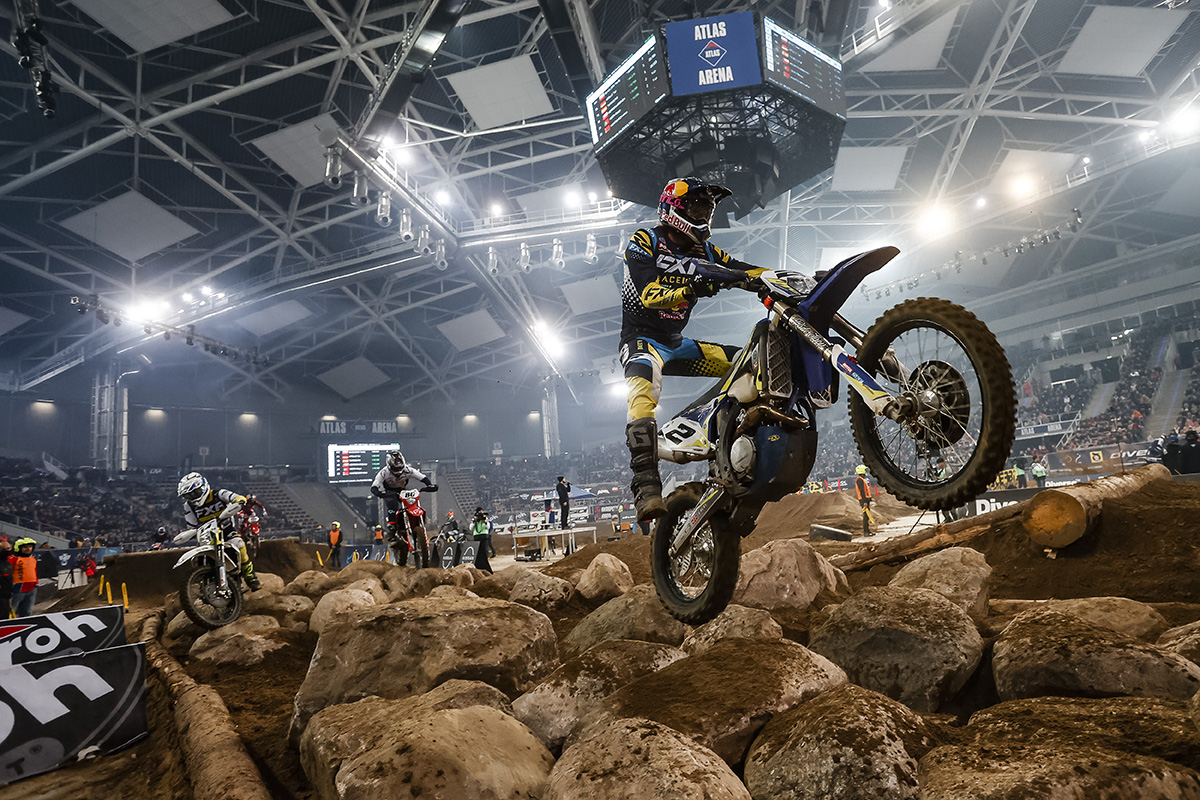 "That was a very tough first race back in SuperEnduro for me." Said a dejected Webb. "I don't think I've ever had so many bad issues in one night before.
"The first moto I went down off the start but got back up and was behind Taddy and following him round and then fell over jumping in the rocks and got my foot stuck. I lost everything I gained. I stalled it three times or something and pretty much gave up and I never give up.
"Second moto I got through the first turn clean but a guy crashed right in front of me and I hit his bike, losing almost all control and it threw my bike into a camera…the rest of that race I rode fine coming from last to fifth. I felt like I was matching the pace of Mani in front but just couldn't quite catch up to him.
"In the final race I went down again in the first turn and obviously it was an accident but Pol rode over my bad ankle and I got up, it was hurting a bit and I was like, 'I'm done, I can't do anything tonight'. I look forward to the next round and actually getting some real riding in."
SuperEnduro round 1 overall results: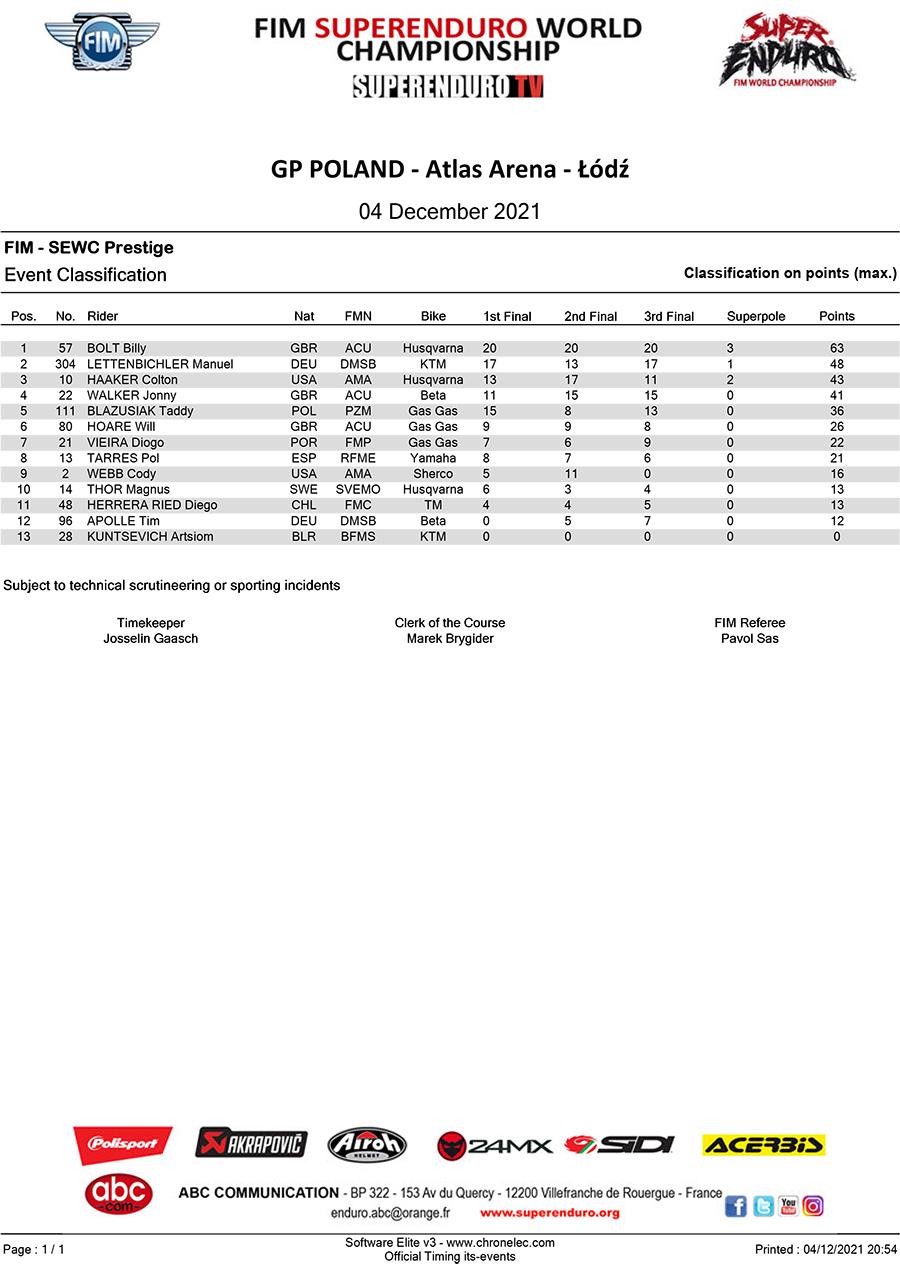 Round two of the SuperEnduro season lands in Jerusalem, Israel for the first time ever on January 20, 2022.
Photo Credit: Future7Media | Andrea Belluschi