SuperEnduro World Championship title No3 for Billy Bolt this weekend?
Billy Bolt stands on the verge of a third consecutive FIM SuperEnduro World Championship crown this weekend in Poland, moto one could seal it from Jonny Walker – the fight for third between former champions Cody Webb and Taddy Blazusiak, plus the Brightmore brothers scrapping for Junior honours, is where the intrigue lies this weekend in Gilwice.
It ain't over until the fat fella sings but the truth is you could have bet your house on this not-so mystical prediction coming true last December 10. Since the opening round of hte season, Husqvarna Factory Racing's Billy Bolt has ticked off a near 100% record of Superpole fastest qualifying laps and heat wins to take the overall victory at each round – Krakow, Riesa, Budapest and Jerusalem two weeks ago.
Literally no-one has had an answer to his elevated skills on the man-made indoor courses with only mistakes bringing dropped points in just one moto across the entire season. It's some record added to by the 100% winning record in Superpole.
Check the technique in Billy's Superpole lap from Germany...
The facts are Billy needs to just finish in front of Jonny in moto one on Saturday to sew up the title thanks to a 36 point advantage. But in sport we are always obliged to point out, while it is incredibly unlikely, it is still mathematically possible for Walker to win while 20 points for each race win (and three for a Superpole fastest time) are up for grabs.
It would require Bolt to have an absolute nightmare, including at least one DNF we reckon, but it is mathematically possible.
Walker the handyman
For his part, Jonny Walker came into the 2023 SuperEnduro World Championship not far off his EnduroCross championship winning run and has formed Bolt's clearly biggest rival. He was the only rider to take a heat win all year, race two in Germany for the record, and but for the opening round's mistake, has also pushed Bill closest in Superpole hot laps, though never close enough by his own admission.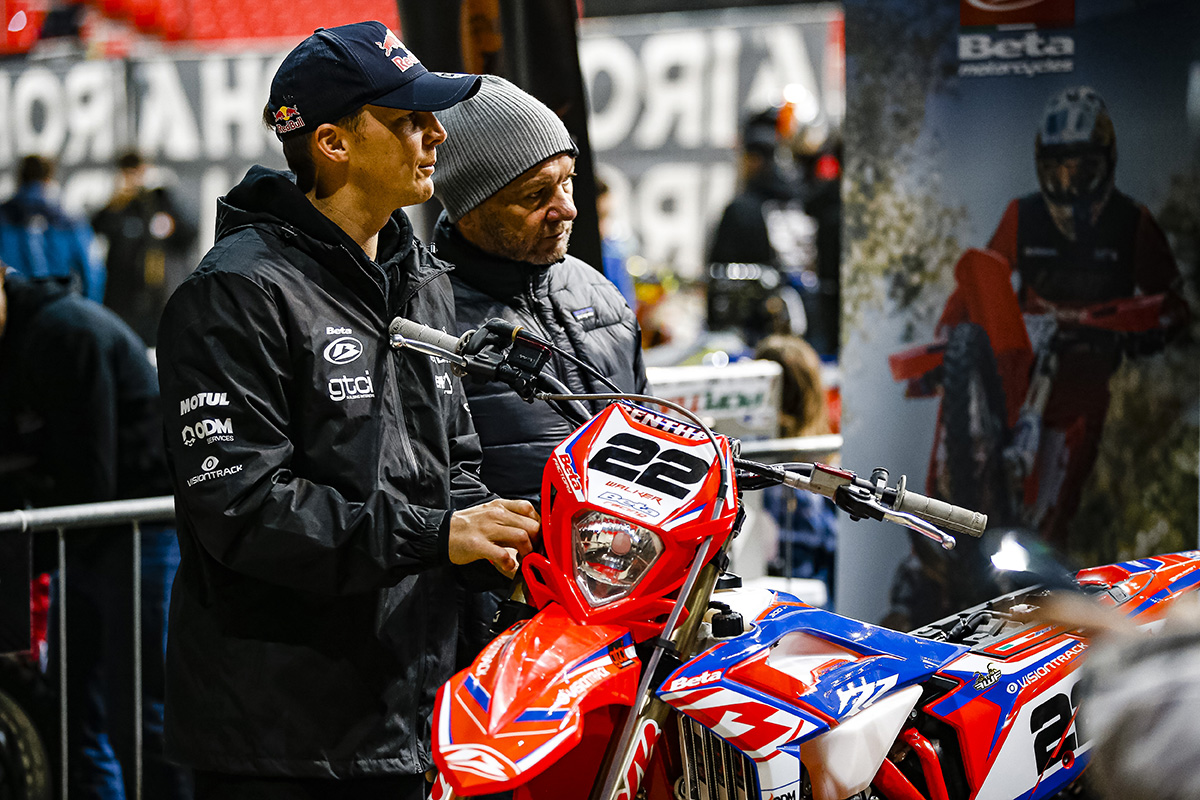 All this on the unfavoured two-stroke and while often running his own show, prepping his own bike and with none of the factory feel half the rest of the prestige class are afforded. That doesn't just mean the mechanicing of the bike but all the physical and mental prep others put time into on a race day. He's hardly a privateer like the rest of us but Jonny is proving very handy at DIY.
All to play for between Taddy and Cody
All is very much to play for the third spot on the podium between Cody Webb and Taddy Blazusiak. They have shared third places on the podium all season but Cody had the upper hand in the title chase until the very last moto in Jerusalem last time out when his Sherco engine expired. It brought Taddy right back into points contention, just three separate the two vastly experienced riders and former world champions.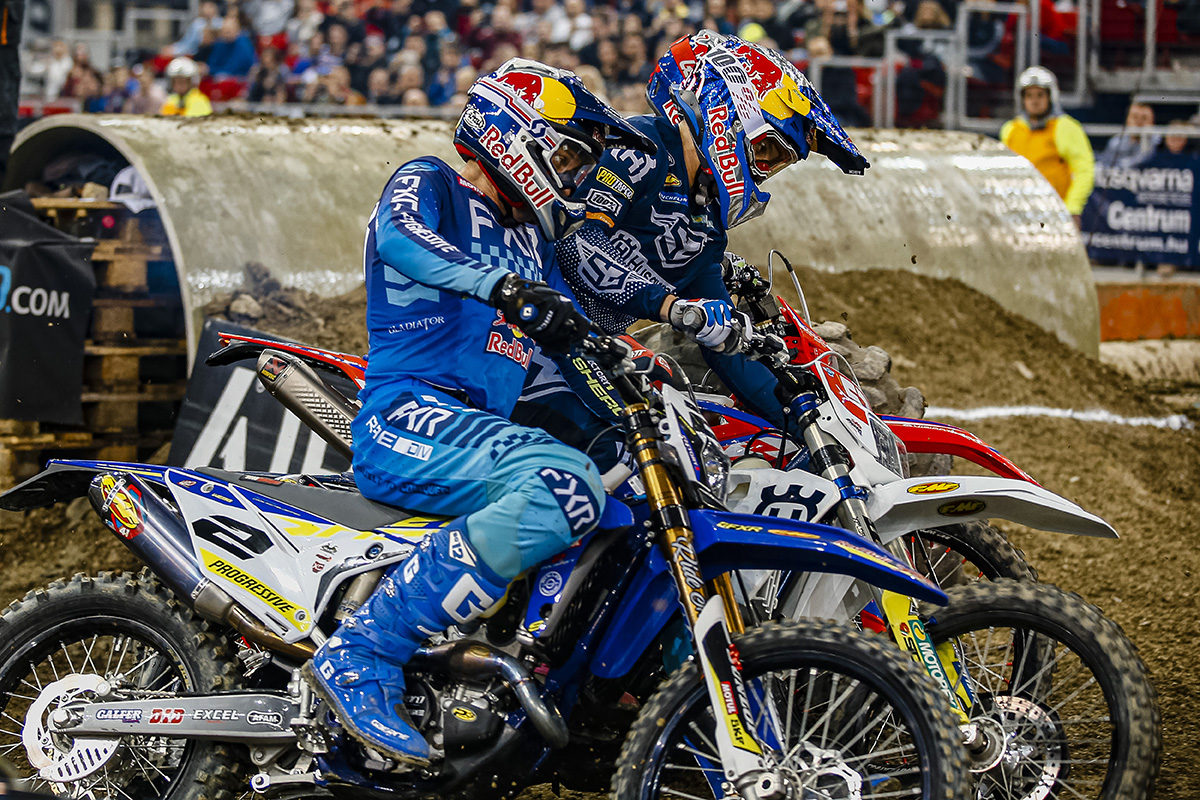 Whoever beats the other will take third in the 2023 world championship and the always enthusiastic Polish crowd will certainly be making some noise for their legendary homeboy on Saturday.
Fast facts:
Billy Bolt has won 11 of 12 races this season, if he goes three from three this weekend that will match his record (one race win dropped) from the 2022 season.
Taking three world championships would put Bolt level with Colton Haaker (also on Husqvarna) and second only to Taddy Blazusiak (six) for SuperEnduro titles.
Jonny Walker has been on the overall podium eight times in the last 10 years, though has never won.
Since the series started in 2007/2008 season, Taddy has either won or been on the overall podium every year, with the exception of a couple of seasons where he "retired" (yeah, right Taddy!) plus last season when he broke a wrist and was forced out of contention at the final round.
2023 SuperEnduro World Championship points with one round remaining: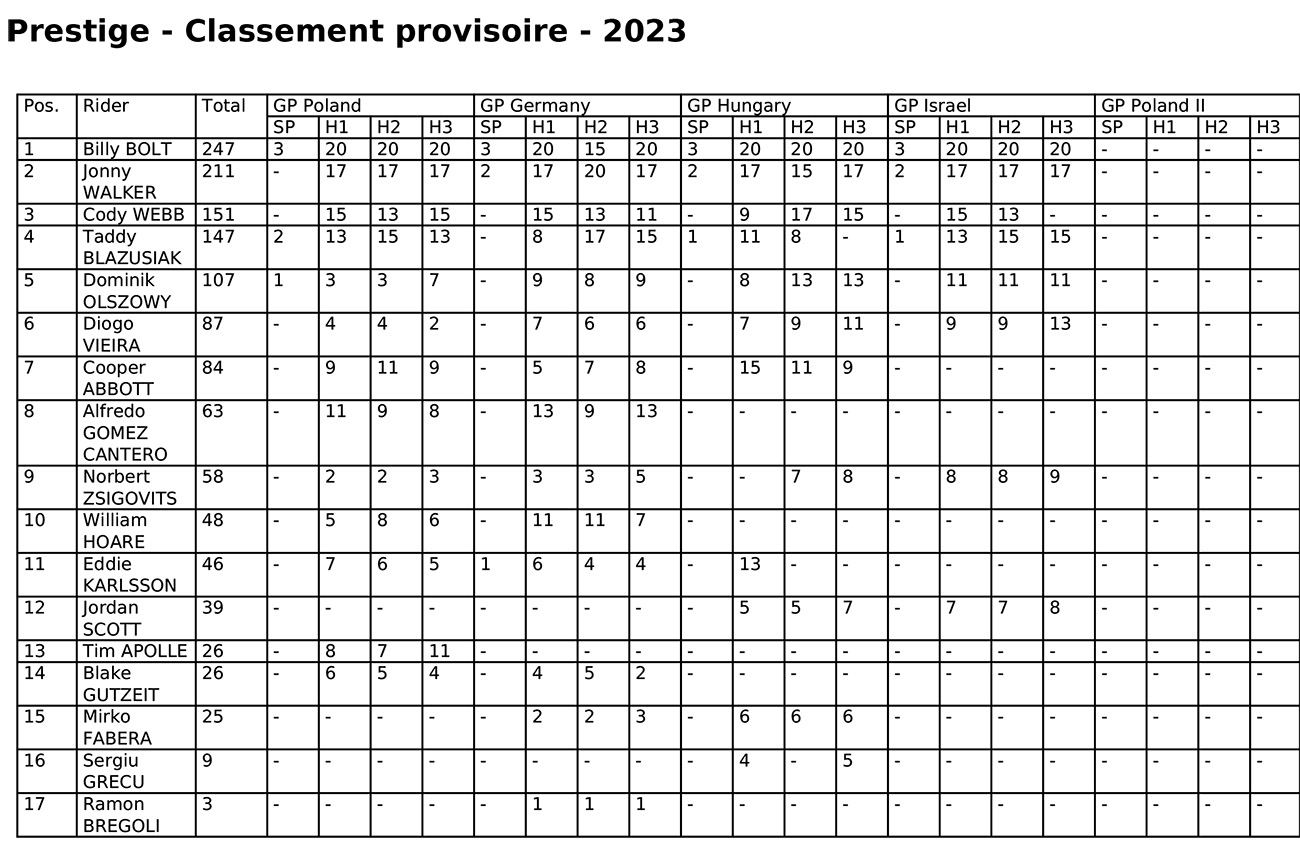 Junior title heading to one house, whoever wins…
It remains remarkable fact to write down but the two biggest rivals for this year's SuperEnduro Junior World Championship title are in fact from the same house in Northern England.
The brothers Brightmore, Mitchell and Ashton are separated by just six points as the Juniors wrap up their season on Saturday.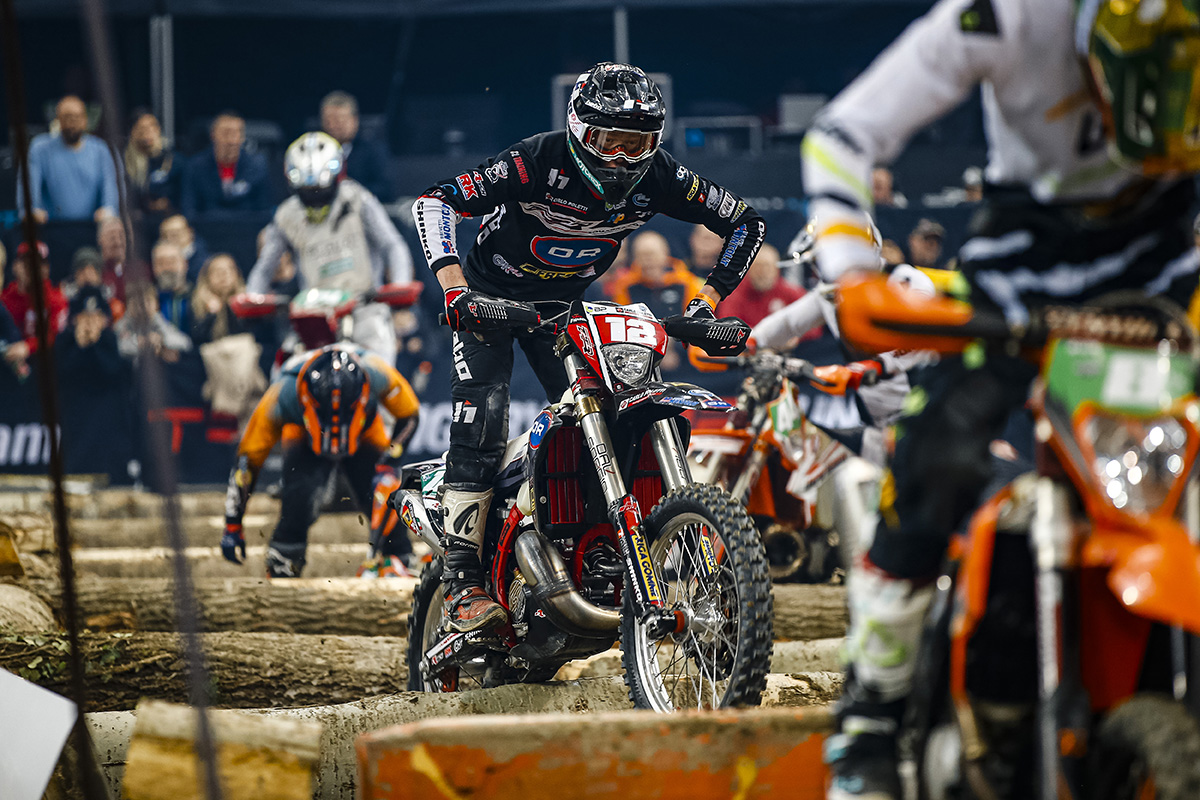 Mitch leads the way after taking the overall win in Krakow at the start of the season but his brother Ashton got into his stride at the next round in Riesa and went onto top the podium consecutively in Budapest as well.
German Milan Schmueser and Spaniard Raul Guimera will both play a roll this weekend. With Schmueser only 10 points behind the Brightmore battle, he can still win but would need a double nightmare night for the brothers. Either way this race for the title will make fascinating viewing.
2023 Junior World Champoinship points with one round remaining: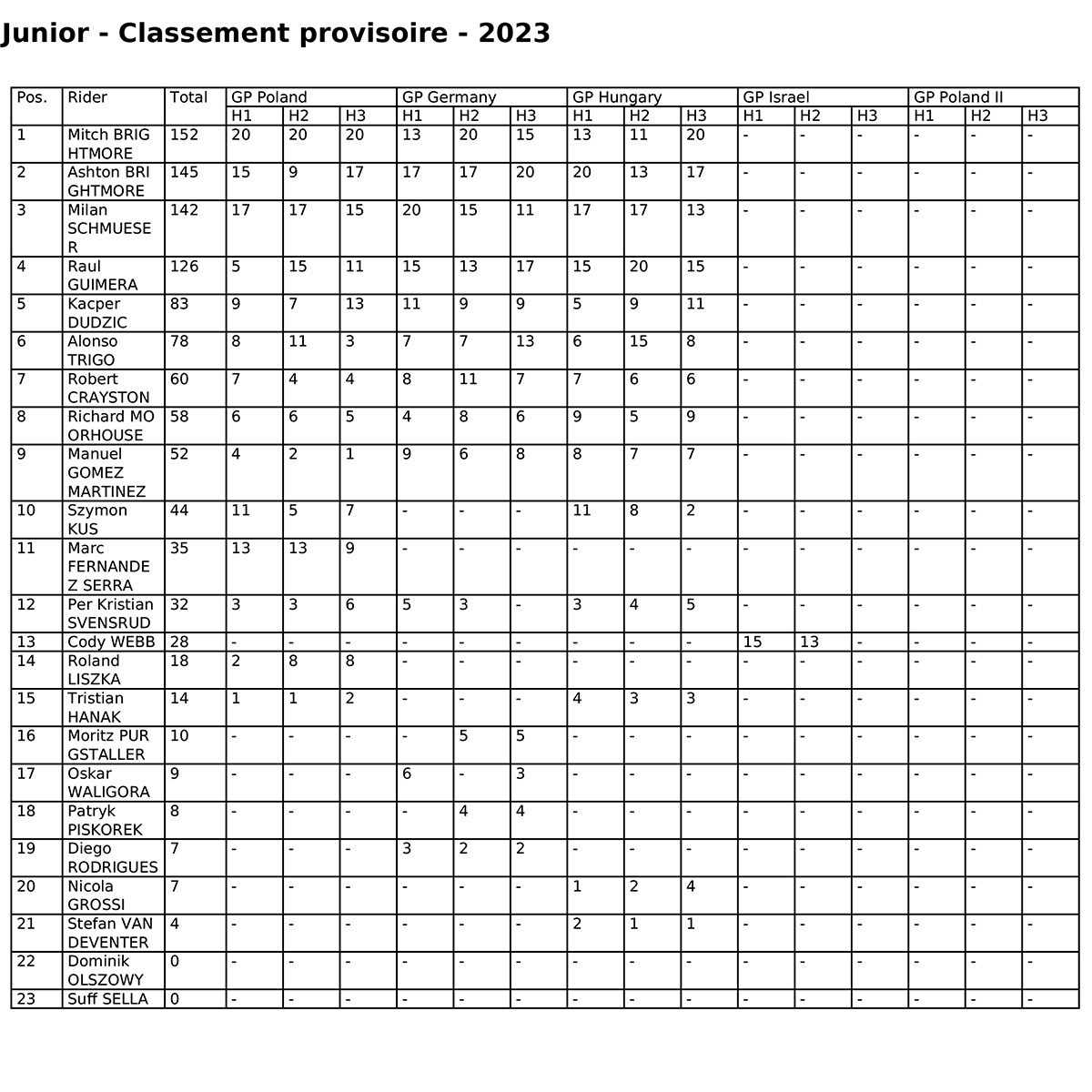 Photo Credit: Future7Media