Tarres, Meo, Mirabet Adventure bike battle at Bassella – move over Jonny
This weekends Spanish outdoor enduro season opener, the Bassella Race 1, will feature the biggest adventure bike showdown ever with Pol Tarres, Antoine Meo, Oriol Mena, Kirian Mirabet, Gerard Farres and Joan Pedrero all pitching into the Maxi Trail class on big bikes – get your phones ready.
The 2023 Bassella Race 1 has 1229 registered riders this weekend, February 10 to 12. The annual off-road festival which traditionally opens the Spanish outdoor season in the Catalan Pyrenees pitches a full weekend of Xtreme racing on Saturday and a long lap, XC-style enduro on Sunday.
Former Xtreme race winner Jonny Walker is signed up for Saturday and a host of EnduroGP riders will line up with 600 others on Sunday morning.
But closer attention to the Maxi trail category reveals a high-profile "influencer" showdown between Pol Tarres, Kirian Mirabet, Antoine Meo, Joan Pedrero, Gerard Farres and Oriol Mena.
The big guys in the Maxi Trail class will bring Yamaha, Honda, Ducati, Harley Davidson, Macbor and Morini Adventure motorcycles to the races. Who's your money on there? Get your phones ready…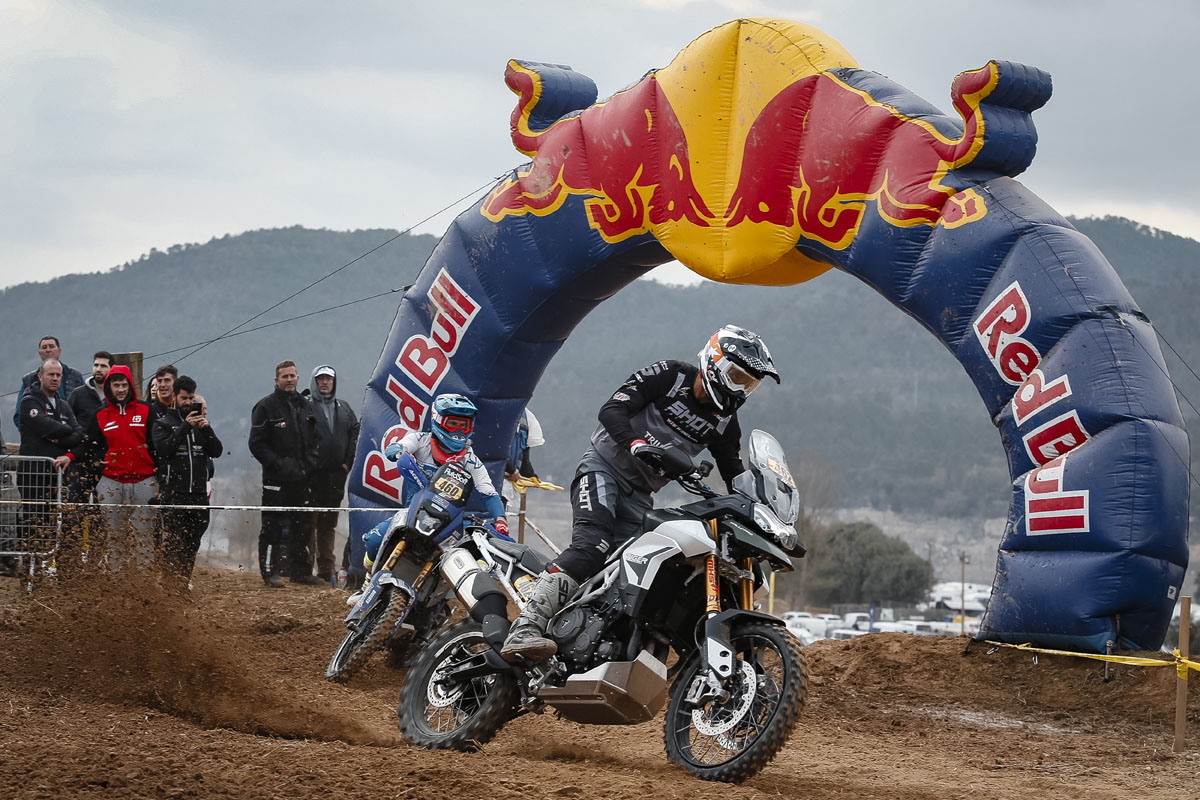 The date clash with the start of the Spanish Enduro Championship (February 18 and 19) and the coincidence with the French Extreme Peyratoise (the new Gilles Lalay Classic) has undoubtedly affected some of the usual big names of enduro and hard enduro at Bassella this year, but those registered for the Xtreme race include former winner Jonny Walker, Dieter Rudolf, Eloi Salsench and Michael Walkner.
Traditional enduro names lined up for the Sunday race include EnduroGP riders Hugo Blanjoue, Bernat Cortés and Albert Fontova, the Guerrero brothers, and the entire Rieju team Leo Le Queré, Pau Tomas and Francesc Moret.
Extreme Saturday
Saturday morning will see participants complete a recognition lap of the 65km of the main 65km race route, including those of the non-competitive categories (Fans, Trail/Fans and the new e-bike class).
In the afternoon, it is the turn of the competition with races in the Kids, Classic, Maxitrail categories and the Bassella Xtreme on a modified course including obstacles.
The original Sunday mass start is back
On Sunday the famous mass start returns for this edition of Bassella and will have a grid of more than 600 riders. The Pro and Pro Junior categories must complete two laps of the 65km course, while the more amateur riders get away with only one.
More information: www.bassella.com
Photos: Future7Media | Nicki Martinez + Fotoesport.cat