2021 AMA Sprint Enduro: Layne Michael steals Society Hill victory
Am Pro Yamaha's Layne Michael finally came good on a promise to win round three of the Kenda AMA US Sprint Enduro Series at Moree's Sportsmen Preserve near Society Hill, South Carolina ahead of Johnny Girrior and Steward Baylor.
In winning eight of the twelve tests on his way to the overall victory, Michael finished the two-day event with a 19-second advantage over Coastal Racing GASGAS' Johnny Girroir with his Am Pro Yamaha teammate, and championship leader, Steward Baylor third overall.
Michael was untouchable in the Cross test, sweeping all six on the weekend, while adding two Enduro test wins to his total.
"It was an awesome weekend for me," said Michael. "Johnny and I were super close yesterday [day one]. He actually edged me for the day, but it was by less than a second. I rode flawless all weekend. I was just very well in tune this weekend and I didn't put much of a foot wrong. Overall, it was an amazing weekend for me. I'm definitely glad to get a win. I was sick of getting second."
Girroir second and Pro2 winner
To add to a stellar weekend that included second overall and first in the Pro2 division, Girroir also posted the fastest overall time for Saturday's round, giving him his first-ever Pro-class "day win".
Girroir won all three of the Enduro tests On Saturday, while Michael won all three Cross tests. When the scores were tallied Girroir came out on top of Michael by 0.7 seconds.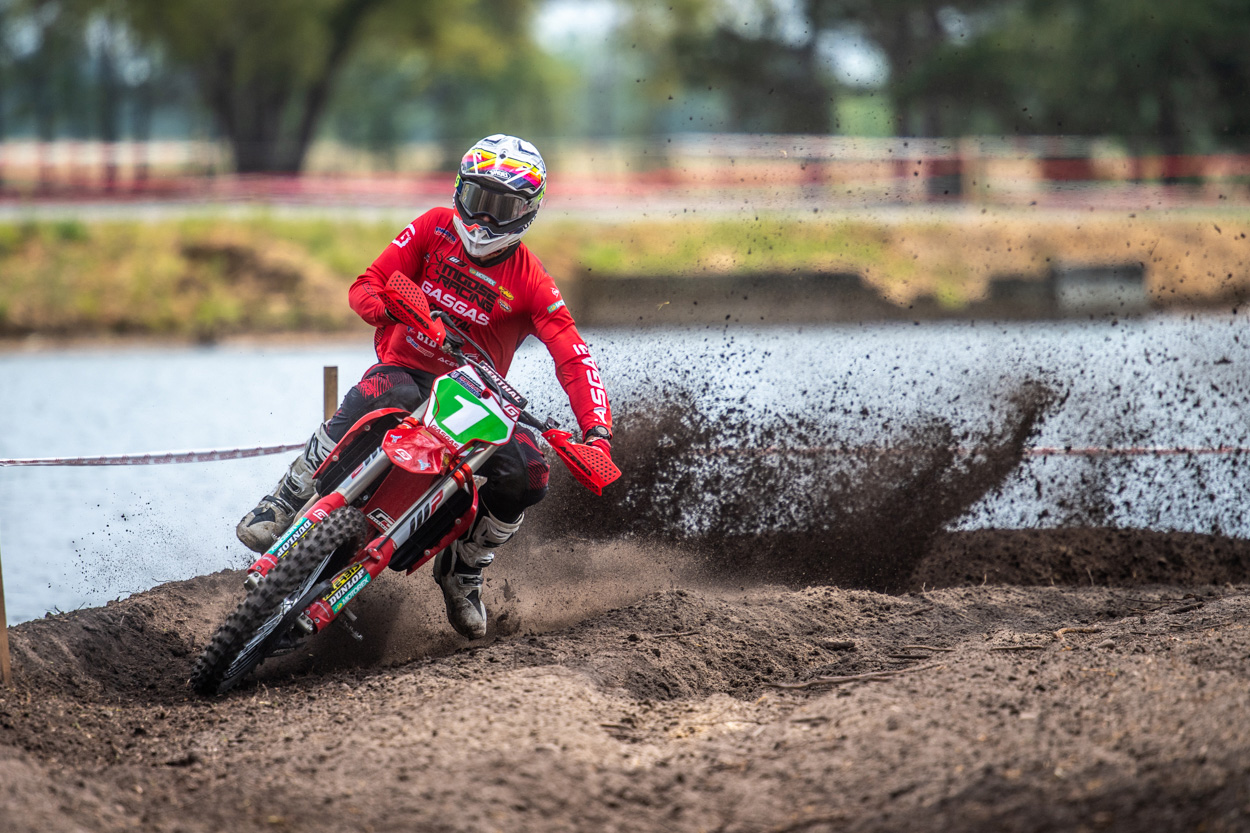 "It was like a huge monkey off my back," said Girroir after taking day one overall. "I really wanted to get a win. I was hoping to win the weekend and we started off Sunday with three-tenths of a second separating us. Then Layne just found another gear and definitely walked away with it. But I'm happy with my riding. I got my first runner-up finish ever in sprint racing. So definitely building and getting faster and learning."
Early crash rules out Baylor
Steward Baylor came into the Society Hill race with an 11-point advantage over Michael in the series standings, having won the first two rounds. However, a crash in the opening Cross test on Saturday put the South Carolina rider in a deep hole that he would spend the rest of the weekend trying to dig his way out of.
"Lane definitely shines in the Cross tests and I knew he was going to be really good because this was a really fast one," said Baylor. "I'm more of a technical rider, so I think I just pushed a little too hard too early and I went down right off the start and then made a few more mistakes. I was like, all right, we've got to just chill out. I was chilling out too much, I think riding just too conservative. That cost me."
Baylor came out swinging on Sunday, winning the first Enduro test of the day, but was still unable to make up the distance to Michael. "On Sunday, I rode like I knew how to ride," said Baylor. "This really fast stuff terrifies me, so I didn't push it any harder than I needed to. I could have done a little bit better, I think, but I wasn't worried about Johnny [Girroir] ahead of me in the overall. I just knew that I Layne was ahead of me in Pro1. Considering the start we got, we came out pretty good."
The result closes the gap right up in the Pro 1 class with Baylor on 161 and Michael on 160.
OVERALL TOP 10 RESULTS:
1. Layne Michael (Yam)
2. Johnny Girroir (GG)
3. Steward Baylor (Yam)
4. Cody Barnes (Hon) - LOI
5. Jesse Ansley (KTM) - LOI
6. Liam Draper (KTM)
7. Tyler Vore (Hsq) - LOI
8. Ben Nelko (Hsq) - LOI
9. Nicholas Swenson (Hon) - LOI
10. Dalton Seals (Yam)
Fourth for Barnes aiming for the ISDE
Phoenix Honda Racing's Cody Barnes came out on top of the tight battle with Trail Jesters Racing KTM's Jesse Ansley to finish fourth overall and second in the Pro2 class. Barnes was also the top-finishing LOI (Letter of Intent) rider, which is for riders hoping to qualify for this year's International Six Days Enduro in Italy.
"Me and Jesse, we just went back and forth all day Saturday," said Barnes. "Then today, I had a super good first cross test and had a little gap. I found some better lines in the Enduro test and maintained it, and then again into the second Cross test I had a fall and lost my lead. But I was able to make it back up in the last Cross test. Eventually, it came down to the final Enduro test and I was able to put in a decent enough ride to hold him off for the weekend."
Ansley, who had hand surgery just two weeks before the race, got the upper hand over Barnes on Saturday, beating the Honda rider by 0.4 seconds. However, a hiccup in the final test left Ansley just 0.5 second behind in the overall Ansley to finish the weekend fifth overall and third in the Pro2 class.
"I didn't really know what to expect coming into the weekend, just having surgery," said Ansley. "I was really happy with the first day. I had a small crash at the end of the day and it kind of closed the gap on what I had time-wise. Today, I'm kind of mad about it, really. The first test just wasn't my best. I just lost so much time. Then, I just was climbing the mountain, trying to get back to the top, then to lose it by .3 seconds. It kind of sucks to lose, not only to get third, but I got second LOI and I really, really wanted to win that."
Liam Draper came into Society Hill on a roll having won the first day of the previous round at The Shoals. The Tely Energy Racing KTM rider would have to settle for sixth overall and third in the Pro1 class after struggling with the wide-open course.
Hoping to qualify for this year's ISDE, Tyler Vore taped up his shoulder and rode the final test on Sunday with a broken collar bone, having crashed hard in the previous test. The Indiana rider managed to salvage seventh overall and first in the Pro-Am class.
"I felt like it was broken so we put a brace on my shoulder, put some duct tape on it just to keep it stable just to get through that last test there. I got through it, so it was good," said Vore. "I really want to qualify for ISDE. I've gone twice now and I couldn't give that up."
Seven Sixty Husqvarna's Ben Nelko put his motocross skills to good use to finish eighth overall and fourth in the Pro2 division. Meanwhile, Honda rider Nicolas Swenson was the top-finishing Amateur rider with a ninth overall. The finish was also good enough for first in the Open A class. Dalton Seals rounded out the top 10 overall on a Yamaha, good enough for second in the Pro-Am division.
Tayla Jones "pumped"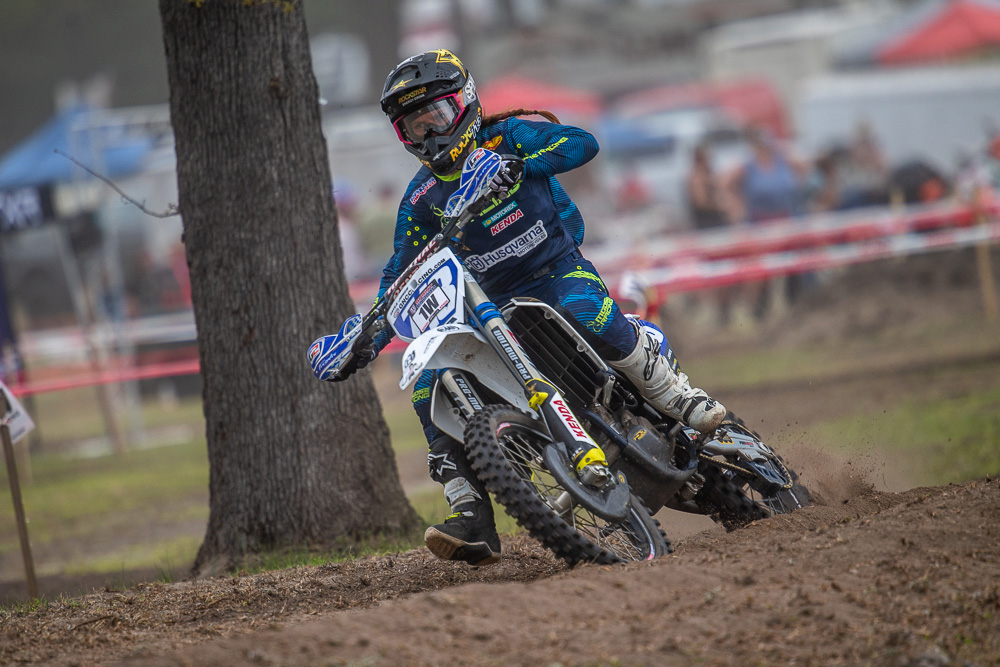 Magna1 Husqvarna's Tayla Jones won nine of the twelve tests to win the Women's Pro class, finishing 45 seconds ahead of runner-up Rachel Archer. Archer won the remaining three tests on her AmPro Yamaha, while Preston Raines was third overall on a Raines Racing Yamaha.
"I had a pretty awesome weekend, actually," said Jones. "These tracks were insanely awesome, so I absolutely loved it. I had a good weekend. I think I lost maybe two tests, which for me that's not bad. I'm just pumped to be riding good again and feeling nice on the bike. Hopefully we can carry that momentum into the rest of the races."
ISDE qualifiers
Among the Letter of Intent (LOI) riders, Cody Barnes was tops, ahead of Jesse Ansley and Tyler Vore – who showed what it meant to him by riding with a broken collarbone.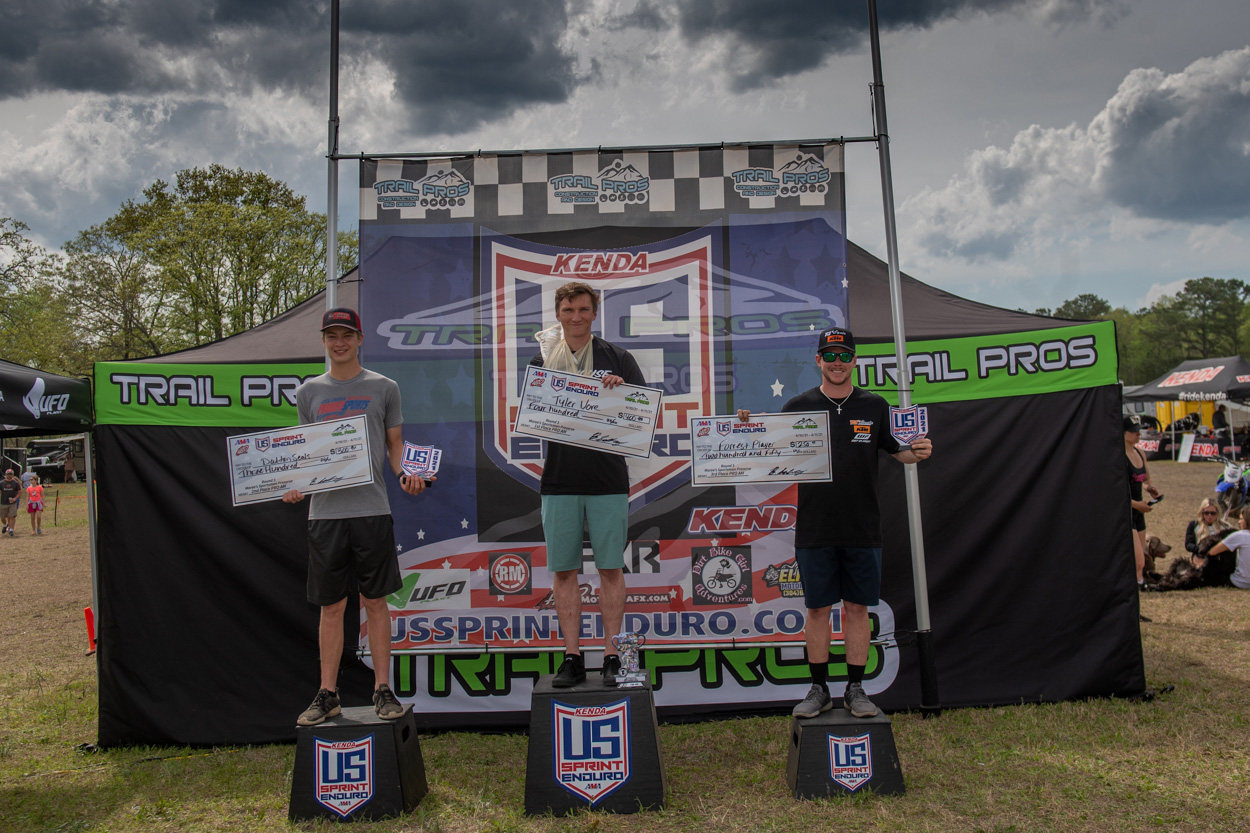 "To go to Six Days, to represent America and be on the Junior team, it would be unreal to me," said Barnes. "To be honored enough to go over there and represent America at the highest level, it would be pretty surreal I think. If I get the opportunity to go, it would be a really big deal to me because I would be there representing America and not myself."
Ben Nelko and Nicholas Swenson were fourth and fifth among LOI riders.
The Society Hills event was the first of three AMA east ISDE qualifier rounds, which include rounds in South Carolina, in Michigan, Battle Creek, and Alabama. Each event is a two-day event, so a rider's best four days count.
The Kenda US Sprint Enduro Series resumes on May 8-9 for round four in Bristol, Virginia. More information: www.ussprintenduro.com
Words and Photo Credit: Shan Moore