US Sprint Enduro: Layne Michael bosses Harleywood as Baylor crashes
AmPro Yamaha's Layne Michael made it two wins in a row in the Kenda US Sprint Enduro Series with victory at the Harleywood Sprint Enduro, round four of the series in Bristol, Virginia – meanwhile, Steward Baylor is left "trembling" after a high-speed crash.
Proving his win at the previous round in South Carolina was no fluke, Michael won eight of the 12 tests across the weekend, impressively beating his teammate Steward Baylor by just under 40 seconds – although big Stew's big crash in the Cross test ("the fastest crash in my life") didn't help his cause.
Michael was untouchable in the Cross test, sweeping all six tests. "I didn't really have too many mistakes all weekend. I think that's kind of what won me this one," said Michael. "I was just mistake-free. I think that was kind of what was able to give me my gap and kind of keep steady in all the tests. Super excited we can keep this momentum going and just keep rolling. I know we've got the points lead now, so that feels good. Hopefully we can just keep clicking them off."
Michael's AmPro Yamaha teammate Steward Baylor finished just 0.7 seconds behind on Saturday, and was in position to challenge for the win on Sunday. Baylor was the master of the Enduro tests, with two fastest times both Saturday and on Sunday, but a high-speed crash in the second Cross test almost put the South Carolina rider out the race.
"I had a pretty solid day one, but I made a bad tire choice and that cost me some time," said Baylor. "I was less than a second off of Layne at the end of day one, so I kind of tried to crawl back into it on day two. I felt really good in the Cross test. Again, a bad tire selection on Sunday cost me.
"In a really fast turn, the rear end stepped out and I went tumbling. That was the fastest crash I've ever had in my life. I was still trembling when I got back. I lost thirty seconds there. I didn't even know if I was going to line up for the next test. I hit my head pretty hard. I was like, we're still in it for a possible championship, so I was able to crawl back out from fourth back up to second on the day and second for the weekend."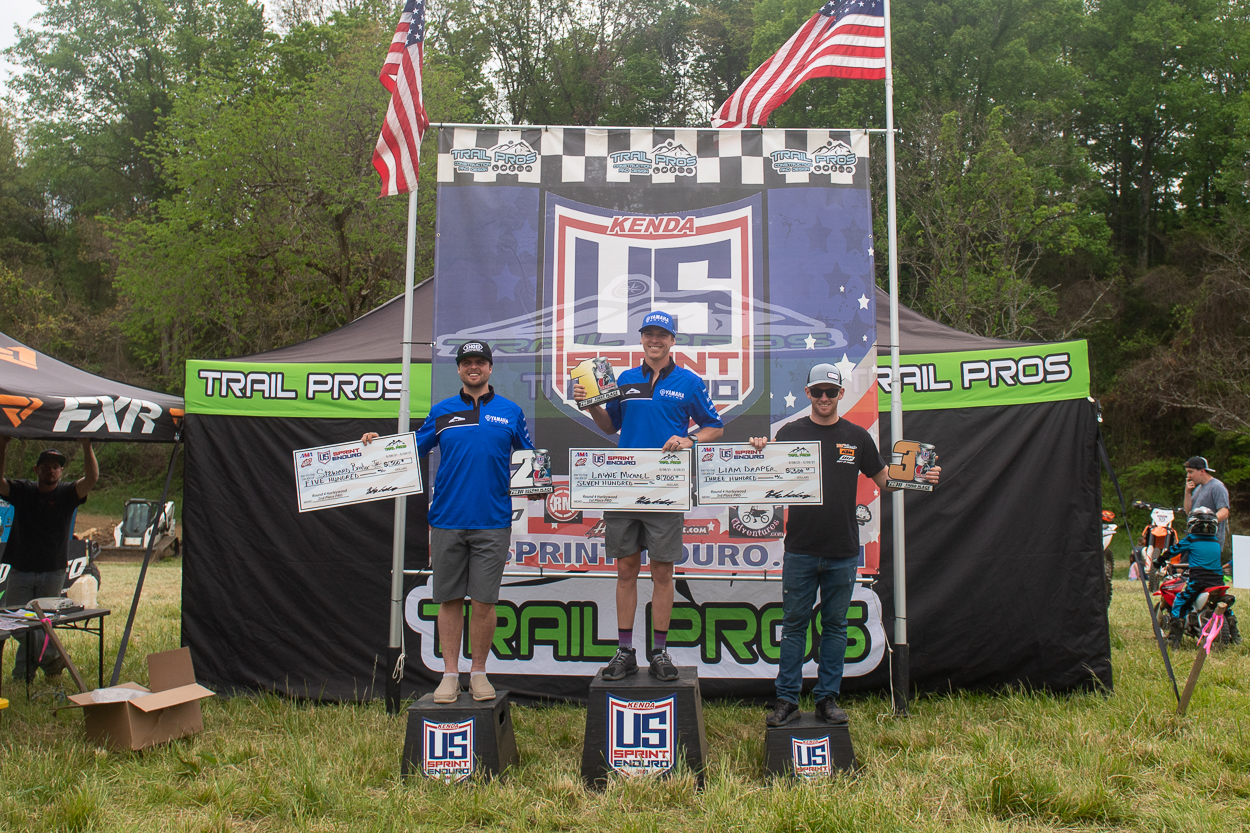 Tely Energy Racing KTM's Liam Draper finished third overall for another consistent podium finish this season. "I actually found it pretty good in the Cross test this weekend, where I normally am slower," said Draper. "I thought it was going to be the other way around here with how technical the Enduro test was. Yesterday was a solid day, but today I had a big crash in the last Cross test. But I managed to hold it together and keep third for the weekend."=
Thad Duvall made his return to the series, finishing fourth overall, after missing the last two rounds due to injury. The Rockstar Energy Husqvarna rider suffered a horrific crash at the series opener in South Carolina, where he suffered five broken ribs, a collapsed lung, and a shattered collarbone. Amazingly, Duvall didn't take long to get back up to speed.
"It was good just to get back to the Sprint series," said Duvall. "Obviously, everybody knows at the first round it didn't go too good and it's just been a long road back. I just wanted to come and get some seat time and get used to that Sprint speed.
"I think about halfway through I finally decided to go fast again. Yesterday I struggled bit, just riding super timid- I just wasn't really comfortable going that pace yet. We made some bike changes and halfway through the day it was fun.
"I finally turned some good times. I should have had second today but a crash in the Enduro test [meant] Stew ended up getting me at the end. I'm happy just to get the first Sprint back out of the way."
Johnny Girroir continues winning streak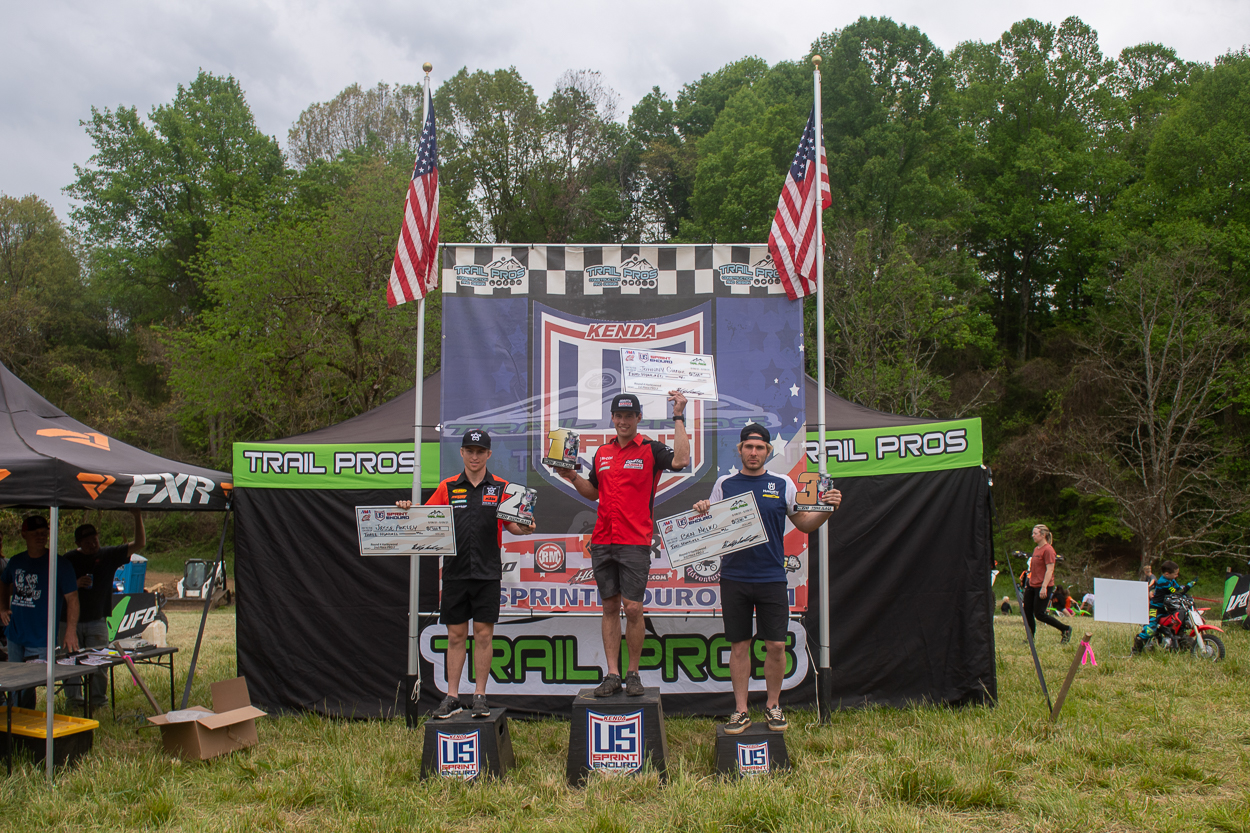 Fifth overall and first in the Pro2 division was the fastest rider on a 250 F right now, Johnny Girroir. The Coastal Racing GASGAS rider won four of the six tests on Saturday and three of six on Sunday.
But despite staying perfect in the Pro2 class, Girroir was not pleased with his finish. "I had a rough weekend," said Girroir. "We still got the job done, but it wasn't pretty. We won Pro 2 and that's what we came here to do, but we were nowhere near the overall and it was pretty devastating all weekend.
"I just never felt like I found my groove and I wasn't hitting my marks. It was just an off weekend."
Trail Jesters Racing KTM's Jesse Ansley came out on top of a fierce battle with Seven Sixty Racing's Ben Nelko to claim sixth overall and second Pro2 rider. Ansley won two of the Enduro tests on route to second in class.
"This weekend was pretty good," said Ansley. "It had its ups and downs, but me and this place never really gel together so to walk out of here second is pretty good. I was happy with some tests and pretty pissed off about some others, but overall for the weekend ending up second is good."
Nelko won three Cross tests, but finished just over four seconds short of Ansley to claim seventh overall and third Pro2 rider. "This was my best Sprint yet," said Nelko. "I won three out of the six cross tests, but I struggled in the Enduro the first day with suspension, so we made some adjustments and I ended up making a lot of time back up. I think I pulled maybe two seconds out of it. So, it was a good weekend."
Dalton Seals won the Pro-Am class with an eighth overall. The Yamaha rider swept all 10 tests in his division. Meanwhile, Tyler Braniff was top Amateur, winning the Open A class on a Yamaha. Michael McLean rounded out the top 10 overall and fourth in the Pro2 division.
Fastest females inside top 20 overall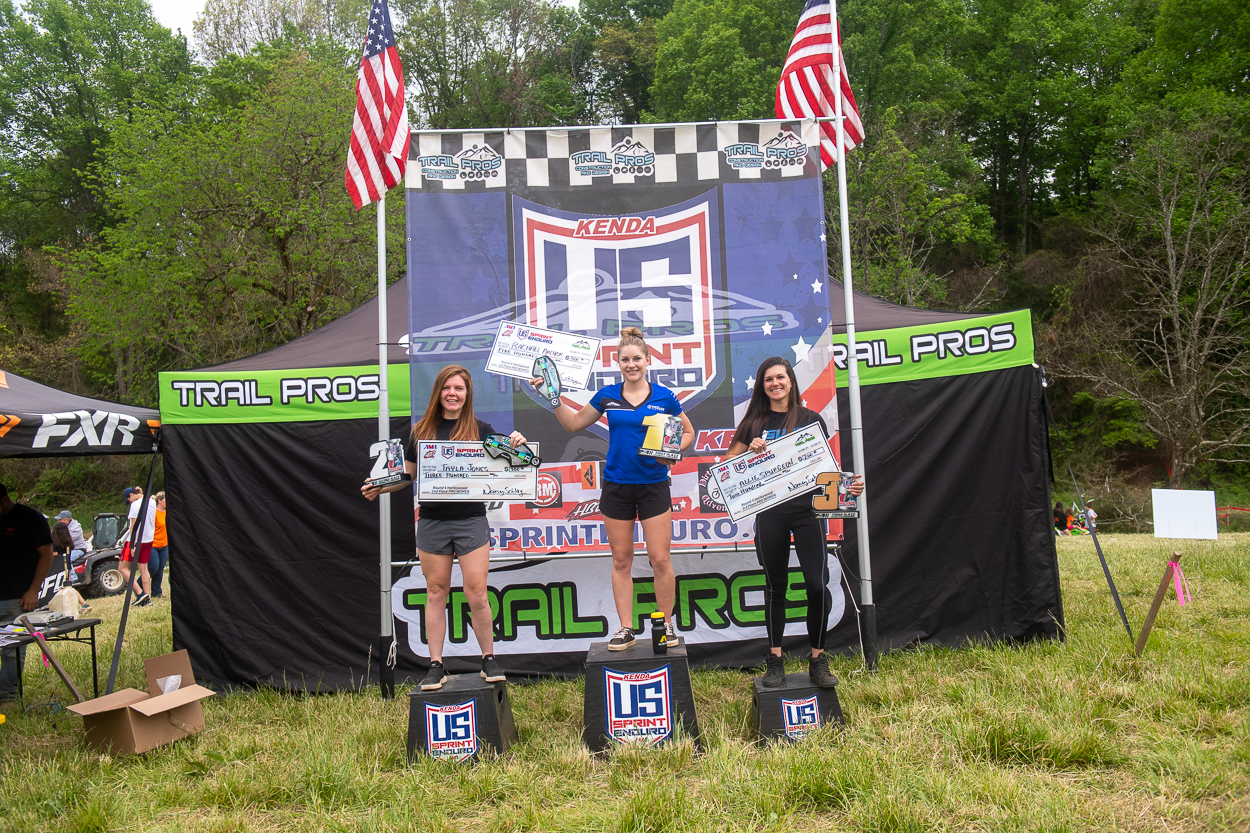 AmPro Yamaha's Rachel Archer topped the Women's Pro class, beating out Magna1 Husqvarna's Tayla Jones and Husqvarna rider Allie Spurgeon.
"I was having a lot of fun and I rode really consistent," said Archer. "I didn't have any crashes, although I started off a little slow. On day one after the first test I was five seconds down, but then after that I pulled into the lead and won the day by four seconds. Then today I had heaps of fun. The tracks got super rough, but it was a good time. I managed to win by nineteen seconds."
2021 Harleywood US Sprint Enduro results, day one: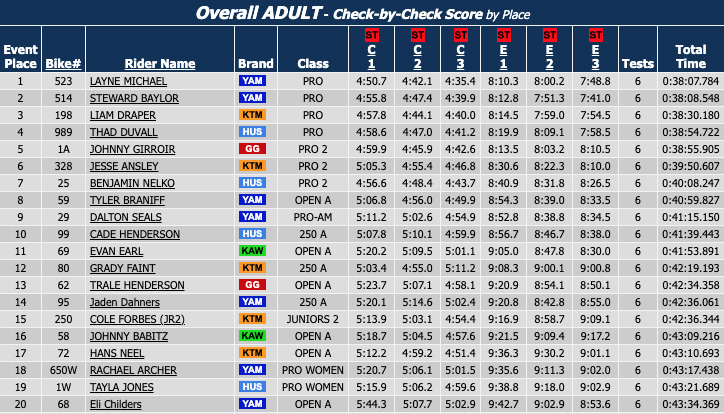 2021 Harleywood US Sprint Enduro results, day one: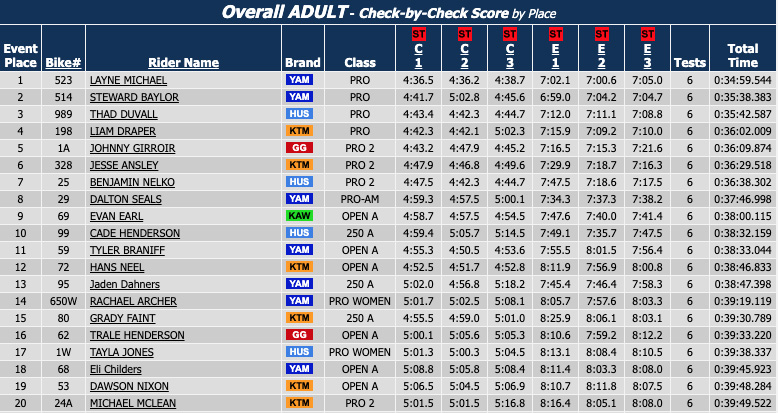 The Kenda US Sprint Enduro Series resumes on May 29-30 for round five at Hidden Valley Golf Course in Glen Daniel, West Virginia.
More information: www.ussprintenduro.com
Words and Photo Credit: Shan Moore