Baylor Tops Inaugural US Sprint Enduro
AmPro Yamaha's Steward Baylor got the ball rolling with a double victory at the opening round of the 2021 Kenda US Sprint Enduro Series – Thad DuVall injured after hitting the South Carolina trees and Ryan Sipes comes to the rescue.
The choppy South Carolina sand at the GTR Complex in Gaston, South Carolina, welcomed the new US Sprint Enduro series. An impressive list the pro-riders included Kailub Russell and Ryan Sipes making their first major off-road races of the 2021 season aiming towards the 2021 ISDE but it wasn't a race without drama and plenty of proof that trees can hurt...
Steward Baylor came into the opening round of the sprint series nursing a nasty injury that had kept him out of the GNCC opener just one week before.
"It was definitely questionable whether I should line up, but after three weeks the wounds seemed to be mostly healed," said Baylor.
Baylor battled early on Saturday with Coastal Racing GASGAS' Johnny Girroir, who struck first with a win in the opening Cross test.
Despite the doubts, Steward won three of the six tests on Saturday (all three Enduro tests) and three tests on Sunday to claim the overall wins on each day – by 11 seconds and 15 seconds overall respectively.
"I had a really flawless ride all weekend," said Baylor. "I had some pretty sketchy moments. I clipped a few limbs that shot me off the track, but all in all, it was a really smooth weekend."
Layne Micheal caps solid weekend for Yamaha
Layne Michael turned in an impressive opening US Sprint Enduro round to finish second each day in the Pro class. Three test wins on Sunday were the highlights but a crash in the final test on Saturday didn't help after it bent his rear brake pedal.
"I felt like I maybe could have battled with Stew a little more, but kind of dug myself a hole in the final test yesterday with bending a brake pedal and ended up kind of having my brakes locked up," said Michael. "I knew with how Stew was riding here it was going to be tough to make that up. All in all, it was good. I came back to get second overall."
Draper's consistency pays off
Tely Energy Racing's Liam Draper was fourth on Saturday and fifth on Sunday in the Pro class, giving him the final podium position for the weekend in the Pro division.
"I crashed once this weekend out of twelve tests, so I was happy about that," said Draper. "I just tried to stay smooth and hit my lines. The track got pretty gnarly. There were some big holes out there. It was fun and I'm happy with a third."
Canadian Tyler Medaglia went 5-4 for fourth overall in the Pro class over the two days of racing. Medaglia put his motocross skills to good use on the rough and choppy course.
Drama for the big boys
Troy Lee Designs Red Bull GASGAS Factory Racing's new recruit (yes, they kept that quiet) Ryan Sipes was in contention during Saturday's event, finishing third in the Pro division. However, a couple of get-offs on Sunday dropped the former ISDE Individual champ to 10th in Sunday's race.
"I went down twice in test one on Sunday," said Sipes. "All in all, I was fairly happy with how my Cross test times were. But I was kind of bummed that I was pretty far off in that Enduro test. I haven't done a woods race since ISDE 2019."
Sipes' Saturday was bookended by helping out Thad DuVall who crashed in the final test and seriously injured himself.
Duvall hit a tree and was laying in the middle of the course when Sipes arrived. Sipes parked his bike in the middle of the trail to shield Duvall and waited until help arrived.
Crashes mark the start of Kailub Russell's season
FMF KTM's Kailub Russell made his first post-retirement races, using the Sprint series to prepare for the ISDE in Italy later this year.
The eight-time GNCC champ got off to a bad start though by crashing in the first two tests on Saturday. "I think this is the first sprint race I've ever came to and not won a single test," said Russell. "Not a stellar weekend, by any means. Yesterday was rough. In the second test I had a good get-off, which knocked the wind out of me and bruised my ribs. I've still got some stuff I want to do and accomplish and just have fun, but definitely a rough weekend for me."
Despite his big crash, Russell salvaged a sixth on Saturday, and came back with a third on Sunday.
Girroir's solid start to Pro 2 title defense
After leading the first half of Saturday's event in "combined overall scoring", reigning Pro 2 Champion Johnny Girroir ended the weekend with double victories and third overall in the combined scoring.
"I got out to a great start on Saturday and actually ended up leading the overall the first four tests," said Girroir. "Stew was creeping on all me day. A couple seconds here, three seconds there, and it caught up to me at the end. I think he was three seconds ahead of me going into the last test. I had some issues on the last test. Just trying to get around the last pro one rider, I hit a tree, tangled myself, had to pull back off the tree."
Despite getting off to a slow start, Trail Jesters Racing KTM's Jesse Ansley held off Husqvarna's Ben Nelko and XC Gear/Enduro Engineering/Husqvarna's Ryder Lafferty to claim a pair of seconds in the Pro 2 class.
"First two tests weren't that great," admitted Ansley. "I'm just kind of getting the bugs and the jitters worked out, especially with the sprint enduro format. It's pretty tough, but I kind of overcame it. I thought I had some really good tests, high up in the overalls. I really can't be happier with a second place and just how I rode altogether."
Nelko went 3-4 for third overall in the Pro 2 class, while Lafferty went 4-3 for fourth.
In the Am-Pro division, Bubz Tasha topped both days with impressive rides. Babbitt's Online Team Green Kawasaki's JoJo Cunningham was second each day with Yamaha-mounted Dalton Seals finishing third each day.
Tayla Jones in a class of her own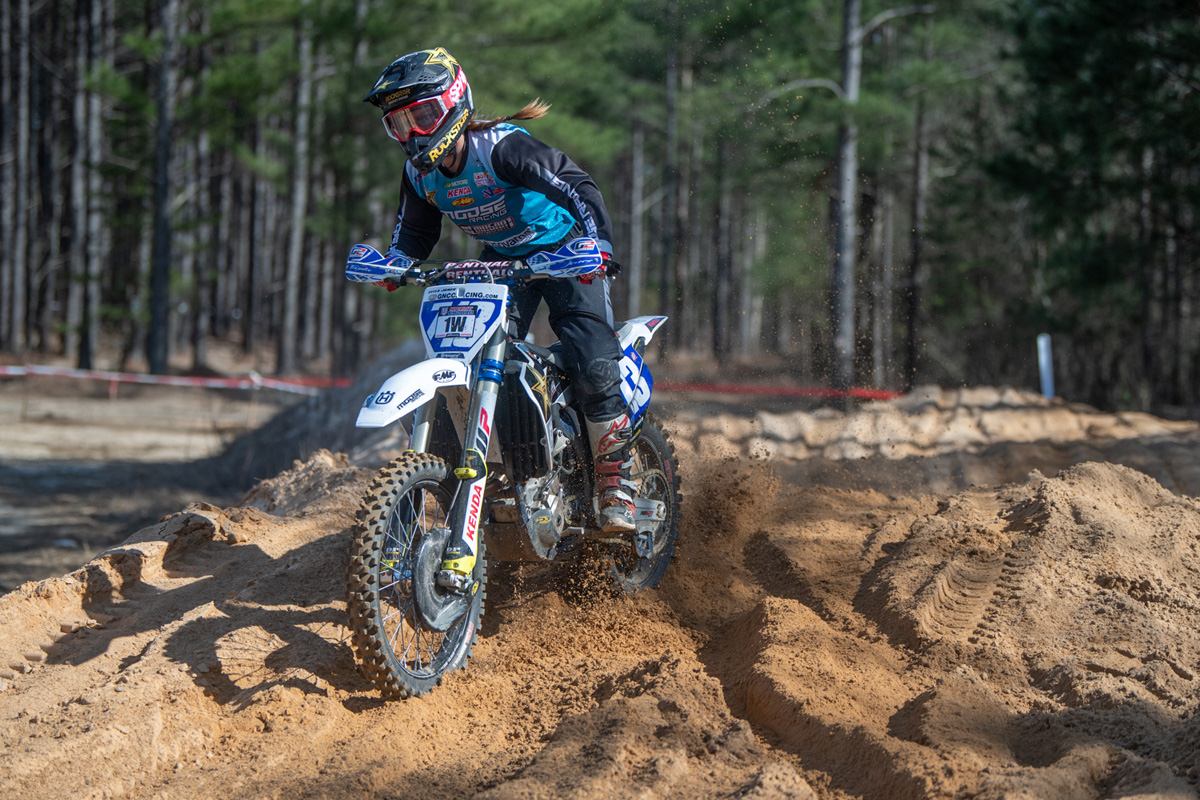 In the Women's Pro class, defending champion Tayla Jones kicked off another title defense with a double victory on her Magna1 Motorsports Husqvarna. Allie Spurgeon was second both days ahead of Elizabeth Perez, both on Husqvarna.
DAY ONE OVERALL RESULTS: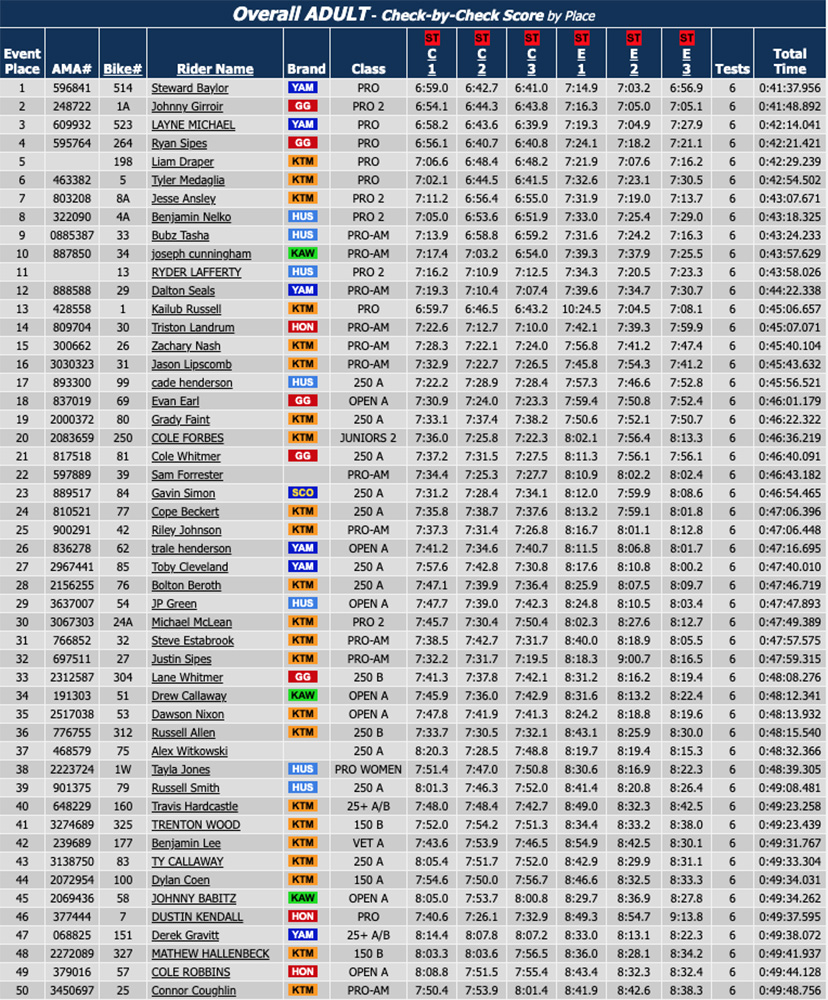 DAY TWO OVERALL RESULTS: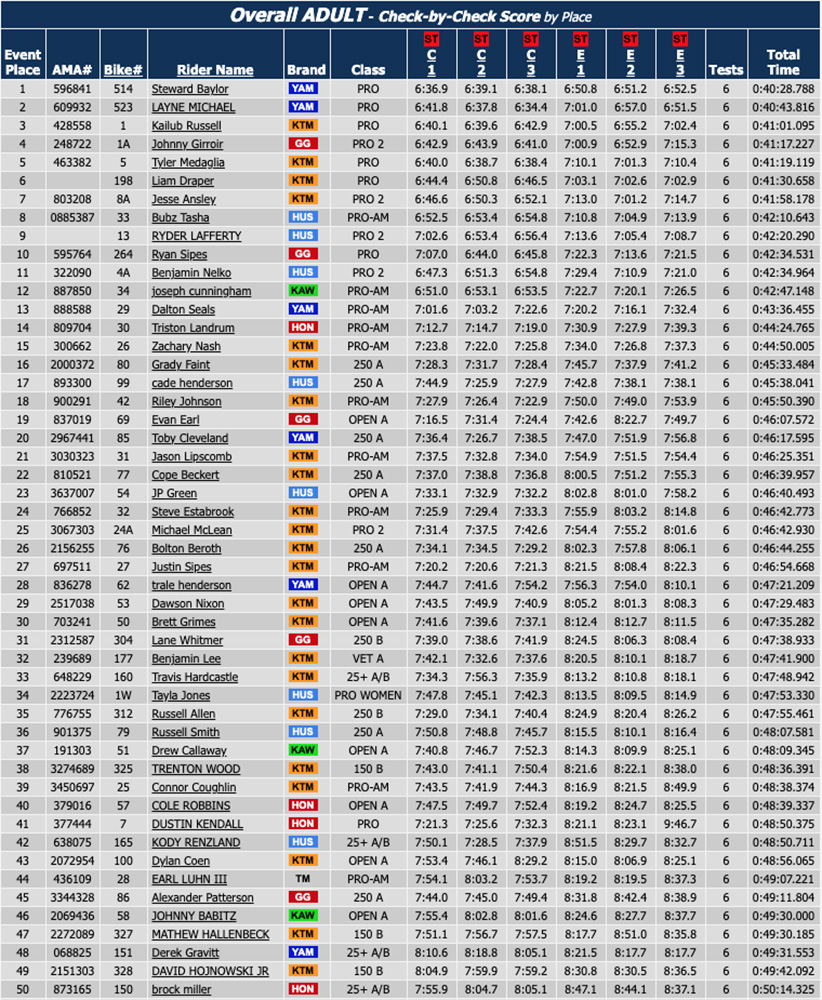 The Kenda US Sprint Enduro Series resumes on March 20-21 for round two at Shoals MX in Donalds, South Carolina.
More information: www.ussprintenduro.com
Words and Photo Credit: Shan Moore
This email address is being protected from spambots. You need JavaScript enabled to view it.