US Sprint Enduro: 100% record for Girroir with Warrior Rnd4 win
FMF KTM's Johnny Girroir made it four wins from four rounds of the 2023 US Sprint Enduro in Semora, North Carolina – 12th overall for a flying rachel Archer in Pro Women.
Johnny Girroir start to the 2023 US Sprint Enduro series has been stellar. Since switching up to the big bike class and the full-factory FMF KTM team, Johnny G has been unbeaten in four rounds of the season so far.
A strong final day in Semora saw Girroir claim the overall win at this weekend's Warrior Sprint Enduro, round four of the US Sprint Enduro Series Presented by Moose Racing beating RPM Racing's Angus Riordan by just 14 seconds.
"laying on the ground the first test is never a good thing"
Rain on Saturday made for a slippery course in the North Carolina clay, however the sun came out and dried the track making considerably different conditions on Sunday.
In fact it was Cody Barnes who topped Girroir for Saturday's win, the Phoenix Honda Racing Pro 2 rider winning by just under eight seconds after taking two of the six tests (both Enduro tests).
Riordan and Phoenix Honda Racing's Ruy Barbosa were third and fourth behind Girroir with Coastal Racing GASGAS' Thad DuVall rounding out the top five on day one.
US Sprint rnd 4 results, day 1: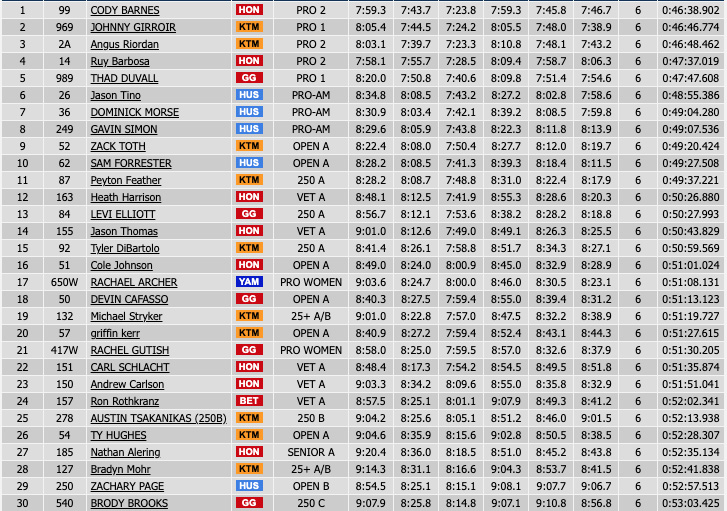 Sunday switch
On Sunday, Girroir got his mojo working and won three tests outright, while also tying Riordan in the final Enduro test, giving the former motocrosser Sunday's win by 12.3 seconds over Riordan, in addition to the overall win for the weekend.
"Me and Thad were both laying on the ground the first test Saturday, which is never a good thing," said Girroir. "The Pro 2 guys were flying all day. I finally put it together in the sixth test on Saturday and came out swinging for Sunday. Today, I minimized the mistakes and stayed off the ground and had a good day."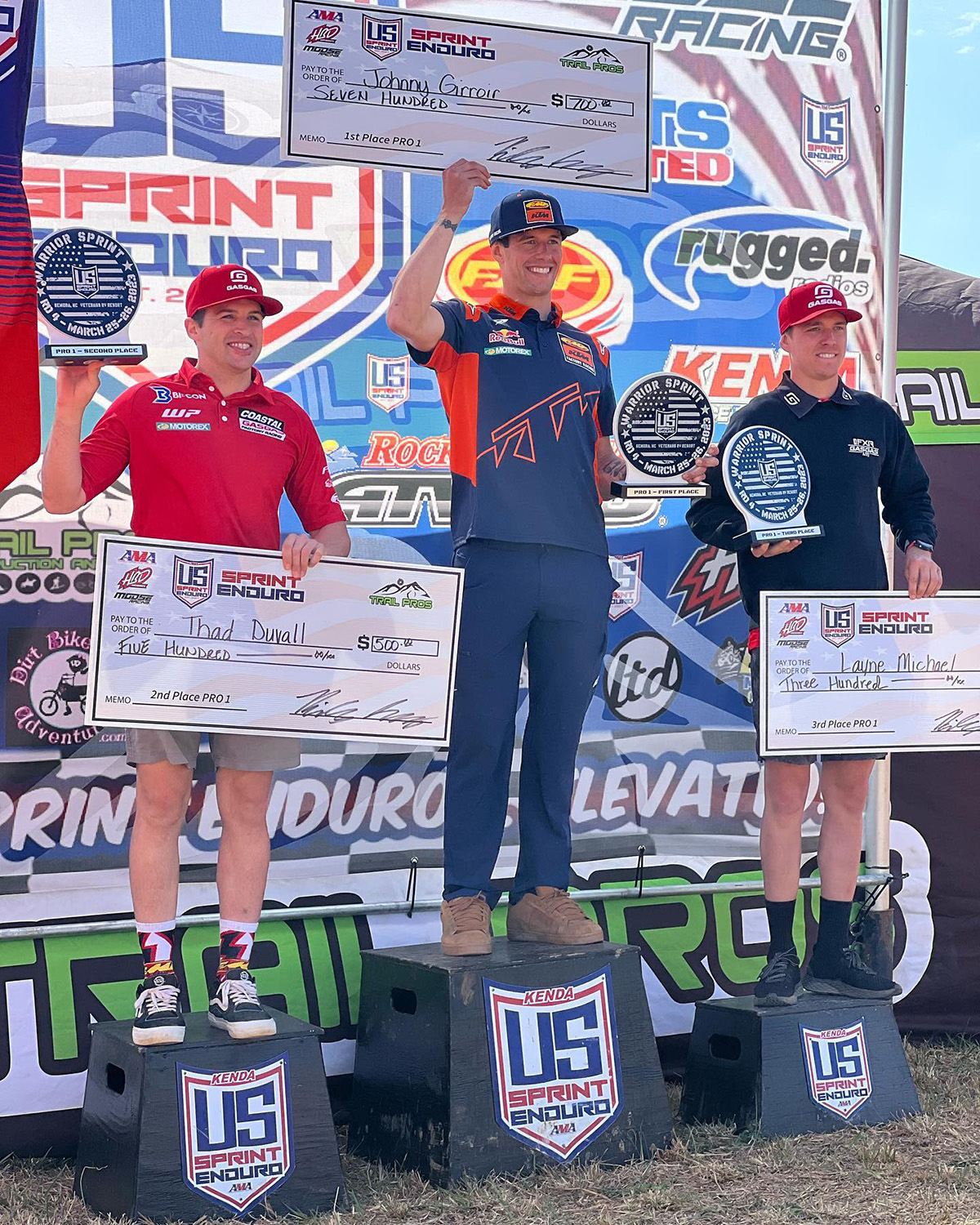 Riordan ruled the Cross test on both days, with all four of his wins coming in the test, (which was a combination of grass track and woods) en route to second overall for the weekend and first in the Pro 2 division. Barnes, DuVall and Barbosa rounded out the top five.
"It was good to finally get a win over Cody," said Riordan. "He's been showing it to us all last year and this year. So, it was good."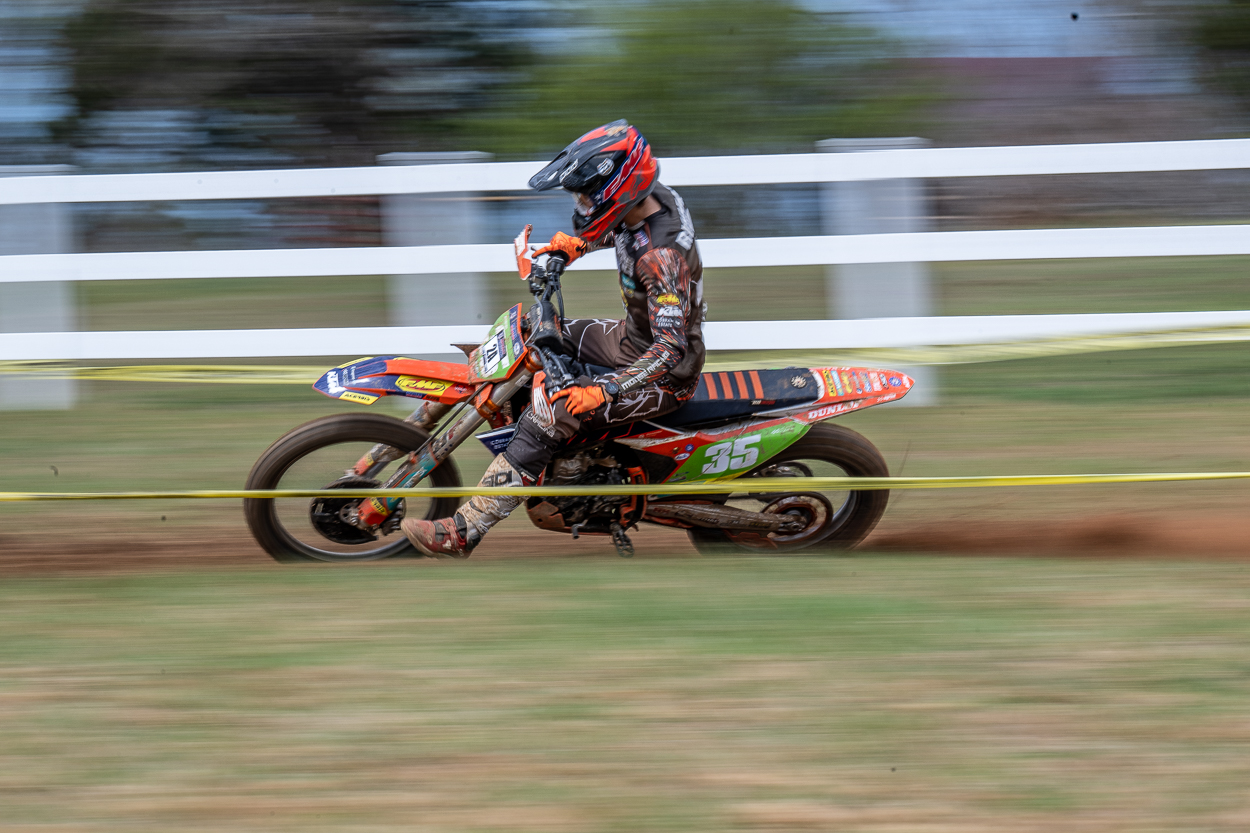 After winning on Saturday, Cody Barnes had a rough day on Sunday, spending too much time on the ground, which dropped him to third overall and second in the Pro 2 division.
"Yesterday was good; I rode well," said Barnes. "Today, Angus showed us all how to go fast. Both tests were super fun. I had a lot of fun, but I should have had a little less mistakes, but it is what it is."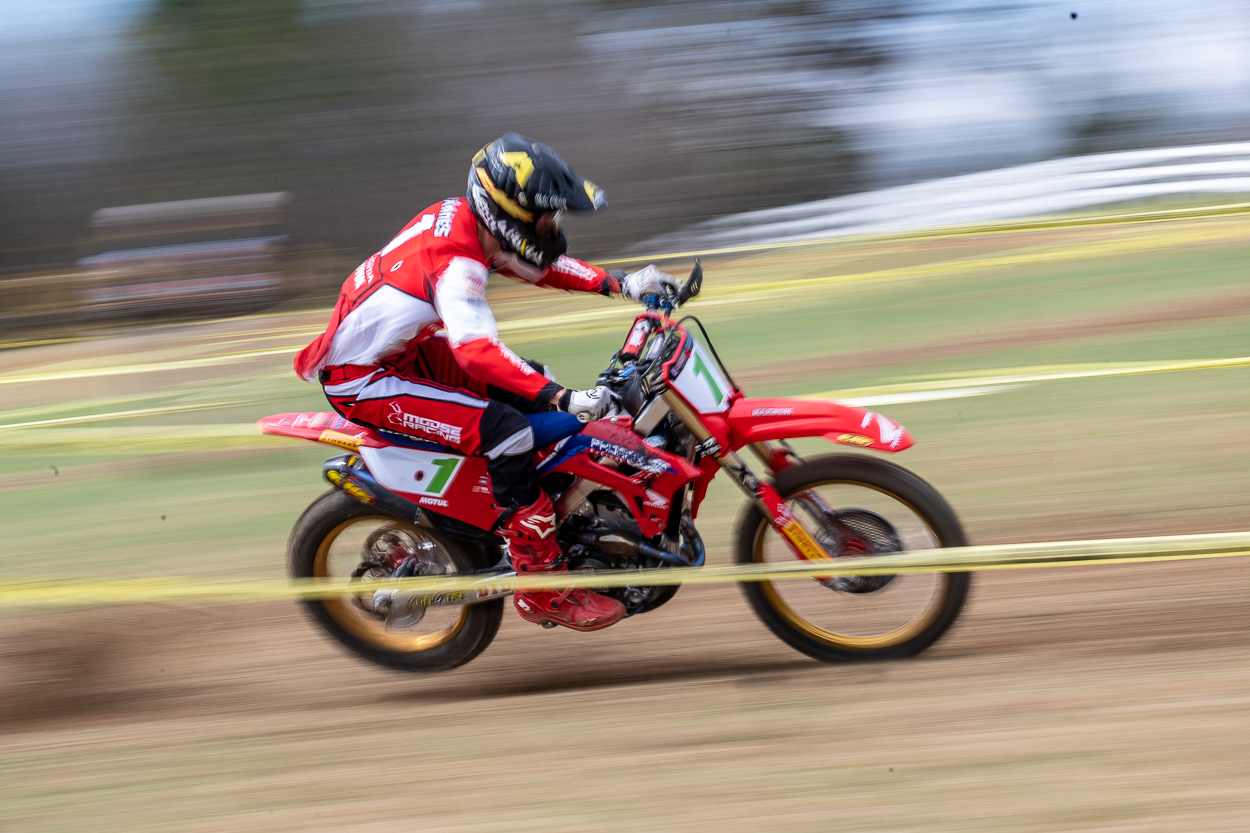 Thad DuVall started off slowly on Saturday, finishing fifth, but picked up the pace on Sunday, beating Barbosa by 19 seconds, which gave the GASGAS rider fourth overall for the weekend.
"Yesterday was a bit of a struggle," said DuVall. "I just couldn't stay off the ground. I was fighting the bike a little bit. But we made some changes yesterday afternoon after the race and it seemed to help today. I felt like it was definitely a lot more racy today. I was battling for test wins with Johnny, so that's always a plus."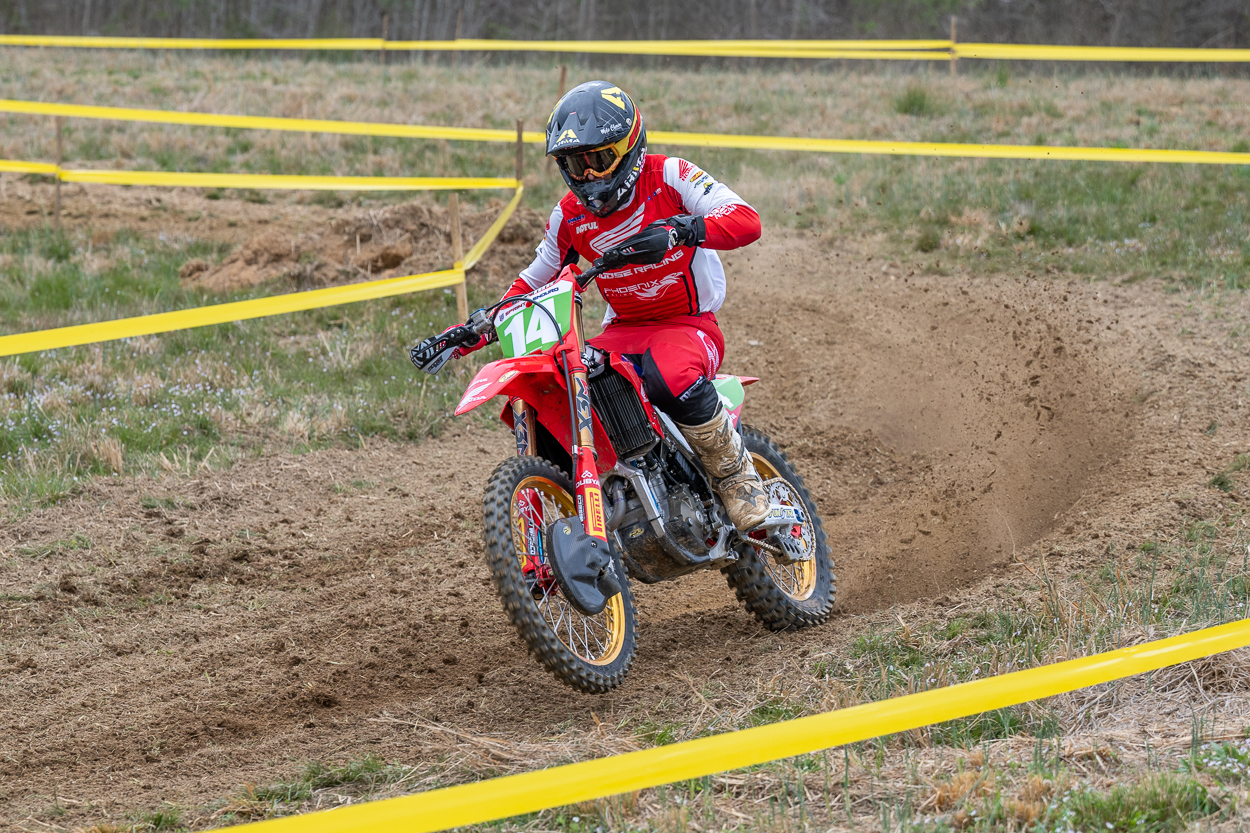 Brazilian Barbosa was fifth overall, despite a huge crash in the second test, while FXR GASGAS' Layne Michael, who only rode Sunday's event due to a prior commitment, was sixth overall, despite the deficit.
"It was a very technical enduro test," said Michael. "Since I missed yesterday, it was difficult jumping in and being competitive when those guys already knew the tests and have them kind of burned in. It was quite difficult, but I did okay. I felt better in the enduro test than the times showed. I was able to catch onto the cross test pretty quick and got pretty close there the last test today."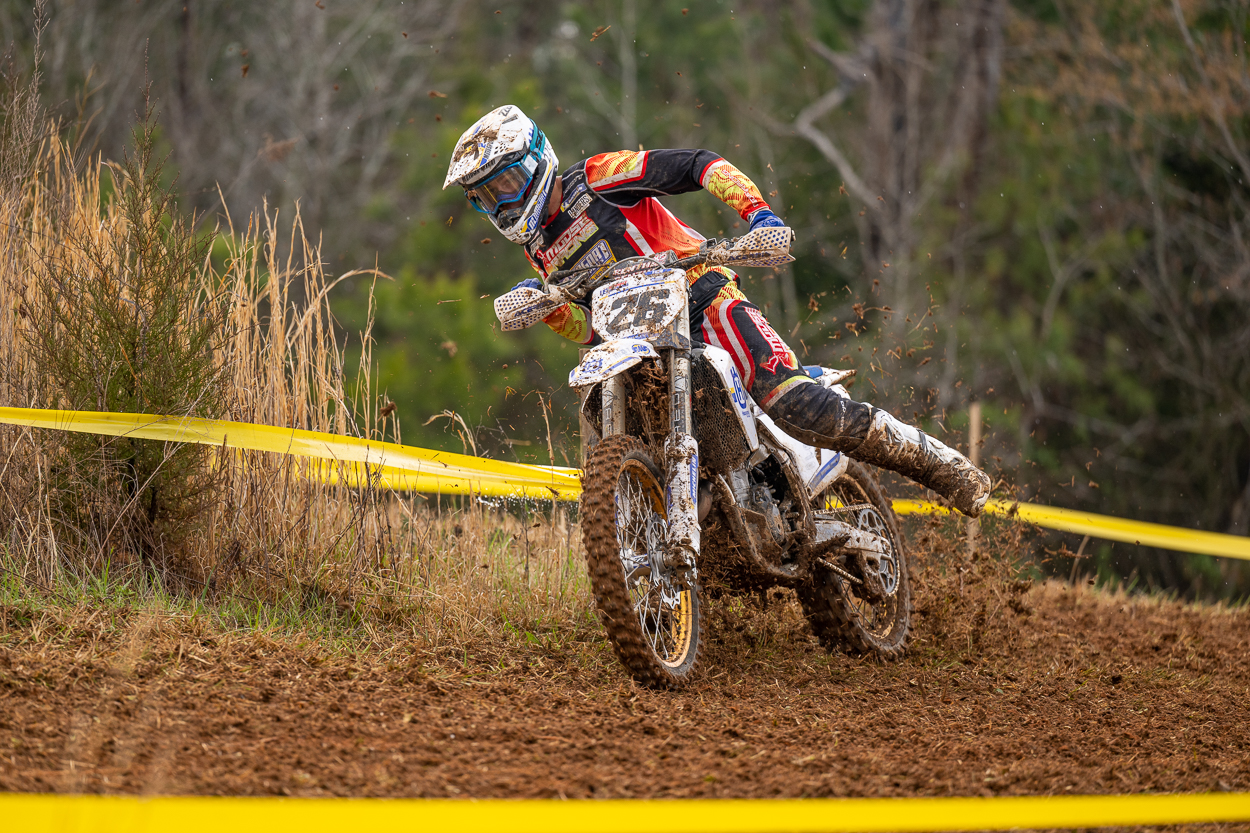 Sixth overall and top Pro-Am rider was Jason Tino on a Husqvarna. Just 20 seconds behind Tino was Precision Offroad Racing's Dominik Morse in seventh overall and second in the Pro-Am division. Another 1:28 behind Morse was Husqvarna-mounted Gavin Simon, while Zack Toth (KTM) and Sam Forrester (Hsq) rounded out the top 10.
16th overall for Archer winning Pro Women
Am Pro Yamaha's Rachel Archer won 10 of the 12 tests over the course of the weekend to take the win in the Pro Women's division ahead of Over and Out Racing's Rachel Gutish, who won the other two tests. FLY Racing/KTM's Shelby Turner finished out the podium.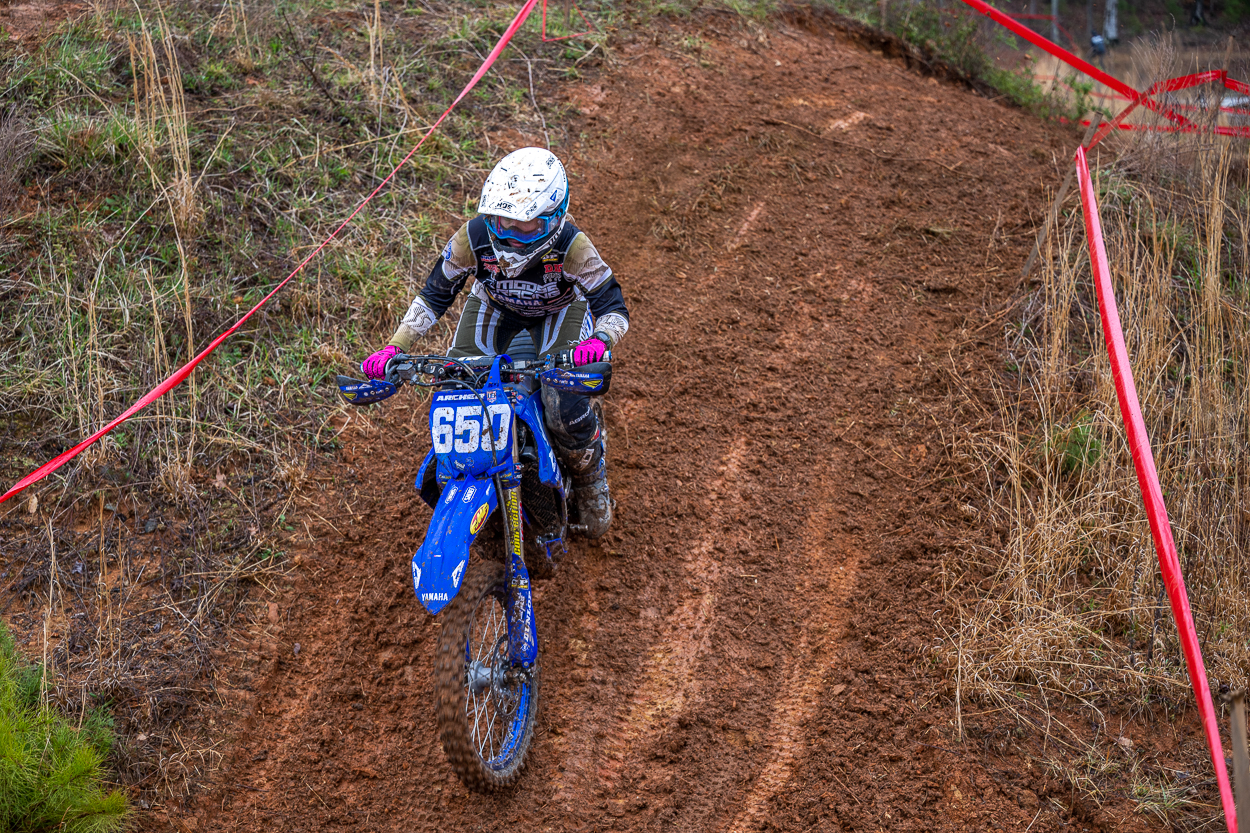 Archer was perfect on Sunday. "I had a great day today," said Rachel. "I went six for six in every test and my best [test] overall finish was 12th, so I was pretty stoked with that. I felt really good on the bike. I went out and pedaled last night and had my lines down. So, big improvement from yesterday."
US Sprint rnd 4 results, day 2: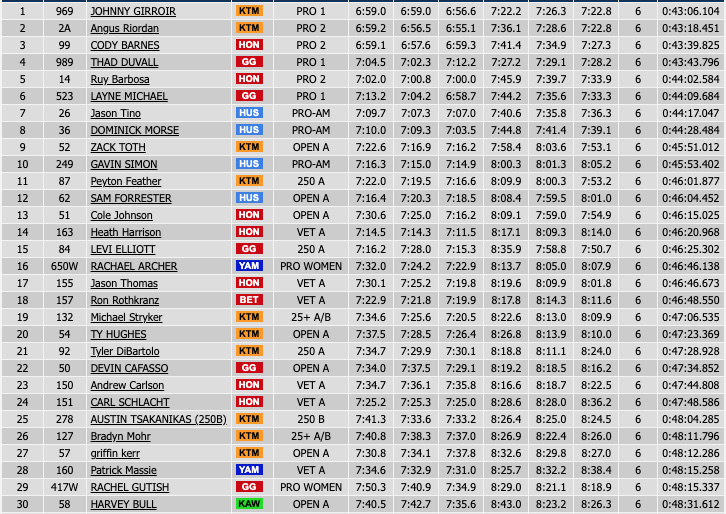 Words and Photo Credit: Shan Moore