US Sprint Enduro: Layne Michael wraps up in style at 2021 season finale
Layne Michael topped an impressive 2021 Kenda US Sprint Enduro Series season with victory at the Wassell Works final round in Westernport, Maryland.
With the title already secured, and an eye towards the upcoming International Six Days Enduro in Italy, AmPro Yamaha's Layne Michael topped off a spectacular year of sprint racing with an impressive victory.
The AmPro Yamaha rider held nothing back at the series finale, winning four of six tests on Saturday and all six tests on Sunday. The two tests that Michael didn't win were topped by Coastal Racing GASGAS' Johnny Girroir, who finished second overall on the weekend and first in the Pro2 division.
Michael was spectacular in the Cross test, winning all six, despite just coming off a nasty ankle injury. "This was a perfect springboard for the ISDE in Italy," said Michael who will form part of the US World Trophy squad. "This is by far the best series to bring that intensity up and staying in-between the ribbon. It's just so similar to Six Days. It's crazy how it has brought my intensity up.
"I was solid all weekend and my ankle is feeling better. This week was the first I've ridden other than Snowshoe, so it felt good to get back on the bike and into the swing of things. I felt like I didn't miss a beat. I'm definitely looking forward to Six Days. I think it's going to be really good this year and we've got a great team."
Crash keeps Girroir from challenging overall
Johnny Girroir meanwhile, who also already wrapped up the Pro2 title at the previous round giving GASGAS its first major off-road title in the US, was just four seconds off Michael heading into the final test on Saturday. But a crash in test four on Sunday cost him an additional five seconds, leaving him nine seconds down going into Sunday's round.
"Going into today, I was pushing pretty hard," said Girroir who was undefeated in the Pro2 class all season. "I really wanted to battle Layne for that number-one spot and it bit me. I think it was the fourth test in the woods. I hit a little stump with my front tire and it kicked it out of the rut and hit a tree and went over the bars. I lost a lot of time there. I'm just glad to come away from the weekend with another win in Pro 2."
Rockstar Energy Husqvarna's Thad DuVall got off to a slow start on Saturday, but came on strong on Sunday to secure third overall and second in the Pro division.
"I just wish I could ride as well on Saturday as I do on Sunday," joked DuVall. "Yesterday we started pretty rough. I don't know where I was at or what was going on, but I just struggled all day. Then finally towards the end of the day I figured some stuff out. I felt like I rode really good today [day two]. Just Layne is on it, for sure. Me, Liam, and Johnny were kind of battling over second for the day. Layne was kind of in his own world."
Wassell Works US Sprint Enduro results (day 1 +2):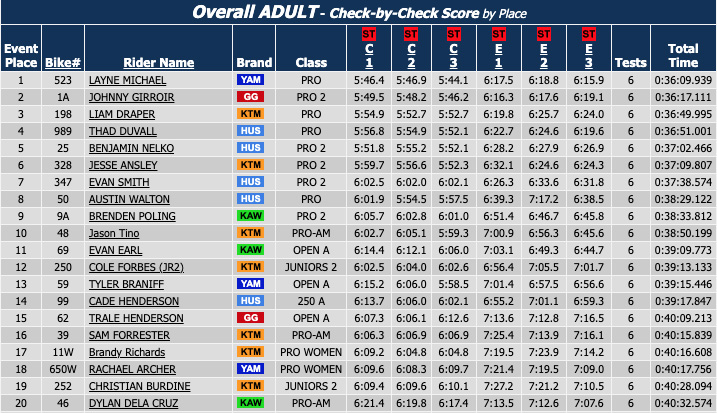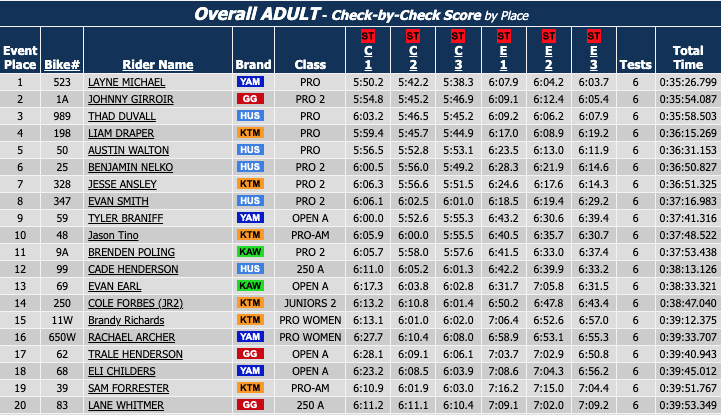 Half a second separates Nelko and Ansley
Tely Energy KTM's Liam Draper was in the mix with DuVall and Girroir all weekend and ended up fourth overall, less than six seconds behind DuVall.
Seven-Sixty Husqvarna's Ben Nelko and Trail Jesters Racing KTM's Jesse Ansley spent the weekend locked in a tight battle over second in the Pro2 division and second overall in the championship chase behind Girroir.
The battle came down to the final test of the weekend with Nelko getting the nod by just half a second, giving him second overall for the weekend in the Pro2 division and second overall Pro2 rider in the series championship. His finish was also good enough for fifth overall.
"Day one, I think I was up four seconds on Jesse. I had good cross tests all day Saturday," said Nelko. "In the woods I was all right, but I was a little bit off of the pace from Johnny and Jesse. Then today we did some suspension changes and I ended up running my fastest time in the cross test, the last one, which put me right in front of Jesse. Then the last enduro test, I don't even know what I did. I just kind of shut my brain off and just let it go."
Ansley had to settle for third in the Pro2 class and sixth overall. "It was kind of cat and mouse all day," said Ansley. "To ultimately lose second place points today by a half second, and then ultimately lose second place in the championship by half a second, it sucks. The way it went down, I'm a little bit bitter about it. Honestly, I'm going to take the energy and just put it into focusing on it should never happen again."
Always consistent, Evan Smith put his Max Sports/FXR-back Husqvarna into seventh overall and fourth in the Pro2 class. Austin Walton made the trip from Nevada to get some sprint-racing experience. The Rockstar Energy Husqvarna rider, who will be representing the country on the US Junior Trophy Team in Italy, got faster on the unfamiliar terrain as the weekend progressed.
Ninth overall went to Pro2 rider Brenden Poling (Kaw). Meanwhile, Jason Tino totally dominated the Pro-Am division, winning all 12 tests, which was also good enough for 10th overall.
Reigning ISDE Women's champ Richards gears up for Italy
FMF/KTM's Brandy Richard topped the Pro Women's championship. Like Dalton, Richards was at the event to prepare for the ISDE in Italy, and even competed on the FIM-spec tires she'll use in Italy. But that didn't stop her from taking eight test wins.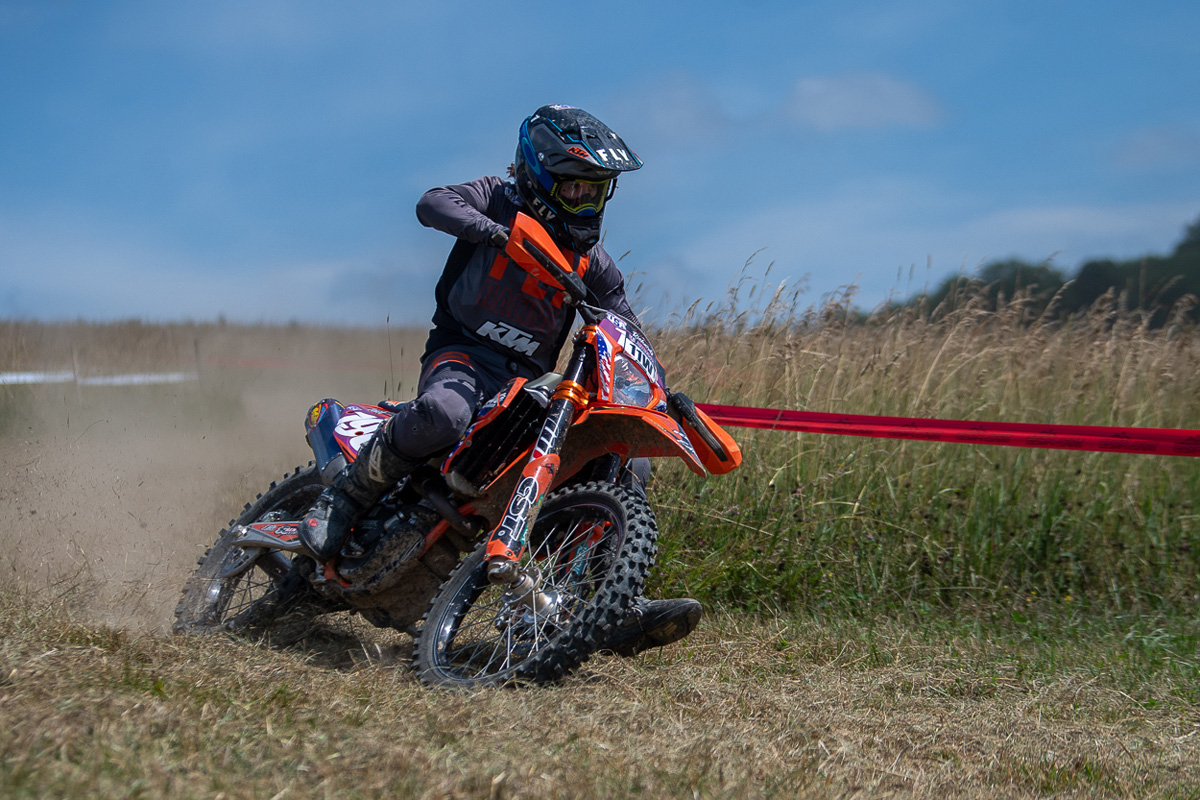 "It took me a couple tests to get comfortable running the Six Days tires; it's slick out there," said Richards. "The end of yesterday I started feeling really good on the cross test, but I couldn't quite figure out my lines in the enduro test, so after yesterday I actually went and walked the enduro test and found a bunch of lines.
"Today in the enduro test I felt a lot stronger, and also a lot stronger on the cross test. Just a lot more comfortable getting used to that Six Days tire. So, it was a pretty good day."
AmPro Yamaha's Rachel Archer was a strong second on Saturday (both were inside the top 20 overall), finishing just four seconds behind Richards. But Richards, becoming more accustomed to the eco tires, picked up the pace on Sunday and outdistanced Archer by just over 22 seconds in the overall results.
"Brandy was ripping in the cross test and I couldn't quite pull enough time in the woods on day one, but it came down to just one second," said Archer. "Then day two, she just annihilated me, but I enjoyed it."
Rachel Gutish, riding a privateer Husqvarna, took third overall.
That's a wrap for the US Sprint Enduro Series this year but all things are set for a return in 2022.
More information: www.ussprintenduro.com
Words and images: Shan Moore