2021 Red Bull Romaniacs Hard Enduro World Championship preview
Four solid days of hard enduro (plus one time trial), four times the height of Mount Everest and a night out under the stars with the bears and the wolves in the Carpathian Mountains. This is the 2021 Red Bull Romaniacs Hard Enduro Rallye and it's happening this week…
Two weeks after round three at the Abestone Hard Enduro in Italy, the fourth round of the 2021 FIM Hard Enduro World Championship invades Sibiu, Romania this week for the 18th edition of the Red Bull Romaniacs Hard Enduro Rallye.
With the traditional Sibiu city prologue sadly dropped for one more year, the action begins on Tuesday with an intense Time Trial to determine the start order for the opening race day proper, Offroad Day 1.
Offroad day two will provide a twist in the plot this year by making things even more of an adventure with competitors ending the day in the mountains around campfires, sleeping in tents, and with the additional challenge of no outside assistance overnight.
It could be a critical point in the race as riders need to manage their bikes and themselves without outside assistance, including tyre changes, between the day two and three service points.
Top Contenders
Rockstar Energy Husqvarna Factory Racing's Billy Bolt took the win at Abestone Hard Enduro and leads the championship points ahead of Red Bull KTM Factory Racing's Manuel Lettenbichler. The pair were head and shoulders above their rivals in Italy and it is hard to look past them as favourites this week in Romania.
Lettenbichler enters round four eyeing up a Romaniacs hat trick having won the last two editions. A third victory would also tie him in second place on the all-time win list with Frenchman Cyril Despres.
Check out Billy's latest blog training with Alfredo Gomez in the Romanian mountains...
Graham Jarvis tops that wins list and is the only rider to date who's claimed three wins in a row at Romaniacs, with victories in 2011, 2012, and 2013 – his most recent win in Romania was 2017.
Graham's come-from-behind ride to third place at the technically challenging Abestone Hard Enduro showed the 46-year-old has lost no desire to win at these events. With four days riding in Romania Jarvis also has time on his side to make up time on his faster qualifying and younger rivals.
Jonny Walker placed fourth at Abestone Hard Enduro on his debut on the Vision Track Beta. As many people have pointed out, the British rider seems to be in a good place managing his own team and the former winner of Romaniacs will surely also want to add to his tally.
Alfredo Gomez is arguably the best rider to never have won the Romaniacs with five top-three finishes. Who could forget his epic struggles in the final quarry two years ago while challenging Lettenbichler for the win.
The Spaniard is always a contender as is the Sherco Factory Racing pairing of Wade Young (2018 winner let's not forget) and Mario Roman. All three will be looking to make amends for lower than expected starts to their HEWC season.
North American Invasion
As Enduro21 revealed last week, the top two riders from the American Extreme Enduro Championship will also be in the mix. Neither Cody Webb or Trystan Hart have competed the event previously so have a lot of learning to do, although Webb has a slight advantage having competed a few more GPS navigation events like this than his Canadian rival. But what a year to make a debut with the marathon stage thrown in.
Cody Webb and Trystan Hart to race 2021 Red Bull Romaniacs
Watch out for...
Across the board, the competition is stacked with talent including the GASGAS riding gang of Taddy Blazusiak, Michael Walkner, Travis Teasdale and Matthew Green. Teodor Kabachiev has impressive form at Romaniac too so watch out for him.
Sandra Gomez is back again for more punishment after becoming the first female to reach the Gold class finish in 2020. Pol Tarres has elected not to race the main classes this year, instead opting for his own additional challenge of racing a Yamaha Tenere 700 in the Bronze class.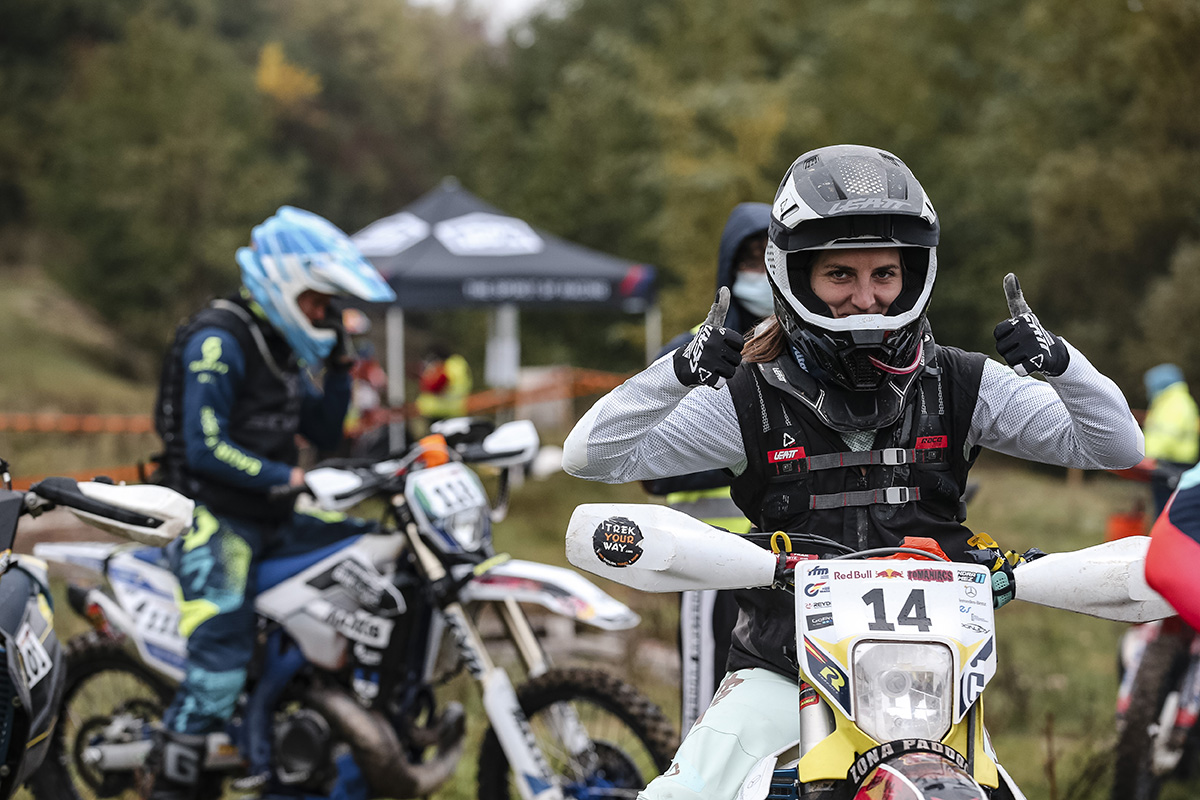 Red Bull Romaniacs takes place from July 27-31 and Enduro21 will bring you all the results daily plus insight and video highlights.
FIM Hard Enduro World Championship standings
1. Billy Bolt (Husqvarna) 20pts
2. Manuel Lettenbichler (KTM) 17pts
3. Graham Jarvis (Husqvarna) 15pts
4. Jonny Walker (Beta) 13pts
5. Alfredo Gomez (Husqvarna) 11pts
6. Taddy Blazusiak (GASGAS) 10pts
7. Mario Roman (Sherco) 9pts
8. Wade Young (Sherco) 8pts
9. Michael Walkner (GASGAS) 7pts
10. Travis Teasdale (GASGAS) 6pts
11. Sonny Goggia (GASGAS) 5pts
12. Matthew Green (GASGAS) 4pts
13. Teodor Kabachiev (Husqvarna) 3pts
14. Dominik Olszowy (KTM) 2pts
15. Leon Hentschel (GASGAS) 1pt
Photo Credit: Future7Media