2023 British Sprint Enduro: Brad Freeman blasts to "mega venue" win in Wales
Video highlights and results from rounds four and five of the 2023 ACU British Sprint Enduro Championship where EnduroGP elite riders Brad Freeman, Jamie McCanney, Nathan Watson and Jack Edmondson fought for the podium at a glorious Welsh track near Llanfyllin.
Glorious conditions and one of the best sprint enduro tests you'll find in the UK brought out a talent-rich list of riders for rounds four and five of the 2023 British Sprint Enduro series.
After having to cancel the event due to snow (!), Fast Eddy Racing rescheduled weekend at a in Mid-Wales billed as a "mega venue". It didn't disappoint with a glorious rolling hillside course easily at international level enduro racing standards.
The racing didn't disappoint either with training partners Brad Freeman, Jamie McCanney, Nathan Watson and the Edmondson brothers Jack and Harry, all living the camping life and slotting a UK race in between EnduroGP duties.
That's not to mention Women's EnduroGP elite riders Rosie Rowett and Jane Daniels also in the mix, opting for the super-competitive Expert class and more than pulling a result before they head off to Scandinavia this week.
Freeman it was who took the double day wins but it wasn't without close attention from McCanney who has a strong record on the French grass tests. Brad had a couple of tip-offs on day one while Jamie kept super-consistent and in the end finish just six seconds adrift.
Jack Eddy was third after Watson had an issue in test six of 10 for the championship class and with Jack also suffering bike problems. That brought Max Ingham and Dan Mundell in to complete the top five scratch result.
British Sprint Enduro round 4 results (top 40):
Day 2, round 5, Freeman fault-free
Day two saw a similar result with Freeman again taking the win but this time with a nearly fault-free ride to finish 20 seconds clear.
McCanney backed-up his day one results with P2 again ahead of Nathan Watson who started slower than his rivals but ended strong.
Jack got the better of Harry Edmondson – who had a better day after bike troubles on day one – to complete the top five overall.
British Sprint Enduro round 5 results (top 40):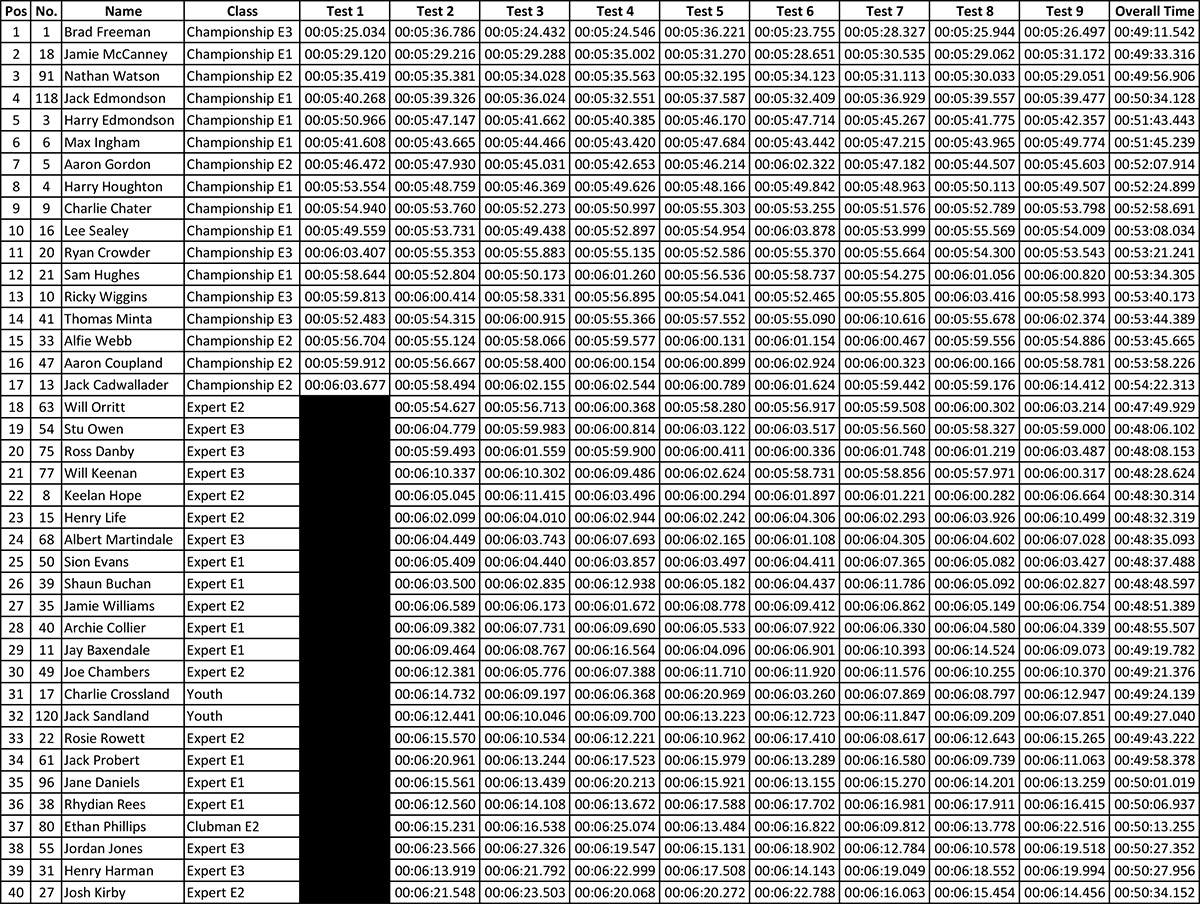 Video Credit: Four Zero Media