Tiger Run GNCC video highlights and results – redemption for Ricky Russell
Video highlights and results from the 2023 Tiger Run GNCC – AM Pro Yamaha's Ricky Russell takes redemption for previous round DNF with victory ahead of charging Steward Baylor and Jordan Ashburn.
After bike problems robbed Ricky Russell and Am Pro Yamaha of the round three win last time out in the mud at The General, Ricky Russell made amends big time with a first to last lap winning ride at the 2023 Tiger Run GNCC.
2023 Tiger Run GNCC in a nutshell:
Ricky Russell's round four win at the Tiger Run wasn't without withstanding a heap of pressure from '22 champ Jordan Ashburn and Layne Michael in the first half, ahead of Steward Baylor waking up and staging an assault.
But Russell was equal to it all and every time a rider made inroads on his lead, he responded in kind to seal a healthy 20 seconds win, his first of the season.
Steward Baylor took around an hour to start making moves on the podium places, catching and dispatching Ashburn and Michael but it didn't last as he crashed, dropping back to fourth again on lap four.
The remainder of the race saw Ashburn, Craig Delong and Baylor back and forth, switching places while the unfortunate Layne Michael ended up pushing his stricken GASGAS back to the pits after an engine failure.
The podium fight behind Russell in the end it came down to the final mile as Ashburn "washed the front" allowing the charging Baylor through for second ahead of Jordan. Round three winner Delong conceded the pace in that last lap and settled for P4.
The FMF KTM duo of Johnny Girroir and Ben Kelley were lazy starters too with the championship leader Kelley eventually picking up the pace to close out a fifth place finish ahead of Josh Strang around a minute back from the leader.
"I knew I could do it after the last round," Explained Ricky Russell. "I knew what I had to and all I needed to do was just do it." Said the new Tiger Run jacket wearer.
"It was rough out there," said Baylor at the finish. "I had a tough time. Once we got going I knew I was riding good and had the pace so I kept on it, even though I was spent more time on my head than on the bike. But we're on a hot streak, we just need to jeep it rolling."
Russell becomes the fourth winner from four rounds this season. Ben Kelley's fifth place means Steward Baylor's second place takes over the championship lead ahead of round five in two weeks time.
Chilean Ruy Barbosa set the pace in the Pro 250 class early doors but had to follow first Mason Semmens then Liam Draper lead through the thick of the race. Barbosa's Phoenix Honda teammate Cody Barnes took over the lead as they duo, plus Draper pushed on past the slower XC1 Pro riders.
But in the end it was the Chilean Barbosa who had more in the tank and slipped past his teammate in the final lap to record the 250 Pro win.
XC2 Pro points leader Ryder Lafferty had a crash early on, braking his clutch pump and took a lengthy pitstop to replace it before returing to the track but scored no points this weekend.
2023 Tiger Run scratch Pro race results (top 25):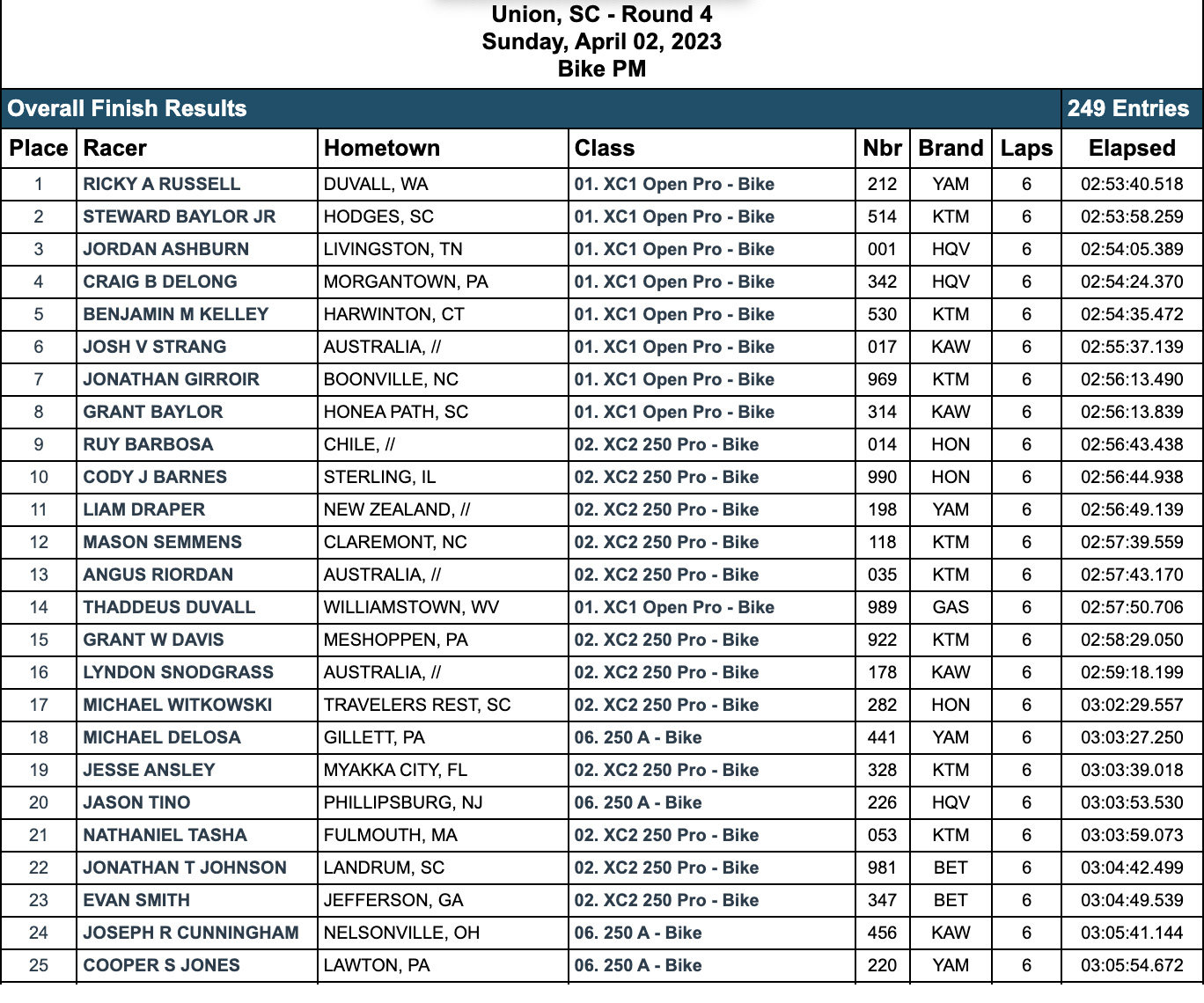 Win for Rachel Archer extends championship lead in WXC – AM race results: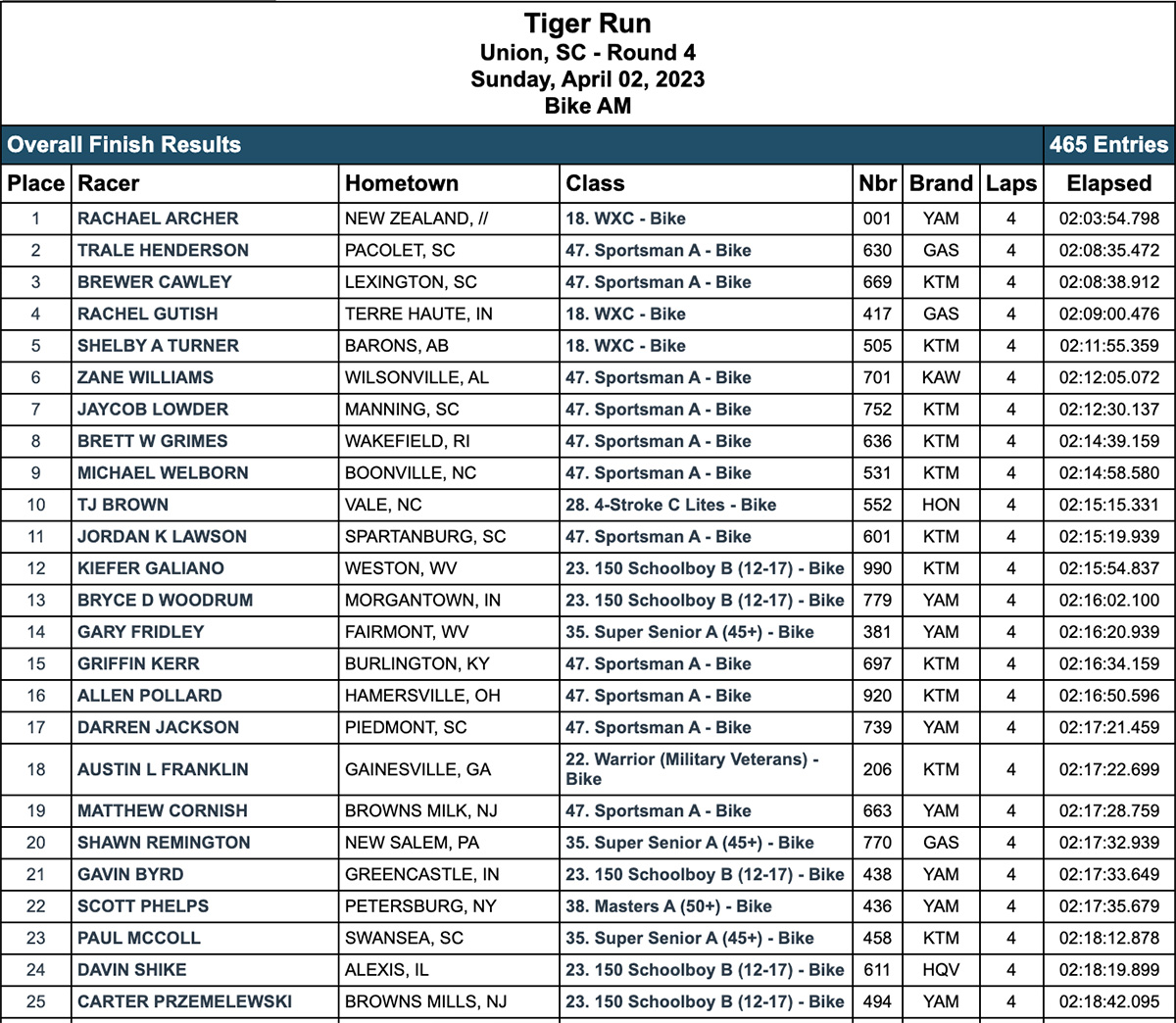 Video Credit: On The Pipe Podcast