135 hours of Hard Enduro – what we learned about one Husqvarna TE250i
Enduro21 checks in with a Husqvarna TE250i owner after 135 hours riding and two years to find out what he loves and hates, what parts he's fitted and what went wrong as he clocked-up those hours riding his local (mostly) extreme enduro trails.
When self-confessed regular rider Philippe Teixeira bought his 2019 Husqvarna TE250i it's fair to say he was smitten with it. A fan of 250 two-strokes, he was hooked by the new technology on the Austrian-built fuel injected bikes and when the 2019 Husqvarna range was launched the TE250i was a must-have for him.
135 hours and two years later, Enduro21 asked Philippe to spill the beans on how that bike had stood up to the test of time. He's an average enduro rider who spends his time riding the tracks and trails north of the Portuguese capital Porto, much of the time in the same hills and rocky gulleys where the Extreme XL Lagares Hard Enduro is held.
Philippe is a videographer by profession and, full disclosure, he works for Future7Media which is part of the same parent company as Enduro21. He spends his working life behind the lens shooting some of the planet's best riders but his spare time is all about riding his own bike on his home trails in Portugal. We're explaining this to be clear, this is his personal TE250i after two years and 135 hours of hard work…
I had to wait but I knew I wanted a 250 Husqvarna
Philippe Teixeira: "Because of my job I had the opportunity to see the TPI range at first hand when they were brand new and I was doing a media launch. In that moment I think I was hooked because I saw the big step that this kind of bike will bring to the market and all the benefits. It sounds like I am an advertisement but it was honestly how I saw it for an average rider like me."
"After that I saw the new Husqvarna design and I knew at that moment the fuel-injected bike was perfect for me. The only thing was I had to wait for the 2019 model launch to get one.
"Also getting a Husky, from my point of view, brings some benefits like the linkage system, map switch controls, aluminium triple clamps etc.
"I also know most of the riders jump to 300TPI and I understand that. But because I always had 250, I had a KTM EXC before this, and love the way the engines perform, I decided to stay the same and get used to the new TPI system. Probably next time I will switch to a 300…"
Fuel injected 'TPI' versus carburetted two-stroke
"When I got my bike and took it for the first ride I noticed right away how smooth it was. Sure, it was nice to get on a new bike but it felt like it was nearly perfect tuned from stock for a weekend or average rider like me."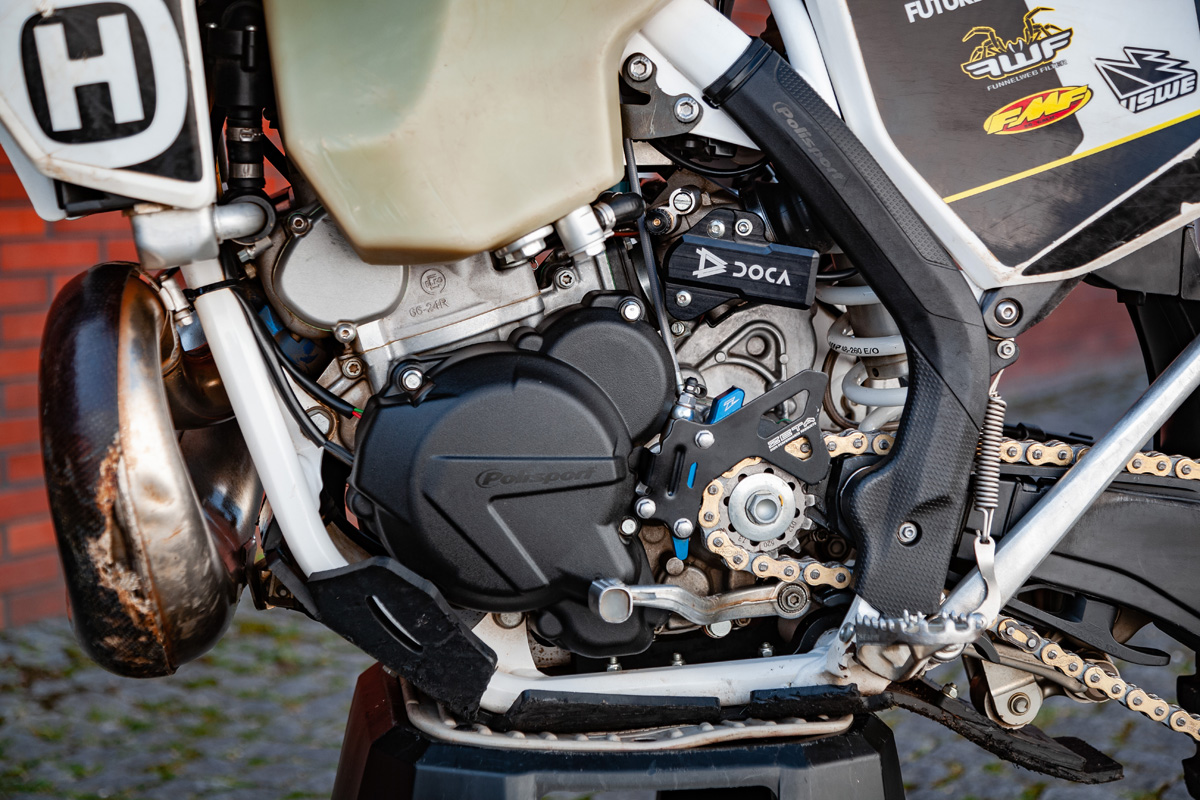 "The frame geometry was also an improvement and gave a good riding position and better bike control compared to my old bike.
Coming from a carburettor engine, I saw right away some benefits from the TPI engine such as more control of the power with more linear throttle delivery and more economy for the fuel."
I ride in extreme enduro heaven
"I'm lucky to live in a place that is like a paradise for the enduro and especially extreme enduro. I'm based in Gondomar, east of the Porto metropolitan district in Portugal. In my backyard I have Gondomar, Valongo and Lagares (among others), and these places are where Extreme XL Lagares happens. So I don't need to tell anyone about this place if you have watched any of the onboard from Lagares you can see where I ride! (Except the big river jump they do!)."
"During the two years with this bike I have been riding a mix between traditional and extreme enduro and can choose which I want to ride in the same day. I do a lot of riverbeds and rocky sections (this area is really rocky) and in the winter it is also very slippery so I think I test the bike in all conditions."
What has broken?
"My experience with this bike didn't start very well I must say. After five hours I hit my first problem and it felt like it had only just landed. I had a big water leak in my trail computer so I had to replace for a new one. Luckily, I think it was a manufacture problem at the time and it was fixed pretty easily.
"My second problem was between one of our lockdowns in 2020 when I bent my rear DID DirtStar rim a small amount after hitting a rock section. At the time was really hot, like REALLY hot, and I think that does not help. But in the end it was an easy enough fix at the dealer."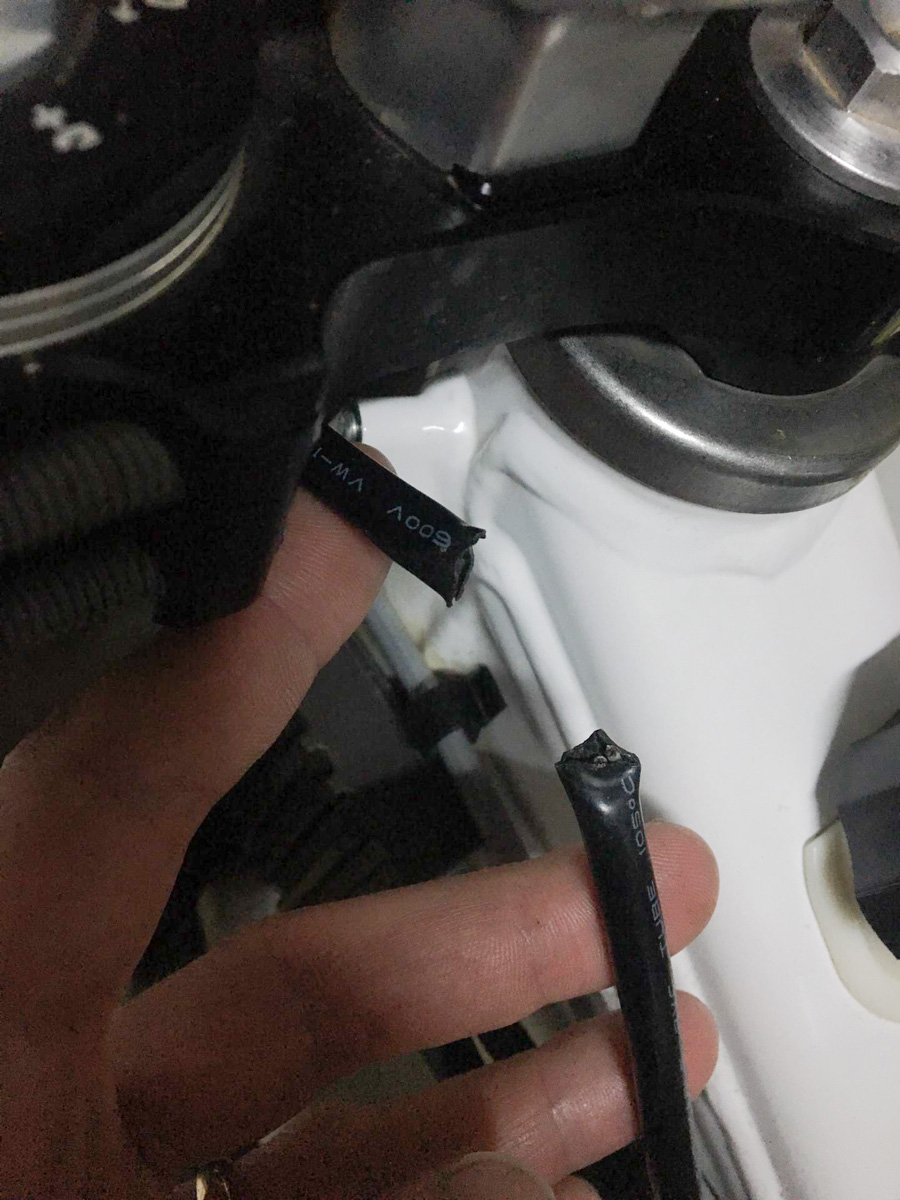 "The last problem was a couple weeks ago actually when I found my map switch cable and "wake up" cable had broken. Honestly, I do not know for sure how this happened but I think the wire broke over time, as you turn the handlebars. On a KTM I think the wire goes on the other side so maybe that is the problem.
"Overall, there have been no major problems mechanically otherwise. I see a lot of people writing many things on social media and forums and wherever but I did not have the problems they talk about. The important thing is to just pay attention to your bike and keep on top of maintenance."
Home servicing? Only when I have the tools
"I usually make the basic maintenance by myself and go the dealer when there's something out of my league, I don't have the proper tools or because of warranty.
"I always make the maintenance on time as per the manual and use the proper lubricants and because the factory guys use Motorex for everything so do I.
"Mechanically I think the bike runs great, like the first time it feels like to me and I have no complaints."
130-plus hours of rocks have dished out some damage…
"It is very important to protect the bike before you get started in terrain like I ride so fitting the right parts saved a lot of the actual bike damage because the protection took the beating.
"Looking at my bike you can see where the protection has doing what it is designed for such as the skid plate, chain guide, rear disc protector, hands guards and exhaust guard. They show us how is important to have good quality products to keep our bike safe."
MITAS' double green rear tyre all the way
"I've mainly used the same tyres front and rear because they work for me. The Bridgestone BattleCross X30 with Michelin medium BIB Mousse in the front is great.
"But the rear is more important and I am much more fussy about what I use. Because of terrain and conditions where I ride. I need to have something that gives me that extra grip so I've used the MITAS EF-07 Super Soft, double green band. Basically until I wore it out. "MITAS now have a new one, the Terra Force EH which is also Super Soft and has the double green lines. So far it is proving to be good with loads of grip."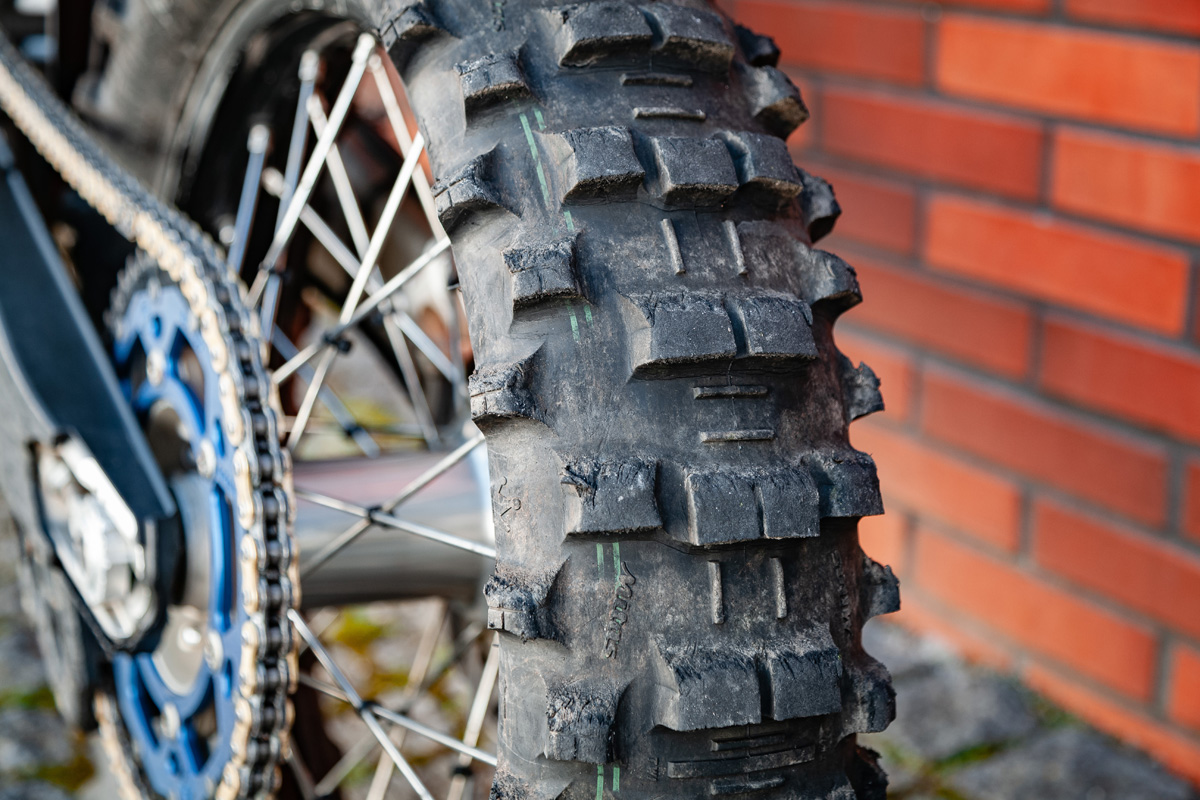 "The rear mousse is the X Edition Extreme Enduro one from RISEMOUSSE which for me is a great mousse for the balance between price and performance.
"I know there are more options in terms of softer tyres such as Michelin, Maxxis or Metzeler and Pirelli but for now I'm really happy with Mitas performance."
Softer suspension suits my home trails
"Most of the people who buy a bike around where I live, the first thing they do is prepare for extreme conditions. I prepare my Husky not like a Pro rider but as a normal rider and I think the stock bike gives you a good set-up for my level.
"Besides the protection, I adjusted the suspension with some small clicker adjustments just using the stock equipment to be softer and with a little less sag."
What's the next project with the bike?
"Right now is time to do a full, deep maintenance check over, such as change the piston, refresh all the oils, check and renew bearings and spare parts like that. My plan is to give the bike a complete makeover and try to make it feel like new again and with a fresh look with some new graphics also."
Next time I'll go for a 300
"I don't want to get rid of it yet but the next bike I'm pretty sure will be a Husqvarna again although this time I'll go for a 300 two-stroke. I want to get that extra 50cc to improve my riding skills and improve how I can approach the extreme terrain we ride around here with my buddies."
Accessories fitted
"I don't do so much traditional enduro riding, so the main thing when I got the bike was to prepare it for Hard Enduro with parts to keep it safer in the rocks and protected from damage.
"One of my favourite parts is the FMF Titan Powercore 2.1 Silencer. I love the look of it and the feel form the engine, I can feel it gives me some extra power and is more "crisp".
"I changed the stock seat for Polisport Performance Racing Seat too. It is grippier when you're sitting down and using your legs.
"The rear tyre and mousse is a real important factor also and the Mitas double green extreme tyre is my choice with the soft mousse."
Parts fitted:
AXP chain guide
AXP Xtrem Skid Plate
AXP Enduro Radiator Braces
AXP rear disc protection
Husqvarna Factory oil plug
Husqvarna Factory Flange guard
Husqvarna rear seat grab
FunnelWeb Filter
Zeta slave cylinder protection
Enduro Engineering Handguards
FMF Titan Powercore 2.1 Silencer
Moose Racing Carbon exhaust guard
Kriega Haul Loop Rear
DOCA TPS Protector
Regina gold chain
Moose Racing rear sprocket
Polisport Plastics kit plus front disc guard, engine covers, swingarm and frame protectors
Polisport Performance Racing Seat
AMPED bespoke graphics kit
Bridgestone Battlecross X30 90/100 front tyre with Michelin BIB mousse
MITAS Terraforce rear tyre (EH, super soft with double green band), RISEMOUSSE X-Edition rear mousse
Photo Credit: Philippe Teixeira