5 big things about Harley Davidson's new Pan America 1250 Adventure bike
Whichever way you look at it the new Harley Davidson Pan America 1250 is a remarkable motorcycle. From the Brembo brakes, fully adjustable suspension, touchscreen display, and selectable electronic rider modes to, yes, the looks, it is a stand-out new adventure bike.
This all-new model from Harley Davidson takes a fresh dive into an already well-established sector of the motorcycle market. The Pan America 1250 arrives well-equipped with all the right specifications to ensure it fits right in among weighty rivals in the Adventure bike market while carrying a very highly developed version of their classic V-twin engine.
The Pan America also represents a reinvention of Harley Davidson to attract adventure riders from far and wide but also give traditional Harley owners new places to ride – i.e. off-road.
Enduro21 takes a look at some of the stand-out features of the mighty, new Harley Davidson Pan America 1250…
Harley don't do this kind of thing, do they?
Think of Harley Davidson and what do you picture? Rumbling gently down Daytona beach or Big Sur on a big, ol' twin-engined cruiser? Living the two-wheeled dream is still very much part of the marketing for the Pan America 1250 but this is a fresh venture from the historic American motorcycle manufacturer and a very different motorcycle to anything their image might conjure.
Adventure bikes are big physically and they are also a big deal contributing heavily to the global bike sales of BMW, Triumph, Ducati and KTM which makes it all the more surprising Harley Davidson has taken so long to arrive with this new model.
She's a big 'un
There's no getting away from it, this is a very big bike compared to anything Enduro21 normally focuses on. She ain't no 250 two-stroke. In fact at 254kg (559lbs) ready to ride, it is well-over twice the weight of an average 250 2T.
That is missing the point though and you'd be hard pushed to find a big capacity adventure bike that is not weighty. KTM's 1290 Super Adventure is almost 30 lighter while BMW's massive-selling 1250 GS is 268kg (Adventure model).
The trick is to mask that weight with a balanced chassis and well-positioned centre of gravity which is something Harley Davidson say they have worked hard on with the Pan America. The proof will be in the pudding and we look forward to testing this bike soon.
One intriguing element to Harley Davidson's weighty specification and model details list is the engine being an integrated, stressed central member of the chassis. Eliminating a traditional frame (the frame elements bolt directly to the engine at the front, between your legs and under your backside) reducing weight and improving chassis stiffness.
V-twin goodness – this Harley's still got it
The classic V-twin engine which Harley Davidson is so famous for is literally the central element of the new Pan America. But the reality is a long way removed from any HD engine we've ever seen.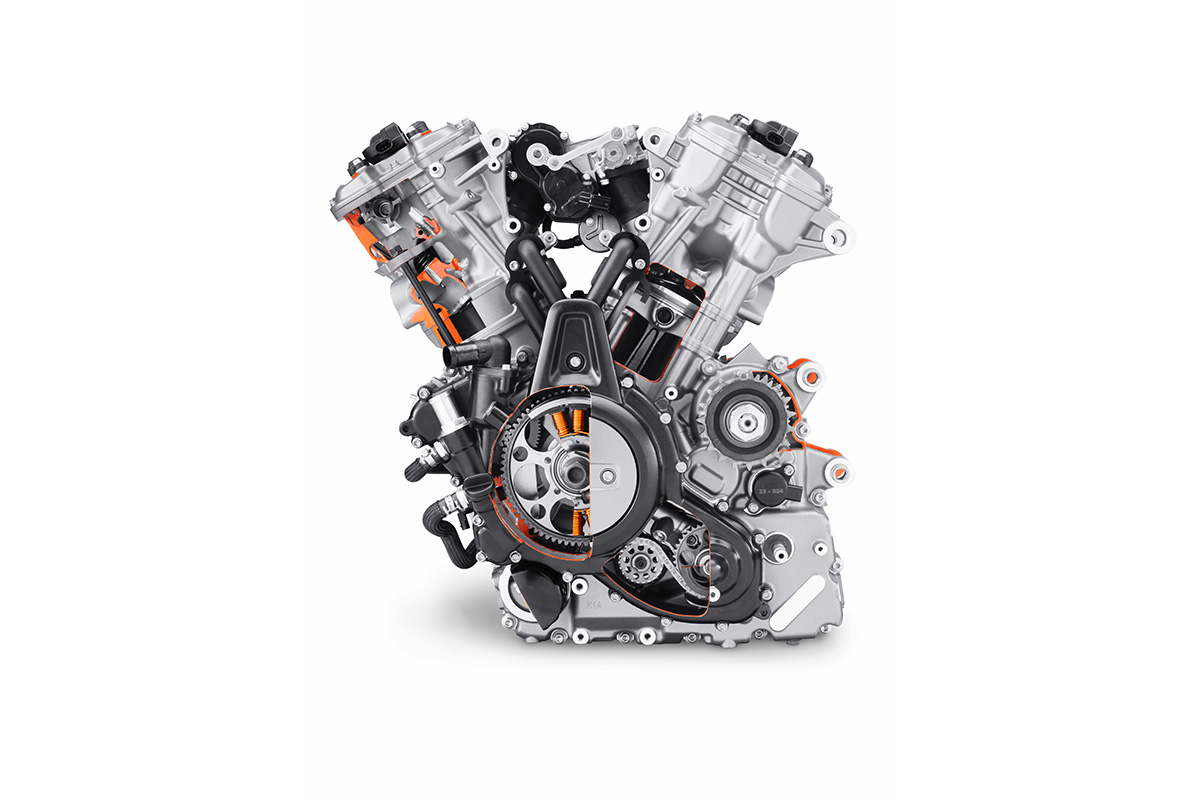 Assembled at the Harley-Davidson Pilgrim Road Powertrain Operations facility in Wisconsin, the Revolution Max 1250 engine is "a clean-sheet" according to Alex Bozmoski, Harley-Davidson's Chief Engineer.
Hydraulic lash adjusters, forged pistons, four-valve cylinder heads with sodium-filled exhaust valves to help dissipate heat, variable valve timing on the double overhead camshaft, dual-downdraft throttle bodies…there's a lot to this list.
Revolution Max 1250 engine highlights:
Engine: 4-valve, DOHC 60-degree V-twin, liquid-cooled
Displacement: 1252cc
Bore x stroke: 4.13 in. (105 mm) x 2.83 in (72 mm)
Horsepower: 150hp
Peak Torque: 94 ft. lbs / 128Nm
Peak rpm: 9500
Compression ratio: 13:1
There are benefits to the V-twin design. It is narrow and that centralises mass – a phrase every manufacturer loves to say in their PR. It makes an engine taller but it does help improve foot and leg room for the rider compared to a wider engine configuration.
Along with the heritage associated with the V60 twin, the new engine design and character is all about smooth, low-end torque power delivery and low-speed throttle control. All of which matters for a bike this size, particularly when you head off the road and onto the trail. It bodes well.
We couldn't help but stumble over one of the facts in the engine specifications though. Again, this is going to mean more if you're used to off-road bikes but an oil refresh on this engine will require 4.5 litres (1.18 US gal). Blimey.
Check out the Pan America 1250's dramatic big reveal video featuring Jason Momoa:
It is only 4K more than an enduro bike…
Ok, 4K is a lot but it is still amazing that you could have this much bike for 'just' a few thou more than you could spend on a new enduro bike.
$17,319/£14,000/€17,999 is the starting point for the Pan America 1250 which is a pretty competitive price tag in this big ADV marketplace. The more off-road equipped special model (more on that below) begins at $19,999/£15,500 or just over €20K and that is where the focus will be more for the serious adventure rider looking to get those meaningful parts from the outset.
Two Pan America 1250 models
The basic Pan America model is joined by a 'Special' model which stands as a more off-road focused package for a grand and a half more. Semi-active suspension, a centre stand, tool-free rear brake pedal adjustment, brush guard, aluminium skidplate, handguards and heated grips, steering damper – plus adaptive ride height, spoke wheels for an additional cost… the list is impressive.
Importantly it is meaningful and for all the hype of the video above it shows Harley Davidson hasn't just dropped into this ADV market for the sales figures but has also taken it seriously.
We've only scratched the surface of the details behind the new Harley Davidson Pan America 1250 here. If you want to know more, and there's a lot more trust us, visit: www.harley-davidson.com