2023 KTM 300 EXC TPI hard parts tested to the extreme
Enduro21 builds a 2023 KTM 300 EXC TPI fit for purpose at Hard Enduro – here's what we fitted, why and how it passed the test at a brutal British Extreme Super Series round.
As the days of the TPI model KTM (and Husqvarna and GASGAS) two-strokes are numbered – TBI 2Ts are coming in the 2024 model ranges – we're getting in some last hours on the still current, '23 300 EXC two-stroke TPI model.
The 300 TPI has come a long way since those first fuel-injected bikes launched in 2018. With 100s of thousands shipped out of Austria since, it's still one of the biggest selling off-road bikes on the planet and many people's natural choice for extreme or hard enduros.
Enduro21's long term test mule has had an easy life up to this point, but not anymore as we built it up and headed for round two of a new British Extreme Super Series at a spectacular venue on the brink of the Lake District.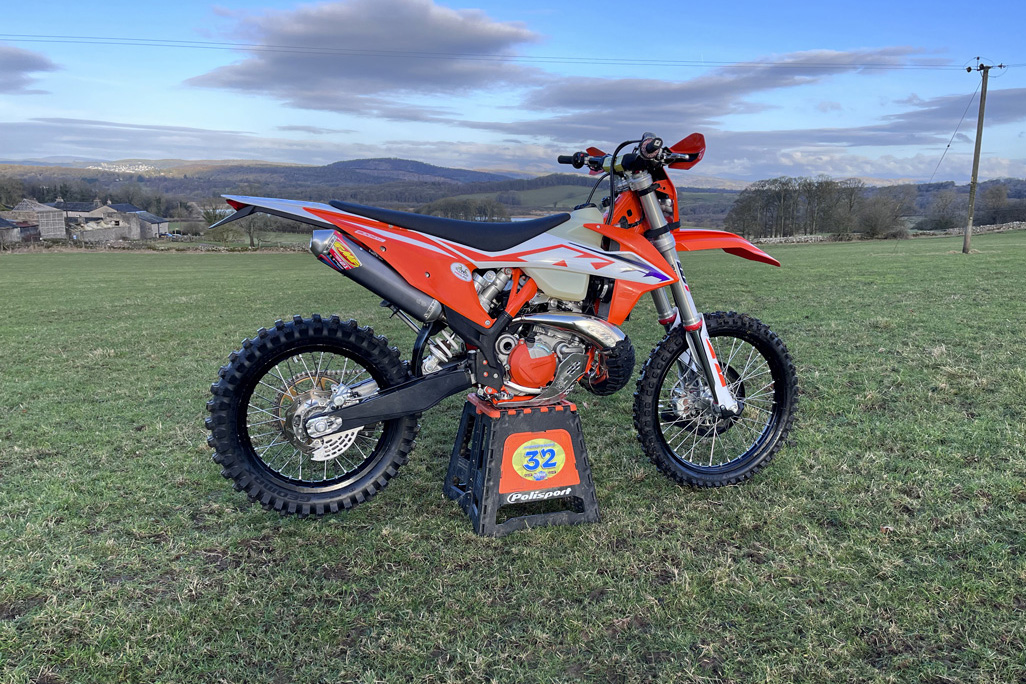 Enduro21 test mule parts fitted for this race:
Below are all the parts we fitted to the 300 EXC plus how they all faired against the battering dished out across three hours on terrain that was nothing short of horrendous. Glass-like limestone rocks littered the course along with hidden roots and "man-sized holes". Putting a foot down meant never knowing if it would drop, slip (but never grip) and it truly was like dancing on ice…
Dunlop Geomax AT81 EX (extreme) tyres and soft mousses
KTM Power Parts fan
Funnel Web air filter
Enduro Engineering sump guard
Enduro Engineering rear disc protector
AXP Racing Xtreme chain guide and sprocket protector
Astra Off Road handlebars
Polisport front disc and fork bottom protectors
Polisport swingarm protectors
Polisport engine case cover
Polisport Armadillo exhaust pipe guard
Raptor Titanium footpegs
FMF exhaust and 2.1 Power Core
SuperSprox 52 tooth rear sprocket
Some events you can get away with going less heavy on the protection, but we knew this one would be feature a tonne of hard rocks so went bigger.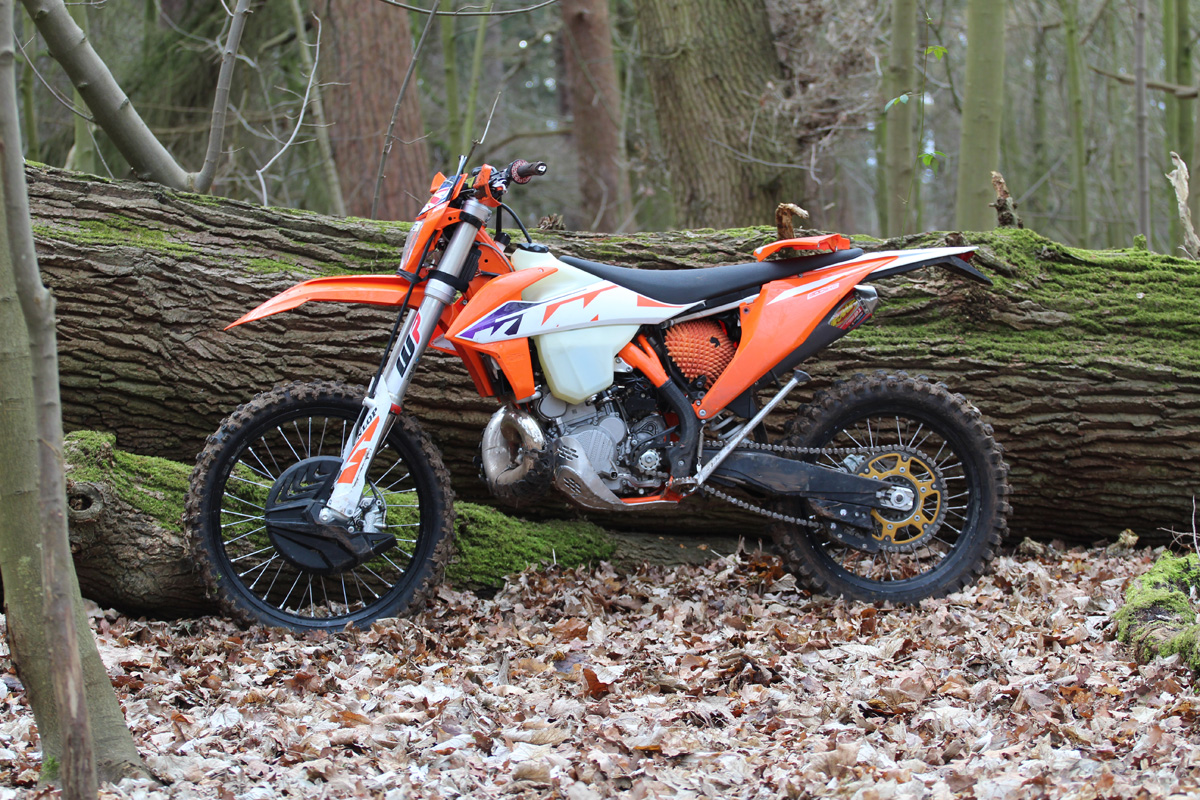 The Leighton Hall course featured a bucket load of places where fork bottoms, foot levers, footrests, swingarms and brake discs were vulnerable. This is where we focused the hard parts, not least to keep the bike looking good underneath it all so that afterwards it didn't look like it had been attacked by a road scraper.
Here's each bolt-on part, one by one, with some images to show how it faired…
Enduro Engineering Extreme Sump Guard
EE's Extreme skidplate is a beast. Yeah, it weighs a bit more than some of the plastic types on the market but it is standing firm all day long against these kinds of rocks at this event.
The front protection includes water pump housing and to a degree engine cases/sides and we like the way this guard comes up and around the front of the engine, protecting from the things coming at it in the direction of travel.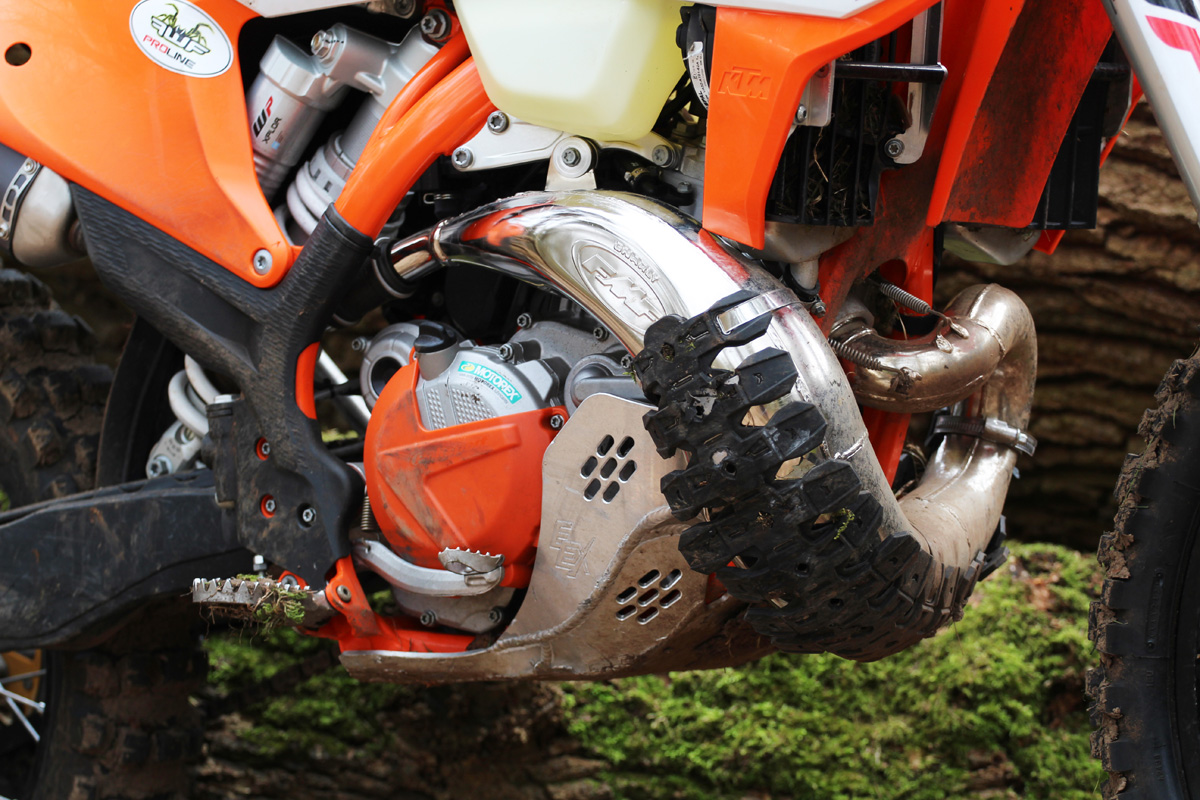 The fit is simple with a bracket across the front lower frame rails and a c-clamp at the rear – with rubber padding between it and the frame rails.
The KTM EXC models have PDS suspension so don't need the optional tail to protect the suspension linkage but that part is available, extending the guard backwards.
Enduro Engineering rear disc protector
Like the skid plate, it's the same story goes for Enduro Engineering's rear disc protector which stood up to a heck of a beating and kept the rear rotor intact. We confess this is a part we fit to nearly every bike, whichever type of enduro we're riding because it is so strong.
It replaces the OEM rear brake caliper hanger, so you unbolt the caliper to install (not forgetting the brake pad backing plate) and also forms part of the axle spacer between the wheel and swingarm. This is among the best 100 bucks you'll spend on bike protection.
AXP Racing Xtreme chain guide
Tough as old boots springs to mind with AXP's chain guide. In contrast to the Enduro Engineering parts above, this is a plastic construction and is designed to keep the chain in place as well as protect the rea sprocket.
It bolts on in place of the stock part which looks pretty flimsy by comparison with a chunky design. This new Xtreme model also has the mounting bolt protection, sitting proud of the two bolt heads underneath the swingarm.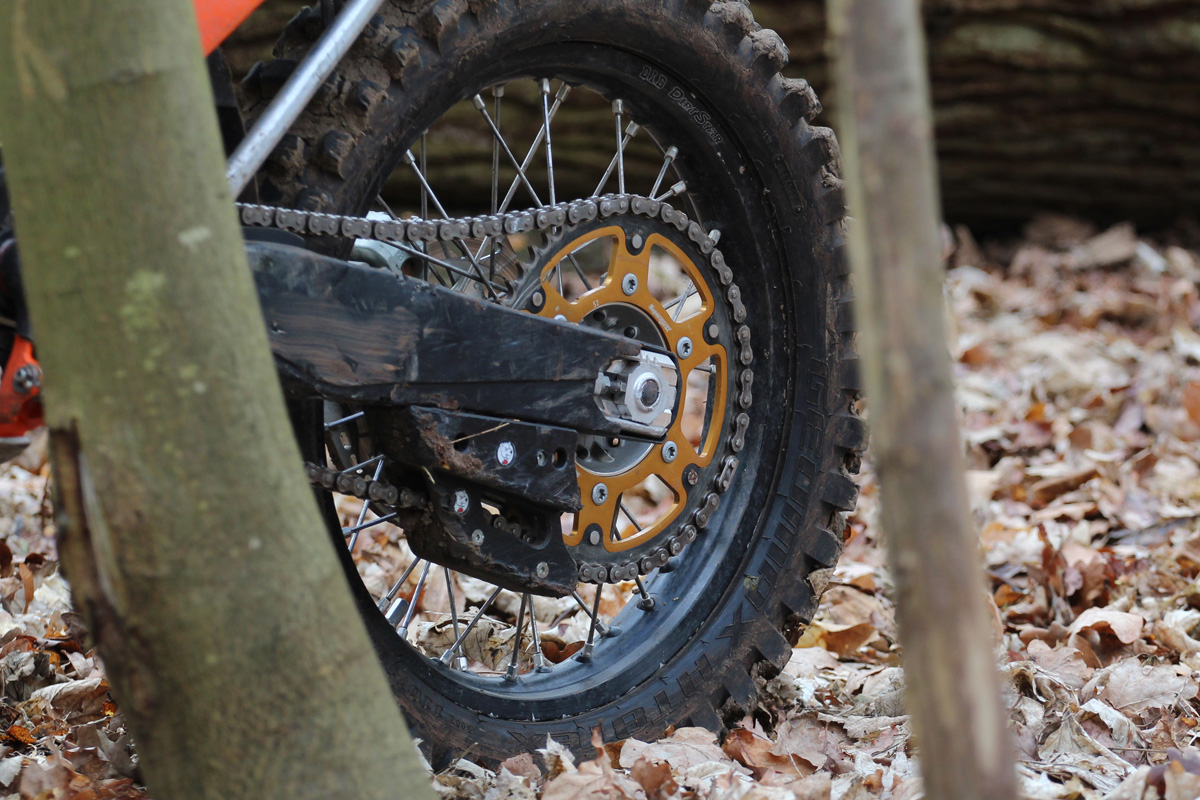 It's taken some massive hits on the way between some of the narrow gaps and definitely did its job. One thing to note is the 52 tooth rear sprocket is about as big as you can go before the chain guide sits too close and fouls on the sprocket and chain.
Front end protection from Polisport
Around the front we opted for a Polisport's plastic guard and fork bottom protectors because we have never put them to a real, hard enduro test. It could be how you ride but the front tends to be less battered than the rear so something lighter, but still tough, can be a better option.
Did it work? Yes. We've written about Polisport's fork bottom protectors before and they did their job again here under extreme conditions.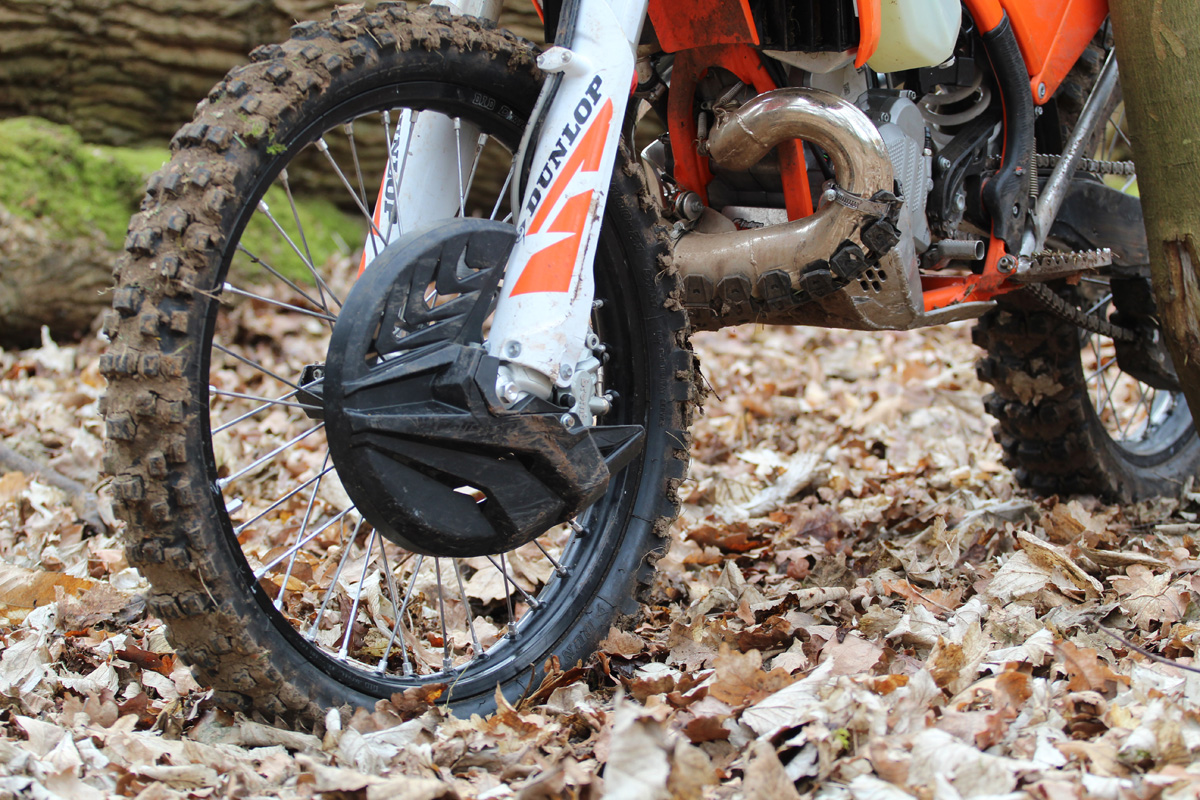 The front disc guard connects to the fork legs, making a pretty solid union with the protectors against the rocks. Both did their job protecting underneath with no dings to the fork legs afterwards.
The only issue is one of the mounting bolts did get bent. You replace stock axle clamp bolts and the lower front brake caliper bolt went slightly pear-shaped. It unwound ok to remove it but needs replacing if we're using the guard again.
Swingarm protectors
These are a source of debate for some people – fit them or not basically – but after this event they are definitely on our stock list for extreme enduro.
These are Polisport's swingarm guards and simply slot over the rear end of the swingarm forks, locating behind the rear axle, and then simply cable tie in the middle and front, inside the footpeg.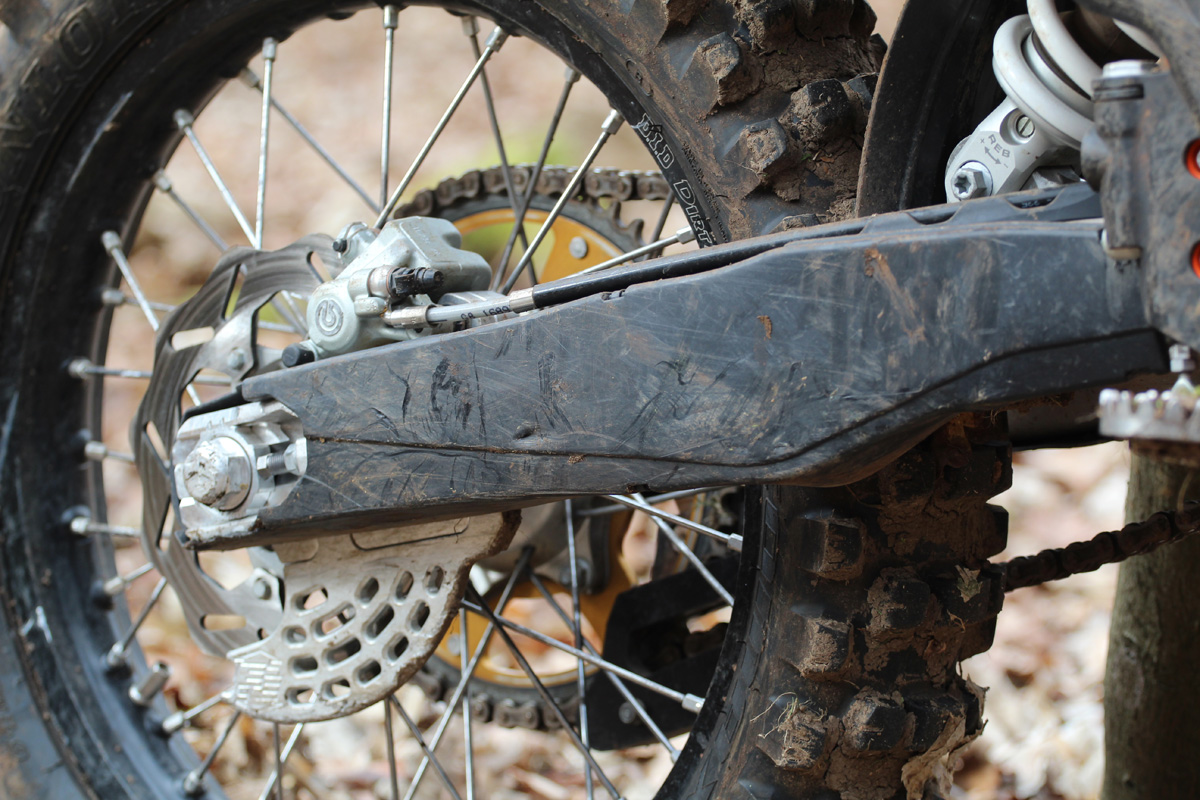 Along the way these took some heavy hits and one of the heaviest got through, squashing the plastic and causing a ding in the actual swingarm. How bad could any of these been without the protectors fitted? It's hard to say but we reckon they did their job ten times over.
Reasons why people don't like the swingarm guard are the same as other bolt-on protection in that dirt and water can get behind the cover and corrode or be abrasive to the metal underneath.
It depends on conditions a little but removing the swingarm protectors as quickly as possible after the event, so water and dirt doesn't sit behind it, helps a lot.
FMF Exhaust upgrade
Apart from the bolt-on protection, we also upgraded a few of the standard components. Those included the gearing, exhaust system, a fan plus opted to fit a tried and tested Funnel Web air filter.
If there's any part of this bike which looked so sweet before the race we thought twice about ruining it by riding, it was the spanking new exhaust system from FMF. Boy did it sound good when we first fitted it.
This upgrade was forced upon us after the stock pipe got dented on a log a couple of weeks before. So this FMF Gnarly Flat Zone and Turbinecore 2.1 spark arrestor silencer were not an option, they had to go on.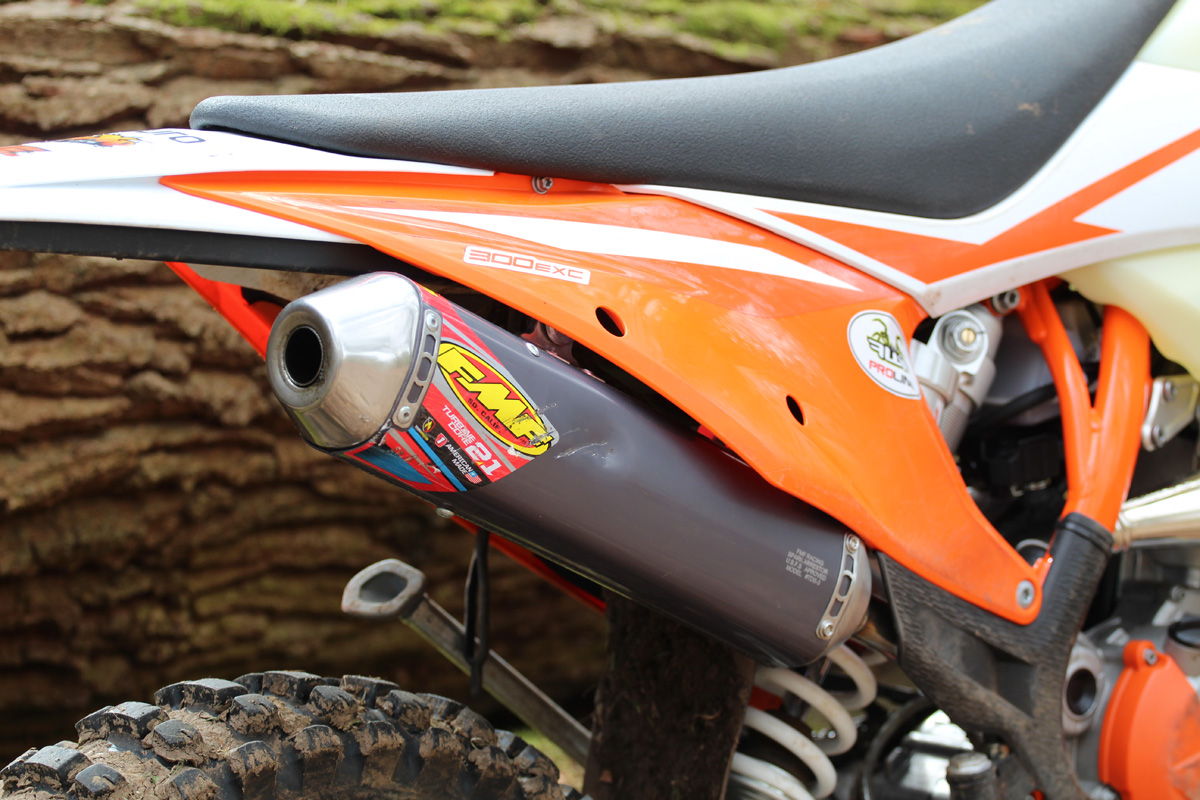 The standard fitment pipes on the latest generation are a pig to blow out dents on and repair because they basically try to straighten out as a whole. That means using one of the dent removing systems (ours uses water pressure inside) can put the exhaust even further out of shape which in turn makes it impossible to refit.
The FMF Gnarly Flat Zone and Turbinecore 2.1 looked awesome and sounded great in the morning sunshine…if only we didn't have to ride it!
Polisport Armadillo pipe guard
You'll spot we fitted a Polisport gator guard on the expansion chamber too and the jury is out on how effective this was. The pipe still took a few knocks but was always going to have a hard time at this race and we're not sure this type of protector is hard enduro enough.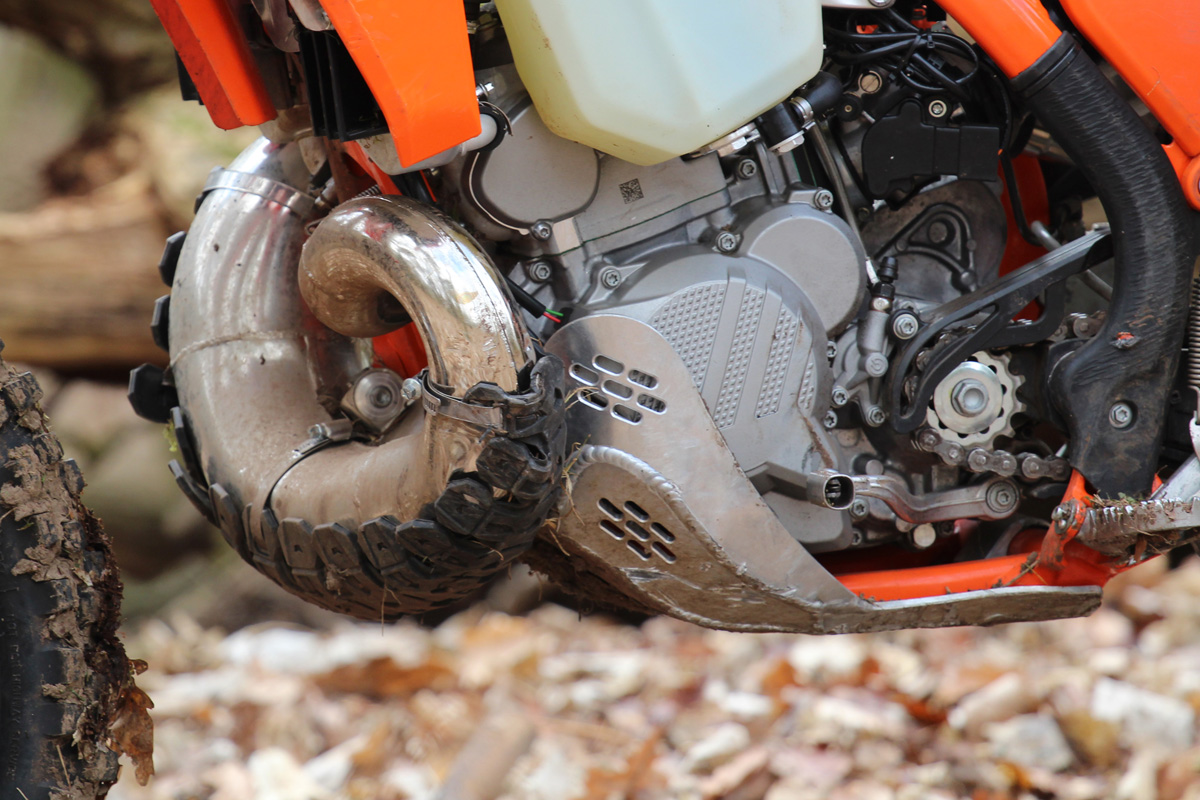 In future the wraparound type would be preferable, and in its favour, this guard doesn't pretend to protect against extreme enduro and is more aimed at 'normal' enduro use – crashes and dropping your bike on a trail rather than hard hits.
It clearly did take some hits though and we're pretty sure it saved the worst of it.
Dunlop Geomax AT81 EX (extreme) tyres
This race was the first chance we've had to test Dunlop's AT81 EX or extreme enduro tyre. Built on the same tread pattern as the very well-known AT81, it's softer and brings more grip to the job basically.
Their softer feel and a 20mm deep tread pattern certainly didn't mean we lacked any grip in the dirt at this enduro, although dirt was the least of the worries with so many limestone rocks to deal with.
We used Dunlop's own recommended softer mousse option with the tyres and the feel of the bike straight off the start line was of having a tonne of grip at the back – noticeably more than we're used to with shorter depth tread.
Overall the set-up wasn't super-gummy enough for this race. It needed something closer to a trials tyre really but we'll keep these, turn the rear and use them again before running a more in depth tested feature in the near future.
SuperSprox rear sprocket
Reasons to fit a different rear sprocket at this event were no-brainers: stronger to combat rocks and to lower the standard gearing.
Ukrainian-built SuperSprox sprockets need support right now so using their steel tooth rear was an easy one. Quite obviously it is stronger and though we had a tough chain guide fitted protecting it from incoming rocks (more on that below), having tougher teeth out the back there is preferable over standard part.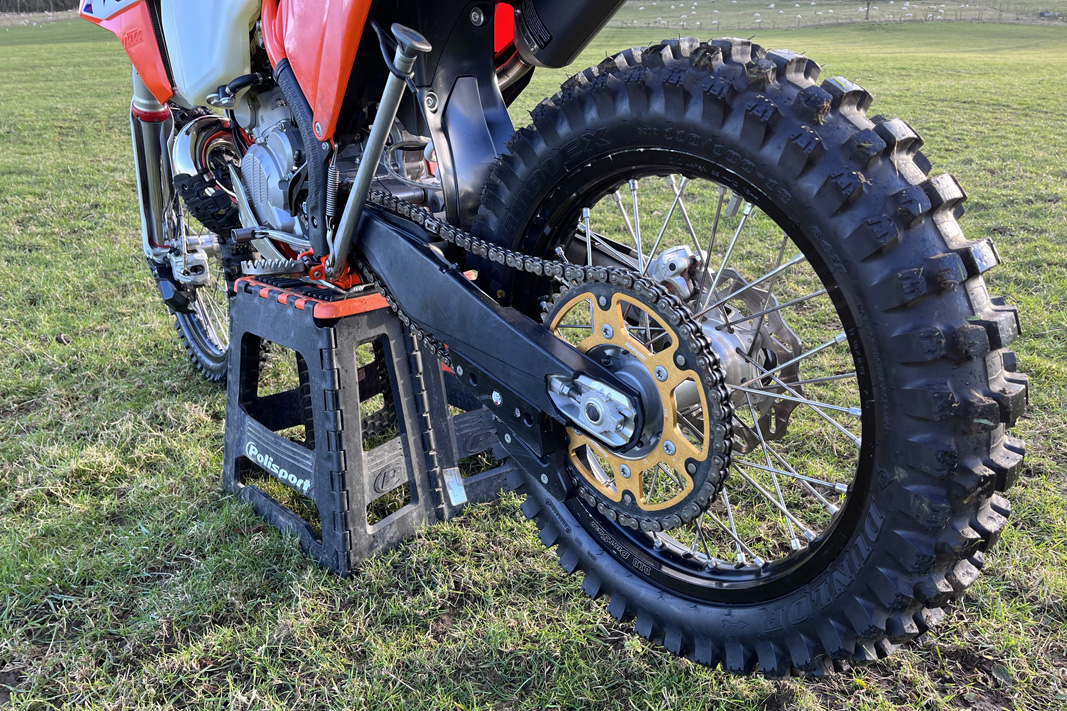 We went two teeth lower at the back too, so a 52 instead of a 50 but left the 13 tooth front stock sprocket on. Stock gearing is fine on the trail but for slower, technical riding with lots of clutch work, lower gearing makes the power more accessible.
Arguably you could have gone even lower still, and many people do for events like Romaniacs but it is always a balance and depends how you ride.
First was more accessible but a real bonus was having better use of second gear too. Where the going is technical but you can keep it flowing feet up, having more versatile second gear was a bonus.
Fitting a fan
Even in the cold months, extreme enduro makes a bike work hard so a fan is a good idea to keep it cooler and prevent overheating and potential damage to the cylinder. Proof was in the pudding as we heard the fan working while clearly seeing (and smelling) other bikes boiling over.
This is the KTM Power Parts fan which hasn't changed in the design for years, fits many Austrian bikes and is dead easy to fit too. Simply the fan comes with a cage which locates on the inside of the radiator, leaving two short screws to carefully turn in on the outside where lugs holes already exist. We used a dab of thread lock on the screws.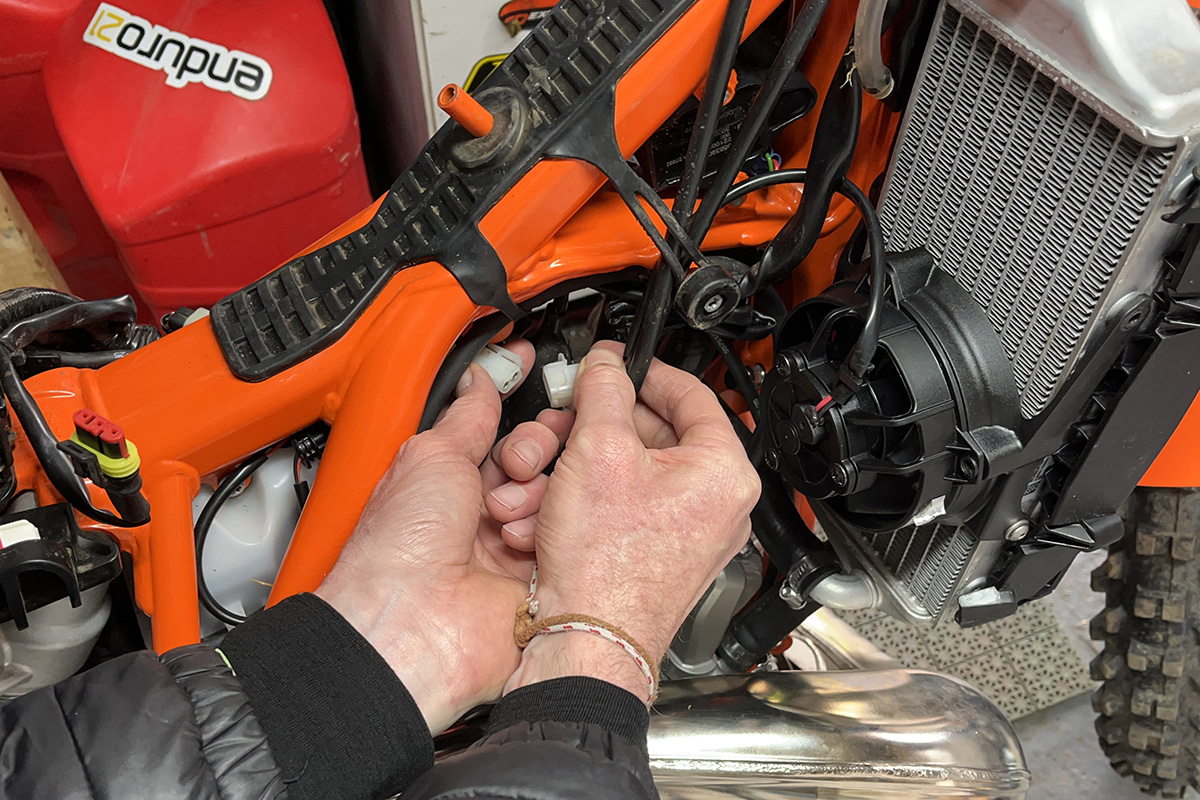 The power simply comes from connecting the fan's plug to a vacant socket already waiting for you under the main frame backbone (remove the fuel tank to fit the fan) and you also need to plug in a fan relay under the seat which comes in the kit.
Cynics will rightly say this part should be fitted as standard, especially as the plugs are already there, but if you're fitting one DIY, the whole job takes less than 10 minutes.
Other parts fitted...
Our preference is to fit flatter handlebars and lower footpegs to fit the rider better. Standard positions for both are too high ideally so we opt for 5mm lower and 5mm further back Raptor Titanium footpegs. They help with control but are heaps stronger too.
The Astra Off Road handlebars are a matter of personal preference. These Osiris 35mm bend bars actually aren't so far removed in shape and body position of a set of Renthal bars we have which is why we have tested these first before moving on to a set of Apollo model, which are specifically designed for extreme enduro.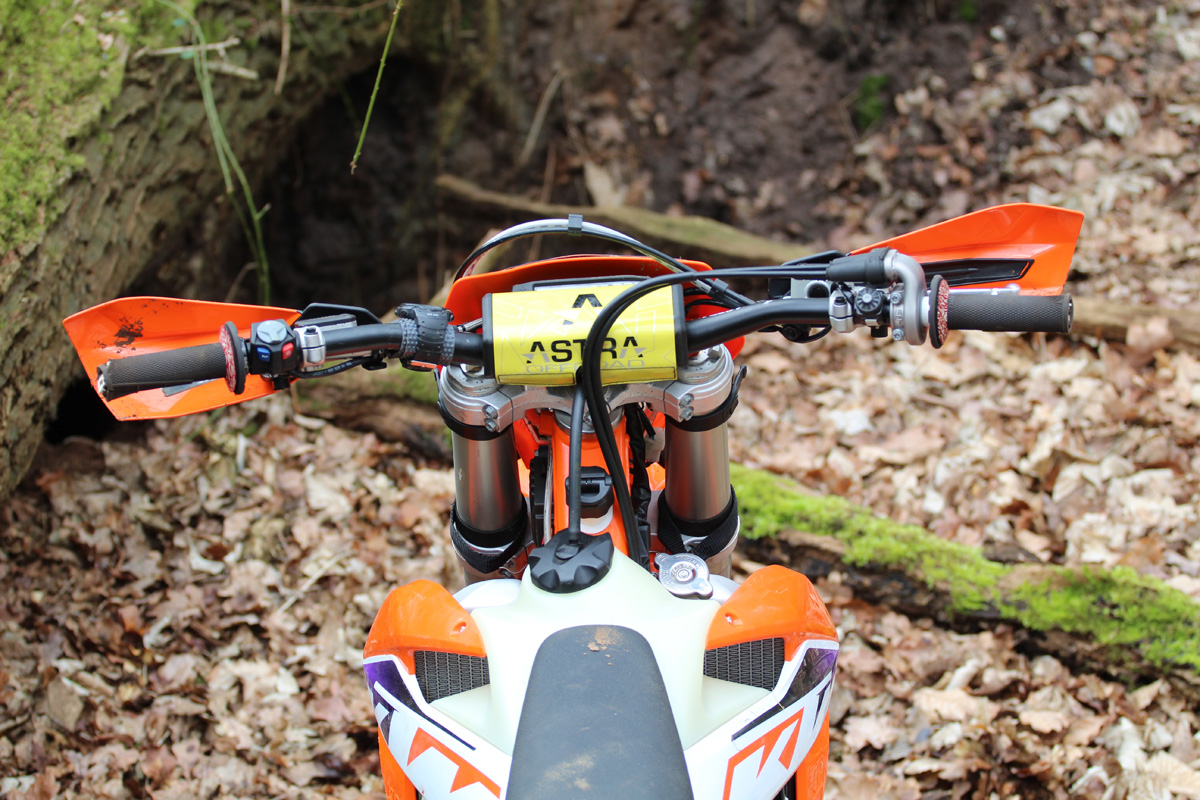 The key to it is finding the right riding position and we're sold on Astra's design principle of helping the rider naturally have wider elbows and neutral wrist position to help with control but combat fatigue and wrist ache.
Unfortunately we bent them, dropping off the same bastard rock (twice!)…see below.
What didn't we fit and should have done?
Maybe in hindsight (which is a beautiful thing) wraparound handguards would have been a good idea. Two crashes edging around a tree, off the same high rock when your foot slips and down you go, backside over elbow, meant the left bar end and grip got hammered.
It was still rideable despite the broken clutch lever but if this had been off to the right side and had broken the throttle in the same way it could easily have been game over.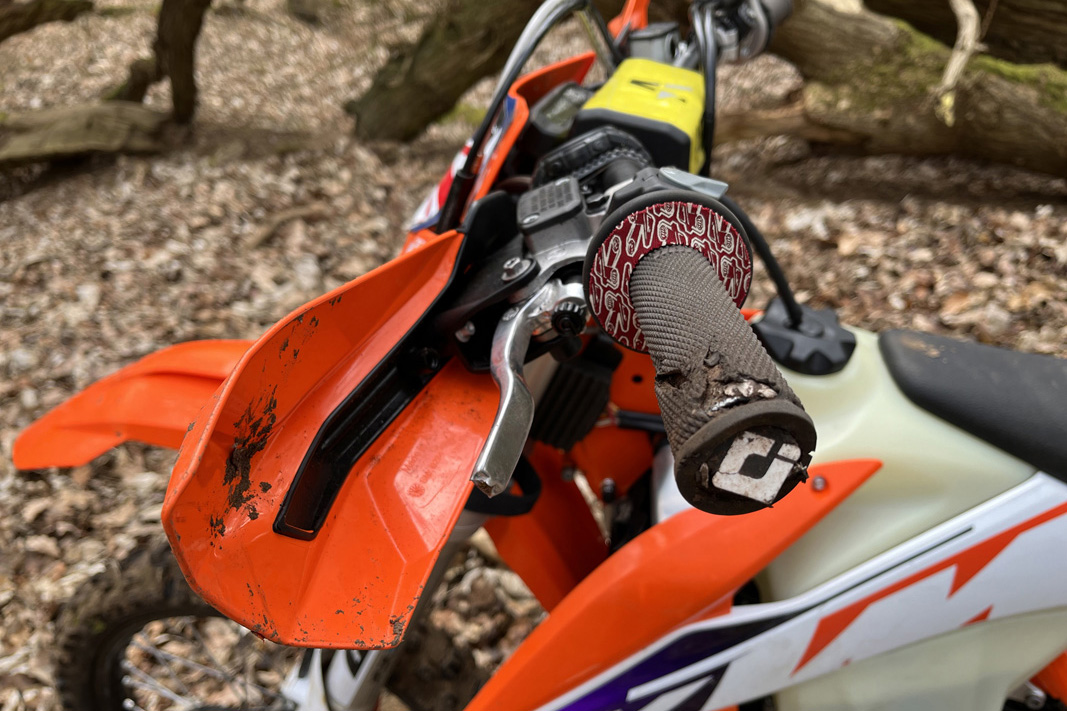 Another part we worry about not fitting more and more with every extreme race is the exhaust flange guard or sometimes known as a cylinder saver. Plenty of aftermarket companies make them for all bike models, as do KTM in the in their accessories catalogue for the EXC.
If you're looking for a real world, hard enduro test of a bike and products you got it. The process of riding anywhere and different types of event is always a learning curve: next time I'll fit this, another time I won't do that etc etc. But this bike wasn't far off being fit for purpose.
The race was brilliant but also hard work, even for eventual outright winner Mitch Brightmore. We got a trophy for the trouble too, in the old boys class but the reward as always was seeing the finishers flag with a smile and a story to tell.
Photo Credit: Enduro21