Closer look: Stark VARG electric off-road motorcycle technical details
You've seen the video now take a closer look at the details behind the new Stark VARG electric off-road motorcycle, a production off-road bike that "will prove that electric technology is superior to gasoline equivalents in every single way".
A ground-up new design which, from the start, aimed to not just be competitive but beat conventional, internal combustion engine bikes. No servicing of air filters, no oil changes, piston refreshes or valve clearance checking. In fact they say this bike needs no more servicing than an MTB.
The E-MTB world has sky-rocketed in the last couple of years but in the 'real bike' world, most of us are still scratching our chins at anything which claims to be an actual match for what we have in the garage.
Are we looking at a real game changer here then? An electric bike which actually behaves and rides like 'normal' but which isn't going to offend the noise police, drink fossil fuels and leave us with less places to ride? Or do we still need a clutch, what about the range and how do you charge it?
Stark VARG technical details:
110kg claimed weight
80hp – 9hp per kilogramme – making a claimed 30% more powerful than a 450 four-stroke
938Nm claimed torque at the back wheel
Two different power options (80hp & 60hp) available, full powr mdoel is $1000 more
1-2 hour battery charge time
Over 100 power modes with adjustable power curve, engine braking, flywheel effect and traction
Multiple bikes 'in one' with customizable power settings to ape a 125 two-stroke up
to a 650 four-stroke
Smartphone dash and set-up App connects via bluetooth and acts as a lock
KYB suspension, 310mm wheel travel front and rear
Rider weight specified at purchase means suspension is tuned to you
CNC-machined aluminium hubs and rims, steel spokes
Industry standard Brembo brake components
Small and light chassis using carbon fibre, magnesium, and aero grade aluminium
Low maintenance, zero emissions and minimal noise
€11,900 price tag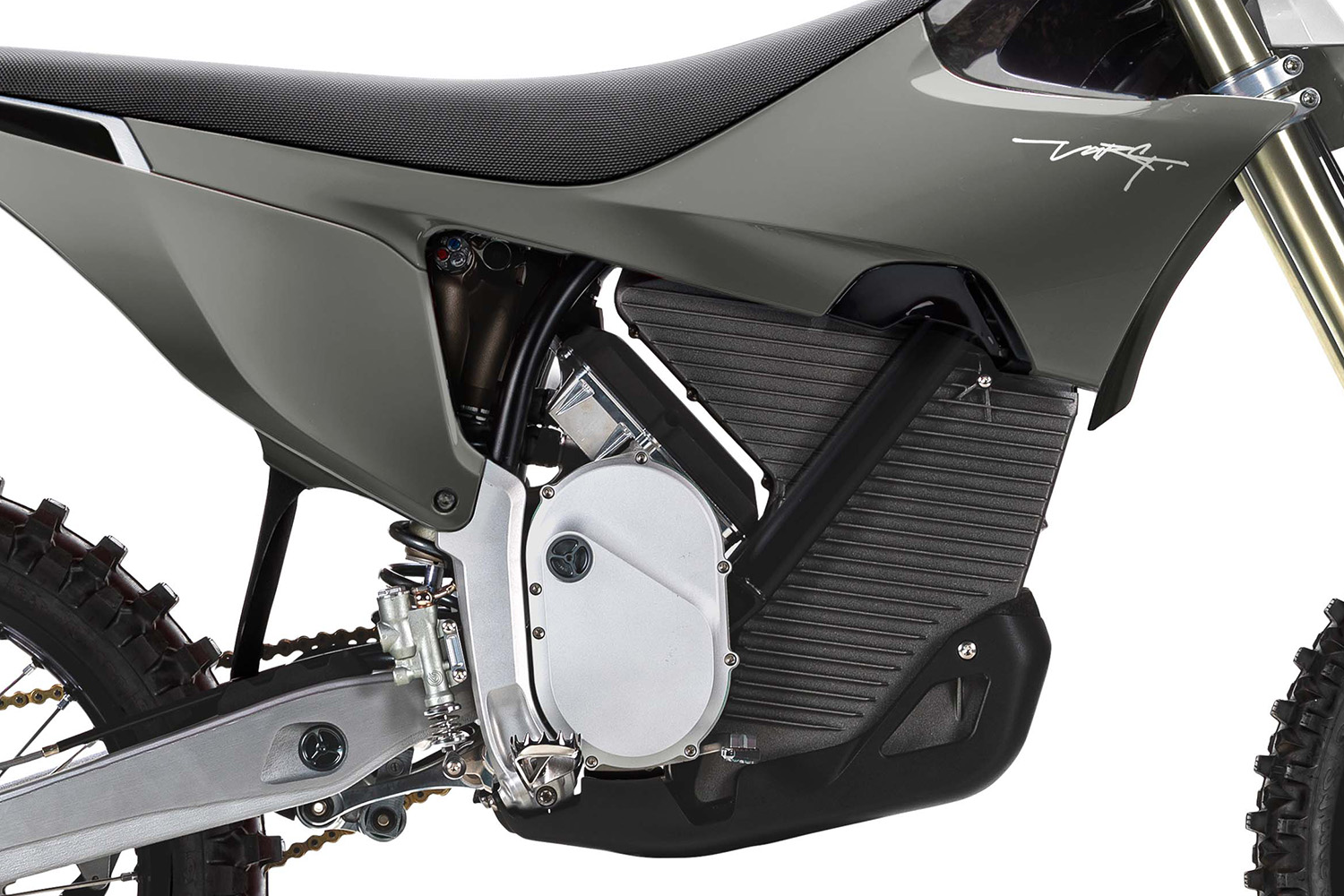 "Customizable power gives you a 125 or a 650 all in one bike"?
The Stark VARG (meaning strong wolf in Swedish btw) is aiming for a dirt bike revolution with some simple facts; a power train and chassis designed for the purpose of off-road, versatile for novice and pro riders, which can outperform the best 450 four-stroke and crucially make no noise and drink no fuel.
Stark Future, the compnay behind the VARG model, are saying they plan a full range of on and off-road motorcyclesin the future but that they have started with a motocross bike because "it is the toughest and most demanding form of motorcycling".
We take the point, going full gas on an MX track is intense in terms of chassis design, power and energy consumption. But we're waving an enduro flag here. Isn't a three-hour XC enduro, Erzbergrodeo, Romaniacs or the Dakar just a tad more demanding?
Anyway, clearly the VARG works on a track judging by the reveal video and the parameters, chiefly the battery life and chassis set-up, point at short course competition more than enduro.
What about battery life?
It's the question you'll have already been asking yourself. We know from every electric motorcycle which has dared to roll its wheels in the dirt that battery bikes don't work so well for enduro.
Stark are promising "unbeatable durability" and a bike capable of a full 'moto' at MXGP-like intensity (35 mins) or up to six hours of easy trail riding. What is not clear yet is how the VARG might achieve homologation and how, if you're trail riding, it physically charges. Can you just plug it in?
There are precedents already being set with E-MTB bike parks which allow you to charge at the track. What the batteries look like, how much a spare one might cost, we do not yet know.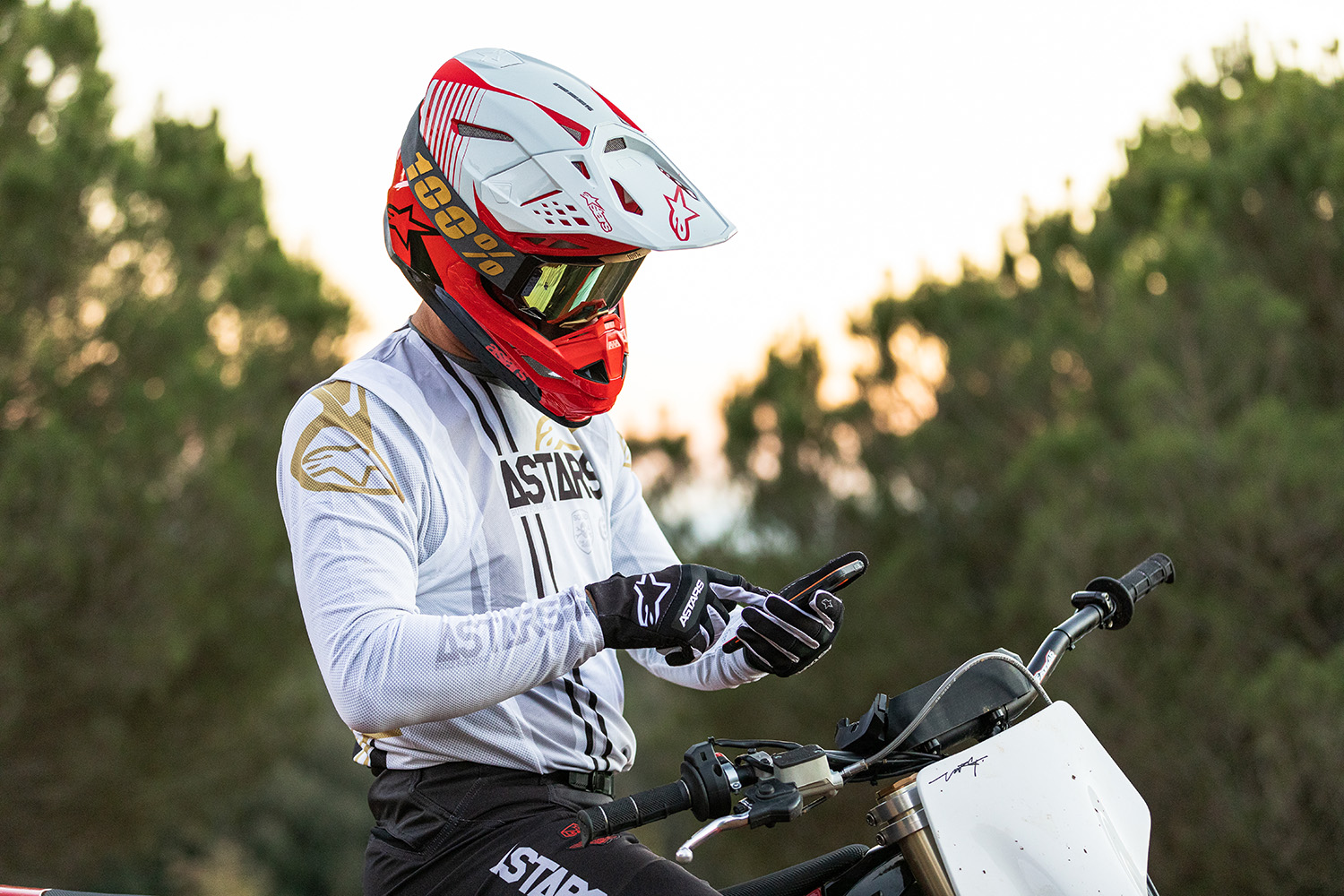 How can it work on the trail?
"In excess of 100 different ride modes" adjustable using the Stark Future App sounds good for freeriding and trails. The App sits on a waterproof and shock resistant dashboard and gives you a huge range of adjustment to the power curve, engine braking, traction control and virtual flywheel weight.
Stark say it can be tuned easily in a few seconds and this gives you the options for longer battery life and increased riding distance. If it handles and weighs like 'normal' then it should be good assuming you can manage the charging.
The techy bit…
The "silent heart" of the Stark VARG is the carbon fibre sleeve motor with produces 80hp – 30% more than any 450 – with double the amount of torque and weighing a claimed 9kg. The drivetrain is surrounded by Stark's production battery system which is compact and 'energy dense', boasting 6kWh of capacity and weighing less than 32kg.
The motor uses "the smallest invertor in the world" (in this power category), integrates a water-cooled case which also serves as a structural component of the chassis. The powerplant has a patent-pending magnesium honeycomb casing, 'slippery-fingers' cell holders, a pressure relief system and a one-sided powerboard configuring the battery cells – if you're into your electric motors you'll understand the nuances here.
Their 'flying V' system connects every cell directly to the tough, waterproof casing. They say this brings high conductivity to create a very even and regular battery temperature that removes unnecessary weight normally used on a fully water-cooled motor.
We feel like we don't need to know most of the above techy stuff if we're honest. In reality, with no more maintenance needed than an MTB, life should be simple and workshop time minimal and while many of us value that fettling part of dirt bike life, maybe the kids won't as we get older.
A closer look at the chassis details…
Stark say they took a look at every element of a bike in designing the VARG and there are some nice details scattered around it.
Overall weight is a claimed 110kg (242lbs) and that is basically ballpark in class (a 450 four-stroke from any manufacturer you care to call up weighs basically the same with fuel onboard).
Standard equipment KYB suspension helps enormously in convincing us this bike will feel 'normal' on a track – if the weight is the same, the bars and footpegs are in the same places and the suspension is behaving like normal, why wouldn't it?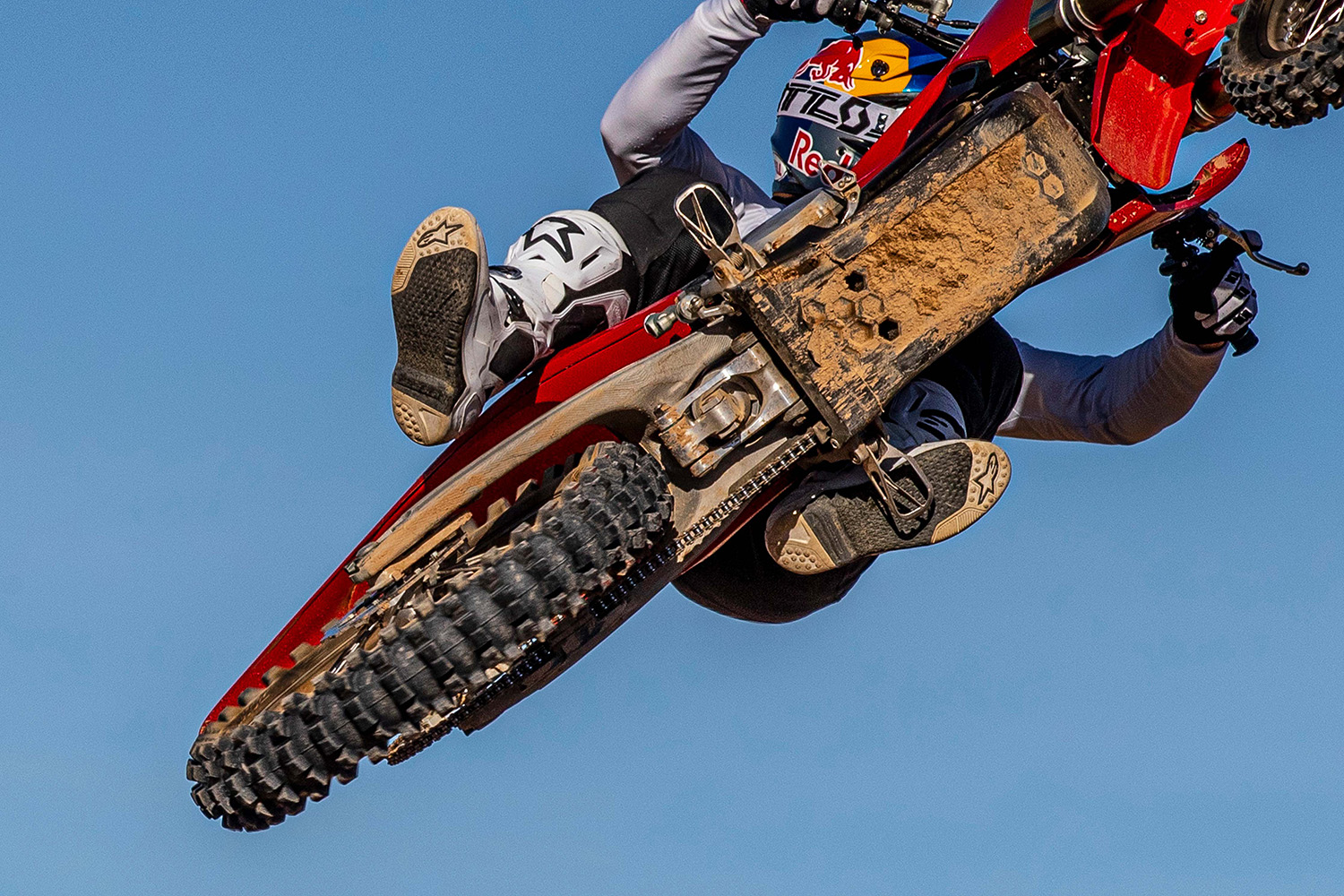 The main frame is steel with a carbon subframe which they claim "brings the right blend of lateral, vertical and torsional flex and a lower centre-of-gravity". Because it uses the engine as a structural component, they can call it "the lightest motocross frame in the world".
Electric motorcycles have no airboxes, radiators or fuel tank of course and that means a slim overall design in terms of rider feel on the bike. There's obviously no clutch, gearbox or gear changing either.
The skid plate is dual compound and a "semi-floating part" which sits under the battery. The chassis design has no lower frame rails as you'll see.
The wheels are CNC-machined and have 6082 T6 aluminium hubs, 7050 T6 aluminium rims, high-grade steel spokes. Braking components are the very widely used Brembo parts and on the bike pictured they have Pirelli MX32 tyres fitted.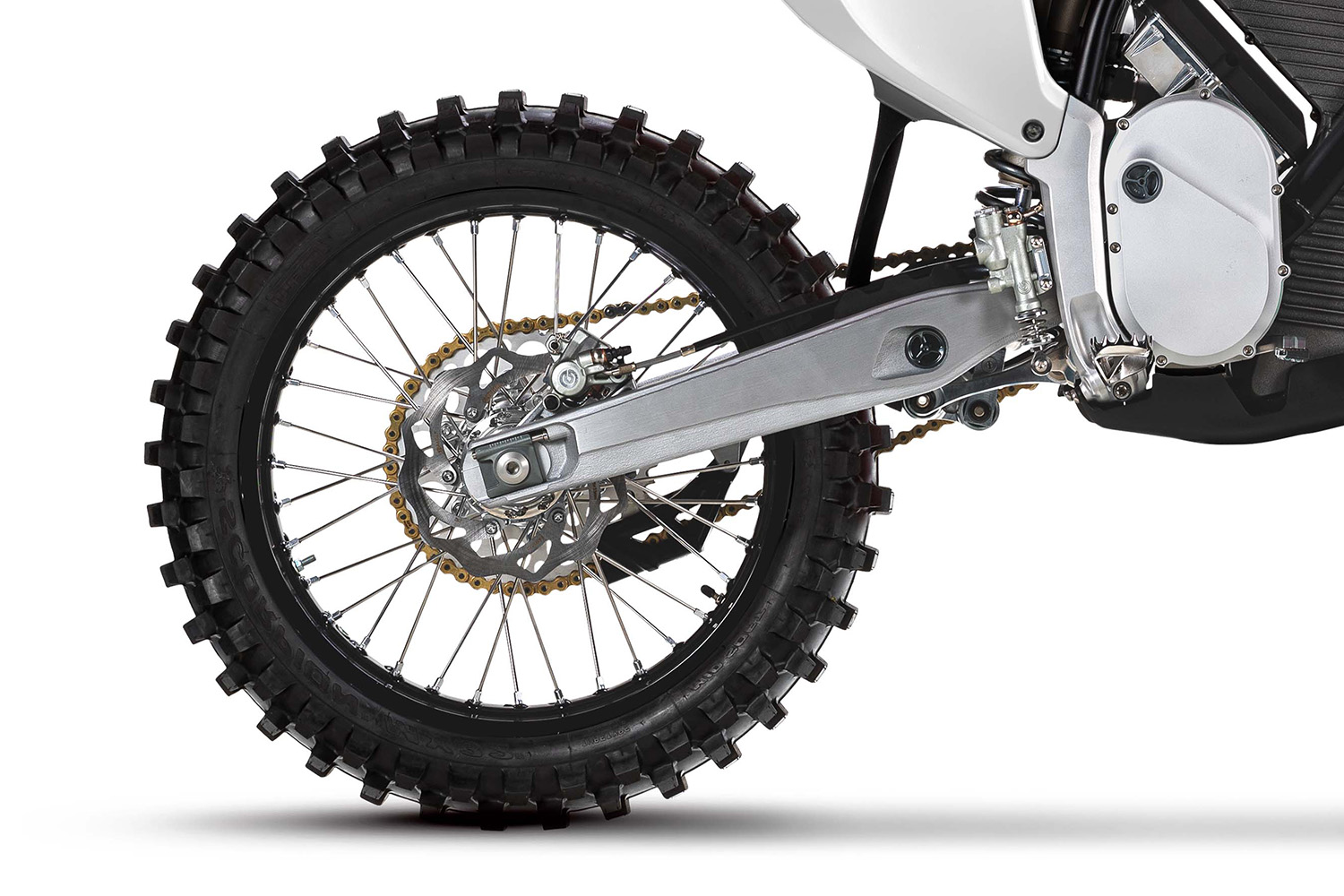 The chain adjuster 'click system' looks interesting too and erases the need for measurements to align the wheel. The axle tightens with an allen bolt and sits flush for better protection against damage – much like some trials bikes already use.
Further details include the cast footpegs made from stainless steel alloy – 40% stronger than titanium or chromoly steel Stark say and lighter than steel footpegs. They've simplified the fitting of the footpegs too, taking away the need for a locking or split pin, and there's also a really neat routing for the rear brake pedal behind the motor casing (you can specify a foot or hand rear brake lever).
What's it like to ride?
We'd love to have that answer and hopefully we can tell you sometime in the new year. Sebastien Tortelli and Josh Hill, two big names from the motocross world, have been testing the bike and offer some clues: "The very first impression was from the outright performance; it was much more than I expected," says Tortelli who is Stark's testing director. "Suspension-wise, chassis-wise I immediately felt at home. This is a real motocross bike. I had to learn about the electric power and I was surprised of how fast I adapted and how fun it is to ride."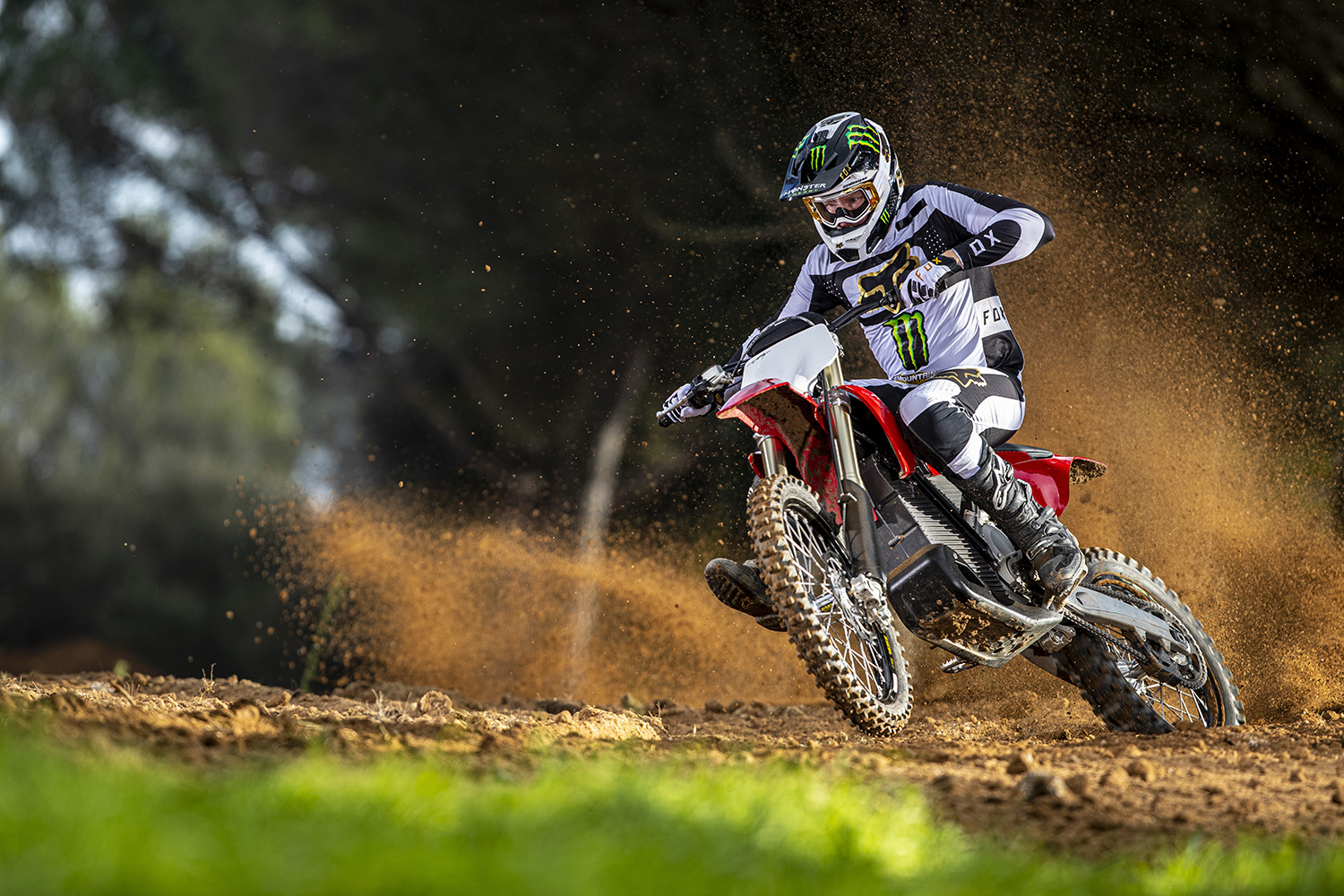 "We have done quite a lot of development work already. The chassis is balanced as well as nimble. The light weight means you can really move around it with ease and attack those jumps and sections. I feel awesome on the track and I can race with this bike, and this is what we are aiming for.
"It's an amazing experience to ride in silence! You can hear the way the bike picks up traction, the impact of the stones and the jumps. It's an amazing sensation."
What do we think?
We like the look of the Stark VARG and those power-to-weight figures on a KYB-shod chassis are key pointers to a good off-road tool. The full-size electric bikes we've ridden – a Sur-Ron and Alta – were good but not quite right, not quite normal enough. This looks like it will be in a different class.
It is a fact that places to ride are getting taken away for many of us and that aspect of riding dirt bikes is not getting easier – there'd be little argument from the noise police if you turned up on one of these.
After looking through the details we have questions, naturally. How does it charge? Could it do a three-hour enduro if you swapped batteries? Will it come with an 18-inch rear wheel model? Is it only for closed courses or is a homologated model with lights in the pipeline? Could it work for Sprint Enduro or SuperEnduro and EnduroCross? Don't we need a clutch sometimes? What about spare parts and warranty?
A lot of those questions are answered in the FAQs section of the Stark Futures website. In short the bikes will arrive direct to your door in a box, come with a charger which plugs straight in, can be specified with an 18-inch rear wheel (or supermoto) plus a side stand ($100 extra), foot or hand rear brake, and they say dealer network is growing rapidly as we type.
Enduro21 will try and find out more plus get a ride on this intriguing bike…
Cost: €11,900 through the Stark Future website or through participating dealers (yet to be announced). Available in three colour options from September 2022.
More information: www.starkfuture.com