Ducati launch new off-road focused DesertX Adventure bike
Ducati has enlisted four-times Enduro World Champion, Antoine Meo to face up the launch its new off-road focused DesertX a middleweight Advenure bike to take on the Tenere and KTM 890.
It seems a little daft for Enduro21 to point at a 21" front and 18"rear wheel size on the new Ducati X-Desert and say Ducati has launched a more off-road focused bike. But it is significant for a manufacturer which is so much associated with streets bikes, World Superbike and MotoGP racing.
The reality is the Italian manufacturer, which already has some very good adventure bikes in the garage of course, has jumped feet first into the most competitive area of the bike market right now with what looks like a pretty handy machine.
Aiming squarely at bikes like the Yamaha Tenere 700 and the KTM 890, Ducati has blended the existing Multistrada and Scrambler Desert Sled models with 80s iconic styling to create something unique looking at least in the DesertX.
To hammer the point home, they have gone all out and pitched their new model with maximum cred by using Monsieur Meo to face-up the campaign. It caught our attention at least…
Ducati DesertX Technical highlights:
937cc liquid-cooled Testastretta 11° Desmodromic valvetrain engine
110hp at 9,250rpm and 92Nm at 6,500 rpm in Euro5 configuration (claimed)
Two-into-one exhaust system
Tubular steel trellis frame with cast aluminium double-sided swingarm
21-litre fuel tank capacity
Tubeless spoke rims with Pirelli Scorpion Rally STR tyres in sizes 90/90-21 front and 150/70 R18 rear
KYB 46 mm fully adjustable front fork with 230 mm travel
KYB fully adjustable shock absorber with 220mm travel
6 customizable Riding Modes (Sport, Touring, Urban, Wet, Enduro, Rally)
4 power modes on 3 power levels
Bosch ABS Cornering 3 levels
DTC 8 levels
Ducati Wheelie Control
Engine Brake Control
5" TFT colour instrumentation
Ducati Brake Light
Ducati Quick Shift Up & Down (DQS)
Ducati Cruise Control
Full LED lighting system
How do you like the looks?
Pretty retro and deliberately 1980s inspired Ducati says. As this first edition stands, the design is clearly harking back to those Lucky Strike liveried Dakar Rally from that era.
With a typical flourish of words (not unusually in a press release), Ducati explains the styling like this: "The design of the DesertX represents a contemporary interpretation of the lines of the Enduro motorcycles of the '80s, created by the Ducati Centro Stile in keeping with essentiality and robustness criteria."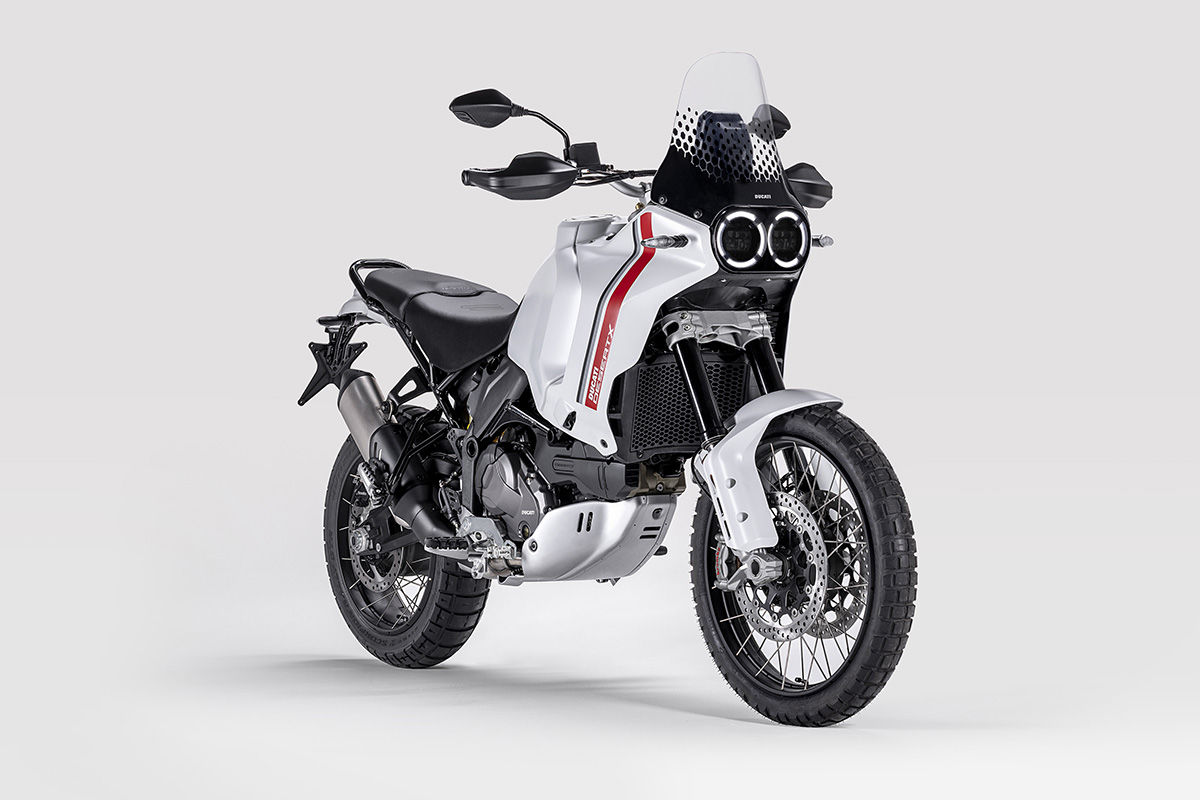 It is certainly distinctive but we're guessing pretty soon they will release some different colour options to attract the more conservative customers in the adventure bike market.
New steel trellis frame
The DesertX's chassis is built around a new steel trellis frame for this bike which weight in at a claimed 202kg (dry weight). 46mm diameter, upside-down Kayaba forks and along with the Kayaba monoshock, both are compression, rebound and preload adjustable.
Suspension travel is 230mm at the front and 220mm at the back through the aluminium swingarm. A decent 250mm of ground clearance will help if you get adventurous in the dirt.
"Unprecedented" 21" front and 18" at the rear tyre sizes will see Pirelli Scorpion Rally STR, 90/90-21 and 150/70 R18 as the original equipment but Ducati say the DesertX will be homologated to fit both off and on-road-oriented tyres.
Testastretta V2 Engine with unique gearbox
The well-known 937cc Ducati Testastretta 11° twin-cylinder desmodromic engine is Euro 5 compliant and is used in other Ducati models. It is a reliable engine which delivers 110hp claimed power at 9,250rpm with 92Nm of maximum torque at 6,500rpm.
The power unit runs through a dedicated gearbox (dedicated because it isn't simply the same box of gears as used on other Ducati's). All gears up to fifth are shorter to work off-road with first and second gears 14.3% and 8.7% respectively compared to the Multistrada V2 for example. Sixth gear is "properly long" by contrast to maintain that usefulness and economy on the highway.
The gearbox also features the Ducati Quick Shifter (DQS) system which works both up and down shifts but, again, is developed specifically for this model.
The brake system features Brembo M50 monobloc radial calipers with four 30mm diameter pistons, axial pump with adjustable levers and double 320 mm discs at the front. That sounds like a lot of braking power but they say there are "modulated" to work with feeling off road or in slippery conditions plus they have smart ABS system which includes cornering anti-lock.
At the rear there is a single 265 mm diameter disc on which works a twin-piston floating caliper, always by Brembo.
Standing riding position
One feature which surprises many who jump on the mighty Multistrada 1200, Ducati's flagship ADV bike, is the natural standing riding position. When you're used to off-road bikes, the standing position on some adventure bikes can be a bit out of kilter with what works best for control on the dirt but Ducati say they have sorted it on the DesertX also.
The saddle-footrest-handlebar triangle "gives its best in stand-up riding" but offers a good level of comfort on on-road riding too.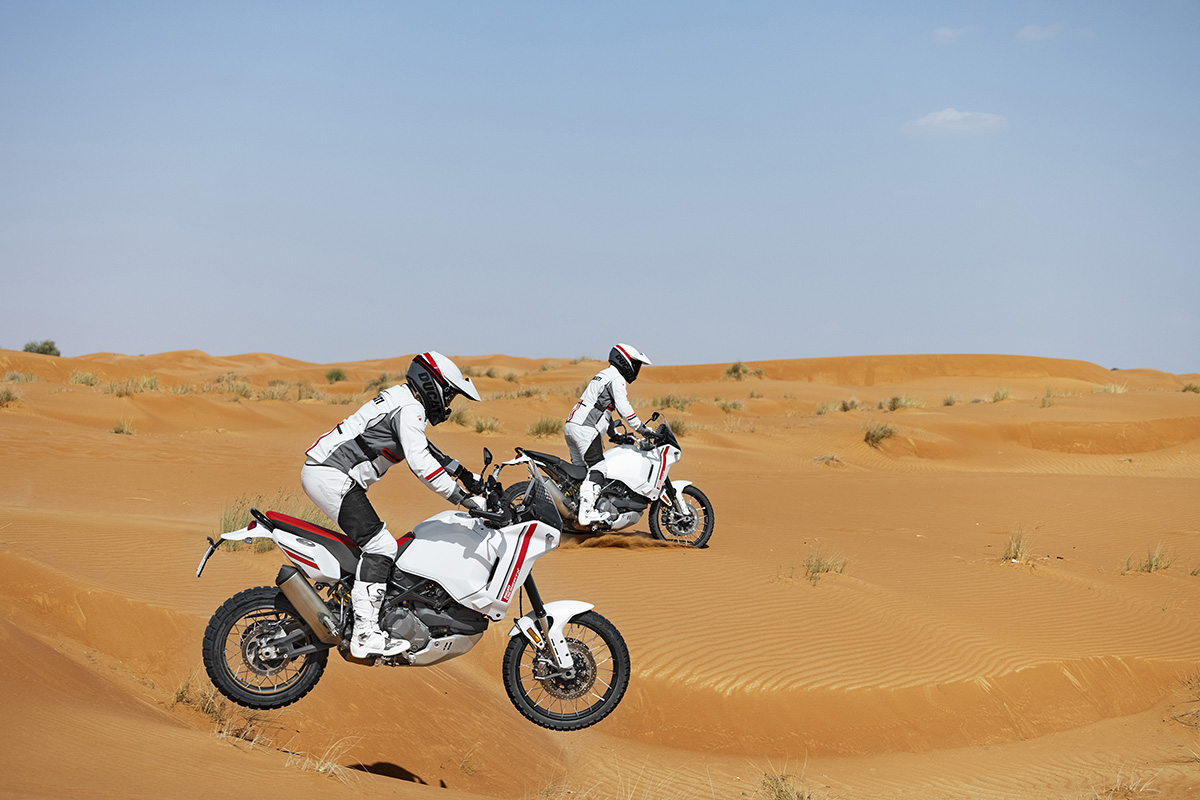 They say the bike is slim between the rider's legs but will feel connected for maximum control and handling. "A particularly narrow inner leg curve and initial suspension compliance ensures good contact with the ground" Ducati claim with the 875mm seat height (which can be lowered still further with an optional accessory).
TFT multimedia dashboard
The cockpit area is rally-inspired, more so than other Ducati models at least with a vertically oriented digital dashboard which offers clear information in stand-up riding and a high resolution 5" full-TFT colour display.
The Ducati Multimedia System connects to your phone via Bluetooth letting you use functions such as music and calls or an optional "Turn-by-Turn" navigation which displayed directly on the dashboard.
Thinking about the DesertX's maintenance intervals? They are scheduled every 15,000km or 24 months, with valve clearance checking every 30,000km. The DesertX is also within the reach of novice riders with a 35-kW version soon to be available for A2 license holders.
Prices? It is competitive but it will have to be if they want to compete with Yamaha and the big-selling Tenere 700:
£13,795/$16,795 for the Ducati DesertX compared with £11,999/€14,199 for the KTM 890, and £9295/$10,299 for the Yamaha. You'll have to wait a while though for the DesertX (summer 2022 it looks like).
More information: www.Ducati.com