First Look: 2021 Honda RedMoto CRF Enduro range
The official Enduro arm of Honda in Europe, RedMoto, have announced their 2021 range of CRF RX motorcycles – 250, 300, 400 and 450 models plus four additional upgraded "Special" editions are upgraded in the new four-stroke range.
Italian Honda specialists and Honda's official European partner for the production of Enduro motorcycles (and the official Enduro World Championship race team) have revealed details and prices for their 2021 CRF RX Enduro homologated bikes.
Based on the all-new 2021 Honda CRF450RX the RedMoto CRF400RX and CRF450RX Enduro bikes are equipped with a hydraulic clutch as standard, revised decompressor system to improve stall resistance, larger airbox, revised throttle body and exhaust ports for a stronger bottom-end. Additionally, the 'big bikes' have the Honda Selectable Torque Control (HSTC) with three riding modes, HRC Launch Control with three options and the Engine Mode Select Button (EMSB) with also three maps to adjust the power output.
The CRF250RX and CRF300RX benefit from Honda's new twin-cam engine that improves torque at midrange and delivers more power at high revs. Second gear ratio is now closer to third reducing rev drop and the clutch performance has been improved, all of which naturally comes in handy for enduro riding. They also feature three launch control modes and three power modes EMSB (Engine Mode Select Button) to adapt to every riding condition.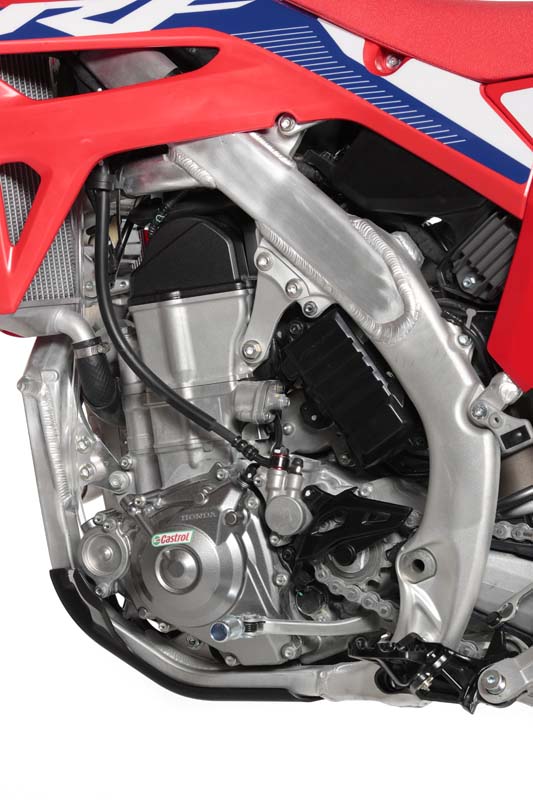 Common for all four bikes is the new aluminium chassis, Honda's seventh generation version, which has improved torsional and lateral stiffness increasing its agility and cornering abilities thanks in part to a narrower swingarm pivot area. The new frame also has a higher angular rigidity that delivers more stability and grip in turns Honda says.
Oh so 'Special' model upgrades
Those standard RedMoto models are already looking good but if you're seeking extra performance the Italian Honda specialists have you covered in 2021. All four enduro models are available with a series of exclusive special parts:
Kite front wheel with red anodized machined hub and black anodized Excel rim
Kite back wheel with red anodized machined hub and black anodized Excel rim
High density polyethylene skid plate with AXP linkage protector
Twin metal Supersprox Stealth rear sprocket, aluminium core, steel teeth
Red anodized, machined aluminium X-Trig Rock yoke
X-Trig aluminium bar risers
Blackbird anti-skid seat cover
Blue silicon radiator pipes
Red anodized, machined aluminium rear brake caliper mounting bracket
Red anodized wheel hub puller
Red anodized, machined aluminium front brake master cylinder cover
Red anodized, machined aluminium rear brake master cylinder cover
Larger capacity, machined aluminium rear brake oil reservoir
Machined rear brake linkage bush
Security cable plate for rear brake
Simplified wire loom
Magura hydraulic clutch pump
Red anodized aluminium engine caps kit
Rekluse clutch cover
Vibram frame protections with super grip effect
The price of the 'Special Enduro' models increases by €1,300 (€1,200 for the 300) compared with the stock bike but it makes sense to go for it, if you were thinking on adding some extra goodies, as you'll probably end up spending the double if you buy all the parts independently.
Rekluse clutch options
RedMoto also offers the opportunity to improve the clutch with the possibility of adding either the Reinforced Rekluse Core Manual clutch (€750) or the Rekluse Radius CX automatic clutch (€950). Both options come with the machined clutch drum to improve durability and performance.
Termignoni exhaust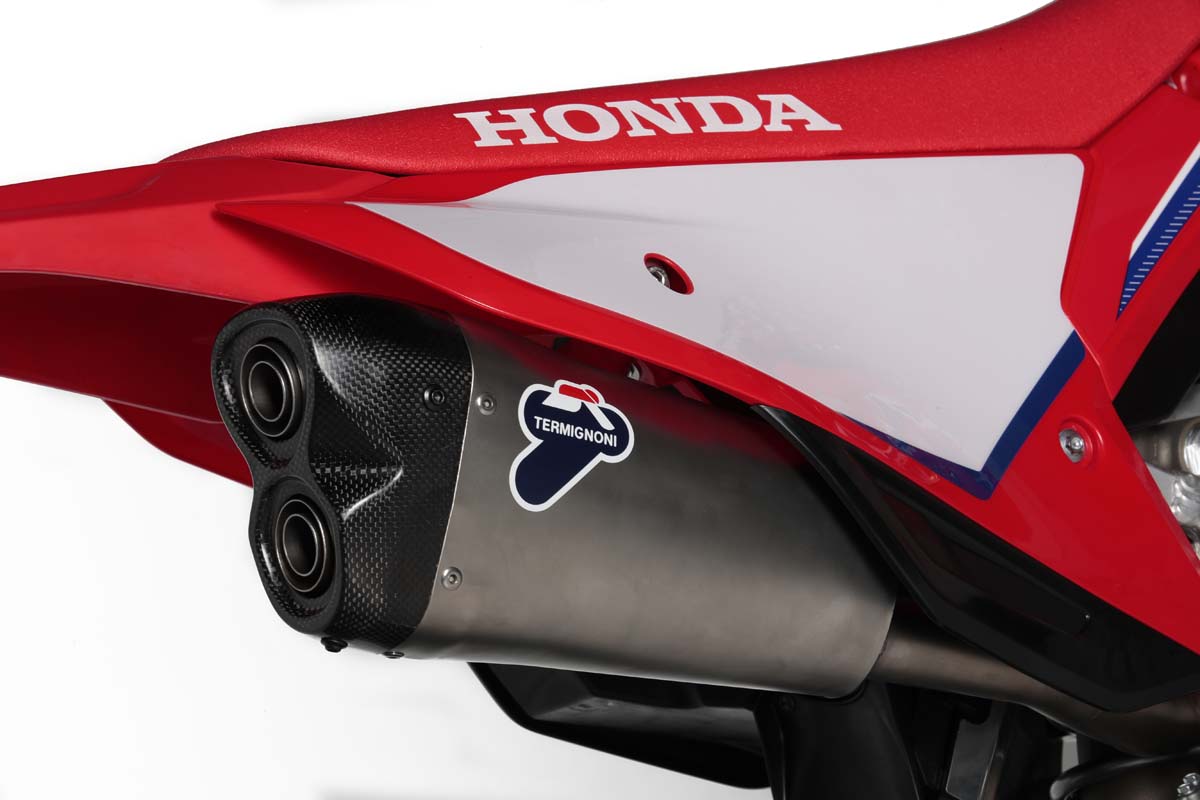 If you're looking to enhancing the performance of the red machines even further there is also the possibility of fitting them with a steel Termignoni exhaust with a titanium muffler and a carbon fibre muffler cap (€1.075,00).
RedMoto Honda 2021 prices:
Honda CRF250RX Enduro €10,390
Honda CRF3000RX Enduro €10,890
Honda CRF400RX Enduro €11,290
Honda CRF450RX Enduro €11,290
Special versions:
Honda CRF250RX Enduro €11,690
Honda CRF3000RX Enduro €12,090
Honda CRF400RX Enduro €12,590
Honda CRF450RX Enduro €12,590
Enduro21 tested the 2020 RedMoto Enduro range which included a dual-sport XR 400 model for good measure. Read our test review here:
Tested: RedMoto Honda's 2020 CRF RX Enduro range
More information: RedMoto.it