Pro Bike: Brad Freeman's Beta RR Racing 300 2T
Welcome to the third instalment of our 'best of 2020' EnduroGP Pro Bikes, this time focusing on Bradley Freeman's Beta RR Racing 300 2T which he took to the 2020 E3 Enduro World Championship title – from its twin spark plugs to the suspension there's plenty going on with the world's fastest two-stroke.
"This year I made the change to a 300, a change I wanted to do for a long time." Explains Brad Freeman as we begin picking over the finer details of his factory weapon in the paddock at the final GP of 2020 in Portugal.
As the reigning EnduroGP World Champion, Freeman arrived in 2020 sporting the new colours of a new team having switched from the Boano Racing Team, where he'd taken all of his world titles on a 250 two-stroke Beta, to the Beta Factory Enduro Team and an RR 300. It was not a big change on paper but it meant not just the jump from a 250 two-stroke to a 300, but also a sizeable change from Ohlins suspension to standard Beta Factory model equipment and a change from Maxxis to Metzeler tyres.
It doesn't sound like much but as we got under the covers of Brad's factory race bike it became clear the change had not been insignificant.
From bars, brakes and tyres to inside the engine details and suspension set-up, Brad and the Beta Factory Enduro Team manager Fabrizio Dini talk us around the finer details of the world's fastest two-stroke…
The twin spark beating heart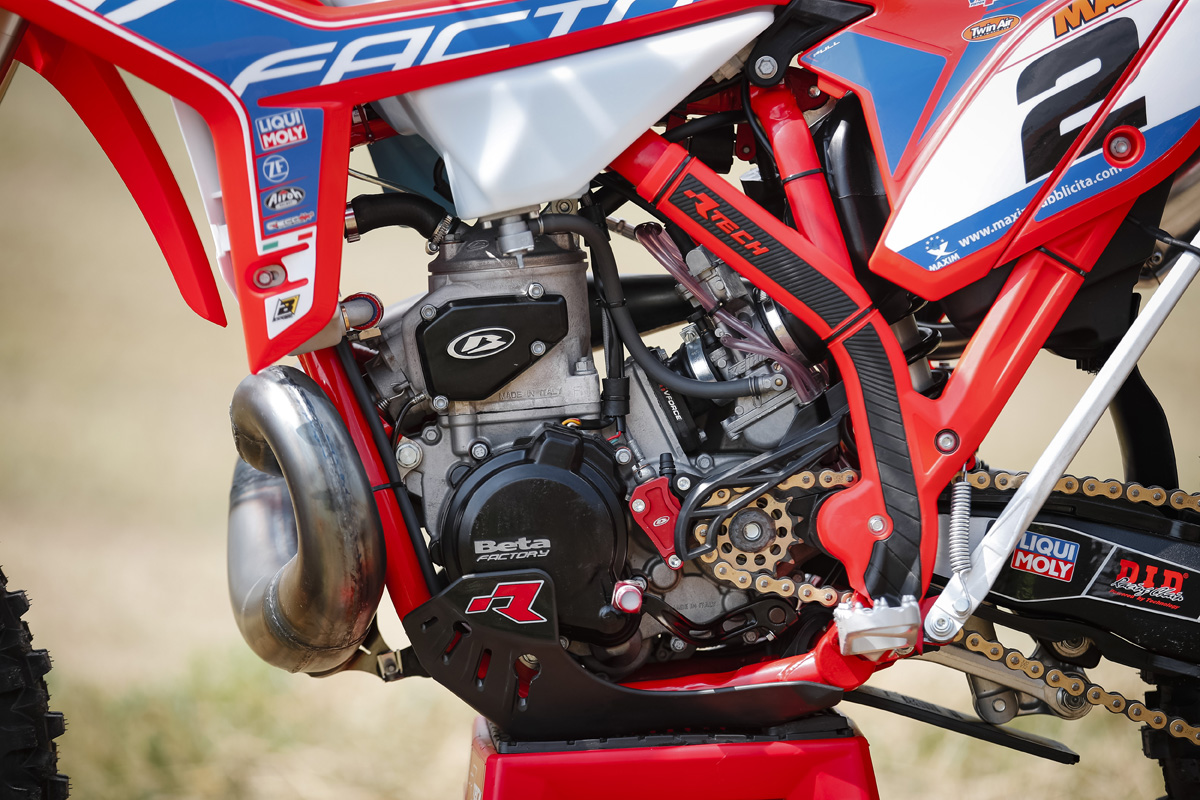 Freeman begins with the beating heart of this full factory 300cc two-stroke and reveals they began the process at the start of 2020 with a bog-standard bike. "We started with a stock engine and there really is a lot that you can do to a two-stroke engine." Says Brad.
Different piston, cylinder head, higher compression… in the end we found a really good set-up different to where we started. – Brad Freeman
Team manager Fabrizio Dini explains the details beginning with the special cylinder head: "The cylinder head is special and has two spark plugs where the standard bike of course has one. We use two because Brad likes the bike to be strong in the bottom and always rides in tall gears, so the extra spark gives the bike more torque and also improves the mid-range power." It's a notable engineering change but it also necessitates a different map in the CDI to improve the throttle response and marry with the additional fire power.
"I like my bike to be really strong on the bottom and not too aggressive," Brad explains. "We found a good mix by working on the compression to make it really strong in the bottom but not too aggressive.
"In enduro we race on stones, ruts, roots and everything so I didn't want a very aggressive power delivery, I wanted a linear bike." Apart from a polished cylinder head which has been "worked a bit" the engine is otherwise the standard one except it is hand-built for precision.
It is clear the team and Brad have worked on the bike settings all season, using tests and racing to hone the finer details. "Through the year we have worked a lot on the carburation and now I'm going pretty rich on it." Freeman tells Enduro21.
Brad also reveals they often make changes during race days. Depending on the type of terrain or which type of test they are heading into, they close or open the power valve to change power character. "I change it quite a lot during the race depending on what test is next," explains Brad. "It's something I change quite a lot between a more aggressive bike for a motocross test for example, or a more linear bike for an extreme test."
For good measure the team also "simplify" the wiring harness to remove any excess cabling and make it lighter.
Final drive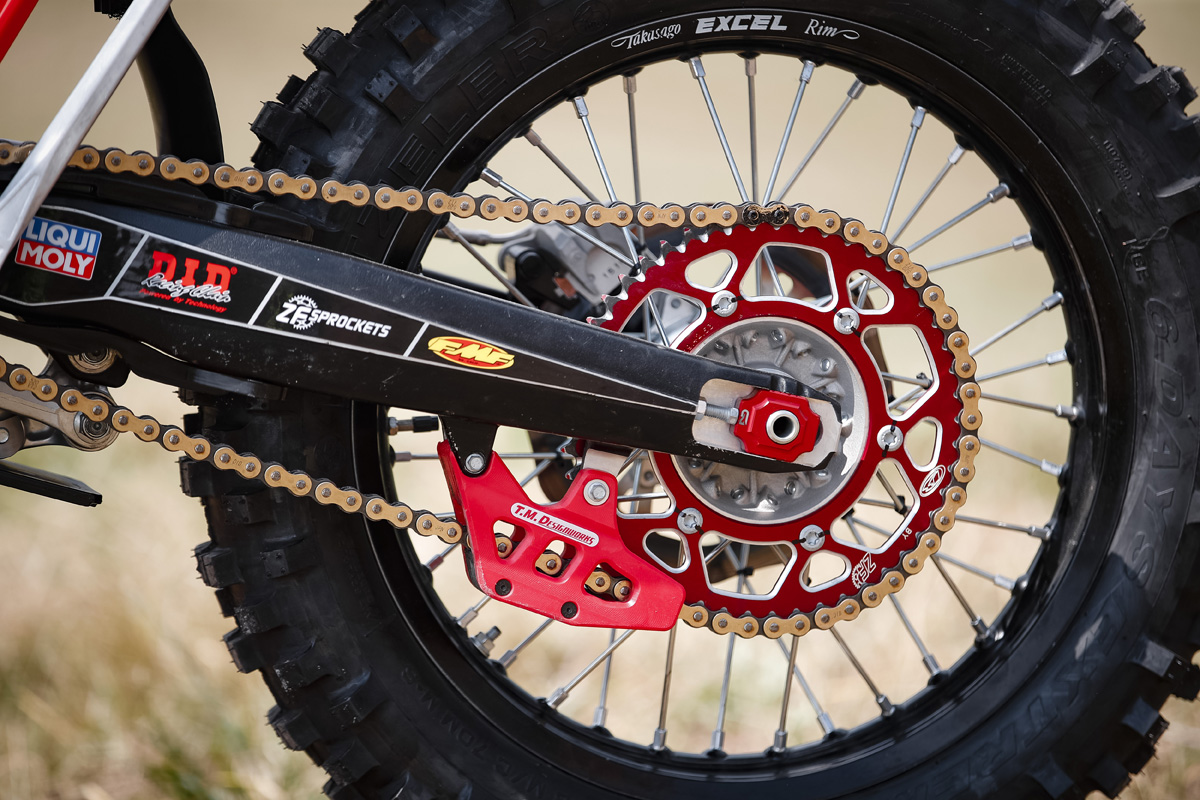 The final drive gearing is 14-49 on Brad's race bike with a D.I.D low-friction chain linking the cogs together. "It's basically what Steve (Holcombe) used last year I think." Says Brad. "At the beginning we tried different things, 13 in the front and 50 in the back, but overall between extreme, cross and enduro tests we found out that 14-49 was the best one so we have stuck with it all year since February."
"Raw" finish FMF expansion chamber
An FMF complete exhaust system of pipe and titanium silencer wrap around this 300 2T engine. The pipe is available from dealers but on this factory bike it has a 'raw' finish, "you can request for it to come from FMF like that," explains Fabrizio. Simply it makes the bike lighter and because, like all factory race bikes, this one never just sits about un-fettled (they clean and polish it after every race).
The air filter is from Twin Air and the team are not shy about using a dust or rain cover depending on the race conditions. "The cover is really important because in the past during really wet races we had problems with the bikes sucking in water." Says Dini.
Going through changes with the suspension
Freeman's move from the Beta Boano Racing team to the factory Beta squad during the 2019/2020 off-season meant jumping from a 250 to 300 two-stroke, but also meant a switch from Ohlins suspension to the standard Beta equipment KYB forks and ZF rear shock.
That change of suspension was a talking point for many at the time who wondered how Brad would adapt from the Swedish gold, "I changed teams and bike this year, to the new Beta model, so I never had a base set-up for the forks or shock." Brad reveals.
"It's something we have worked on a lot during the year – I started on a softer set-up but changed to a stiffer one as the year went on, going harder and harder with springs, oils and valving and in the end, I think we have come to a really good setting."
"In reality it's nothing too strange," adds Dini, "it is set up to suit his riding style, but they still have a great feeling."
Shock of the new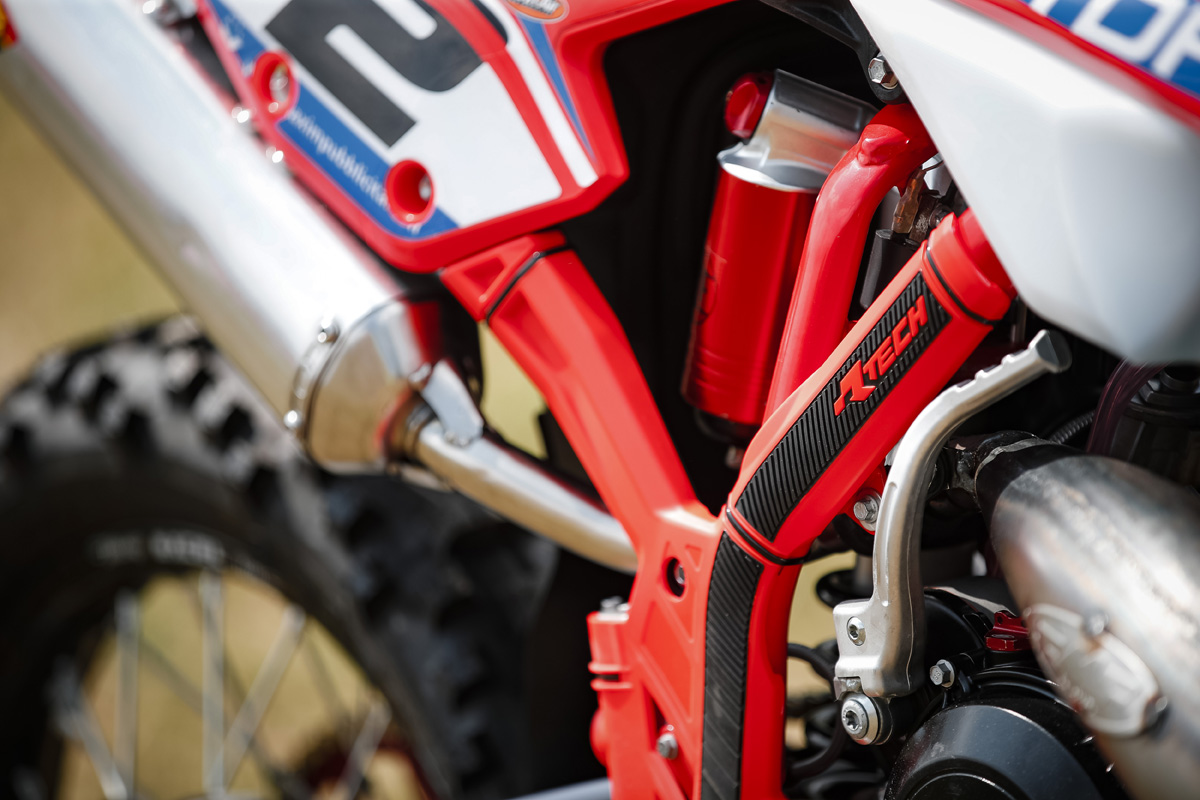 Around at the back, the shock absorber is also "pretty hard" with the ZF unit gaining a slightly larger oil reservoir to maintain consistency during races (as it gets hot). The unit itself is otherwise standard but with a stiffer spring which both Brad and Dini say also changed across the 2020 season as he honed the bike more with every race. "At the start of the year I was running it too soft and during the year we went to a harder spring and worked on the internal valving.
"I really like a stiff bike just because I want it to be really stable at high speeds. I feel that I can compensate the hardness in the extreme tests with the way I ride." He adds to enlighten the compromises you have to make in enduro with bike set-up.
"Proper" brakes
"I use mostly standard brakes but with a different caliper on the front." Brad begins, as we squeeze the front brake lever. The front Galfer disc (or rotor) delivers, "a more aggressive and direct braking feel," says the team boss because Brad, "likes to be aggressive on the brakes, he prefers to stop in a shorter space."
The front caliper is a non-standard Nissin component that's smaller and lighter than standard. The brake line is also narrower gauge, "to prevent fatigue and to improve braking performance," adds Dini.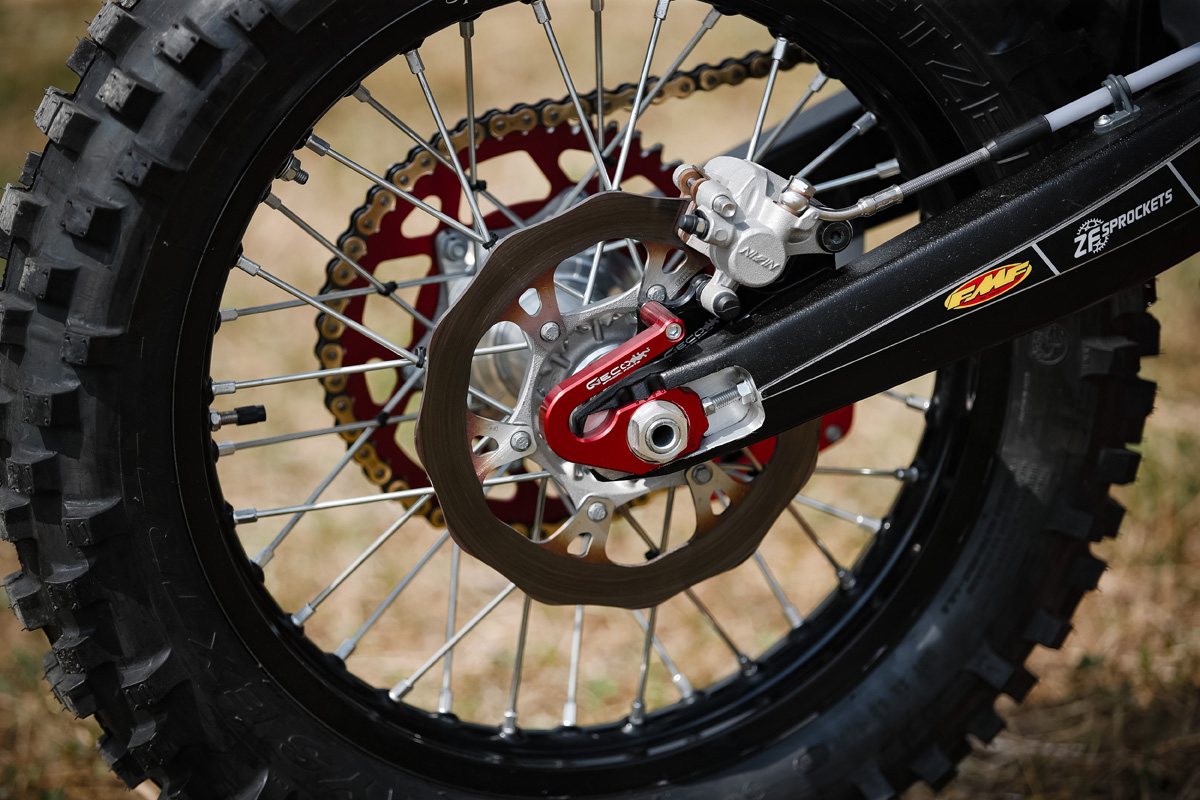 "I use a standard rear brake but with a proper (solid) enduro disc," Brad explains about the rear set-up which is almost the opposite of his front brake and delivers a smoother performance. "That's the main difference between me and Steve. I don't like an aggressive rear brake because I'm a bit aggressive with my foot so when it's muddy or in tricky conditions I don't like my bike to skid."
The rear brake lever itself is one of the aftermarket parts from Italian specialists Geco and is CNC machined for a bit more strength. The rear caliper is the standard Beta part but the mount is also from Geco, again CNC machined and designed to help keep it in the same place when you take out the back wheel, making the tyre changing process easier and faster.
Tyre talk
Speaking of tyres, the switch from Maxxis to Metzeler this year is another area where the rider and team had to work to find the best set-up. "Last year I used Maxxis and it has been a big change for me." Brad explains. "Honestly, I think the bigger change has been with the mousses. I have a good selection of tyres and mousses to choose from, soft, medium and hard, so I have a lot of possible combinations."
"Brad nearly always uses a harder tyre in the front with a soft mousse, even when it's a bit wet and only goes with softer tyre when it's really wet." Fabrizio says. "He always runs softer mousses because the bike isn't heavy and it gives more traction like this and makes the bike more stable, especially in long corners."
On the pegs kinda guy
Brad's bar and lever set-up is all about his infamous standing riding position – some riders sit a lot, some mix it up but Freeman is a definitely a rider you'll see on the pegs a lot.
"I run a quite a high-rise handlebar from Reikon." Brad reveals. "I'm don't really know the exact rise but they're really high, almost like a trials handlebar, just because I like riding standing up a lot and also I'm a quite tall guy so I feel better with this, especially on the new bike."
Softer than standard Race Tech grips are Brad's preference for better feel and he runs his levers, "just slightly down so that my wrists aren't going to snap when I'm standing up." He adds. Both the clutch (Brembo) and front brake (Nissin) master cylinders are standard but have the Geco anodised covers.
You will likely have spotted the Geco triple clamps holding the forks in place too which both Dini and Brad explain are "a bit stiffer" and "more precise". They also explain the clamps tend not to twist so easily in a crash which is a bonus but do run the same offset as standard making bike geometry the same as a bike you can buy from a dealer.
Details, details, details…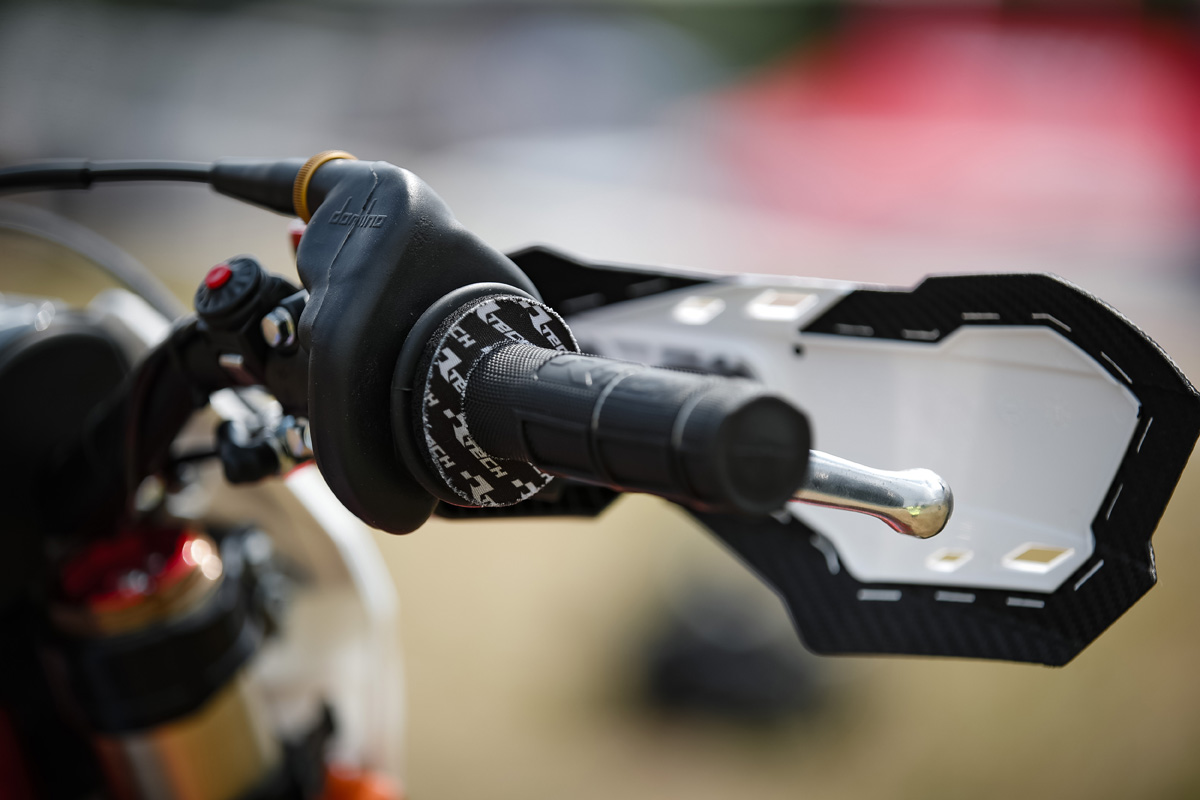 Looking around the rest of the bike we find parts which are common across the Beta Factory Team bikes including the Race Tech frame protectors and skidplate which has the extended linkage protection section. There's also the TM Designworks rear sprocket protector and chain guide.
The foot levers and pegs are also a Geco part and Brad's preference is for slightly shorter than stock pegs to save a small amount of weight but also to, "get through stones and rocky sections a little bit easier." The gear lever also gets a squirt of silicone inside to keep dirt out and the axle pullers, also to help with faster wheel changes, are a Geo part.
The standard height seat has a Blackbird Racing 'Pyramid' cover which improves grip for Freeman when he does sit down.
It was quite a journey for Enduro21 picking our way through the finer details of the E3 World Championship-winning bike. Although it is based on a standard RR 300 there has been a lot of development work to arrive at a bike which suits Freeman.
Want more? Check out our 'Pro Bikes' feature on Steve Holcombe's E2 and EnduroGP World Championship winning Beta RR 350 plus Andrea Verona's E1 title-winning TM EN 250 Fi.
We need your support
If you've enjoyed this article, if you've found it informative, interesting, entertaining even, please support us.
We want to continue doing what we do, to the best of our ability, serving the enduro and off-road community.
Please consider a donation, every little helps…
Thank you.
Photo Credit: Enduro21 | Andrea Belluschi