Pro Bike: Andrea Verona's TM Racing EN 250 Fi
World Junior Champion, Italian Champion and ISDE World Championship winning machine, Andrea Verona's hand-built TM Racing EN 250 Fi four-stroke is a Pro Bike with significant pedigree.
Legend has it, back in the 1970s, childhood friends Claudio Flenghi and Francesco Battistelli ("Mr Engine" and "Mr Frame") set out to create their own dirt bikes based on MX chassis' and two-stroke go-kart engines. Italian manufacturer TM have come a long way since then with world championship race teams competing in EnduroGP, MXGP, MotoGP and Supermoto as well as a first class reputation within karting paddocks.
That early hand-crafted ethos rings true to this day and is what attracts many people to TM's production enduro bikes. Machines that are "designed, engineered and hand built in-house," and "crafted from passion not a balance sheet". TM's words, not ours.
Proving their bikes can compete at the very highest level, Andrea Verona's TM EN 250 Fi four-stroke took him to ISDE Junior World Team Trophy victory at the end of 2018 before powering him to the Enduro Junior World Championship in 2019.
Carrying Verona onwards and upwards as he steps into the senior classes for 2020, the EN 250 Fi four-stroke model is, like all race team bikes from the Pesaro-based factory, very much based on the standard model. We're often surprised how stock a factory race bike can be but in this case there's an important distinction to be made: TM's standard equipment is of a higher standard than most. We spoke to TM Racing Team manager Luca Cherubini, and Andrea Verona himself, to find out more…
How factory is a factory TM?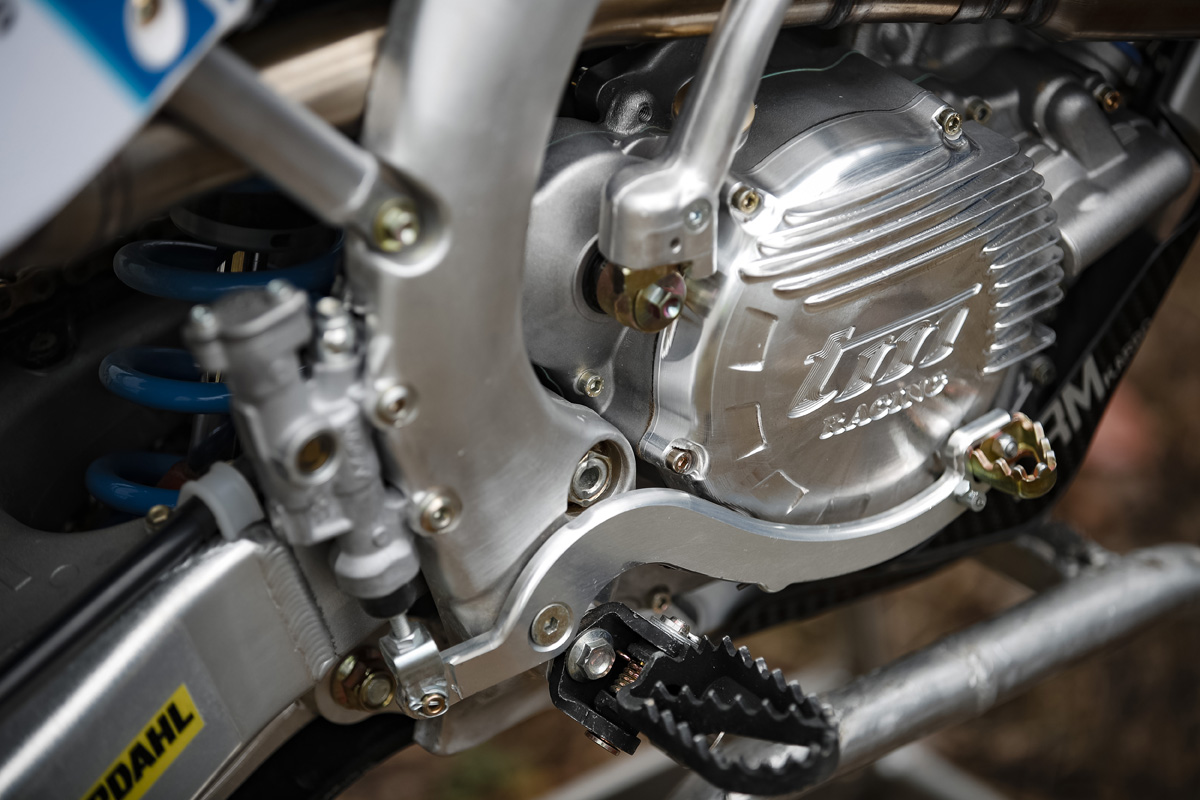 "Last year, 2019, the 250 Fi was brand new," explains Luca Cherubini. "We were learning and this winter time we made some improvements but overall the bike is completely standard – frame, engine, suspension, CDI…everything."
After winning the 2019 Junior World Championship, and with the luxury of rounds to spare, Verona switched to the 250 two-stroke in the Czech Republic GP but quickly settled back to what was familiar. "In the end it was interesting but I preferred the four-stroke 250 so we came back to that. This is the third year that I race with the 250 four-stroke so I am used to it and I feel good with it. This year (2020) is my first year in the pro class, the big championship, so I have to focus on my riding and try to improve my skills. To change the bike as well is another thing, I want to focus on me this season."
Turning to the bike however, Andrea says the standard bike really suits him as it comes out the factory door. "I like it and really only make some small adjustments but nothing major because it is good already."
TM's 250cc power plant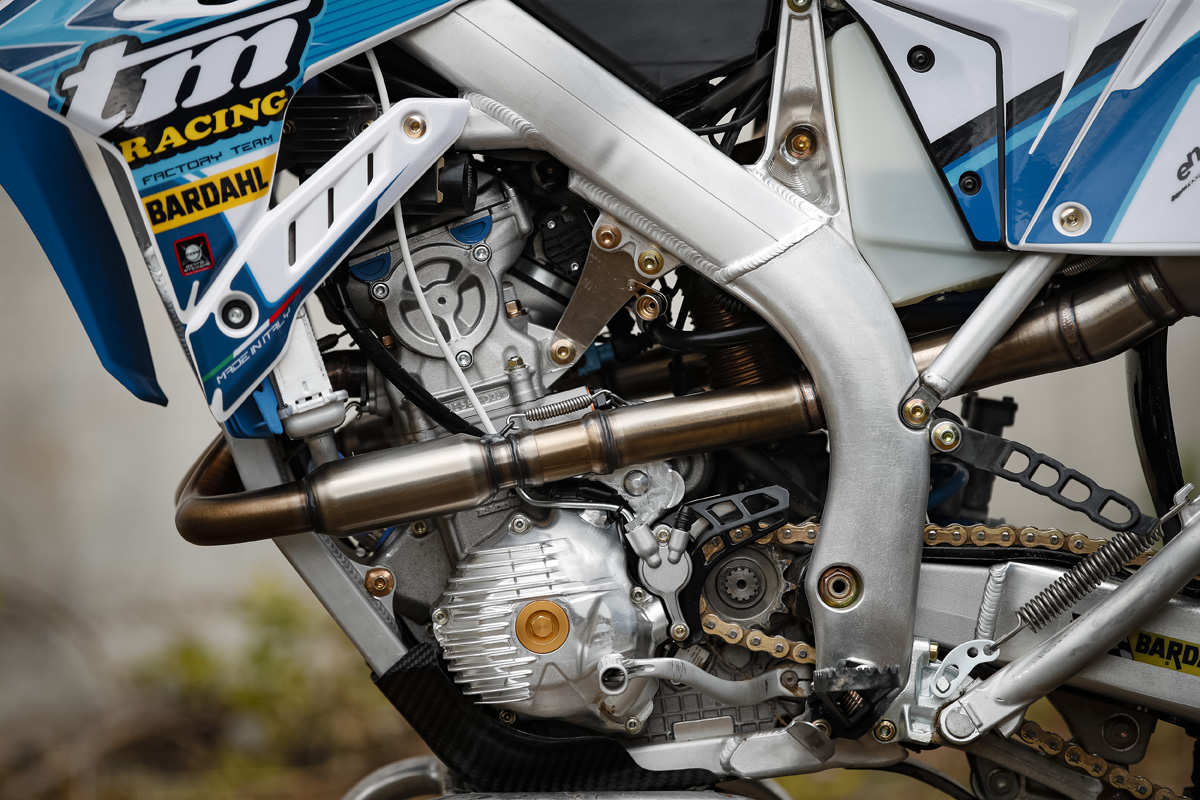 TM are a manufacturer famed for their powerful two-stroke engines and the fuel injected four-strokes are a relatively new product from the Italian factory. Both Verona and Cherubini point out the factory race bike engine is standard, "all standard, standard compression and everything. The only thing is the setting for the fuel injection and the mapping is developed for Andrea," Says Luca.
"The mapping for me is a little bit different," Andrea explains. "I don't want the rpm to go down when you close the throttle, I want it to stay up a little and not die. So the mapping is a little different to standard. In the slow speed tests, if the engine runs too low it can die, stall, so I prefer to have the rpm not close too quickly."
Verona's bike has two mapping control options to choose from on the fly via a map switch. "First map is normal," he says, "the second map is like traction control, more or less. When the back wheel starts to spin the electronics control the power to help the wheel stop spinning. I use it in some situations where it is slippery like wet rocks or a wet extreme test with many obstacles but not in the cross test when I'm full gas!"
Speaking about stalling, unlike many modern four-stroke bikes, TM run a kickstart plus an electric start on Verona's race bike. They're happy with the little extra weight to be safe in the knowledge a dead battery doesn't mean the end of a race.
The overall power delivery, Verona explains, his 250 engine delivers is "perfect for enduro, strong at the bottom and strong up top but at the same time smooth from the bottom to the top." But what about the engine internals? "The only difference between my bike and the one you can buy is we change the parts between races for reliability and perfect performance," Says Andrea.
Stock exhaust system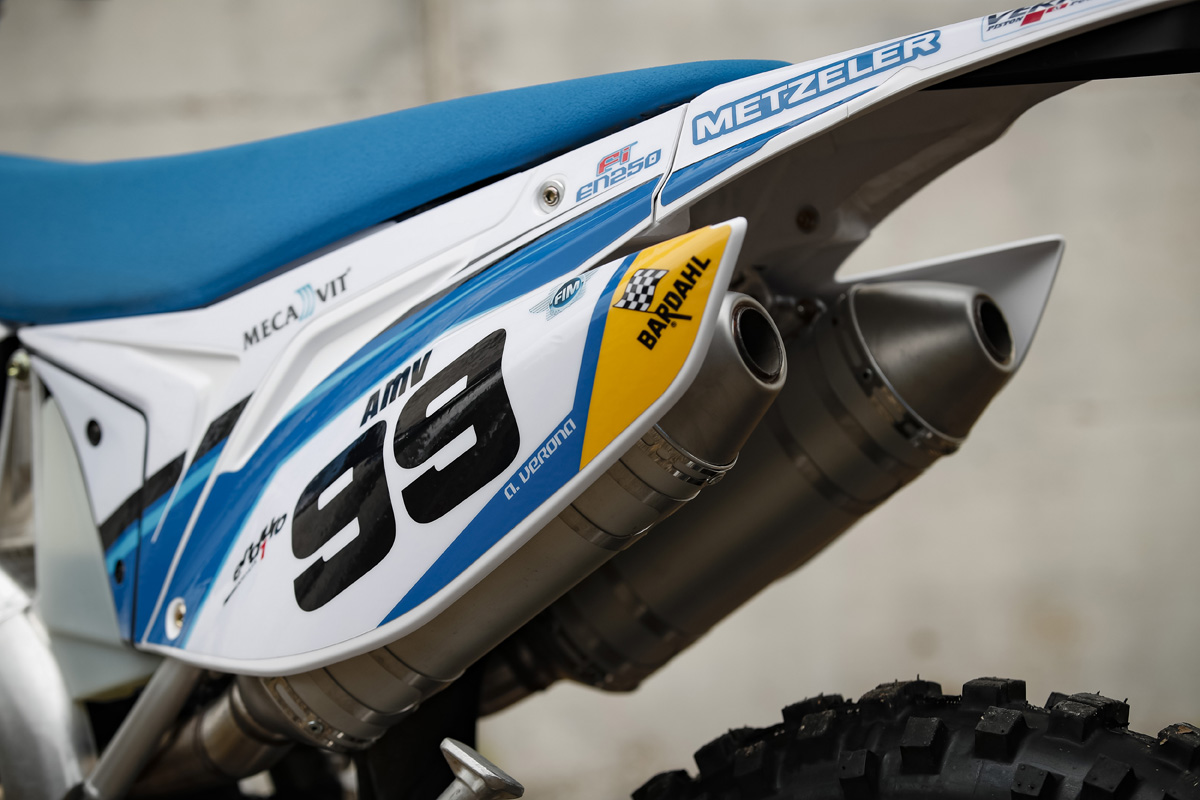 "We tried different exhausts systems for this season," says Verona, "but in the end we went back to the older, standard system so it is the same as 2019." Andrea says he prefers to have more power at the bottom, which the stock exhaust system dishes up. "In the slower enduro tests or the extreme tests you need some power at the bottom and I like the smooth progression through the rev-range."
TM's design has the air box up top and fuel tank lower down under the seat. The airbox is one of the areas they changed for 2020 with a new air intake, "before the butterfly there is a small change" says Verona without giving too much away. The clear tank meanwhile is very much part of the unique feeling the TM bikes have to ride with a lower centre of gravity and the fuel filler cap is behind the rider's left leg.
Playing with gearing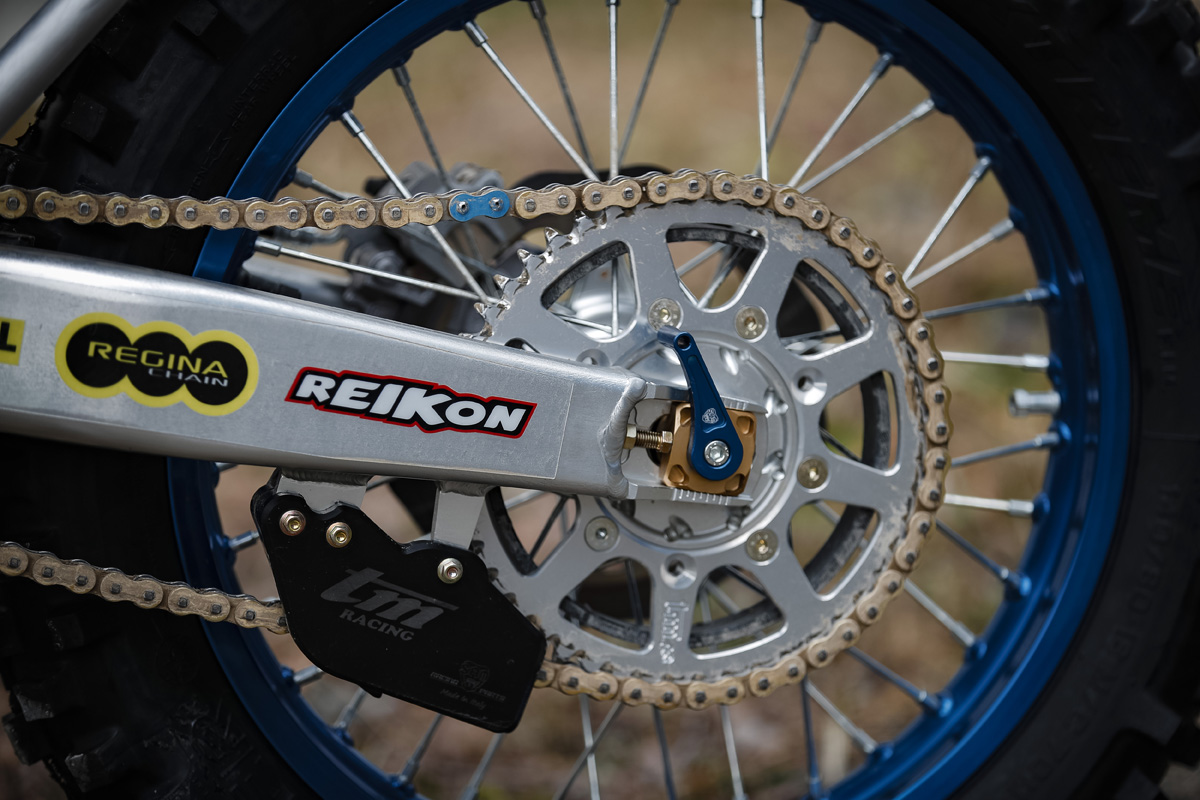 When you look around this factory race bike you will not see many parts from a third-party supplier. Almost everything you see is designed and built in-house like, for example, the rear sprocket. Speaking about the final drive ratios, Verona says, "Last year we did some experiments with the sprockets, we went down two teeth at the back sprocket to 48 with 13 at the front."
KYB forks and a home-grown TM shock
The TM Racing factory race bikes run 48mm KYB forks and, yet another homemade part, their own rear shock. "We run tests pre-season," says Cherubini, "to get the correct base setting. But Andrea has been with us for a number of seasons now and he knows the bike well. He is young but has a lot of experience with the Kayaba forks so it is just a question of arriving at a setting which works for him."
"I run the stock parts but the setting is made for me by the suspension guy in the factory," Verona tells us. "I usually like the suspension soft at the start, for feel at slower speeds, but when you go faster, it becomes stronger so that when you hit things, the suspension feels strong."
Andrea continues: "Overall, compared to other riders, maybe my bike is a little softer but I think it is in the middle area for the setting. For enduro you need to have a bike good everywhere so I like it to work this way. The back is a little low normally, the sag setting is 40mm."
Personal touches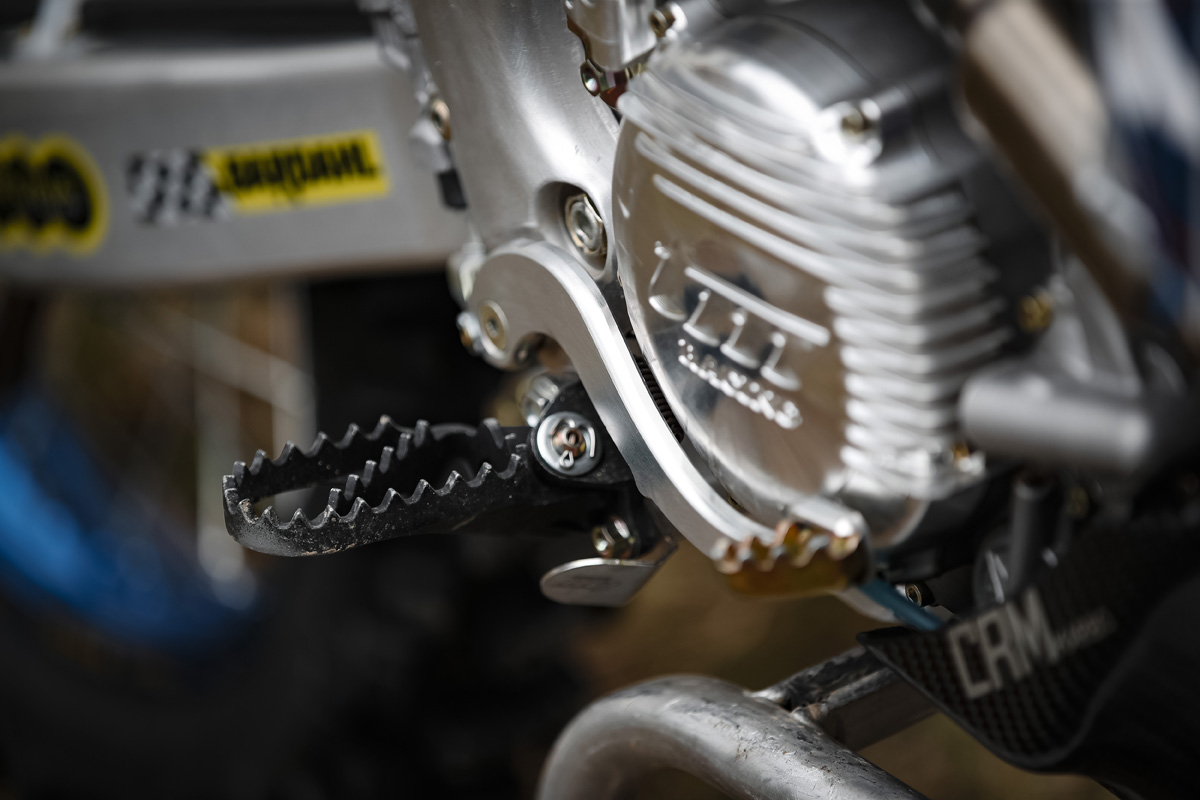 CRM Compositi make some of the very few non-TM parts on the bike. Their Teflon sump guard with linkage protector looks tailor-made and the carbon air box cover is another part available from TM's special parts catalogue. Check-out the dirt deflectors under the footpeg pivots or the additional Teflon chain 'catcher' between the rear sprocket and spokes on Verona's to prevent the chain from dropping down and snagging or breaking the spokes.
Front and rear wheel axles have quick release lugs for faster wheel changes, made by SAM Racing Parts. There's also a pretty neat SAM rear brake caliper support, which keeps the rear brake caliper in place when you remove the rear wheel.
Most riders have their own small and personal touches and for Andrea that means a 15mm higher seat than standard – he's pretty tall. Handlebars are by Reikon, model 9012, which is an 83mm height and 10° angle.
Overall Andrea's preferred lever set-up is pretty flat at the handlebars but the rear brake lever is a little higher than some riders prefer. "I like that when I touch it, it brakes immediately and does not go down too much to make it work."
Galfer goodness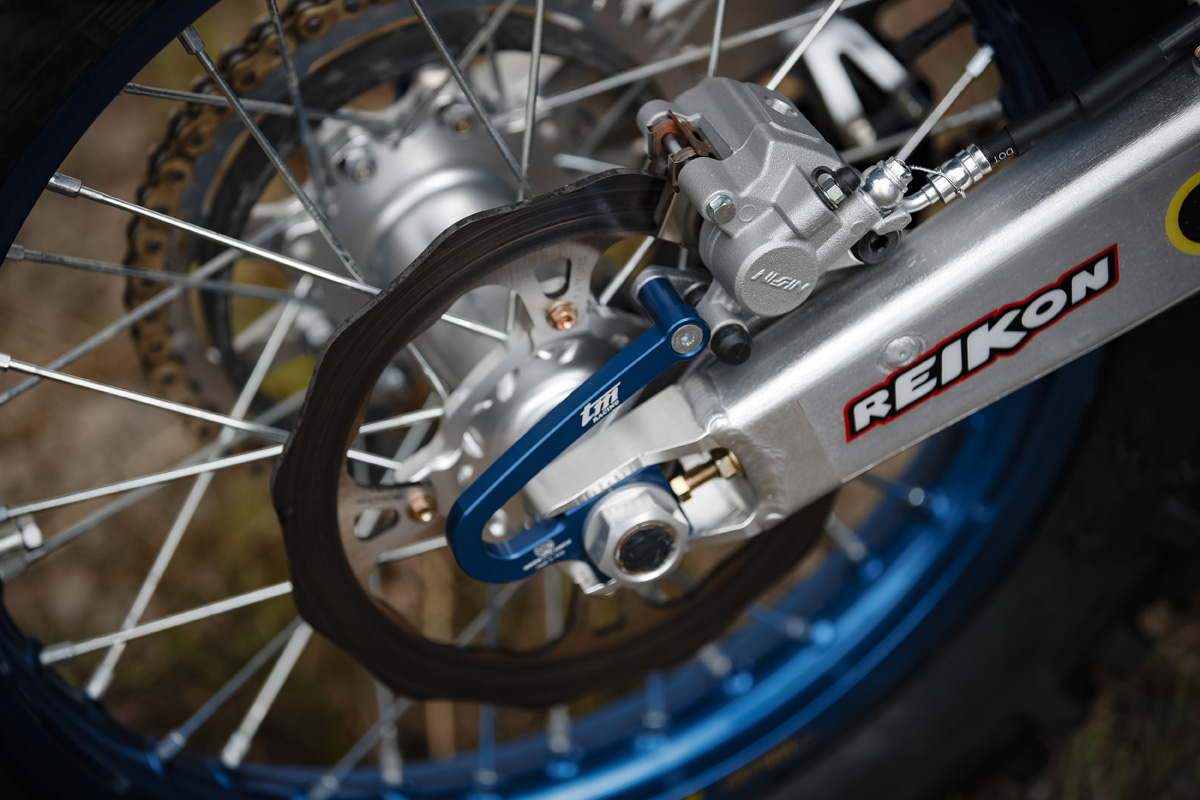 Last but not least are the stoppers on the TM Racing factory missile. Floating Galfer steel front brake disc (270mm) is bitten by a Nissin master cylinder and Brembo caliper. The solid rear Galfer disc is 245mm with a Nissin master cylinder and caliper.
One further difference to the standard EN 250 Fi are the brake and clutch master cylinders which are "a little bigger to have more oil inside", Andrea explains. Basically, they fit the larger capacity to help stop the oil overheating during heavy usage.
Photo Credit: Enduro21/Andrea Belluschi
We need your support
If you've enjoyed this article, if you've found it informative, interesting, entertaining even, please support us.
We want to continue doing what we do, to the best of our ability, serving the enduro and off-road community.
Please consider a donation, every little helps…
Thank you.