Boano Racing become official TM Racing Enduro World Championship team
TM-Boano Factory Team is the new name for the official Enduro World Championship race team for the Italian manufacturer TM as Jarno Boano brings to an end 15 years of collaboration with the Beta factory and a partnership which delivered 10 world titles.
The new partnership between Boano and the TM factory, which has already branched out into MotoGP and MXGP paddocks alongside their other racing activities, will see the very experienced team in charge of the official world championship squad and assume charge of ongoing motorcycle development.
As a long-standing independent team in the Enduro World Championship paddock, Boano Racing have been associated with Beta since the director, Jarno Boano, made the switch from rider to manager in 2005.
As an important and popular figure in the paddock, Jarno himself stands out not just because of his crazy hair or his wily character but also because he has consistently delivered a stream of Junior riders to the top of podiums.
During their time racing Beta motorcycles, Boano have turned some of the biggest current names into world champions including Steve Holcombe, Bradley Freeman, Matteo Cavallo and Jamie McCanney. When, in 2019, they achieved the highest accolade of taking the overall EnduroGP world title with Brad Freeman it was something of a coup for this incredibly well-run independent team.
The success didn't go unnoticed in Pesaro and TM came knocking on Boano's door in late summer 2020 with the chance to take on the official factory race team management in the enduro world championship and open a "new chapter".
"Out of habit I never turn around to look back, I prefer to always look forward facing new challenges head on." Explains Jarno Boano of the new plans. "This is the moment to turn the page. I like to think about how good we have been in collaboration with Betamotor and the numbers make my eyes sparkle.
"They have been a fundamental part of the success of the Boano Team at a sporting and commercial level and I will carry you forever in my heart."
In E1 we will have a top-notch rider who has already won and was part of our team – Jarno Boano
The news has been expected for some weeks now, we were just awaiting the official confirmation from Boano and TM. What isn't known yet are any answers to the 'who goes where' game of shuffle in the EnduroGP paddock. Various seismic rumours have been floating around involving current and former world champions, plus current and former Boano Racing and TM Racing riders. The long and the short of it is some of the biggest names in the paddock are yet to announce 2021 plans and a lot hinges on who sits under Jarno's new bright blue awning next season.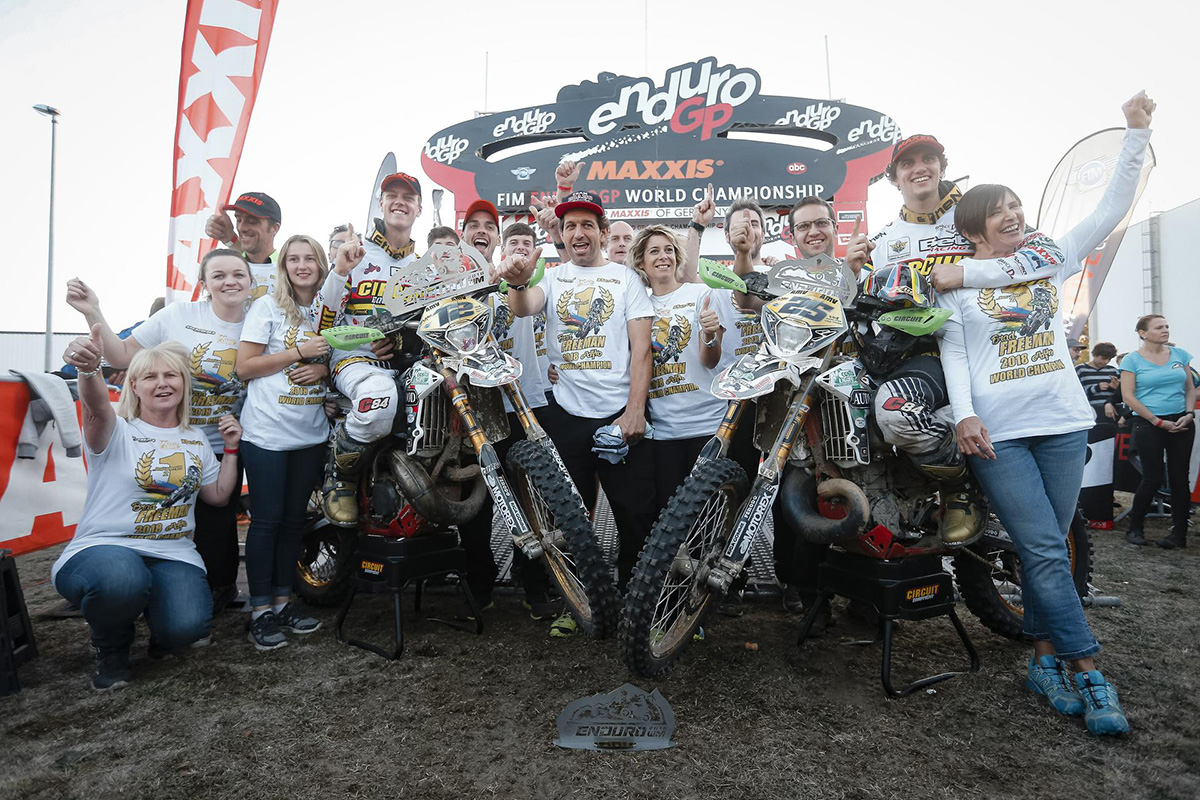 The following interview with Jarno was conducted by Dario Agrati and reproduced from the December 1 edition of Moto Sprint:
Dario Agrati: "You have shaken the enduro world with your choice to switch from 2021 to TM Racing. How did this decision come about?
Jarno Boano: "Within the world of enduro, which already in the first months of the year and during the lockdown was looking towards the future, I too made my reflections and my plans.
"In mid-September they called me from TM Racing asking if I was available for a meeting to talk about a project. So I decided to go to Pesaro to hear what it was all about. Gastone Serafini and Roberto Aloi (respectively TM owner and new International Sales Manager) showed me the TM Racing programmes for the next years, convincingly asking me if I wanted to be part of it and making me understand that the experience I gained in this world, first as a rider and then as a manager, was what they were looking for. So, after having warned Beta, I decided to accept the challenge and switch to TM.
"Those who know me well know that the more challenging the climb, the more I, and with me all my team, have always given my best to reach the goal. I learned this philosophy of life first as a rider, then as a team manager because before any result you must always take the bike to a parc fermé, then we'll see! Chicco Muraglia, my great teacher and our technical coach for years, has always said so!"
What do you leave behind from the years spent with Beta and what do you hope to find with TM Racing?
"If I look back to 2005 when I started Team Boano, I find it hard to think that 15 years have passed. It was a good journey, a good marriage with Beta, despite the ups and downs. "Personally, I feel involved in the success that Beta has today, both at a sporting and commercial level. Sportingly, last year we reached the top with the victory of the EnduroGP with Freeman. With my boys, one above all Roberto Marocco, my technical boss, we made sacrifices that maybe others would not have made, putting aside affections and family for many years, but even there I am lucky enough to have a super wife and a super family!!!
"We leave some world titles in Beta. At TM Racing we hope to live up to the renewal project and to make an important contribution to the growth of an Italian company recognized and respected all over the world."
What was the main motivation that prompted you to choose TM Racing for the future of your team?

"As I told you, the phone call in mid-September was a huge surprise. I have always had a great respect for TM Racing, for what it has always done and for the new challenges it is always looking for, see also in MotoGP with Moto3. Being involved in their projects for the next few years and officially representing their off road department was the main motivation."
Will you have the freedom to propose technical innovations to be able to work on TM Racing bikes also in development?

"Yes, as I anticipated, together with the internal technicians, we will take care not only of the management of the Enduro Team, but also of the development of the bikes and the press park. The goal, in addition to obtaining good results in races, is to satisfy more and more those who choose TM as their enduro or motocross bike."
Can you tell us what your relationship with TM Racing will be like?

"A direct 360° relationship for everything related to the Off Road. We will also take care of the development of the official TM Race Parts catalogue. Let's say that we will certainly not lack work."
How will you carry on Boano Race Parts, a company specialized in special parts, especially for Beta?
"Boano Race Parts is managed by my brother Ivan for the development and testing of all the details, while I take care of contacts with customers and suppliers. The company will therefore continue as always in researching, developing and offering the best products, currently for Beta, Yamaha T7, Africa Twin and in the future for TM Racing. They are two separate and distinct activities. The team and my image will be 100% TM Racing."
Have you already made some goals with TM Racing?

"Honestly no. Our main goal is, as always, to work to the best of our ability to seek the best result, then we'll see."
Are we talking about drivers for 2021?

"With Deny Philippaerts, who in addition to being the 2020 250 2T rider and vice tricolor behind our Davide Soreca, is also the team's Sporting Director, we have decided to focus on a team made up of 100% young riders. In E1 we will have a top-notch rider who has already won and was part of our team that returns with many motivations and a desire for revenge. There will always be Australian Wil Ruprecht in E2, Lorenzo Macoritto and Matteo Pavoni in Junior. We are defining for Team Supported with some riders, where Thomas Marini from San Marino will be sure."
You have always been linked to young people discovering in recent years Holcombe, Cavallo, Freeman. Who will be your next Enduro World Champion?
"I hope Wil can demonstrate his real potential in the E2 class, in E1 we will do our best with our 'pure blood' to try to always be on the podium and then I want to bet on the growth of both my youngsters in the Junior."
Photo Credit: Boano Racing