First Look: 2021 KTM EXC enduro models revealed
KTM has revealed the 2021 EXC Enduro line-up will have minor updates to their two and four stroke off-road line-up plus updated SIX DAYS models and a return of the special edition ERZBERGRODEO 300 EXC TPI…
For the first time in nearly 20 years, Enduro21 is not sending this "first look" at KTM's new EXC Enduro range direct from an international press introduction somewhere in the world. Covid-19 has caused the unveiling of this year's 2021 KTM Enduro range to be a remote one, which means we'll also have to wait a few weeks longer to swing a leg and test ride the new bikes.
That does not mean we aren't digging through the details with any less enthusiasm though. The 2021 KTM EXC range remains seven-strong in stock form with the newest model, the 150 EXC TPI standing alongside the 250 and 300 EXC TPI two-strokes, as well as the 250 EXC-F, 350 EXC-F, 450 EXC-F and KTM 500 EXC-F four strokes – all of which are homologated to Euro 4. Add to that the XC-W models in certain countries (including North America).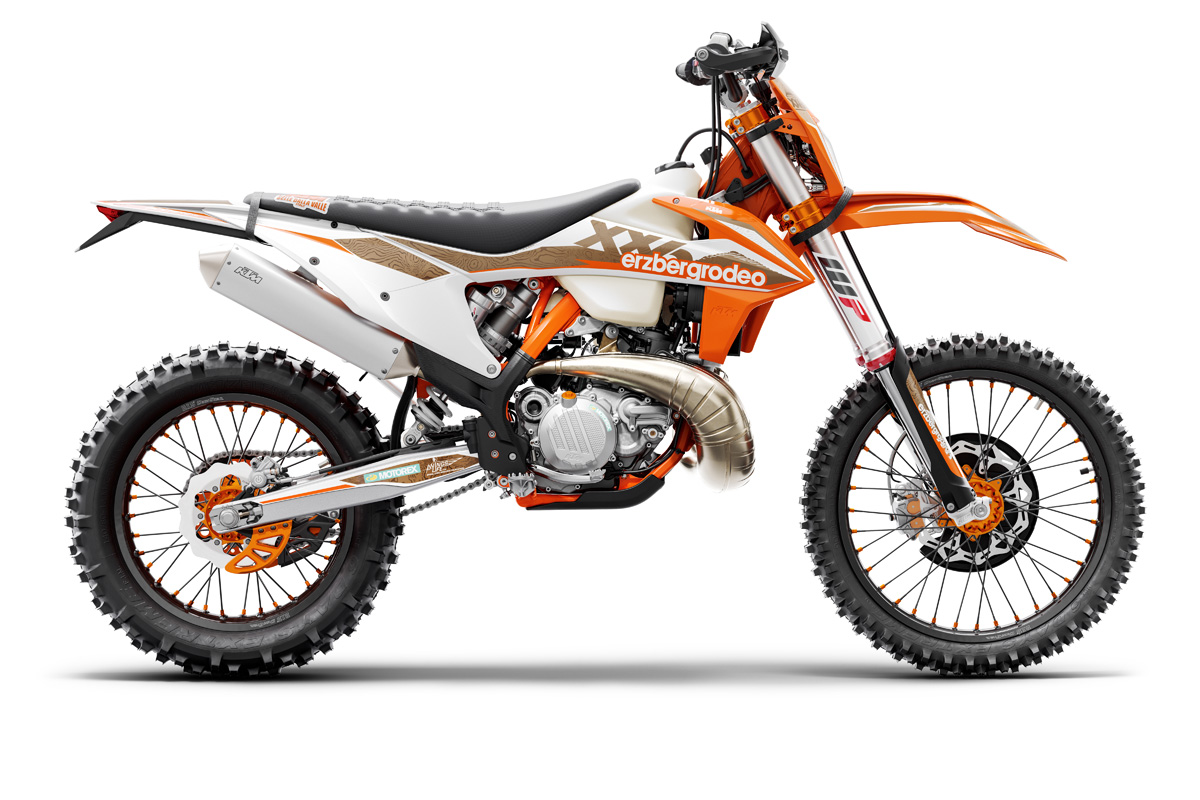 The 2021 range also extends to the SIX DAYS models and by very popular demand the 300 EXC TPI ERZBERGRODEO special edition which proved literally to be like gold dust these last 12 months. These options are available despite both the two major race events (ISDE and Erzberg) not actually taking place in 2020.
2021 EXC model updates
WP XPLOR fork preload adjusters as standard
New cast (not forged) piston in the 150 EXC TPI
More reliable shift locker (shift drum) in 450 and 500 EXC gearboxes
New graphics/colours including grey side panels
ERZBERGRODEO XX6 limited edition model kitted for Extreme Enduro
SIX DAYS editions in all models (except 150 TPI)
Speaking about the new models to Enduro21, KTM's off-road product manager, Joachim Sauer says after major updates for MY20, 2021 is a quieter one. "There are no big steps this year after the major updates for model year 2020." Explains Jochi. "We had positive feedback from all nations about the 2020 models and we also work with the R&D department on some small changes this year but it is normal to maintain a few changes and new colours for the second year of a model."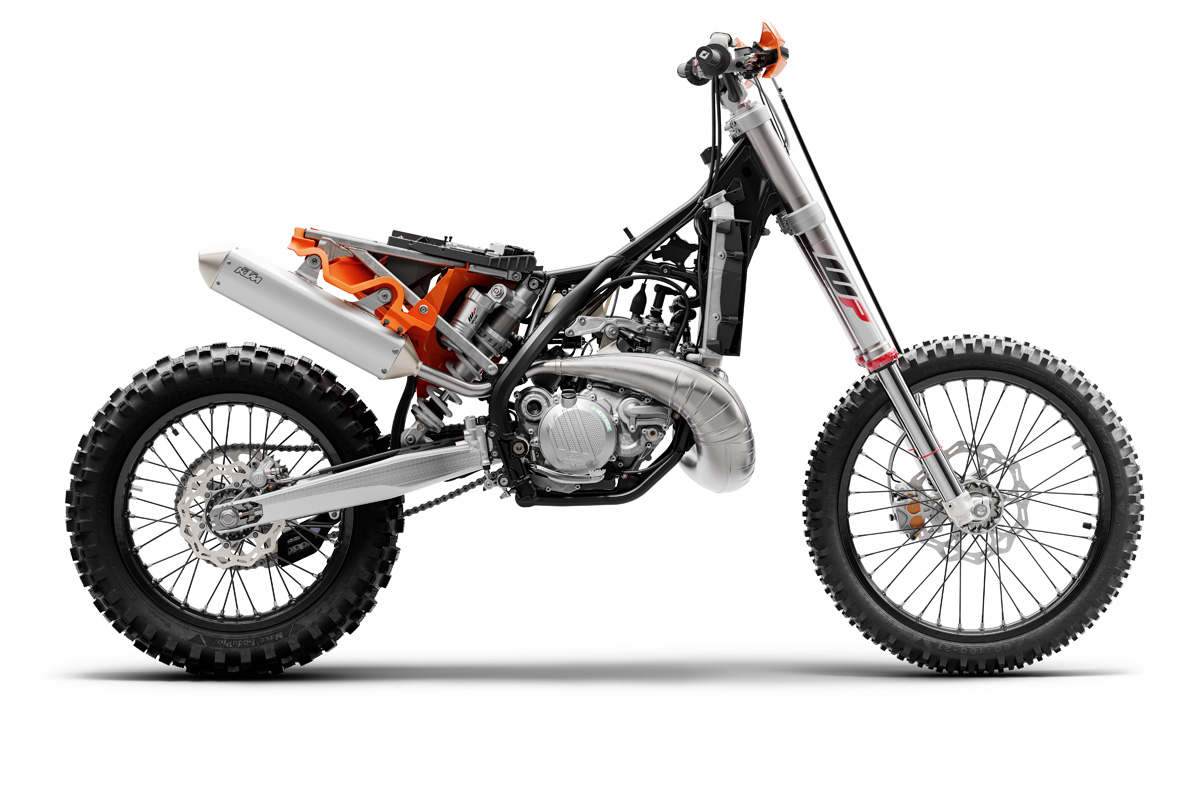 Updates to the 2020 EXC models were significant: new chassis', heavily revised two and four stroke engines, upgrades to the TPI models including the new exhausts, plus some small but significant tweaks to details like the length of the rear fenders and engine mounting strength, which in reality made the bikes feel quite different year-on-year. It is worth keeping that in mind as we look at the MY21 bikes...
Fork top preload adjusters
The WP XPLOR front fork has received just a minor update for 2021 largely based on customer feedback. It is a small detail change to the forks on the 2021 KTM EXC models, simply the addition of a preload adjuster that allows for easy setting changes out on the track or trail. It is the simple things that matter.
2021 Engine updates
All the KTM EXC model engines arrived with a wealth of changes in their respective capacities last season. The TPI models received software and hardware upgrades to improve their performance while the four strokes received power upgrades internally and a new centre of gravity after KTM re-positioned the engines to aid handling.
The KTM 150 TPI also made its debut in the homologated EXC range last year (was previously an XC, closed course model). For 2021 the 150 EXC has a new cast, instead of forged, piston which KTM says will bring increased durability.
Added to that the KTM 450 EXC-F and KTM 500 EXC-F models have a reworked gear shift mechanism in their gearboxes. KTM call it the "shift locker" but it is perhaps more commonly known as a drum – in any case the update is "just an evolution for better reliability" says Sauer.
Grey is the new orange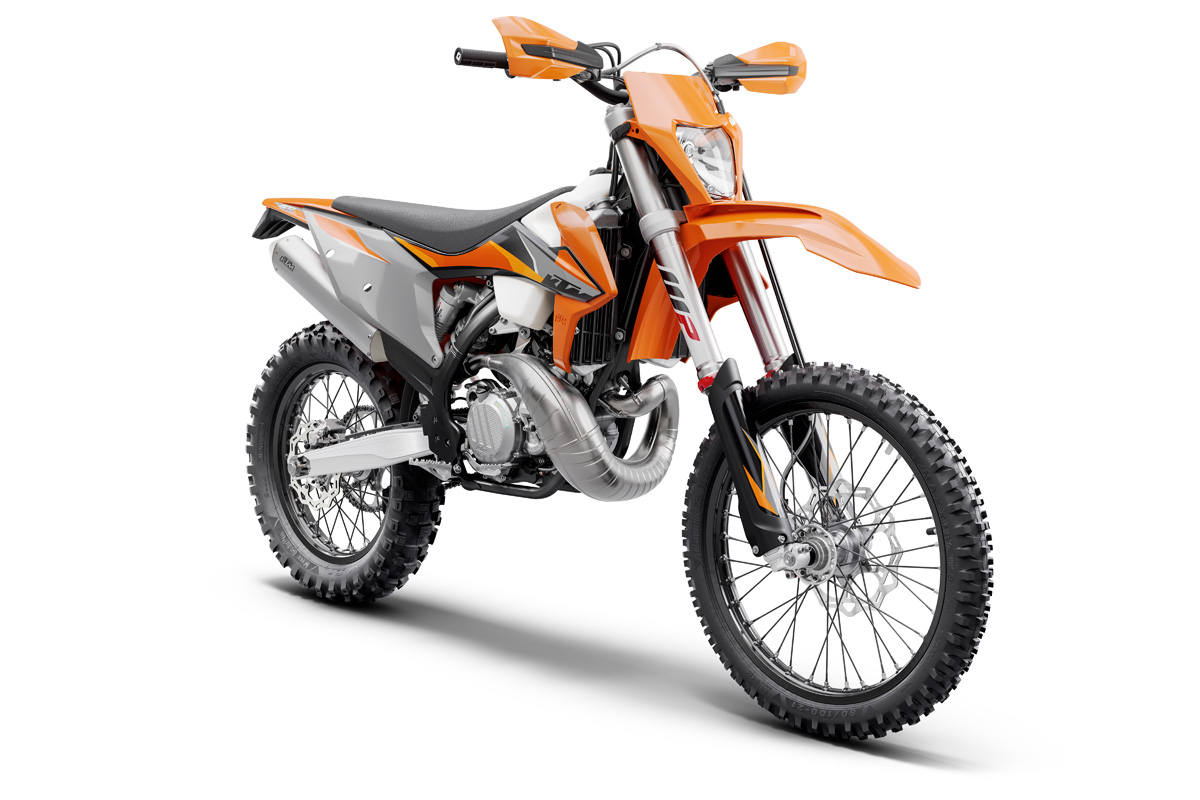 Each model year wears a different look and for 2021 the change is slightly more dramatic than normal as each EXC model dons orange, black and grey 'clothing'. The impregnated graphics in the plastics feature new grey side areas and grey side panels, plus there's a switch back to orange handguards to mark out the new bikes distinctly from previous years.
Special Edition SIX DAYS and ERZBERGRODEO models
KTM's flagship bikes, the SIX DAYS models are joined again in 2021 by the special edition, KTM 300 EXC TPI ERZBERGRODEO (the 300 XC-W TPI Erzberg version in some countries). Standing alongside the standard EXC models they complete a 13-strong official range (15 in territories with the XC-W models).
KTM EXC SIX DAYS 2021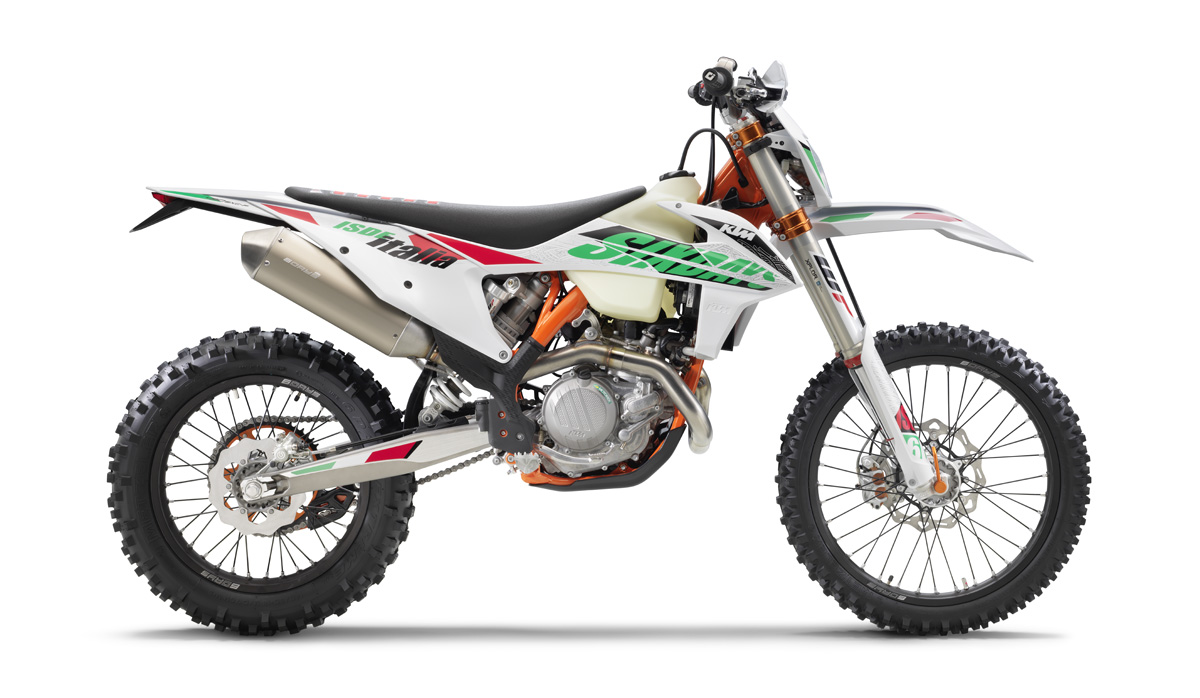 "No chain is stronger than its weakest link" KTM explains about the 2021 SIX DAYS edition which stands ready and waiting for ISDE Italy – now to be held in 2021. The six models (all except the 150TPI have a SIX DAYS version) are marked out from the standard EXCs by their orange frames (black on stand EXCs) and have an upgraded list of components including 2021 spec WP XPLOR forks, CNC machined triple clamps, a map select switch and its own unique set of ISDE Italy graphics.
2021 KTM EXC SIX DAYS Special Features
CNC machined triple clamps
Map selector switch
Silencers with new SIX DAYS logo
Rims with new SIX DAYS logo
Engine guard
Front axle puller
Supersprox Stealth rear sprocket
Radiator fan for all four strokes
Handlebar with new SIX DAYS logo
Solid rear brake disc
Floating front brake disc
Orange frame
Orange chain guide
SIX DAYS seat
KTM 300 EXC TPI ERZBERGRODEO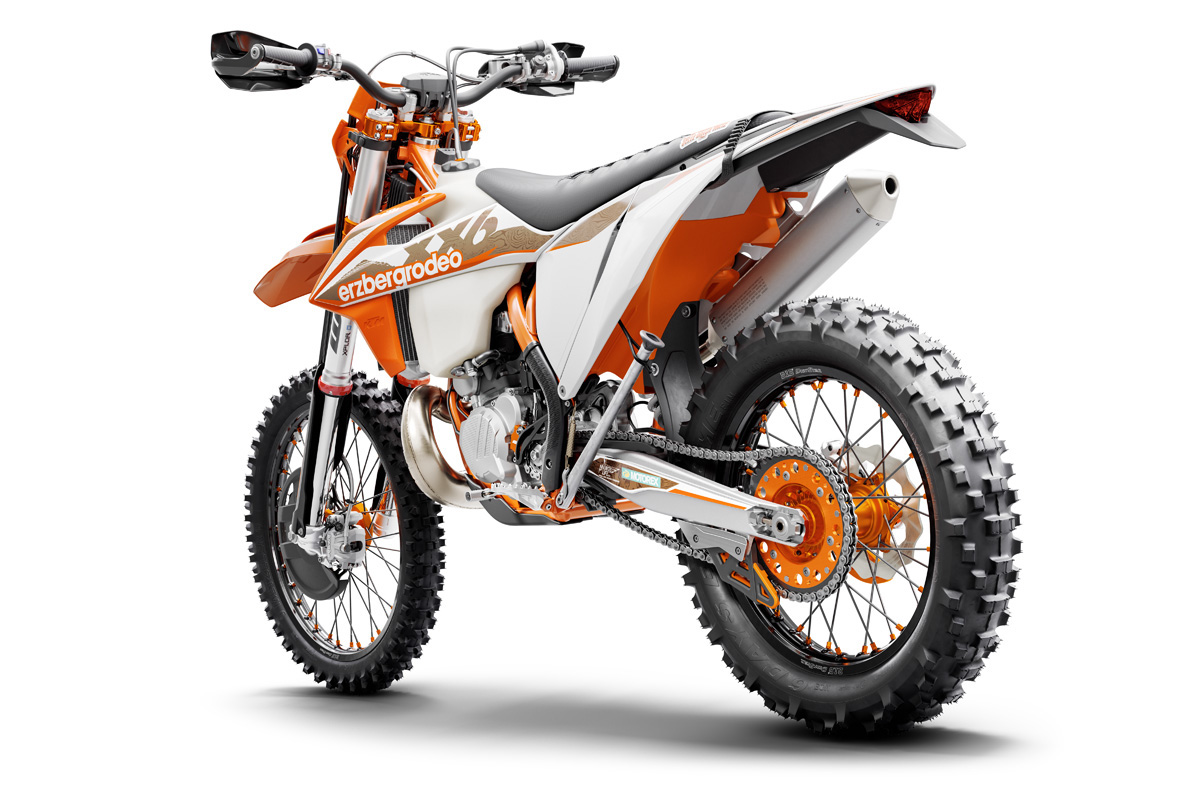 The Erzbergrodeo Red Bull Hare Scramble is one of the toughest extreme enduro tests on the planet and KTM extends the special edition KTM 300 EXC TPI ERZBERGRODEO tribute model for 2021. The numbers were limited for 2020 and it is no surprise to see it make a return with components tailored more towards extreme enduro racing than those fitted to the SIX DAYS models.
KTM 300 EXC TPI ERZBERGRODEO features
Erzberg graphics (XX6) with orange frame
Factory wheels and anodized hubs
Metzeler Extreme rear soft tyre
Closed hand guards
Radiator protectors
Radiator fan
CNC machined triple clamps
Skid plate
Factory seat
Front brake disc guard
Rear solid disc
Rear disc guard
Map select switch
Supersprox stealth rear sprocket
Chain guide bracket protection
Pull straps
Oil plug
Clutch slave cylinder protection
Rear brake safety wire
KTM Power Parts and Power Wear
The KTM Power Wear and Power Parts catalogues remain a strong element of EXC ownership in terms of options available to you for upgrades. Often developed by the factory riders, the Power Parts list is long, contains many of the components fitted to the Erzbergrodeo model and includes the Factory Triple Clamps, Akrapovic exhausts, Renthal handlebars, wave seat, anodized DID Dirtstar rims and more.
Prices for each 2021 models will be set by individual countries. More information: KTM.com
Photo Credit: KTM