First Look: 2021 Sherco SE and FE enduro models
Sherco has launched their new, 2021 Factory and Racing Enduro model range focusing on lighter and more powerful engines and even a design update for reducing arm pump…
The message coming out of the French city of Nimes and Sherco's headquarters is a strong one for 2021. Despite the current climate across the world, Sherco can now look at a dealer network spreading across 67 countries and growing – China is next up.
In 2020 the family owned company has also seen significant steps forward in their racing pedigree with FactoryONE Sherco in the USA. GNCC podiums with the Baylor brothers and getting Cody Webb on the books are big achievements.
This is on top of EnduroGP and Extreme Enduro successes with Hamish MacDonald, Matteo Cavallo, Theo Espinasse, Mario Roman and Wade Young respectively. Racing does seem to improve the breed.
2021 Sherco Enduro model update highlights
1.2kg lighter engine (250/300 SE)
Anti-vibration balancer (250/300 SE)
Lower compression cylinder head (250/300 SE)
Titanium Akrapovic Exhausts systems for 4T Factory models
New ignition coil control unit improves intensity and durability of sparkplugs (250/300 SE)
Tilt sensor (250/300 SEF)
New connecting rod bottom end bearing to help reduce stalling (250/300 SEF)
New crankcase design (250/300 SEF)
Lower compression combustion chamber (300 SEF)
New intake and exhaust camshaft profile (300 SEF)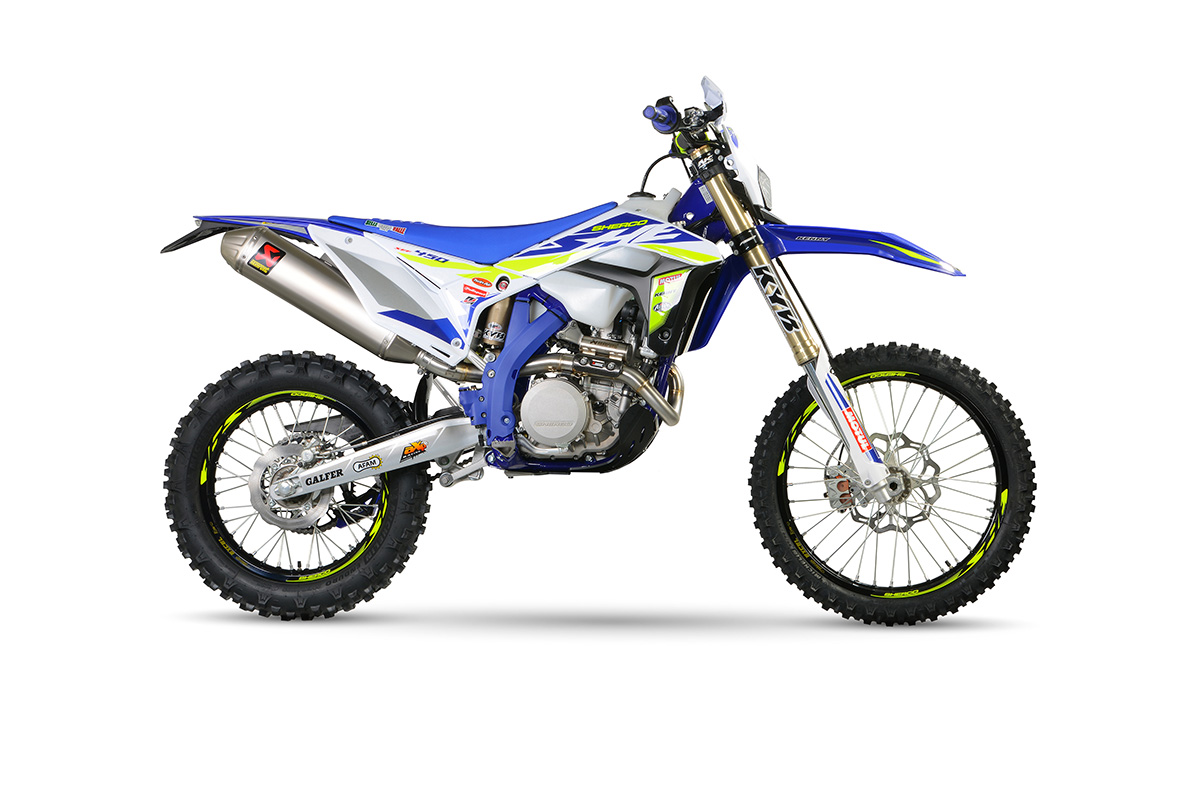 Engine updates – 250 and 300 two-strokes
The new range of Sherco Enduro models, SE for two-stroke and FE for four stroke, includes the two-fold line of standard 'Racing' models and higher specification 'Factory' machines. Both Racing and Factory lines run from SE 125, 250, 300 two-stroke and SEF 250, 300, 450 and 500 four strokes.
Wholesale weight savings across the 250 and 300 SE models, 1.2kg, are an impressive fact bursting out of today's press launch material. Those savings come via a 50% lighter transmission gear and axle, lighter gear selector barrel, redesigned clutch and a new cylinder head. That cylinder head is also running lower compression which Sherco claims is developed by the race teams and results in higher rpm without losing any low-end performance.
Aiming firmly at reducing vibration and, they say, significantly aiding the reduction of arm pump while riding, the 2021 250 and 300 SE two-stroke engines feature an anti-vibration balancer (shown on bottom left in yellow).
Both of the bigger capacity SE two-strokes also have improved gearbox selector mechanisms, new gear ratios and are lighter by 600gms. Sherco say the secondary drive shaft and gearbox output shaft are in fact now standardised across all SE models.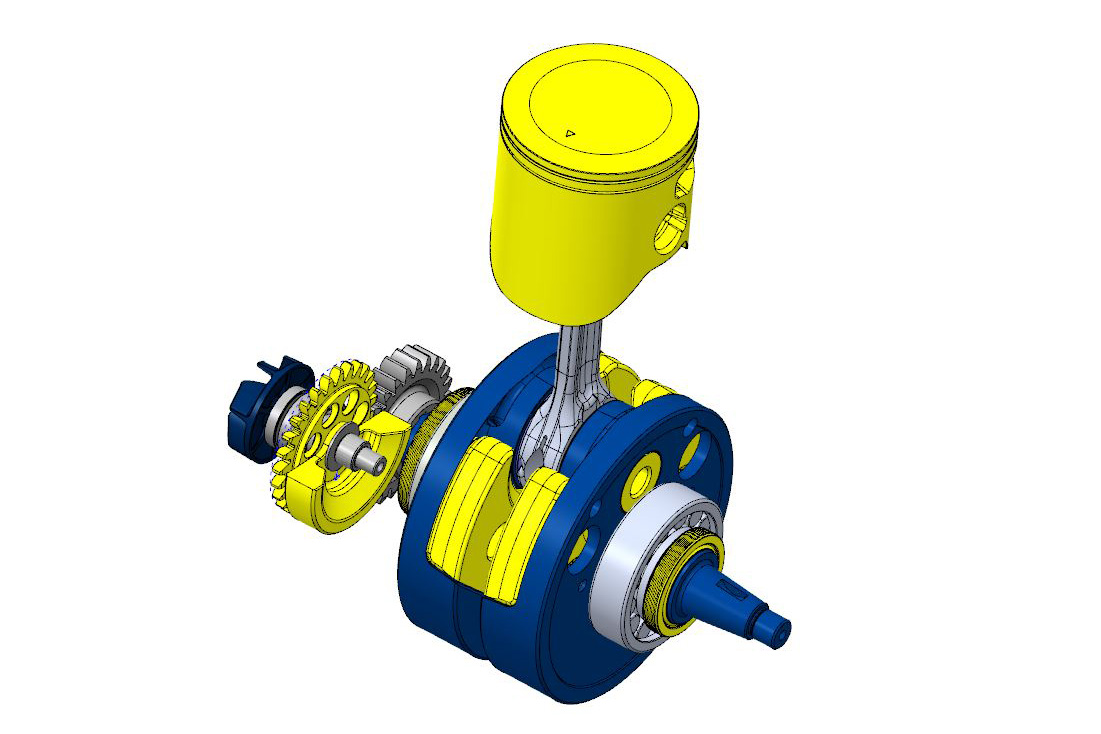 A new Athena ignition coil control unit improves intensity and durability of sparkplugs on 250/300 SE models too. This works in conjunction with the two ignition maps, hard and soft on the handlebar switch, which offers riders a five-horsepower difference depending on terrain.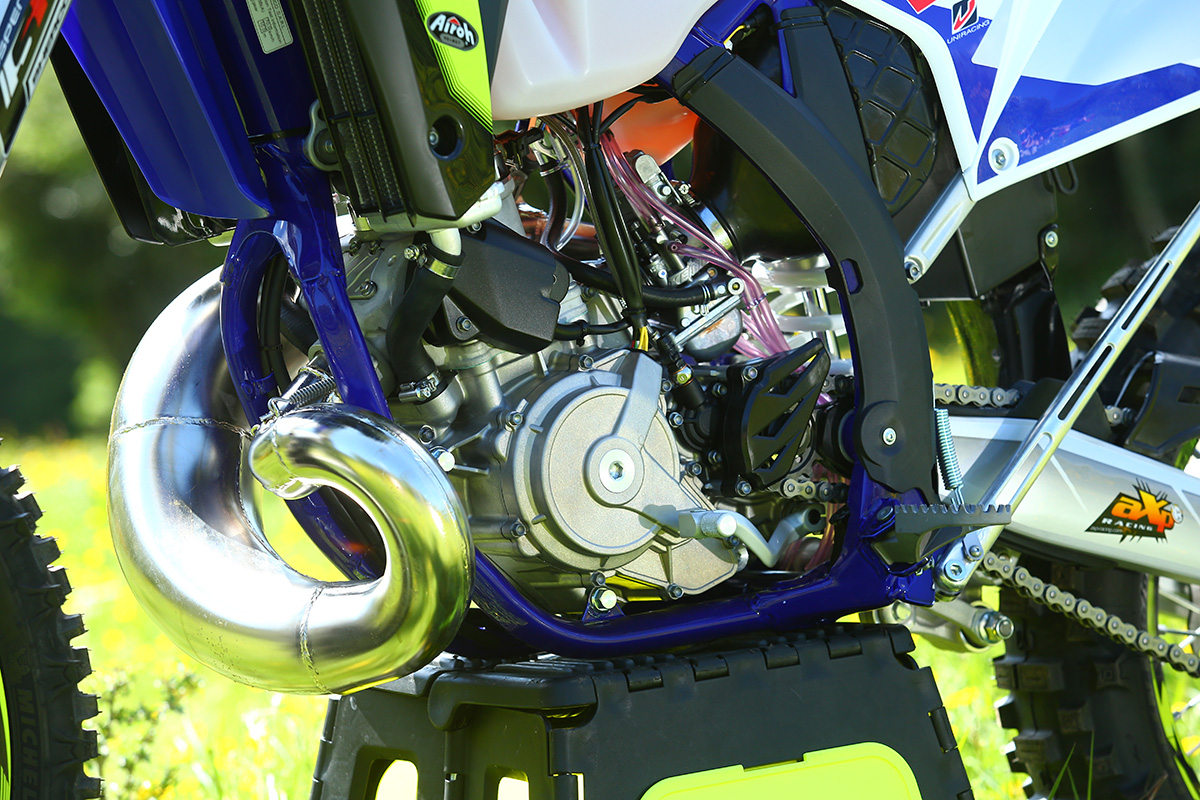 Overall it is an impressive change in the 250 and 300 models to have more power, better power delivery and over a kilo (over 2.5 pounds) less weight.
Four stroke focus
Sherco have been working hard inside the four stroke engines to "considerably extend engine life, reduce engine noise and unleashes more power at higher rpm" Sherco says. What has changed? A new connecting rod bottom end bearing which is now a plain bearing for 2021 (was a roller bearing). There's also a new connecting rod helping reduce stalling which in turn means a slight change to the engine cases to adapt and allow better circulation of oil inside.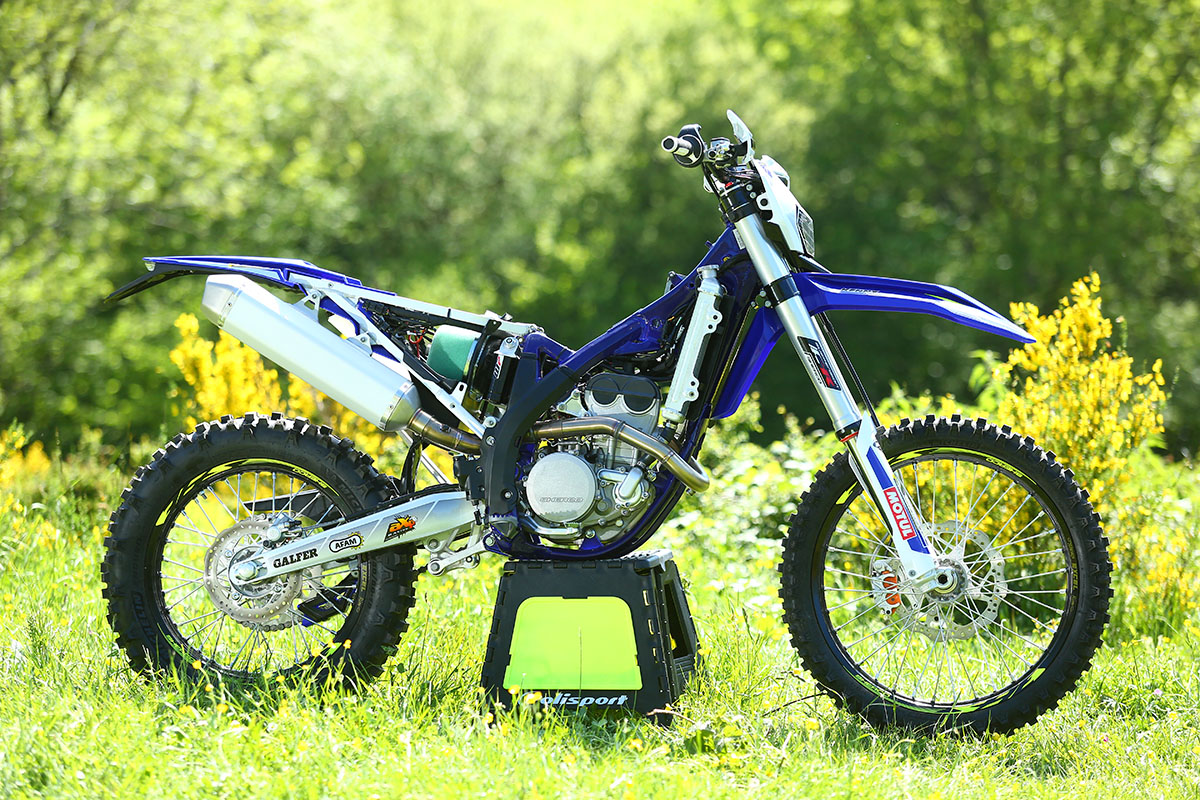 Looking through the list of detail changes inside the four stroke engines, we can also see the balancer shaft is a smaller diameter for 2021, further reducing weight internally and in rotating mass.
Like the 250 and 300 two-strokes, the 300 SEF also has a new combustion chamber with lower compression to make engine response smoother. New intake and exhaust camshaft profiles, redesigned for the updated crankshaft, claim to improve performance, efficiency and increase power at higher revs.
One interesting addition for the 250 and 300 SEF four stroke models is a tilt sensor under the seat. The aim is for the engine to shut down in the event of a fall to "protect the bystanders, the mechanics and the rider." It will be interesting to see how this works in reality of more extreme enduros.
Latest generation Akrapovic Titanium exhaust system
As if all the above was not enough, the 2021 250 and 300 SEF 4T models get the latest generation factory exhaust systems from Akrapovic.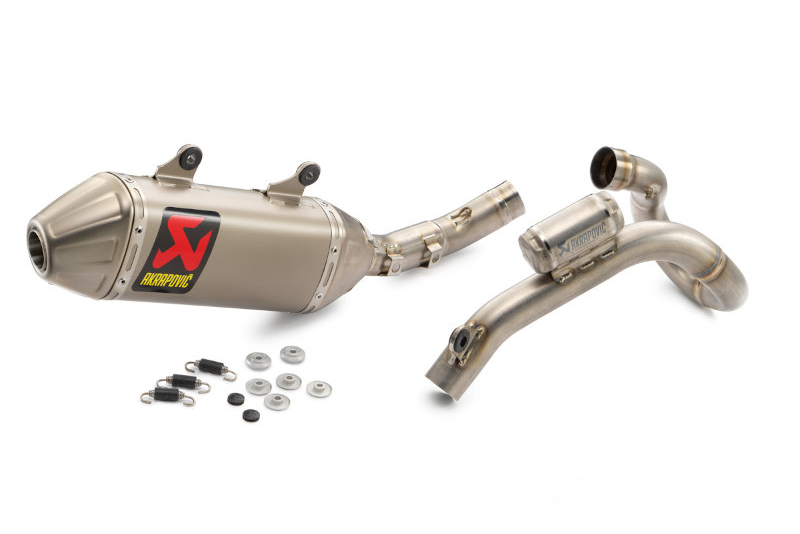 The full titanium system, fitted as standard on the Racing models, improves higher rpm performance yet reduces noise levels at the sound meter checks Sherco say.
125 and 450/500 engines not left out
Though the bigger selling models in Sherco's range have received seemingly the most attention for 2021, the 450, 500 and 125 models have not been ignored. The 450/500 SEF engine has a host of new sprockets and gears inside (anti-vibration balancer sprocket, starter pinion, oil pump gear) to reduce weight without reducing reliability.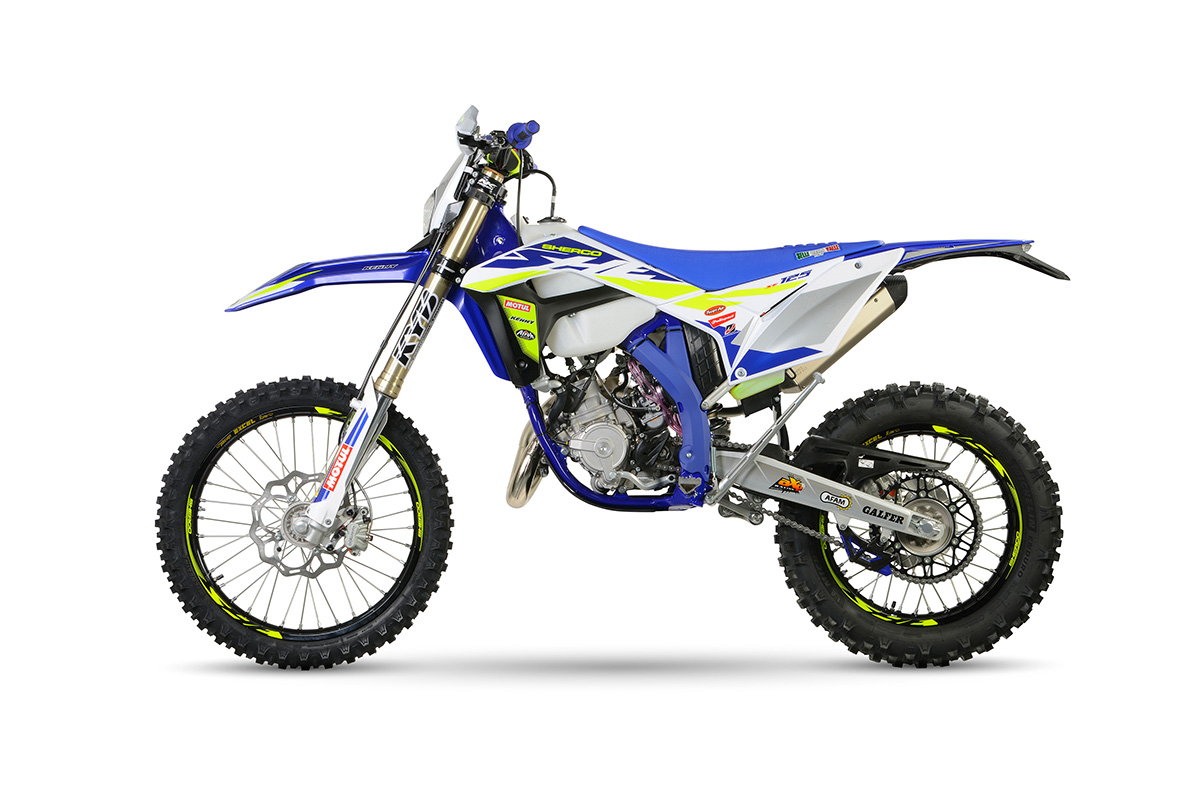 Heading deep inside the 125 SE engine, the bike which won the Youth Enduro World Cup at the hands of Hamish MacDonald in 2019, Sherco have updated the crankshaft assembly for 2021 models to improve reliability.
Added to all of the above are the detail changes to the exterior of the bikes in both Racing and Factory models. New graphics, added black and now Michelin tyres fiutted as standard across the range.
2021 Sherco Enduro Racing models
New 2021 Racing inmold graphics kit
WP XPLOR fork with preload adjustments and WP shock absorber
Black seat
Black frame protectors
Black Excel Rims
New grips
New larger diameter rear brake spring
Michelin Tyres on all bikes (homologated and non-homologated)
2021 Sherco Enduro Factory models in a nutshell:
New 2021 Racing graphics kit inmold
KYB suspension
New titanium Akrapovic full exhaust pipe (4T)
FMF exhaust pipe (2T)
70gr lighter Galfer front brake disc
AXP skid plate
Black Excel Rims
Soft bi-composite grips (blue)
Blue frame protectors
Neken Mousse Pad
Blue SELLE DALLA VALLE seat
Under seat coolant expansion tank on 2T models
Fan as standard
More information: Sherco.com
Photo Credit: Sherco