First look: 2021 Yamaha WR450F
Yamaha Motor has announced the 2021 WR Enduro model updates which major on a redesigned WR450F – a "lighter, more powerful, and better handling" Yamaha.
Coming on the back of new YZ two-stroke models earlier this summer and significant updates to the motocross model YZ450F last season, Yamaha has revealed a healthy model upgrade for the 2021 WR450F which boasts a refined, more efficient engine, a redesigned frame with all-new flex characteristics and various tweaks for improved front-end feel.
Yamaha's 2021 WR450F in detail: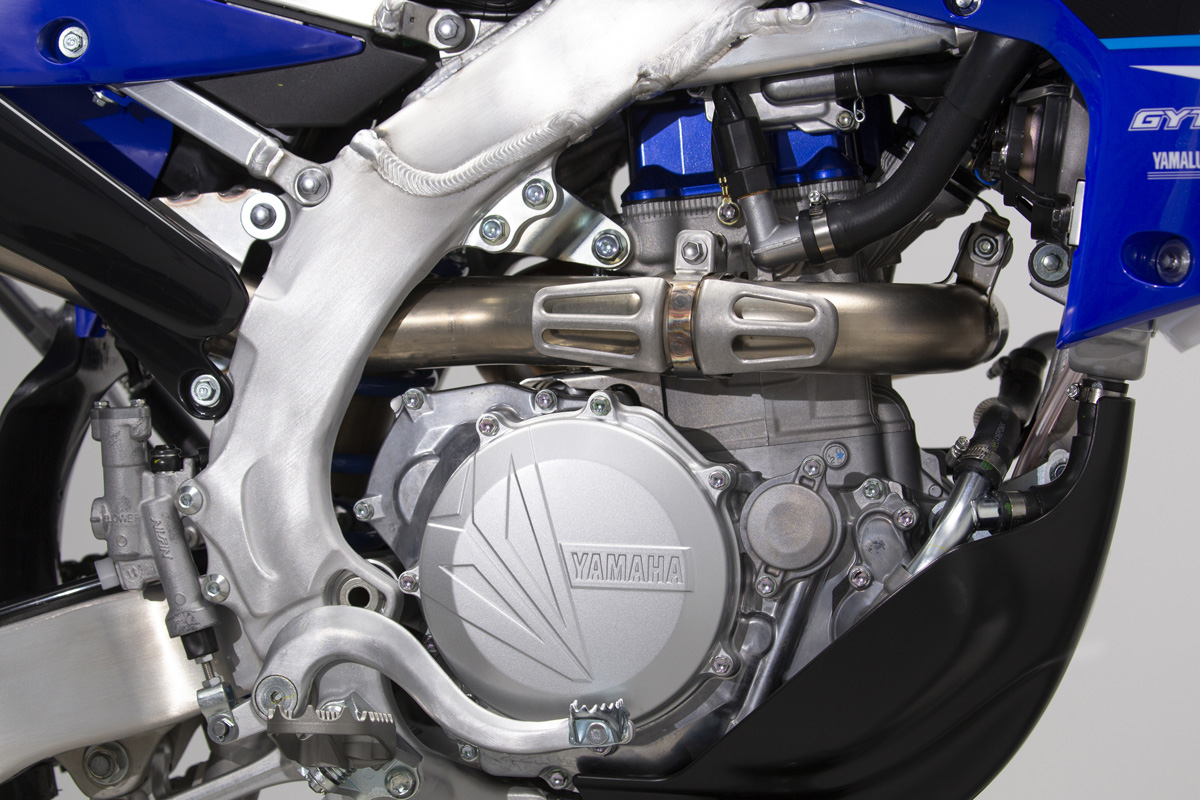 Yamaha say the 2021 WR450F's 449cc, liquid-cooled, four-stroke, electric start engine features an all-new compact cylinder head with redesigned combustion chamber shape, and steeper valve angles. The 2021 intake port shape is revised with the intake and exhaust valve angles are changed from 21.5 degrees to 14.5 degrees to create a more concave combustion chamber for enhanced combustion efficiency and stronger power.
The signature forward-positioned downdraft intake and rearward-exiting exhaust engine on the Yamaha four-strokes has a higher compression piston for 2021 – up from 12.8:1 to 13.0:1 – with low friction rings attached to a longer connecting rod.
The new cylinder head increased number of magnesium components that contribute to a 310g weight saving. Relocated camshafts are positioned closer to each other also while the vertical distance between the camshafts and the crankshaft is also reduced to give a more compact layout.
Yamaha say the combination of lower weight and reduced dimensions improves mass centralisation, "contributing significantly towards the new model's lighter feeling and increased agility when cornering" and making "the 2021 WR450F one of the easiest-handling large-capacity enduro models."
Redesigned radiators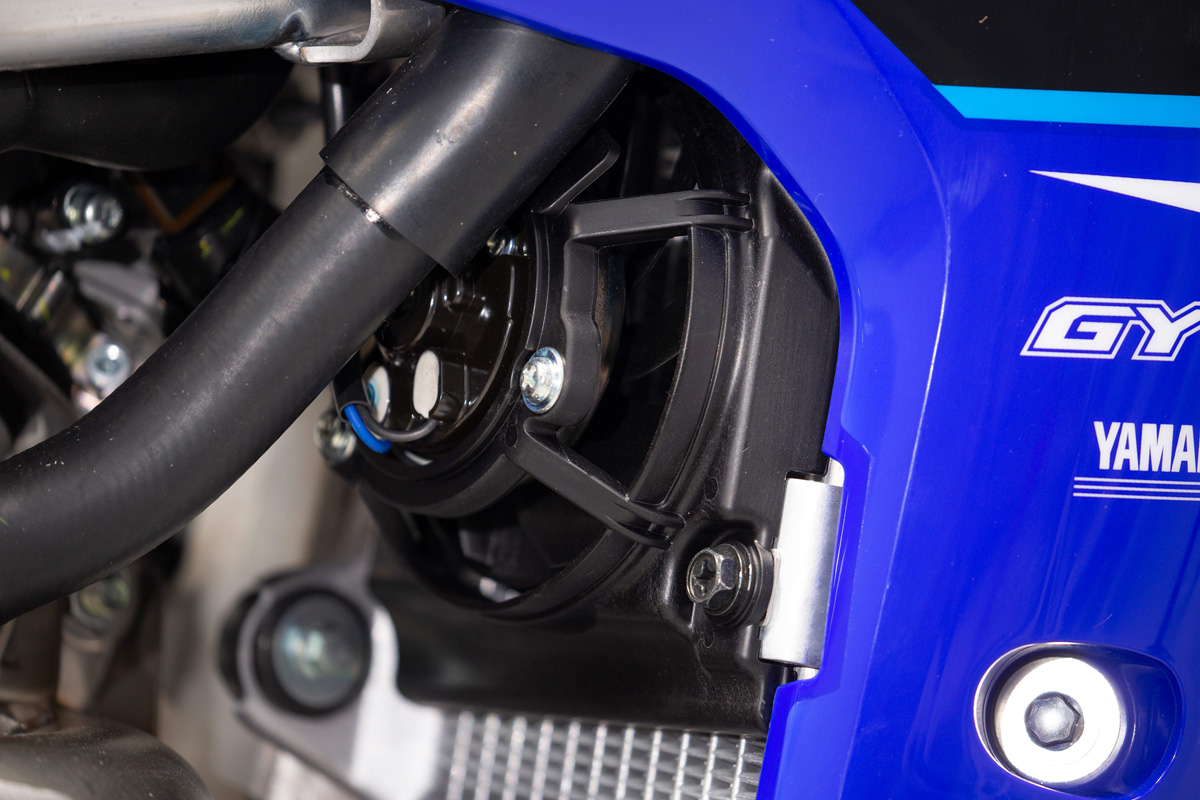 More power means a redesign for the WR's radiators. Basically they are angled more directly towards the air-flow helping maintain optimal operating temperature more consistently along with the thermostatically-controlled fan.
The WR450F features a wide-ratio, five-speed transmission which promises smoother gear-shifting in the new model and a more efficient crankcase breather system to decrease pumping losses.
The WR450F's gears are manufactured with a larger surface area compared to the motocross model, helping spread the load more evenly for smoother shifting and increased durability they claim. Running with a lower first, second and third gear – and a higher 5th gear – than the YZ450F, the enduro model's transmission delivers different ratios for technical and high-speed riding.
The shift drum and selectors have improved feel together with a shorter stroke when changing gear, plus an uprated heavy-duty clutch (compared to the YZ450F) delivers increased durability for consistent operation in enduro.
Aluminium evolution – more front-end feel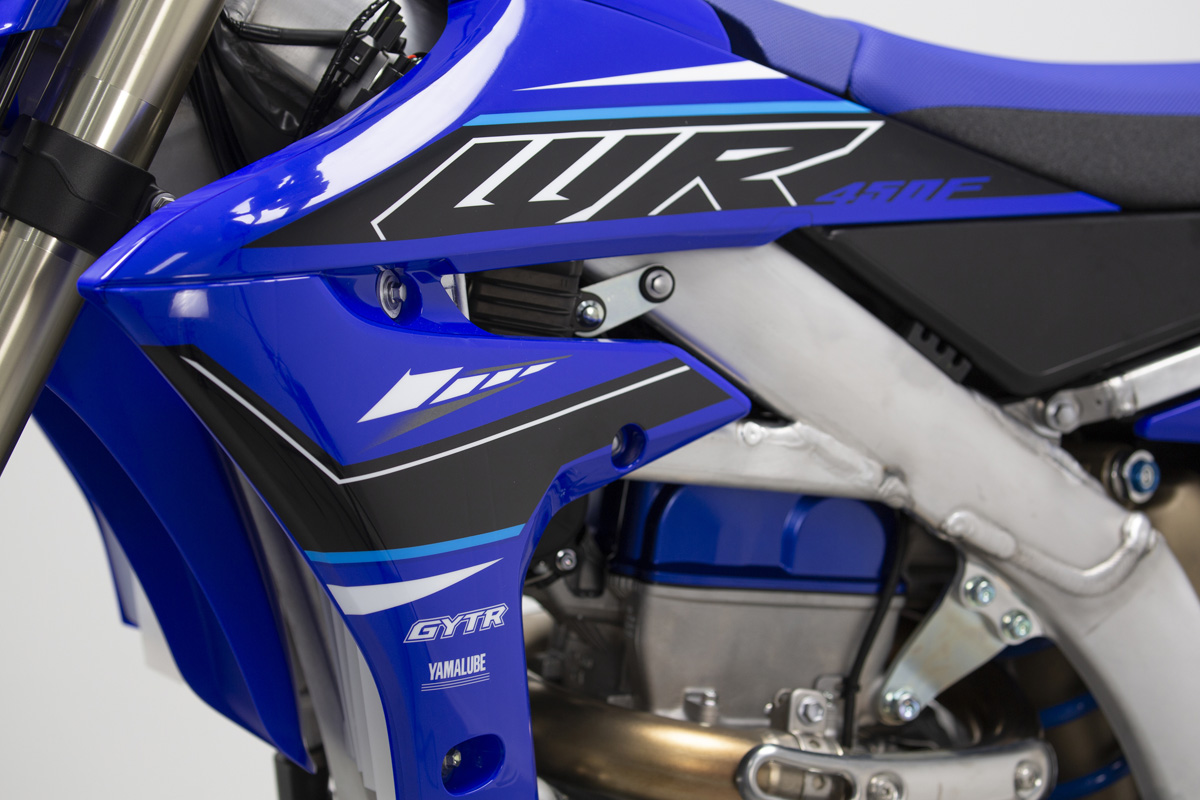 The 2021 WR450F features the latest evolution of Yamaha's aluminum bilateral beam frame including redesigned wall thicknesses and flex characteristics (compared to the YZ450F) to improve cornering performance, traction and bump reaction to give the rider more confidence to push harder in off-road conditions.
Other chassis components such as engine mounts, top triple clamp and front axle, as well as the KYB suspension have been "carefully refined" to reduce weight and improving handling and performance. The shape and the bolt tightening stiffness for the front and rear engine mount brackets is also modified to improve feedback over bumps and feeling of connectivity with the track surface.
Like the latest YZ450F, the 2021 WR450F has a more rigid front brake caliper running with larger pistons – up from 22.65mm to 25.4mm diameter. Brake pad surface area is increased by 25%, and the new 270mm front disc gives a 16% increase in contact area without any weight increase.
The handlebar position is moved 15mm forward and 5mm lower to help you get weight over the front better and new chromoly footpegs replace the stainless tell ones saving 70g. Overall the front end promises to have more feel and precision on the new model.
Real-time fuel meter
Other updated features around the WR450F include a more compact electric start system, tweaked fuel injection, a redesigned and more compact full-featured enduro meter with higher contrast liquid crystal display, a new real-time fuel consumption meter with low fuel warning light, aluminum side stand, sealed O-ring chain and 18-inch rear wheel are all standard equipment.
2021 WR450F technical highlights:
Ultra-compact new YZ450F-based engine, increased power and improved control
Lighter and more compact cylinder head
New piston design and increased compression ratio
Yamaha Power Tuner for instant track-side tuning via a smartphone
Handlebar-mounted engine mode switch for on-the-fly adjustment
Advanced fuel injection system with enduro-specific settings for optimum power
Large capacity angled radiators with fan ensure effective engine cooling
Robust enduro-specific five-speed wide ratio transmission
Heavy duty enduro clutch for positive shifting and consistent performance
Lighter aluminium bilateral beam frame with enduro-specific rigidity balance
Class-leading KYB coil spring-type speed sensitive front suspension
Link-type rear suspension with specially-tuned KYB shock
Revised riding position and four-position adjustable handlebars
Lighter YZ450F type front axle, top triple clamp and handlebar clamps
Lighter and more powerful brakes
Tool-free airbox access
Compact electric starter
7.9 litre fuel tank and compact fuel pump
Lighter chromoly footpegs and forged aluminium sidestand
Large plastic engine guard
Sealed chain
Check the 2021 Yamaha WR450F promo video:
2021 WR250F
Following its total redesign for the 2020 model year, the 2021 WR250F remains unchanged except for the new Icon Blue finish and new graphics, with blue front and side plates.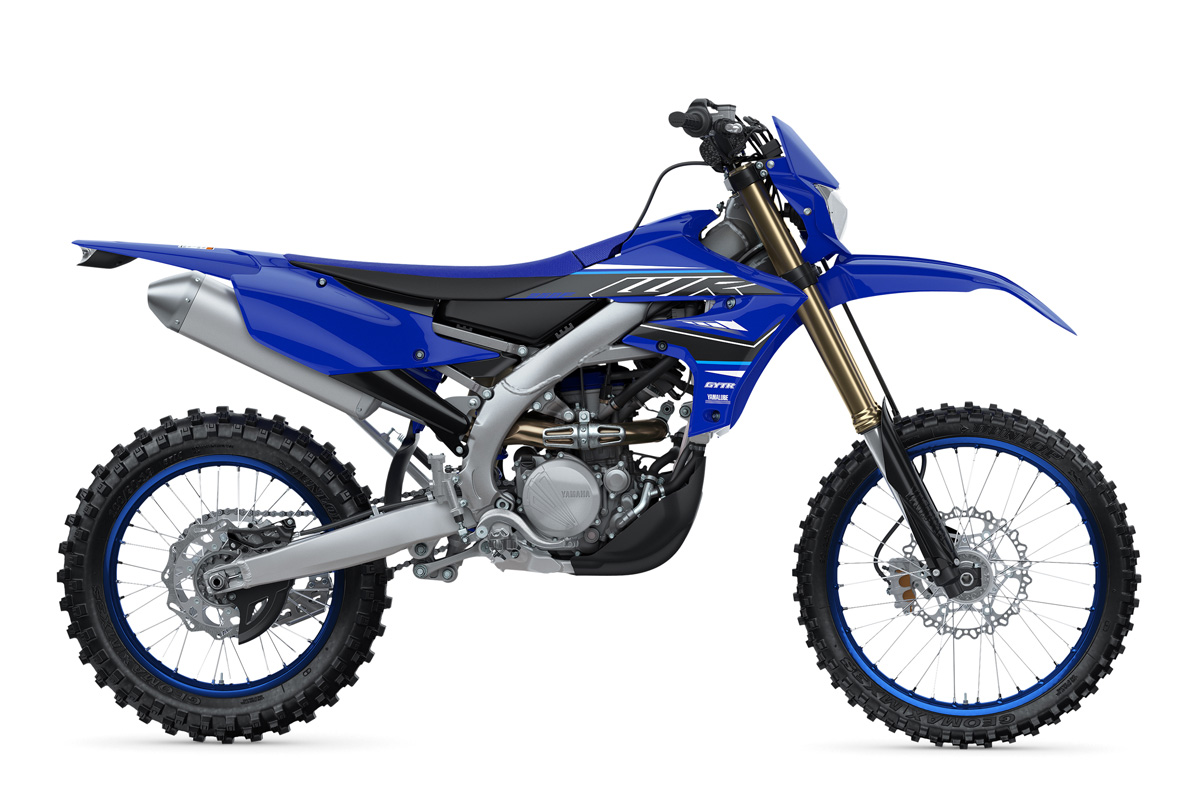 Check also the 2021 YZ two-stroke range released earlier this year:
First look: Yamaha 2021 YZ range – YZ450FX revamped
2021 WR model availability is from October for the WR450F and November for the WR250F. Price details will vary according to your country.
More information: www.yamahamotorsports.com or www.yamaha-motor.eu