First look: 2022 Beta RR Racing models
Beta Motor have announced their 2022 RR Racing edition models with updates including traction control on the four-strokes, power upgrades on the two-stroke engines and suspension improvements across the eight-model range.
It has been a busy week for new models from manufacturers and Beta welcome October with their new, 2022 RR Racing model range – the more race focused editions from their line-up.
Aside from the new graphics, the big news from Beta is that all four-stroke editions now have a traction control system as standard to allow riders to make push of a button adjustments to power.
The 300 and 200 cc two-strokes RR Racing machines have also had significant attention to update them even from the '22 standard RR editions with new top ends and power valves among the updates. All models also have new KYB front fork settings.
Beta RR Racing 2022 model technical updates: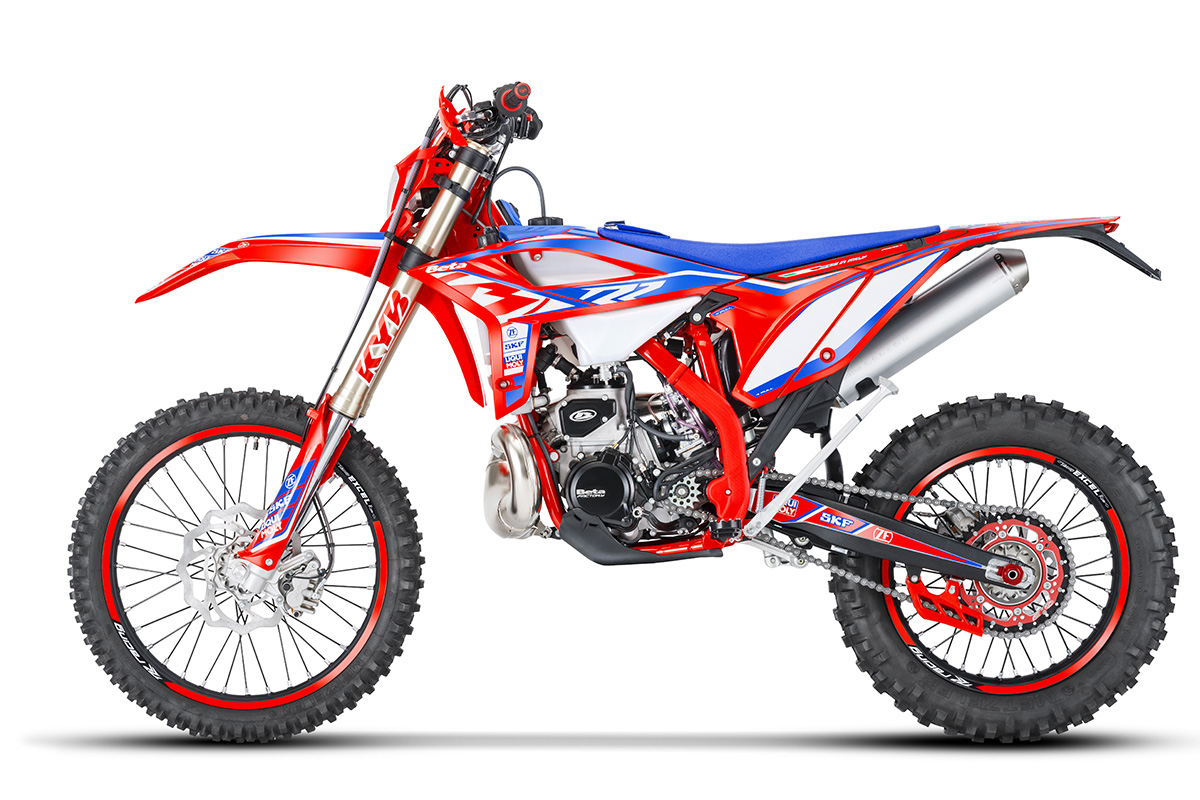 300 RR Racing
The 300's new engine, combined with a dedicated new ECU map, boasts a smoother and more progressive response to throttle input and a more linear power delivery Beta say. That means a hike in maximum power, but they claim it is also easier to handle, "more intuitive, and more forgiving to use than ever before".
Bore and stroke is revised to 73mm x 69.9mm, with an all-new larger bore cylinder, a new piston, crankshaft, and a new power valve all to improve the power and torque.
A new cylinder head has been redesigned in consideration of the other new components plus it has a new iridium spark plug.
A smaller diameter silencer improves the top-end performance and tractability of the engine.
The 300 and 250 RR Racing models now have the new diaphragm clutch already featured on the standard RR machines announced earlier in 2021 provides a lighter lever pull while offering a more progressive control, significantly reducing rider fatigue. Both engagement and disengagement have been improved, Beta say, while the clutch is now capable of transmitting even more torque. Riders can also adjust the clutch settings with three different spring options to suit his/her clutch feel.
200 RR Racing
There's been quite a engineering change in the popular 200cc 2T model with a modified head seeing the two power valves design replaced with a single, stiffer valve. This translates to increased power at mid-to-high engine speeds Beta claim.
125 RR Racing
Cylinder head and power valve updates on the baby 2T model means new cylinder head squish and power valve settings providing a more linear power delivery.
Four-strokes focus on ridebility
Beta's range is one of the more eclectic on the enduro market with 125, 200, 250 and 300 two-strokes plus 350, 390, 430 and 480 four-strokes.
Details about the new traction control system fitted to each of the four-strokes is actually pretty thin from Beta. We know very little except the button is located just in front of the fuel tank on the headstock and, we're assuming, will simply have different ECU mapping setting to select from. When we find out more, we'll let you know about it.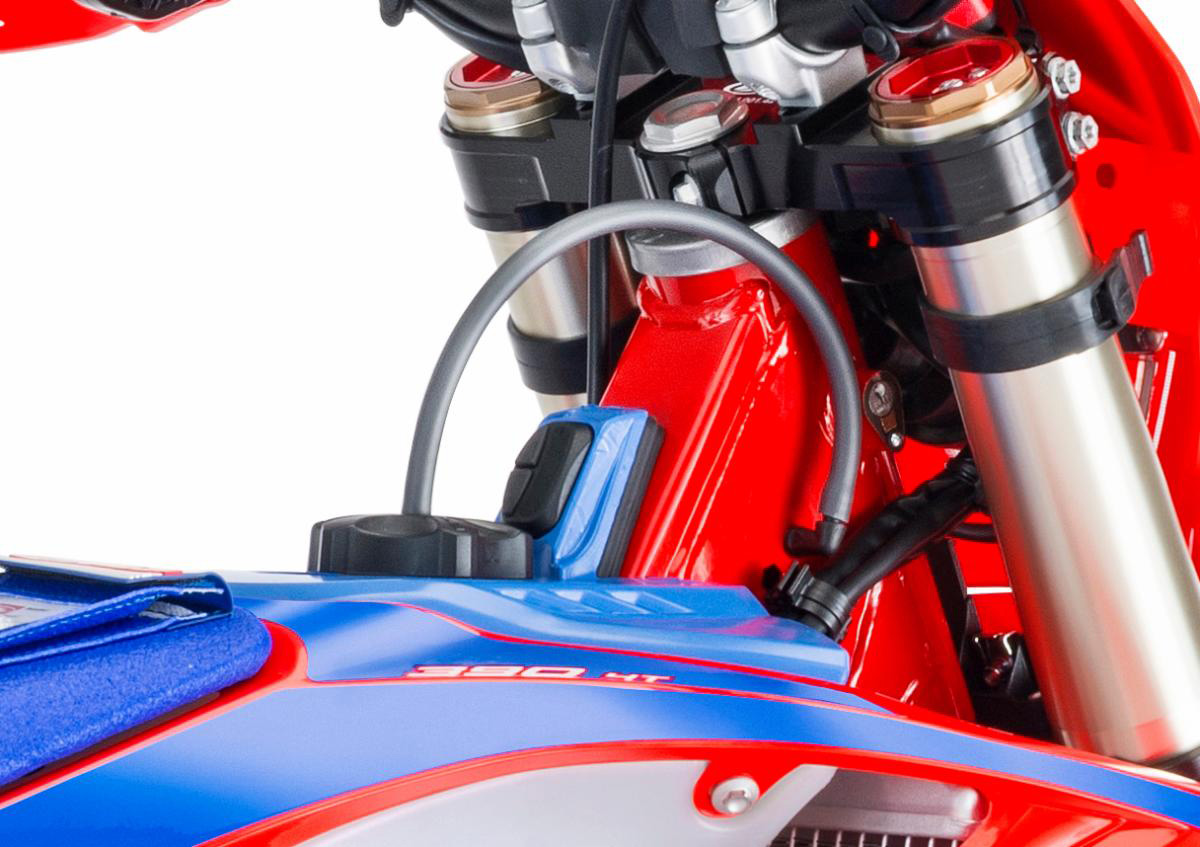 "This system provides the rider the ability with the push of a button to enable traction control while riding in slippery conditions, reducing fatigue and at the same time providing the rider with more control." Beta explain.
New KYB fork settings
All bikes, 2T and 4T, feature the KYB 48mm AOS closed cartridge forks and the ZF rear shock as used by Brad Freeman and Steve Holcombe in the EnduroGP World Championship.
A long collaboration between Beta and Kayaba means this component is in a continuous cycle of development and the 2022 bikes have new valving specification "to provide more suppleness over rocky terrain", they say.
The aim is to improve comfort during initial compression they say, "when shocks from the terrain are transmitted to the rider."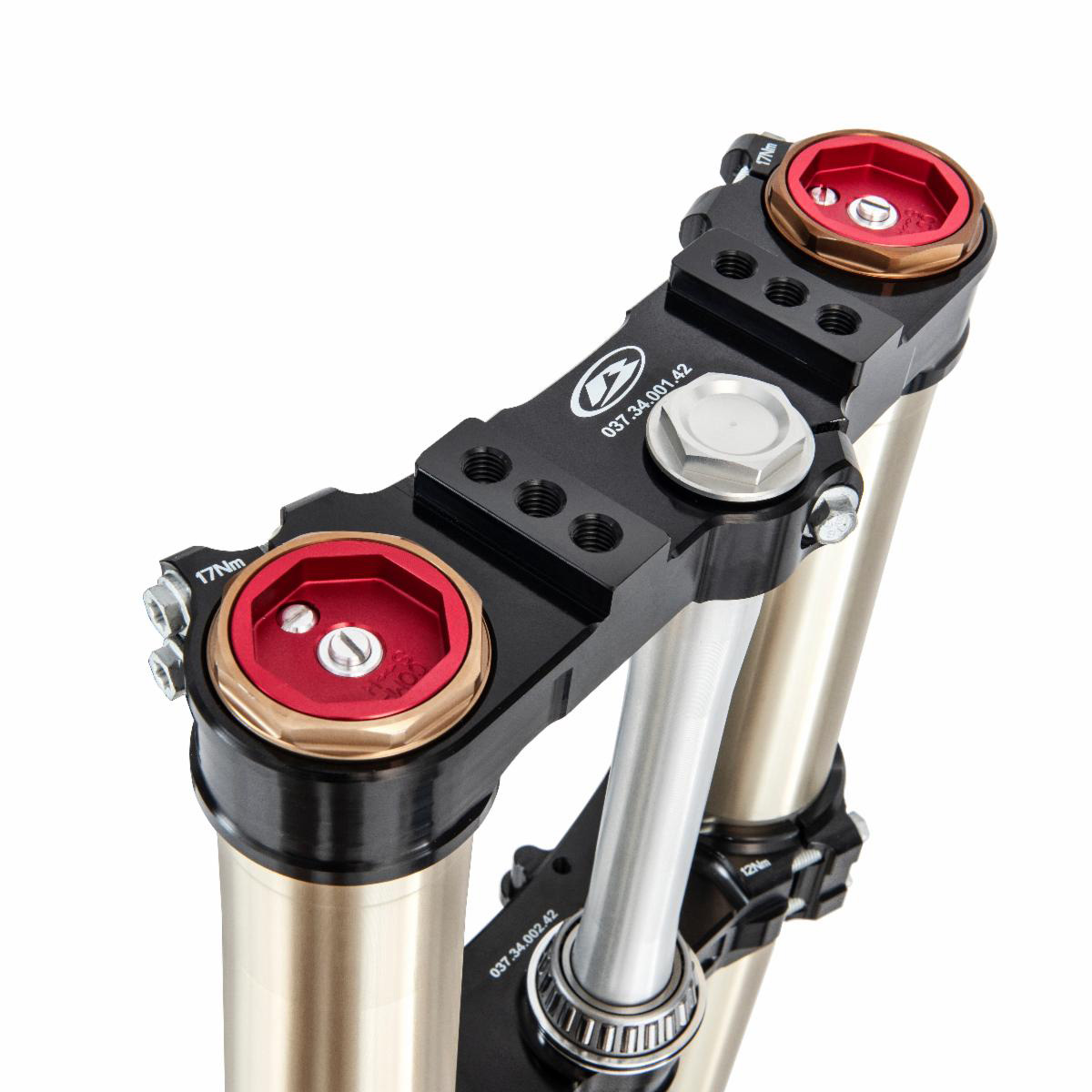 RR Racing models technical details (compared to standard models):
KYB closed cartridge 48mm front forks
Machined black anodized triple clamps, similar to the standard models but with a different coating
Red anodised alloy quick release axle pullers
Red Vertigo handguards with in-mould graphics
Metzeler Six Days tyres as used by the official team riders in the EnduroGP championship
Ergal alloy footpegs and with steel pins
ZF rear sprocket with anodised aluminium core and steel teeth
Dedicated blue racing saddle with anti-slip cover and document holder pocket
Anodised black gear lever and rear brake pedal
Anodised red aluminium gearbox oil filler cap, engine oil filler cap and oil filter cap
Red ergal alloy chain tensioners
New Racing graphics and red wheel decals
Lighter weight over the standard RR models due to the removal of the oil injection system, on 2-Stroke models (oil injection can be added as an accessory except on the 125 RR Race Edition)
Availability is from October in Europe and one month or so later in North America. Contact your nearest dealer for more details on pricing.
More information: www.betamotor.com and www.betausa.com