First look: 2022 Yamaha WR250F – revamp for the baby in blue
Yamaha has announced the 2022 WR250F enduro model with major engine and chassis updates handed across from their motocross YZ model including the Yamaha Power Tuner app for wireless engine tuning on the track or trail.
Yamaha is not alone in majoring on the success of its motocross models as it announces the enduro and off-road machines for the new season. Like all the major Japanese manufactures this year, what they did last year on the MX bikes transfers across to us for enduro and with seemingly few changes to adapt. In fact the PR material for the 2022 WR250F take a hefty amount of time to even stop talking about motocross and start focusing on enduro.
The 2022 WR250F is equipped with a higher specification liquid-cooled 4-stroke electric-start engine that has been substantially uprated, Yamaha explains.
2022 Yamaha WR250F highlights:
New YZ250F type cylinder head
New YZ250F specification exhaust camshaft
New YZ250F shape intake port
New YZ250F type intake joint
Improved camchain tensioner design
Redesigned engine balancer
New gearbox shift cam
New CF-die cast aluminium Deltabox frame
New engine brackets with WR-specific rigidity levels
Industry leading KYB speed sensitive forks with revised damping settings
New top triple clamp with redesigned handlebar clamps
New YZ250F type footrests, handlebars and front axle
New multi-function meter
Stronger chain guide bracket
New 270mm front disc with 16% larger surface area
New more rigid front brake caliper with larger pistons
New front brake pads giving 25% more contact area with disc
New exhaust heat guard
New stronger muffler bracket
Engine updates
The new engine the WR250F has adopted many of the features seen on the current YZ250F.
Details include new ducting in the forward-facing air intake and a wider YZ250F-type intake port, this new engine has improved intake flow rate "for higher combustion efficiency and increased power across the rpm range."
The new YZ250F cylinder head delivers stronger mid to top-end performance "for even faster special test times." A redesigned exhaust camshaft also improves low to mid-range power they say with new ECU settings, a redesigned balancer to keep those vibes away and a new shift cam that gives smoother and easier gear shifting.
The wraparound header pipe features a new heat guard to protect against snagging – and there's also a stronger bracket on the muffler.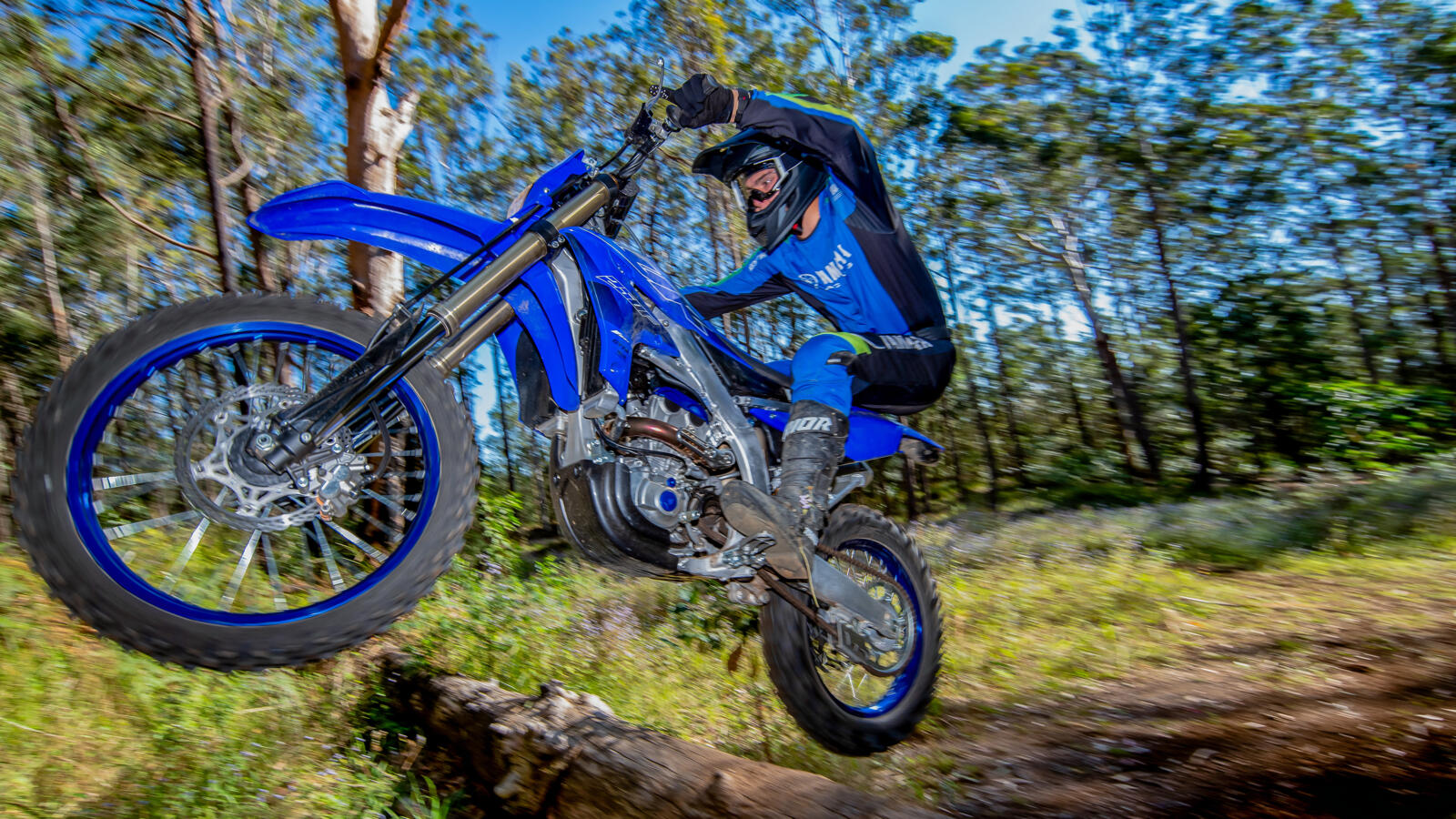 Power Tuning on the fly with the app
A key feature on the 2022 WR250F is Yamaha's Power Tuner app. It's been available for a while on different models including the WR450F but essentially lets you tune the engine using a smartphone either in the workshop or at the trail side.
The technology makes it easy to adjust the engine power character to suit different surface conditions and in our experience, it is a pretty useful tool to use depending if you're a trail kinda rider or a special test racer.
There's also a handlebar switch giving you the option to select between two engine maps (either standard or pre-set) for power adjustments as you ride.
Variable thickness aluminium frame
The focus isn't all about the engine, the 2022 WR250F's aluminium bilateral beam frame has also been revised and is a doner part from the sister YZ250F. Yamaha use their "CF die-casting technique" (CF + controlled fill) which means they can vary thicknesses of the frame to adjust rigidity in different areas to match the higher performance of the new engine.
Yamaha say they've adjusted the flex of the frame in specific locations and fitted new rigidity engine mounts "to create an incredibly strong chassis that also delivers excellent levels of feedback, giving the rider a more connected feeling with the track surface." We look forward to testing that.
It wouldn't be a Yam without KYB suspension...
Yamaha's are well-known for using KYB suspension and the new forks promise improved handling and steering on the 2022 WR. New damping settings match the revised rigidity of the new chassis, and a redesigned top triple clamp, handlebar clamps, footpegs and front axle all affect the rider feel.
The link type rear suspension has a revised KYB shock, although Yamaha do not specify precisely how it is changed in the press material we have.
YZ250F front brake
Braking power is just as important as engine power, some say, and the 2022 WR250F will know what that means with a more powerful front brake set up direct from the MX2 GP-winning YZ250F.
It uses a 30% more rigid front caliper with larger diameter 25.4mm pistons and a new 270mm front disc. New brake pads have a 25% greater surface area than the previous system too.
New multi-function meter
Yamaha have also upgraded the digital dashboard. In standard mode it now displays speed, clock, timer and two tripmeters while in race mode the display shows the key information needed during an enduro such as average speed, timer and trip. There are also accumulated fuel consumption meter, fuel and engine warning lights.
Blue with added blue, new graphics
New 2022 graphics are 'Icon Blue' with dark blue in-mould graphics that provide durability and scratch resistance to keep them looking good.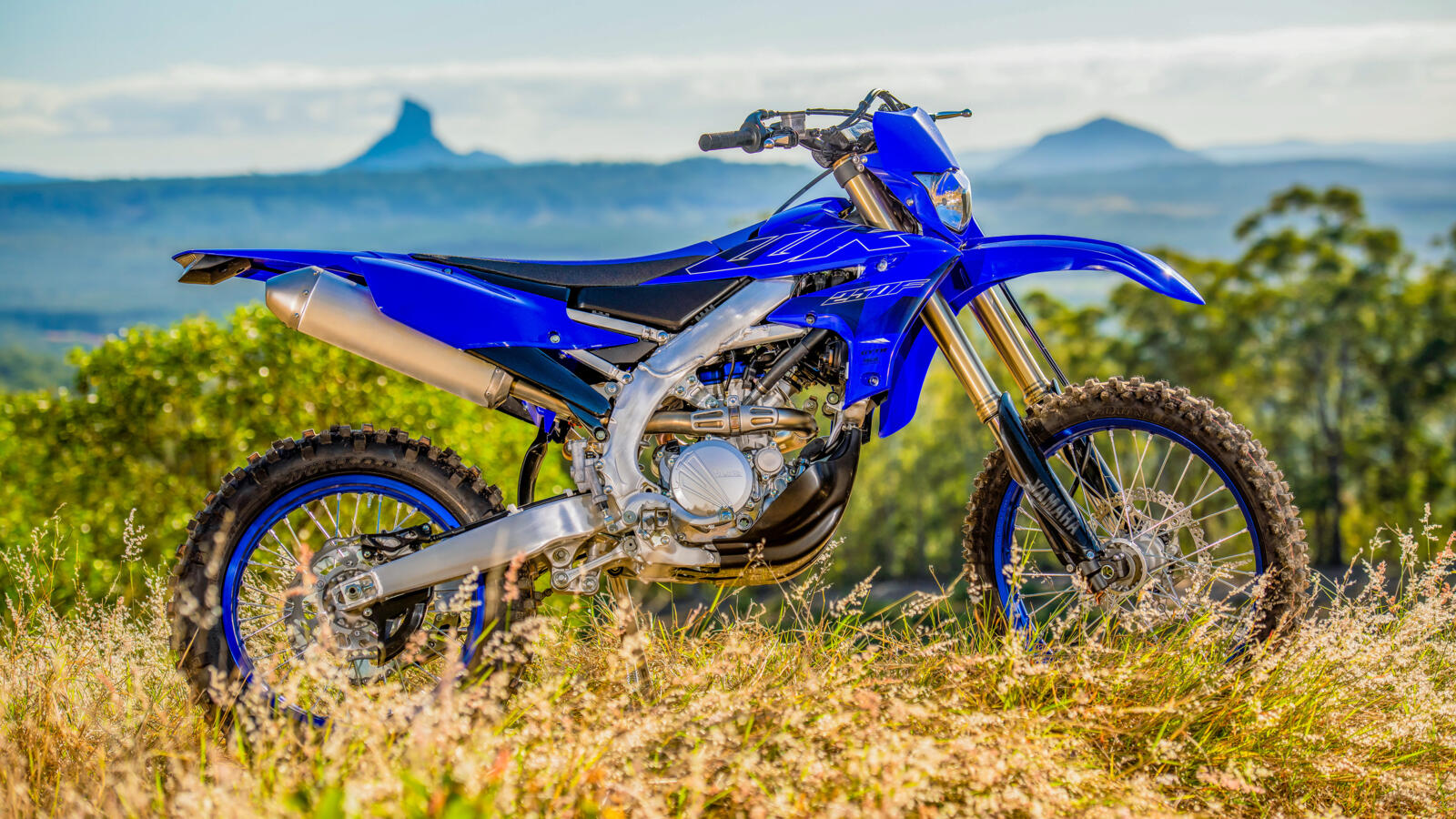 Other WR250F technical highlights:
250cc liquid-cooled 4-stroke DOHC engine
Reversed cylinder head with forward facing inlet
Yamaha Power Tuner for smartphone engine tuning
Electric start
Radiator cooling fan
Excellent mass centralization for lightweight handling
Wide-ratio 6-speed enduro-specific transmission
Light feeling clutch with quick-adjuster
Compact and lightweight aluminium Deltabox frame
Industry-leading KYB speed sensitive damping coil spring front forks
Link-type rear suspension
KYB shock with high capacity reservoir
4-position rubber-mounted adjustable handlebars
Handlebar-mounted dual mode engine mapping switch
7.9 litre fuel tank
Lightweight resin skid plate
Icon Blue bodywork
Blue wheel rims
In-mould graphics
Flat and slim seat
O-ring chain
High-mounted aluminium sidestand
What about the WR450F?
After undergoing major updates for the 2021 model, the bigger 450 enduro machine form Yamaha is laying fallow this year. The exception to that is the braking system which is the same as the new WR250F with a 270mm front disc and a large-piston caliper to improve power and feel they say.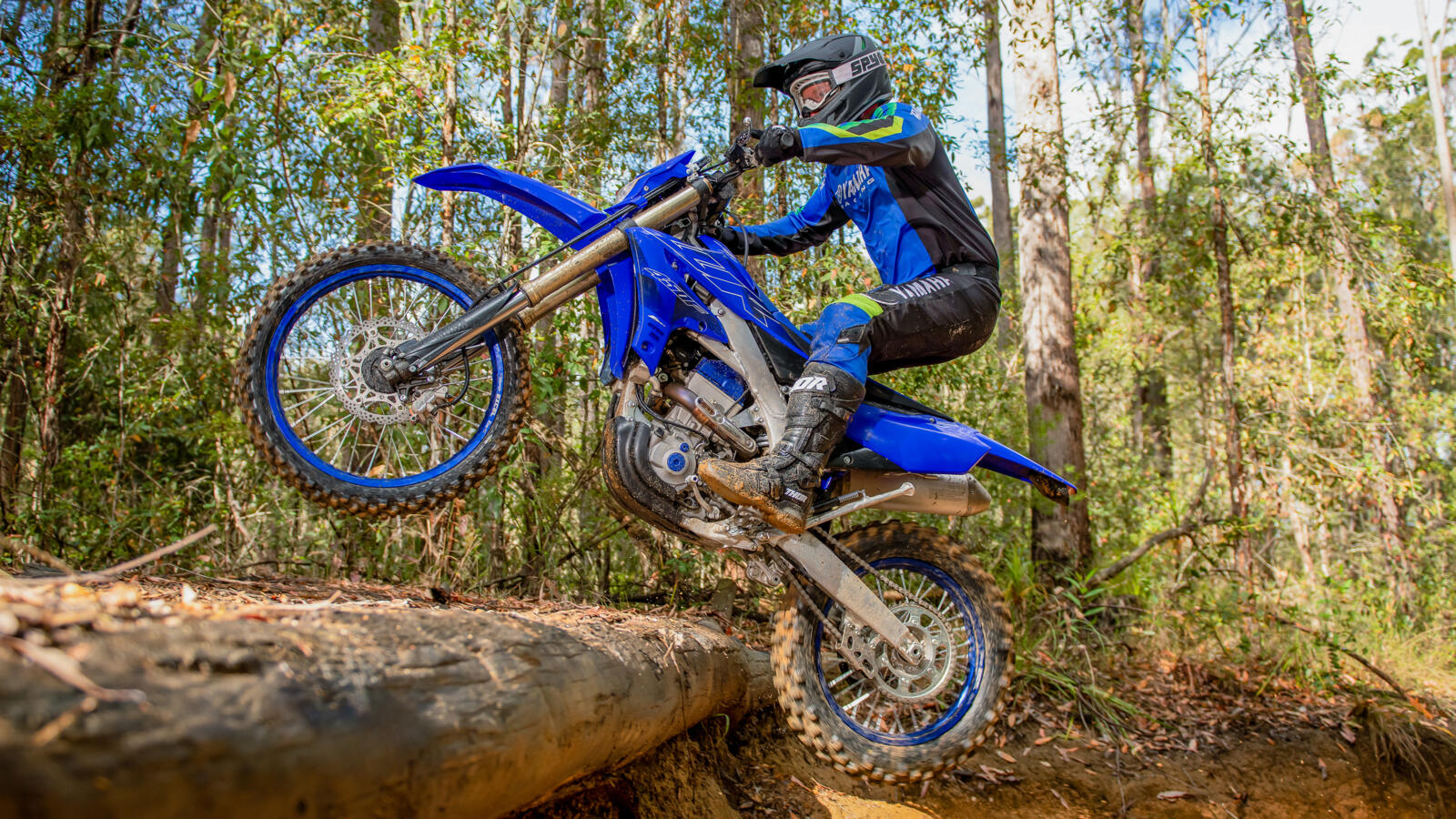 Yamaha say delivers of the new bikes will be in October 2021. Prices will vary per region, so contact your national Yamaha distributor or nearest dealer for accurate details. That said, Yamaha USA have announced $8799 and Australia $14,899 (ride away price) for the new WR250F.
Covid got in the way of Enduro21 testing the 2021 Yamaha enduro models but we look forward to putting the new WR250F to the test in the near future.
More information: